The retail industry has night terrors over getting assortment analysis and planning wrong. And rightly so – having too little or not enough stock is the fastest way to derail your business
Retailer's top line revenues have been struggling for a number of reasons ranging from a warm summer to customers preferring experiences over their closets. The piles of unsold garments are growing in size year after year. In the US retail alone, dead inventory is costing the industry an estimated $50 billion a year.
These costly mistakes have become avoidable when planners and buyers take a data-led approach at the critical assortment analysis and planning stage. It's something our team of Retail Strategists is deeply passionate about teaching our customers.

Congratulations, now that product, price and timing are figured out, you can sit back and relax…
Therefore we prepared a three-part Assortment Analysis and Planning Toolkit with downloadable excel files, where you can plug in your own numbers.
Avoiding assortment analysis & planning? We hear you
How often merchants and buyers assortment plan depends on the business model and category. Whether it's monthly, or four times a year, one thing stays the same: you are always working across multiple timeframes.
You're looking at product and sales metrics from last year and from last season while planning for 6 or 8 months into the future.
Add to this that while planning what to sell next year, you're simultaneously tracking shipments and deliveries, juggling re-orders on in-season styles, attending weekly sales meetings and trainings for new systems.
You dream of four spare hours to sit back and really understand what went on with last year's assortment. But remembering your own name at the end of the day is an achievement.
Put simply, assortment planning is the most underrated superhero power out there.
EDITED's Retail Decision Platform can help you claim back a bit of brain space, and certainly a lot of time, by being more data-led in your assortment planning.
Some of that data you have on hand already. Now it's time to think about it in smarter ways.
Last year's range review, but bigger
Stage one of assortment planning is identify the missed opportunities from last year. Right now you do that by looking at what you had and comparing it with what you've learned from your store sales and buyers in the meantime.
But why wait for them? A better way is to view the entire market, so you have context as to why your pieces were a hit or miss. Instantly you can flag up what you didn't have – something a data-free approach can't answer.
What did your competitors have?
What sold out fast, or at full price?
And what were they left with?
Really simply you can build up a visual dashboard of what success last season looked like, and then do the same for failures.
TIP: If you've got EDITED access, we've built a dashboard for you, looking at women's outerwear over the holiday period. Here you can see the best performers. And here are the worst. Where were you on these styles? Did you have the puffer jacket and the trend-colored teddy coat that did so well, or were you also over-invested on the trenchcoat?
Want to get an access to EDITED? Request your Demo here.
Your own parameters around success
When using external data, set your own metrics for what constitutes a failure or a hit – whether that means something that was reduced by 50% after two months online, or whether it was swiftly replenished after its first sell through. Set that in line with how you define bestsellers and duds within your own business.
If you don't have EDITED access, you won't be able to see what worked best for your competitors (sorry!), but you might be able to spot some of the things that didn't work if they're still in the sale section. Check those out, looking for trends in colors, shapes and fabrics you'll want to avoid next season.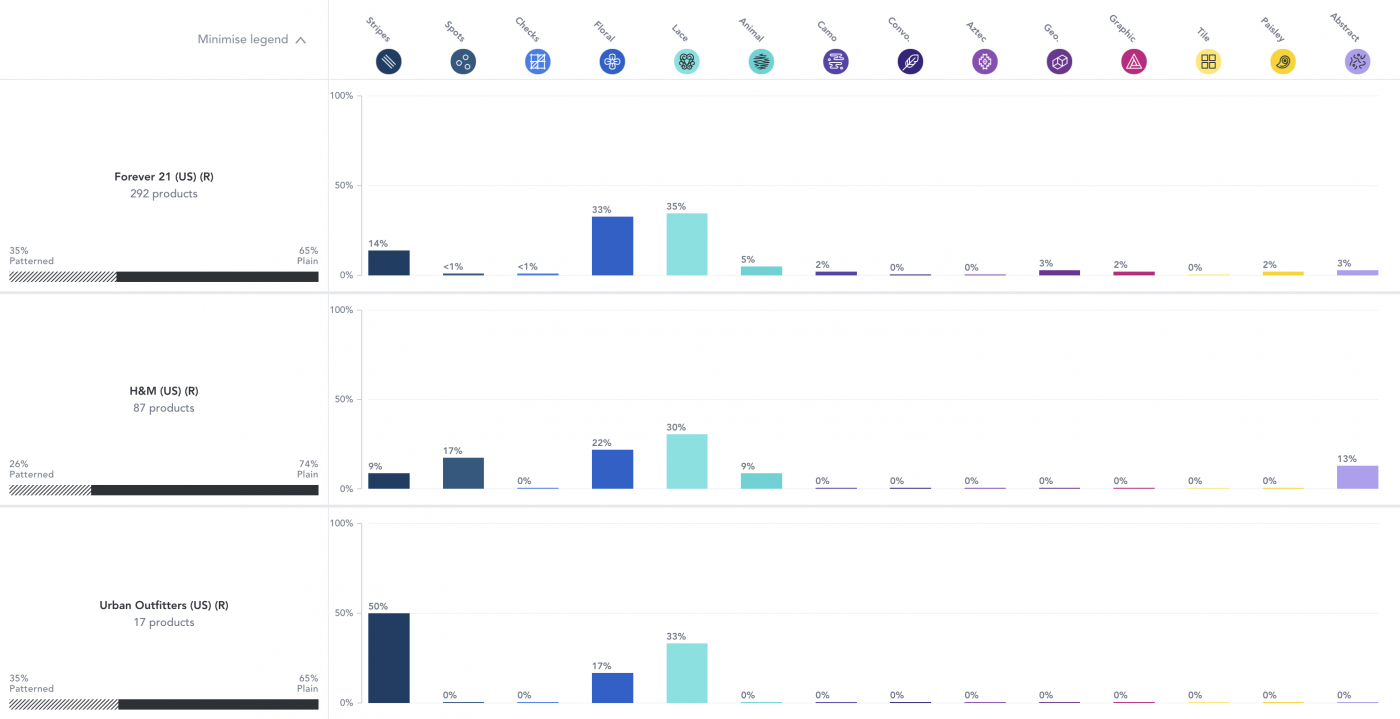 Get granular on your assortment to really gain insights
After getting an overview of last year's missed opportunities you need to know where your successes lie. There's a series of calculations involved with assortment analysis and planning which you are probably pretty familiar with. This is the simplest place to start those.
Break your assortment out into its key categories and compare the percentage of sales in each category against the percentage of receipts in each. That'll reveal the key growth areas. If sandals made up 50% of sales, but only 30% of receipts, you're going to want to keep investing there!
And now the best part: Download this simple spreadsheet and input your category's values. Switch between the tabs to see versions with the appropriate US and UK terminology.

Depending on how competitive your category is, and how much ownership you have, you might want to break your categories out into subcategories and go even deeper with the same metrics.
Do that and you might find that the pool slider was the precise sweet spot of your summer flats.
Give it a go – and check out the Part 2 where we share the Assortment Performance Review spreadsheet that'll make you look like a data pro.
Originally written by katie, edited by kayla.
Want to know more about how EDITED can help your business?
Request a live demo with one of our product specialists.
GET A DEMO →