The tides have turned for luxury's one-time retail darling, the statement bag. This September, 23% fewer luxury bags sold out than in 2015. If millennials have ditched chasing after the must-have bag, what's the industry to do?
And it's not just consumers passing on bags, retailers have introduced 13% fewer new styles in the last three months compared to the same period last year.
Current bag trends speak of a post-recession simplicity – think unbranded leather totes, practical rucksacks and the pared-down aesthetic of the highly successful Mansur Gavriel line. Consumers are making bag purchases that are a less dateable; the 'It' bag is transseasonal. It could cost $20 or $2,000.
But luxury brands need their bag sales. Bags account for 39% of Gucci's products priced over $1,000. They make up 65% of Fendi's and 82% of Prada's $1,000 or more assortment. Bags make brands money. So what to do?
What brands need to know about department store cadence
Department stores have worked themselves into a discounting frenzy. As a result, some luxury brands have begun pulling product out of department stores, away from their seemingly endless rounds of reductions. We recently shared research with Bloomberg, that showed Barneys introduced 41% fewer styles into department stores in Q3 2016 compared to 2015.
But in a slow market, moving away from department stores to circumvent price drops isn't helping brands' bottom lines. More empowering than abstaining is knowing exactly how department stores work. That's where data comes in handy.
If a brand can understand when department stores discount most, when their shoppers buy at full price and when the majority of new styles come in, they can negotiate their own deliveries to be timed optimally. Here are some key points on U.S. department stores' calendars.
The highest number of discounts are applied in November and then in June.
Discounted products sell out in the their highest numbers in December, followed by January and July. So one month after the reductions are applied, stock clears.
Full-priced sell outs are at their highest in December, followed – somewhat surprisingly – by January and February.
March and October are big months for new product arriving into department stores – that's a little behind the traditional calendar.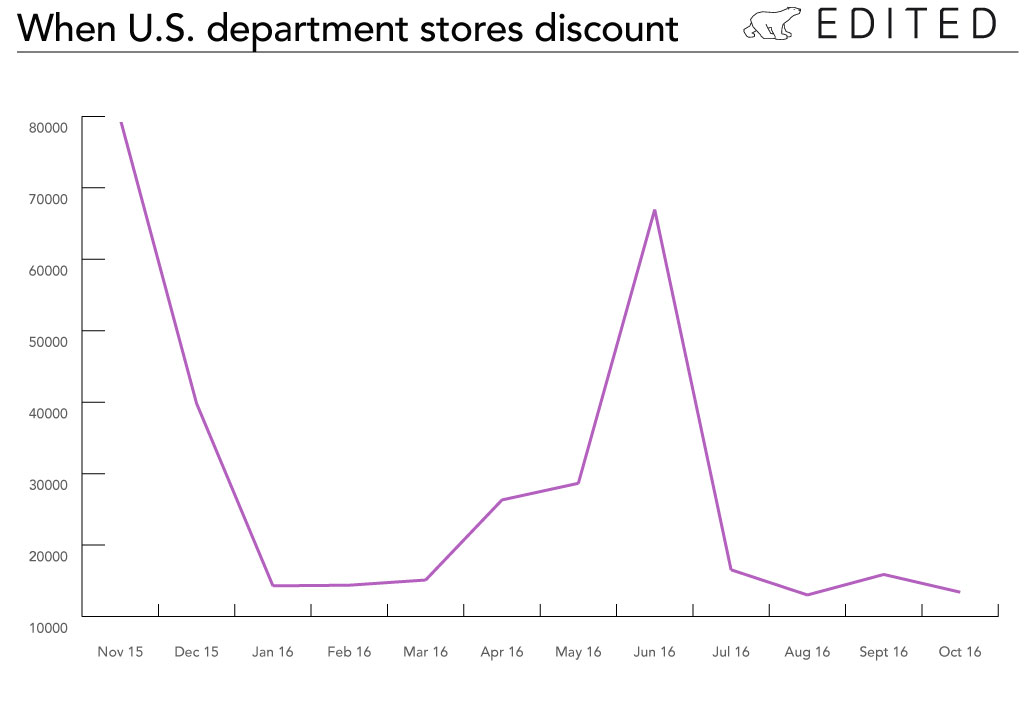 Pricing
Contrary to recent rumors, high end bags aren't getting cheaper. Instead, market data shows that retailers are upping the ante at the top end of the category's price architecture. In the last three months, 23% of all new arrivals at US department stores were priced $1,800 or more. The same period in 2015 saw just 15.5% of all new arrivals priced accordingly.
Bergdorf Goodman's most stocked price bracket is $1,900-2,000, and 9% of its bag assortment sits within that. So where did the rumor come from? Well, it's a case of newness versus replenishment.
In the last three months, it's true the five brands who've introduced highest number of new styles have had an average bag price of $251. They are: Kate Spade, Rebecca Minkoff, Marc Jacobs, Michael Michael Kors and Tory Burch. But if you look at the most-stocked brands on the market, the picture is different. The five most-stocked currently (including Saint Laurent, Fendi and Chloé) carry with them an average price of $1,314.
That's because classic bags from iconic luxury brands aren't flooding the market with newness year-round. Instead, these brands introduce a few new styles every year and are able to replenish without discounting. To fully understand the marketplace it's important to spend equal time looking at what's coming into stores and what never stops being sold.
Data also shows that price is critical when it comes to perception. Designer bags priced below $1,500 are almost three times more likely to be reduced than bags over $1,500. And when they are reduced, it's by a lot more: the average reduction on a bag at the lower end is 42% whereas it's just 25% on a bag over $1,500.
Designer bags priced below $1,500 are almost 3 times more likely to be reduced than bags over $1,500.
Luxury brands would do well to figure out how those stats sit for their direct competitors, then create product priced to optimize the full price window.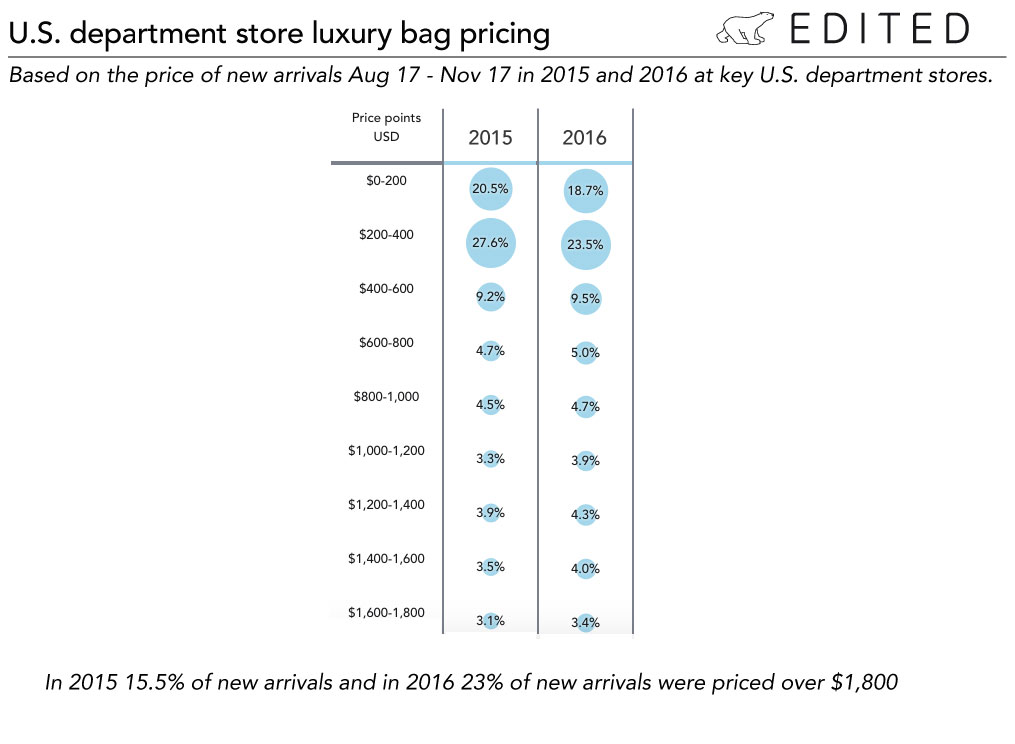 The growth brands
The way that U.S. department stores stock into certain brands has changed in the last year. Some of that is most likely brand controlled: Michael Kors's Michael line (average price $256) has had 43.5% fewer new styles introduced in the last three months (Aug 17 – Nov 17) compared to the same period in 2015. That makes sense. The brand had vowed to reduce the number of styles it introduced to department stores in order to cut back on discounting. Same is true of Coach (average price $332), with newness down 45% at U.S. department stores.
As mentioned earlier, the five most stocked brands in the last three months' have an average price of just $251. But in the top 10 there's also been good growth at heritage brands. Fendi is up 13% (average price $2,199), Burberry is up 29% (average price $1,150), and Gucci up a huge 37% (average price $1,850).
The hot trends of Fall 2016
The good news for the luxury market is that Gucci's new, super-luxe and very elaborate line of bags are selling brilliantly for Fall. In fact, Gucci accounts for 13% of all bestsellers in luxury bags this season.
Luxury newcomers, Les Petits Joueurs (whose bags average $990) have a line of quirky, colorful and often miniature bags which are selling well. And, a sign of good health in the market, its not just the decadent bags doing well. The Row's sleek simplicity makes it one of the season's hottest brands and the day-to-day practicality of Kate Spade's Hayden is a consistent bestseller.
If you'd like to know more about luxury bags – or bags of any kind – then talk to us today!