It should not come as any surprise that Thanksgiving this year broke all previous retail records.
Not if you've been paying attention to the retail data, that is; there is a huge oversupply of products on the market, and discounting began as early as September. And disposable incomes aren't getting any bigger.
Not only are consumers in the mood for a bargain, they want to find it online. And so we have it: Cyber Monday was the biggest online shopping day in the history of the US, scooping $6.6 billion.
Key insights from the shopping holiday:
In the US, discounting was up from 2016.
The number of products selling out more than doubled.
There were more product lines in stock across the five days this year.
The luxury market discounted most.
Online is the winner, in both the US and the UK.
Full-price sales rocketed too.
Black Friday and Cyber Monday as two distinct shopping days is no more.
It was the biggest discounting weekend retail has ever seen. Here's what went down.
What happened in the US
Discounts climbed, steeply. Over the holidays, 48% of the entire U.S. online apparel retail market was discounted by an average of 45% off, compared to 44% of the market with an average of 36% off last year.
Driven by steep discounts that commenced weeks before Thanksgiving, product sellouts lifted by an astronomical 102% year-on-year.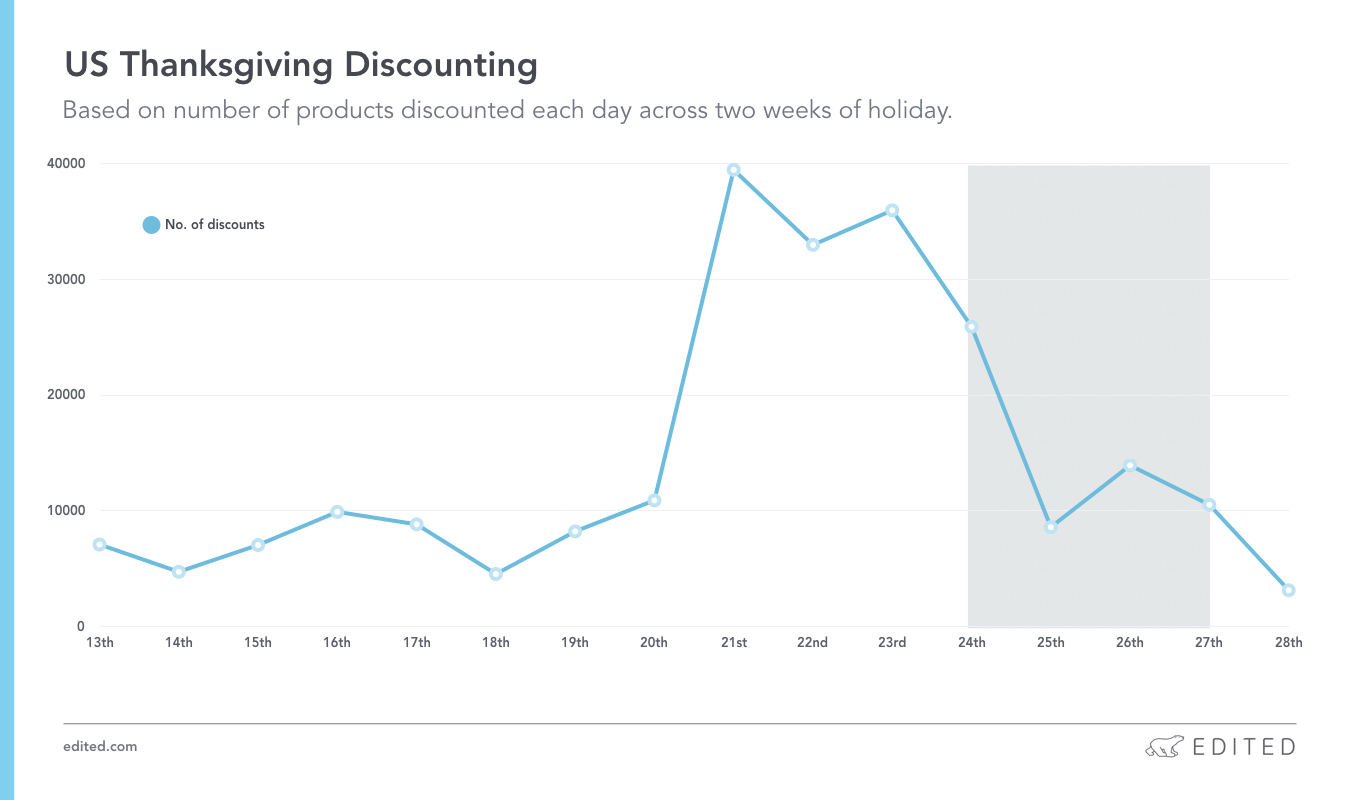 Despite suggestions that retailers were being lean on holiday inventory this year, there was actually a 11.6% lift in the number of products available Thursday through Monday this year.

Not only was there more stuff available, but it is getting cheaper too, the median price of product sellouts across the holiday was $48.70 this year, compared to $50 last year and $57 two years ago.

Luxury saw the highest volume of discounts, with over 26% of products in stock discounted by 25-50%, compared to merely 24% of premium market items and 20% of mass market items.

An interesting metric during discounting period is whether products sell out at their first discount.

On the one hand, it shows that consumers are engaged with the product. However, more worryingly is that retailers probably gave away too much too soon if customers flocked to their reduction.

This year there was a 36% lift in the number of items selling out at first discount Thursday through Monday. Bags were the product category with the highest number of discounted sell outs.

Perhaps the most promising metric is the 105% growth in sell outs of full price items over the discounting weekend. That shows that promos are driving customers to shop, but it's the product which connects that will makes them part with money if its perceived to represent true value.
How the UK compares
Discounting bucked the trend in the UK, with fewer products, discounted by less. In 2016 52% of the UK market was reduced, by an average of 37.3% off. This year 47% of the market was discounted, by an average of 35% off.
While the breadth of discounting was similar to that of the US (48%), the depth of discounting was ten percent lighter in the UK.
That's because the UK didn't enter the discount holiday in as dire a situation as the US, where through November discounting was consistently 44% off.
It never got that high in the UK. Instead, the average reduction peaked at 37% off three days before Black Friday.
Overall the number of products reduced in the UK was down on 2016, by 7.76%, despite an 18% increase in the number of product lines. The cutbacks in reductions saw sell outs over the holiday fall by 10%.
Who did what?
Accessories were the most discounted category, representing 35.5% of reductions, followed by tops (21.7%) and footwear (13.3%).
Topping the list of the biggest US discounters was Walmart, who had more than 197,000 products reduced by more than 60% off. Bluefly came in second with around 51,000 products reduced by more than 60%, followed by Macy's, Kohl's and Boohoo.
The brands with the hardest price discounts were Calvin Klein, Lauren Ralph Lauren and Vince Camuto – all brands which have a large footprint with the value discount stores.
Communications strategy
This year there was more noise than ever about the discounting event. Black Friday mentions in email newsletters grew by 72% during the week, compared to 2016, and Cyber Monday mentions were up by 114%.
Retailers should reconsider a delineated Black Friday and Cyber Monday. Shoppers treat it all one and the same, with sell outs peaking on the Saturday. In fact, there was a 34% increase in mentions of "Black Friday weekend" in email newsletters this year.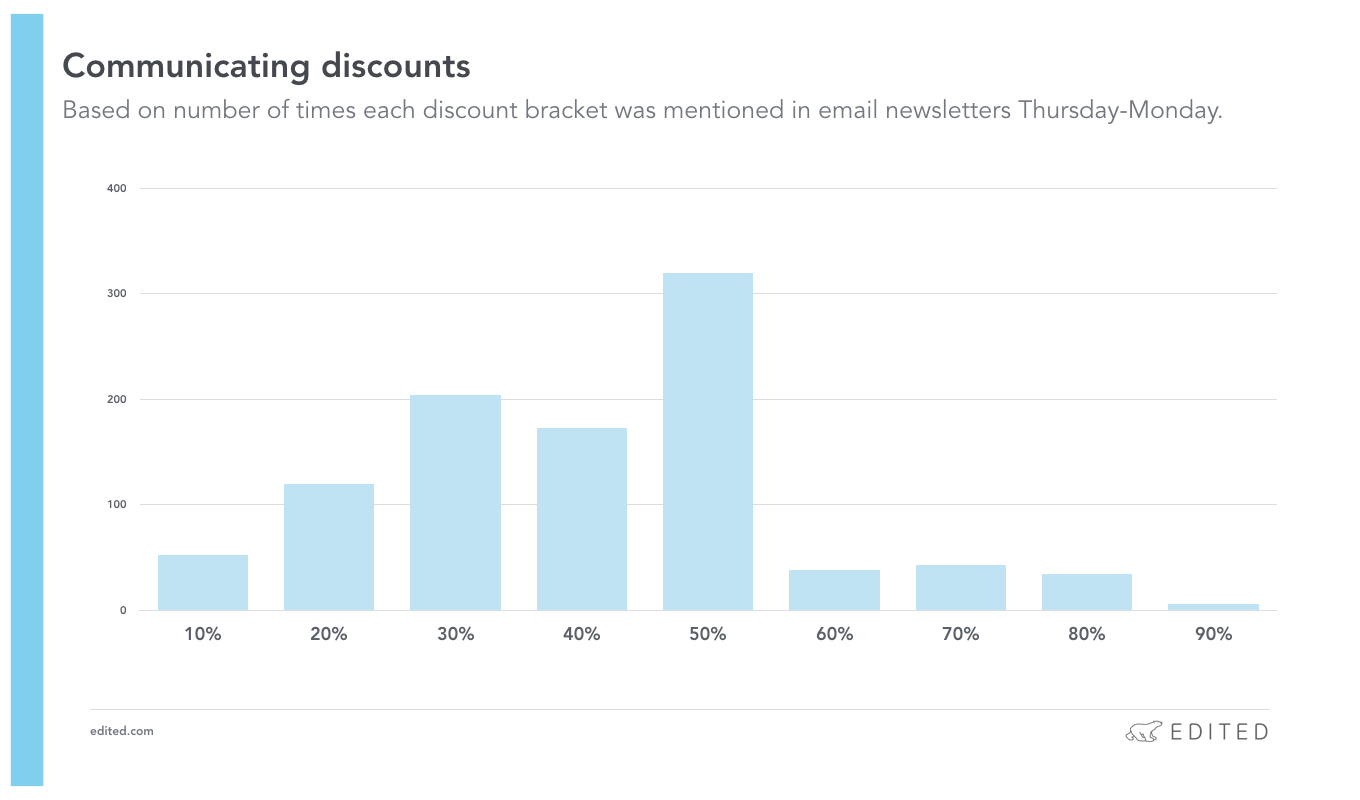 Here's how some of those big savings were communicated. EDITED users, log in to check out all Black Friday and Cyber Monday communications.
What sold best
The items that sold out the quickest this holiday were accessories (representing 29% of sell outs), tops (20%), footwear (17%), dresses (8%) and bottoms (8%).
The retailers with the most product sell outs were Walmart, Farfetch, Shopbop, JC Penney and Missguided. Walmart's discounts are significant this year, with product reductions at an average of 54% off.
In the UK, John Lewis took £214.3m in the week to Saturday – an all time high for the retailer. It reported women's apparel was up 8.3%. EDITED data shows that Oasis, Ted Baker and Warehouse were the bestselling women's brands at John Lewis this weekend.
The hangover- what didn't work
Walmart, Bluefly and Forever 21 all introduced even more products to their sale, with price slashes of more than 40% off, on the Tuesday after Cyber Monday. That hints that for these retailers, weekend spend didn't go to plan.
At Walmart it was jewelry and watches which took a fresh hit with more than 40% off. For Forever 21, 185 tops were added to the sale, with cold-shoulder and off-shoulder styles standing out. Saks Off Fifth added more leggings to its reductions and Bluefly renewed its efforts at clearing 131 more occasionwear dresses.
What now?
Retailers have trained consumers to expect a steady supply of discounts right the way up to Christmas. Larger, potentially over-stocked, retailers will have to continue this high rate of discounting until the New Year. The discount pandemic will only be resolved when retailers stop trying to be everything to everyone. In the meantime, there's a whole lot of fat to be trimmed.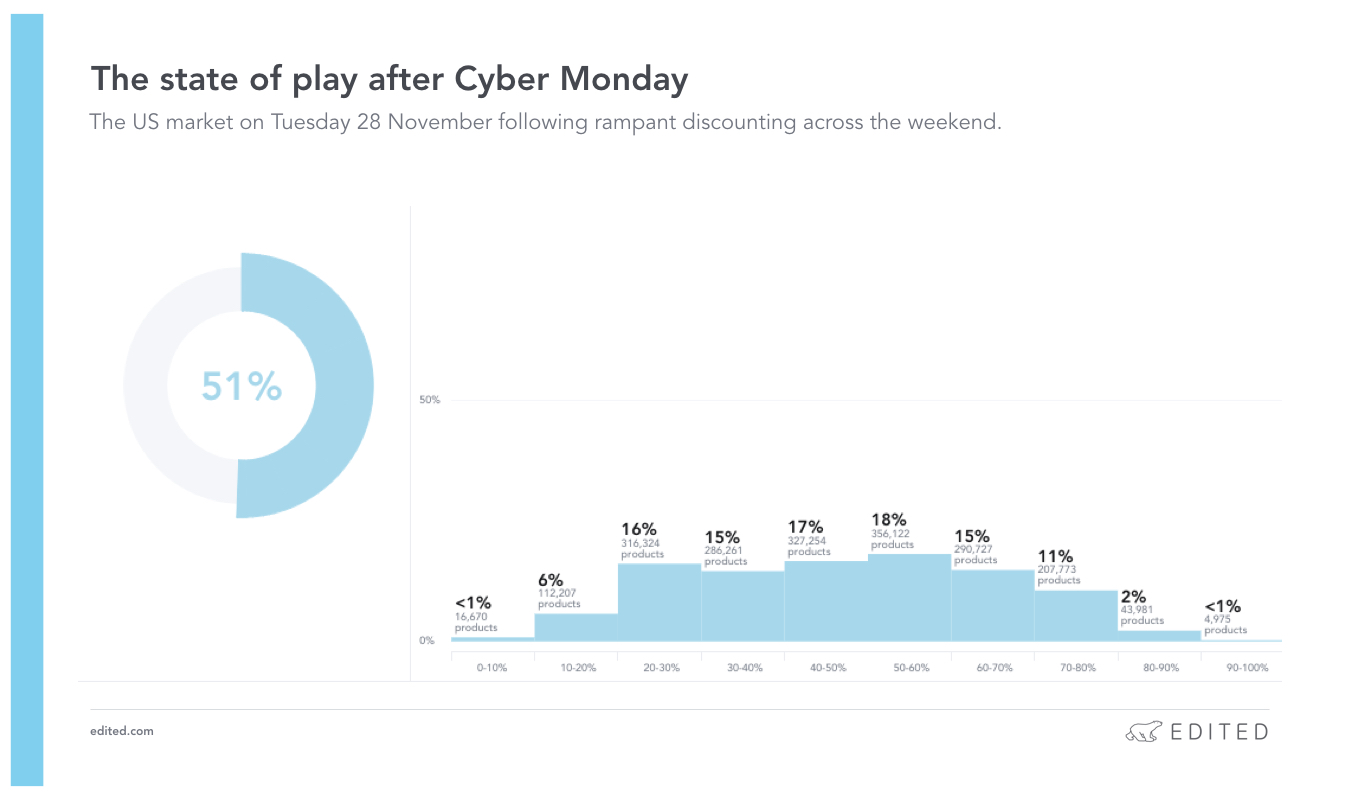 Smart retailers will have planned their assortments to have new gifting product and trends arriving into stores in the coming weeks – fresh things consumers will want at full price. Where these retailers don't want to sacrifice product margins they will use free shipping, or other value-added offers to entice spend.
You don't need to approach a discounting season blind – check out our data to understand how the world's best retailers are strategising their play.