The average cost of a wedding in the UK has hit an all-time high at £30,355 per couple ($38,900). Is this because Brit's are trying to replicate Meghan & Harry's royal nuptials?
While 3-day weddings continue to trend and Millennials spend 45% more of their income on weddings than older couples, Bridebook's National Wedding Survey attributes this stat to the 12% increase of supplier costs every year.
Mass market bridal has boomed in the last three years. The likes of ASOS, H&M, and Reformation have all launched collections, providing an alternative for brides and bridesmaids who don't want to fork out big bucks over a dress they will (probably) only wear once. New wedding product in the mass market has increased by 19% in the UK and 29% in the US, proving there is a demand for a lower priced product.
So, hang on to your bouquet! We're looking at the shifts in marital assortments beyond the dress…
What's changing the game?
So, how is mass market's bridal involvement affecting traditional bridal boutiques? Last year, bridal boutiques increased the price of dress fittings to compete with online retailers. Bridebook's survey found that customer service within bricks-and-mortar stores is as valuable as the cost of the dress. Bridalwear is a tricky business that requires expert product knowledge and service, something online can't always provide. Delighting the customer need in-store is crucial to the survival of specialist boutiques in the digital age.
Before we take a look at what the mass market has to offer, let's highlight some advancements within the wedding market. Alongside the rest of the fashion industry, bridalwear is supporting the push for sustainable products by its involvement in the resale and second-hand market.
For one, Rent The Runway Concierge gives brides-to-be the option to have access to designer labels without costing the honeymoon – or the planet. The platform also takes the stress out of wedding dress shopping by providing bridal parties with a subscription service including personal styling, at home fittings and more.
Another example is Stillwhite, a platform for brides to sell their wedding dresses. This company has proven by selling second-hand garments since 2010, it's saved 216,000 kg of carbon emissions and 180 million liters of water. Marry us?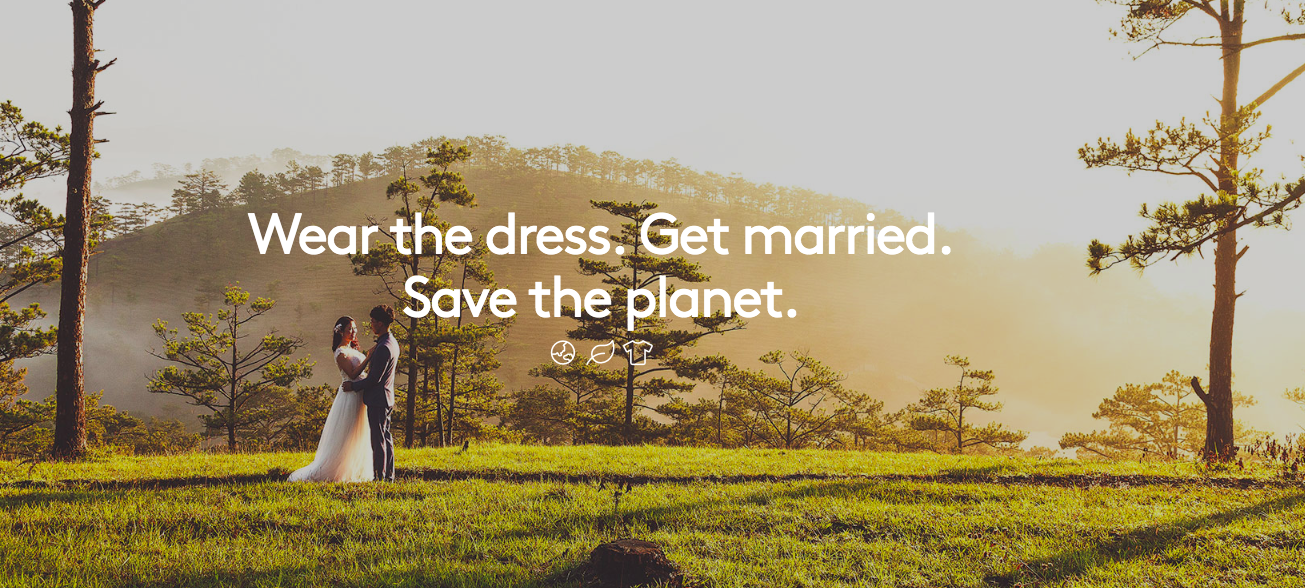 There is a lot to consider in this category. Think planning a wedding is stressful? Try planning a wedding assortment!
Save the date
As more people are opting for destination weddings due to affordable airline prices, product seasonality continues to blur. Traditional wedding season runs from May to October in the Northern Hemisphere. Our software reveals mass market retailers continue to bring in wedding-related apparel and accessories out of peak times – worth keeping in mind when phasing your product assortment.
Want to see how EDITED can help you identify the product, pricing, and promotional opportunities within your business? Get in touch here.
Mass market matrimony
Analyzing the current state of play in the UK and US mass market reveals dresses and suit jackets, unsurprisingly, are still the bread and butter of wedding assortments. By crunching the numbers even further and comparing YoY, the majority of dresses are aimed at wedding guests and bridesmaids instead of the classic option for the bride. In fact, white and ivory bridal styles only make up 5% of the total dress mix. Interestingly, all-in-ones within these colors have seen a 61% rise YoY. These factors point to mass retailers focusing on a less traditional assortment for the modern bride. I mean, it's 2019, people are taking solo honeymoons these days. Buyers wanting to follow this trend for their own range, take note.
Bridal lingerie has continued to trend with Rihanna introducing a range to her successful Savage X Fenty collection. There has been an increase in brands' investment of products for the hen party too. In the mass market, matching wedding-themed swimwear and nightwear has proven particularly popular. These categories (which can stray into gifting) are ideal for more traditional bridal buyers wanting to appeal to a younger demographic. It's an easy way to test the waters with a lower priced product. Plus, they get points for being super Insta-worthy – a prominent factor for a 2019 wedding. You did check out #chiaratakesibiza, right?
Promotional strategies
How are you promoting your assortment? In the past month, we've recorded a 19% increase in email newsletters mention 'weddings,' however, retailers are also marketing product in this theme as 'occasionwear.' Crossovers between dresses promoted for weddings as well as for prom, allows brands to push new bridesmaids styles earlier. It's essential to understand how your competitors are describing product within their messaging. This will influence how customers are searching for these items.
Shoppable newsletters were favored amongst retailers promoting their bridal range. BHLDN communications were segmented by wedding party members allowing customers to shop with ease. Product edits were also popular, featuring curated styles for different wedding themes.
The only thing scarier than your ex showing up uninvited to your wedding is bungling your product assortment. That's why it's time to say 'I do' to easy access retail data. Get in touch here to find out how EDITED can help you trade faster and get your pricing and product right.
Got EDITED access? Check out our analyst reports on menswear key trends for wedding tailoring.