Black Friday and Cyber Monday have blurred into one long frantic weekend. This year, buying habits and sales figures reached new heights with a record $7.9 billion spent on Cyber Monday, according to Adobe Analytics.
Whether you spent the weekend doing your best to fill your pockets or, like me, fill your wardrobe – let's look at the data and make sense of it all.
The Black Friday weekend saw prices reduced by an average of 41% in the US and 31% in the UK
Black Friday had less of an impact on sellouts for brands who discount all year round.
Across the US market, sellouts lifted by 37% over Black Friday week vs. the week prior. This compares to Zara who had an impressive 58% increase. In the US, Zara has the highest percentage of their assortment receiving its first discount. This reflects Zara's tight discounting strategy, in which blanket offers are rare, meaning that Black Friday or end of season sales are often the only time consumers will get cut-price goods. Zara's brand value hasn't been diluted by endless discounts – so when they do them, they work. They also adapt their strategy per market, meaning that offers are considerably lower across the pond.
Your Black Friday planning needs to work with your year-round discounting approach. Don't just rely on having the lowest prices.
US retailers have Black Friday down. The UK not so much.
While 20-30% off was the favored discount bracket for retailers in the UK, 10% less than in the US, it's interesting to note that the 10-20% bracket is growing. In fact, the group between 10-30% off resulted in equal rates of sellout. In contrast, there was a race to the bottom in the fast-fashion world. Here an "up to" 50% off discount was the most heavily promoted in customer newsletters. However, drawing the period to a close both boohoo and Missguided sent out matching offers of up to 70% off – both higher than in 2017.
Communications strategy
Our Visual Merchandising tracking software shows Black Friday mentions in email newsletters across the US and UK grew by 13% during the month, compared to 2017. And Cyber Monday mentions were up by 14%.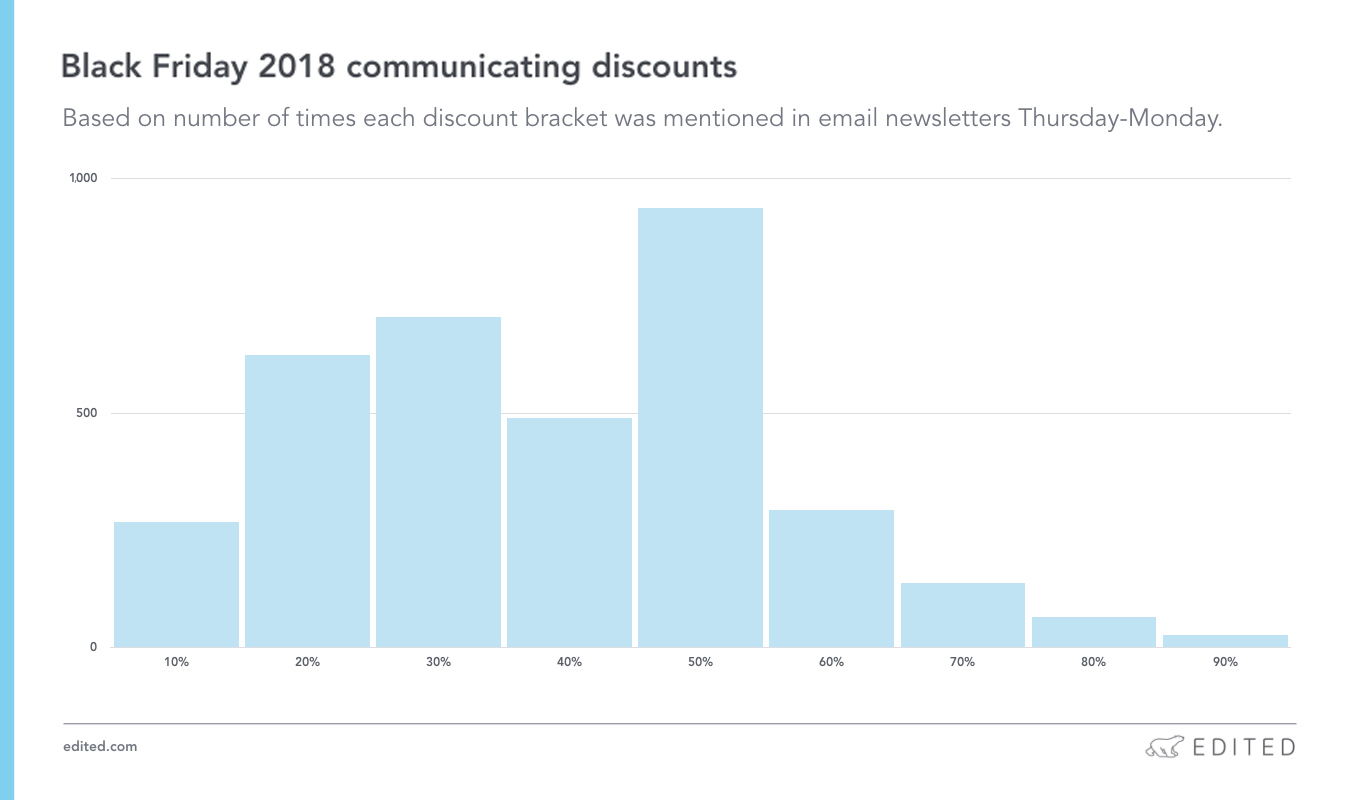 The majority of US retailers communicated price slashes of "up to" 50% off, even though the average reduction was 41% off.
Discounts and offers in the US
The Monday and Tuesday ahead of Black Friday were the key days for products to get their first or further discounts – yet as the week went on new reductions slowed. US retailers may not be overhauling their discounting strategies, but they are communicating earlier with customers. This year Old Navy used the holiday in a promotional email as early as October 13th to alert shoppers of their deal dates in November. EDITED Tip: Log in to learn more about retailers' communications in our US and UK Visual Merchandising Black Friday and Cyber Monday round-ups.
And in the UK
67% of all reductions happened between the Monday to Thursday prior to the big weekend – up from 50% in 2017. However, retailers are using old stock to stretch out the timespan of their promotions. Most fresh discounts are still taking place on Black Friday. Here's how some of those big savings were communicated:
So how is pushing forward promotions impacting sellouts?
Despite there being less new price reductions as the week went on, discounts got lower and sellouts peaked during the weekend in both regions. Shoppers are getting savvier as to when the best discounts are to be had. Top EDITED tip: If you have EDITED access, check out the full Black Friday discounting report for US and UK here.
Brands boycott Black Friday
Of course, discounting isn't for everyone. Christopher Raeburn shut its website and pop-up store for Black Friday, instead promoting the sustainable approach of "buying less but better". While UK brand Fat Face donated up to $130,000 of profits made over the weekend to charities including the Prince's Trust Tomorrow's Talent programme and Nepal Appeal.
What next?
In the coming weeks, assortments will be full of festive gifting products and party wear — fresh things consumers will buy at full price. Free shipping and other value-added offers can help encourage spending without you having to sacrifice product margins. If you want to know more about anything in particular, just get in touch! If you're not already an EDITED user, drop us a note.