There aren't many retailers that can claim a 32% sales increase right now. But ASOS did just that, in the four months to June this year and is expecting full year profits to be £79.4m.
Clearly, there are things you need to know about ASOS.
What is it about its strategy that means the OG of trend-led e-commerce still has room to grow, in an increasingly crowded marketplace?
Of course, there's not one simple thing the retailer is doing to make their millions. Sorry, that would be too easy. Instead there's a combination of factors balanced out to result in bottom line growth.
Here they are.
1. Trend is top priority
At the very centre of the ASOS masterplan is an undying commitment to trend. Nearly half (41%) of the current offering arrived in the last three months, and the site receives between 2,500 and 7,000 new products every week. Newness drives the business.
ASOS is meticulous on the timing of its trends too – the retailer doesn't drop singular styles into stock, it waits for full stories to be in stock and launches them in the one hit (hence the variance in new product releases each week). And the retailer is among the first in the industry to break those trends.
Take the color yellow, which is on its way to booting millennial pink off trend top-spot. ASOS began increasing its stock of the shade dramatically in May, introducing more than twice as many new products as in April 2016. The rest of the UK market still lags on this trend. Across the full market there was a rise in new arrivals in June, a month later than ASOS, but by only 32% compared to a year ago. We expect to see this ramp up in the following months, but ASOS are already in prime position to take the win.
This skill with timing not only feeds the retailer's content, but having a full range of merchandise for a trend story places them as an authority on trend within consumers' minds.
2. At any cost
Trend even takes a precedent over price. Data shows that ASOS isn't trying to be cheapest. In fact, its price architecture is very different from other trend-led youth retailers like Boohoo, H&M and Forever 21. Instead, ASOS opts to have stand-out product, at any cost (within reason).
Want to see how EDITED can help you identify the product, pricing, and promotional opportunities within your business? Get in touch here.
On branded goods, ASOS frequently buy into a higher range of pricing than the brands stock on their own sites. That's the case with both New Look and Warehouse. ASOS wants the best, most unusual product.
One way it differentiates its assortment is by working directly with brands to produce product with its own consumer in mind. In fact, 5% of the branded offering is merchandised as being 'exclusive'. And prices on those exclusives skew higher than the rest of the assortment.
ASOS uses these exclusives to drive specific trends it's focusing on. For example, color: there's a greater emphasis on shades of pink and yellow in their exclusive selection than in their non-exclusive offering.
Exclusives are also used to reiterate ASOS's activewear difference – something the retailer has recently upped the ante on – featuring exclusives with Puma, Ellesse and Nike.
3. Despite that, there's a reliable core
Although trend is ASOS's golden child, the retailer still has a solid range of replenished core items. In fact, more than 8% of the current offering was first introduced more than a year ago.
That's more than at Forever 21, where product 12 months or older only accounts for 3% of the offering, or Topshop at 5%.
So what's in the core?
Own-brand blue and black denim for women and men.

Tommy Hilfiger tees and shirts for men

Birkenstocks, Nike and Converse footwear

Bras – strapless and styles which run in larger cup sizes

Simple own-brand shirts and blouses in white, navy and black

Lace occasionwear dresses

Items from ASOS Curve and Maternity lines
4. There's a distinct approach to discounting
ASOS has a strong stance on discounting, choosing to partition its reduced product off into an outlet section rather than saturate its main offering with too many price slashes. That way it's only the most ardent of sales shoppers who will discover the ASOS outlet section. The retailer even introduces new branded product directly into the outlet section.
Outside of outlet, discounting is mostly promotional, with key dates in June and December sales as well as driven by email discount codes. In the last three months, 20 out of 40 email newsletters (women's) have mentioned sales. Given the strong emphasis on trend and the approach to discounting, ASOS may want to reassess this.
Want to see how EDITED can help you identify the product, pricing, and promotional opportunities within your business? Get in touch here.
5. Menswear takes a back seat
It's well stocked, but menswear isn't a major driver of business for ASOS. There were more than three times the number of full price womenswear sell outs in the last month than men's. Menswear accounts for 38.5% of the entire offering but only 23.8% of full price sell outs.
ASOS is aware that its menswear customer shops differently to its womenswear customer. Because it knows the habits of the womenswear shopper innately – and has an aptitude for building tech to suit the way they shop – ASOS focus its innovation on women.
6. Smart brand mix
ASOS's real trump card is the scale of its own-brand assortment. With petite, tall, plus size and maternity lines, along with premium and reworked vintage, ASOS manages to greatly extend its consumer reach. A third of the assortment is own-brand, with the majority of own-brand falling under the ASOS main collection.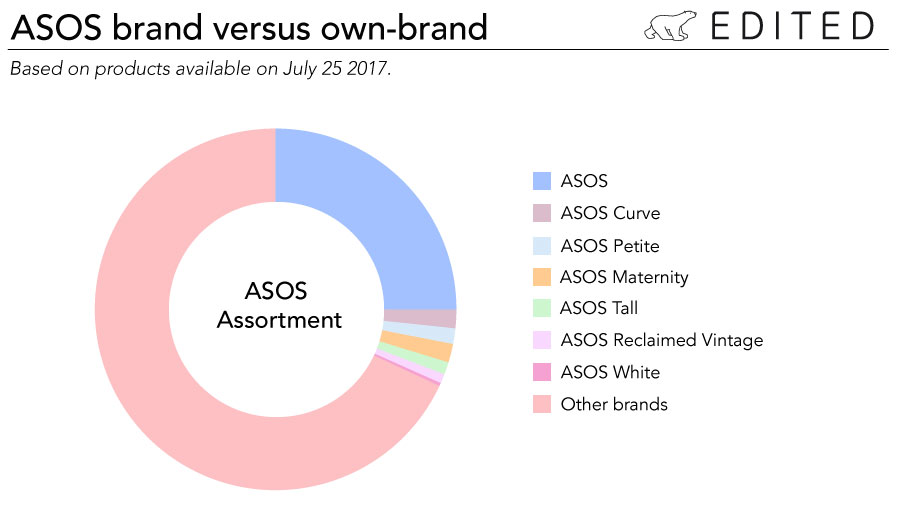 As the branded strategy has focused on unique product over price point, the private-label business gives ASOS the space to be price competitive. It also showcases the retailer's understanding of trend and timing.
Brands @ASOS focus on unique product over price but private-label allows ASOS to be price competitive
Outside of own-brand, the bestselling brands at ASOS are New Look (which accounts for 1.6% of offering), River Island (1.5%) Nike (1.2%), Boohoo (0.7%), French Connection (0.8%), Ted Baker (0.4%). It would be a good idea for ASOS to extend their French Connection and Ted Baker assortment as they hit the higher price points.
These aren't the only tricks up ASOS's sleeves. We've not touched upon its successful wedding collection, looked at best-selling categories or discussed its fresh look at activewear. If that's the kind of data you'd like to check out, you should check out a demo of our software!