Not sated by expected sales of $1.4bn this fiscal year, meet the Australian retailer with plans to grow global sales to $4.5bn in 2025.
Twenty five years ago, Cotton On, Australia's ascendant retail colossus, was just a market stall in a small town on a giant continent. Today they operate 1,400 stores in 18 countries, including Hong Kong, Singapore and New Zealand, with 600 of those stores opening in the last six years alone.
Safe to say, they could be the biggest competitor you didn't know you had.
Cotton On somewhat sprung upon the States in the last three years, opening 100 stores with plans for 100 more over the next three years. They're not afraid to open in untested markets either: recently opening in Namibia with Botswana and China (through Alibaba) soon to follow.
They even have their own university where young hopefuls are groomed to fill buying, merchandising and design roles to make sure that their ranks are full of ambitious and perfectly-trained personnel at all times.
They don't just mean business, they might already be winning it from you. So let's see what the data can tell us about this gutsy Australian retailer.
1. They've got all bases covered
When it comes to versatility, Cotton On is a Swiss Army knife. Aside from the main line, Cotton On's brands include Cotton On Body (underwear), Cotton On Kids, Factorie (aimed at college kids), Typo (quirky stationery), Supré (fast fashion bargains) and Rubi (women's footwear).
All have seen success, but it's the trio of Cotton On, Cotton On Kids and Cotton On Body that'll have the most potential to stir up new markets. The retailer breaks gender emphasis out in a way similar to H&M, with 57% of their offering womenswear (59% at H&M), 20% menswear (16% at H&M) and 23% kids' (25% at H&M).
However, Cotton On's offering is still far smaller than H&M's, who has over 12,000 options currently online. In size of assortment, Cotton On, with a little over 5,000 options rings closer to Zara, with 7,000 options.
Category emphasis differs from other fast fashion retailers on the US market and this is why the likes of H&M, Forever 21 and Zara should take notice of their smaller mall-mate.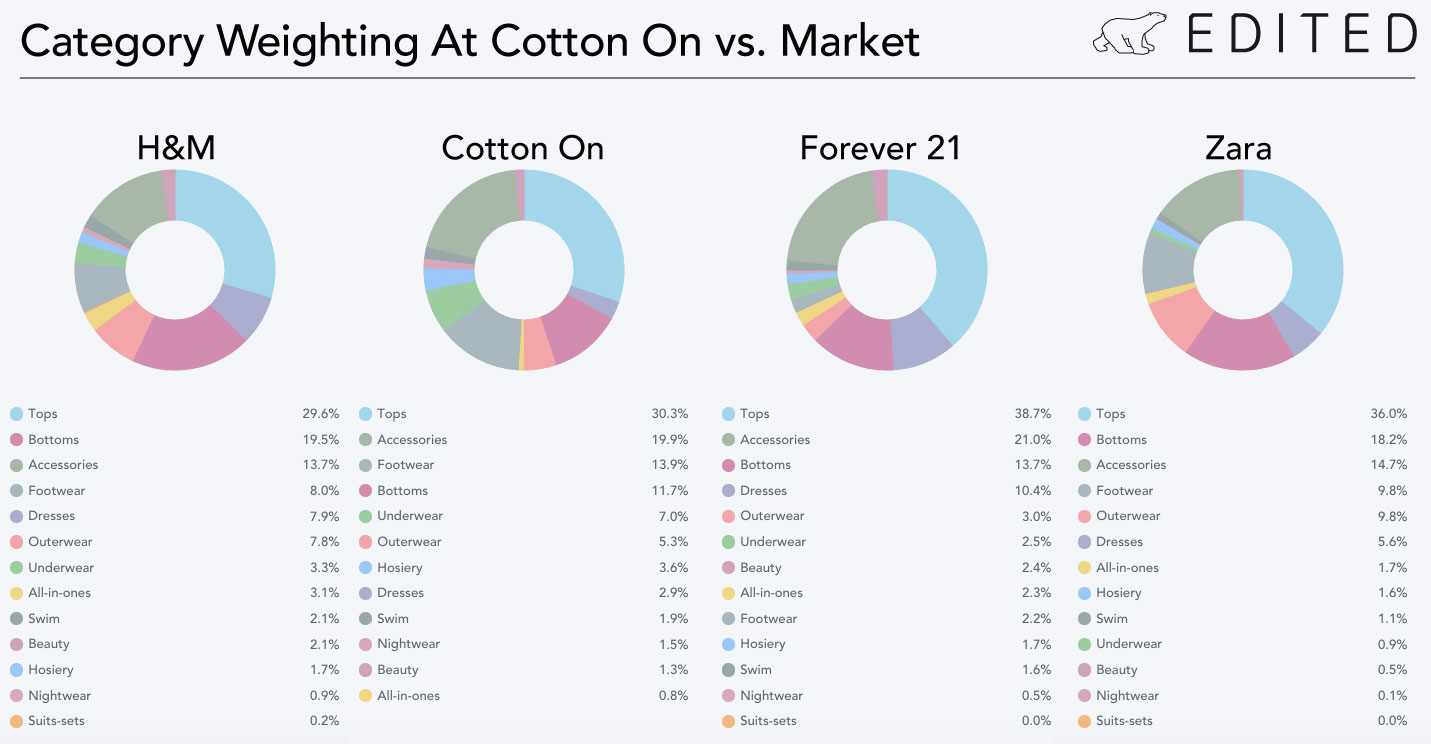 Cotton On give higher weighting to accessories than H&M and Zara do, and much higher weighting to footwear than the other retailers. Underwear is where Cotton On lead, accounting for 7% of their offering, compared to just 1% at Zara, 2.5% at Forever 21 and 3.3% at H&M.
2. They're price competitive and highly promotional
Cotton On's price point is lower than the market, with exit price just $84.00. The median price point, $15.00 is 19% lower than Forever 21's median, 33% lower than H&M and $67.00 lower than Zara.
Cotton On really focus on the bottom end of their offering, with a higher number of options priced below $5.00 than H&M.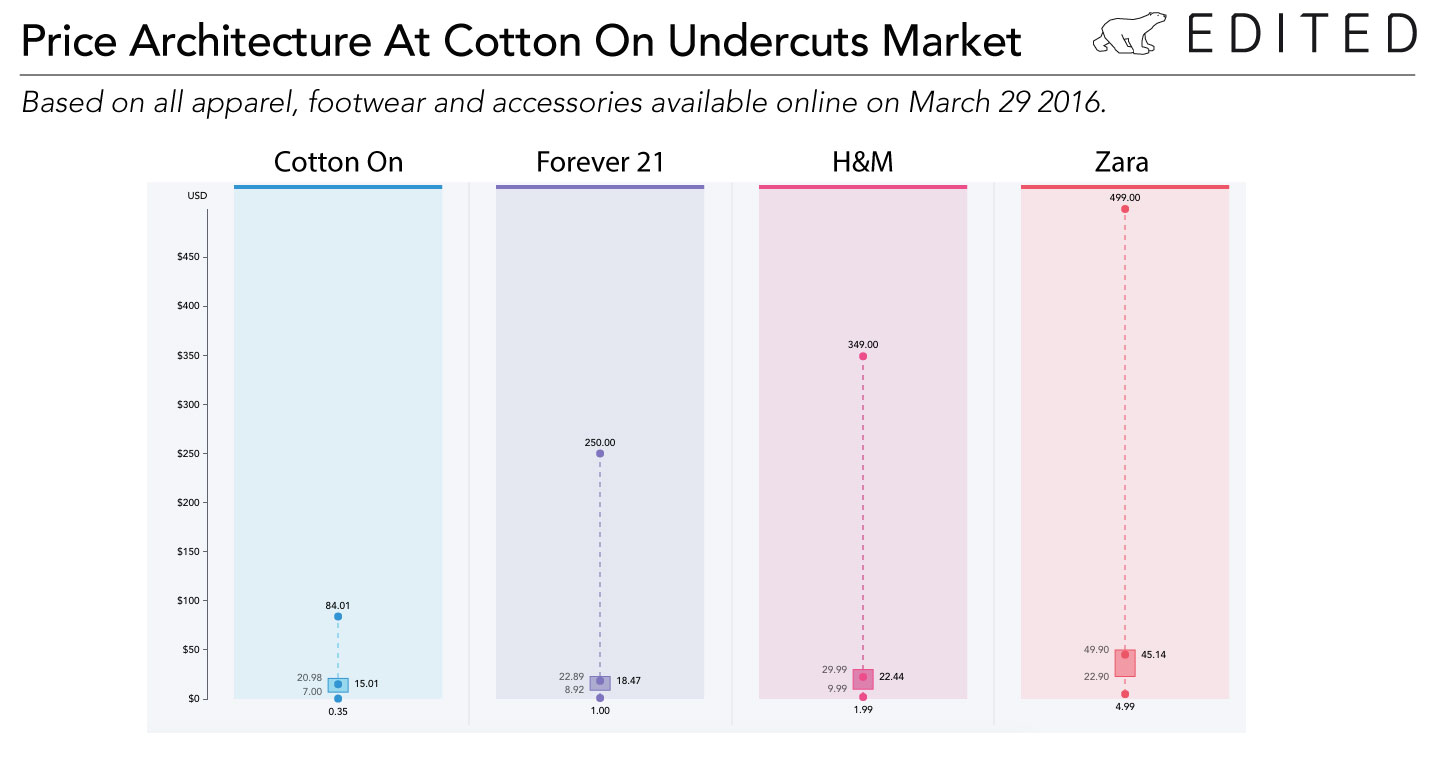 Womenswear is especially competitive at Cotton On, where the focus price point is $10.00-$15.00. The below chart shows an average shopping bag price on some key items at Cotton On, Forever 21, H&M and Zara. Cotton On comes out 26% lower than the market average on these items. The only item they're beaten on is jeans – both H&M and Forever 21 have cheaper styles retailing.

Spend & Save offers, bundle deals and site-wide one day discounts are all frequently recurring promo tactics at Cotton On. Most recently, the retailer ran 30% off online from March 25-28. Another 30% had been knocked off March 18-20. And before that, February 16, February 7… it goes on.
Here are just some of the discount tactics from the retailers homepage in the last few months:
3. Stuff moves ridiculously fast
The oldest item on Cotton On's website is 12 days old. 12 days! That's nothing. I mean, look at these labrador puppies, they're also 12 days old. They're still pretty useless to the world (cute, yeah sure), meanwhile, a Cotton On item has lived out its entire retail showtime.
Cotton On don't have a big assortment compared to H&M or Forever 21. Instead they've chosen a 'little and very often approach'. As we've seen, that doesn't mean they avoid discounting. Instead, it means the whole retail journey plays out in an incredibly small amount of time. On average, a Cotton On item currently sells out in eight days, and is first discounted in five days. We imagine there's a whole lot of caffeine being drunk in Cotton On's North Geelong headquarters.
4. Trend isn't high on their hitlist
Despite that speed, Cotton On isn't as trend-centric as their price point competitors. They've invested into the slower-moving consumer trends like bomber and biker jackets and they've certainly capitalized on the athleisure movement with a strong active assortment for women. But when it comes to garment shape, fabric and decoration, Cotton On err on the safe side.
They run most shapes in four or five colorways. Palettes run pretty universally across the departments, with washed out shades favored. A pink, blue, white, khaki and black tends to be used in most garment shapes and in womenswear, aside from graphic tees, there's very little in the way of patterned fabrics or embellishment. Repeat fabrics and colorways helps Cotton On keep their costs down. Multiple uses from fabrics mean they can place smaller orders, across a number of styles, which then move fast.
H&M, Forever 21 and Zara certainly cater better to the younger, fashion-conscious market, though those players should be intimidated by Cotton On's activewear and lingerie. Where Cotton On has real potential to sting is the family outfitters like Gap, Primark and Uniqlo.
Here are bestsellers from Cotton On across women's, men's and kids' in the last 18 months. Basics rule, with the occasional fun tee thrown in to lift the offering.
Want to know more about how EDITED can help your business?
Request a live demo with one of our product specialists.