Ugly Vs. Minimalist Footwear
Although the rise of Quiet Luxury has caused shoppers to return to a pared-back aesthetic in 2023, it is hard to ignore the success of the gimmicky shoe, as MSCHF's Big Red Boots emerged as one of the most talked about styles of the year. With both trends running in parallel, we breakdown the need-to-know silhouettes by category.
Chunky sandals have been a failsafe investment area over the past few seasons, with the inflatable trend giving renewed interest to the category. Sneakers also refreshed in SS23 with new brands HOKA and On, reprising the chunky runner.
The gimmicky side of ugly footwear has taken a comical turn in 2023, spurred by luxury brands, including Loewe, and JW Anderson's silly approach to design that has seen Minnie Mouse-inspired heels and frog clogs. Barbiecore offered mass market retailers an entry to the trend, with hot pinks accounting for 67% of pink sell outs of heels.
Miu Miu has been one of the poster brands for minimalism, single-handedly causing the return of ballet flats that have seen Q1 intake climb 74% YoY in the mass market. The Fall 2023 runway also made a case for pumps and slingbacks, with the latter having already seen investment grow 37% vs. 2022.
A muted color palette of blacks, neutrals and whites in elevated materials such as leather and suede was the overarching theme across sneakers and sandals. Fisherman sandals, retro sneakers and clogs emerged as top-selling areas within the minimalist aesthetic.
Current Trend Status
The Case for Ugly Footwear
The virality of products has fast become the new golden ticket for assortments, with footwear emerging as the star. As a result, 2023 has been a toybox of trends, with brands turning to the absurd for inspiration, noting Craftcore, inflatables and cartoon-ification as major themes. The success of MSCHF's Big Red Boots instigated the trend's staying power this year, grabbing headlines with celebrity, fashion week and influencer approval. But the runway has also taken note, with Loewe's Minnie Mouse-inspired cartoon pumps, adorned by Kylie Jenner, and balloon-decorated heels grabbing the media's attention at its Fall 2023 show earlier this year.
The Case for Minimalist Footwear
The rise of the Quiet Luxury narrative, underpinned by timeless trends, unfussy staples and understated elegance, has propelled a minimalist aesthetic back into the spotlight. Its return is also an antithesis to the proliferation of TikTok 'cores.' Initially bubbling up in the sneaker market, thanks to the resurgence of retro profiles such as the adidas Samba, it has now infiltrated the heels, shoes and sandals categories, while neutral hues remain an in-demand palette. Prada and Miu Miu are poster brands for the minimalist comeback, with their cult ballet flats and pointed pumps driving the look. Attributed to both labels' desirability, the Prada Group reported YoY revenue growth of 23%.1Q1 2023 Results – Prada Group
Shoes that transcend seasons provide a lucrative investment for retailers, with a transitional appeal that can help to lower markdowns and maintain margins. Boasting longevity, the FW23 runway collections continued to favor stripped-back footwear.
Sneakers
The Ugly
As the new kids on the block, brands HOKA and On have put an end to minimalist running sneakers. The HOKA Clifton and On Cloudrunner have instigated a switch in trends to maximalist chunky designs, as well as adoption as go-to lifestyle sneakers. King of collaborators ASICS has also fed into the trend, with its viral sell out 3D floral designs showcased on the runway at Cecilie Bahnsen. HOKA's strategic moves to broaden its customer reach have seen its presence grow in the market, noting in stock options at END Clothing were up by 154%, 66% at Zappos and 44% at DICK'S Sporting Goods versus 2022. Chunky designs are a failsafe investment in the mass market, noting arrivals climb 9% in 2023, with sell outs already tracked at H&M and Zara.
Crafty details
Chunky performance sneakers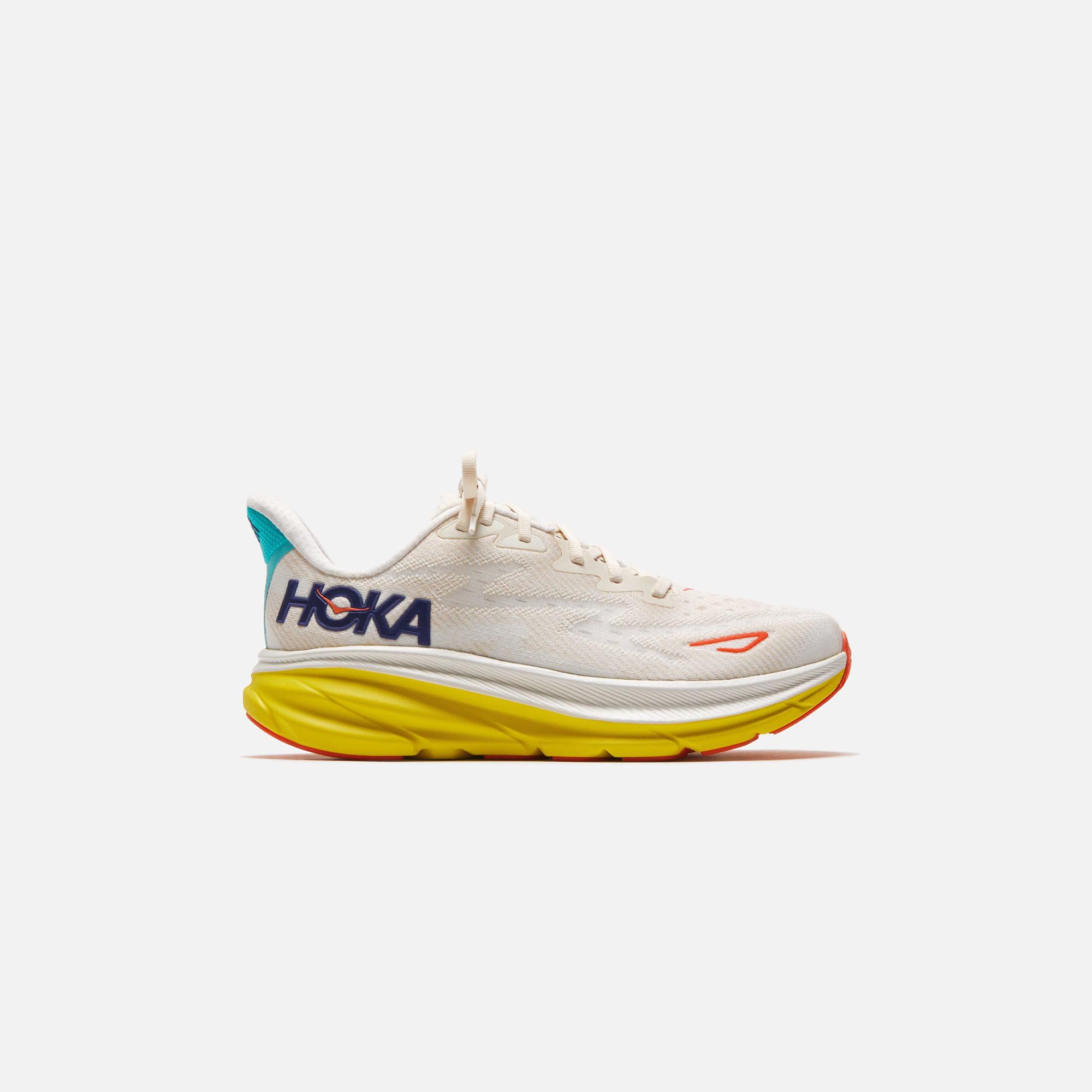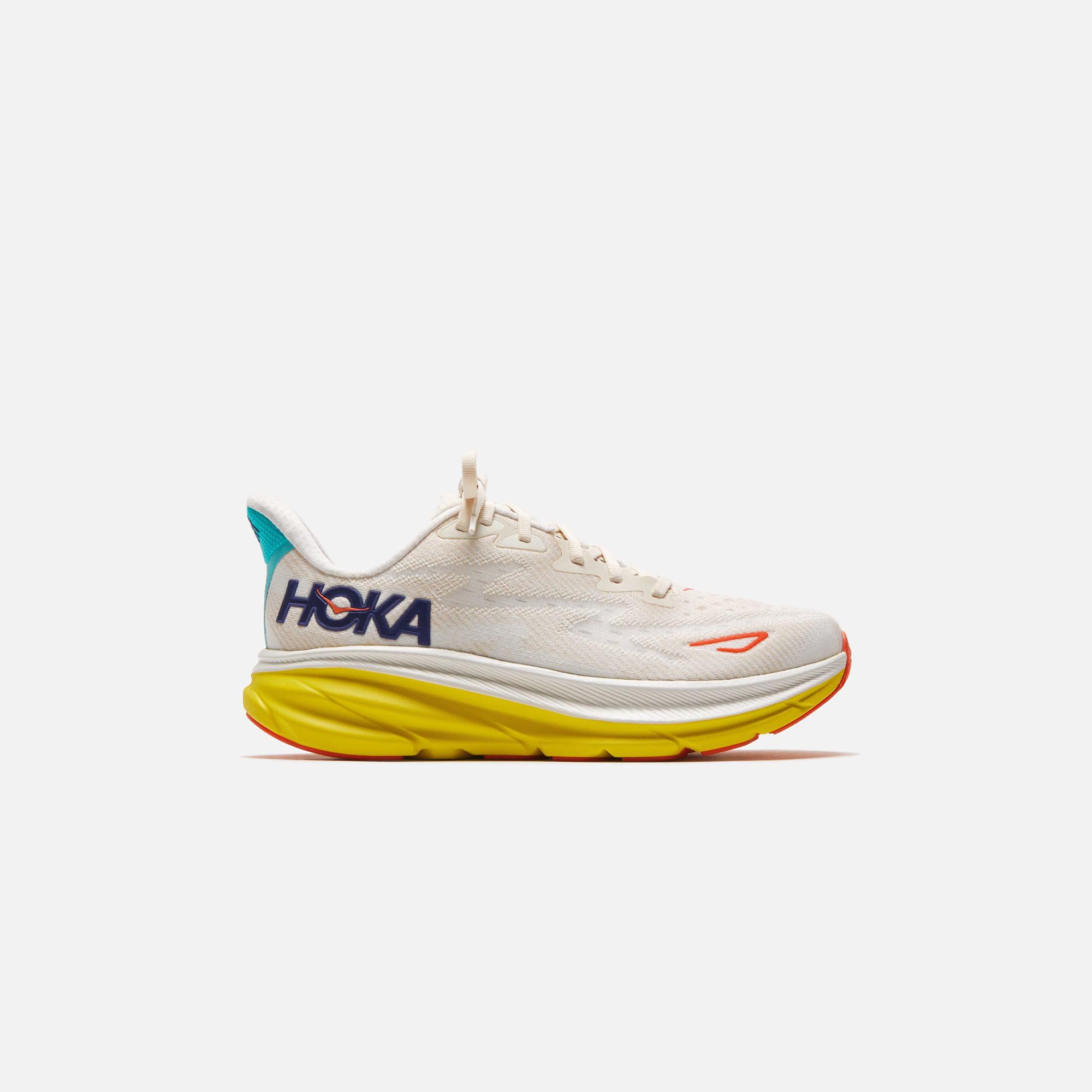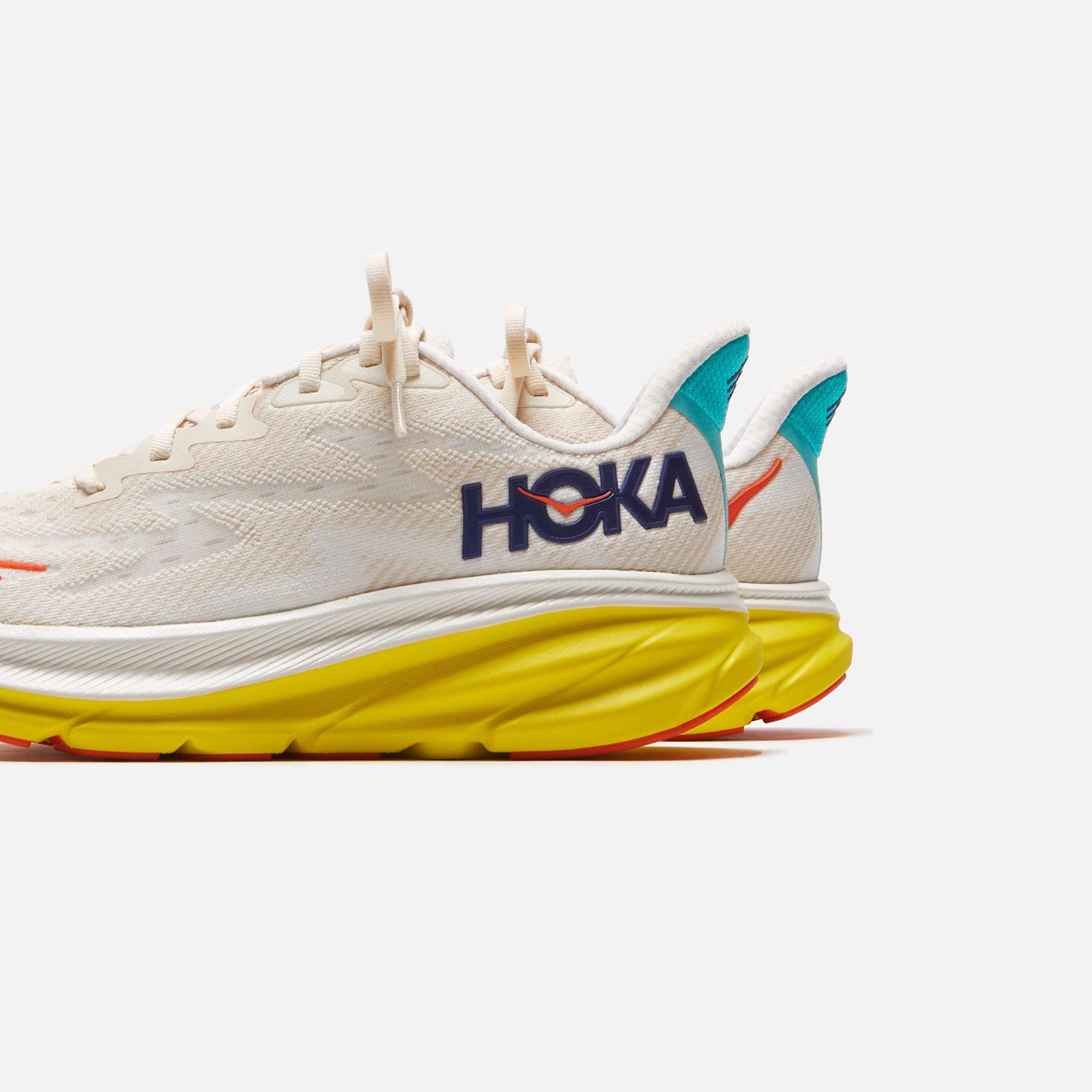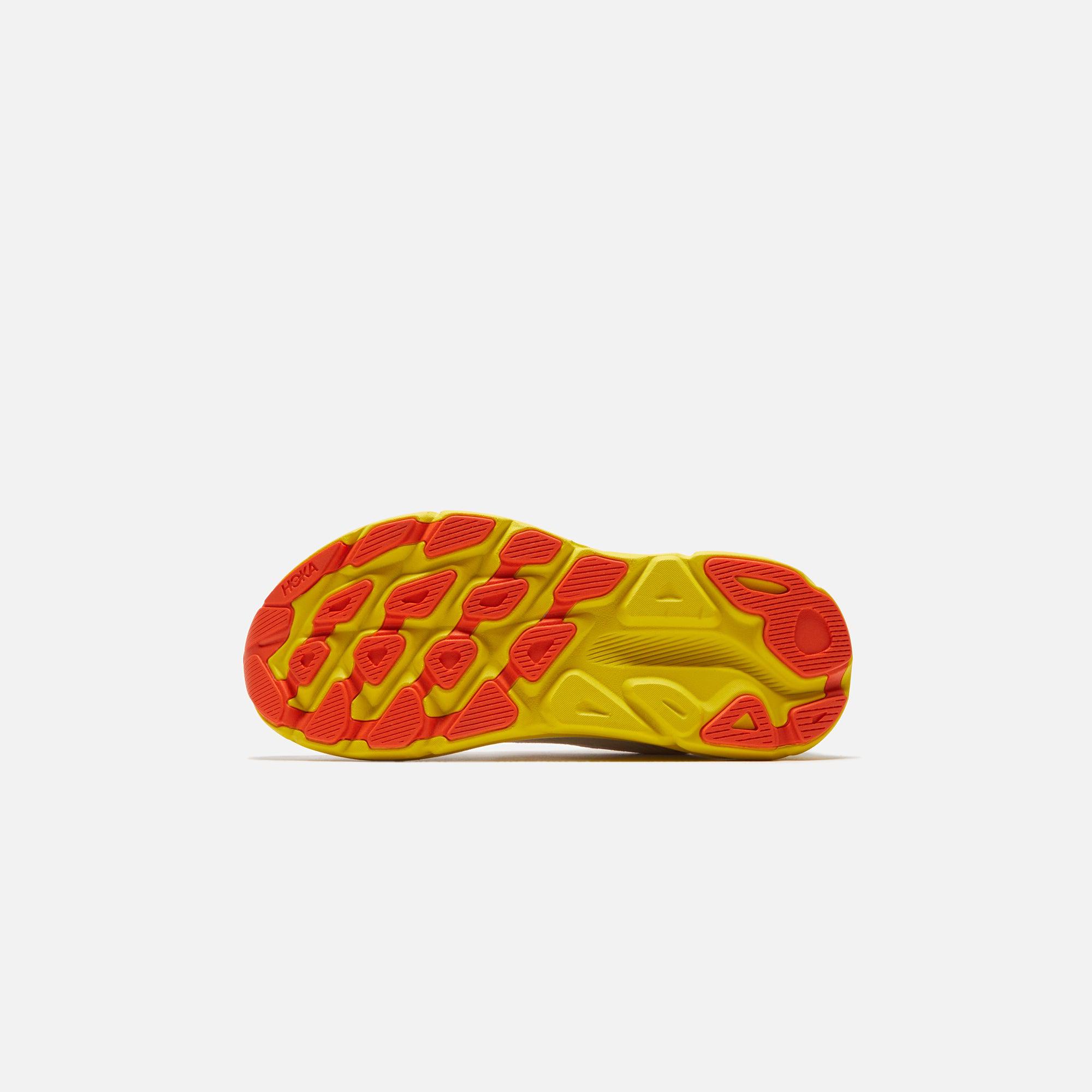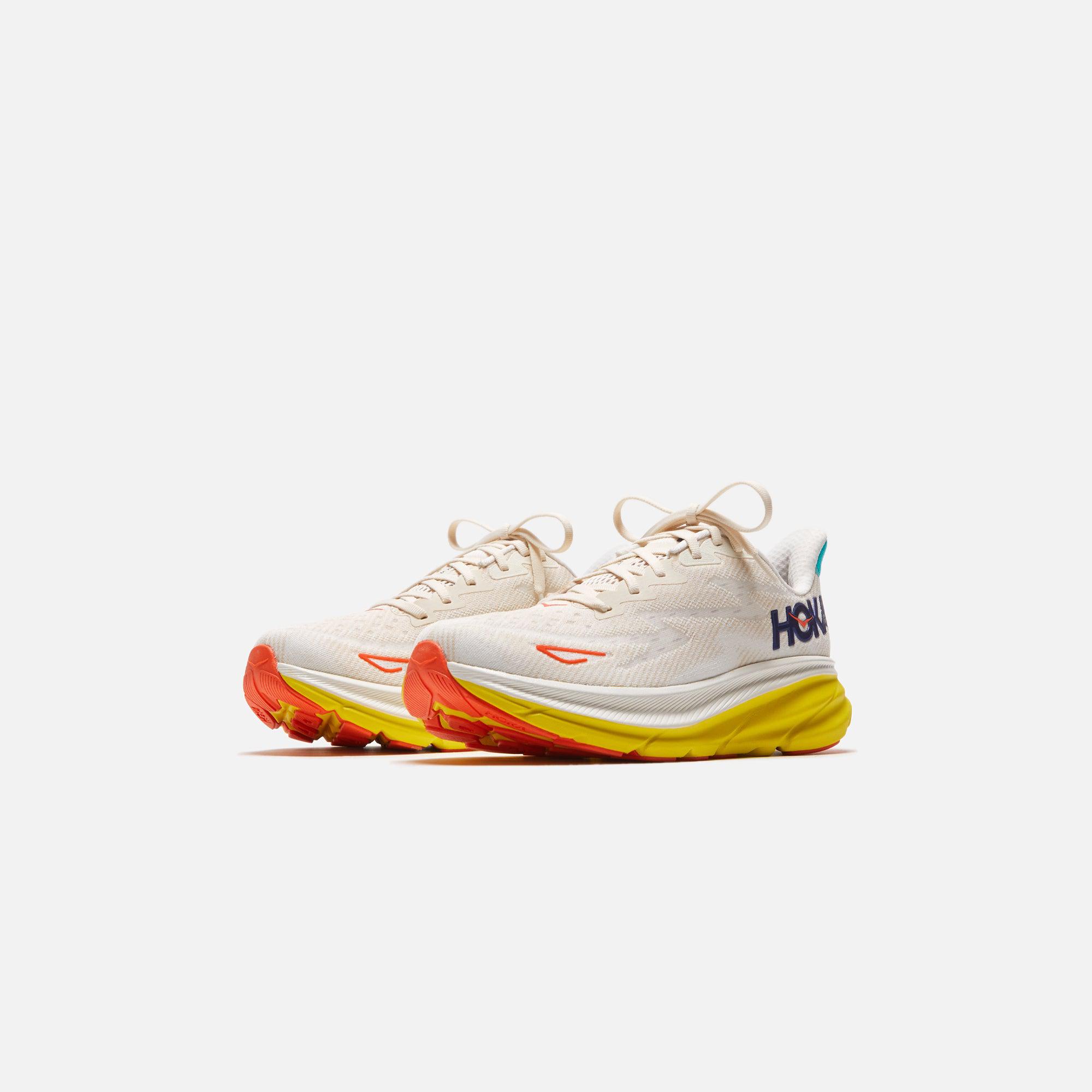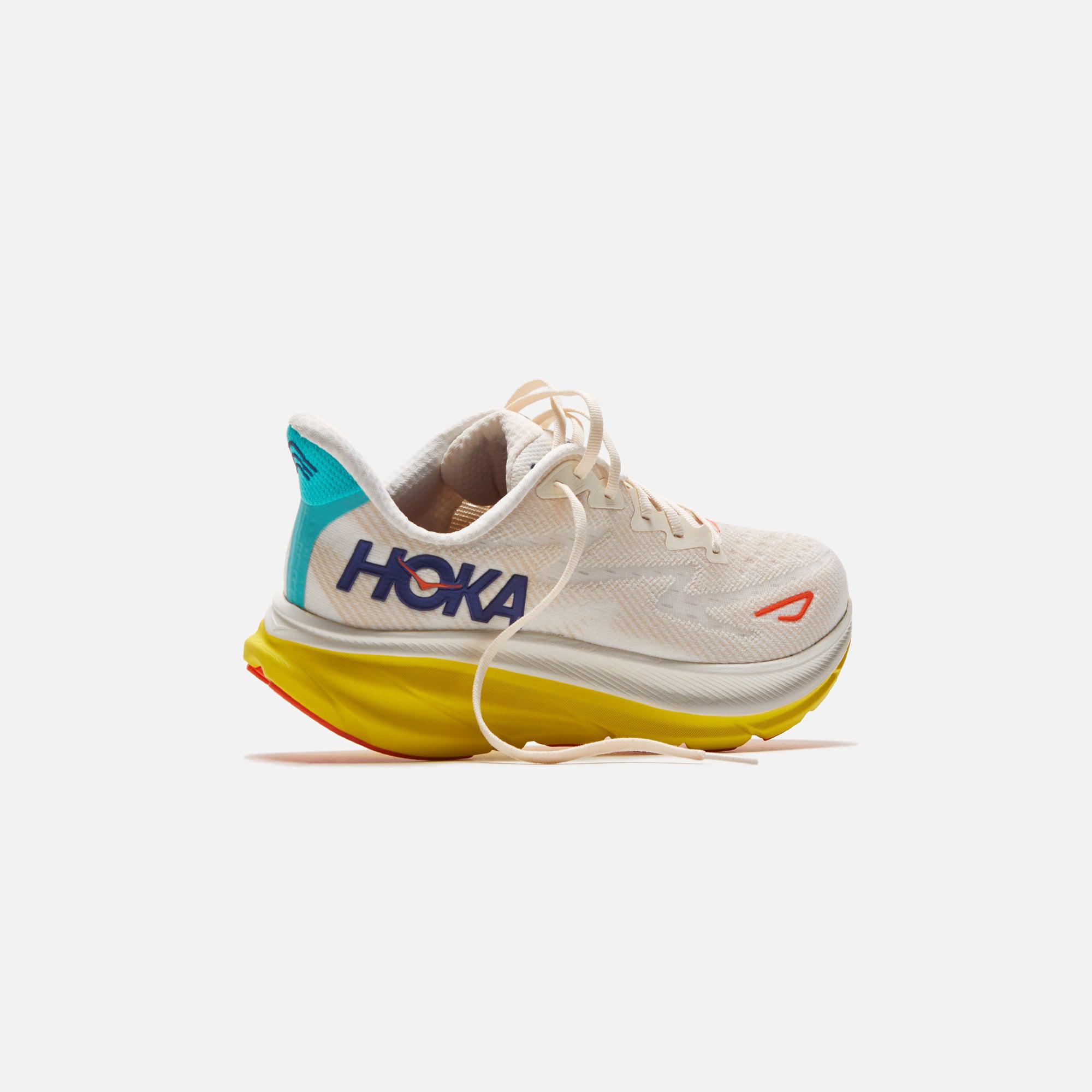 M Clifton 9
HOKA ONE ONE at KITH (US)
The Minimalist
The resurgence of retro sneakers that feature a more refined upper and midsole has led to new sought-after models, bringing an end to the chunky sole-dominated and Balenciaga Triple S-influenced era. Cult styles that experience frequent restocks and subsequent swift sell outs include both adidas' Samba and Gazelle as well as New Balance's 480 and 574 trainers. These have had a trickle-down effect into the mass market, with sneakers described as "retro" across women's SS23 arrivals climbing 54% YoY. Now a wardrobe staple, white and neutral sneakers continue to dominate the color mix for SS23, accounting for 37% of men's and 47% of women's intake.
Retro silhouettes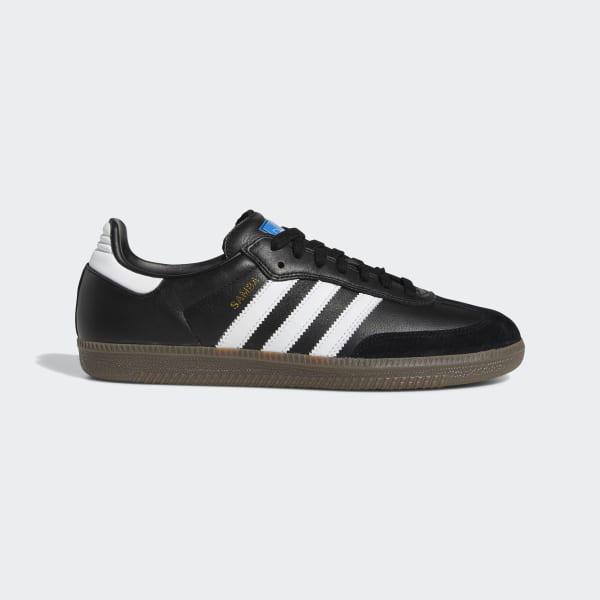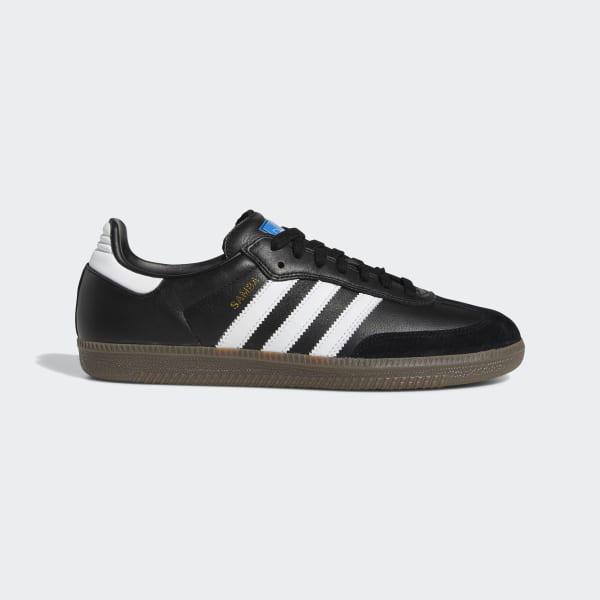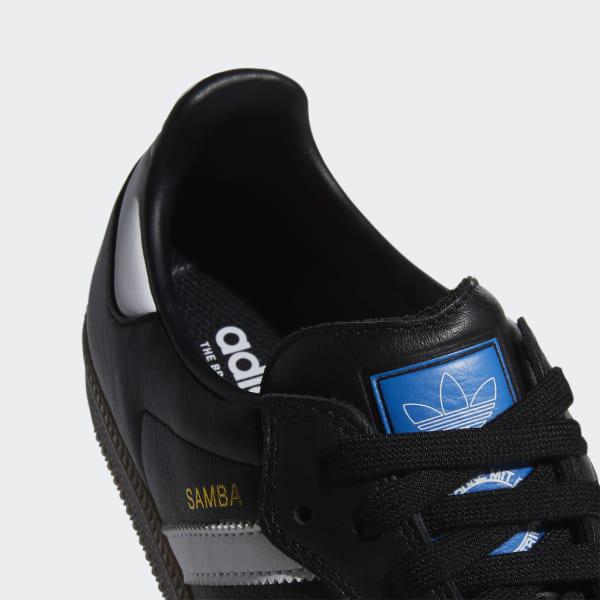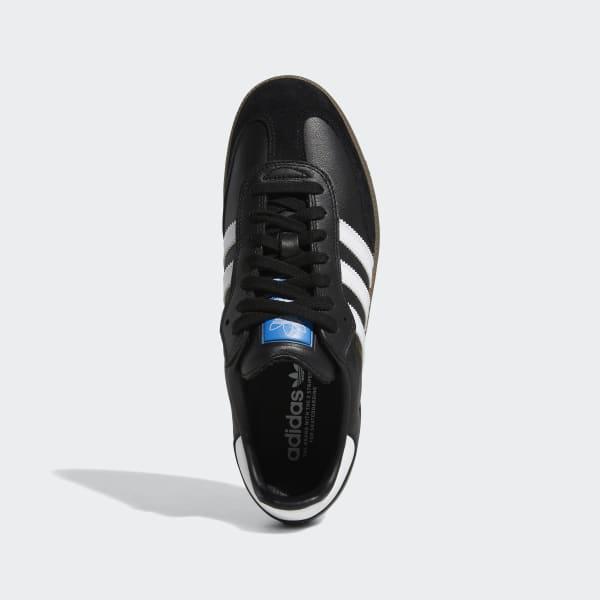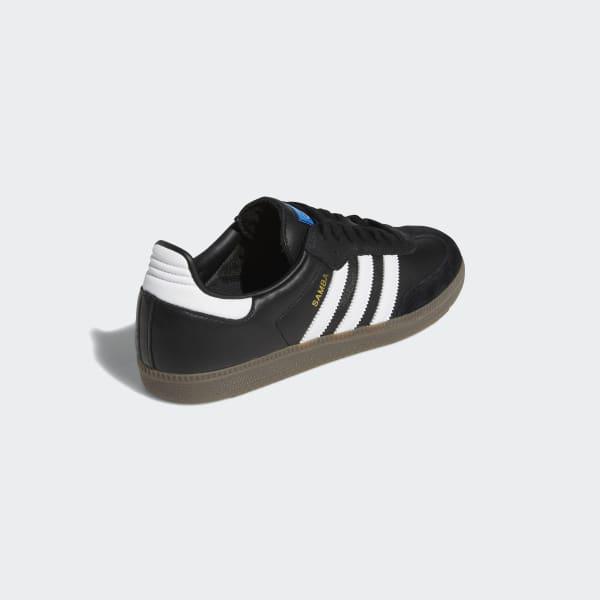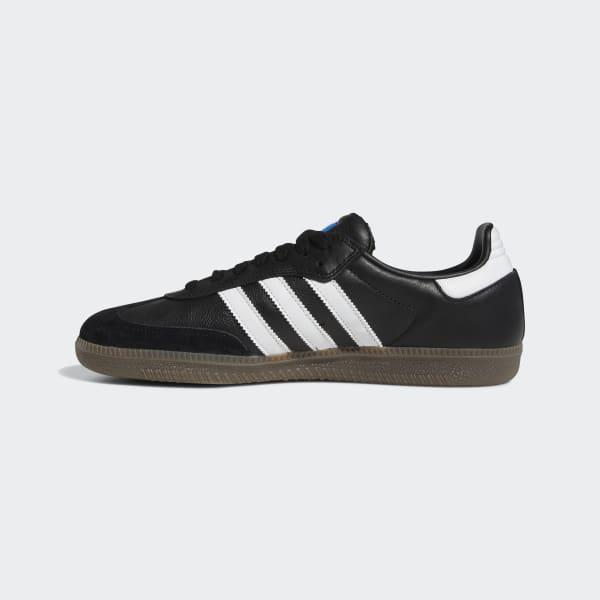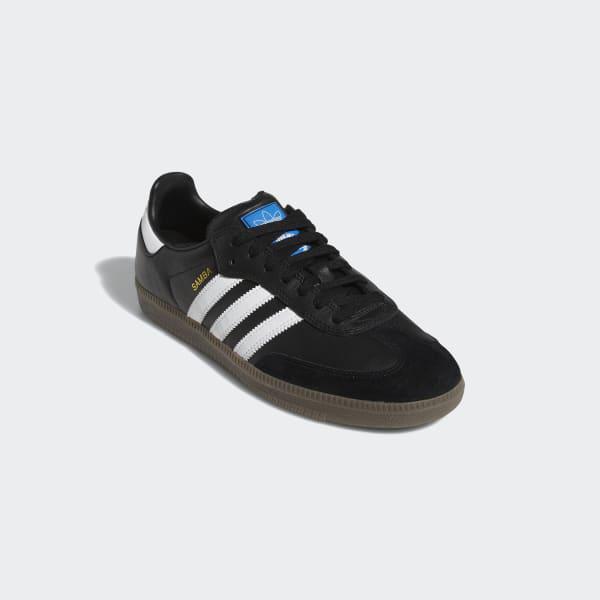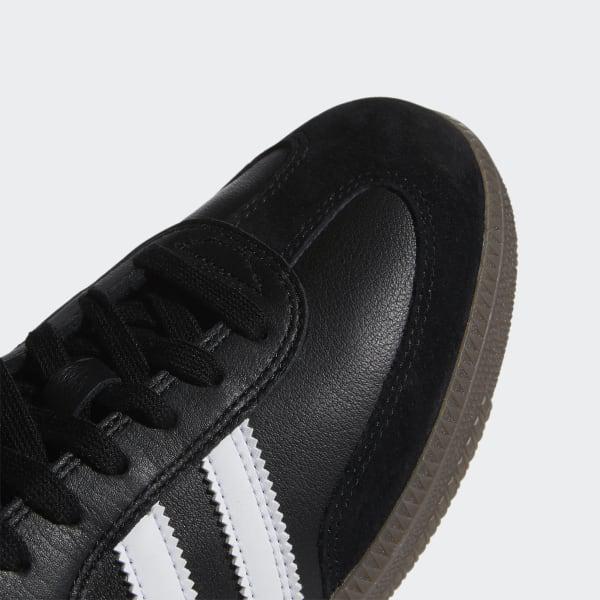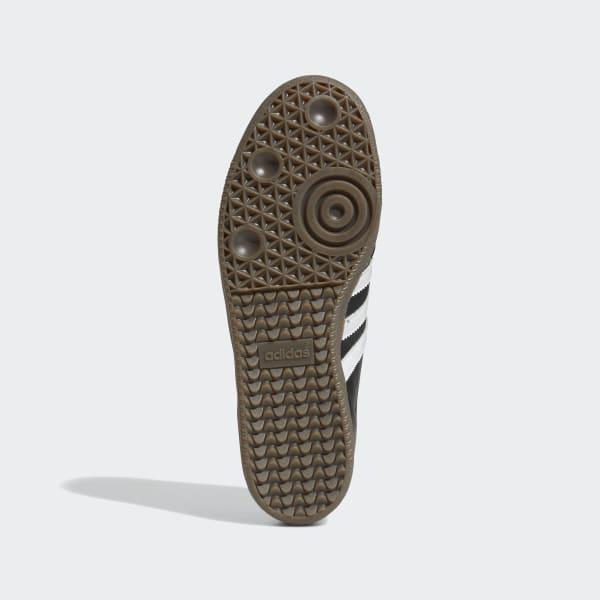 Samba ADV Shoes
Core black / cloud white / gold metallic
adidas Originals at Adidas (US)
The classic white sneaker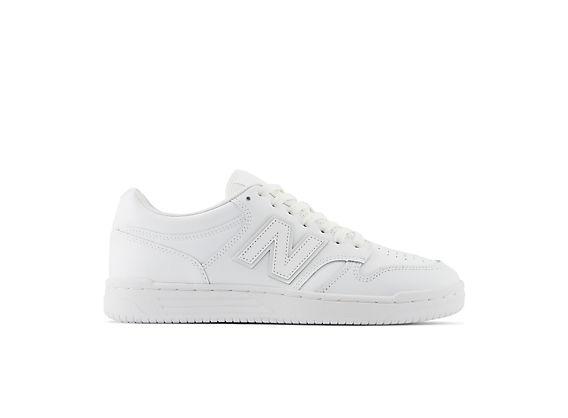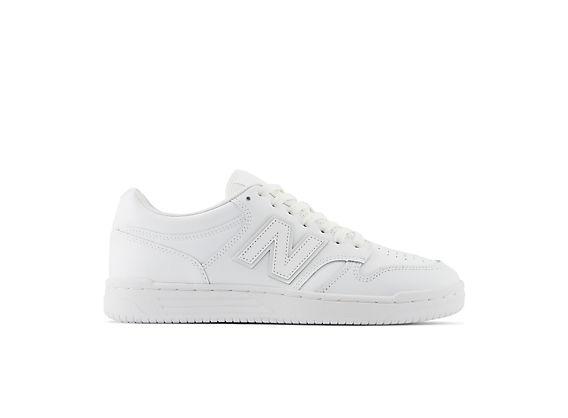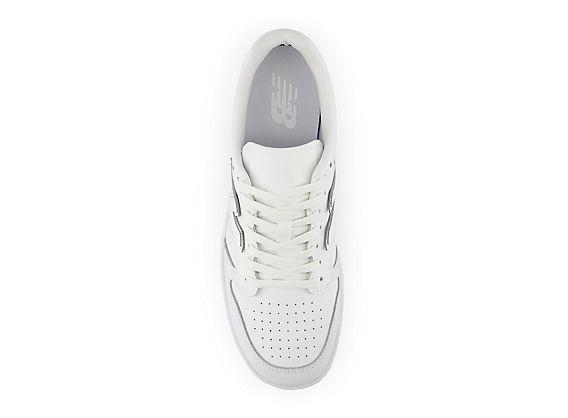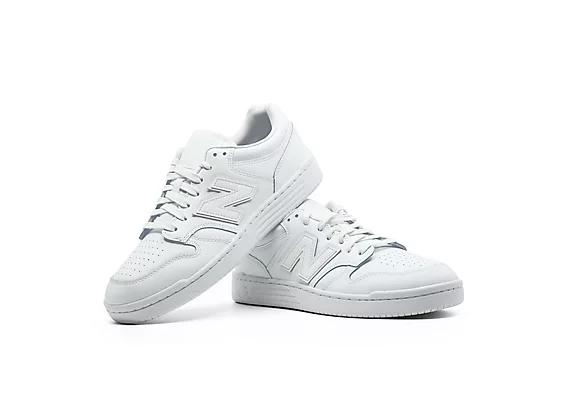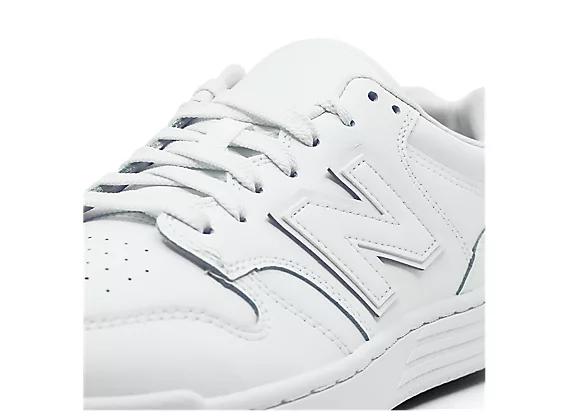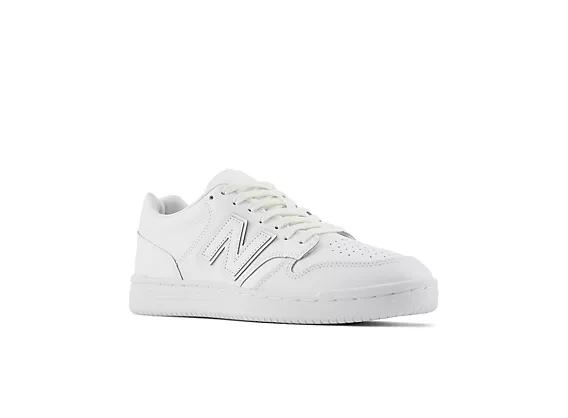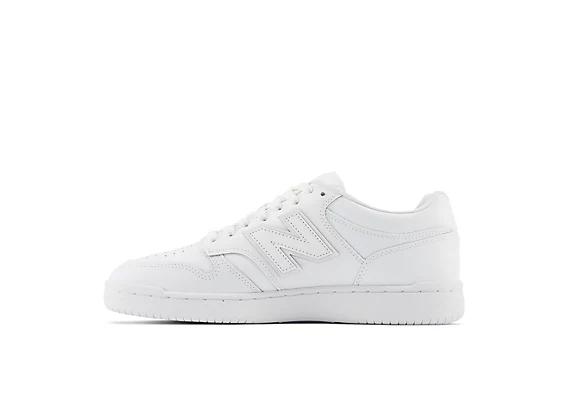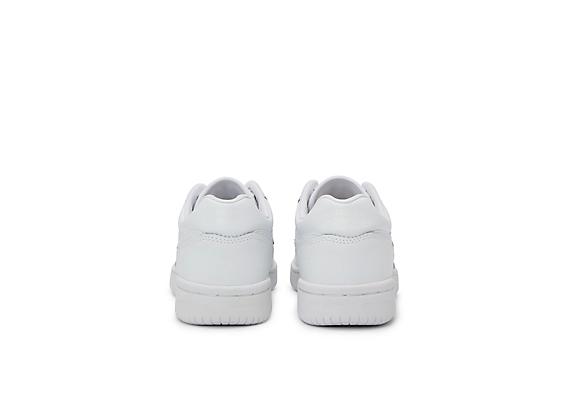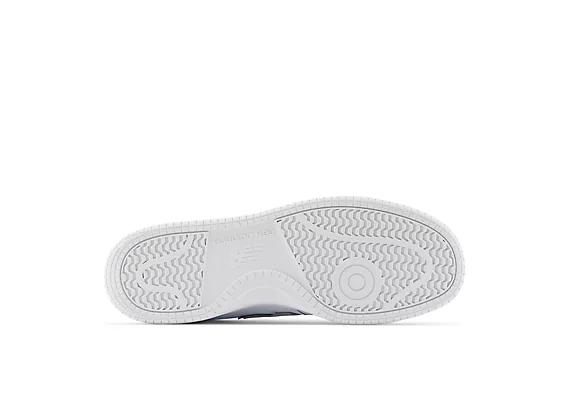 480
New Balance at New Balance (UK)
Sandals
The Ugly
The puffification of footwear has given the chunky sandal a new lease of life. While the trend has been spearheaded by brands such as Loewe and Prada, who have landed 22 Padded Nappa sandals in SS23, it has already begun to establish itself in the mass market. Steve Madden's Shelly padded sandal, at $89.95, has seen majority sell outs of all three colorways as well as UGG's newly launched Aww Yeah Slides this season. Mentions of "puff" in arrivals have stayed level versus 2022, but there has been a category switch. Favored in boots last year, sandals have seen a significant jump in investment in 2023 with options having increased by 75% at retailers including American Eagle Outfitters and Steve Madden.
Chunky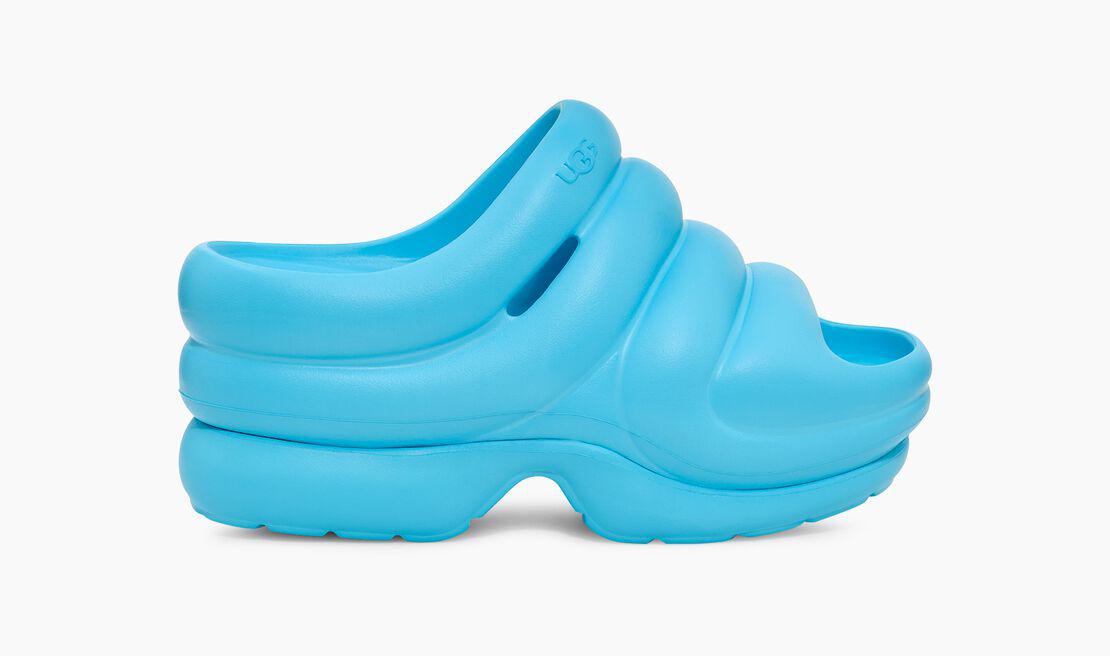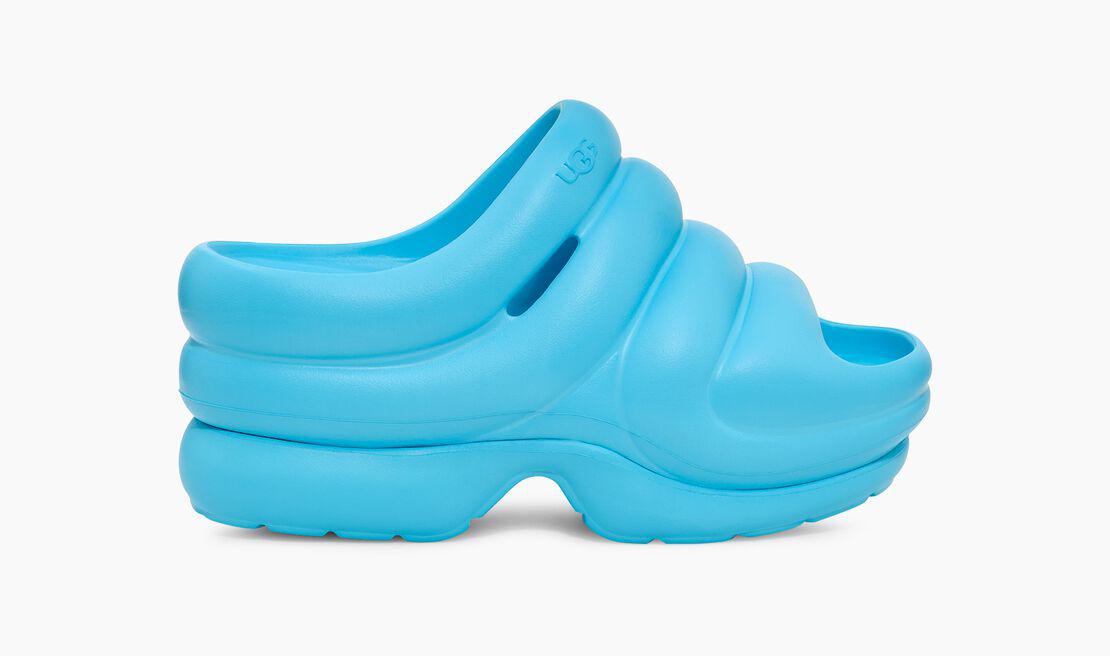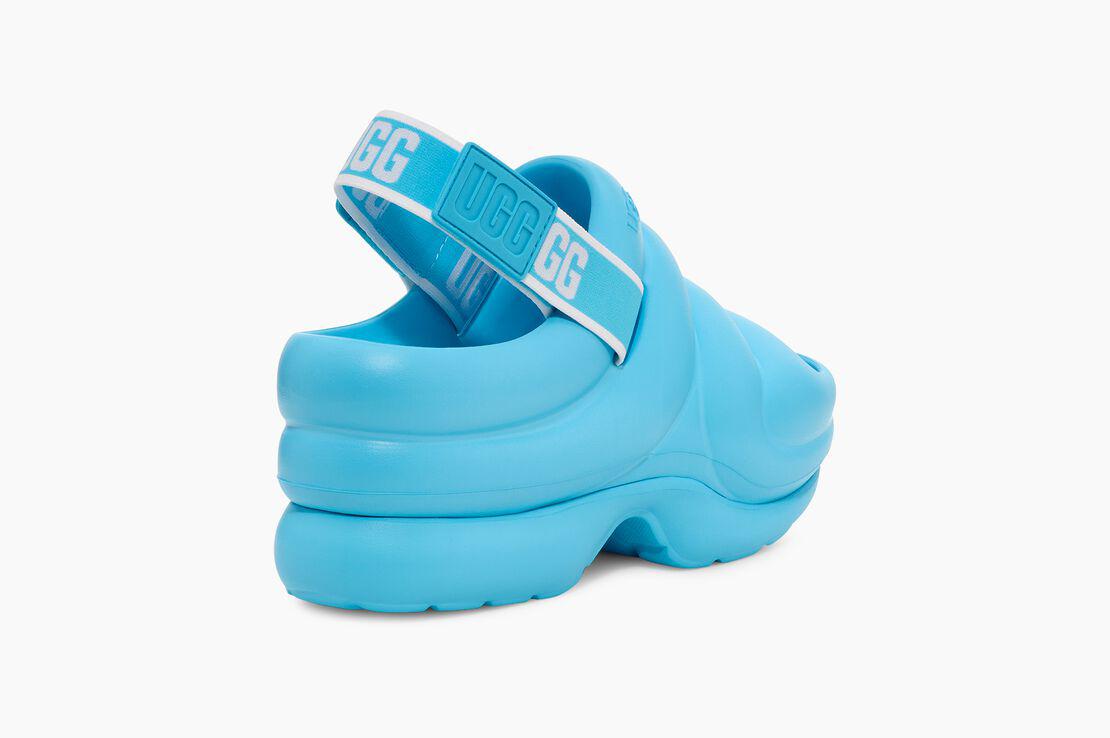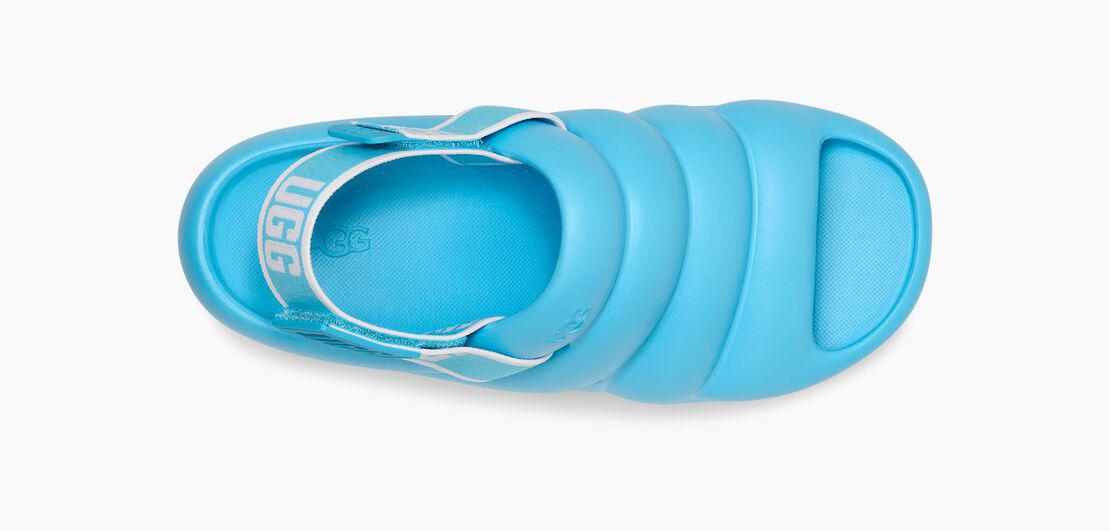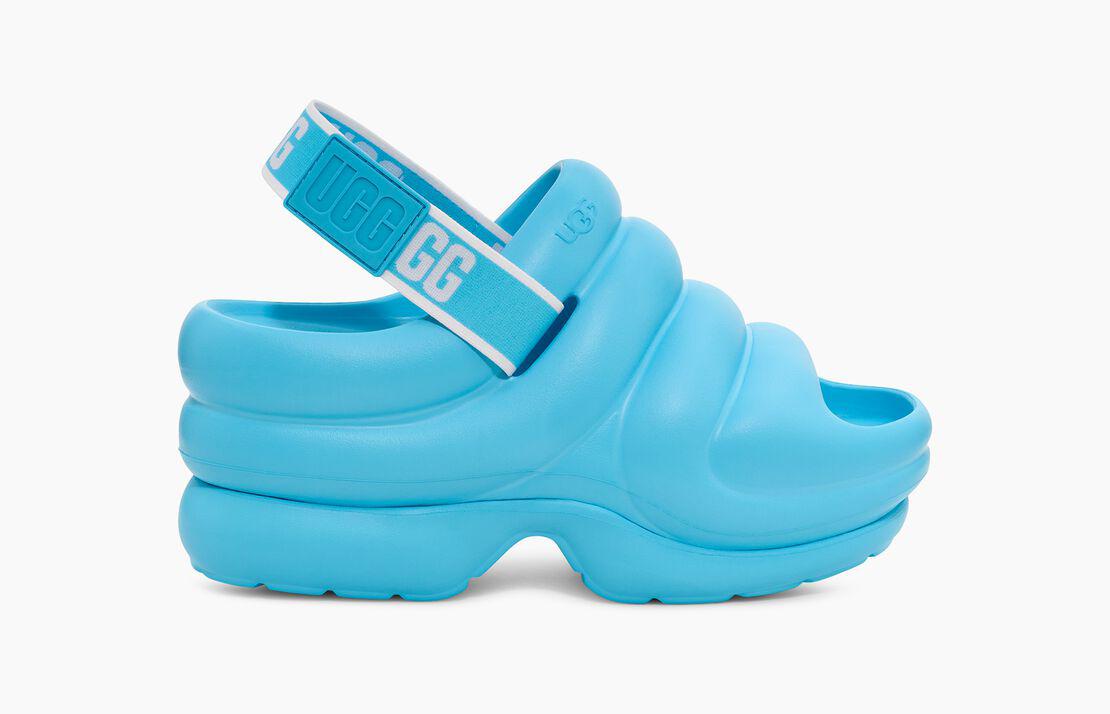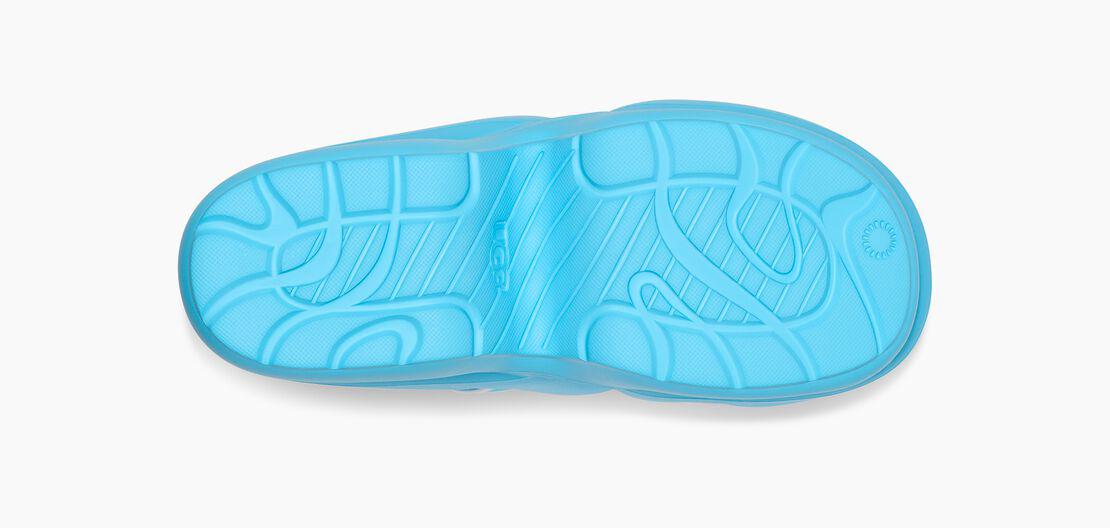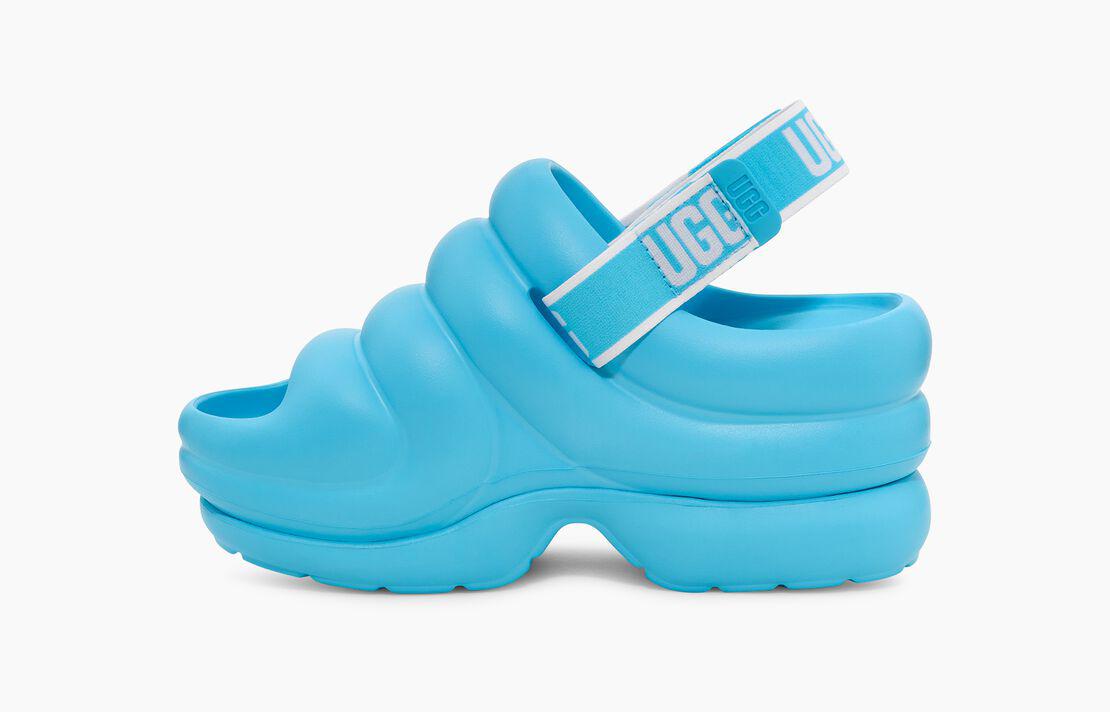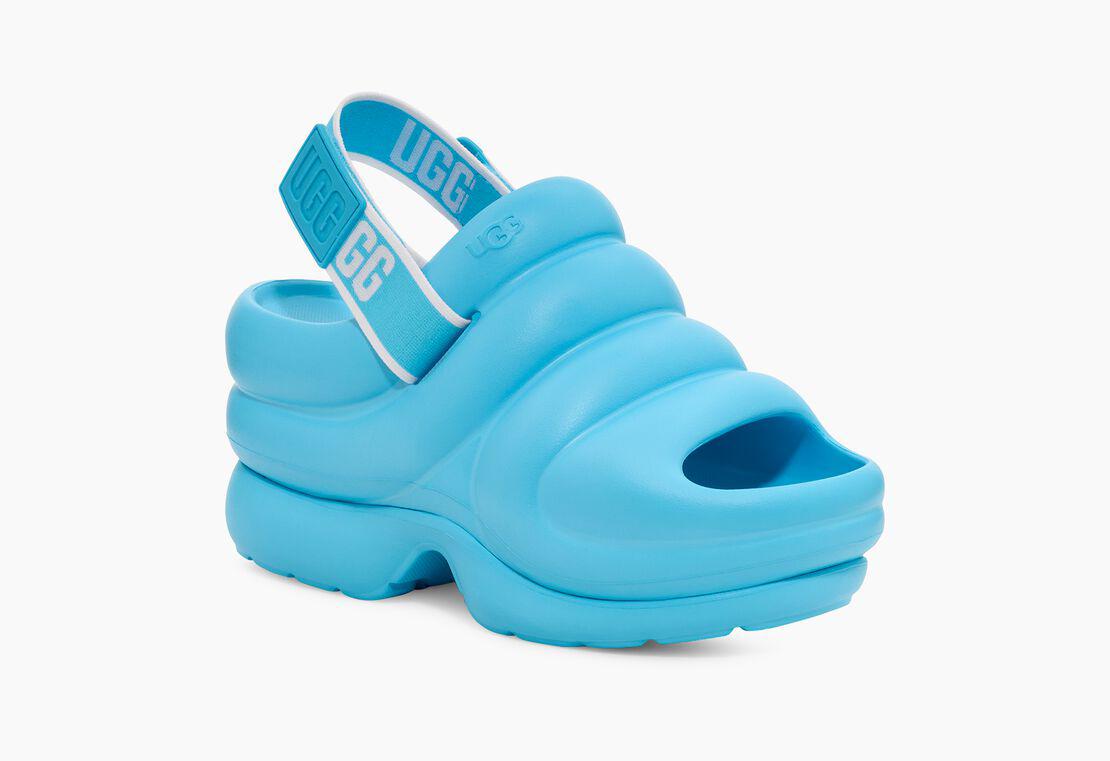 Aww Yeah Slide
Ugg at UGG (UK)
Padded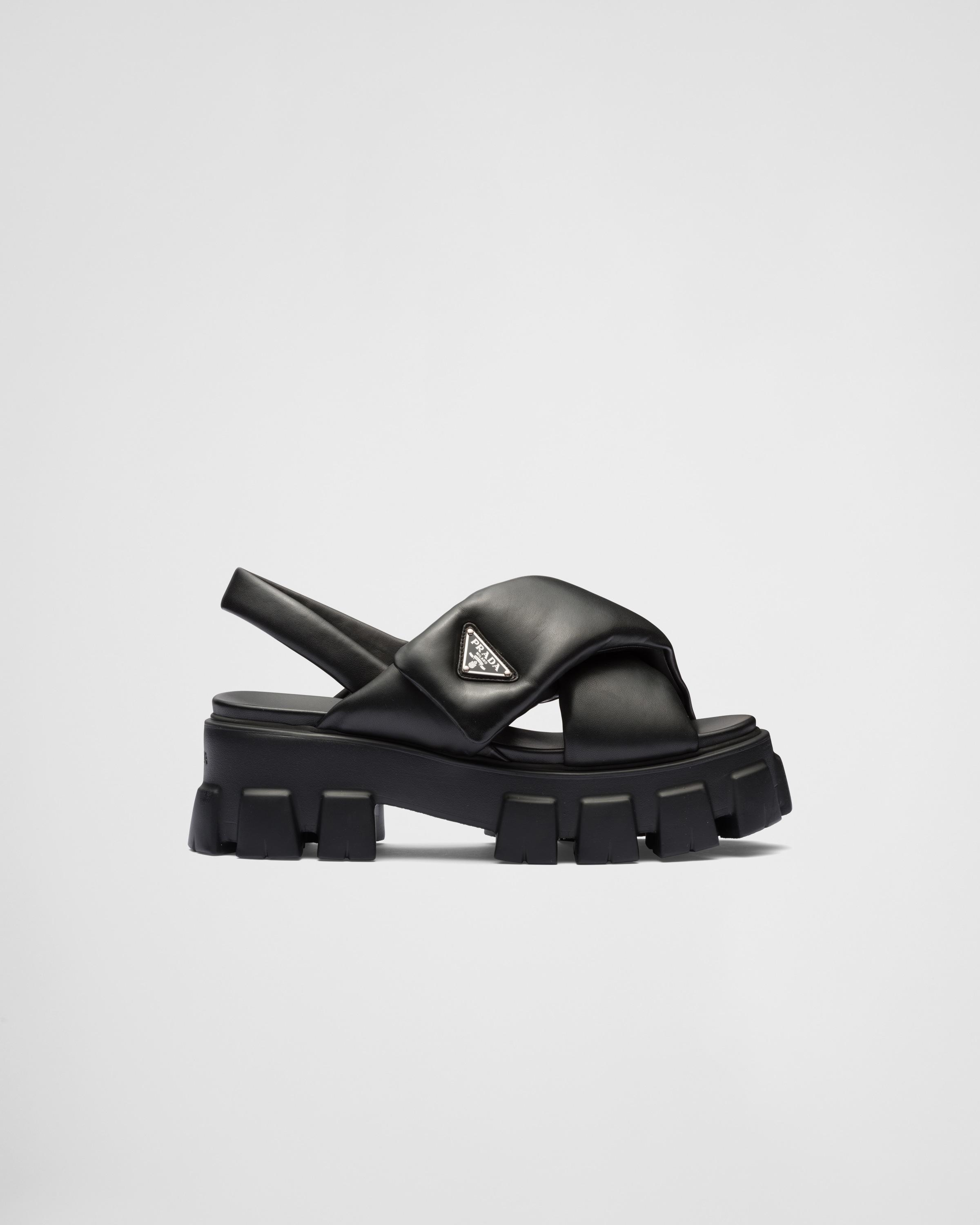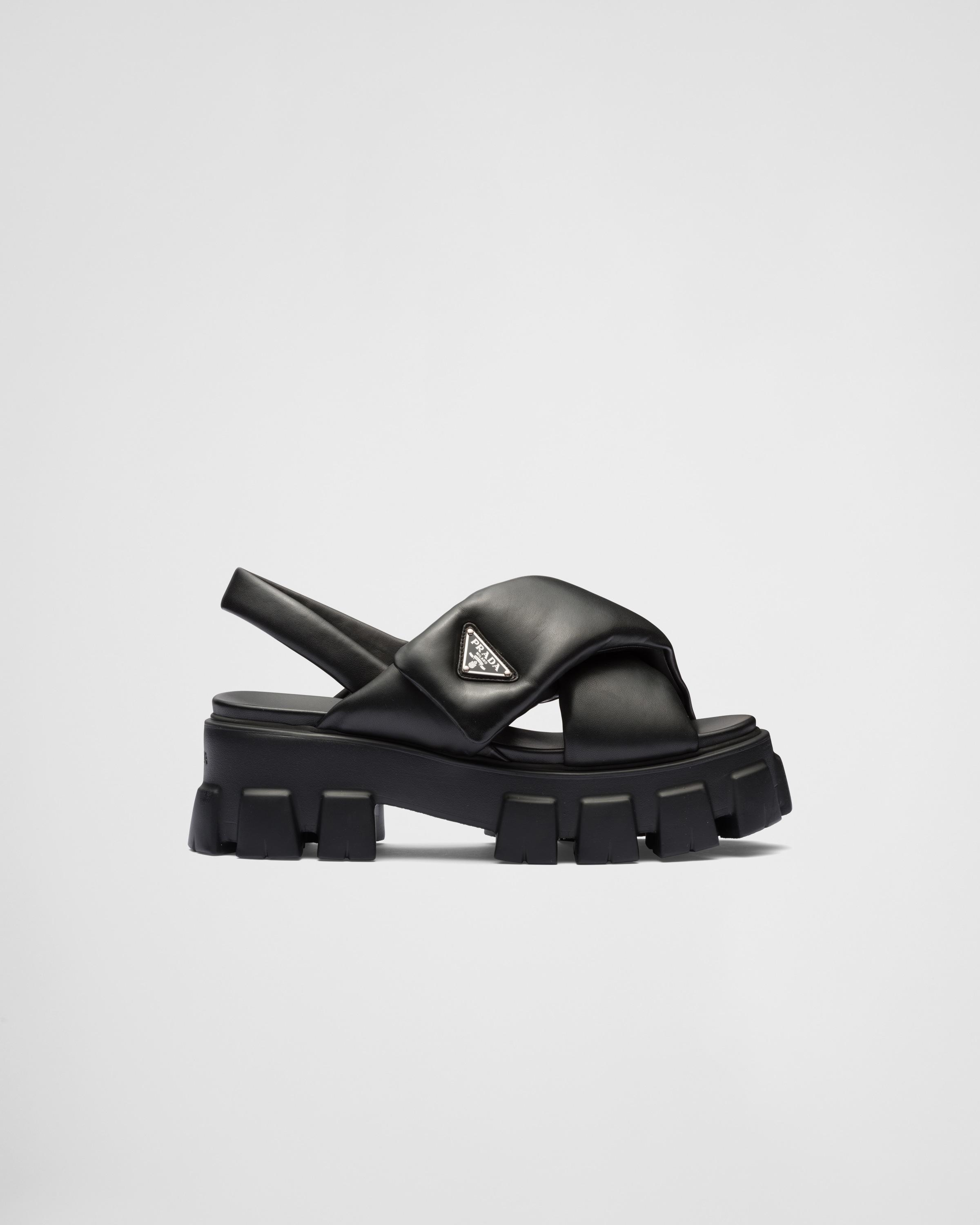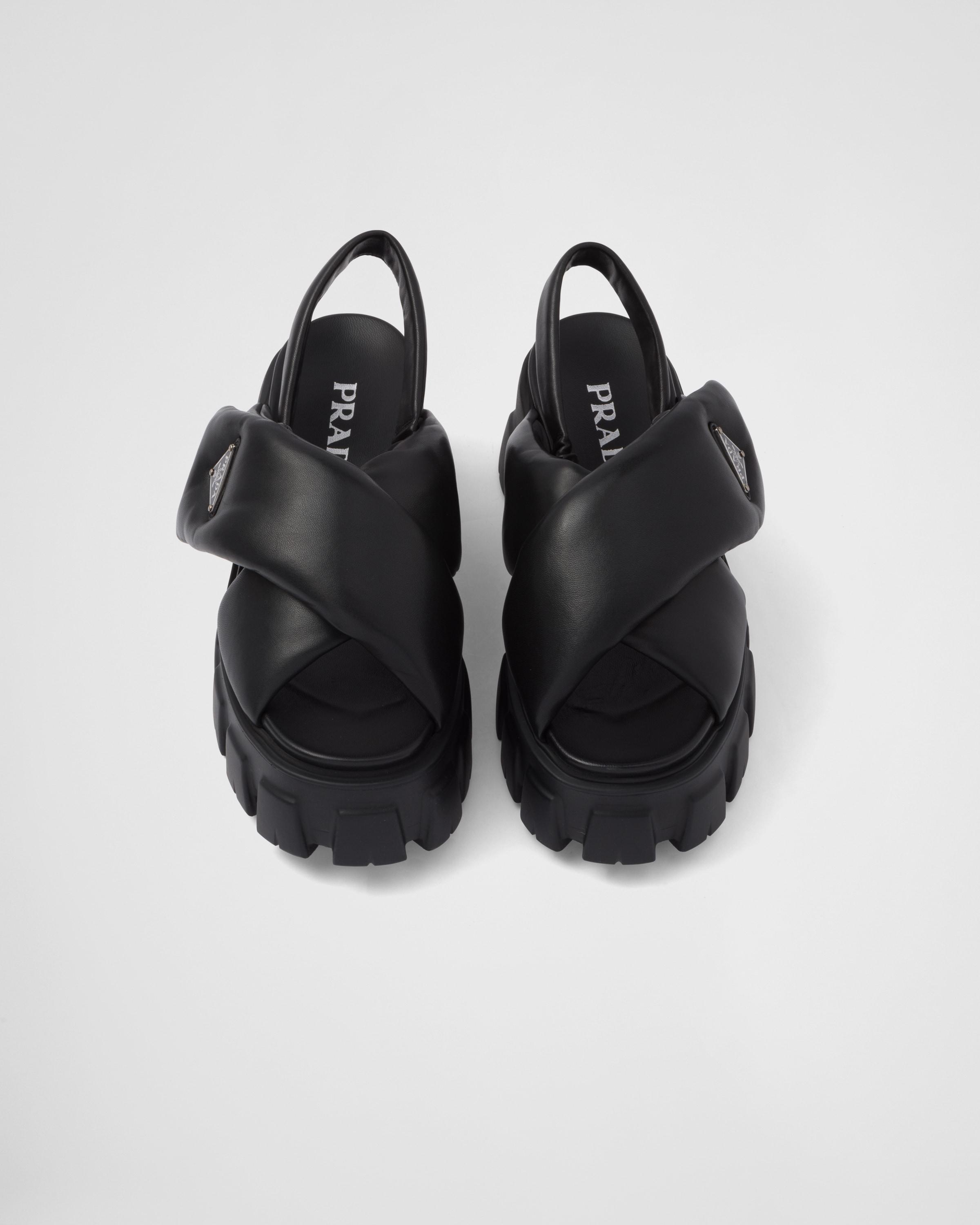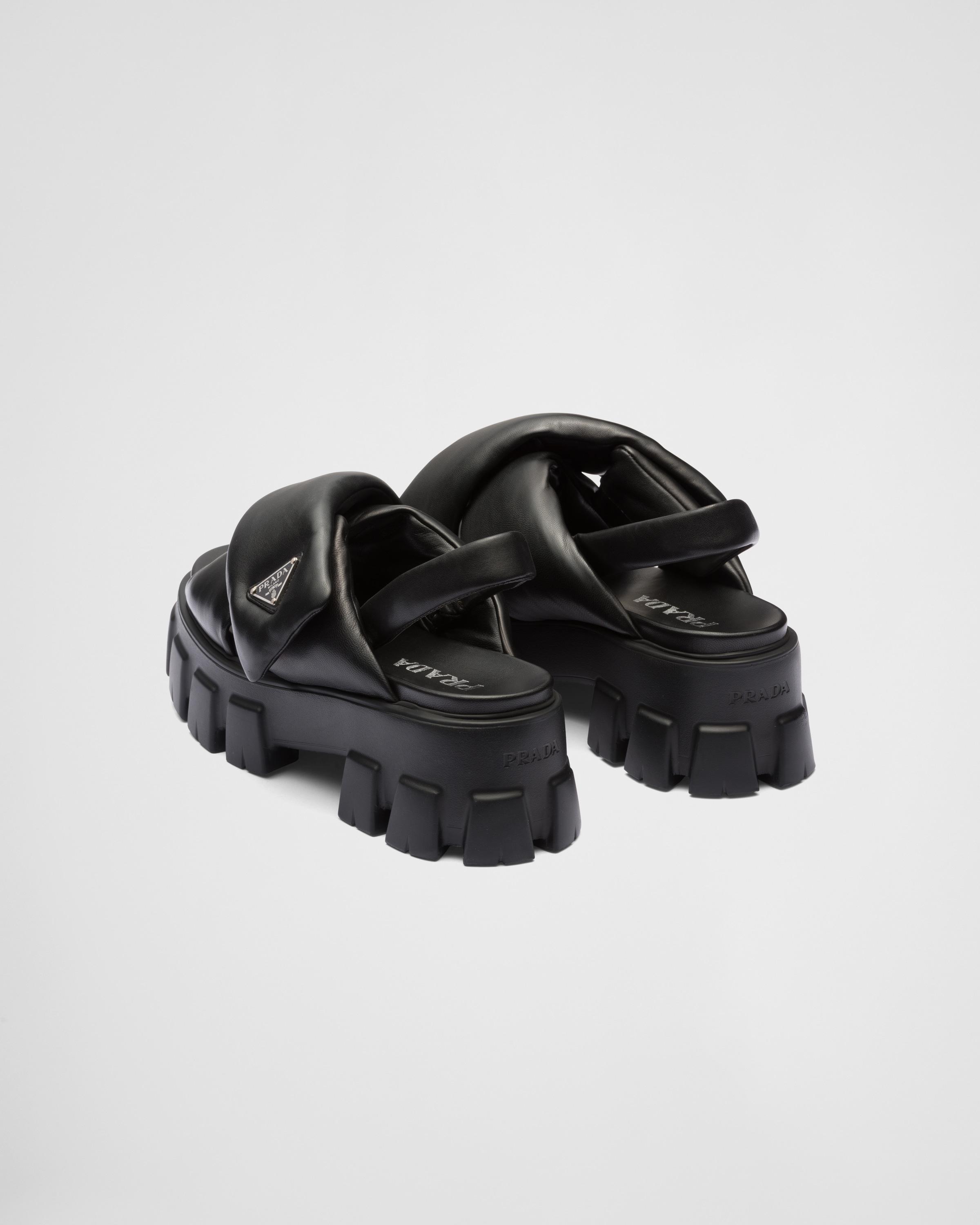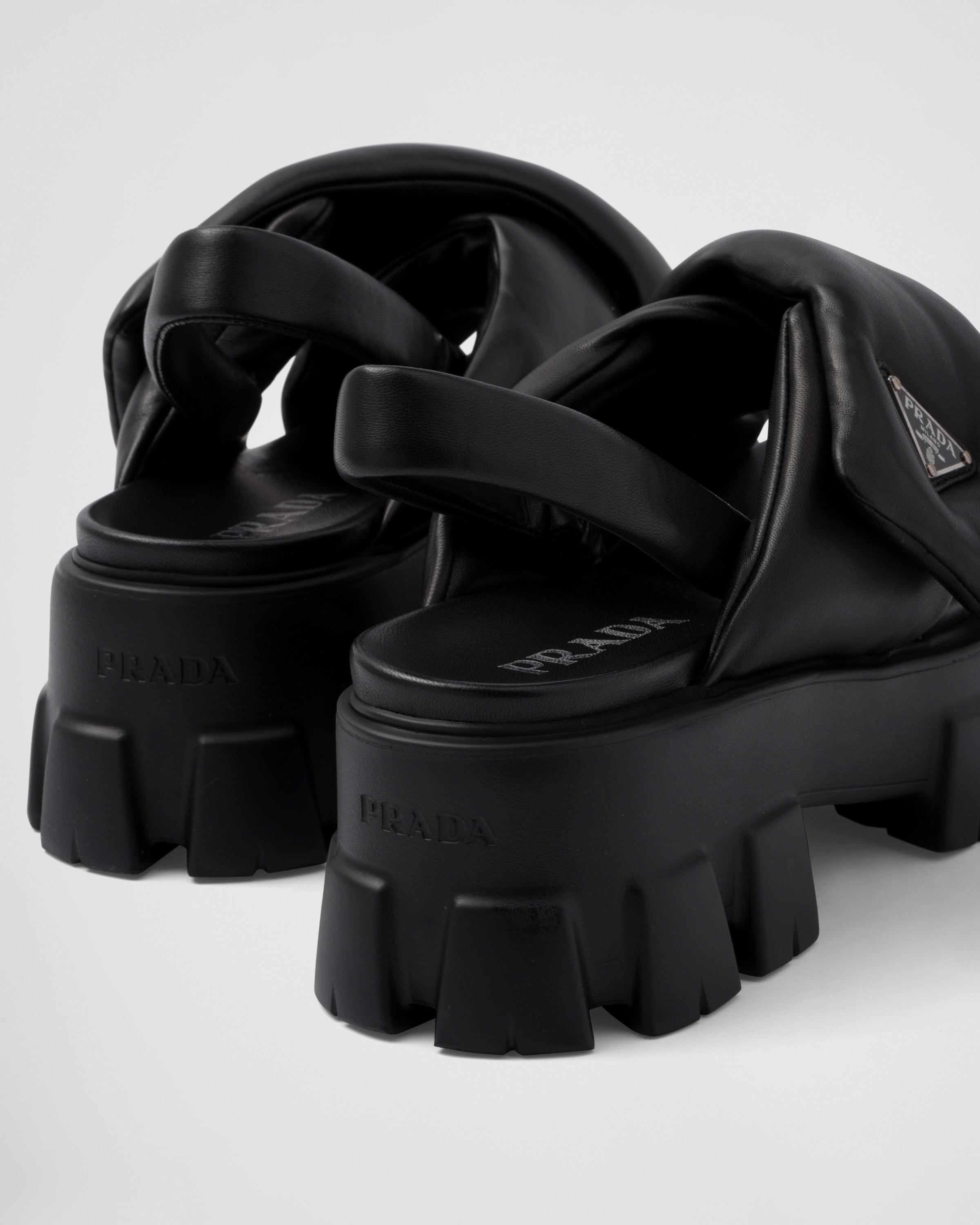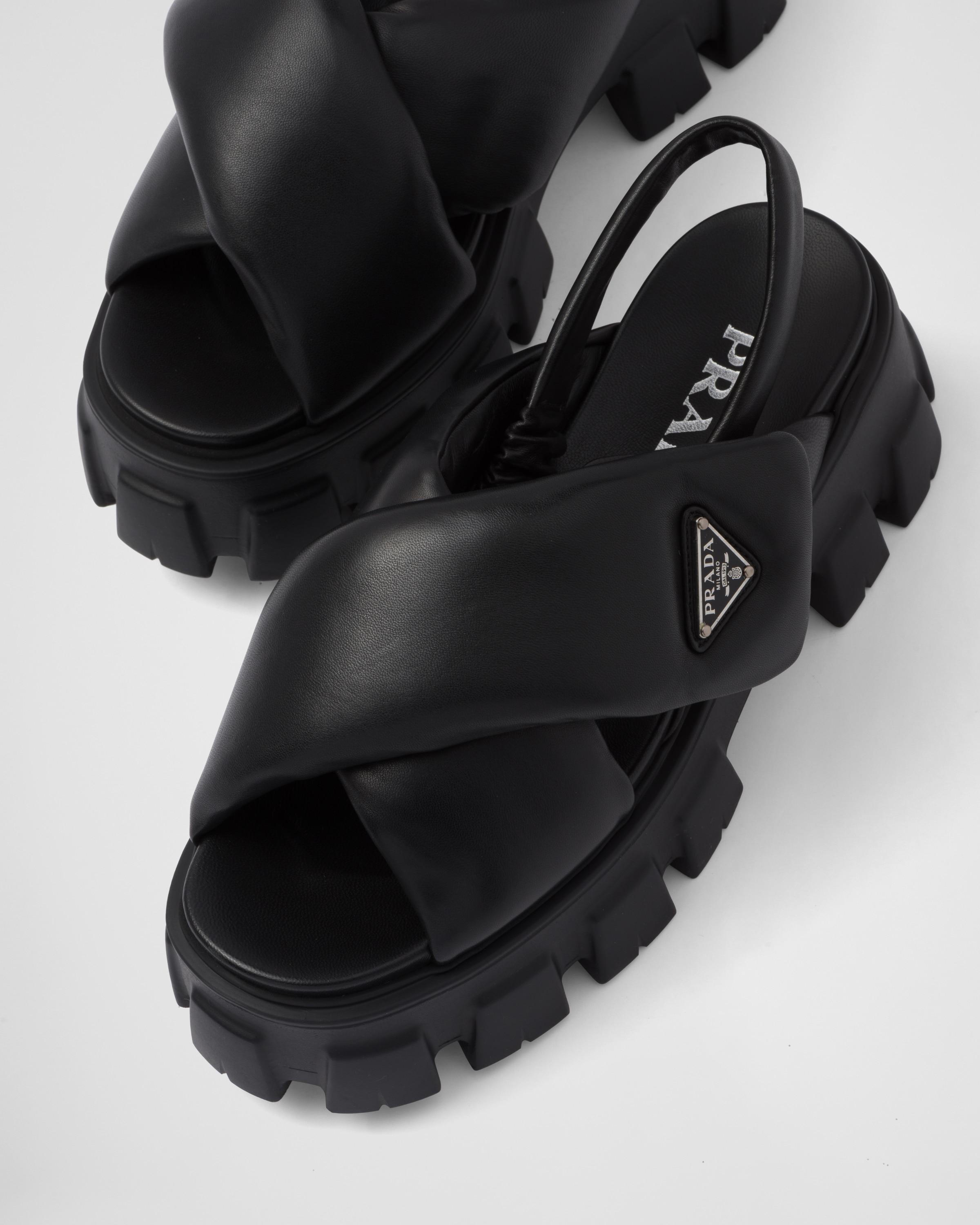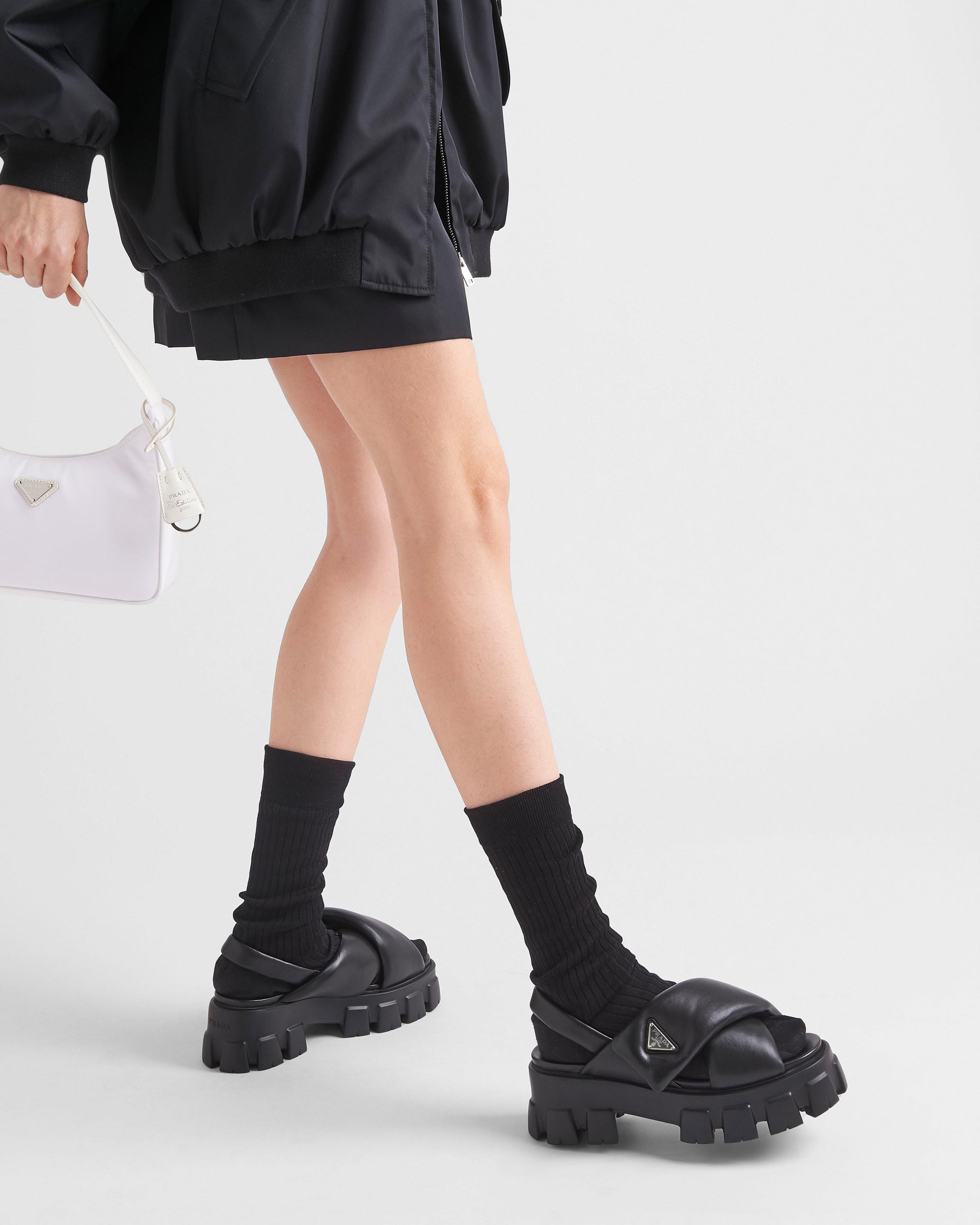 Monolith padded nappa leather sandals
Prada at Prada (UK)
The Minimalist
Despite the aforementioned chunky silhouettes still holding prominence, sleek leather and suede sandals with flat soles have had a revival this season, offering a perennial trend with timeless appeal. Buoyed by designs from The Row and Gabriela Hearst, fisherman sandals are a shape on the rise. Zara, Bershka and River Island have landed new menswear options. Leather sliders with minimal detailing boast wide demographic appeal and should be woven into vacation campaigns that embrace the Quiet Luxury aesthetic. For SS23, core hues have dominated sell out slider designs. Blacks have comprised 34% of the sell out color mix, followed by neutrals at 22% and whites at 9%.
Fisherman sandals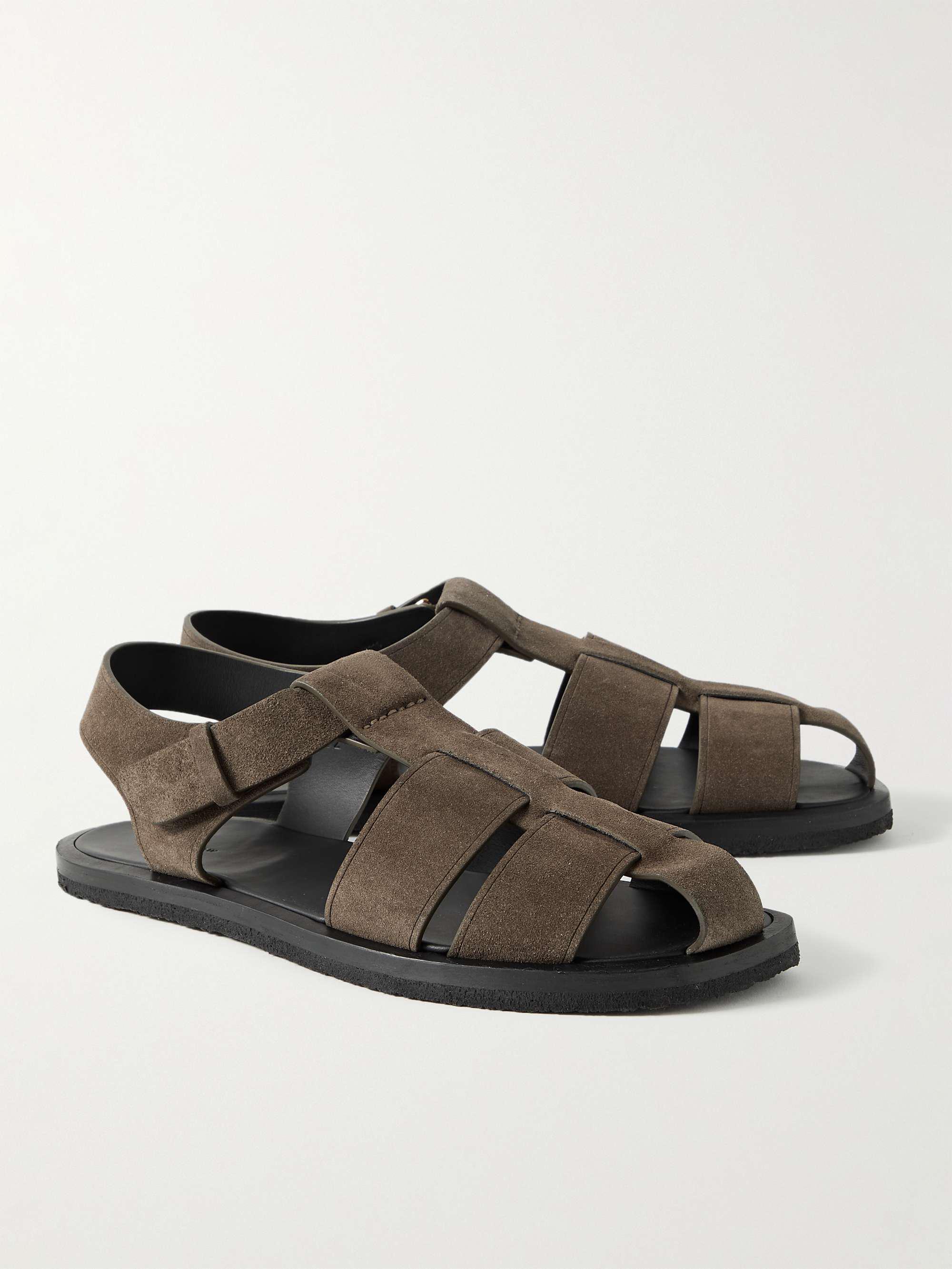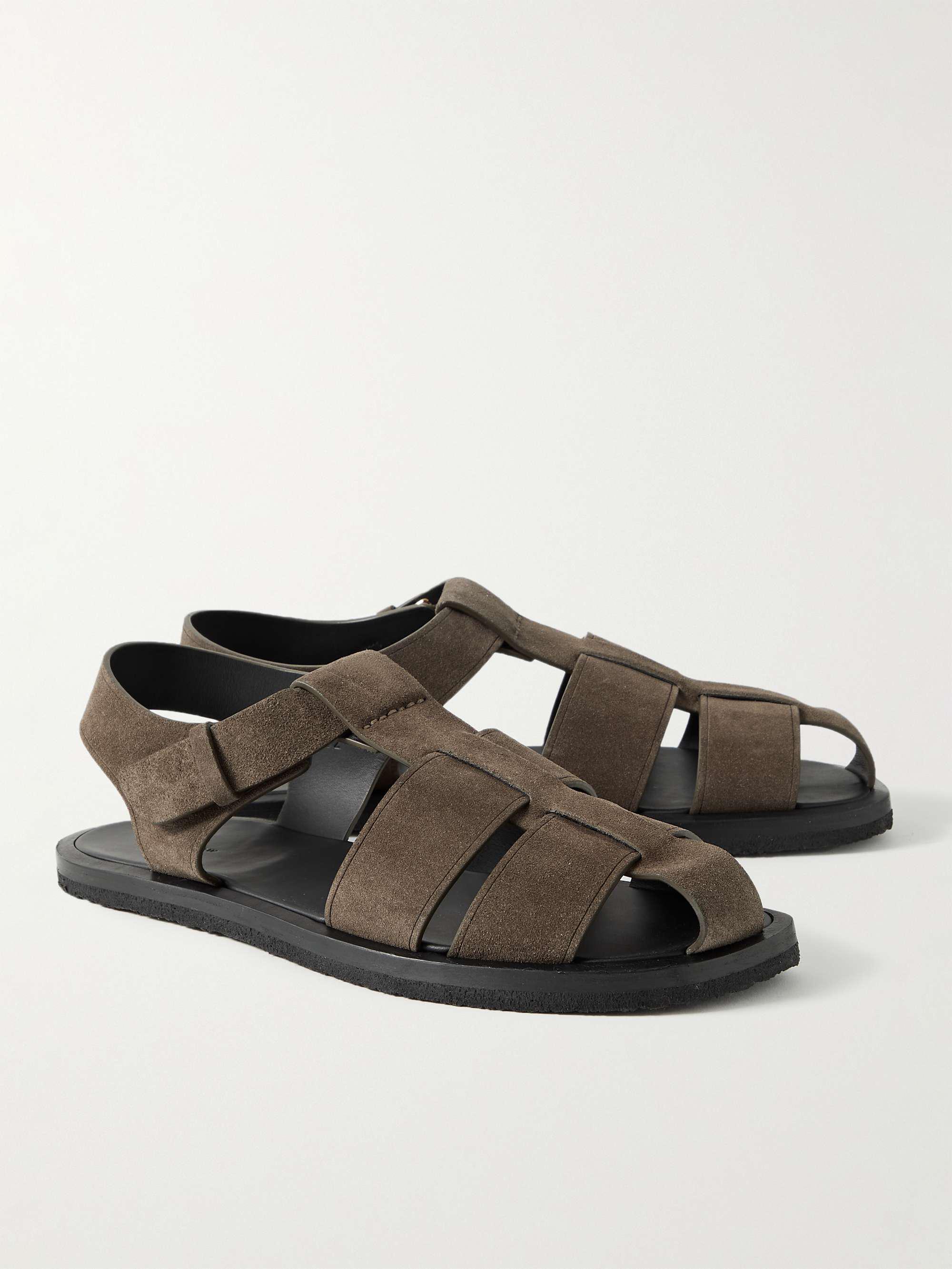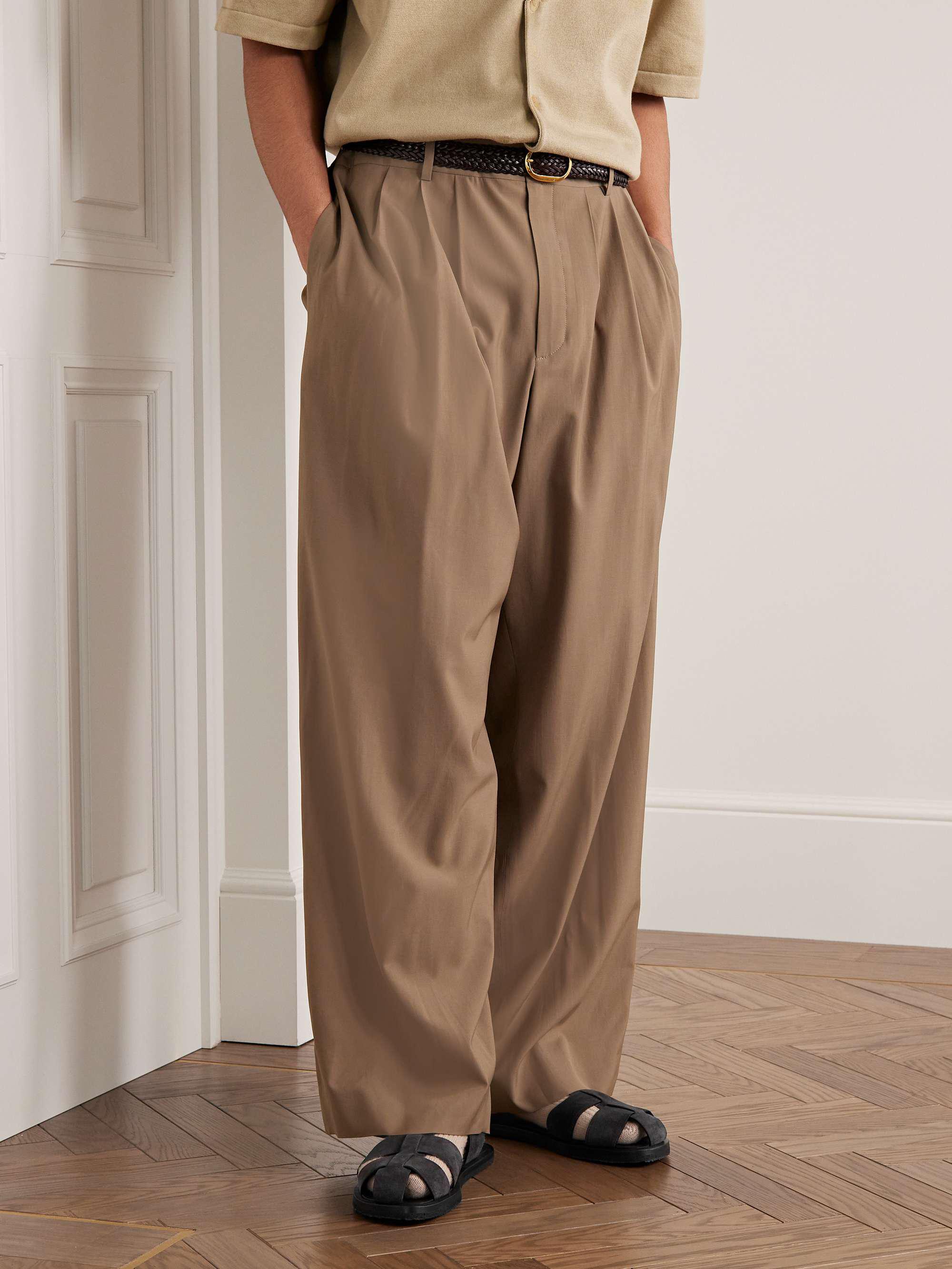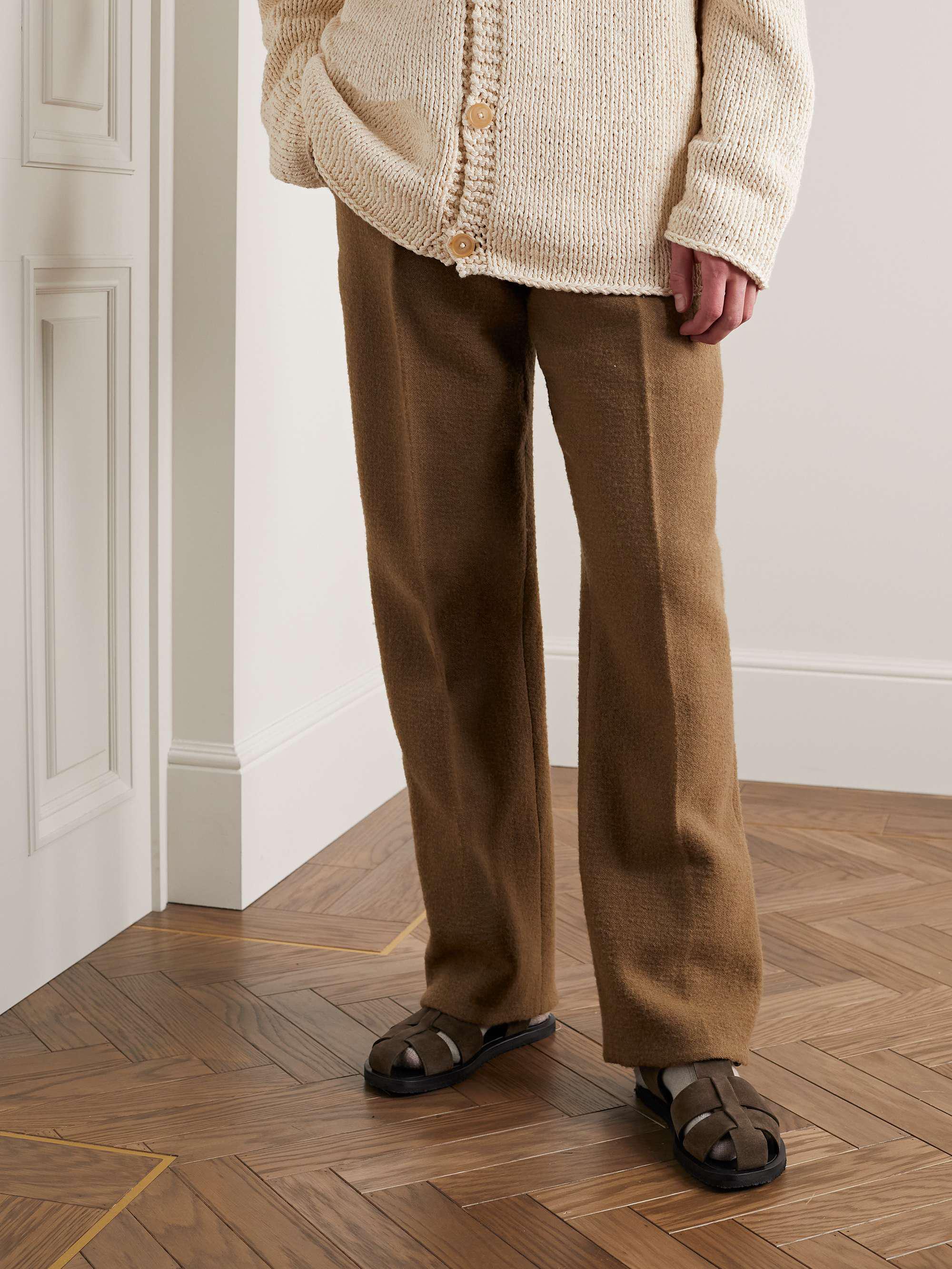 Fisherman Suede Sandals
The Row at Mr Porter (US)
Leather sliders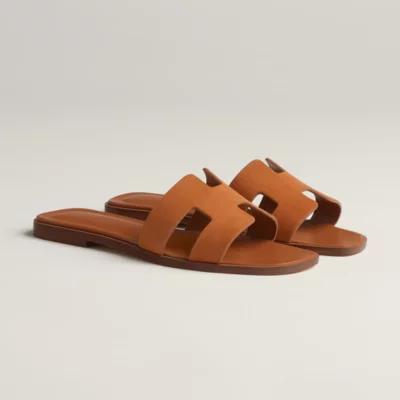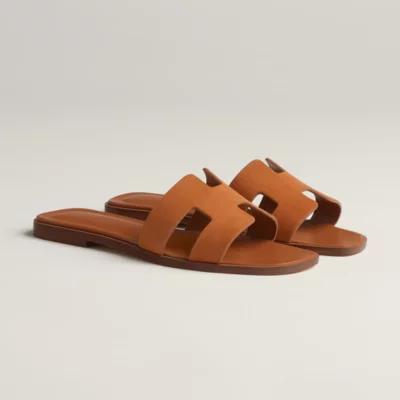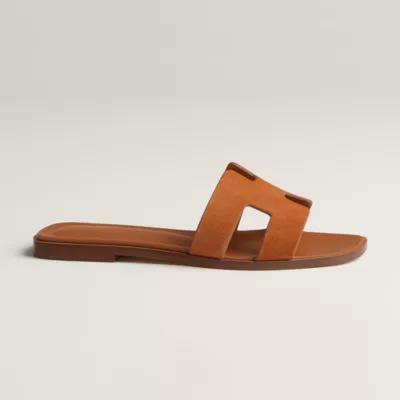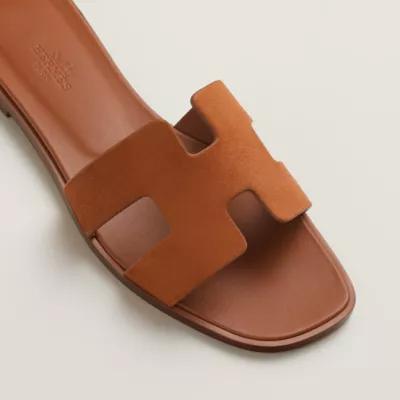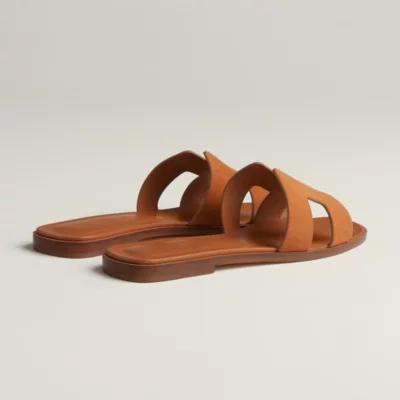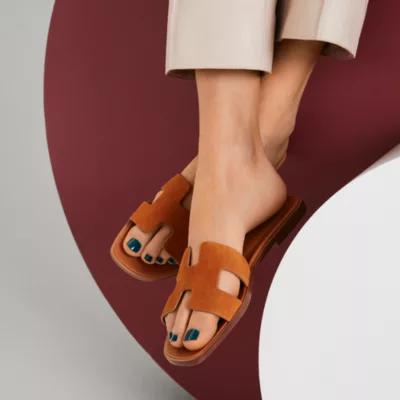 Oran sandal
Hermès at Hermès (US)
Heels
The Ugly
The Balenciaga x Crocs collaboration and iconic Tabi boots have epitomized ugly heels, but the category enters a new phase: its silly era. Loewe's Comic collection garnered viral status with its humorous take on footwear, reimagining Minnie Mouse's cartoon-style heels. The three colorways saw same-day sell outs when they landed this season. For the mass market, the trend is a harder sell without the weight of cult luxury status behind styles, but the adoption of Barbiecore heels gives retailers an entry into the aesthetic. Of the pink heels that have seen majority sell outs this season, 67% were hot pink hues, with sell outs at Mango, H&M, Monki, NA-KD and Dune.
Cartoonification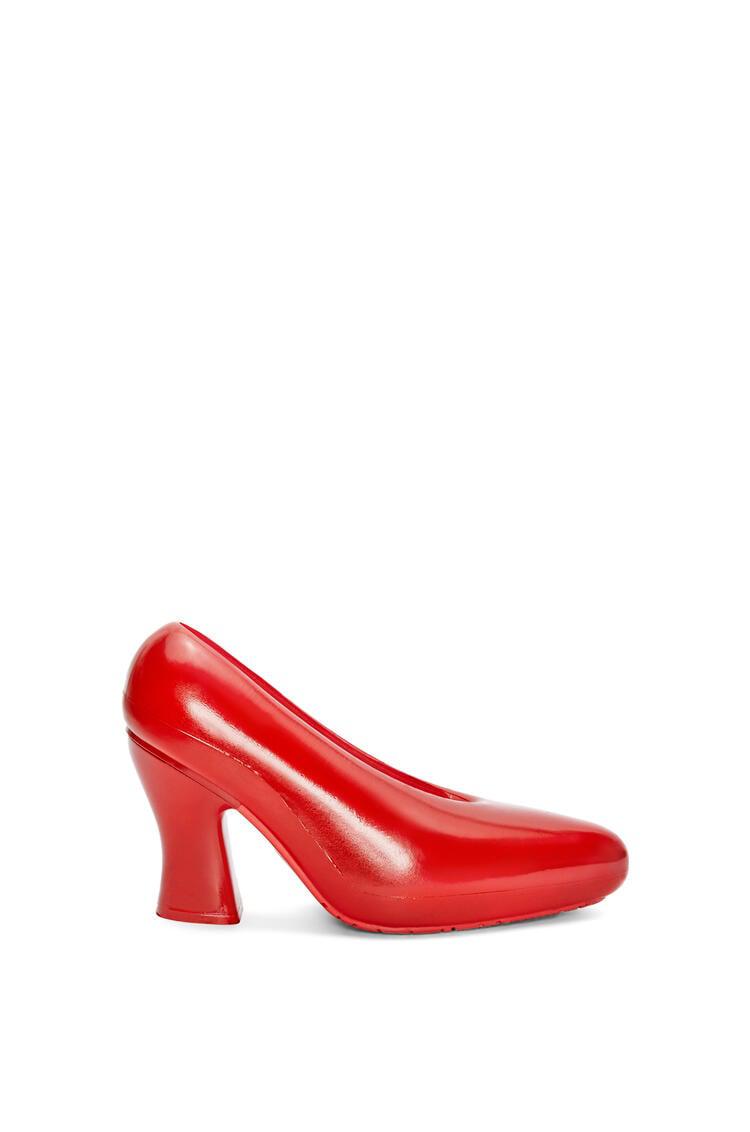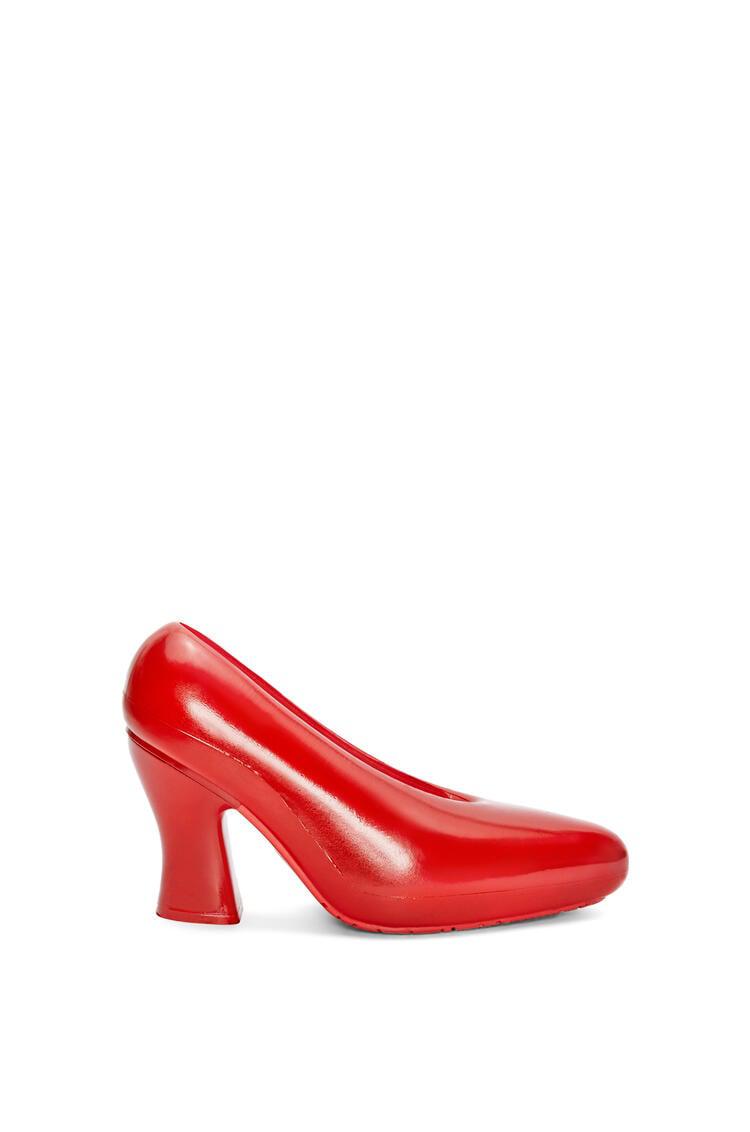 Comic lacquered foam pump in light foam rubber
Loewe at Loewe (US)
Gimmicky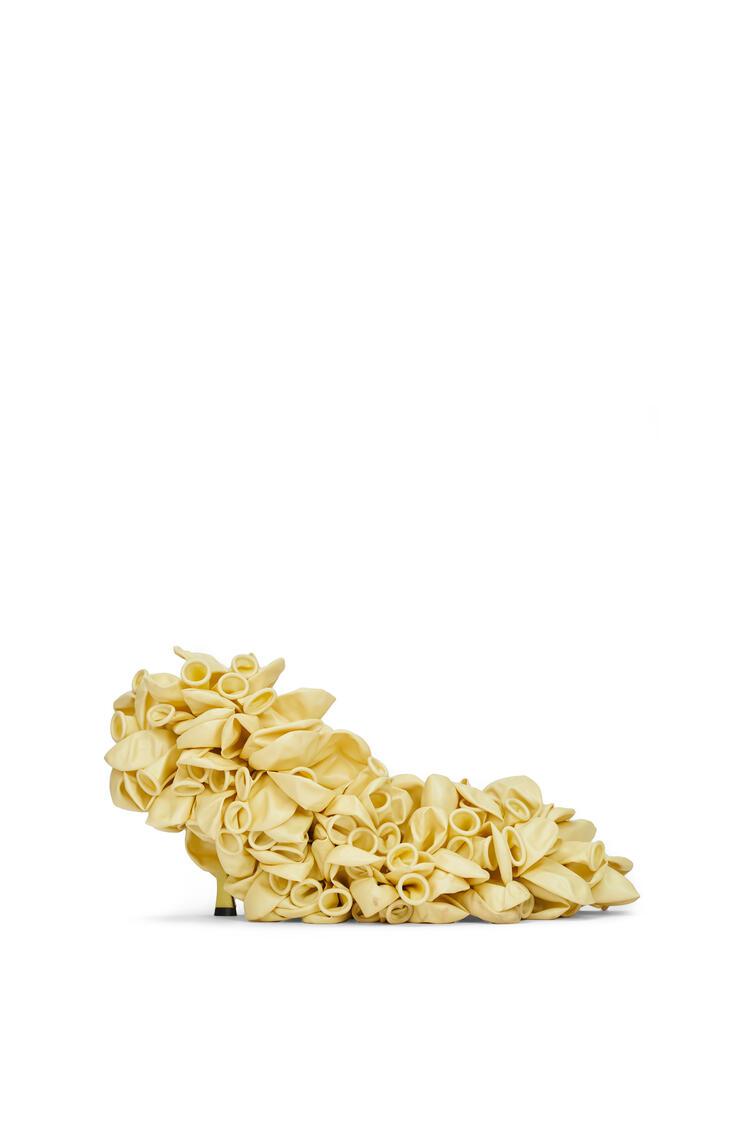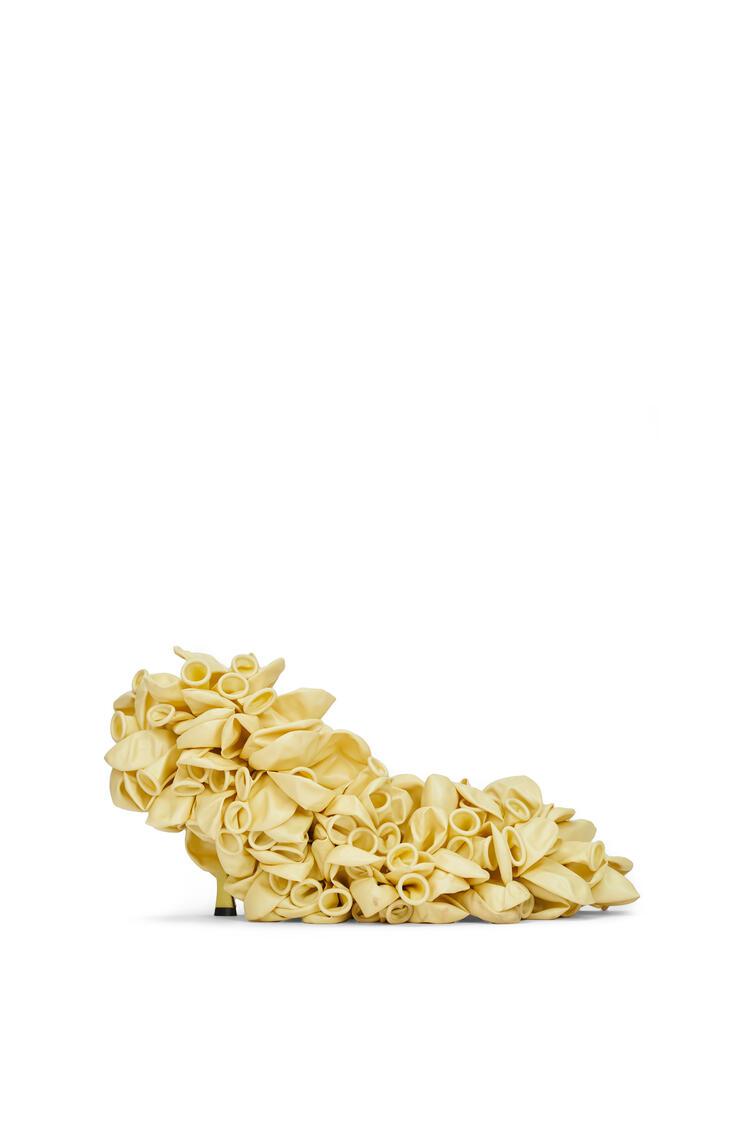 Comic balloon pump in satin
Loewe at Loewe (UK)
The Minimalist
While square toes remain a significant silhouette in the heels market, comprising 25% of SS23's inventory, there has been an enhanced focus on slingbacks. Options are +37% vs. SS22, with successful pointed designs seen at NA-KD, & Other Stories and Mango. An indicator of trends to come, street style ensembles during the FW23 shows made a case for the return of the classic pump, with showgoers favoring Prada and Miu Miu – both pin-up designers of the trend. Pumps and slingbacks offer retailers a safe investment for Fall 2023, where a minimalist aesthetic was manifested through a plethora of both shapes at the likes of Gucci, Christopher Kane, Prada and Balmain.
Slingbacks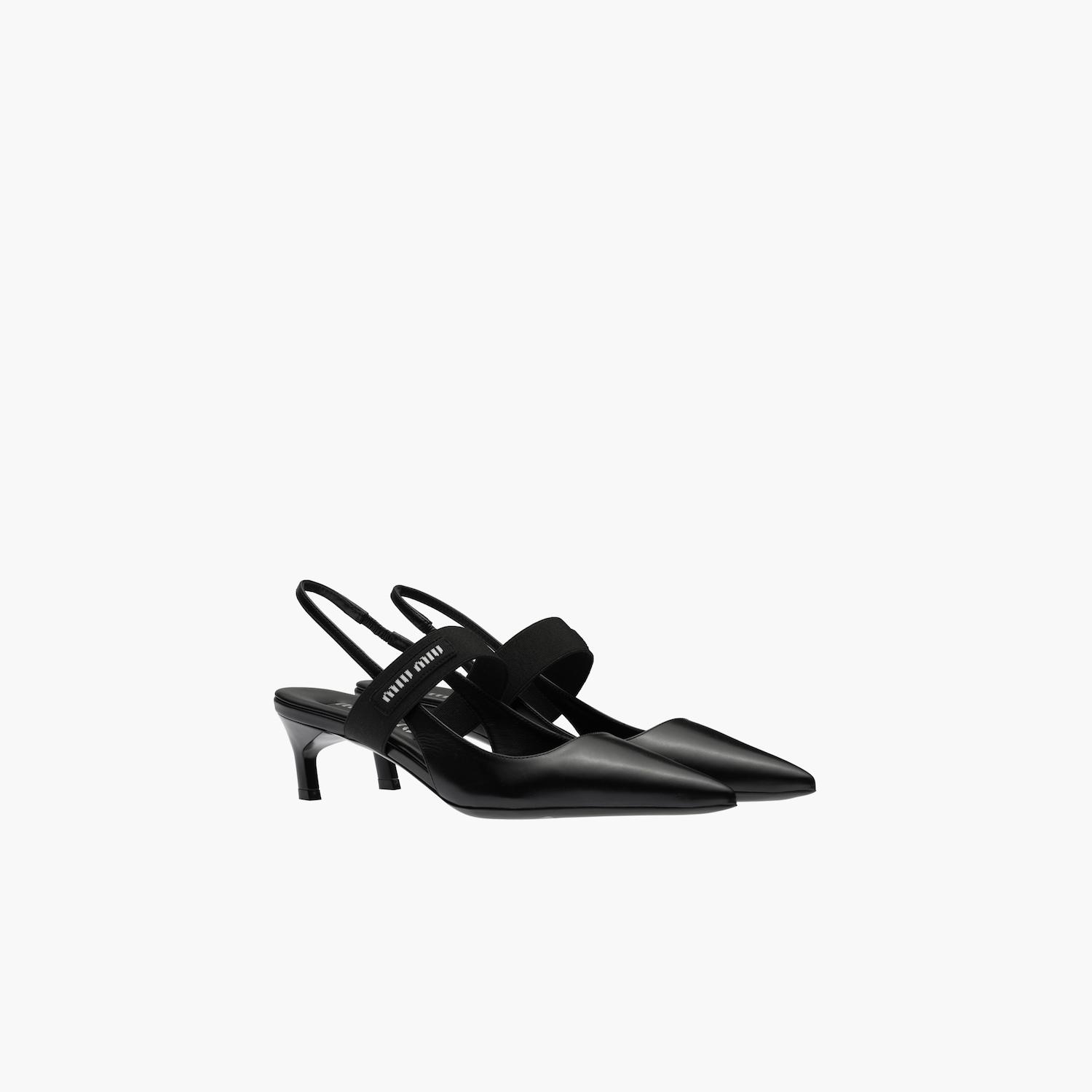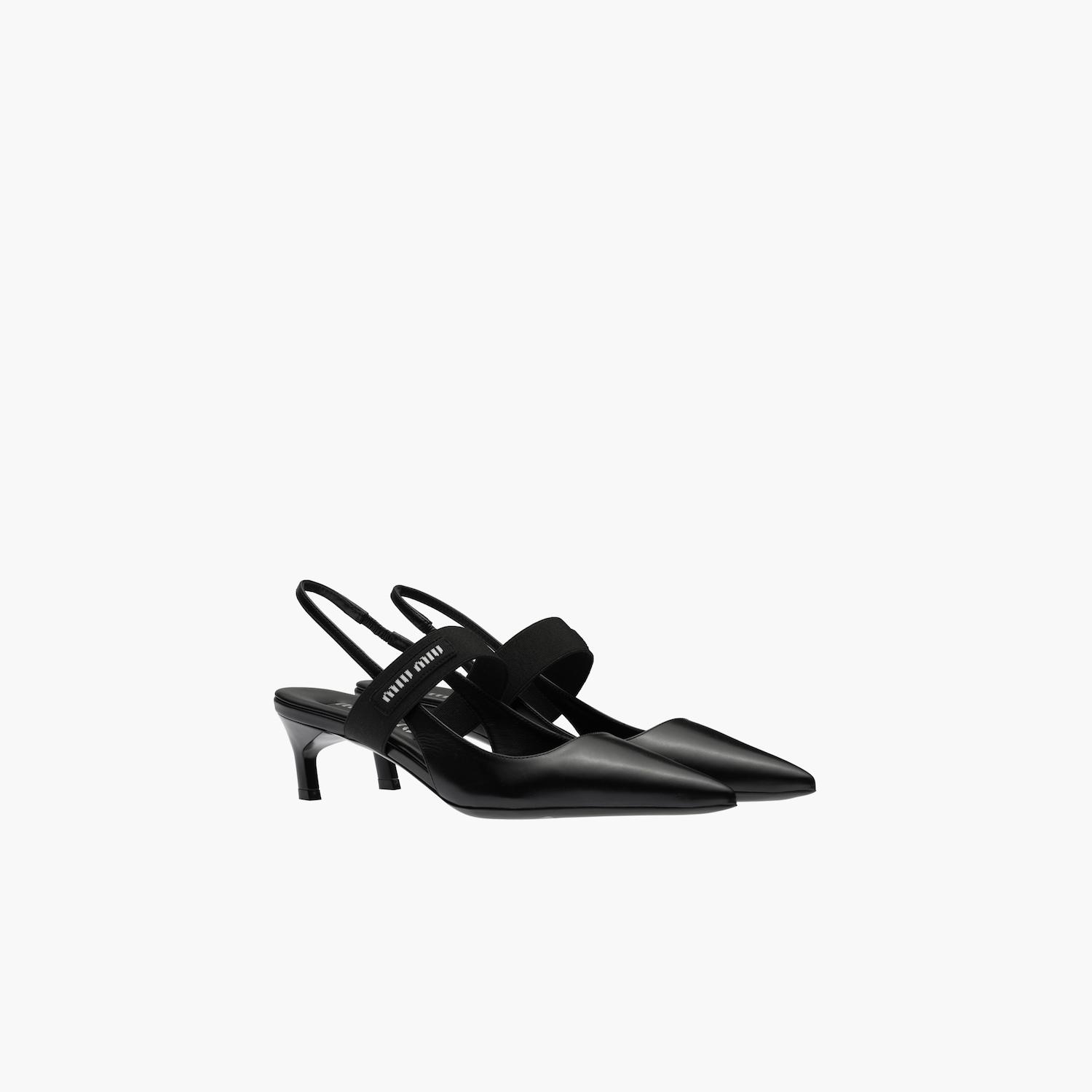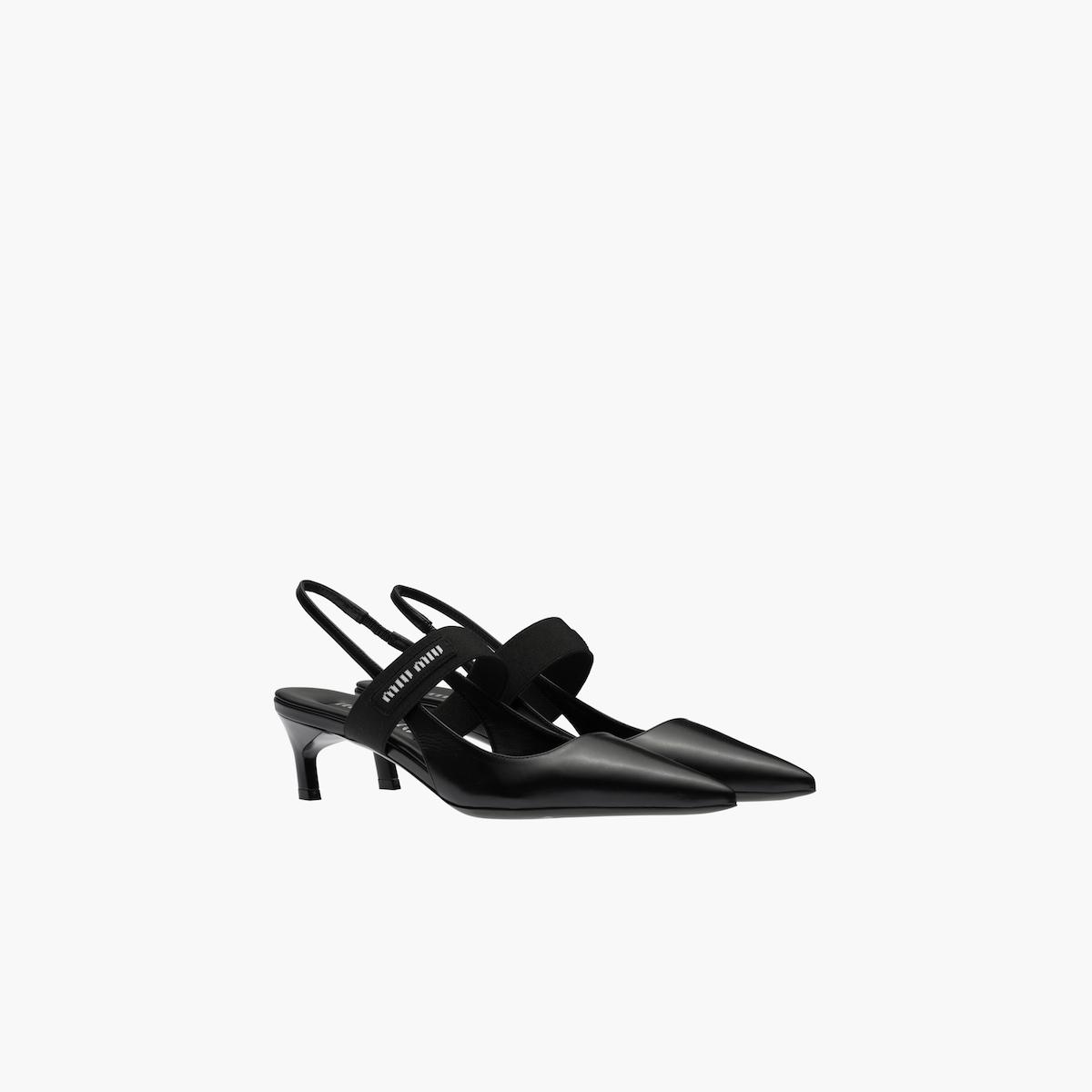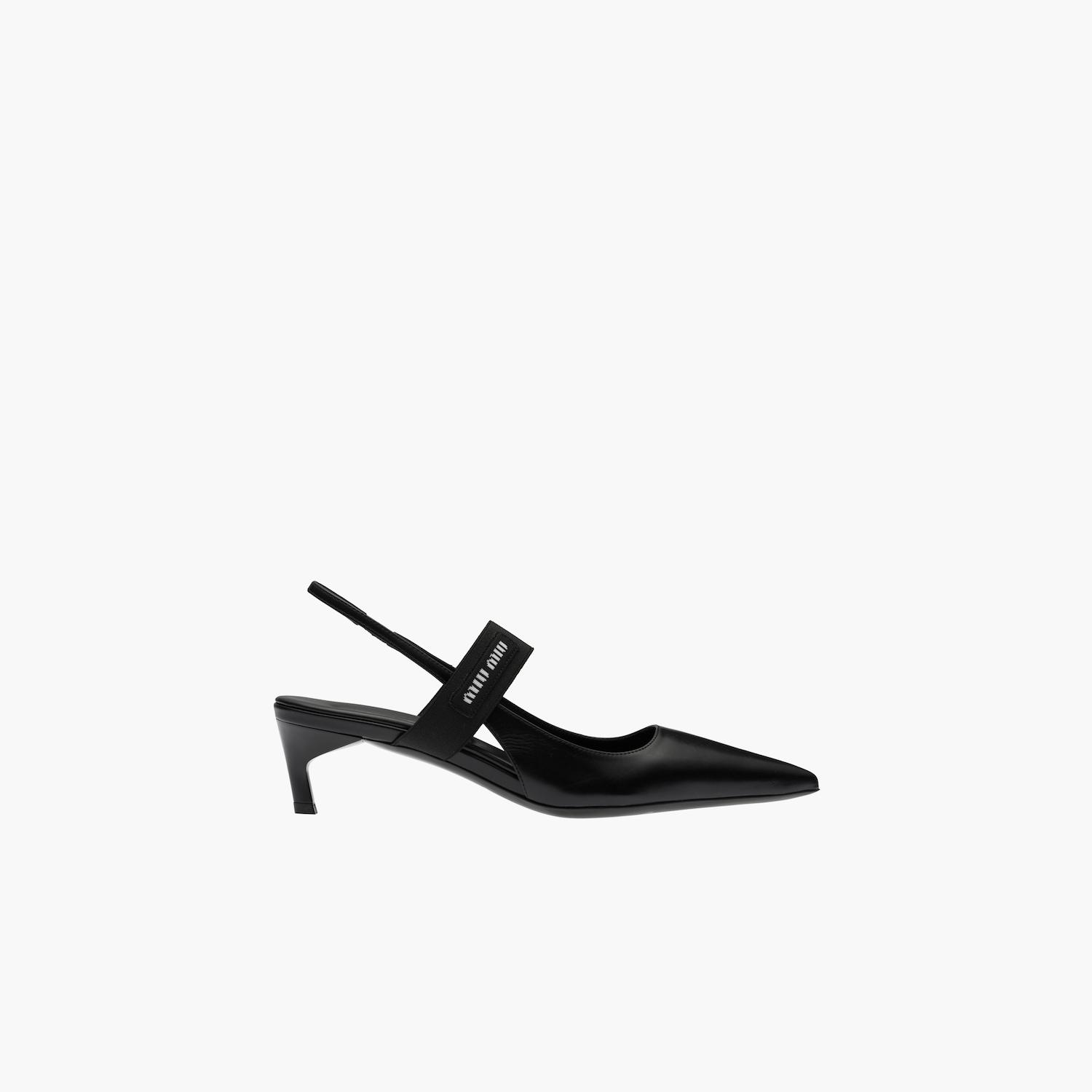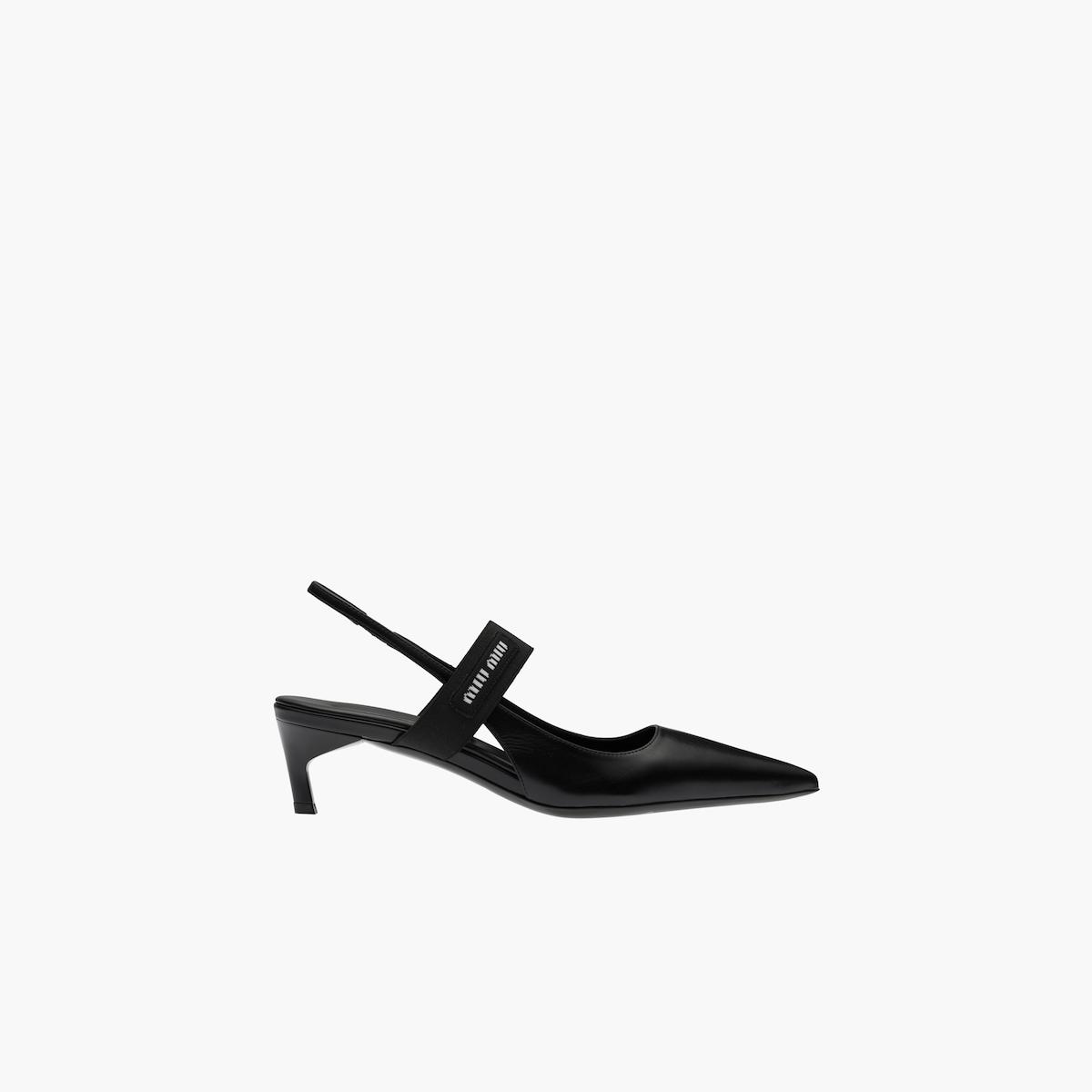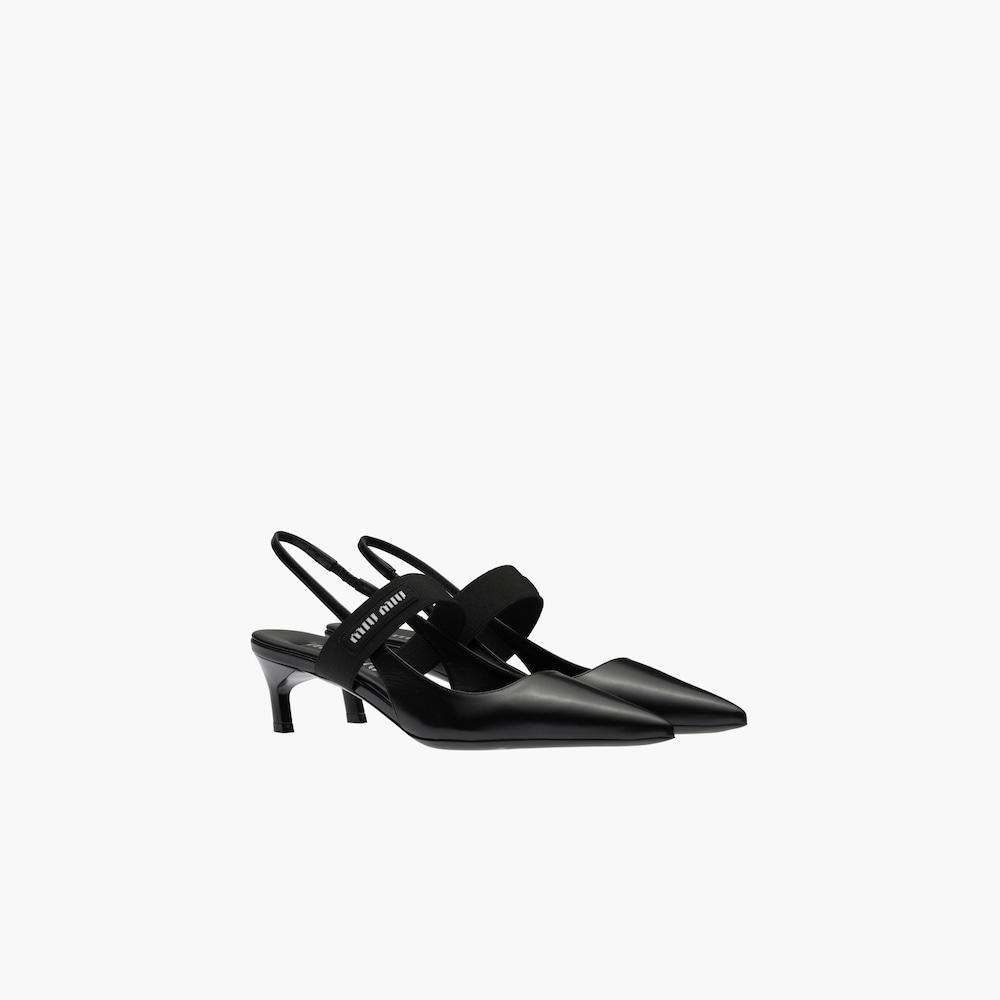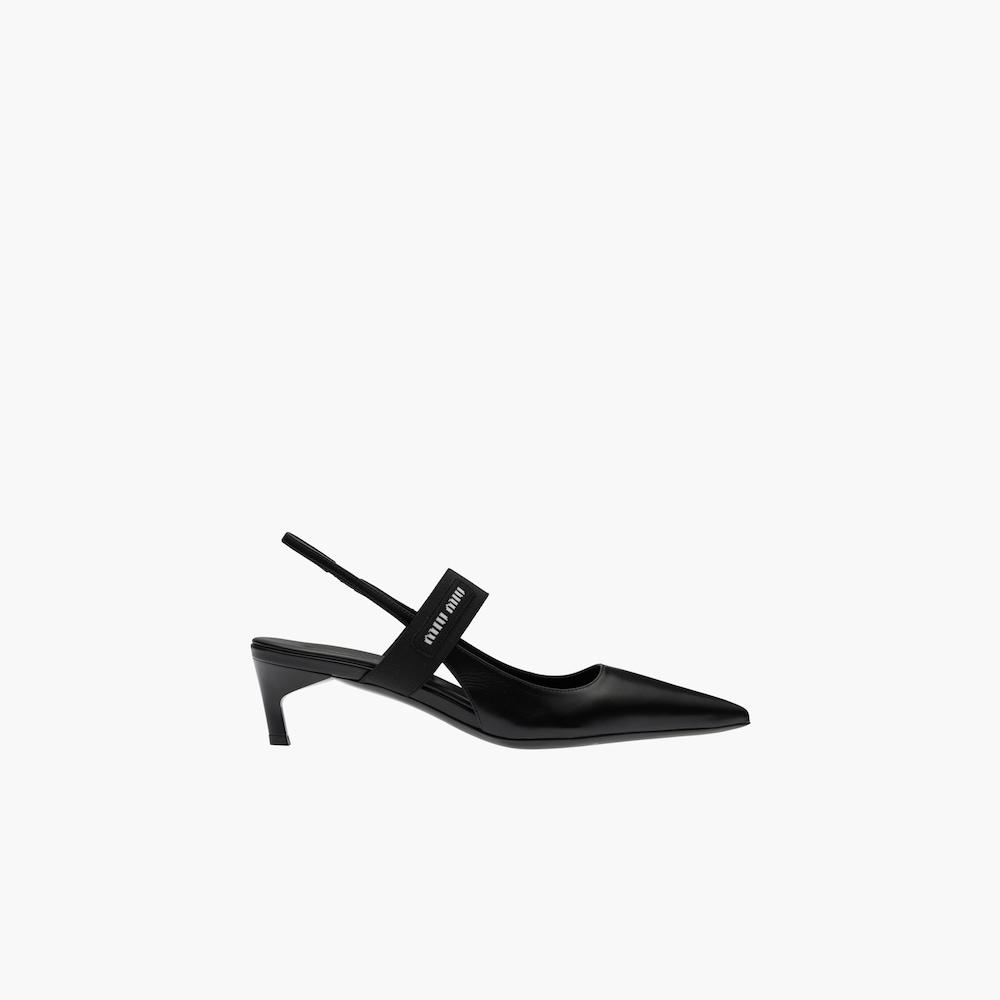 Leather slingback pumps
Miu Miu at Miu Miu (UK)
Pointed pumps/courts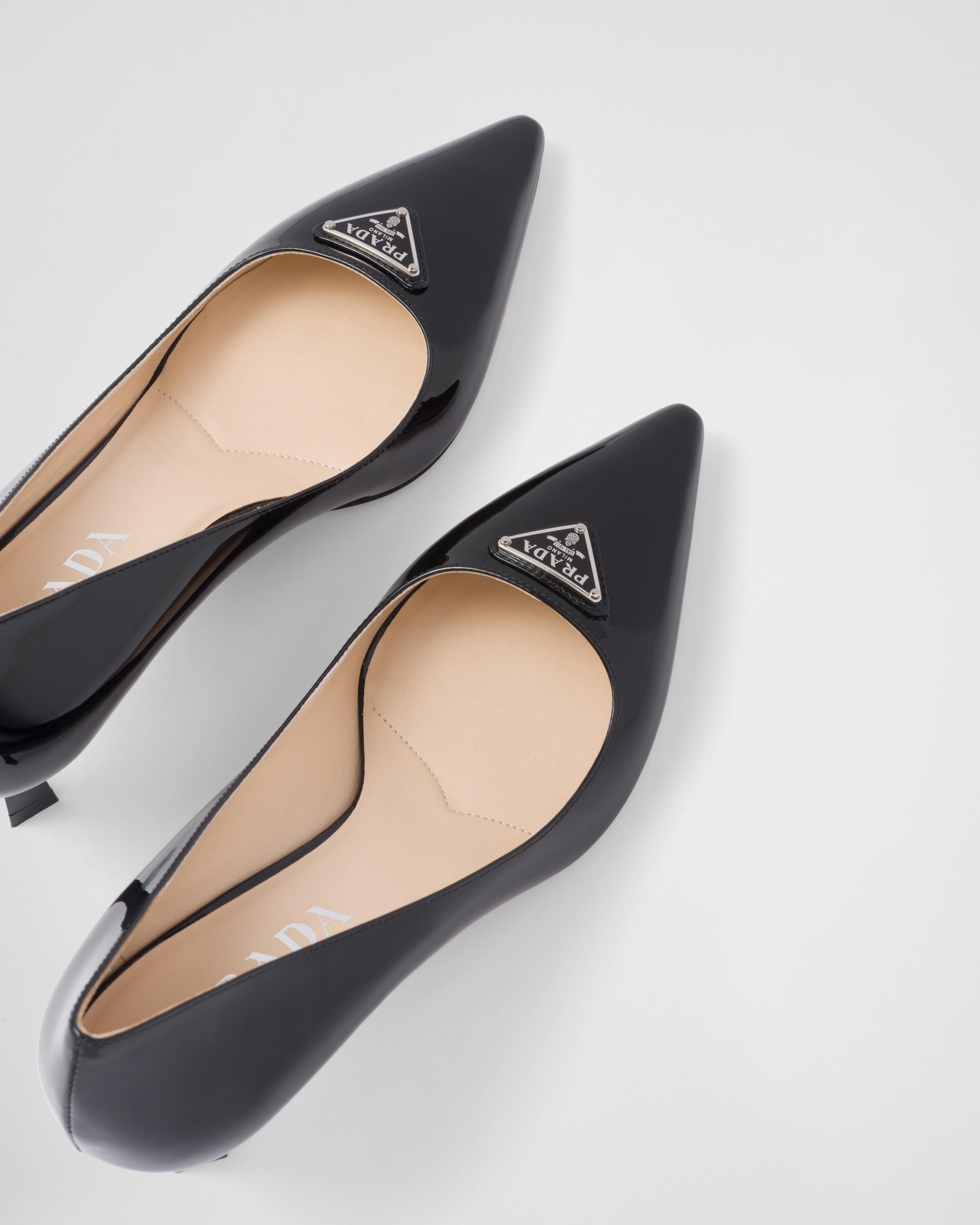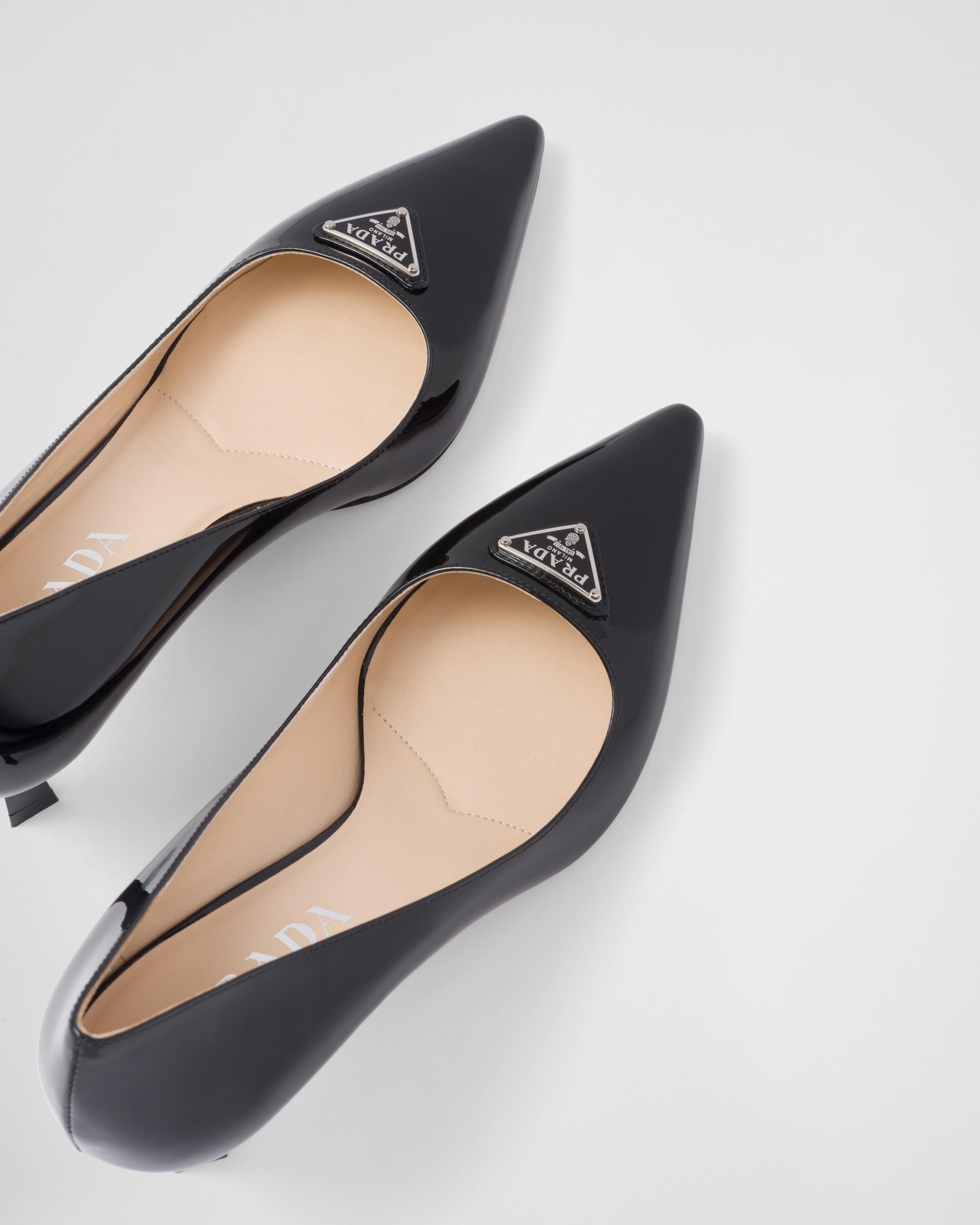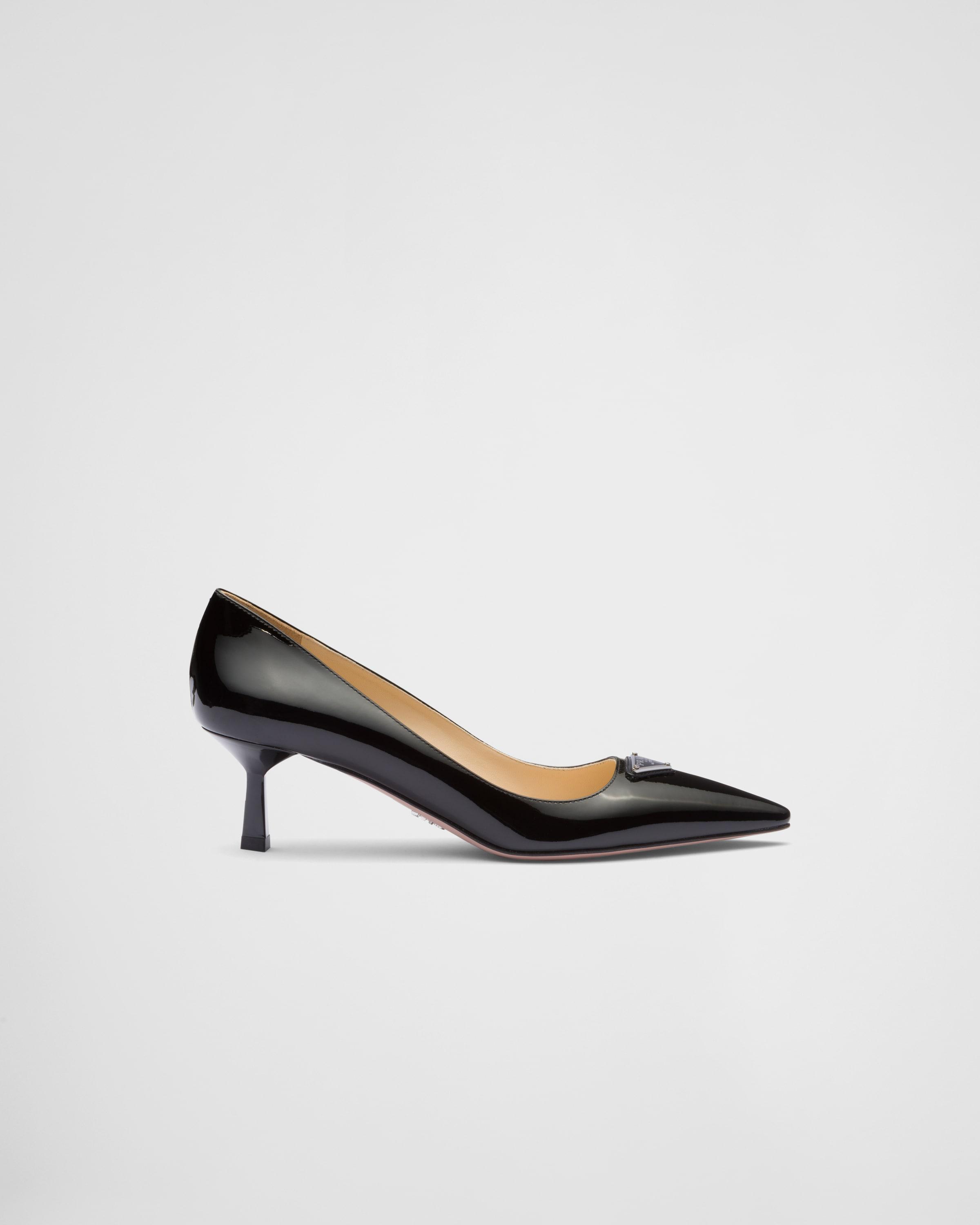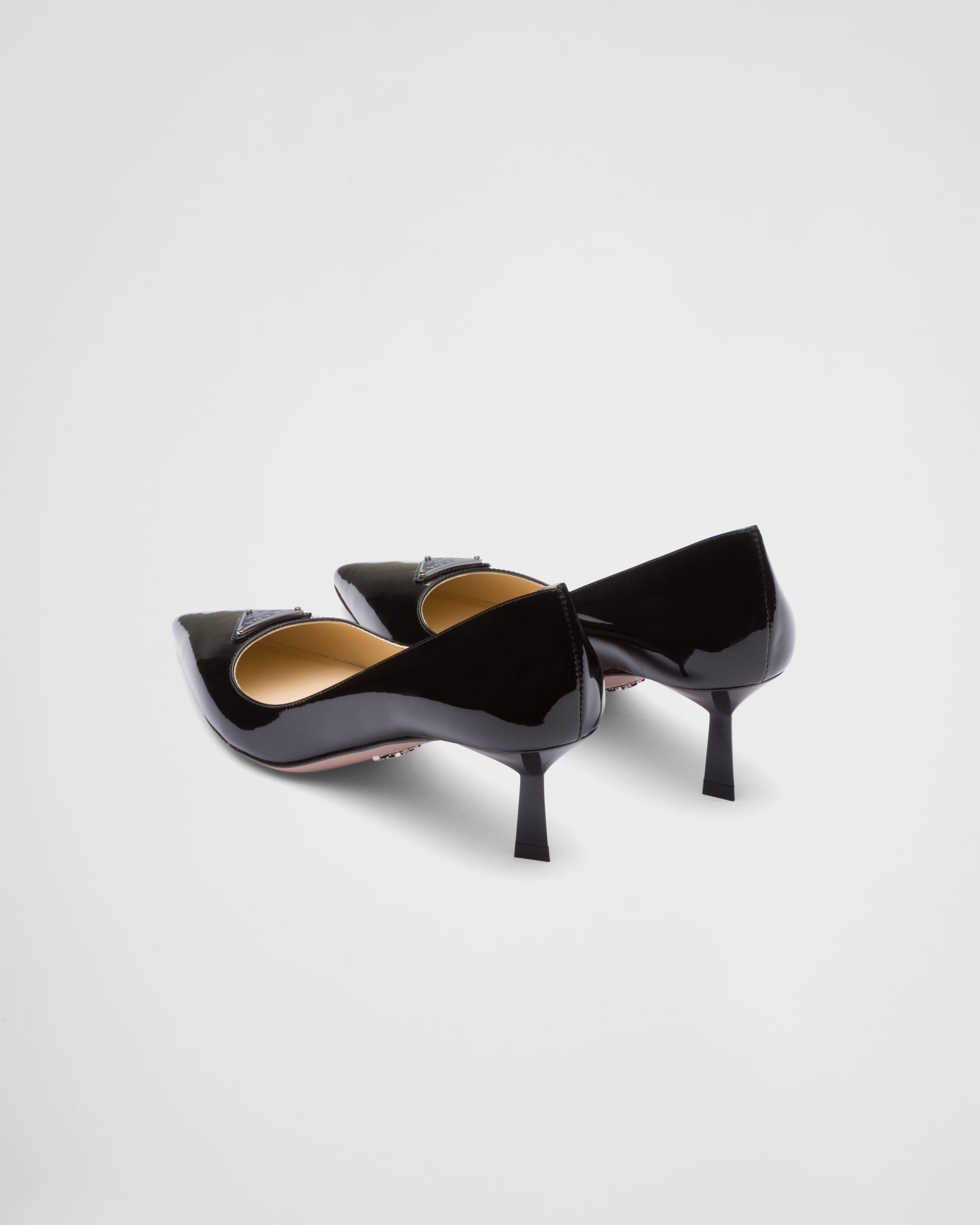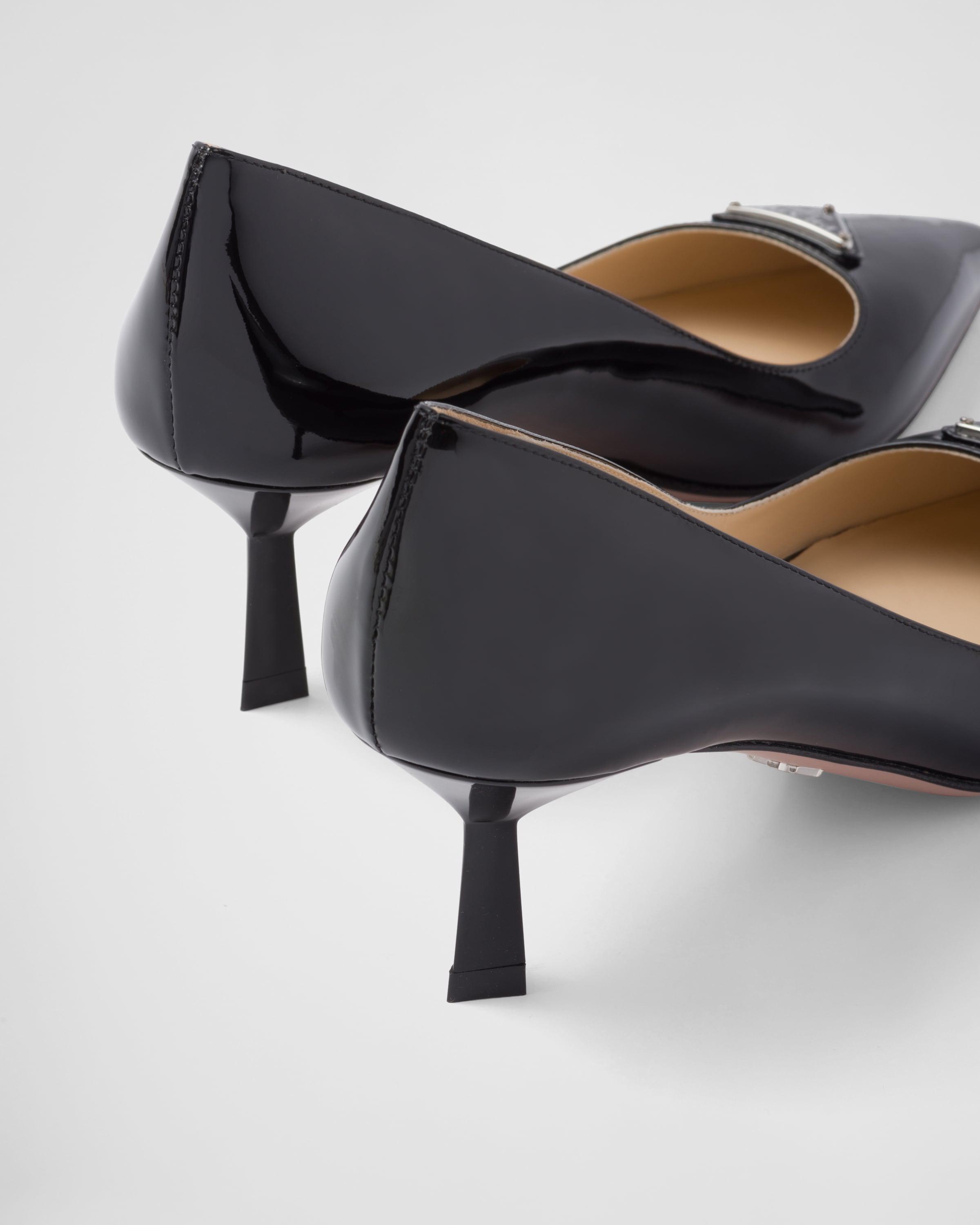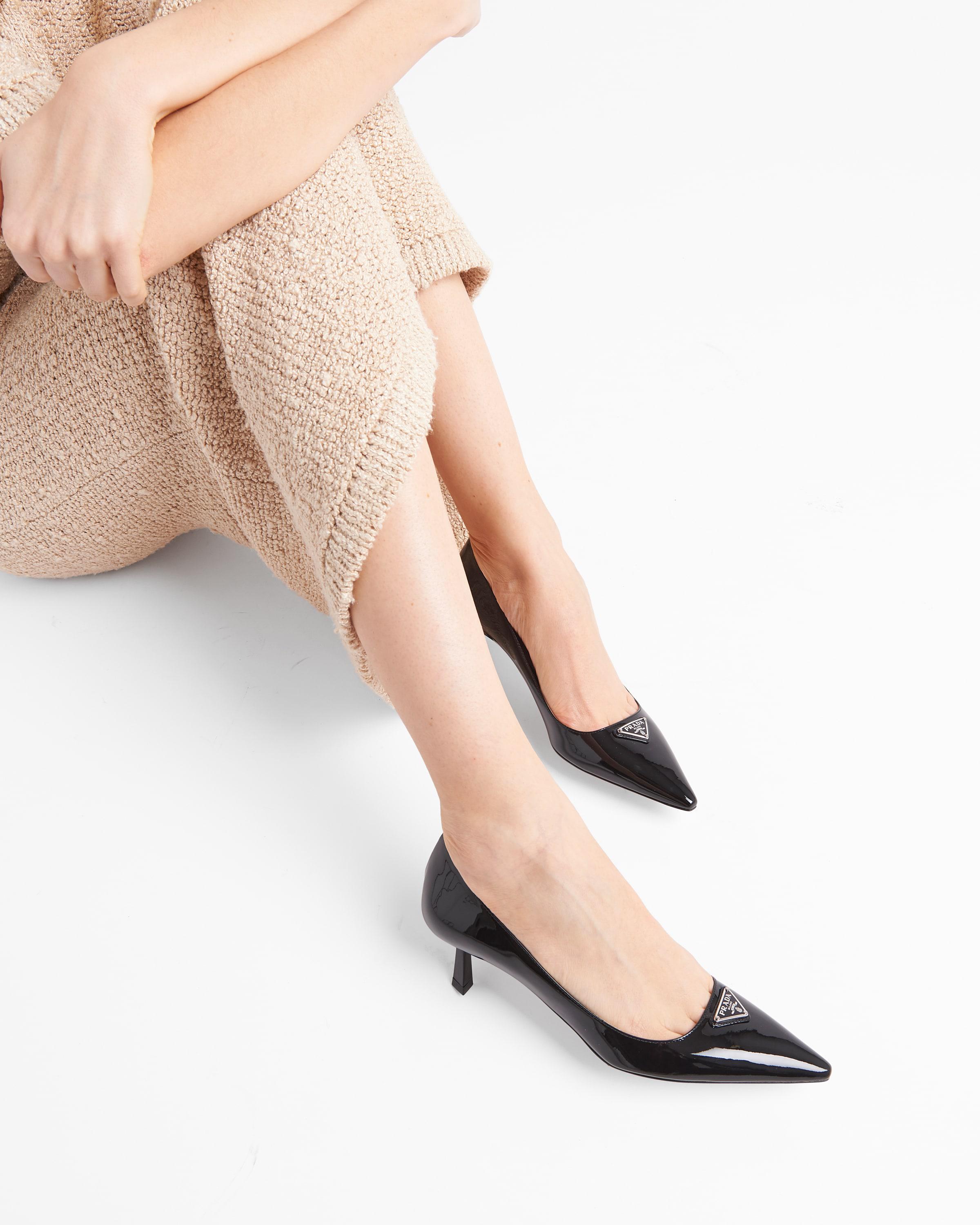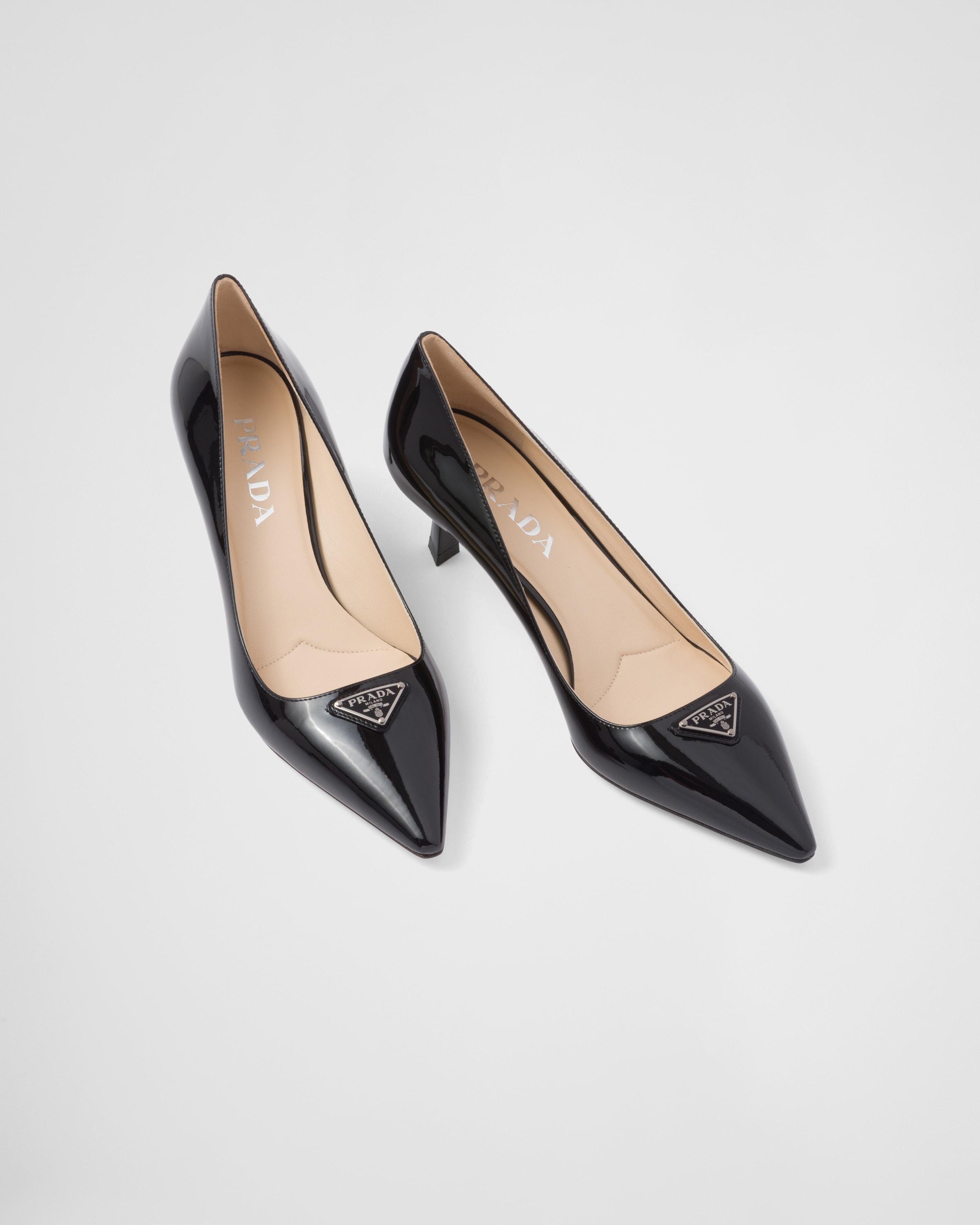 Patent-leather pumps
Prada at Prada (US)
Shoes
The Ugly
While the clog straddles both the ugly and minimalist aesthetics, its defining factors in this category remain garish, chunky and usually rubbery. JW Anderson's Wellipets collaboration on the Fall 2023 runway also added a comical design element. But with Crocs continuing to report record sales in 2022, appetite remains for the style. Office UK has upped its buy of the brand this season, with arrivals increasing 63% YoY with an expansive range of new models, including the Echo, Terrain and Mega Crush. Tu at Sainsbury's has almost tripled the options of its clogs in SS23. Chunkier silhouettes have been added to the range this season, with a desirable ASP of £9.50.
Characters
Rubber clogs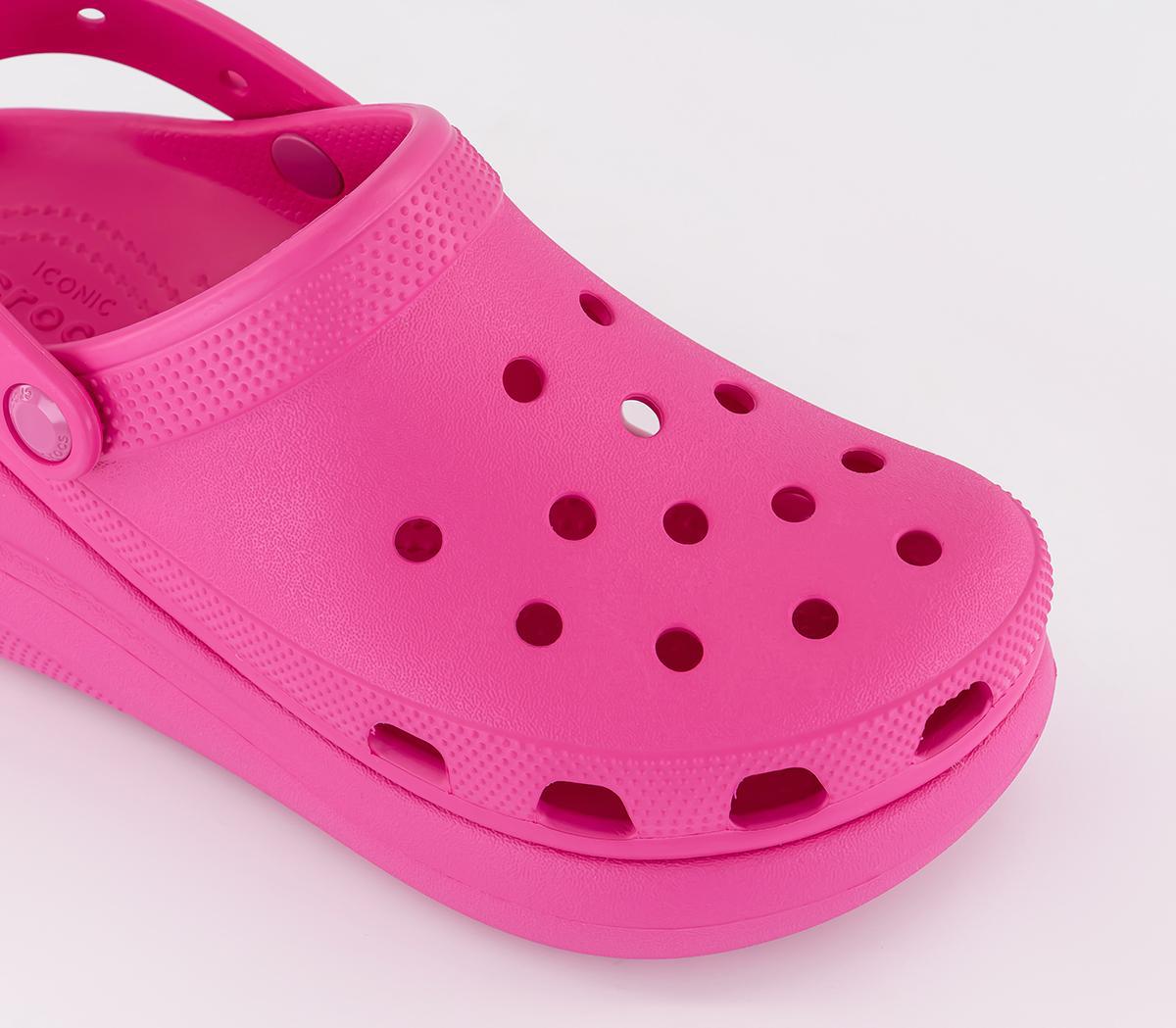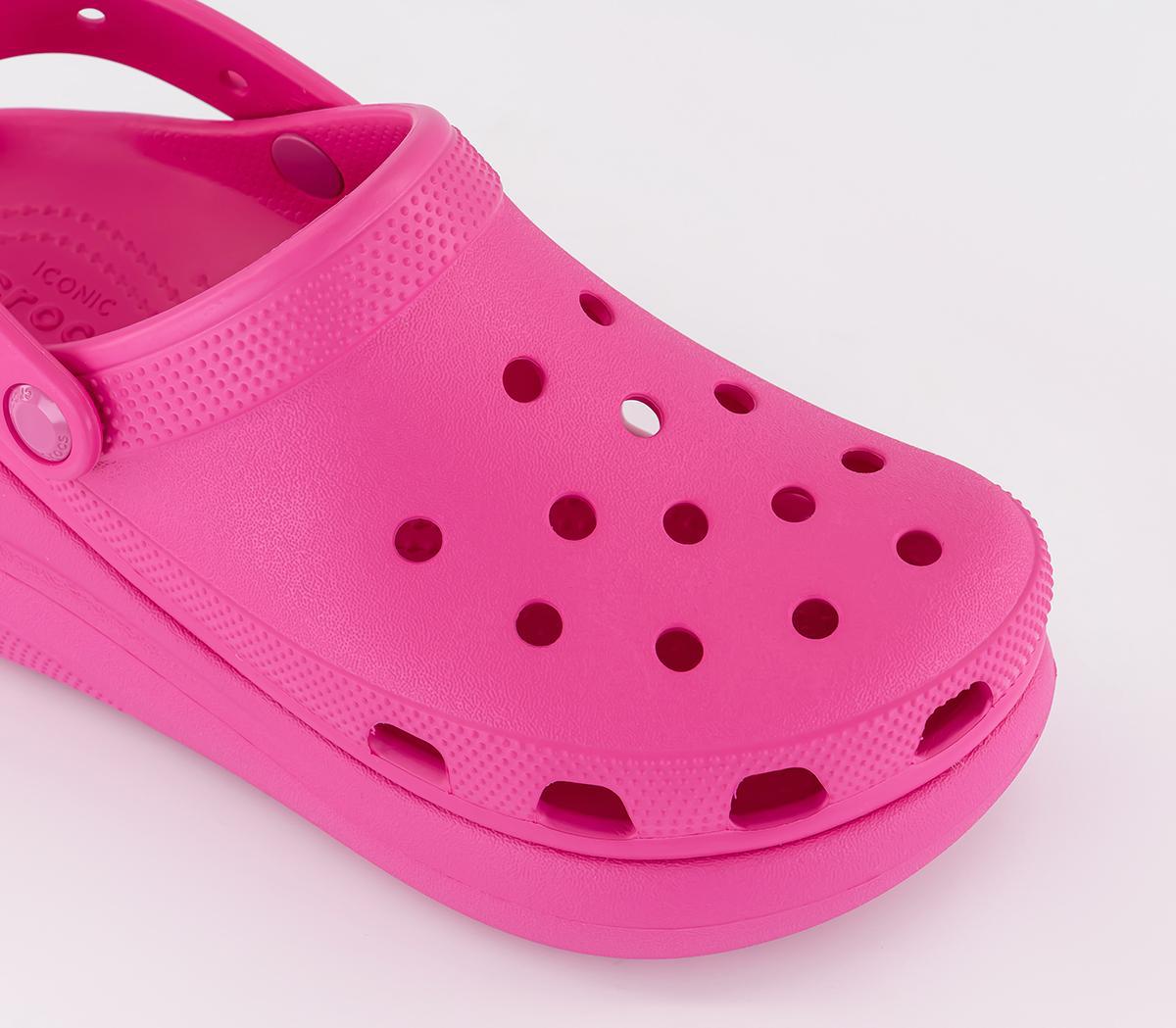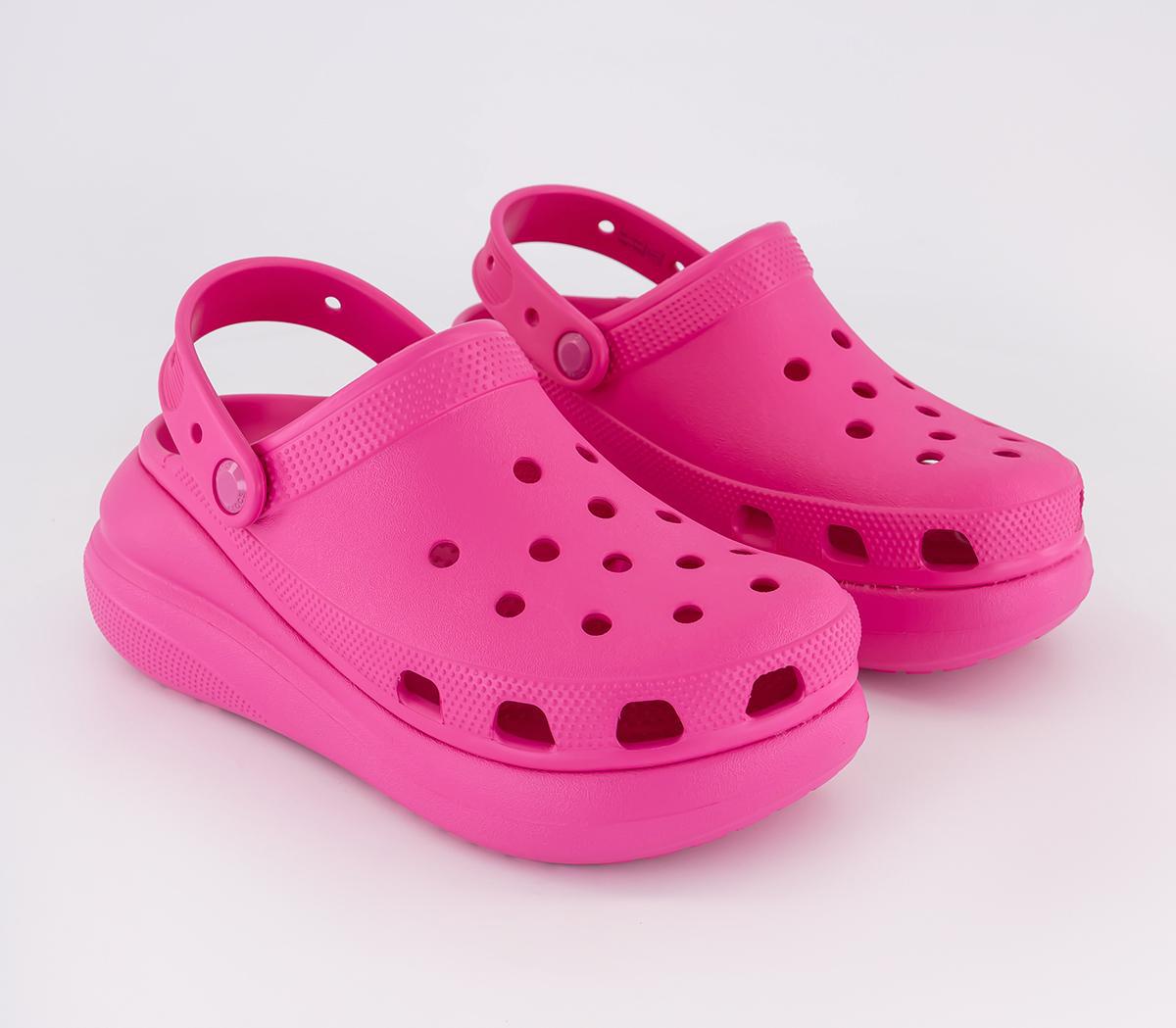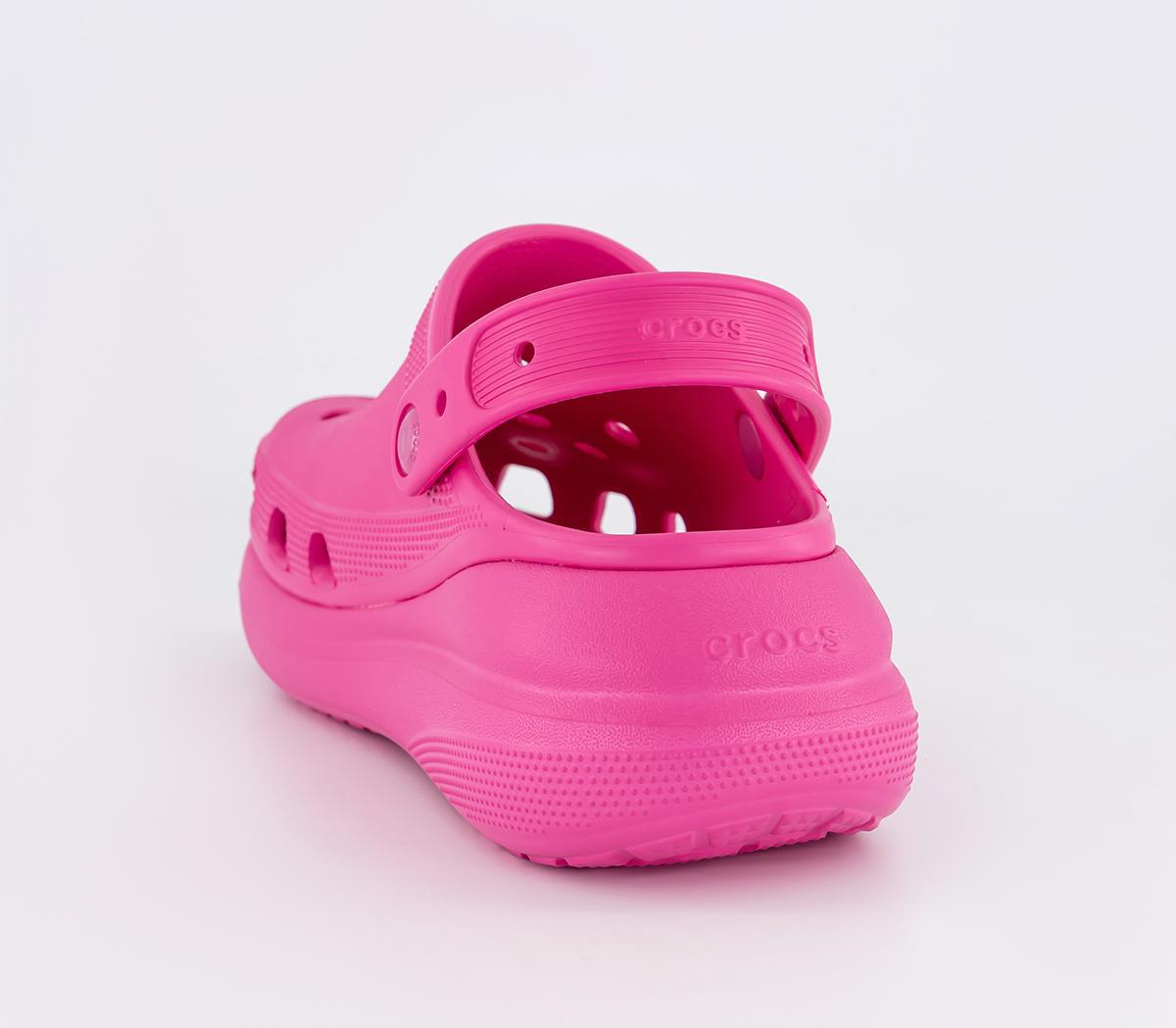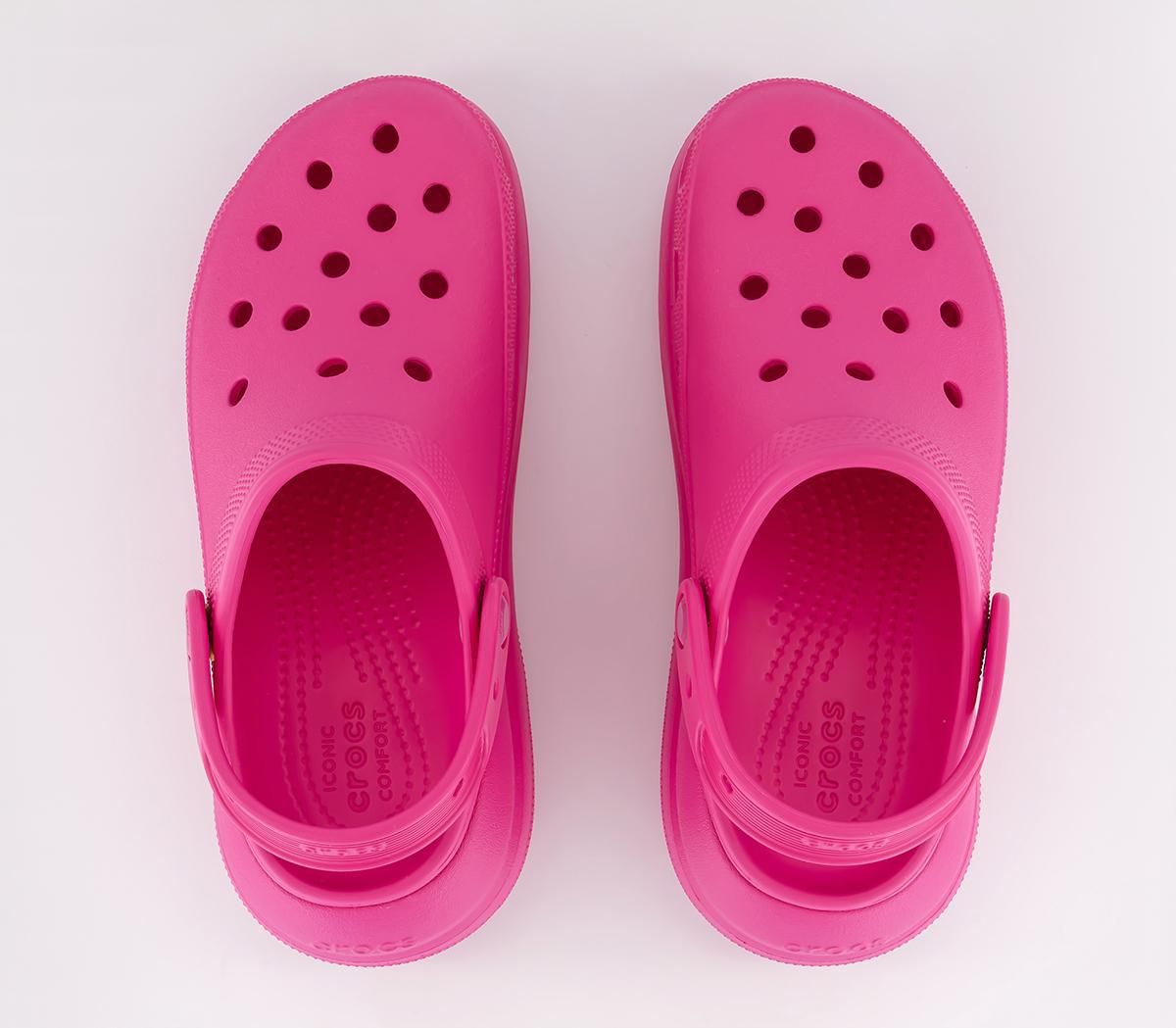 Classic Crush Clogs
Crocs at Office (UK)
The Minimalist
Birkenstock's Boston Clog became a sought-after shoe throughout the pandemic as consumers favored its comfort characteristics. Fast forward to today, and the model remains a hit, influencing a number of mass market designs. Zara's sand leather clogs for men ($99.90) achieved a majority sell out within nine days of arriving, while Mango recently dropped a women's buckle leather slip-on shoe ($129.99). The ballet flat is another silhouette that has risen to prominence, with Q1 intake growing 74% YoY. Miu Miu's cult logo leather pair, worn by Bella Hadid, led to the booming Balletcore subculture. Set to remain prominent for FW23, the aesthetic aligns with minimalism, characterized by soft pinks and neutrals, femme fabrics and Mary Janes.
Suede clogs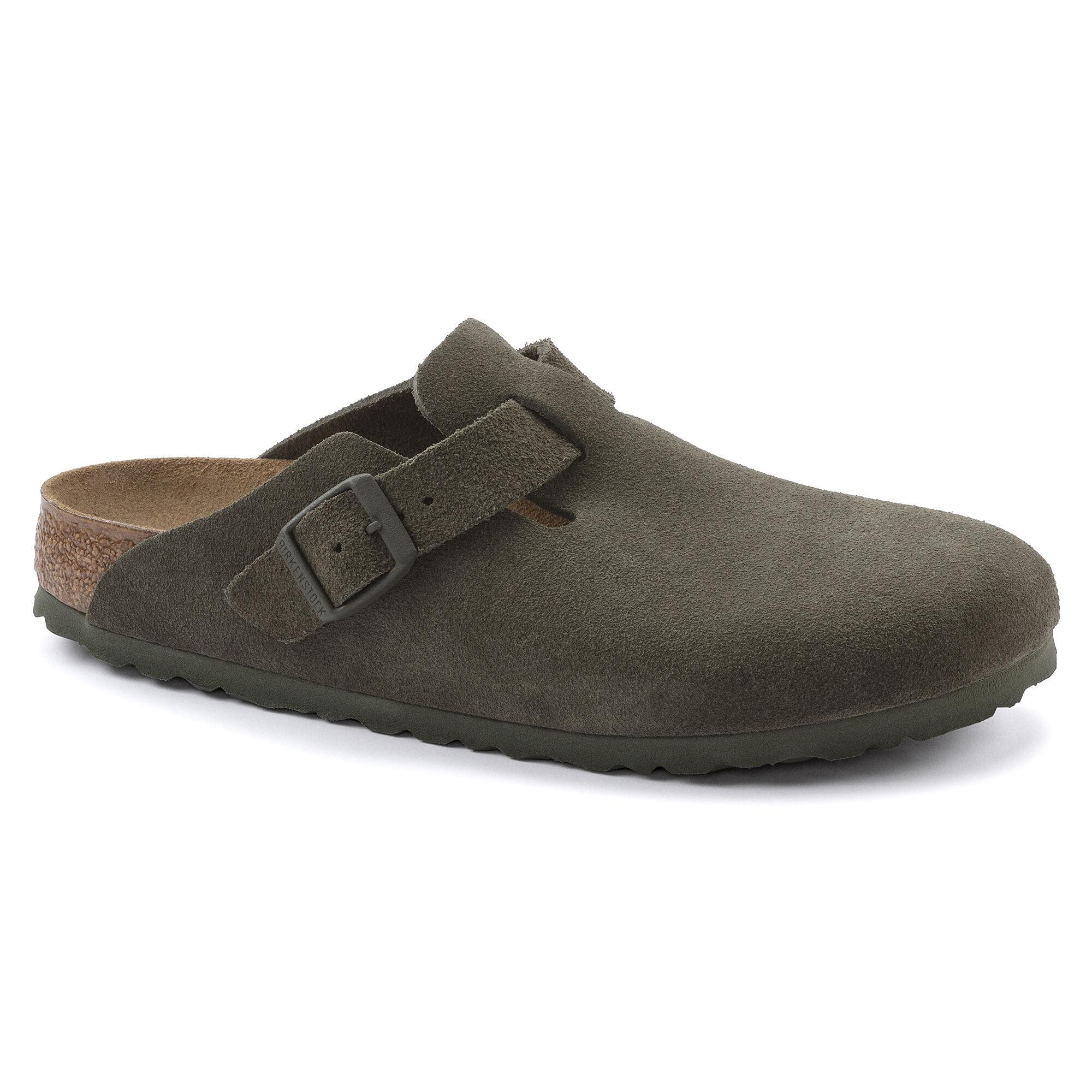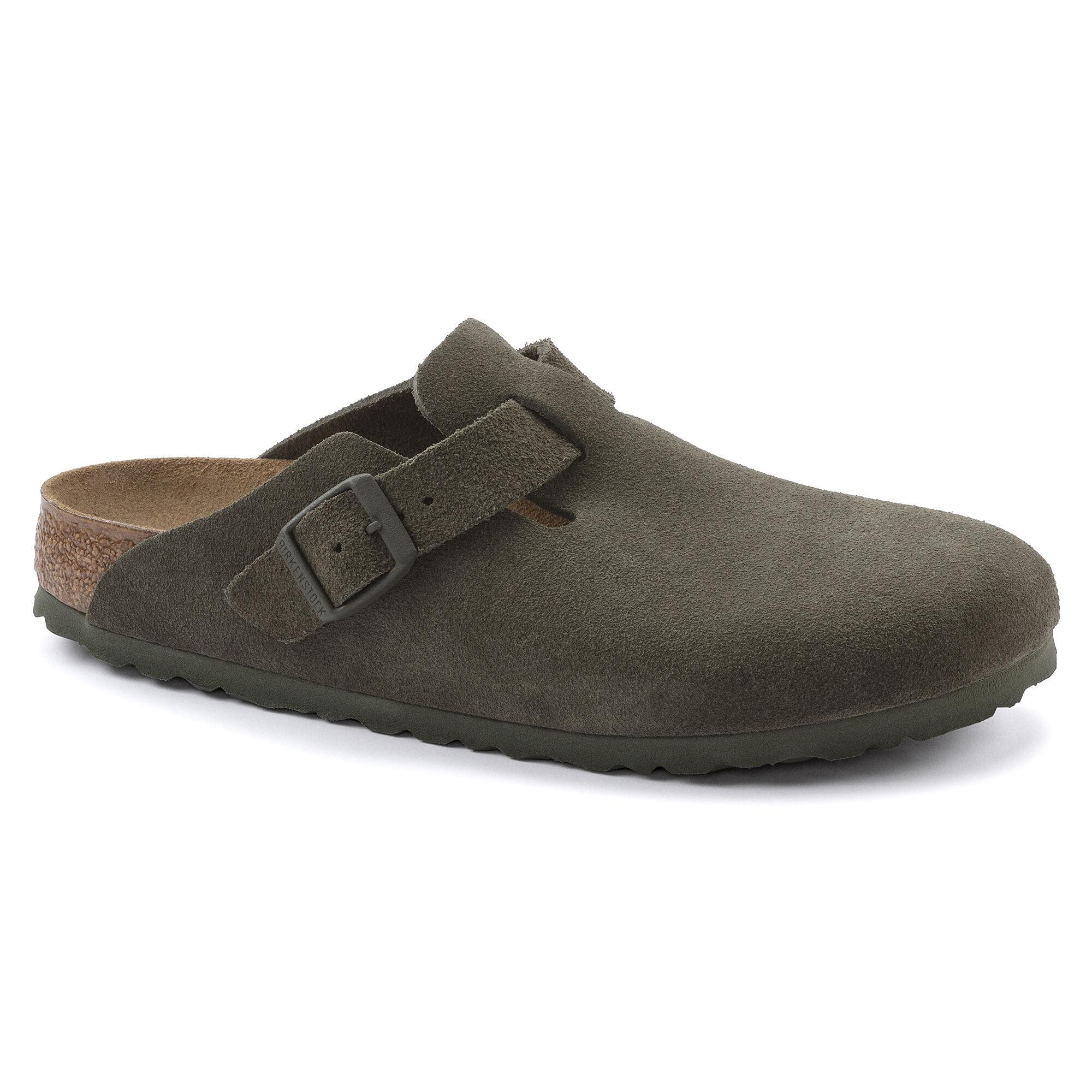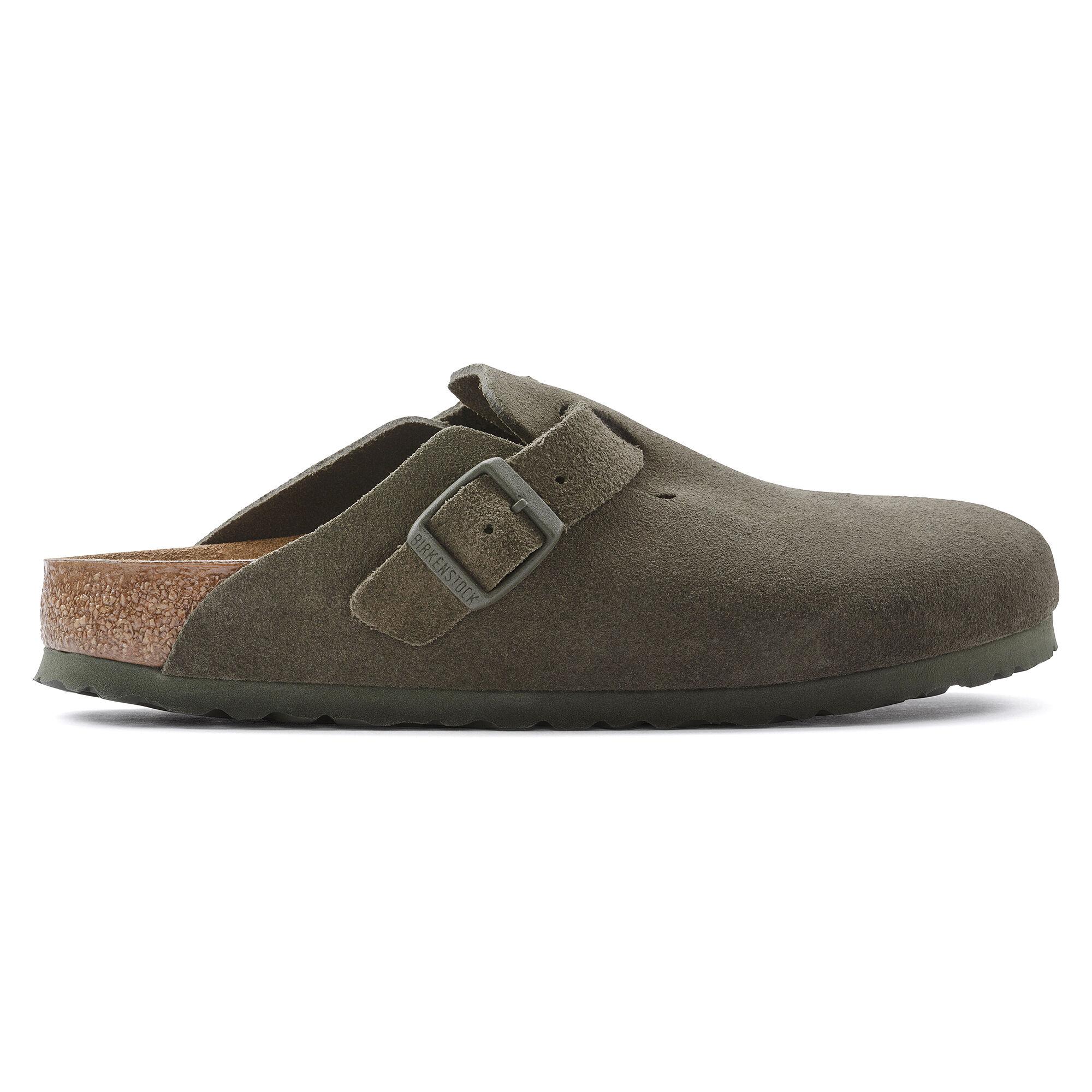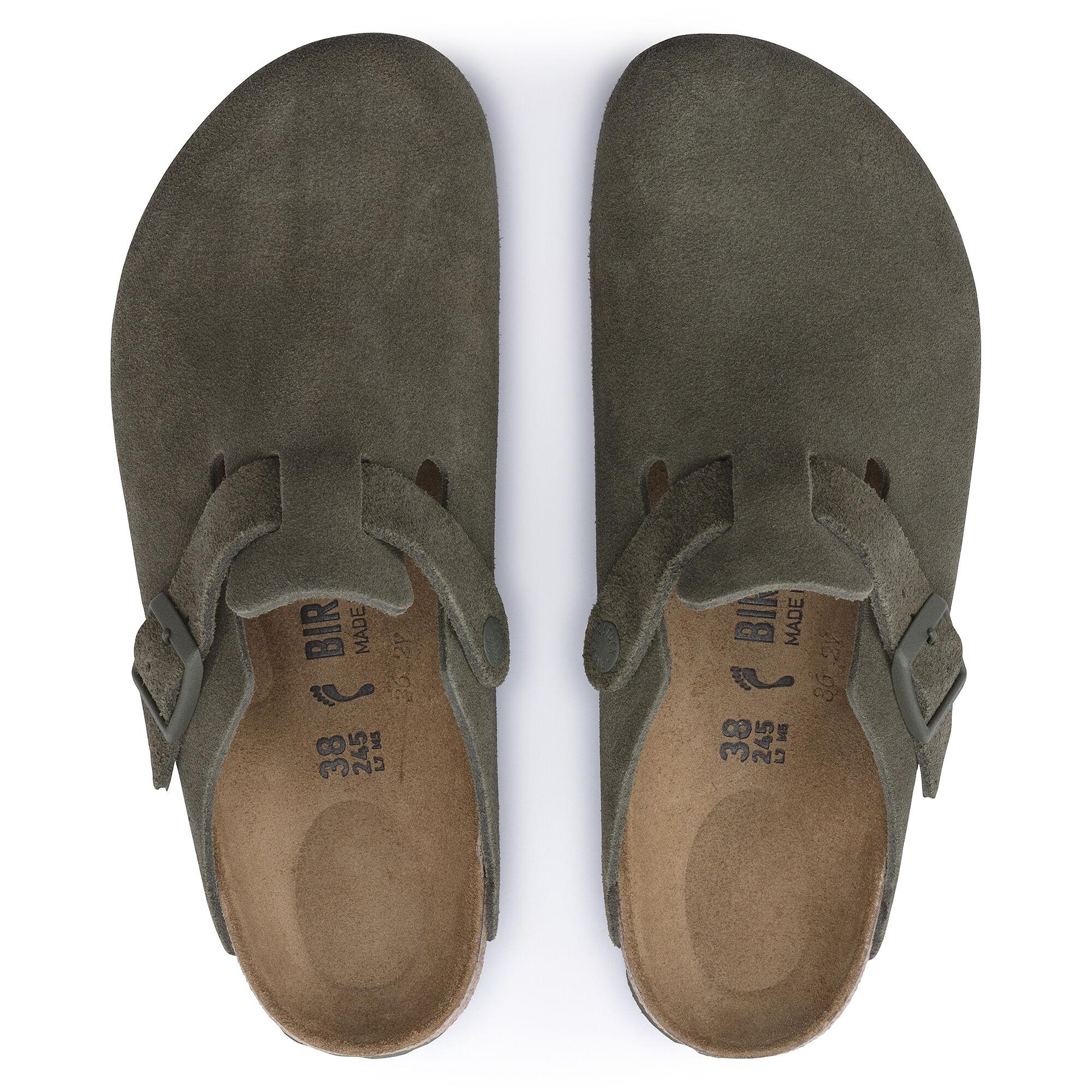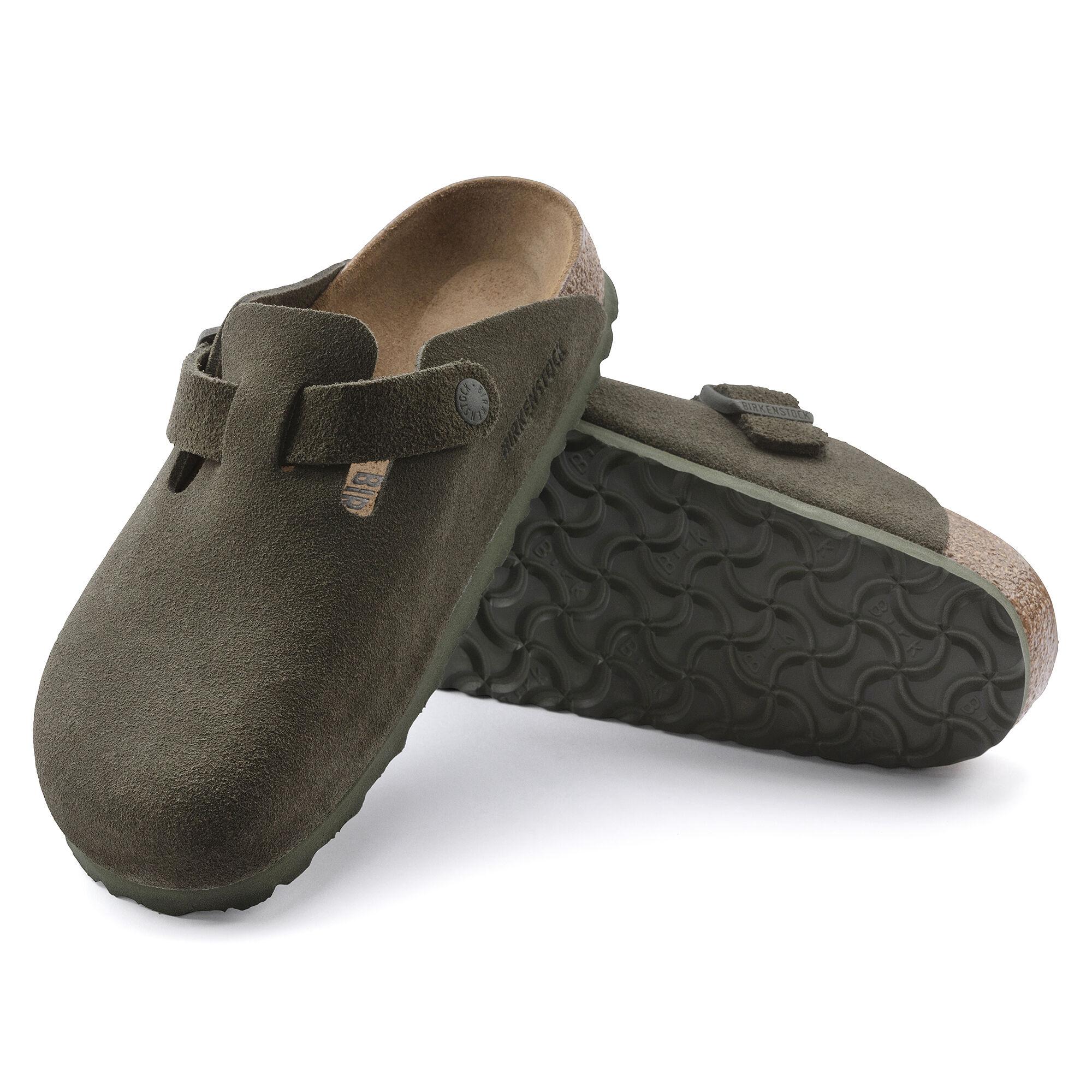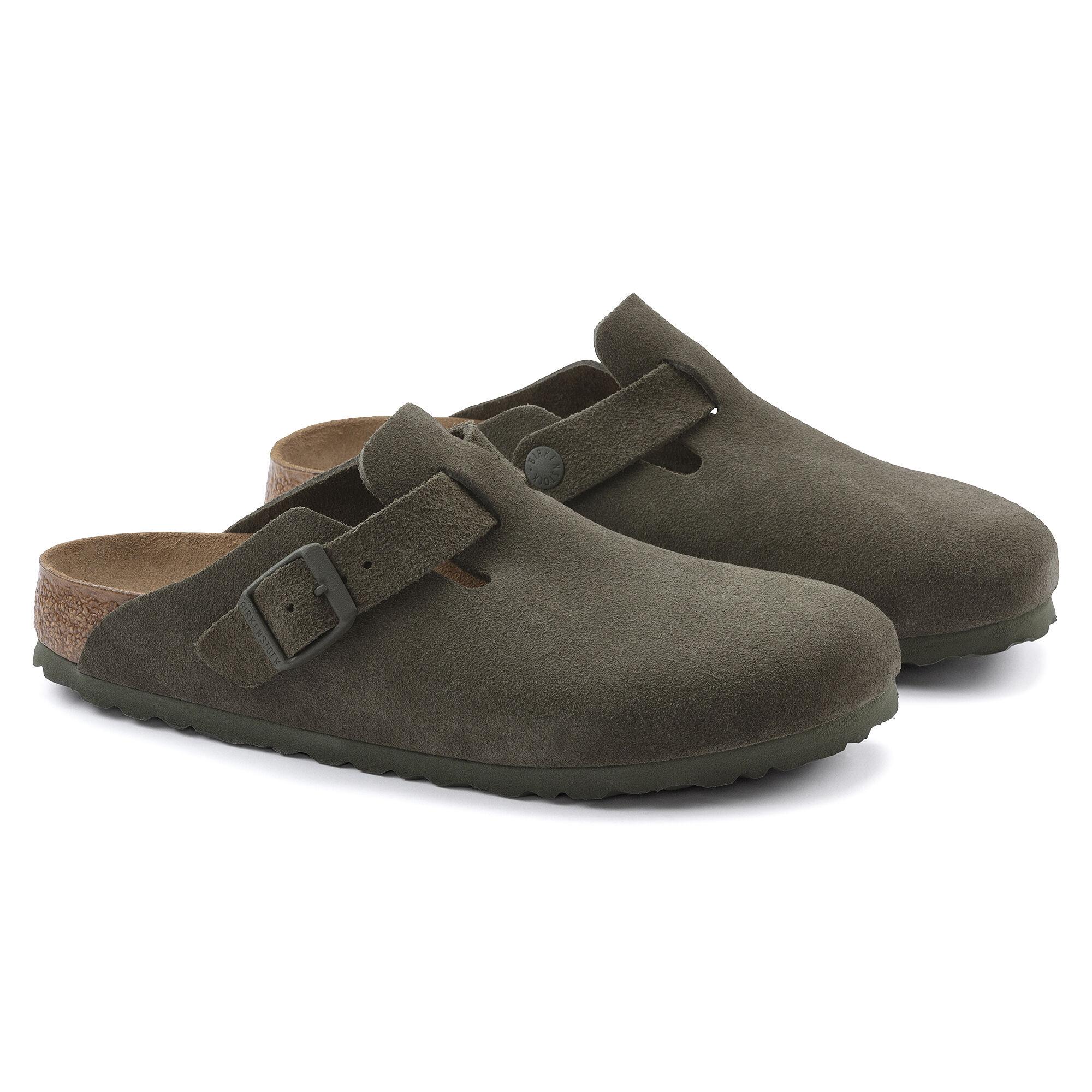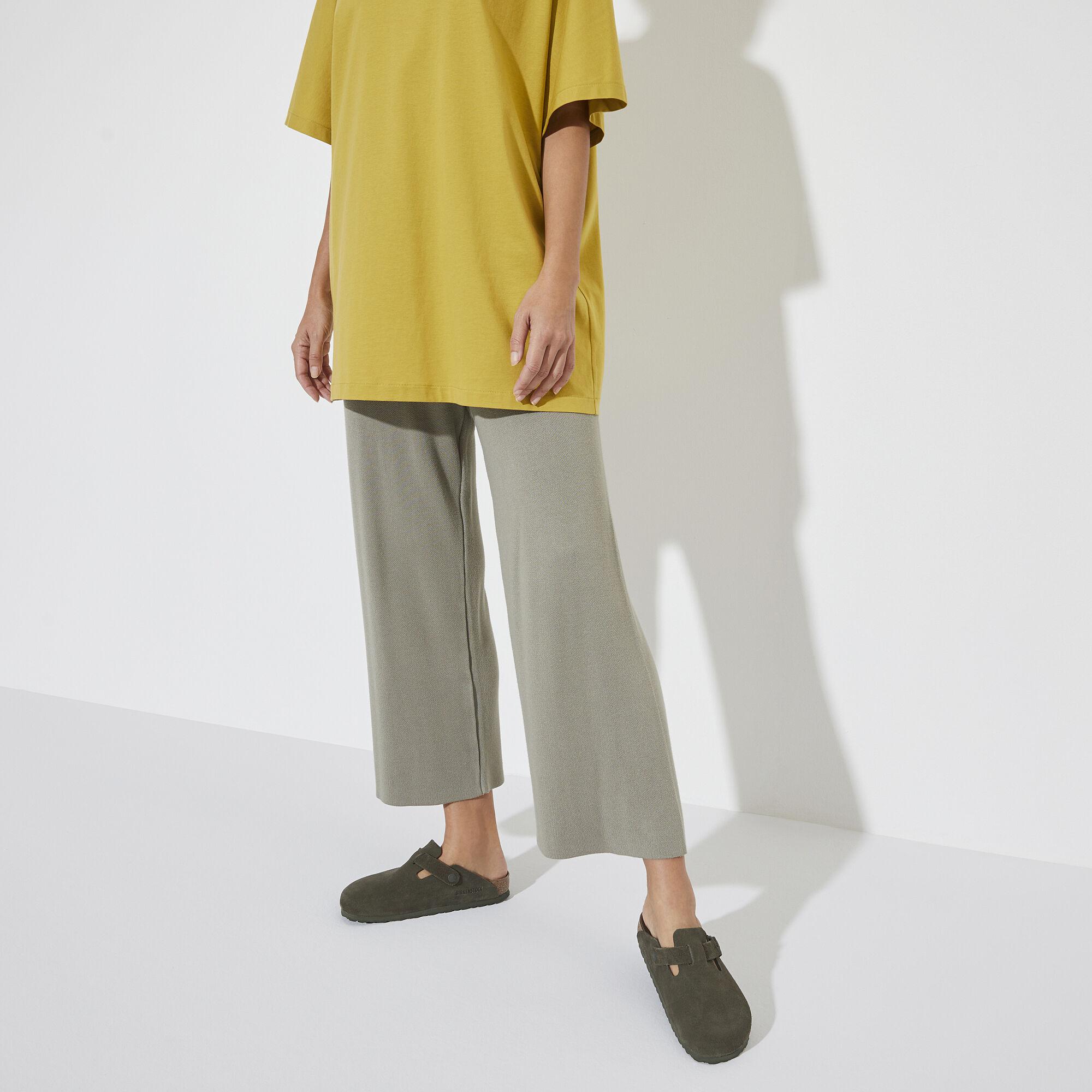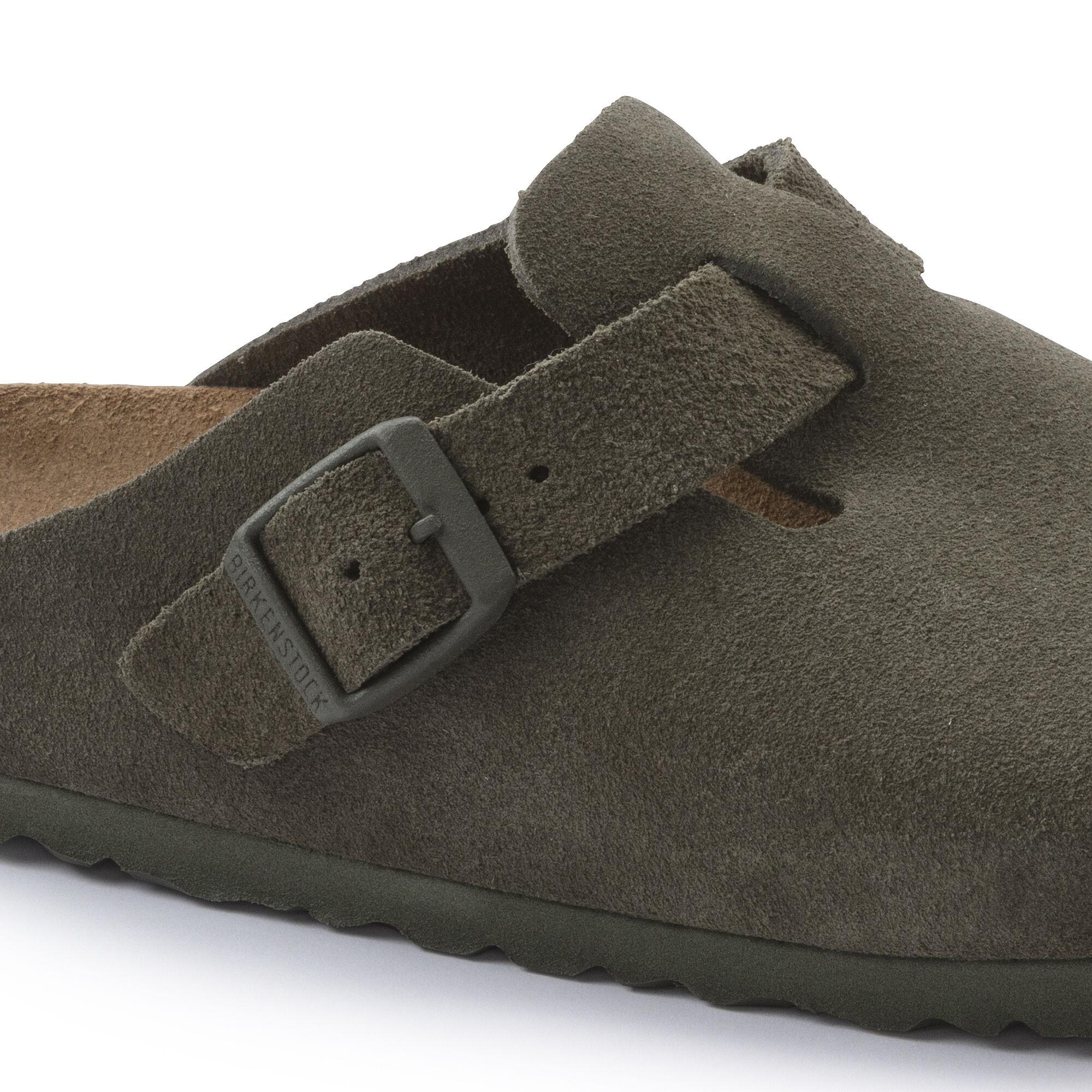 Boston
Birkenstock at Birkenstock (US)
Ballet flats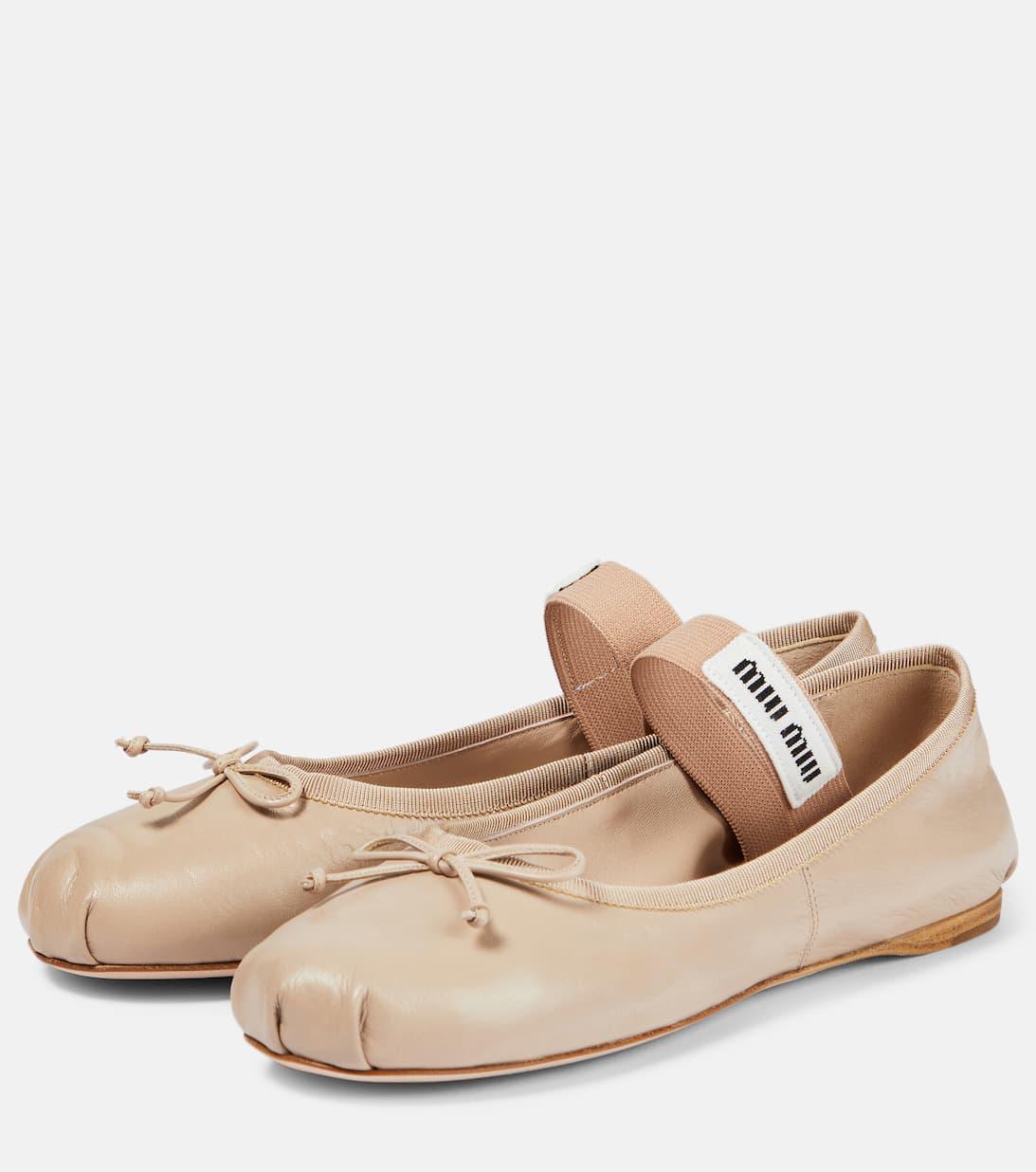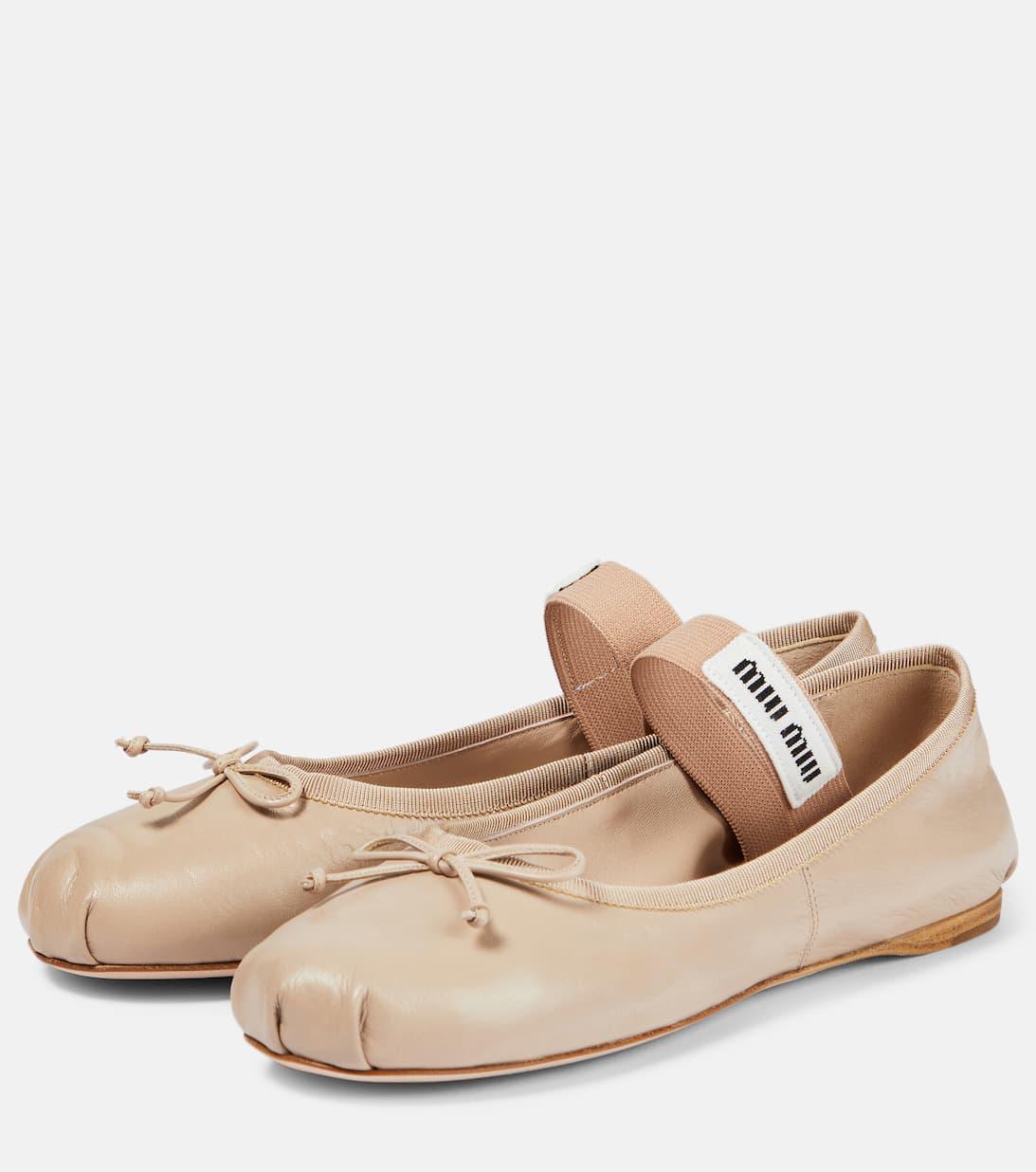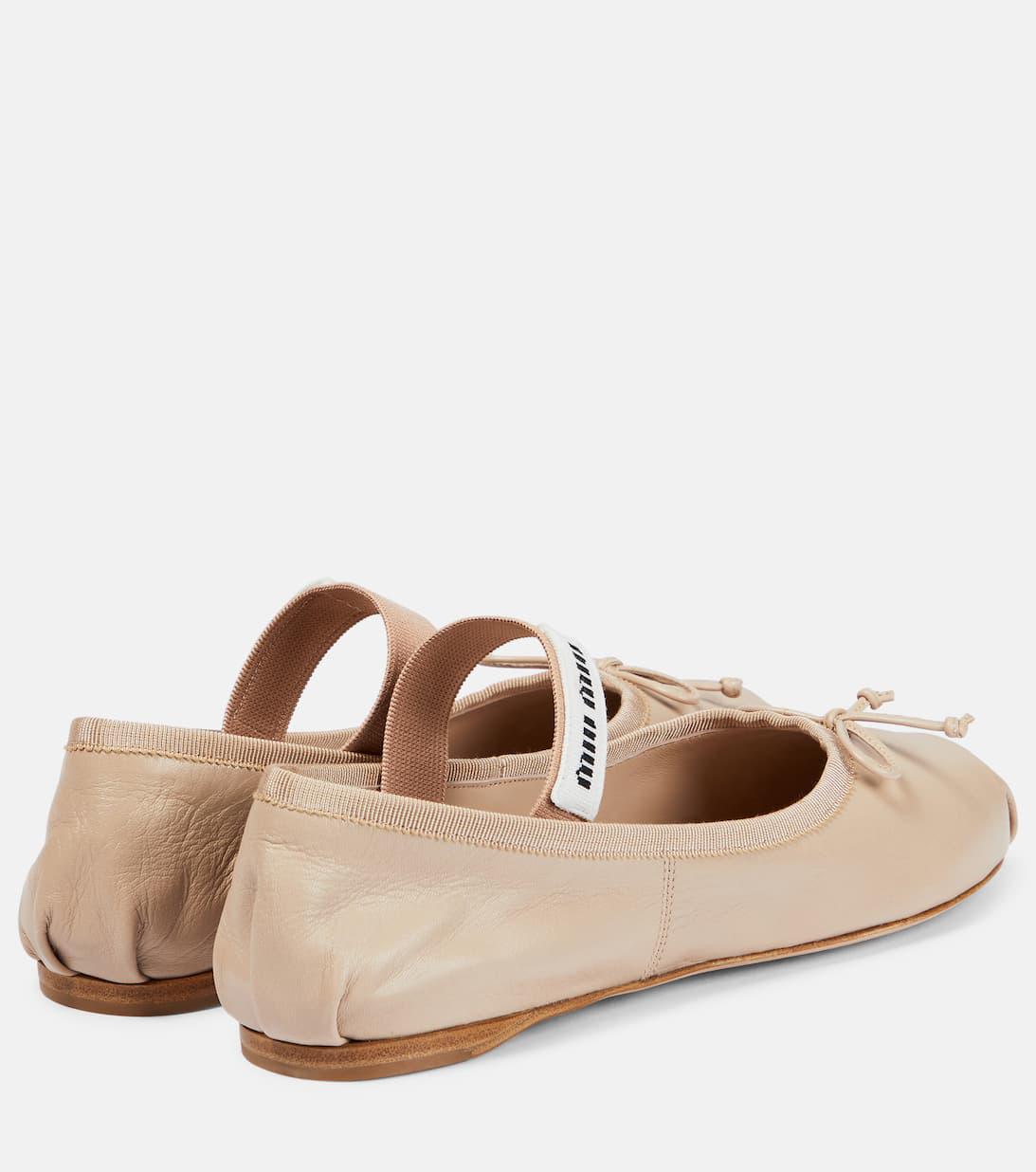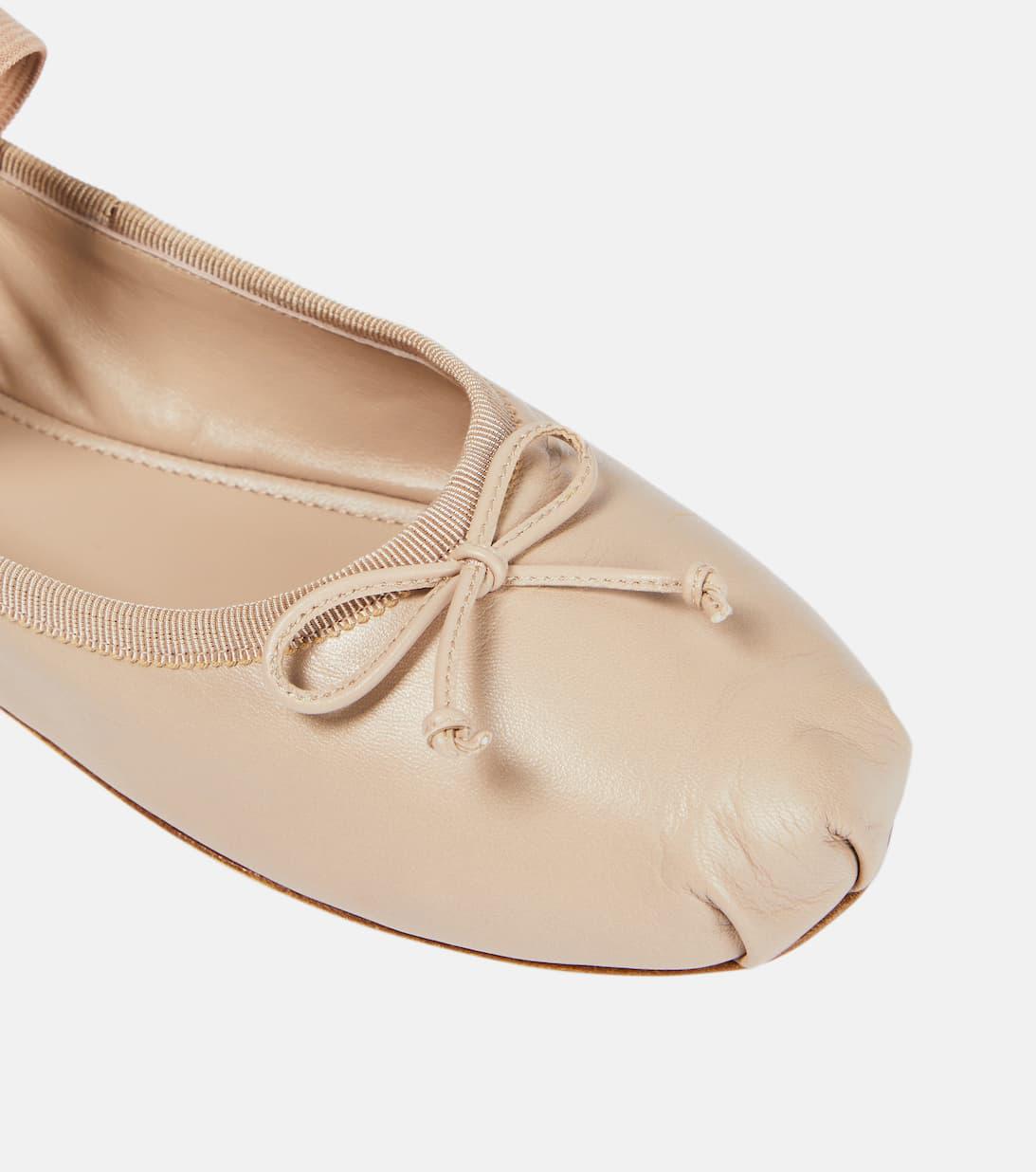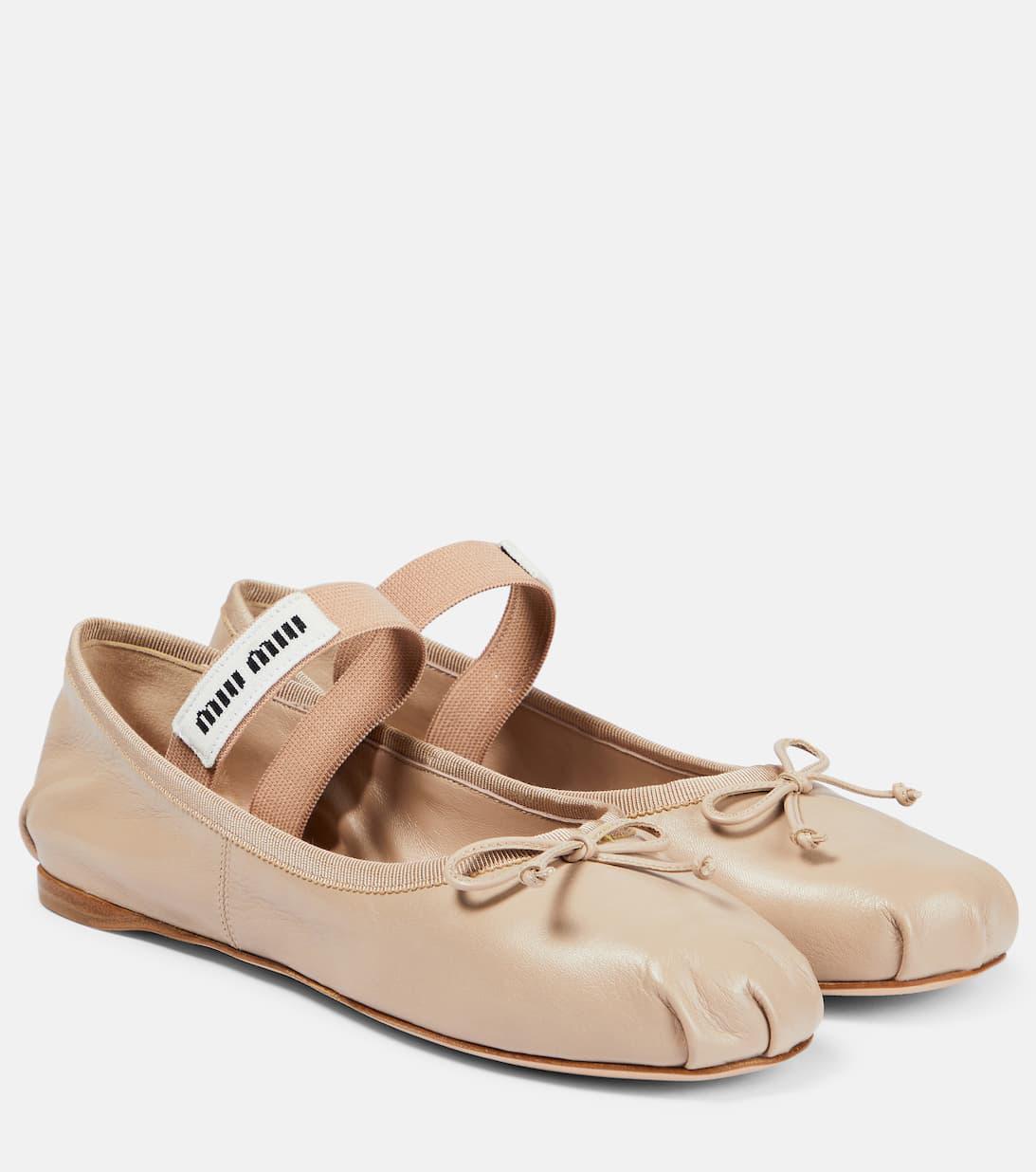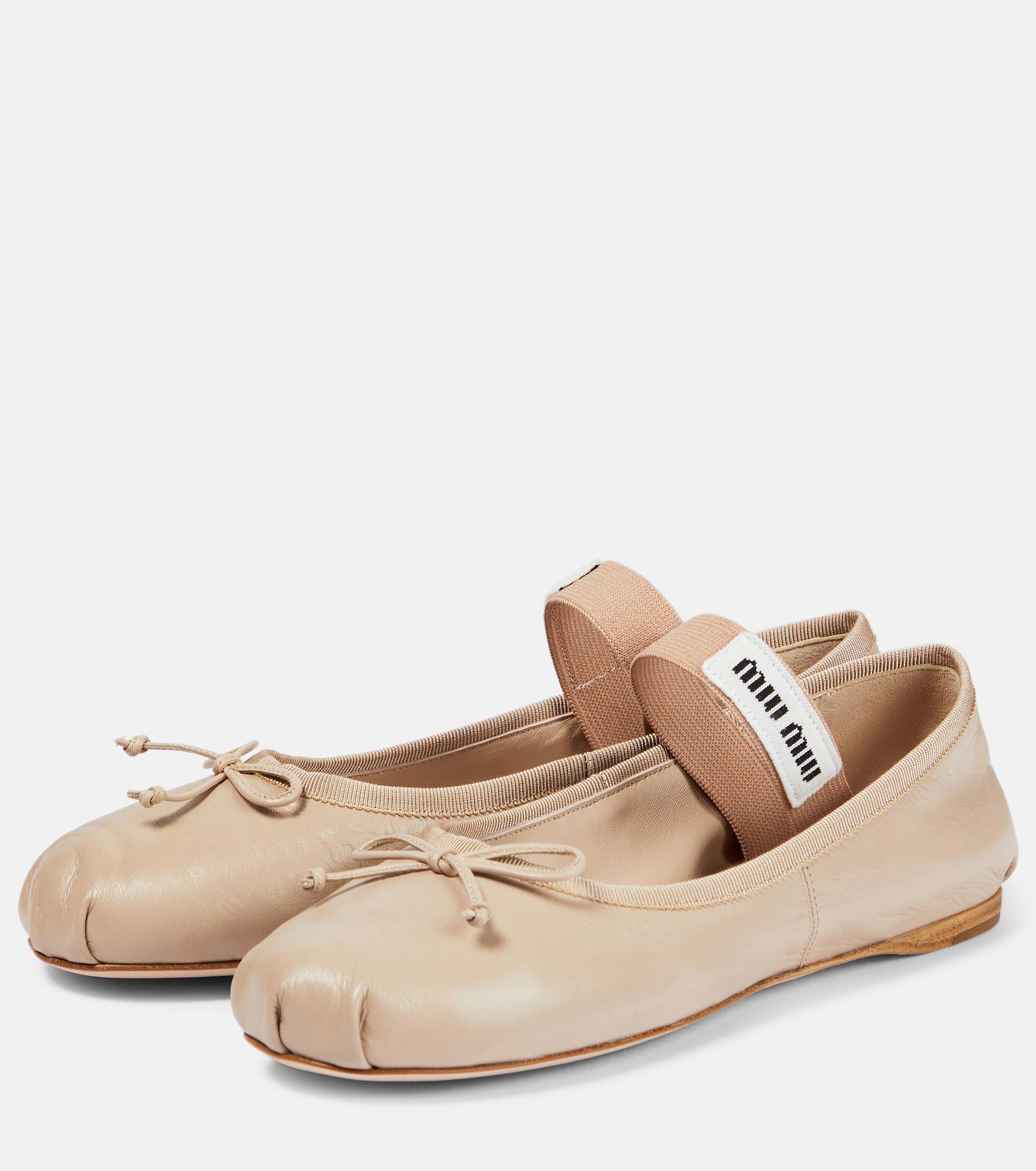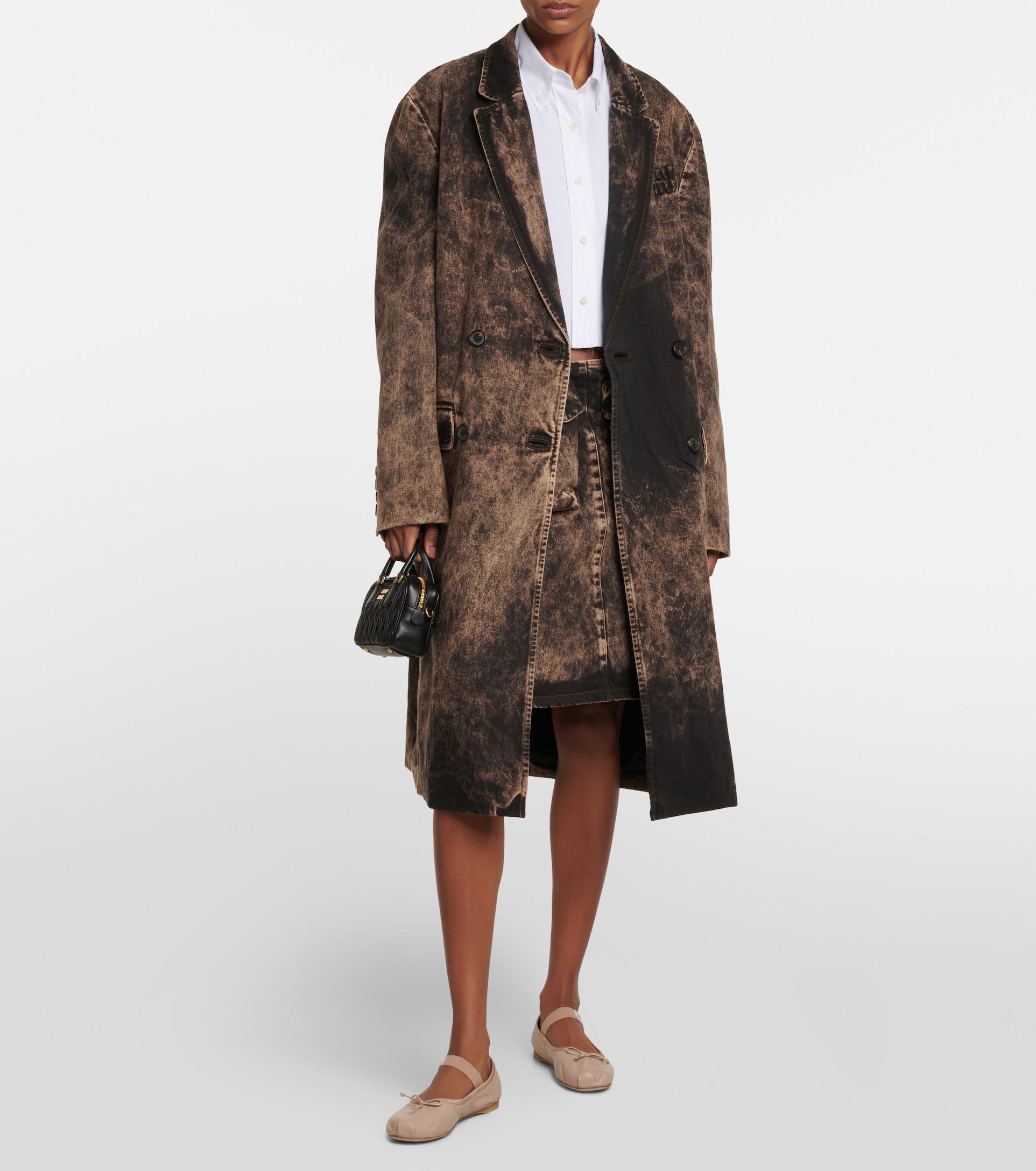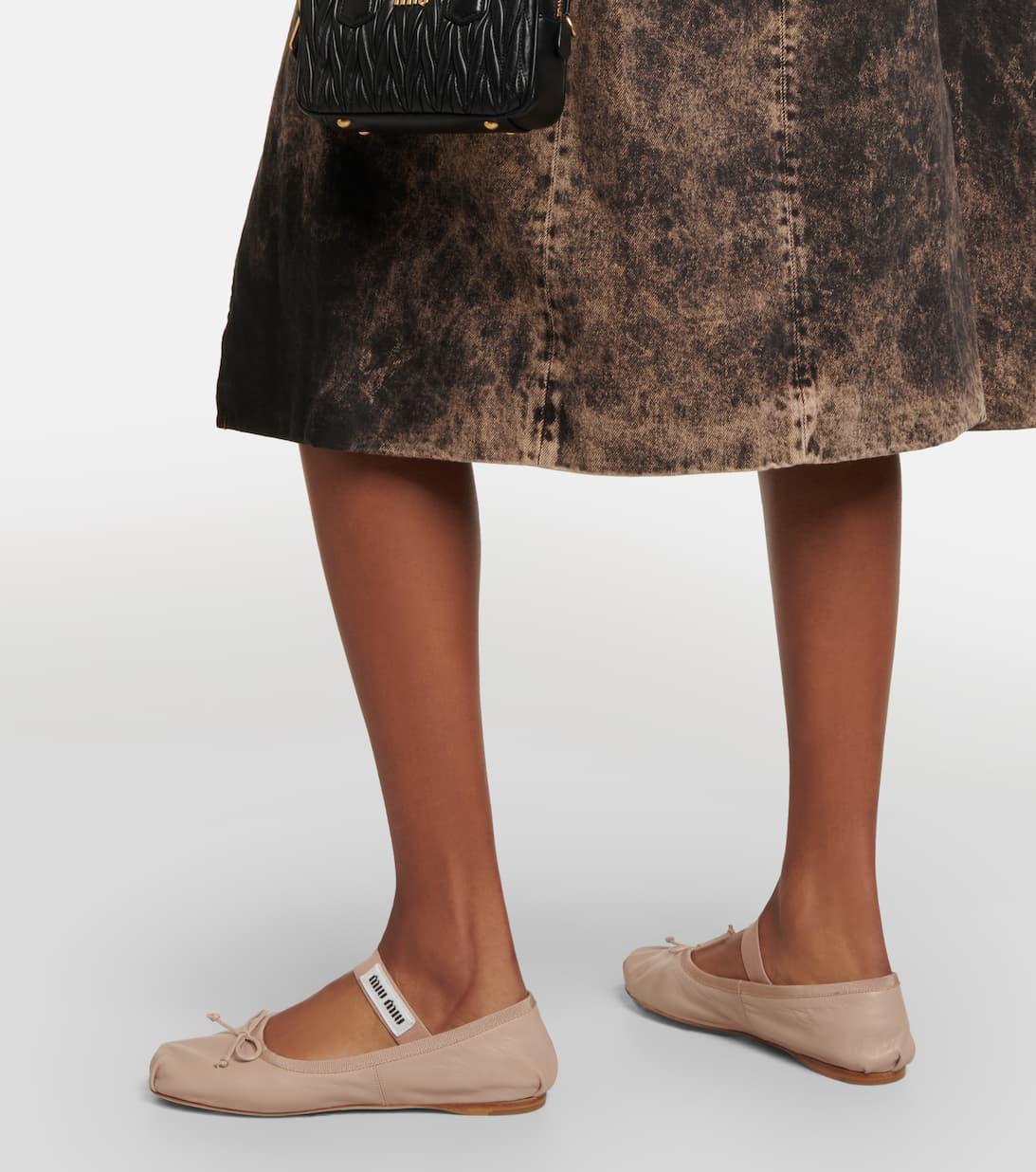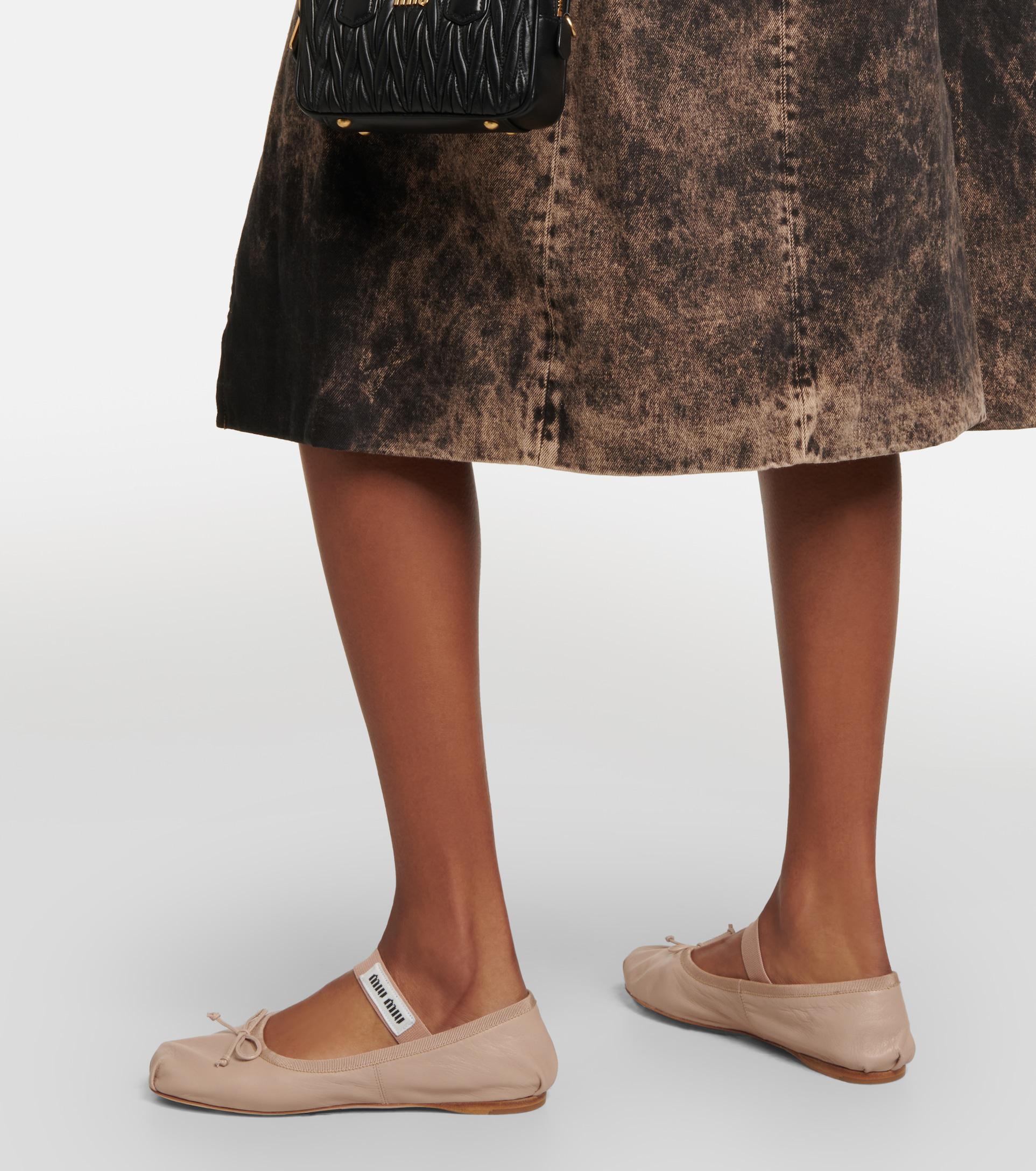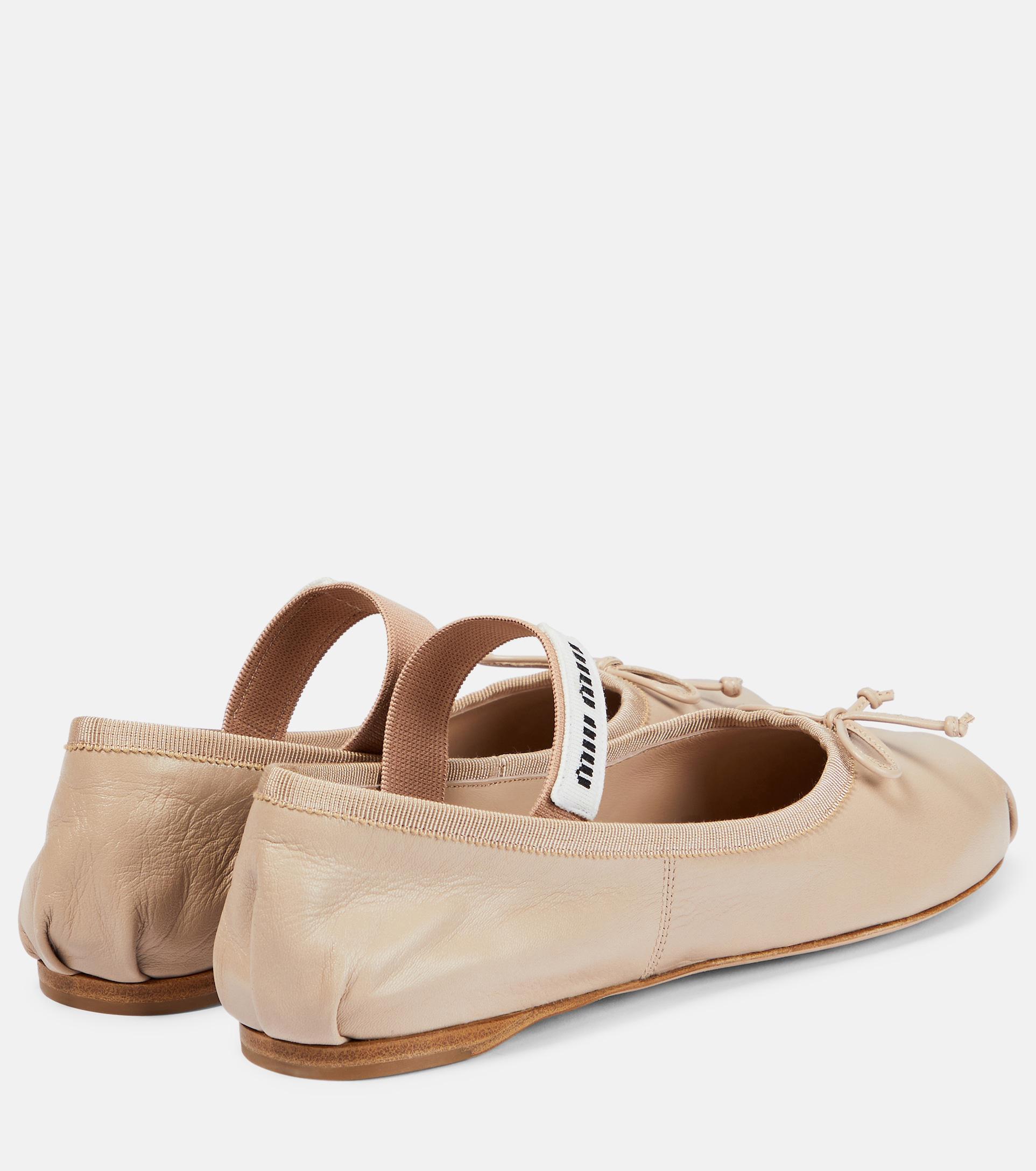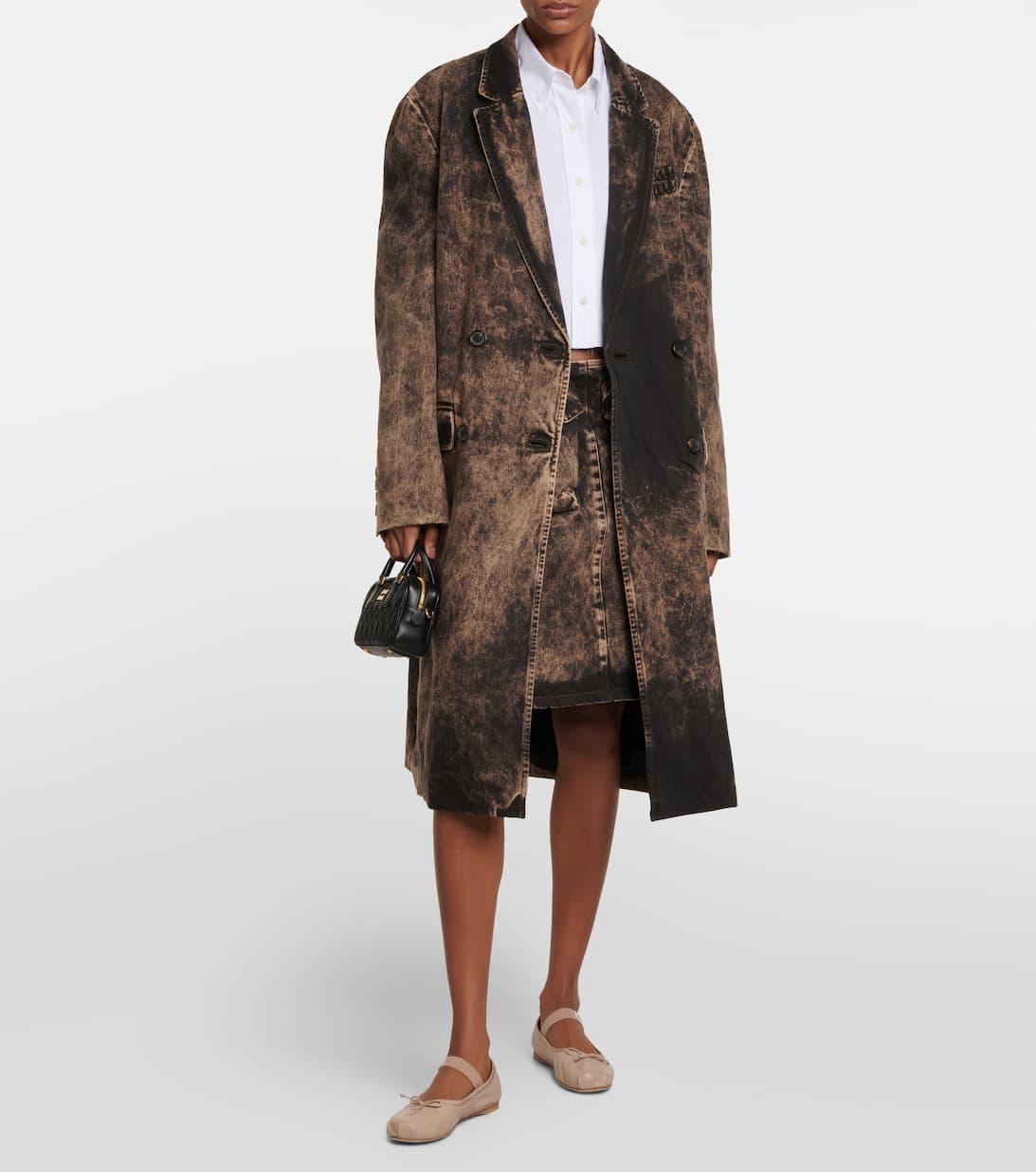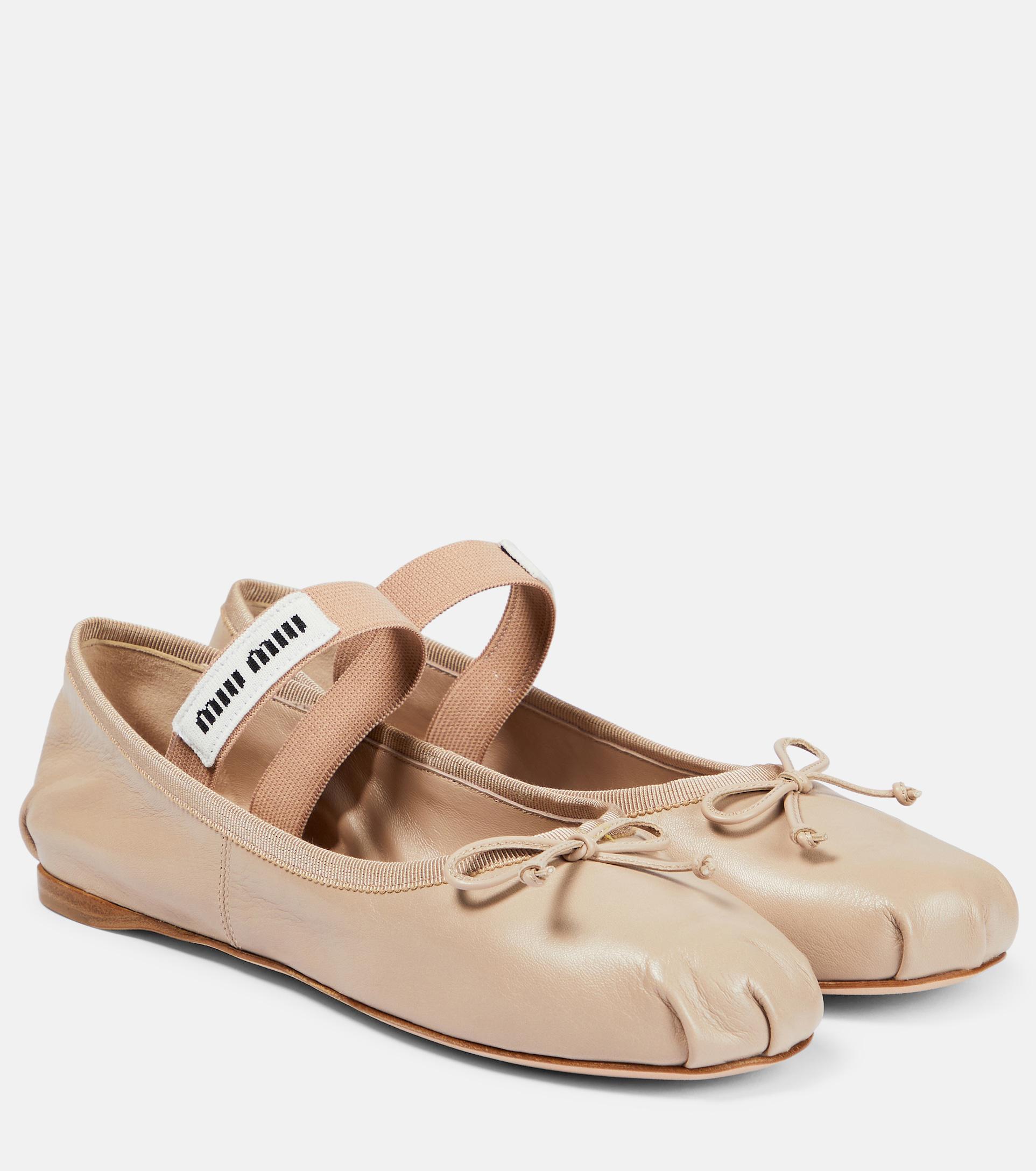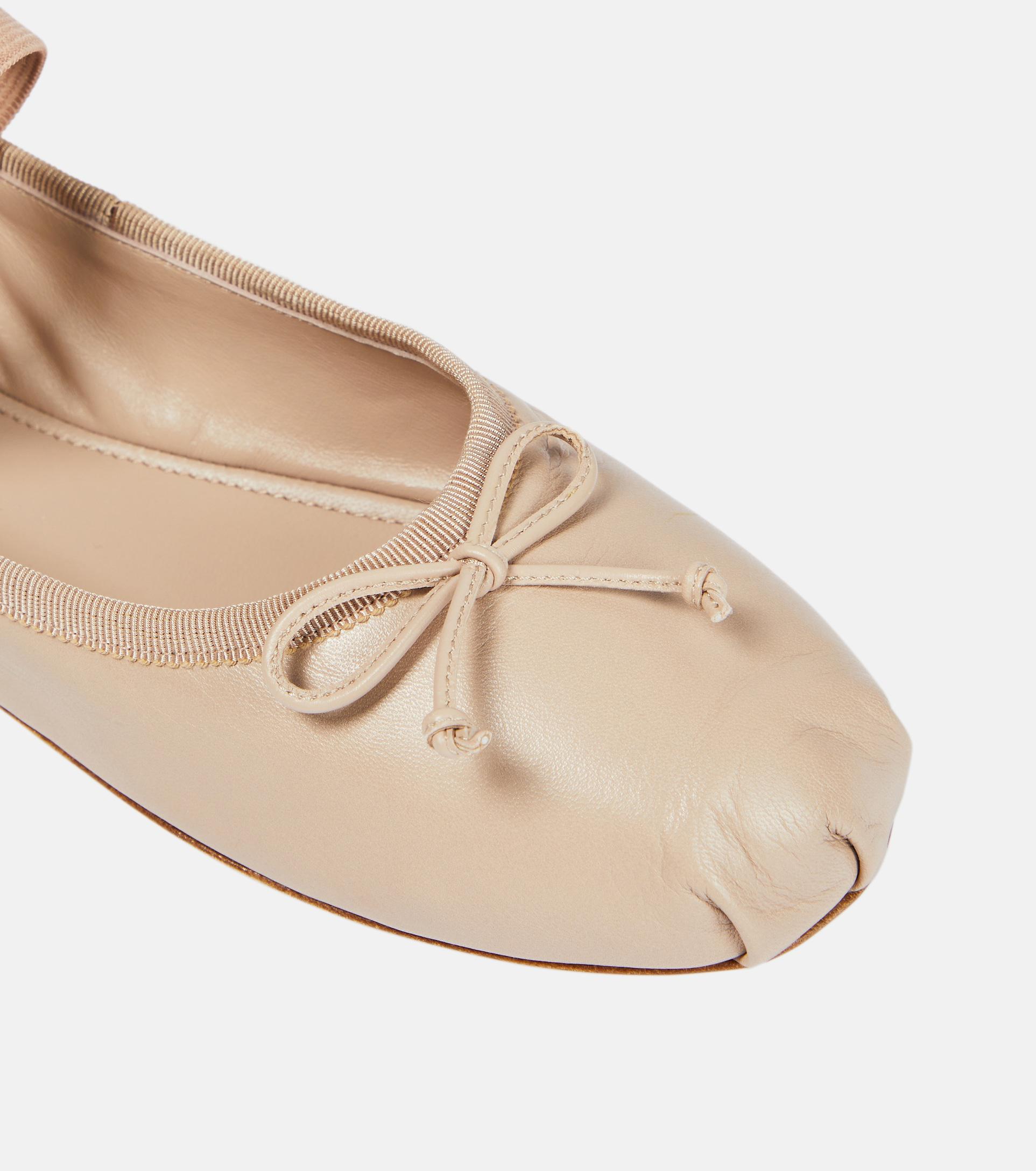 Logo leather ballet flats
Miu Miu at Mytheresa (UK)