The Sustainable Denim Deep Dive
Organic Cotton
In-stock organic cotton jeans options have increased by 28% and 14% YoY, across menswear and womenswear, respectively. Using EDITED's VM tool to analyze email mentions of 'organic' since the beginning of the year highlighted Superdry and GANNI as key promoters of the pesticide-preventing textile. As of winter 2022, the former took the leap to switch 100% of its jeans to GOTS or OSC-certified organic cotton, pointing to claims that the alternative "saves up to 87% water and has a 14% lower carbon footprint" than its non-organic counterpart.1Organic Cotton – Superdry Meanwhile, B Corp GANNI partnered with Levi's on a nature-inspired collection for SS23, featuring styles composed of at least 55% certified organic cotton and elevated using plant-based dyes.
Across key UK and US denim retailers, the average price of in-stock jeans containing organic cotton sits at £55.17 and $97.52, respectively. Zara's cheapest options have an advertised full price of £29.99, including a pair of TRF mom jeans, featuring at least 50% OCS-certified organic cotton. The higher average price tag in the US is hiked up by more premium offerings, including Levi's aforementioned GANNI collab, starring a pair of 60% organic baggy bootcut jeans for $295.
Promotional Pointers
Average Price of Jeans Containing Organic Cotton Across UK Retailers
*Hover over charts for additional data
**Excluding in-conversion cotton
Average Price of Jeans Containing Organic Cotton Across US Retailers
Fiber Alternatives & Blends
In a bid to reduce cotton consumption, and its associated environmental impacts, retailers are turning to alternative fibers and blends. Derived from wood pulp, and therefore biodegradable and renewable, lyocell (namely Tencel) and modal are among the most popular choices to team with cotton, currently featured across 5% and 2% of in-stock denim options, respectively. Meanwhile, though still yet to take hold in the mass market, the number of in-stock denim options featuring hemp has increased by 14% YoY. Tommy Hilfiger's SS23 Classics Reborn collection features an assortment of denim styles in a cotton, Tencel and hemp blend. Elsewhere, PANGAIA has developed denim with a blend of organic cotton and wild Himalayan nettle (PANettle) or rain-fed hemp (PANhemp). The retailer notes that hemp is four times stronger than cotton and consumes a tenth of the water required for conventional cotton, while nettle is naturally regenerative and in abundance.2PANGAIA Denim – PANGAIA
Currently Retailing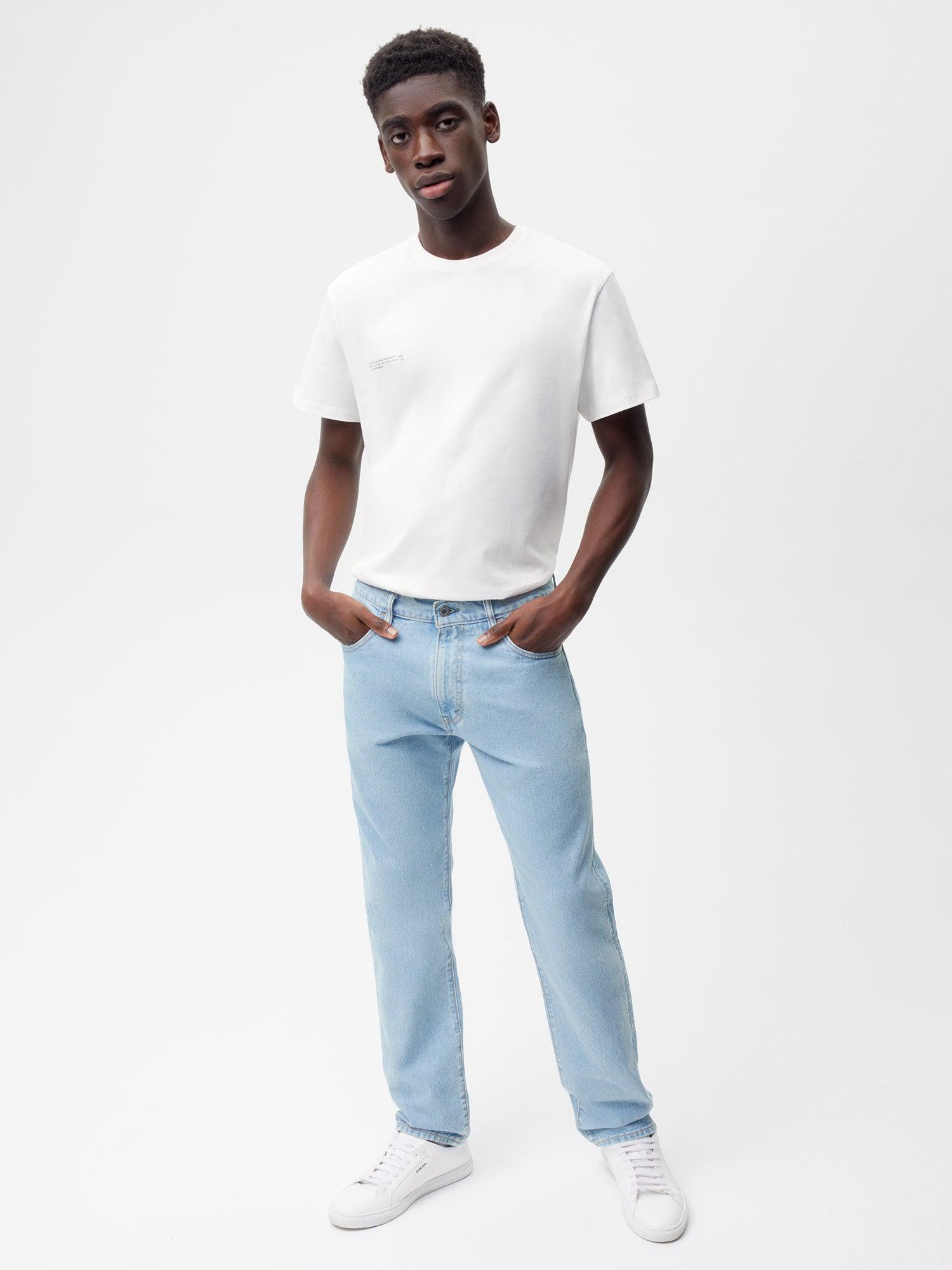 Hemp Denim Straight-Leg Jeans—light indigo wash
PANGAIA at Pangaia (UK)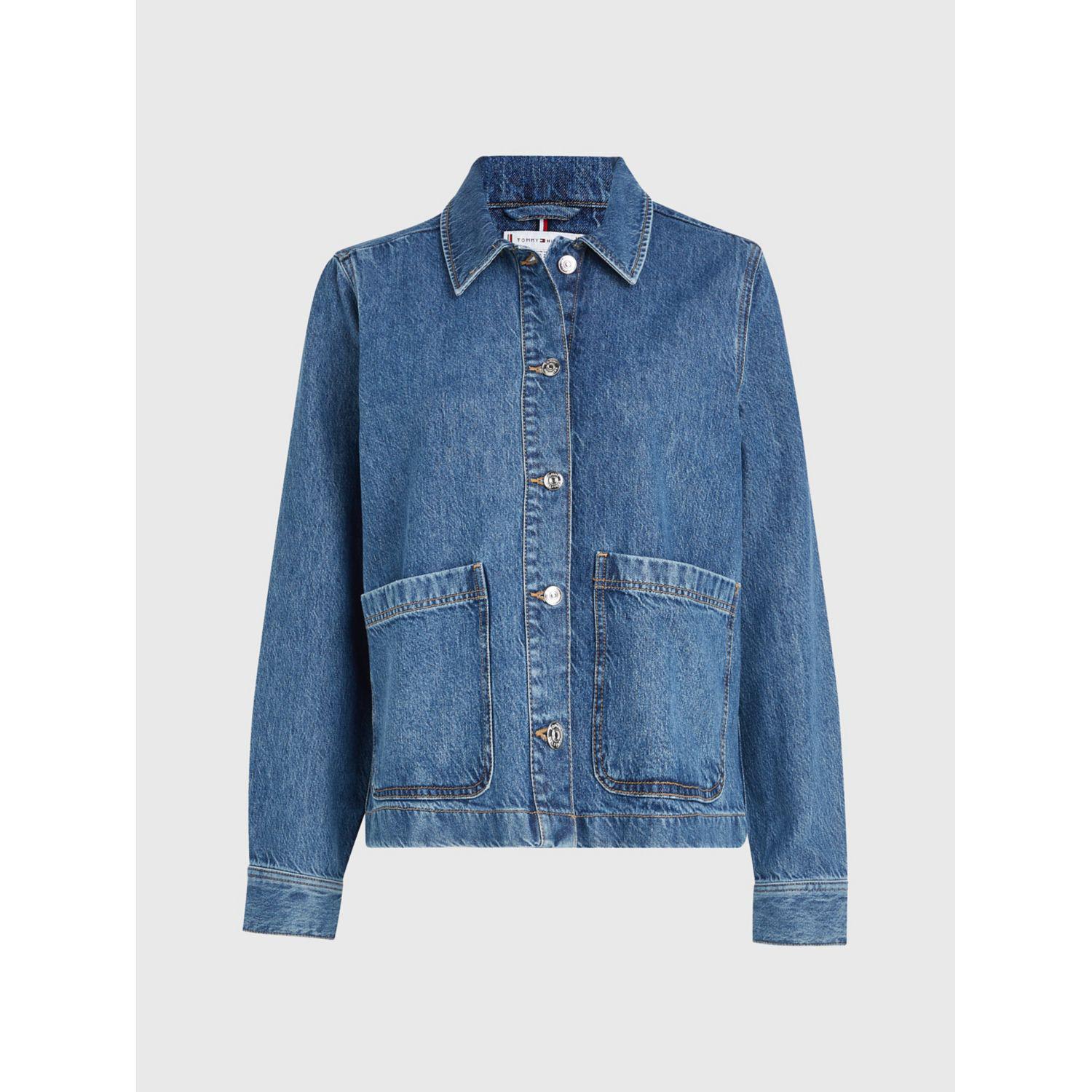 Denim Jacket
Tommy Hilfiger at Tommy Hilfiger (US)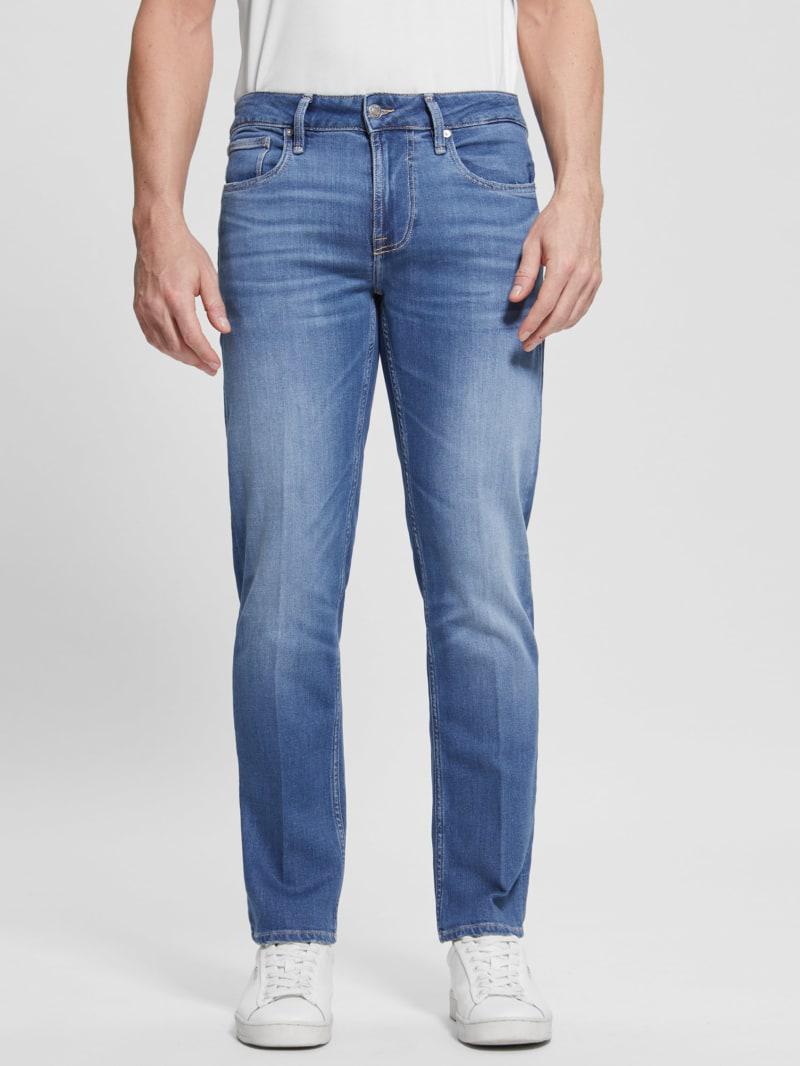 Eco Angels Straight Jeans
Guess at Guess (US)
Recycled & Circular
In-stock denim options incorporating recycled content have increased by 28% and 18% YoY, in the UK and US, respectively. In fact, using EDITED's top words tool, 'recycled' emerges as the most popular sustainability-based keyword overall, featured in 20% of in-stock denim options and coming above 'organic.' Comparing the price points of jeans featuring these sustainable attributes, 'recycled' also appears to have the lowest average price tag in the UK, at £50.40, with 73% of Weekday's recycled cotton jeans priced between £50-£55. Meanwhile, hemp stood out with the highest average price point for both regions. In the US, jeans including recycled content carried a higher average price of $102.74, though this was still the second-lowest average of the keywords, behind modal. 98% of Banana Republic's in-stock jeans with recycled content are priced between $100-$130.
However, circularity transcends incorporating recycled textiles, with retailers showing increased consideration for a garment's total lifecycle. Zara, Marks & Spencer and Monki were among brands announcing their commitment to the Ellen MacArthur Foundation's Jean Redesign project in 2022 – following guidelines to make "jeans that are used more, made to be made again, and made from safe and recycled or renewable inputs."3The Jeans Redesign – Ellen MacArthur Foundation This year, Mango launched a circular design denim capsule, with garments made easier to recycle, using 100% cotton (20% of which is recycled), and removing elements like rivets. 3D digital design technology was also used to reduce sampling waste. Though 'biodegradable' is mentioned in less than 1% of in-stock products, this quality has been considered by Pepe Jeans and G-Star RAW, with the former including a biodegradable brand patch made from 100% mushrooms, and the latter incorporating ROICA V550 – a biodegradable stretch fiber.
Recycled Denim Options YoY
*Hover over charts for additional data
Denim Sustainable Top Words
Average Price of Jeans by Sustainable Top Word – US vs. UK
*Hover over chart for additional data
**Comparing advertised full price
Also of Note
Deadstock & Upcycled
Re/Done x Ford and Sami Miro Vintage x Levi's were among the buzziest upcycled collections of 2022, offering one-of-a-kind pieces, using vintage and deadstock garments, that generate exclusively high price tags. This year, Diesel introduced its Rehab Denim, blending fabric-cutting scraps with lyocell, recycled cotton and elastane.
Sami Miro Vintage x Porterhouse Circle Pocket Jeans
Levi's® at Levi's (US)
Eco Dyes & Treatments
Environmentally friendly dyes are beginning to trickle into the mass market. PANGAIA's indigo denim options are dyed naturally, using India's Indigofera plant. Other processes, such as printing and distressing, are also turning eco, with brands such as Cotton On favoring water and chemical-saving laser and ozone technologies.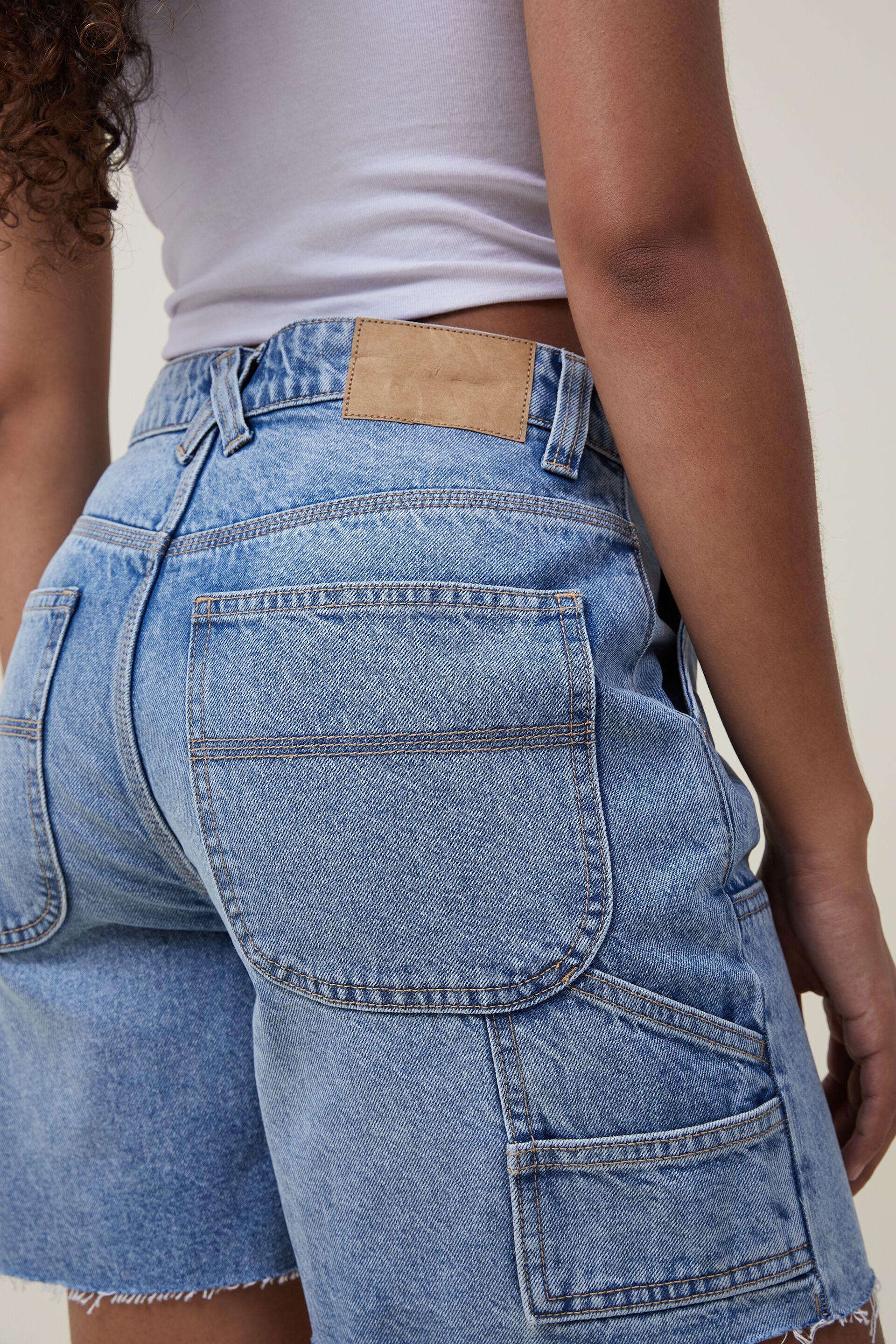 Panelled Denim Short
Cotton On Women at Cotton On (US)
Appendix
Date analysis
Products in stock Feb 16, 2023 vs. 2022 and including menswear and womenswear, unless stated otherwise.
Advertised full price used for pricing analysis.
US & UK retailers considered
Abercrombie & Fitch, American Eagle Outfitters, Banana Republic, COS, Diesel, Everlane, G-Star RAW, Gap, Guess, H&M, Hollister Co, Jack & Jones, Lee, Levi's, Mango, Marks & Spencer, Pepe Jeans, Rag & Bone, River Island, UNIQLO, Vero Moda, Weekday, Wrangler, Zara