How To Go Viral – The Data Behind UNIQLO's Success
It all started with a crossbody bag. Or did it? We unpack the Japanese retailer's path to profit and highlight why its set for continued success.
Summary
Following Caitlin Phillimore's video showcasing the bag's capacity in April 2022, #uniqlobag has garnered 98 million views on TikTok, sending the brand viral overnight and leading the bag to sell out more than seven times over the past 18 months.
In the first half of fiscal 2023, the company reported a significant increase in both revenue (27.3% YoY) and profit (22.2% YoY) internationally, driven by Southeast Asia, India & Australia, North America, and Europe, which all entered a growth phase.
The brand's lean assortment and focus on basics sets it apart from high street rivals. Tops and bottoms account for almost 66% of its product offering, predominantly driven by T-shirts.
Garment technology and customer-centric product development help distinguish UNIQLO from its competitors, while its attainable pricing model, concentrating on the £15-£20 bucket, makes it an attractive prospect to Gen Z and cash-strapped consumers.
UNIQLO's Path to Profit
The brand's "Made for All" philosophy transcends age and gender, with its DNA centering on "inspiring the world to dress casual." Starting as a family-run textiles manufacturer in 1949 in Yamaguchi, Japan, UNIQLO is now a global brand with over 1,000 stores worldwide.
Revenue outside UNIQLO Japan was surpassed for the first time in 2018 and continues to grow. In the first half of fiscal 2023, the company reported a significant increase in both revenue (rising to 755.2bn yen, +27.3% YoY) ) and profit (122.6bn yen, +22.2% YoY) internationally. These gains were driven by Southeast Asia, India & Australia, North America, and Europe (ex. Russia), with these regions entering a growth phase.1Results Summary – Fast Retailing
The brand cites changing North American customer values in the era of COVID-19 as a key growth driver in recent years, reporting that support for its reasonably priced, high-quality and long-lasting LifeWear has increased significantly. Meanwhile, ecommerce sales have roughly doubled compared to pre-COVID sales three years ago, now constituting approximately 20% of total sales.
How the Brand went TikTok Viral
TikTok – the platform that started it all. Following Caitlin Phillimore's video showcasing the bag's vast capacity in April 2022, #uniqlobag has racked up over 98 million views on the platform. UNIQLO, a brand that had been previously overlooked by Gen Z, went viral overnight, seeing its nylon crossbody bag sell out more than seven times over the past 18 months, according to the company.
Delving into Market Analytics, EDITED can reveal that UNIQLO first landed its viral bag model back in December 2020. Initially priced at just £9.90/$14.90. Since then, thanks to a mix of demand and inflation, we've tracked these prices rising to £14.90 (+51%) / $19.90 (+34%).
Since the original model's virality, the brand has maintained consumer interest by landing new iterations such as water-repelling fabric, a collaboration with Keith Haring and a host of new colorways. Meanwhile, TikTok users have been busy hunting out the brand's next viral item, with further hits including pleated wide-leg work trousers and a tank top with an integrated bra – highlighting repeat purchasing patterns.
UNIQLO has since capitalized on its success on TikTok, increasing its presence as well as partnering with influencers to help showcase its new collections.
UNIQLO's Viral Products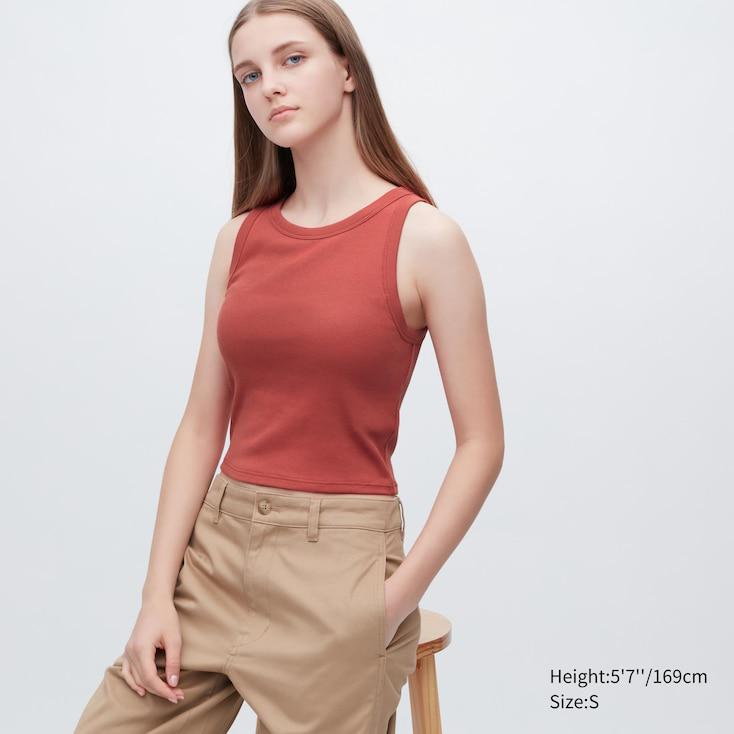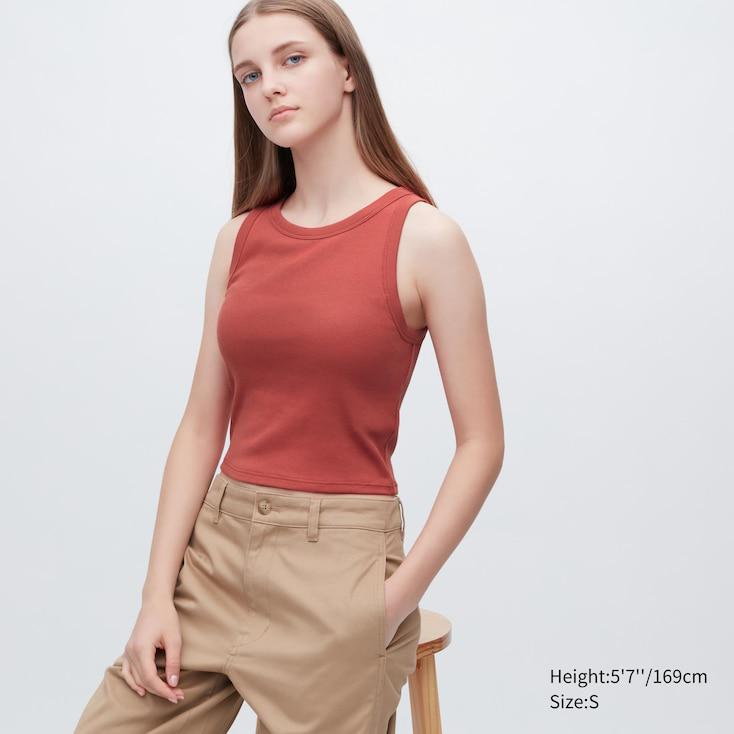 Ribbed Cropped Sleeveless Bra Top
SKU name as stated on retailer's website may not match colour displayed in image.
Uniqlo at Uniqlo (UK)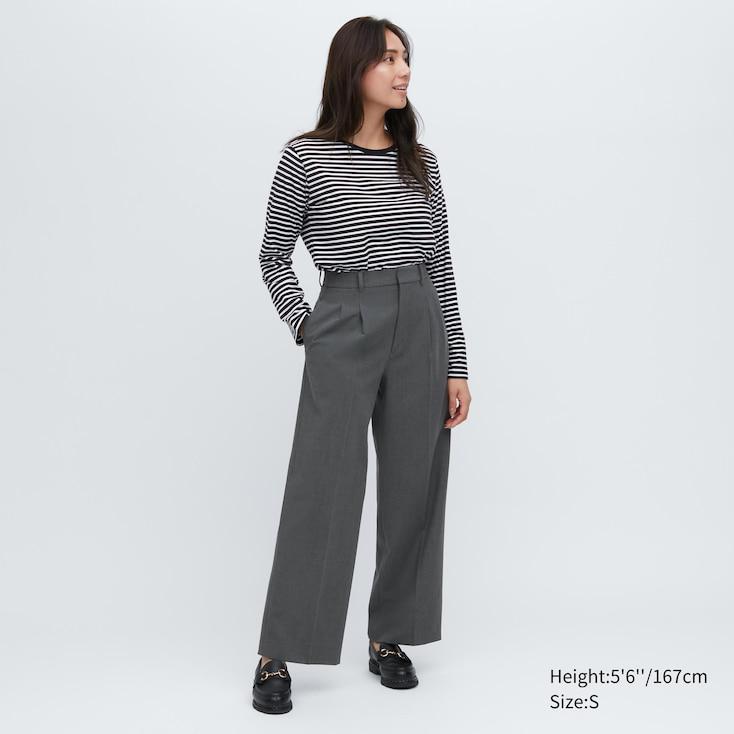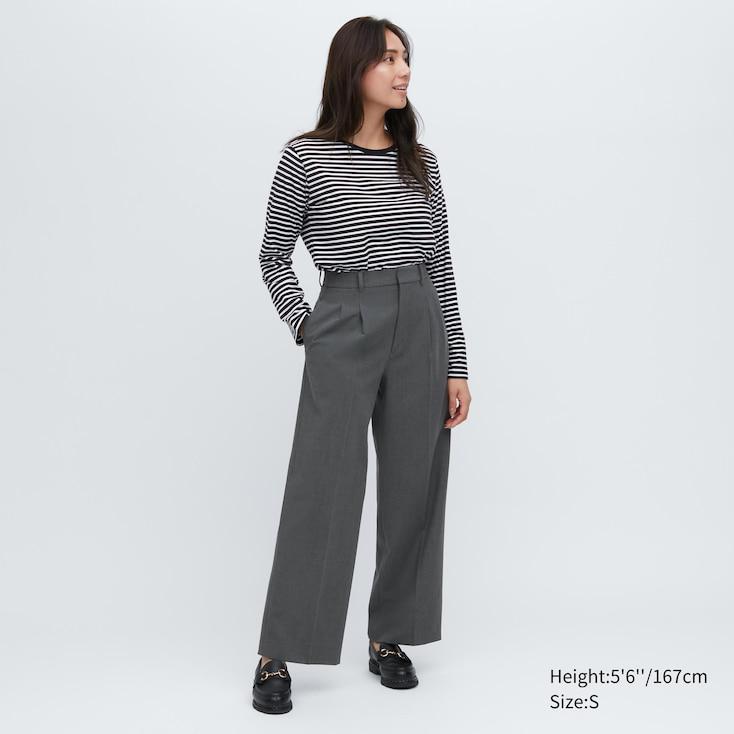 Pleated Wide Leg Trousers
Uniqlo at Uniqlo (UK)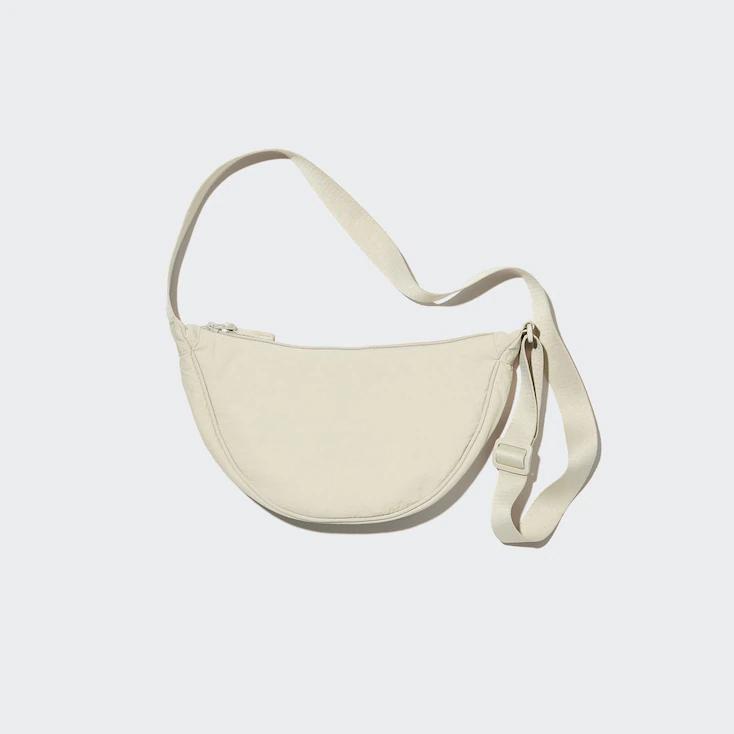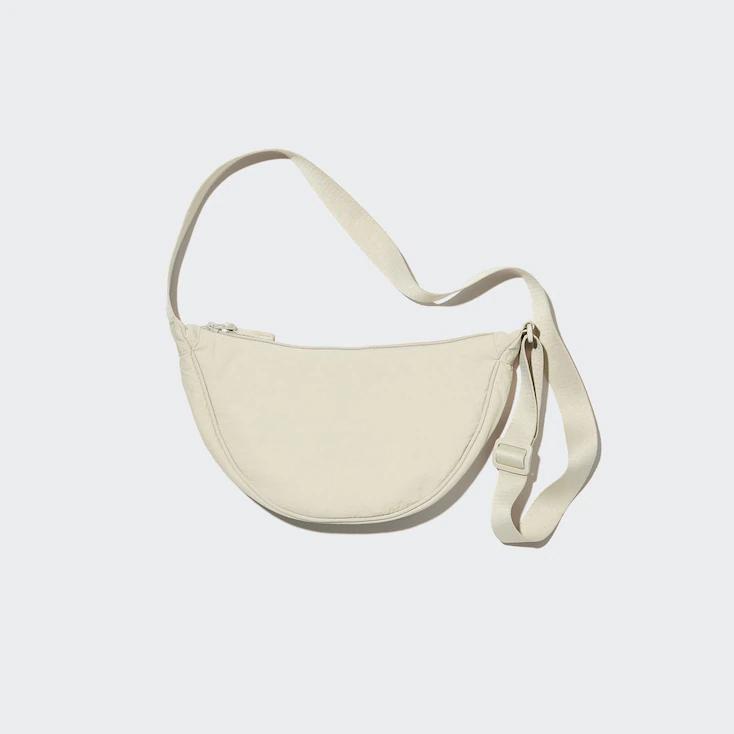 Round Mini Shoulder Bag
Uniqlo at Uniqlo (UK)
Steps to Success
A Masterclass in Leveraging Customer Feedback
With return rates at an all-time high and eroding margins, leveraging customer feedback is more important than ever. UNIQLO takes a highly customer-centric approach to its business model. According to the brand, its customer centers analyze huge volumes of requests, which it uses to improve core products, develop new products, and enhance services. In FY2022, it revised the size range of its wireless bras and started selling ultra light (previously known as Kando) jackets and pants for women based on customer feedback.
Another tactic the brand utilizes to help improve products and identify recurring problems is its new Re.UNIQLO concept, which allows customers to have worn items mended or remade in store.
UNIQLO also features QR codes alongside product displays so shoppers can easily review items and offers customers the opportunity to become a UNIQLO tester – letting them try products for free in return for a review.
Basics Over Trend Approach
The brand's focus on basics sets it apart from many of its high street rivals, a strategy that becomes evident when comparing assortment mix against fellow basics giant H&M. UNIQLO is laser-focused on tops and bottoms, accounting for almost 66% of its product offering, while investment in categories such as dresses, swimwear and footwear is negligible. Drilling down into its leading category, tops, T-shirts make up almost 50% of its offering, compared to H&M's 37%.

Furthermore, UNIQLO currently retails 4,790 products across all genders compared to H&M's 36,522 and Zara's 17,350. Its lean product offering affords it an agile position and helps mitigate the risk of over-indexing.
H&M UK Assortment
* Hover over charts for additional information
Collaboration, Collaboration, Collaboration
UNIQLO has mastered the art of collaboration, primarily known for its rotation of licenses within its UT T-shirt range, which has featured everything from the art of Andy Warhol to the movies of Sofia Coppola. The brand recently recruited Japanese artist and graphic designer Kosuke Kawamura as creative director of its UT line, who plans to up its streetwear credentials.
Beyond licensing, the retailer has launched a host of clothing collaborations with sought-after names like JW Anderson, Mame Kurogouchi and Marni, helping to draw in new customers and raise its profile.
Technology at the Core
Tadashi Yanai, founder of the brand's parent company, has famously said "UNIQLO is not a fashion company, it's a technology company."
From tank tops with in-built bras to its acclaimed HeatTech thermals, UNIQLO has long been known as a pioneer in the garment tech space.
The brand puts its ability to produce such a high number of unique products down to its business model, which "unifies the entire clothes-making process, from planning and design through production, distribution and retail." This helps it to "develop radical new materials together with the world's best fabric technology innovators." Its technology isn't limited to clothing – with stores just a tech-focused, featuring cashier-less checkouts.
According to the brand, sales of signature UNIQLO items such as AIRism technology rose significantly year on year in 2022. Super non-iron shirts, smart pants and ultra light down jackets now rank among North America's top-selling UNIQLO items.
UNIQLO-patented technologies
| | |
| --- | --- |
| Tech | Description |
| HeatTech | HeatTech thermal innerwear uses moisture released by the body to retain heat to keep you warm in colder months. Available in cotton and ultra warm. |
| AIRism | Lightweight and quick-drying layers that release heat and moisture to adapt to any weather condition. Our DRY functionality ensures you remain cool, dry and comfortable. AIRism's performance is hidden in ultra-fine fibers that absorb and instantly wick away sweat. |
| 3D Knit | Intelligently crafted as one piece using innovative Japanese WHOLEGARMENT technology to produce garments with no seams, resulting in a beautiful drape and a stunning silhouette. A team of highly experienced designers, pattern cutters, and programmers use specialised knitting machines to calculate the knit one stitch at a time, make corrections, and produce 3D knitting with flattering, flowing shape designed to follow the contours of your body. |
| UV Protection | Our innovative UV Protection range blocks and reflects up to 90% of all UV radiation, reliably protecting your skin in warmer weather. |
| AirSense | Our AirSense separates are incredibly lightweight for carefree comfort, with a jacket weighing less than a small bottle of water. Designed for easy movement, throwing on an AirSense jacket is as easy as a cardigan, thanks to its stretchy fabric. Machine-washable, they are also quick-drying for easy care. |
| | |
Attainable Pricing Model
The brand's accessible pricing has helped drive its popularity among Gen Z, and with customers grappling with record inflation rates, its pricing structure will only grow in appeal. Analyzing UNIQLO UK, we can see that the concentration of the assortment is between the £5-£25 mark, with £15-£20 emerging as the most popular bucket, housing 19% of its total product mix. Delving into this key price range, tops make up 67%, with the majority of UNIQLO U and UT T-shirts priced at £19.90.
The lowest priced product is a £2.90 reusable cotton tote bag, while the exit price is a down coat within its Marni capsule, originally priced at £229.90 and currently marked down to £49.90.
UNIQLO UK Price Architecture
Advertised full price products in stock May 24, 2023
What's Next?
Global Expansion
UNIQLO has started accelerating store openings not only in Greater China and Southeast Asia, but also in North America and Europe, stating that it wants to open 30 more outlets a year across the latter region, helping to build brand awareness. Localized merchandising will play a vital role in the success of this venture – something UNIQLO is keenly aware of, as highlighted by the introduction of TFL licensing to its London stores.
The brand's new location in London's Covent Garden, which opened in April this year, is a shining example of the new UNIQLO strategy. The store includes a coffee shop, T-shirt personalization service and florist. It also features a Re.UNIQLO studio, where shoppers can have items mended, re-made or recycled. The company intends to have one of these studios in every store in the UK by the end of 2024.
Why it's Poised for Continued Success
As highlighted in our Casual vs. Occasionwear In 2023 report, the gap between casual and occasion wear has shrunk, with top-performing items straddling both categories. Distinctly dressy and comfort-driven products noted slow performances, with sell outs down 17% and 12% YoY for both bodycon dresses
and sweatpants. This "grey area" is a space in which UNIQLO thrives – as evidenced by the nature of its viral items.
With the return of minimalism in the face of a looming recession, the brand's focus on well-cut basics will also stand to it. Furthermore, UNIQLO's long-standing presence in the sportswear domain will also reap benefits – a segment that other high street retailers are only just opening their eyes to. The well-being benefits and escapism that sport provides mean that consumers will be reluctant to cut back on purchasing in this segment, in spite of the rising cost of living.
Now firmly on the map with Gen Z, UNIQLO mustn't lose momentum. With global store openings and a newly-harnessed social media strategy, it looks like they're ready to seize the day.