4 Insights For SS24 Swimwear
Though black will remain a key shade for SS24, retailers should reduce its share of assortments to make way for trending brights – namely orange, with in stock options for the hue having increased by 50% YoY.
Mirroring other categories, Sexy Dressing will continue to dictate swimwear styles, with ruched, padded and high-cut bikini bottoms seeing inflated average price points in response to increased demand.
In stock animal print options have fallen by 21% YoY, though sell outs suggest that consumer demand for Y2K-reminiscent prints, such as leopard, is unwavering. Don't miss out on this opportunity for SS24.
Sustainability should be significant, but subtle, with in stock 'recycled' options having grown by 26% YoY, yet mentions of the keyword in product names having decreased by 7% YoY. Include eco-credentials in product descriptions to avoid deterring customers that carry negative connotations of recycled intimates.
1. Brights will Prevail
Although black has seen an increase YoY in the number of products in stock, EDITED's color wheel shows it holds 20% of the assortment, down 2pp compared to last year. Splitting by retailer on the chart shows black took on 24% of A&F's in stock swim assortment in 2022 vs. 7% now. Similarly, ARKET and M&S dropped black's weighting by at least 20pp to make way for brighter hues.

Orange has seen one of the most significant shifts of options in stock, up 50% YoY. The hue, which previously made up 5% of all in stock bikinis in 2022, now makes up 7% this year. The color has seen strong sell outs already this spring, highlighting Boden's pink and orange one-shoulder swimsuit that has sold through in most SKUs in the UK with customers begging for a restock on Instagram.
Pink's popularity holds strong and while it may not be in the spotlight next spring, it's a bright to continue investing in. Yellow, however, has seen in stock levels drop YoY, along with its weighting in the overall swim assortment – pull back for next year and look to colors such as lime green, which hold more consumer favor and have had stronger sell outs.
Swimwear Colors YoY
* Hover over the chart for additional data
Top Movers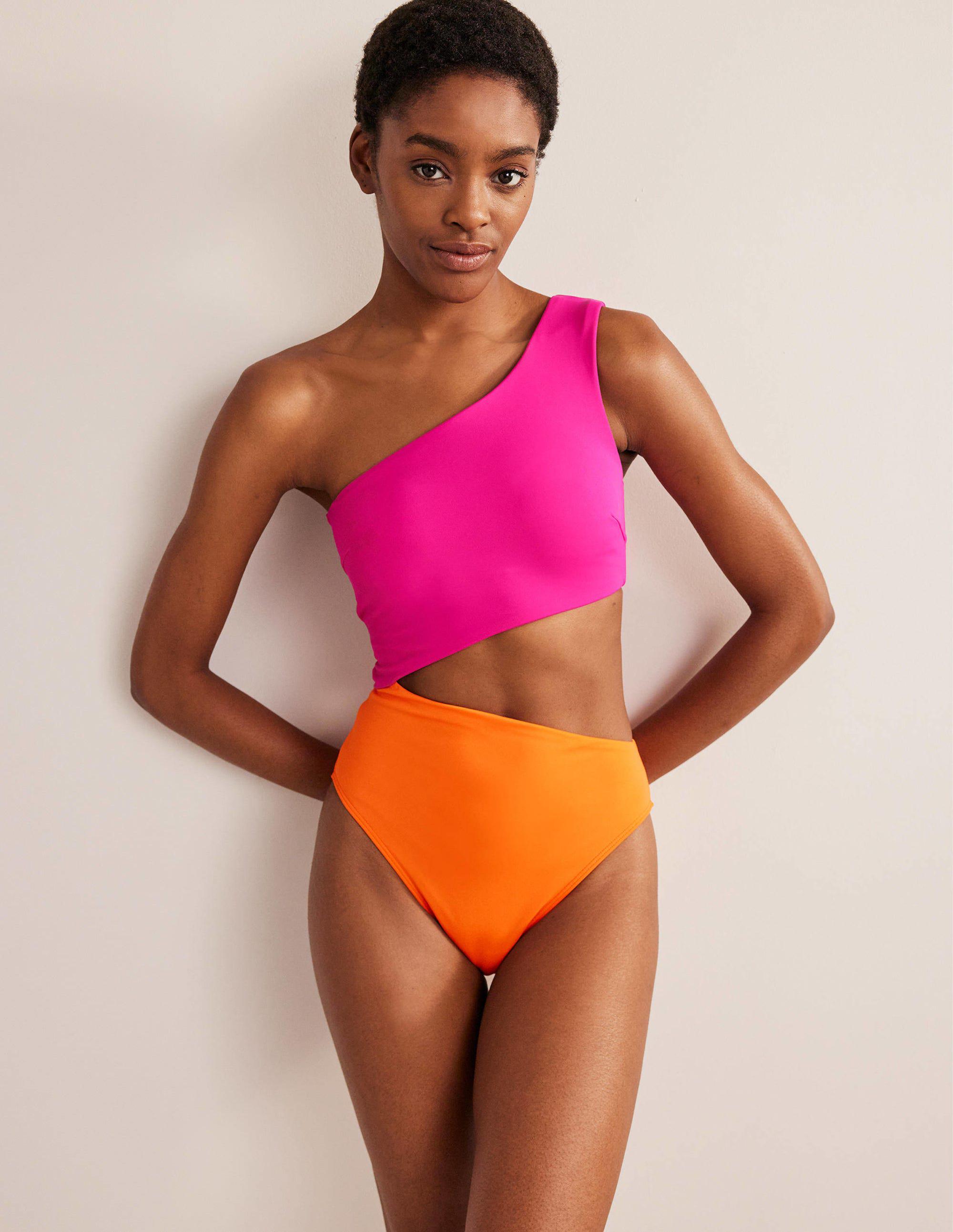 One Shoulder Cut Out Swimsuit
Boden at Boden (UK)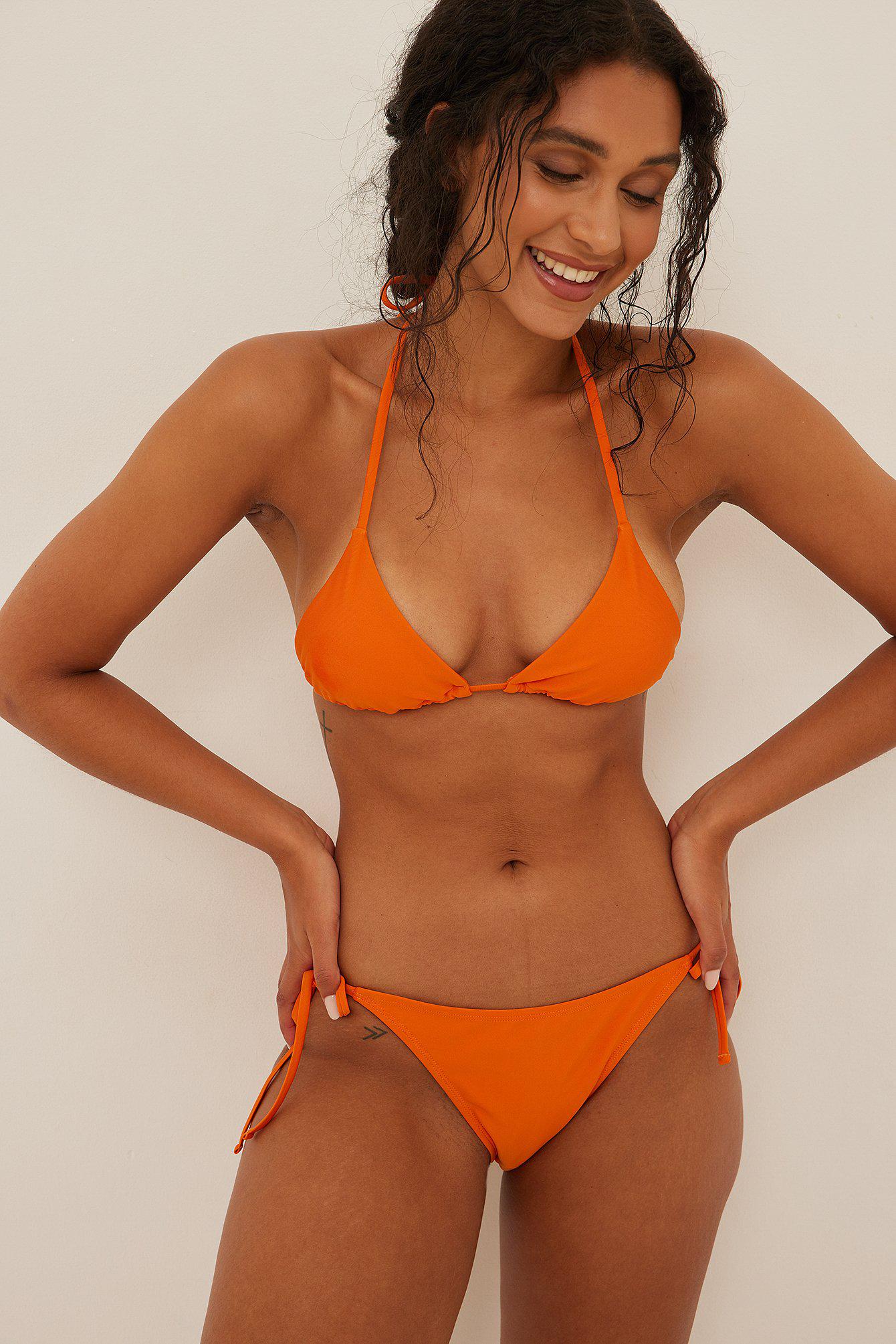 Tie Strap Bikini Panty
NA-KD Swimwear at NA-KD (US)
2. Get Sexy
EDITED's 'pricing over time' chart clearly shows the increase in full average advertised price of sexy dressing trends over the last year – a strong indication of demand. Ruching, a key detail of the trend, has infiltrated swimwear, raising in stock levels by 22% YoY and shifting pricing in the UK and the US by 9pp and 10pp YoY, respectively.
The US sees padded swim styles return to 2022 levels after the drop during high summer, while UK pricing for this feature has seen much bigger increases in recent months. The proportion of bikini tops and swimsuits in stock across the UK and US that feature padding have grown 5pp, making up 23% of these categories combined. High-leg bikini bottoms followed a similar story in the US.
The trend's presence on the recent Fall 2023 runway bolsters its future prospects for next summer and highlights the importance of sexy silhouettes and details, especially when they can demand a higher price point.
US Sexy Dressing Swim Pricing Over Time
* Hover over the chart for additional data
UK Sexy Dressing Swim Pricing Over Time
* Hover over the chart for additional data
3. Tap into Animal Print
As per EDITED's pattern chart, the proportion of plain to printed swimwear has remained the same YoY, accounting for 76% and 24% of options, respectively. Florals have continued to see the highest investment within the category, with the proportion of flower-scattered swimwear increasing by 6pp YoY. Compliment dainty florals with feminine details, including frills, tie-sides and smocked fabrics – as seen with & Other Stories' sell-out ruffled bikini top and NA-KD's drawstring tie high cut bikini panty.
Meanwhile, though still making up the top three patterns, the proportion of stripes and animal prints have decreased YoY – most notably, animal print options have fallen by 21%. EDITED's Is Animal Print Roaring Back? report saw women's animal apparel arrivals drop 36% YoY, though realized that animal print sell outs actually increased by 55% over the same period. EDITED's color chart further emphasizes this untapped potential, with majority SKU sell outs for brown swimwear increasing YoY, thanks to consumer interest in leopard and tiger prints. Take note of leopard, zebra and snakeskin cropping up as key trends for SS23 and FW23 and plan for sustained demand in SS24.
Swimwear Print Mix
* Hover over the charts for additional data
4. Strengthen Sustainability
Using EDITED's keyword search function, it's evident that retailers are placing an increased focus on the sustainability of swimwear, with the number of options featuring 'recycled' growing by 26% YoY. While brands remain eager to call out sustainable initiatives, mentions of 'recycled' in swimwear product names have decreased by 8% YoY, in favor of mentioning the keyword within product descriptions instead, seeing an increase of 84% YoY. For SS24, remain mindful of customers that still carry negative perceptions of recycled textiles, believing this could compromise the quality or sanitation of intimates, opting to include these credentials in care and composition information.
Despite this, overall demand for sustainability has seen growth and poses an opportunity for more premium pricing. EDITED's price architecture tool reflects this, identifying a YoY increase in median price points for recycled swimwear in both the UK and US, inflating from £26.04 to £28.91 and $54.50 to $62.36, respectively. The gap between the proportion of sustainable swimwear to non-sustainable swimwear is also becoming smaller, with sustainable keywords currently featured in 41% of total in stock options. Hence, keep OEKO-TEX certifications, recycled fabrics and non-toxic dyes top of mind for SS24.
'Recycled' Swimwear Options YoY
* Hover over the charts for additional data
Sustainable Swimwear Assortment
Appendix
Date analysis
Products in stock Mar 8, 2023 vs. 2022 and Mar 13, 2023 vs. 2022.

US & UK retailers considered
& Other Stories, Abercrombie & Fitch, American Eagle Outfitters, ARKET, Bershka, Boden, Chicos, EXPRESS, Forever 21, Free People, H&M, J.Crew, Loft, Mango, Marks & Spencer, Matalan, NA-KD, Nasty Gal, New Look, Pull&Bear, River Island, Sosander, Tu at Sainsbury's, Zara