And just like that, London's done! This fashion train stops for no one.
Thankfully, we're here with our data analytics to figure out the best bits.
There were two big draw cards this week. One was Topshop, who switched up its fashion week formula.
Topshop Unique, the retailer's premium line, has held a spot on the schedule since 2005. This year the retailer put their mainline on the runway instead.
This is an interesting shift, one which perhaps speaks to a reassessment of positioning at the retailer and should be watched by the wider trend-led market.
The other was Burberry where things looked radically different. The overall aesthetic was far less luxe than recent seasons have been. There were raincoats styled with tracksuit bottoms, the Burberry check on baseball caps paired with homely cardigans, all done in synthetic pastel shades.
It felt looser, and very British. But not the regal Britain of legend, but the Britain its inhabitants have lived. Another very interesting change of gears.
Here're five Spring 2018 London trends with serious commercial promise
1. Awkward Palettes
Color has been on a bender. It's stayed up to watch the sun rise and lost a shoe in the process: things are looking decidedly wonky when it comes to London's palette.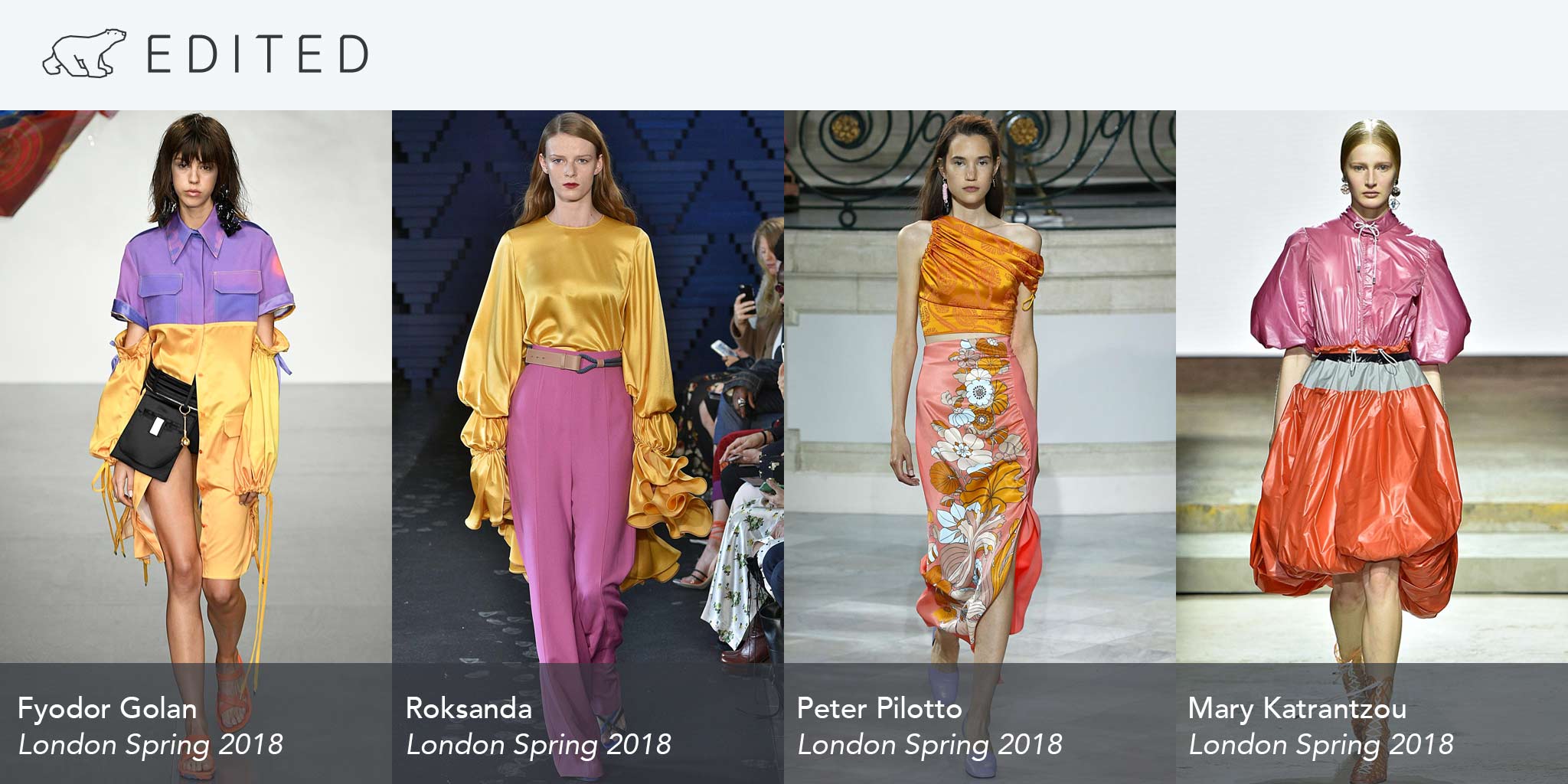 You can merchandize this one in right away. On hand at the moment you have pinks and reds – pair those. And you probably have some of the seasonal mustards that you can clash with the green kicking around right now.
This trend works because it chimes with a desire for Instagram popping, live stream-starring apparel. Start to get your shoppers experimenting with bold, graphic combinations ahead of quirkier tweaks come spring when you'll reach for salmon pinks, golden yellow, wilting lilacs and cleaning aisle greens.
2. Super Femina
Wispy, whimsical romanticism is back. It floated its way down scores of London runways. These visions in ruffles and chiffon aren't so much leaning in as blowing in the breeze.
Amid so much conversation on gender and a new wave of feminism (greatly enjoyed by retail's graphic design departments) it might come across as a little counter to send out such fairytale visions at this time. However, that's exactly the point. Today's consumer can don a pretty frock (she bought it), wear it with a truck-ton of character and keep marching to her own beat.
Key to the trend are ruffles upon ruffles (they're definitely staying for Spring 2018), sheers, pastel palettes and shimmering sequins.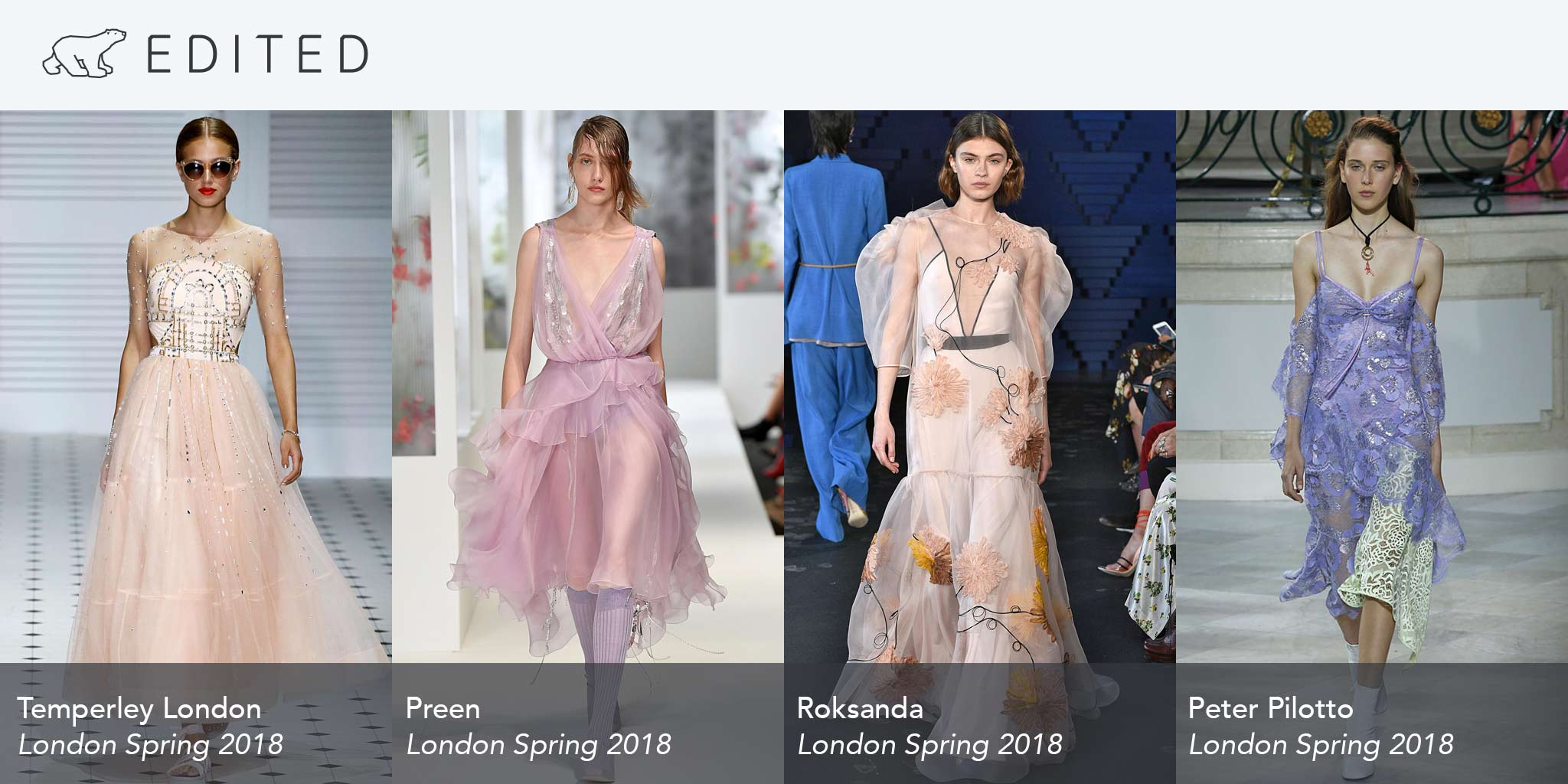 3. History Books
There's a whole lot of recent history going on across the shows, with the 80s and 90s getting serious airtime. The thing is, that's already hot. Your stores, and your customers, need newness too. So, er, turn to the history books for that.
In a way this version of history, which leans further back, towards Victorian and past into Edwardian, feels fresh and relevant. It's more austere than the frippery of the 80s. It's a laced-up, utilitarian take on nostalgia. Heck, go super-sinister and it's even a little bit Handmaid's Tale.
How to translate it for retail? Think straight lines in suiting, prim spring shirting, covered-up midi dresses and boxily cut pinafore dresses. Subvert it a little with an unexpected flash of color – pink at Emilia Wickstead – or an unlikely use of fabric – high-gloss patent leather at Christopher Kane.
4. Singing in the Rain
Waterproof layers have never graced so many luxury runways. It's time to get technical on your lightweight outerwear.
Where did all these raincoats come from you might ask? Well, it's a more accessibly-priced piece of luxury outerwear that suits a wider range of climates. It taps into the current mode of function and our busy 'doing-things' lifestyles.
For Spring 2017, trend-led retailers grew their rainwear by 25% compared to the year before. We expect to see that grow even more into next spring, particularly with retail's increasing involvement in festival season.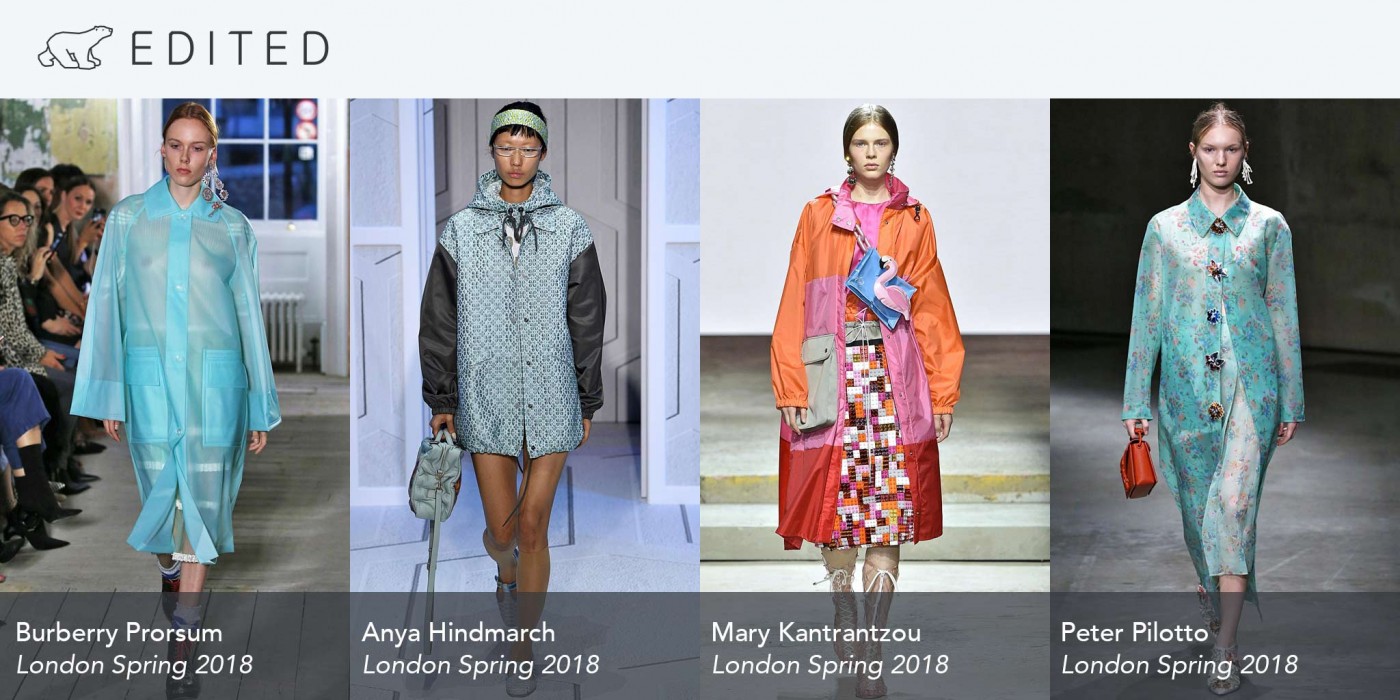 5. Stripe Club
Bold, vertical stripes to the fore! These aren't for any shrinking violets. Often in satin, and in head-to-toe usage, this is the leading print story out of London. Temperley London's take is magic – somehow both instantly wearable and a traffic-stopping statement.
Bold stripes took a backseat for Spring 2016. High time they were brought back in, for a heavy dose of newness.
You can add those trends to your hitlist, but how closely did you really follow London Fashion Week? We've built a quiz to test your knowledge on London's designers….against our own in-house artificial intelligence. Check it out here.