We're fast approaching All Hallow's Eve. If it's your jam, chances are the vodka jellies are already chilling.
But how big a deal is Halloween for retail? We've checked in on the data, which suggests we're in for more treat than trick this year.
Here's what you need to know about Halloween trends.
It's not just child's play
In fact, the Halloween business is predominantly women's: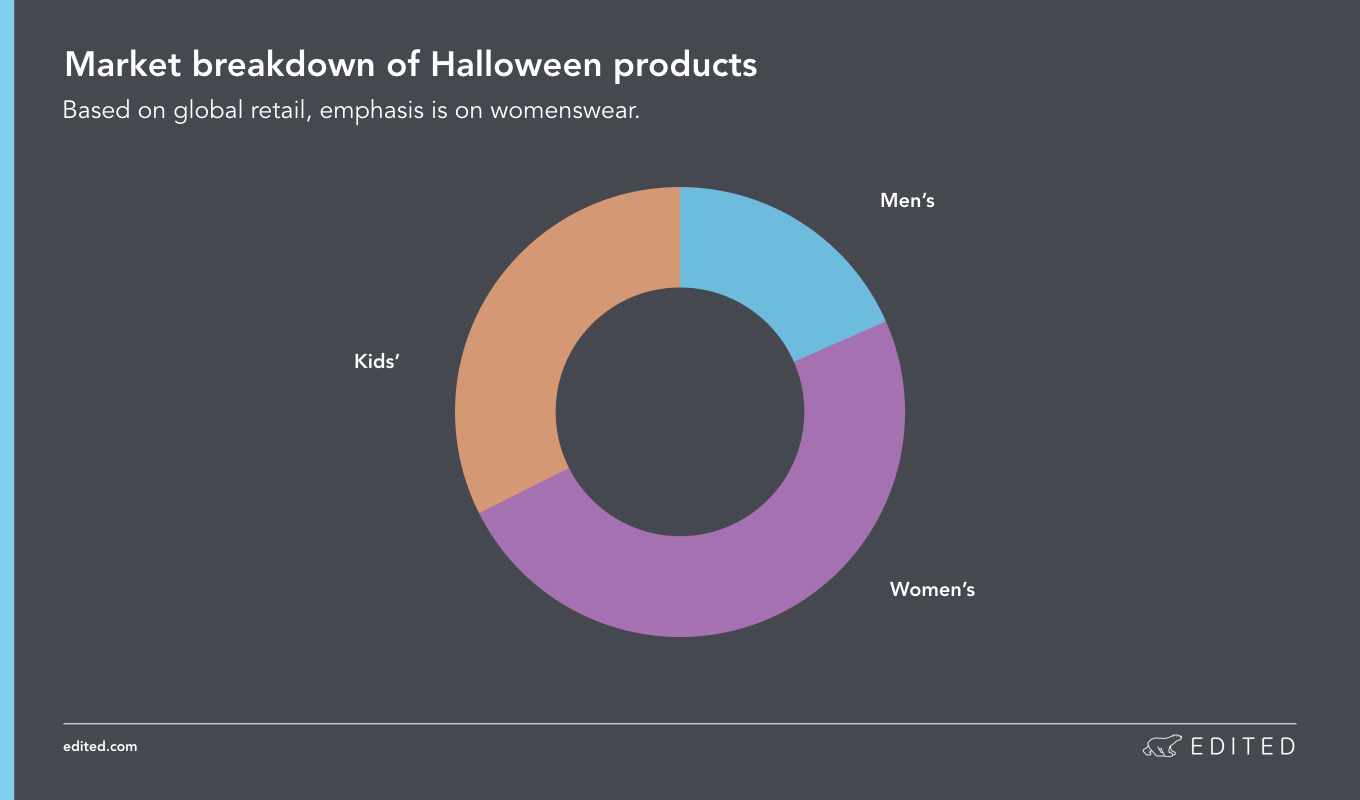 Of course, it's the millennial shopper driving the market. After all, they love experiences, and Halloween is up there as one of the most hyped party nights of the year.
So keep it cheap
Let's not pretend Halloween stuff is anything other than novelty product. In fact, 98.6% of items which self-identify as 'Halloween' (are named or described as such) are priced beneath $100. More to the point, 59% of products are priced $20 or less.
The market knows this is a one night thing. Catch consumers at the right time, and you've got a nice frivolous spend. Charge too much for novelty product and you'll be left with a serious hangover come November 1st.

The chart below shows when the sell outs on Halloween products occur. Early shoppers are motivated by the new arrivals around the first weekend in October. But sell outs lift noticeably from around October 19, with the highest number occurring on the 25th. There's a last minute rush on the 30th, before sales trail off for the season.
Ideally, you want to capture full price sales up to the 23rd. A good motivation from the 23rd up until the Wednesday before the closest weekend to Halloween would be free shipping on a basket total, so long as you have the ability to ship in two days.
Any stock you're left with is a curse. There were 330 Halloween products that sold out in the January sales this year, with an average of 58% off. The average sale price was just $8.88.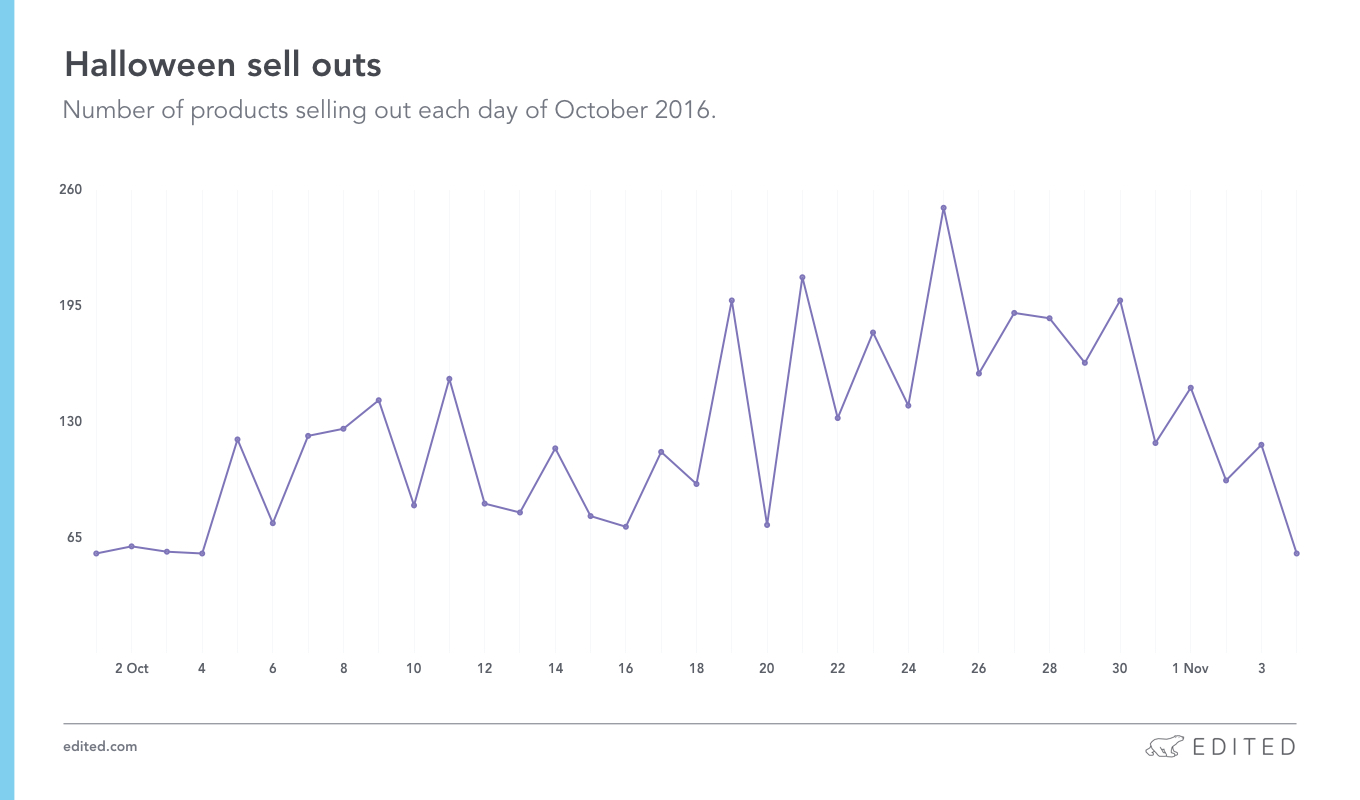 But wait! We've got an even better idea:
Use Halloween to sell trend
This season's trends are perfectly primed to make a killer Halloween (sorry). For one, look at how much velvet is kicking around right now: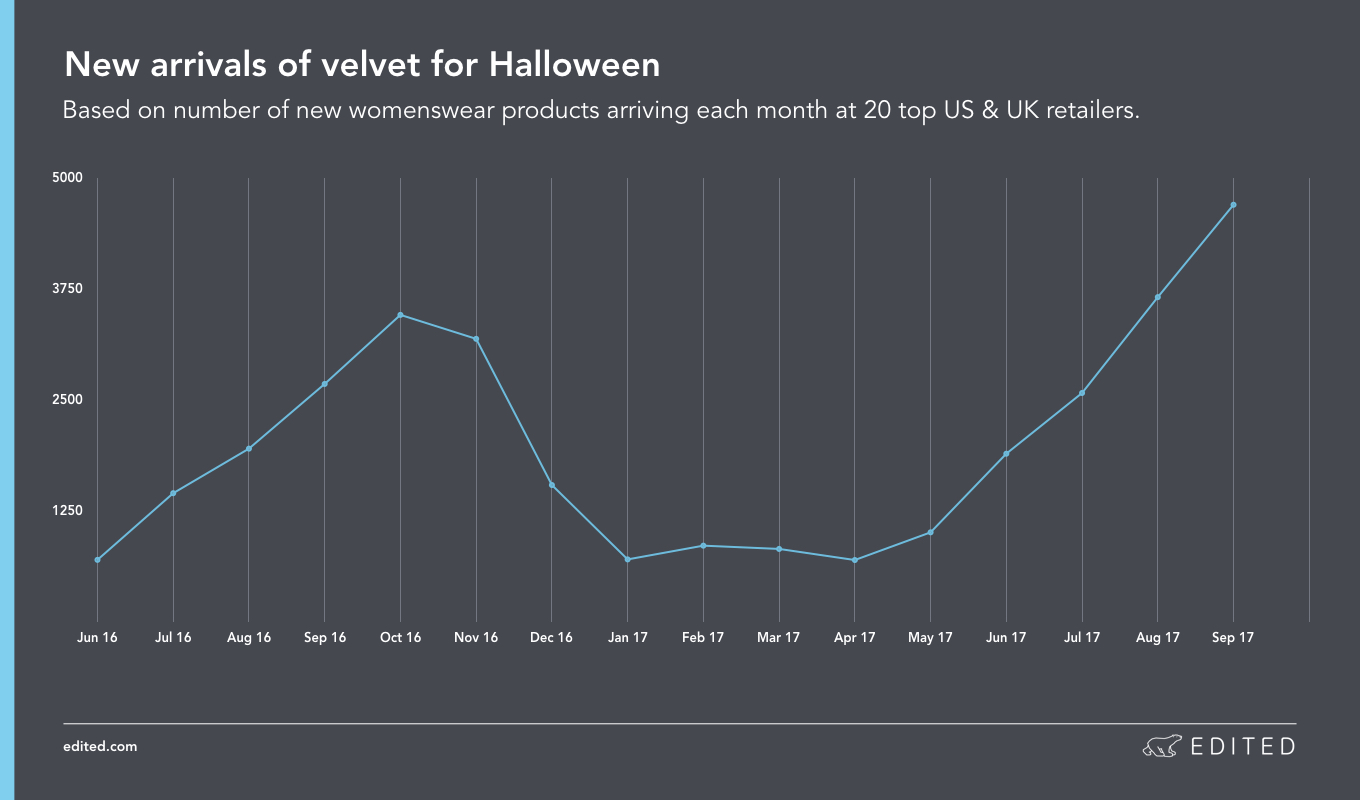 But it's not just velvet giving off those dress-up vibes. There's a general gothic mode in right now. Black patent leather and PVC, dramatic Morticia-style flared sleeves and heaps of vampy lace.
This kind of gothic apparel is perfect because millennials are into their make-up. Tutorials on Halloween looks are popping up all over social media. Pair dramatic make-up with say, Zara's Wednesday Addam's contrast dress and you have a high octane look without spending money on a dress you can't re-wear.
It's no surprise this stuff has been selling remarkably well, even priced higher than that $20 mass of Halloween product. The Zara dress, at $69.90 sold out within six days of its October 10th arrival. A similarly themed contrast collar body at ASOS for $24.50 sold out in four days. And Pretty Little Thing's black lace jumpsuit sold out within four days this month, at $46.95.
Retailers have got better at providing dress-up apparel for their shoppers. Driven by the festival season and the millennial hunger for content-creation, there's more sparkly, sequinned and wow-factor available. Cue a whole lot of unicorns and mermaids.
Here's how retailers spun Halloween into their email newsletters this year. Mentions of Newsletter mentions of Halloween are up 40% this October.
But these dramatic looks aren't the only Halloween-ish trends around this year. The eery Netflix series, Stranger Things, has carefully picked its season two release for October 27.
Props to fashion for checking the calendar, because check in on new arrivals at say, Topman or Mr Porter, and there's a whole lot of product influenced by the costume and palette of the show. Think early 80s small town America, trucker jackets and caps, flared denim, band print tees, plaid, shearling, corduroy, browns, rust and mustards.
Some retailers have even gone as far as recreating Dustin's white, red and blue trucker cap.
But let's be honest, the true inspiration for the majority of trick or treat costumes this year is likely to be drawn from the nightmarish political landscape. Good job orange is in!
Dress like a fashion victim this Halloween.