The second SS15 trend report shines light on the garments, themes, colors and prints with the biggest commercial potential. We've used historic data and runway reports from previous seasons to plot the direction of consumer demand, ensuring garments and trends picked are optimized for the right timing with the best updates.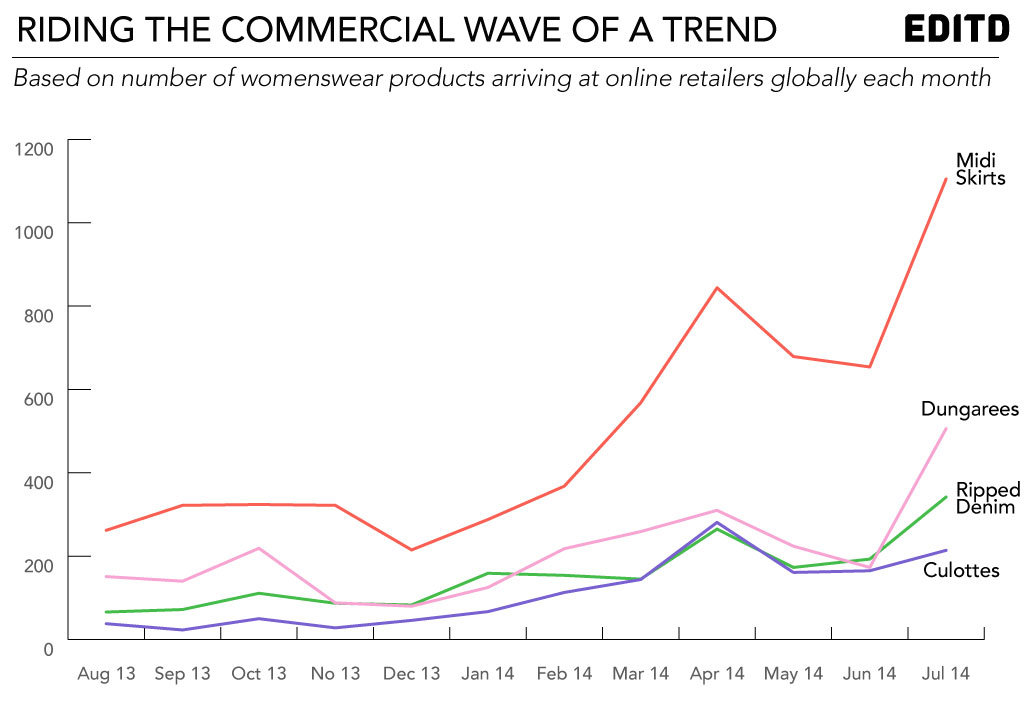 Look out for the following garments this month – you'll know the designer is onto a good thing when you spot them!
SS15's Key Shapes
1. Wide strides

Trousers will continue to get wider for SS15, in full length shapes, as well as the culottes. Culottes were adopted by retailers relatively late into SS14 and went on to do very well. Prior to March 2014 there were barely any styles on the market, and though this picked up during March and April, we are certainly only seeing the early activity around this trend commercially. There's currently 946 styles available online, with a healthy average price point of $137 (an indication that the trend hasn't gone straight to the value market) and a replenishment rate of 14% on styles arriving for SS14.
Top retailers: The current top 5 retailers of this trend being ASOS, Boohoo, Saks Fifth Avenue, Topshop and Net-a-Porter is a positive sign too – a good intersection of mass and luxury retailers. We expect to see this trend used well by some of the heavyweight houses in Paris whose ethos is luxe-casual.
2. Dungarees

Normally associated with summer seasons, the dungaree's presence on the Fall runways of Margaret Howell, Wildfox Couture and Ashley Williams is a sign that we can guarantee the garment's return for SS15. There are currently 1,307 pairs of women's dungarees on the market at the average price point of $113.
Top retailers: The top five retailers of the dungarees trend being Zalando, Boohoo, Shopbop, ASOS and Nordstrom, positions this trend for the mass market next spring. Full-length dungarees in non-denim are the way to freshen up this look. We'll be keeping a keen eye on the designers who blend urban and preppy in New York: DKNY, Tommy Hilfiger, Calvin Klein – will you take up the gauntlet?
3. Midi skirts
Ever since February (and with the exception of the summer sales period) midi skirts have rushed onto the market in SS14 – the chart shows clearly a huge build in number of products available now, compared to one year ago. With 3,622 currently in stock, and a high average price point of $157, this trend will feature heavily in the SS15 shows.
Top retailers: Midi skirts in scuba fabric have sold well for SS14 – both ASOS and Topshop have sold out of theirs at full price – ASOS's color blocked scuba midi and Topshop's tropical print scuba midi. For SS15, midi skirts will be updated with sharp a-line fullness in bold colors, or with floral and striped prints. Milan's feminine designers can be trusted to take on this trend in the next month.
4. Ripped denim
Ripped denim is another bestselling trend for SS14, which came from relative obscurity and climbed late in the summer season.
Top retailers: Skinny jeans with ripped knees have been the most popular styles for the key retailers of the trend: ASOS, Topshop, Mango, Boohoo and River Island. We'd like to see designers add a premium edge by experimenting with looser fits shapes, and on denim garments like tunic dresses and light outerwear pieces. We will look to London's pack of young street designers to fulfill this market opportunity.
Our next article reveals the key SS15 themes and colors.