Designers are going through a period of self-reflection. And it has more to do with commercial strategy than it does creative vision. Last week in New York, Michael Kors and Proenza Schouler punctuated their runway collections by unveiling ready-to-buy options in stores and online. In September, Tom Ford and Burberry are following suit with simultaneous rollouts. Yes, changes are afoot.
And the best news is that you don't have to be a luxury brand to swing this to your advantage immediately.
For retailers one hugely beneficial outcome of this newfound pace is that trends now work simultaneously across all market levels and price points. Sure, you can't serve out the same stuff just sticking a different price tag on it (though Boohoo and Anya Hindmarch may clash over the latest emoji craze). But there are nuanced ways every market can access runway trends right away.
Here are three big London Fashion Week trends with variations appropriate to the trend-led mass market, the premium market and to luxury. We've also looked back at retail to show why these three trends are well-timed for commercial success in Fall 2016, identifying recent success story items which these trends are perfectly pitched to move on.
The Big London Trends
1. Knitted Co-ords
The co-ord trend is a gift to retail. The separates appeal to consumers economically; a dress can only be styled one way. Meanwhile, the standout styling and the lifted price point are boons for retailers. This has worked well in the fast-fashion market recently, particularly a $40.00 set from Boohoo that even Kim Kardashian couldn't resist. It's also a trend the premium and luxury markets have bought into, with Stella McCartney, Sandro, Ted Baker and Zimmermann all selling co-ord sets in the last year.
During London Fashion Week, there was a charcoal sweater dress and matching cardigan, both trimmed in shaggy bouclé at Christopher Kane, oversized and motif-bearing shapes with trailing hems at Joseph and a longline sweater and cape twinset at Peter Pilotto.
But it's the below stylings that will work best for each market segment. The mass market should look to the contemporary print of Peter Jensen's set (though it's sweater fabric, not knit per say) and trial a cropped length in both top and skirt. Meanwhile, the premium market can incorporate fun prints and quirky styling like overlong sleeves, with more luxurious yarns. Lastly, luxury should look to Pringle of Scotland's intricate detailing, which exudes expertise. Complicated technique in a chic, simple palette is perfect for luxury.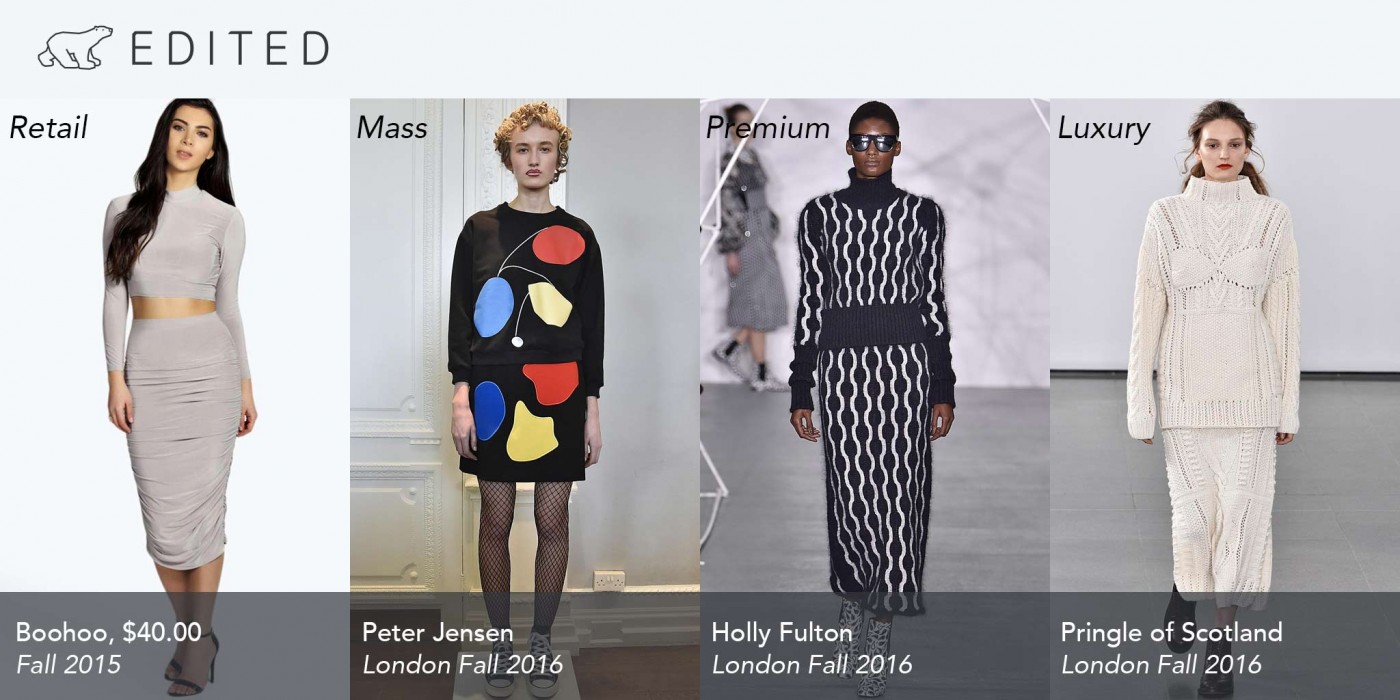 2. Velvet Boots
Oh velvet, you sumptuous fabric you. In footwear you scream indulgence, decadence and absolute luxury (you're hardly the kind of boot that's stomped across the meadow). Sure, this one is fancy, but given the fabric's lower price point, it's more accessible than the suede footwear trend that was such a huge retail success for Fall 2015. Plus, it's vegan.
So who does what? On the mass market, footwear frivolity is key. There's a lot of competition out there – retailers like & Other Stories, Zara and New Look are big in the shoe game. On the runway, Topshop Unique set the pace with its brightly colored ankle boots which will appeal to party girls the world over.
At a premium price point, the customer is going to need a little more bang for the buck. A.F. Vandevorst had ideas about how to do that: prolonging the potential life of a velvet boot with a darn chunky sole. It's a smart move.
In luxury, designers can go full throttle with fitted, over-knee shapes. Not unlike those seen in plum or teal tones at Roksanda and crushed lilac at Erdem.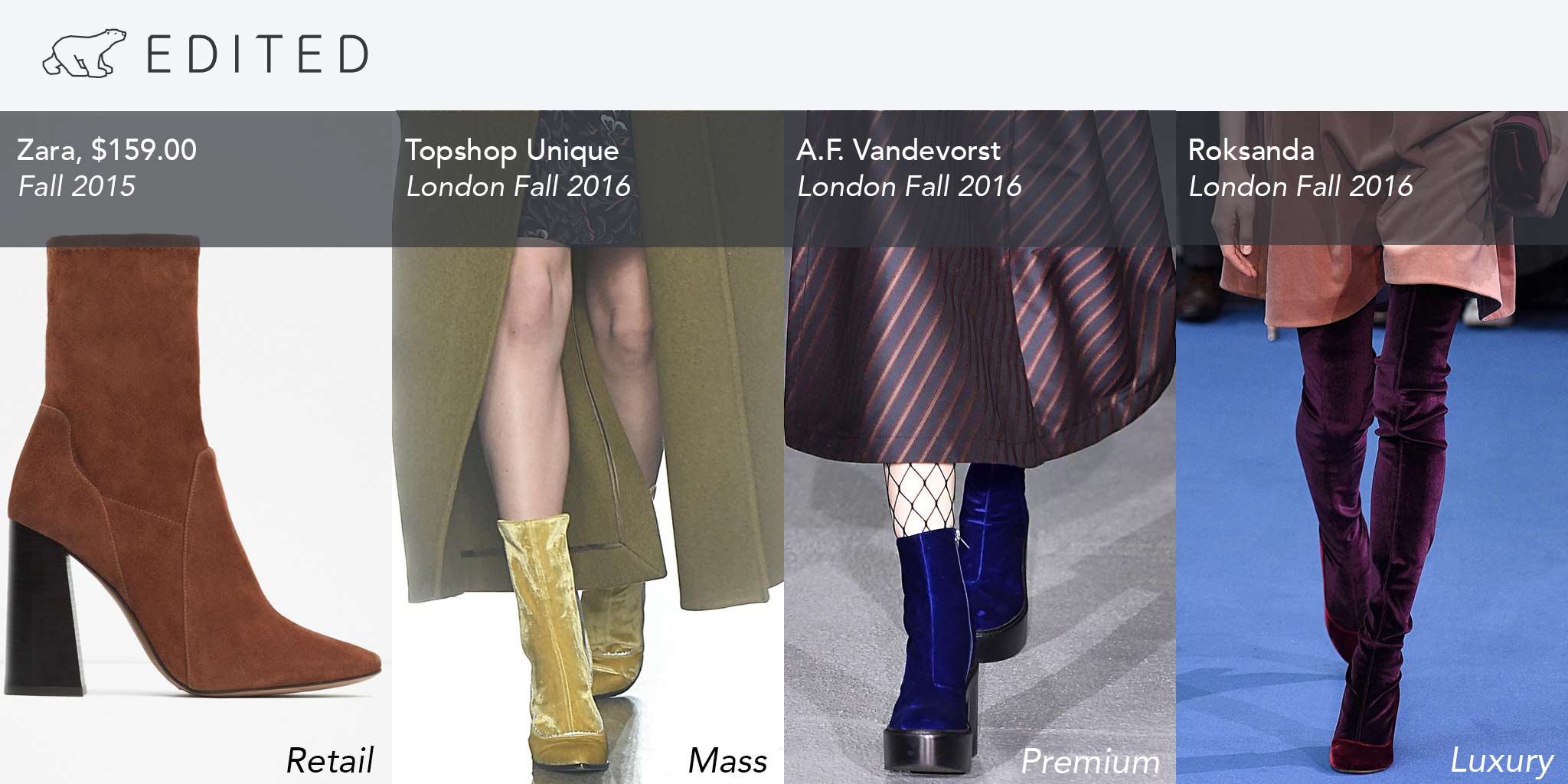 3. Winter Prairie Dresses
Okay, so there isn't really such a thing as a winter prairie dress. But think of this one as 'historic-looking dress with business about the neck'. By business, we mostly mean a neck tie or bow, but it can also be a ruffle or oversized collar. The yet-to-be-named dress was everywhere. It moves Spring 2016's prairie romance on: this time more gothic and, at times, more alluring.
Key across the breadth of the market is the midi-length and dark palette. A simpler cut will suit the mass market – think straight shift or a little seventies flare. Premium is the place for a little more color paired with unusual neck and sleeve shapes. We can see Ted Baker or Elizabeth & James working something akin to Roksanda's silky gowns into their collections. And of course, luxury can go heavier with complicated cuts and embellishment.
Anyone who watched Vetements' floral number work its magic on street style stars should keep an eye on this style later in the year.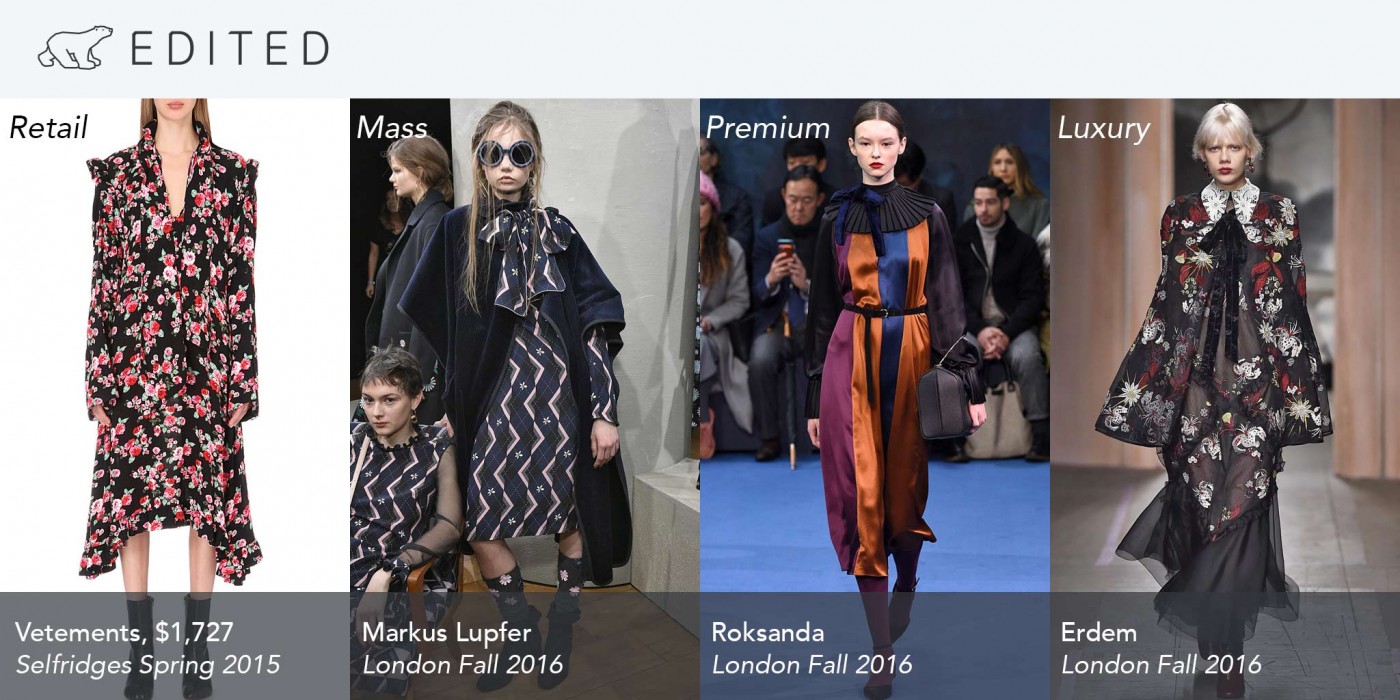 EDITED users, log in to see London Fashion Week re-capped in greater depth. Our analysts are publishing full reports from every category across print trends, shape, fabric and accessories. Not an EDITED user but want a look behind the curtain? Get a demo today!