As the Spring 2019 runways kick off, we should remind ourselves that it's a fashion myth that every season you need to reinvent the wheel.
Creating radical new direction each time runways roll around would alienate consumers, who don't reinvent their characters every six months.
Instead, the magical fashion balance is just-enough newness to make an assortment compelling and to entice spend, but without pushing the consumer zone comfort too far.
Because each of these pick up on early signals of continued consumer demand, or recent climbing interest, these are the trends that savvy brands will have lined up for the Spring 2019 runways.
Spring 2019 trends you should look for on the runways
1. Home grown
Natural fabrics and finishes are gaining traction. For Spring/Summer 2018, we saw linen fabrics grow by 13% on last year. Not only that, but there was an uptick in straw bags, hats, woven-soled espadrilles and jewellery.
In part, this is the Instagram-influence on the vacation category. It's also a moment of aesthetic relief, adding textural depth and crafted appeal, in contrast to the shiny and man-made surfaces of athleisure.
For Spring 2019, expect to see increased use of straw, bamboo and wood for bags. Pair that with natural-looking, minimalist shoes that are a full one-eighty on the ornate luxury sneaker. In apparel, look out for more linens, with rougher textures, natural dye palettes and natural trims like wood, horn or shell buttons.
2. Squaring-off
Following on from seasons of statement-sleeved dresses, here is a refreshing new trend that retailers should get behind: square necklines. It's part-Puritan, part-D&G vamp – the exact kind of tension that does so well in fashion.
Altuzarra's twisted cream pencil dress will be a knock-out hit for wedding season.
3. Getting wilder
You've quite possibly seen a leopard print silk midi skirt recently. First there was the $180 multiple restocked Réalisation Par version. Then came similar styles at Ganni and & Other Stories (also now out of stock). That skirt is not the only leopard print on the prowl…new arrivals of leopard are up 361% in the last three months compared to last year.
This story is going to be strong through fall, but brands should know that once consumers have adopted polarizing animal print, they'll be committed for a few seasons. Washed out zebras, leopard and snake prints take preference for spring over more color-true variations.
4. Keep those colors saturated!
Saturated palettes are working right now, as we discussed earlier in the summer. So don't move away from seriously powerful shades for spring – keeping your consumer locked onto hot color trends keeps them coming back to you for newness.
Feed that demand in 2019 by increasing neons, reds and hot pinks. Throw in unusual color pairings such as grass green and caramel, or purple and tan, and you've got something really striking that'll ping on consumers' screens.
5. Cargo pants
Trust us, they're coming for you. Cargo pants are up by 266% in the last two months and they're only going to climb further. So far, it's mostly the luxury market getting involved. Missguided has given the trend a go, but the mass market is still wide open for the taking.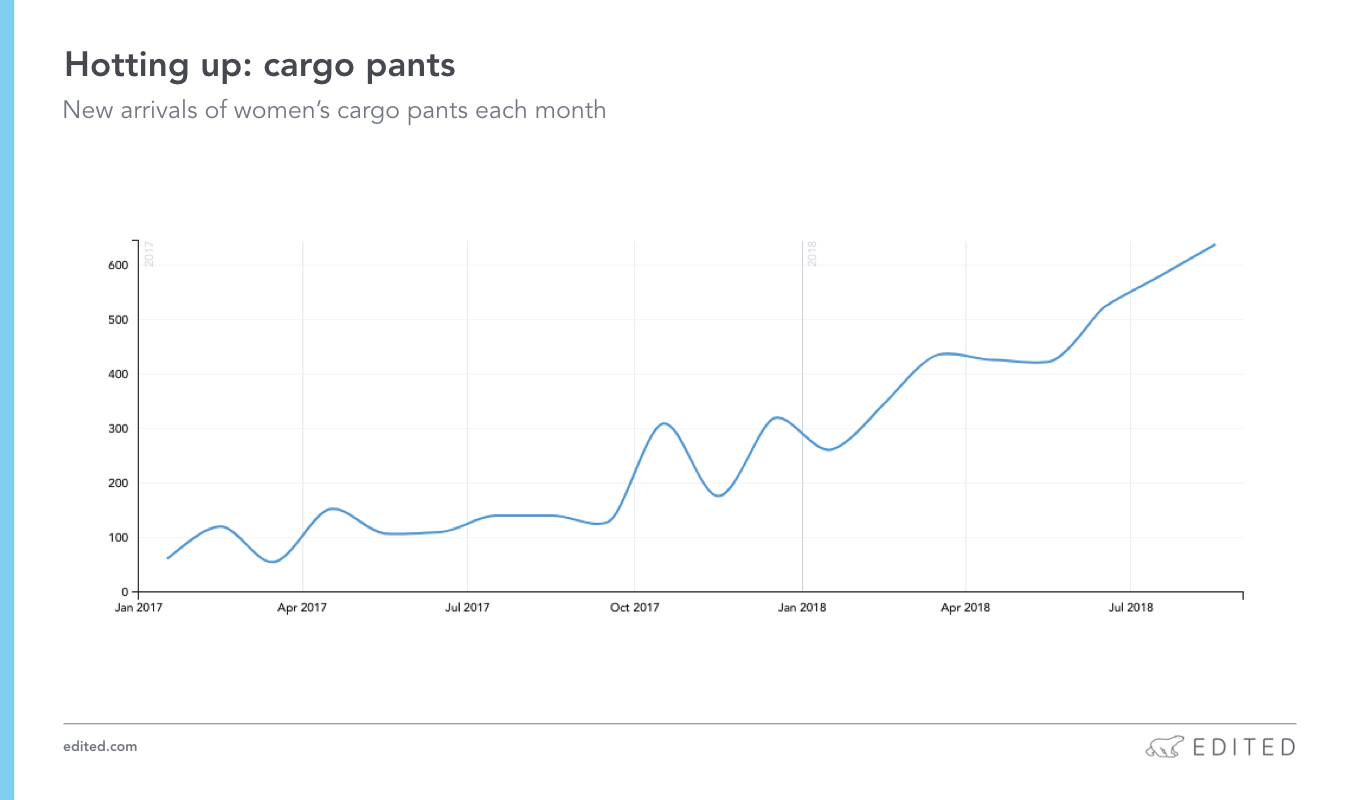 Want to see how EDITED can help you identify the product, pricing, and promotional opportunities within your business? Get in touch here.
Smart designers will be showing consumers how to style this shape which has been buried since Avril Lavigne ditched her Sk8er Boi. Stella McCartney is leading this trend, so look out for a cargo update on the brand's runway in Paris.
6. Get weird, denim!
We recently looked at the denim resurgence and warned that for it to continue, denim needs innovation. With 42% more product in stock this quarter than last year, this market is no longer held back by athleisure and is going to start moving fast.
This Spring 2019 you should be looking for the freshest denim directions, letting things get a little bit weird when they need to. What does that look like in reality? The Pre-Spring shows gave us utility pockets on denim cargo pants and jackets, contrast top-stitching and patches and some seriously pretty raw edges at Osman.
7. Knotted details
By now you'll be used to the jersey twisted-knot dresses around on the mass market – they really picked up at the start of the year and carried on into summer.
However, new arrivals in the last month show that we haven't seen anything yet…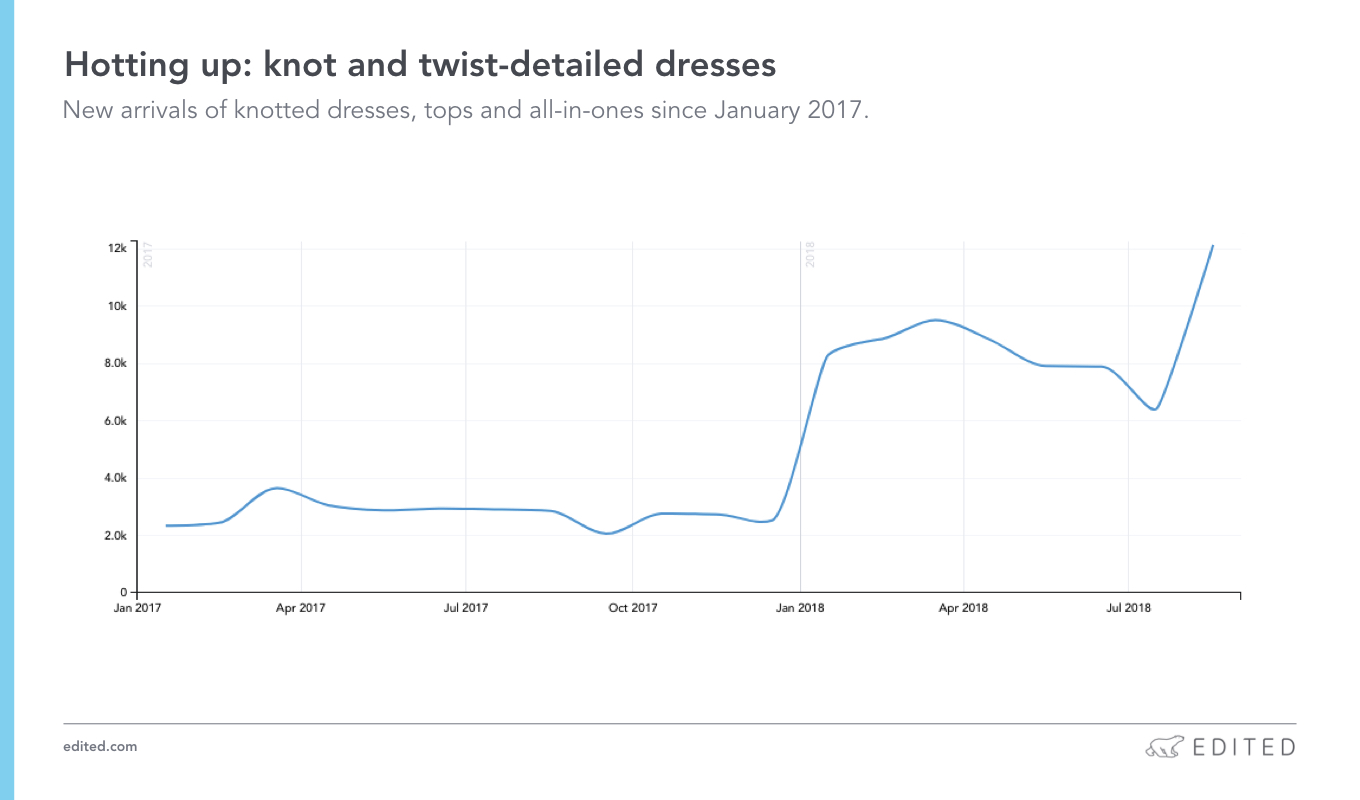 For Spring 2019, twists and knots will become more complicated, appearing multiple times in one garment, with baffling construction. Expect more play with sheers and woven fabrics.
This trend works because it showcases quality – to really perfect a beautiful twist and maintain fit takes some skill. In an age when fast fashion retailers can leap onto a trend at speed, luxury brands love a complicated trend like this one.
Here are some of the bestselling knot and twist garments from the last three months, across luxury and fast fashion:
Throughout fashion weeks we'll be watching out for these trends, and more. Stay tuned for updates and downloadable trend resources by signing up to the EDITED Insider Briefing newsletter or following us on Instagram or LinkedIn!
Want a refresh on 2018's best selling Spring trends? Take a look here.