Over the last quarter, we've released another 15 new features designed to help you do more every day.
We've already introduced you to History View and Flash Sales tools, but there's a lot more besides in Q1.
Discounting insight
You can now see and easily compare the average discount percentage/depth for each retailer and brand selected in a dashboard. That's a really useful one-step insight into the average reductions at your competitors. In Market Analytics, you'll find this function under the 'Strategy' tab. You can compare categories to find their hidden weak spots, or look at product specifics like color, print or silhouette.
Onsite training & support with Help Center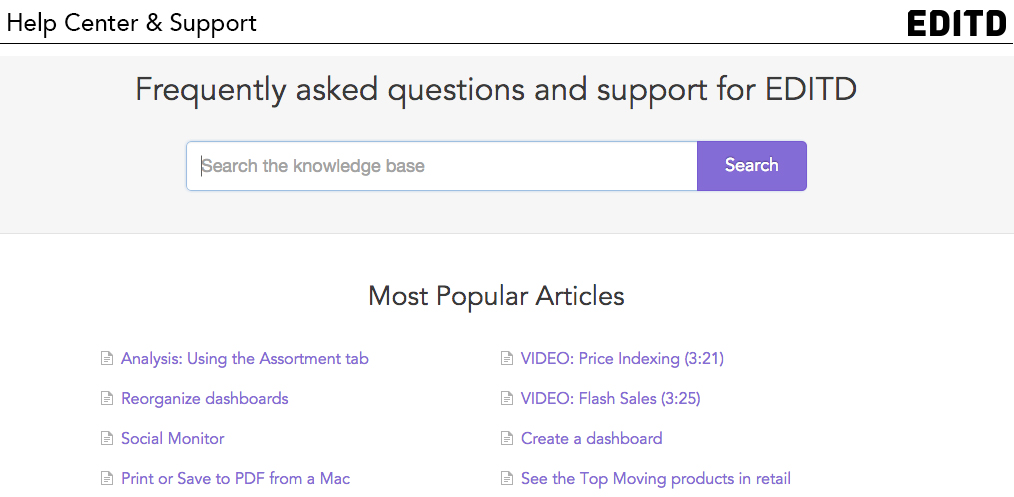 It's really important to us that retailers using EDITD get the most out of the software. For that reason, we've added an entire Help Center to the website that gives you context-sensitive help and on-site training, helping all team members get up to speed. Use the searchable knowledge base or watch video tutorials guiding you through the more tricky features. Contacting support is just as easy as ever, click the message icon in the menu bar and tell us how we can help.
Childrenswear & gender filtering
We've updated our gender filtering, making it easy to choose multiple genders, as well as to break childrenswear down into boys, girls or unisex. That means you can select one or more in any combination. For example, if you want to view all women's and children's products at once, just select both these options in the gender filter in your control panel in Market Analytics.
Keywords for narrowing your search
Dashboards are now hyper-customisable, so you can include or exclude any word in dashboards. That means if one of our categories or product filters doesn't quite work for you, it's easier to get exactly what you want.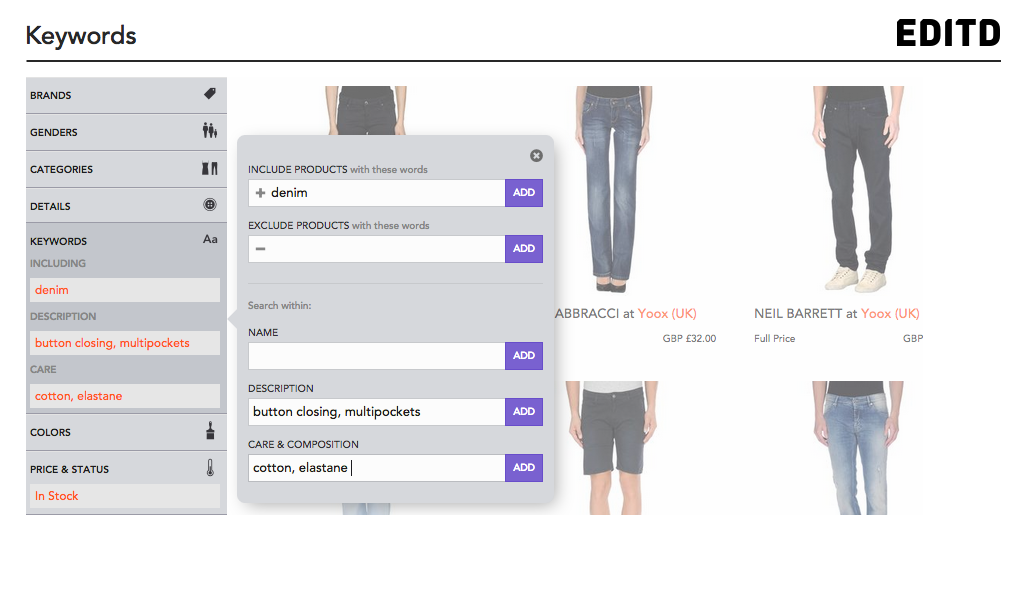 New, improved control panel
There's an entirely new filter panel in Market Analytics, that lets you easily select and remove product filters to quickly find and edit the selection of products you're interested in. Once you've applied a filter, it will stay visible in your control panel so you can see what's been selected. The addition of the 'Details' filter lets you drill down to an incredibly specific set of products when paired with your 'Category' or 'Color' search. Add in a filters like sequinned, Peter Pan collared or tropical print to arrive at the exact insight you need.
[editd-banner image="https://edited.com/blog/wp-content/uploads/2015/03/History_calendar-view.png" header="Want to know more about how EDITD can help your business?"]Request a live demo with one of our product specialists.[/editd-banner]