Back-to-School is here: retail's second biggest spending holiday, which, combined with Back-to-College is expected to generate $82.8 billion this year.
Thing is, it's a uniquely tricky holiday without one specific day to focus efforts around. There's no clear marker as to when BTS begins and ends – it comes down to a household-by-household basis.
According to the National Retail Federation, a quarter of shoppers start two months ahead of school's start. A more relaxed 20% of shoppers leave their shopping one to two weeks out from the new term.
But the majority of shopping happens 3 weeks to a month out from the new term. Aka: now.
Naturally, such a critical (and lengthy) retail period requires careful strategic analysis. We've taken a look at some of the key differences in Back-to-School 2018.
Back-to-School timing
That whole no-specific-date thing makes it tricky to plan when to push BTS. The first mentions of the event in retailer newsletters came from accessories brand Kipling. Their new BTS range was top of their email newsletter on May 8th. Carter's first mention followed just two days later.
Those are just a couple of speedy retailers, but in the most part, retailers are pushing their communications later. This June, BTS mentions were trimmed down and instead retailers shifted mentions to July, when they lifted 35%.
That ties in with a broader consumer trend we're seeing in seasonality. Consumers are shopping closer to their needs than ever before.
Is Back-to-School shrinking?
Timing isn't the only thing in flux – in fact data shows there is less BTS product available so far this season than there has been in the last four years.
In the last two years, there have been two peaks in childrenswear newness during the BTS period – one at the start of June, and the other at the start of September. However, this year we're only just seeing new arrivals climb by the end of July.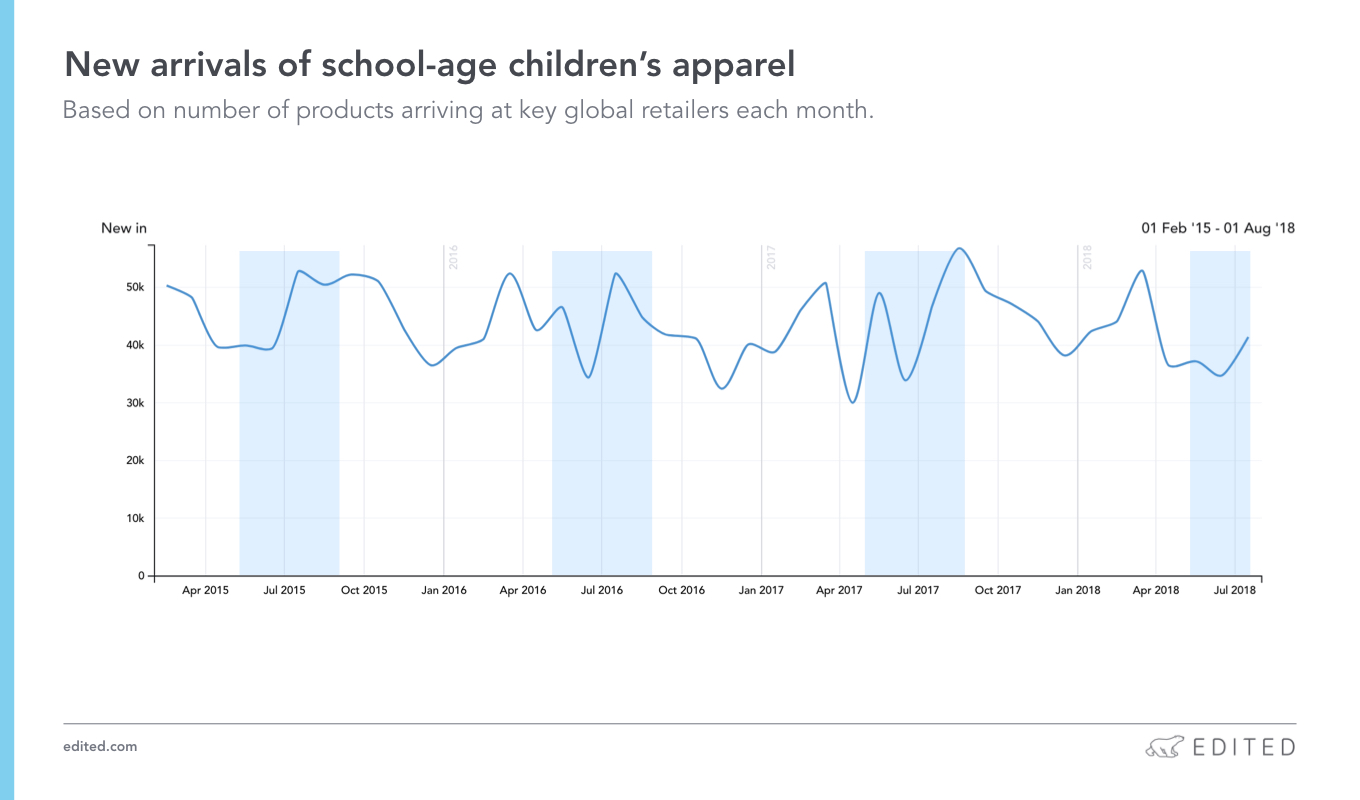 In fact, there is 9% less childrenswear in stock now than last year. Who's cutting back we hear you ask?
Put simply: department store retailers. In both the US and the UK, department stores are trimming back their childrenswear SKU count. Macy's, Neiman Marcus, Barney's and Nordstrom included.
Meanwhile, other types of retailer are growing. Specialists are up, like Nike up 22% from BTS 2017, Joules up 49% and Petit Bateau up 123%.
Back-to-School pricing
Naturally, those changes have had an impact on the childrenswear market's pricing. Looking at school-age kidswear (our software has filters which you can drop in to focus specifically on each childrenswear age range), we can see the emphasis on price is shifting away from the lowest bracket of sub-$20.
This year, nearly 6% of the entire assortment has found other price points further up the architecture.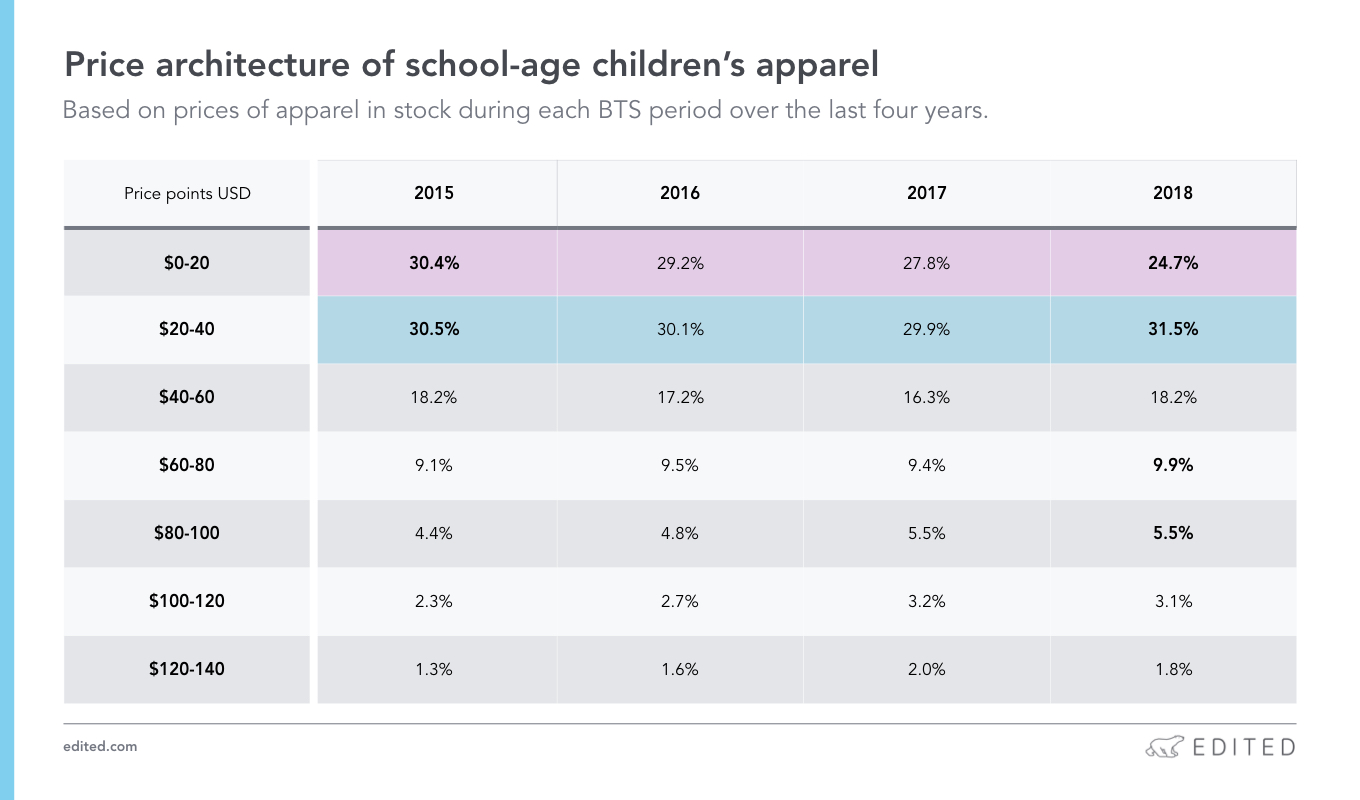 So what stuff is costing more? For one, kids' sneakers. Their average price is up by 19% from BTS in 2015 to an average this year of $68.09. Other shoes have climbed by 14%, to $60.03.
In a happy coincidence (or accurate read of the market), NRF's survey found that households are intending to spend $8 more on footwear on average this year. And retailers know this category has heat under it – the number of footwear products available during BTS has grown by 17% since 2015.
Footwear is raising its Back-to-School profile, with 17% more product in stock and prices up by 14% on shoes and 19% on sneakers.
Discounting the season
This year's discounting also strikes a different note. Mid-season sales on school-age apparel were notably down in May this year. Now, in full BTS swing, we're seeing first discounts plateau through June and July, where traditionally they slope off.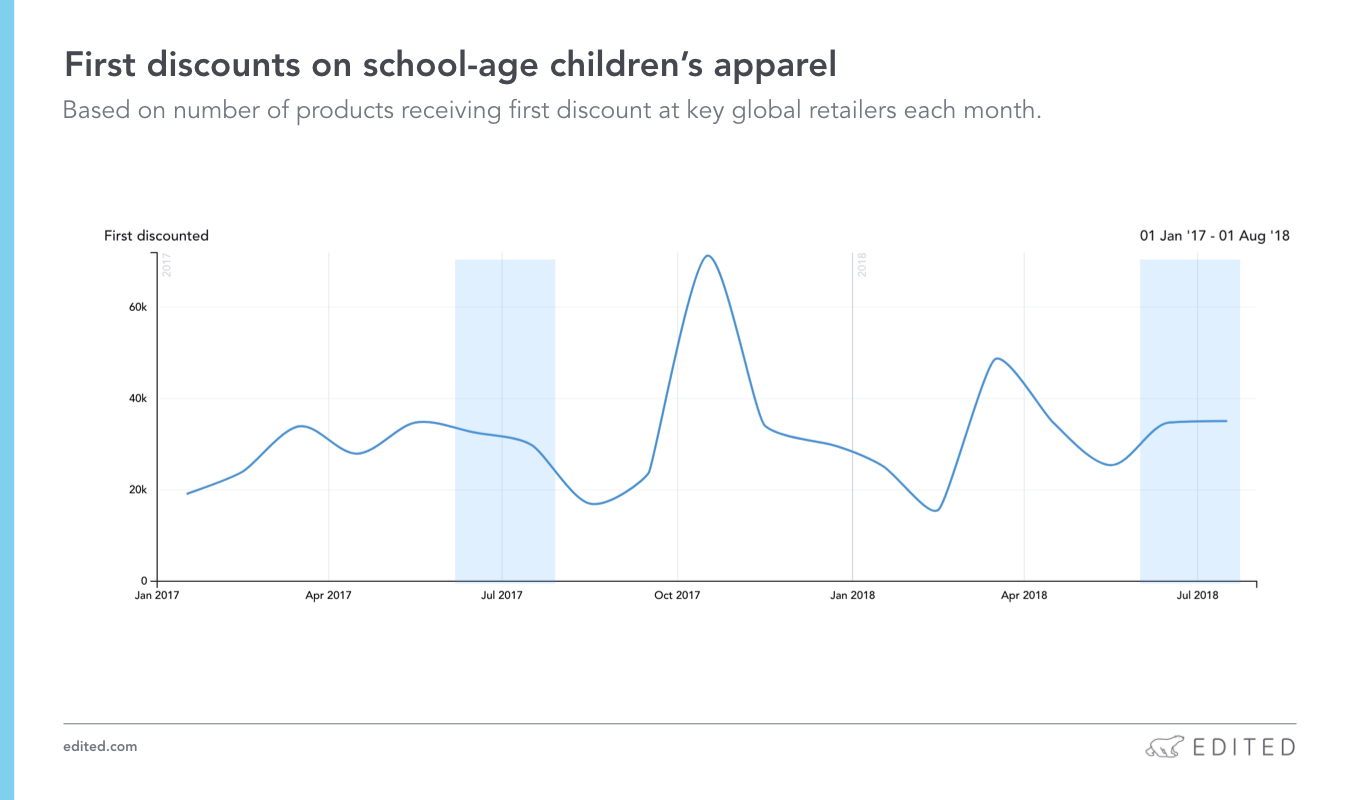 Digging deeper, we can see that retailers are approaching the first discount as the final discount this year. They're coming in with 20-30% off full price, with the intention that it's the final reduction offered.
That explains the plateau. It takes the emphasis away from the over 40% off reductions that happened on the second or third discount of product previously.
Will that mean retailers need to drop prices dramatically in the last two weeks of BTS 2018 to secure sales? We'll see how that looks at the end of the season.
Activewear's role in Back-to-School
It follows that activewear is becoming a more significant part of BTS. It's not that more P.E. classes are being timetabled – we're just all dressing with comfort and movement at front of mind.
Although growth is steady, this year 8% of the school-age assortment is active apparel. That's up from 7% in 2017 and 6.5% in 2016. Retailers can anticipate this trend to continue in coming years.
It follows that specialist sports brands are upping their communications around BTS, as these email newsletters sent between mid-July and early-August show.
Bestselling BTS products
Although the 90s theme is leading in retailer kidswear content, retro sports items are selling best. They feature heavily among the items which arrived online in the last three months and have already sold out at full price.
Retailers should bear in mind the purchasing influence of the Gen Z school-child. They are more likely to steer parents' shopping decisions than consumers before them. If products don't appeal to the child wearing them, it's not finding its way home.
These garments all focus on functionality and comfort. Things like drawstring waists, half-zip sweaters, lightweight layers and durable jersey fabrics are all performing well. Grey is a leading kidswear shade right now.
In the UK, where the majority of pupils wear school uniforms, simple, unfussy shapes are selling best.
Back-to-College is the business
The big bucks come in from Back-to-College, where the average family spends $942 a year, compared to $685 from BTS. The college spend starts later and continues further into term than BTS – in fact, very few retailers have yet referenced their BTC edits in newsletters.
Because of that shift to shopping closer to season, teen and youth retailers need to think about the other term-time narratives they can tap into. BTC, and BTS should be about generating future business, securing customer loyalty through the school year, as well as other family occasions.
Want to view the bestselling backpack trends of the Back-to-School season? Check them out right here.