Paris sped us to the close of the Spring 2018 fashion month with an offering focused on wearability and comfort.
That we applaud! And somehow those clever Parisian designers managed to do it in a way that didn't feel overly familiar or stagnant and didn't dilute the sense of luxury so important to the capital's identity.
Here's our guide to the best of the Paris trends for Spring 2018.
1. Seeing Red
We called it early, during New York Fashion Week, red is the stand-out color of the season. And that ties in with what retail needs from spring, moving consumers succinctly on from millennial pink, to an equally content-driving shade.
In Paris there was even agreement on the specific shade: a vibrant, Pop Art cherry red. This shade doesn't need to be reserved for high summer – there's already striking head-to-toe looks coming through in street style around the shows. In fact, by high summer you could transition into the sharp magentas and the quirky violets seen through the week.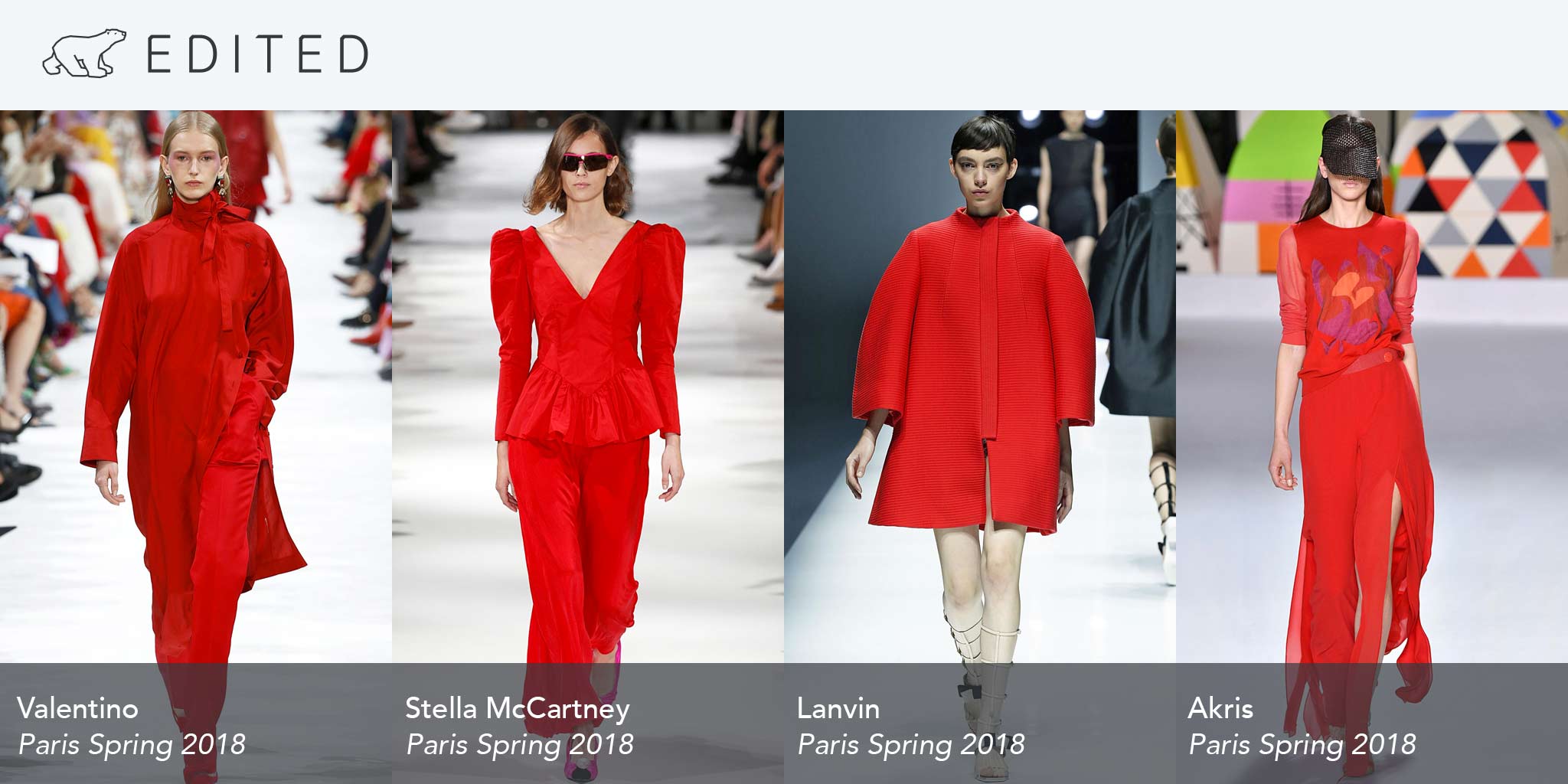 Black and white monochromatic outfits were also a key color trend, seen at Saint Laurent, Isabel Marant, Altuzarra and Balmain. The combination doesn't feel new per say–given its presence for Spring 2017–but painterly polka dots at Off-White and the monogrammed print at Lanvin were fresh updates worth thinking about.
2. Checked Please
A somewhat wintery print for spring, plaid made its presence felt in Paris. Still riffing on Balenciaga's market-stall bags of Fall 2o16 – which can actually be dated back to Louis Vuitton Spring 2007 – checkerboard and tartan-esque prints featured on a number of influential runways.
At Balenciaga it was all maximalism. Checks played out over quilted jackets and different checked prints were paired in a skirt and a shirt, accessorized with a charm belt and photographic mountain print sock boots. Green plaid pants have what appear to be enormous turn-ups, but on closer inspection are dogtooth panels.
At Hermès plaid prints formed the basis of the entire collection, ranging in perspective from hyper-detailed to zoomed right in. The key pieces for retail? Plaid pants and blazers along with longer line, lightweight outerwear.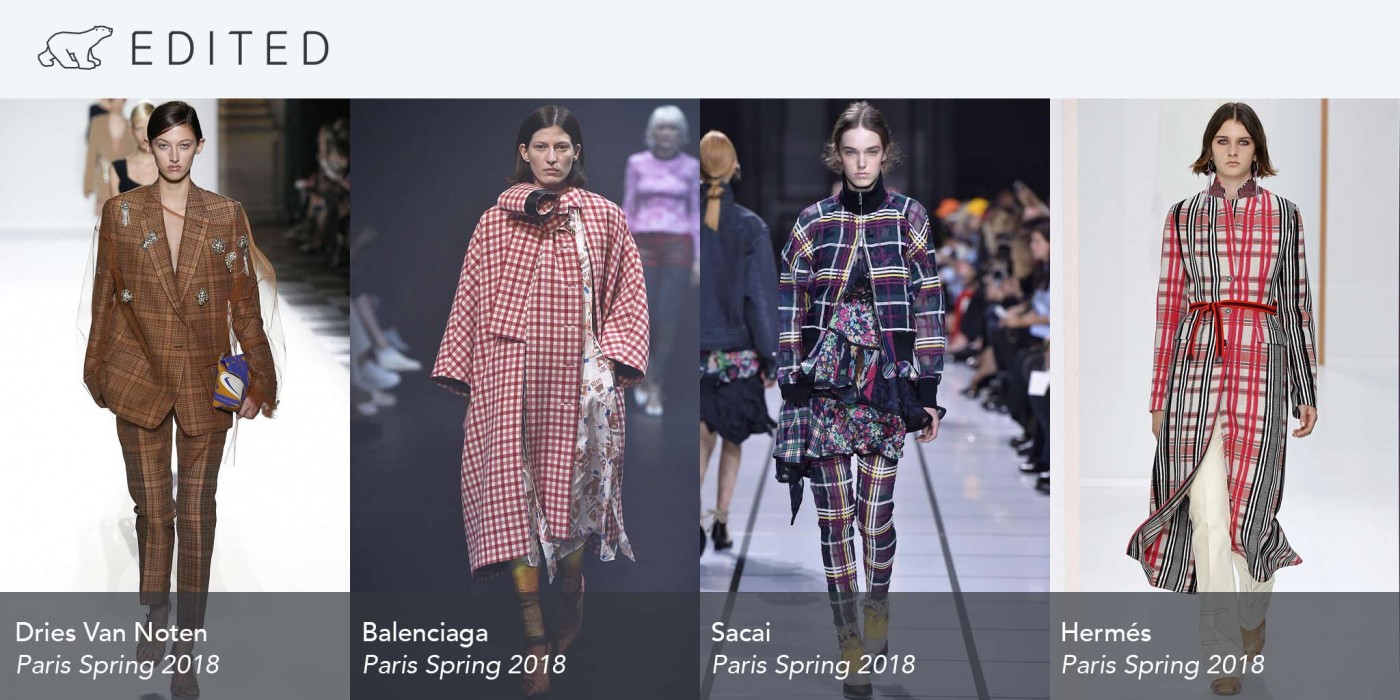 3. The Big Easy
Sportswear isn't going away, folks. But it does get a rework for Spring 2018. Functional, comfortable looks get a bit roomier and veer towards sports more than luxe. There's an 80s ease about it all, especially at Isabel Marant and Stella McCartney, the latter who used drawstring detailing to great effect.
At Kenzo, gathered Airtex referenced the ruffle trend as it worked its way across a racing print body-con dress. Balenciaga's smocked polo shirt in lime green was a feminine update to the staple seen at other shows. The brand was also among those showing bum bags/fanny packs on its runway.
Rugby shirt detailing makes a high fashion comeback. At Stella McCartney the rugby neckline topped an African print dress, at Loewe it featured on a sweatshirt fabric dress in bubblegum pink and Koché used it for a take on a striped, pleated hanky-hem dress.
Lacoste had the most complete vision for this relaxed sports theme with an ultra wearable and youthful collection. Their crocodile mascot worked its way onto an all-over print alongside tennis balls and shoelaces. A throw-on knitted skirt and polo were styled with a comfy chambray jacket. This kind of thing feels doable for right now.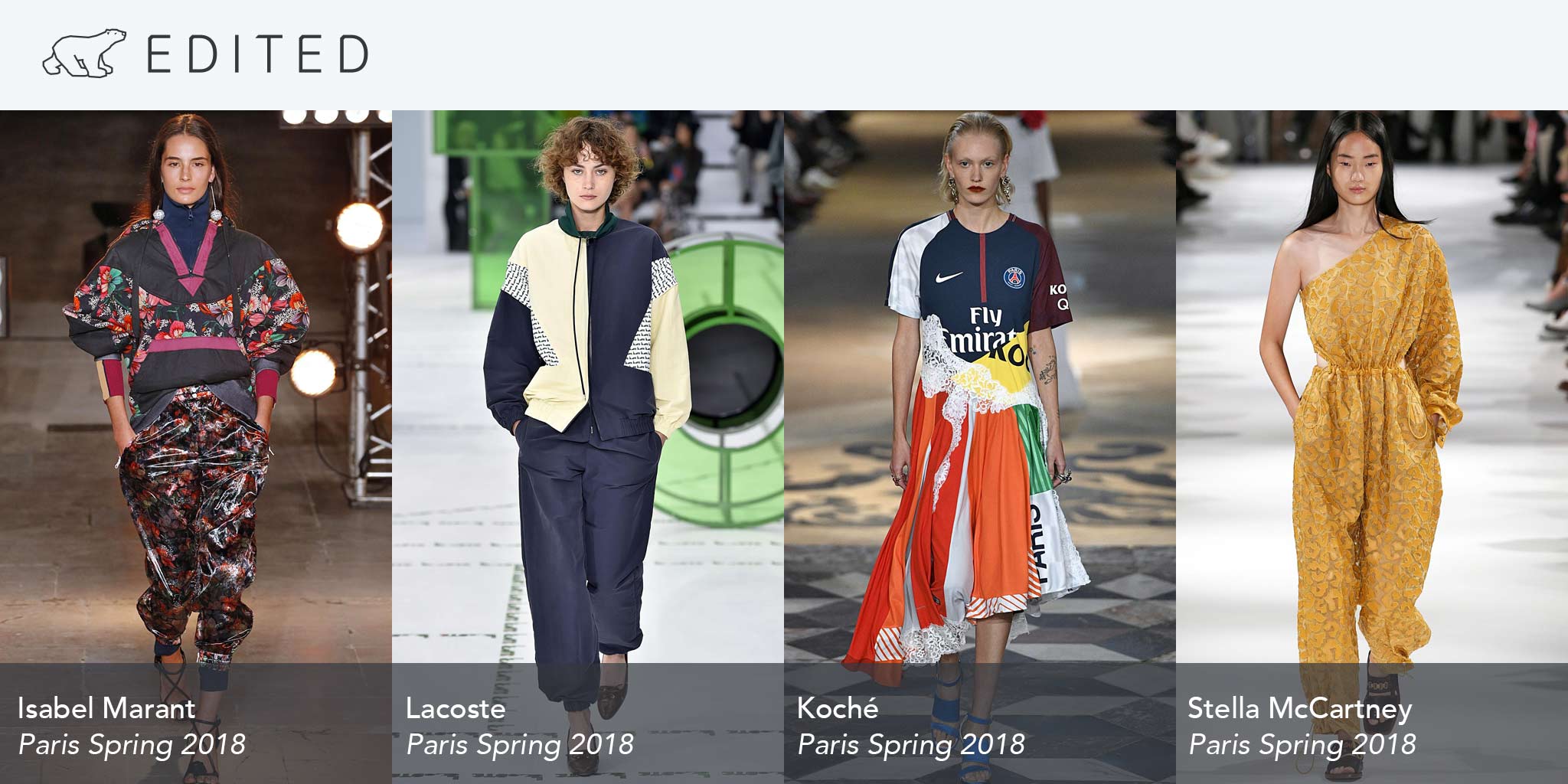 4. Lustrous For Life
Ziggy Stardust won't be forgotten by fashion if the assortment of metallic and shine-finished fabrics are anything to go by. Part 80s and part playful surface experiment, plasticized fabrics worked best in boxy bowling shirts seen at Acne and Balenciaga.
If metallic fabrics or patent finishes don't work for you, try the sequin stripes at Kenzo for shine without the Space Age reference. This high-drama look works well for the selfie taking youth-market and festival crowd.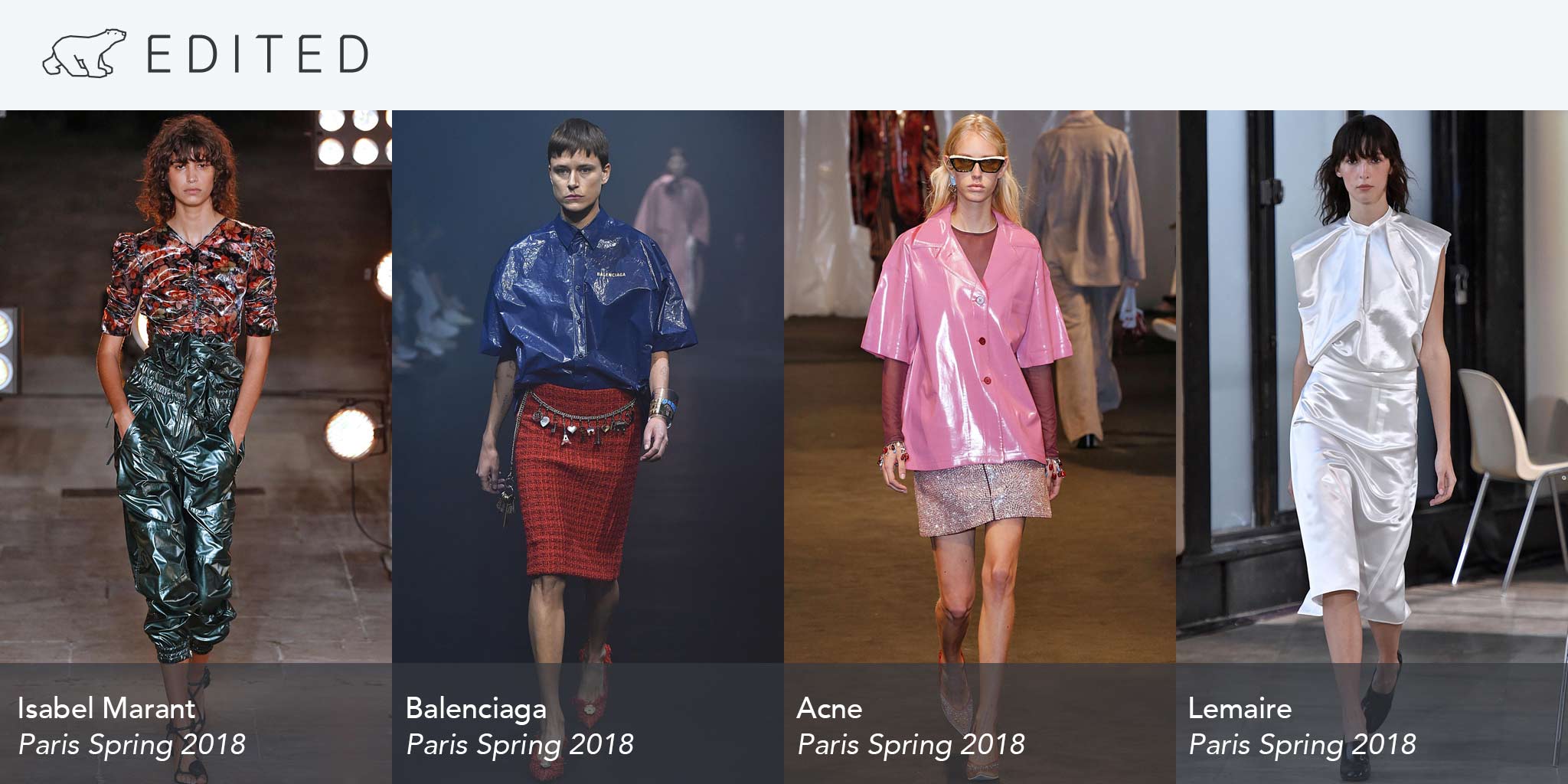 5. Deconstruction Site
Things were on the wonk in Paris. Haphazard lines were on view everywhere; from asymmetric hemlines to mismatched sleeves or in the slightly manic styling of Balenciaga's knits, tied around the model's body.
Much of the deconstruction focused on classic workwear and tailored garments. At Sacai, shirtsleeves poked out from what appeared to be a shirt dress, at Lemaire a shirt dress buttoned to centre front at the neck before the placket swerved off to finish on one hip. Outerwear, specifically trench coats, were repeatedly referenced or reworked.
Is this luxury's way of differentiating now that the mass market does such a neat job manufacturing? It would be clever if so.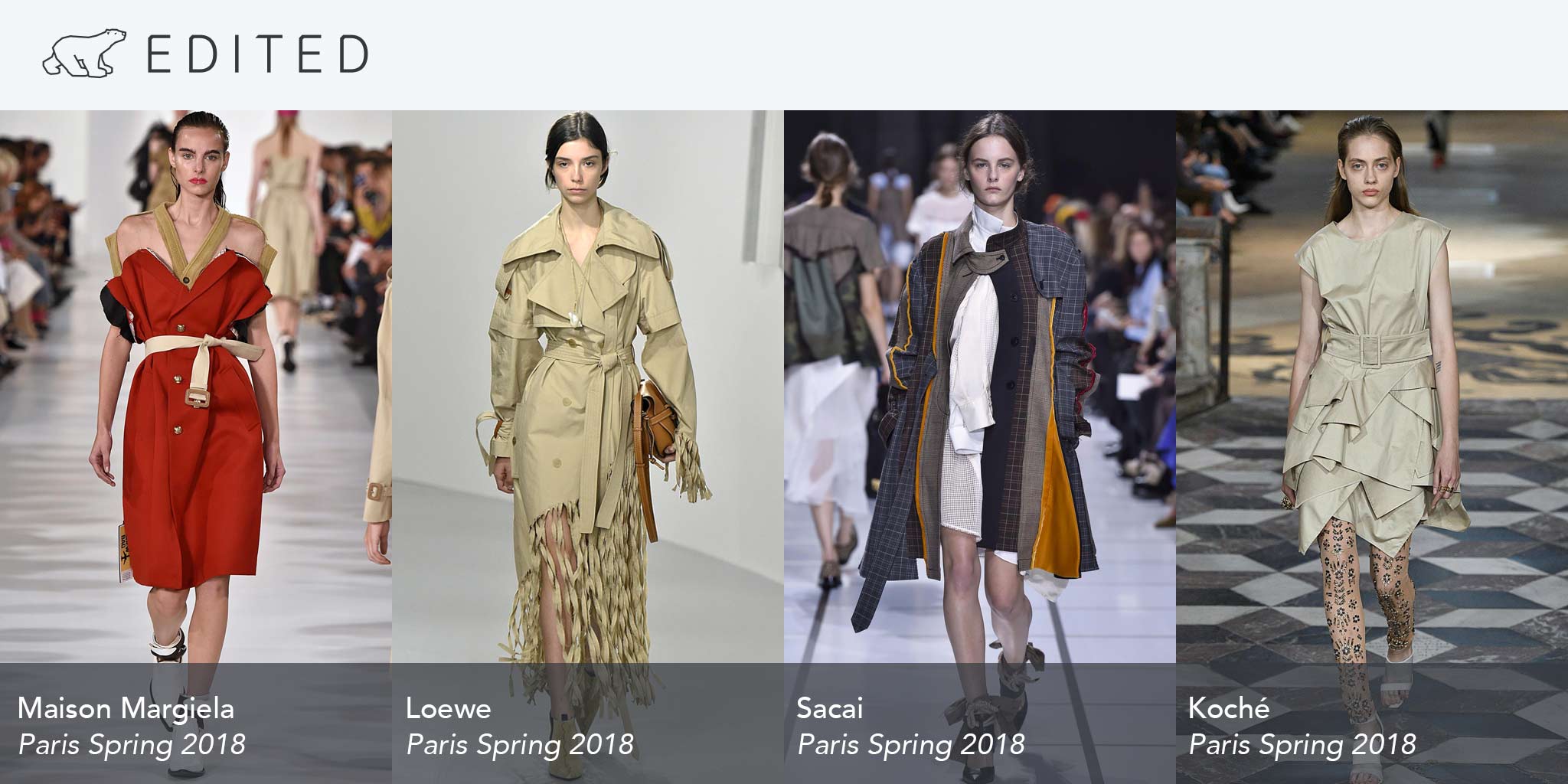 Balenciaga's deconstructed coat is worthy of a close up. Three layers reference a denim jacket on the shoulders, mac to the front and the plaid lining to close. All of that was thrown over a dress with a dollar bill print.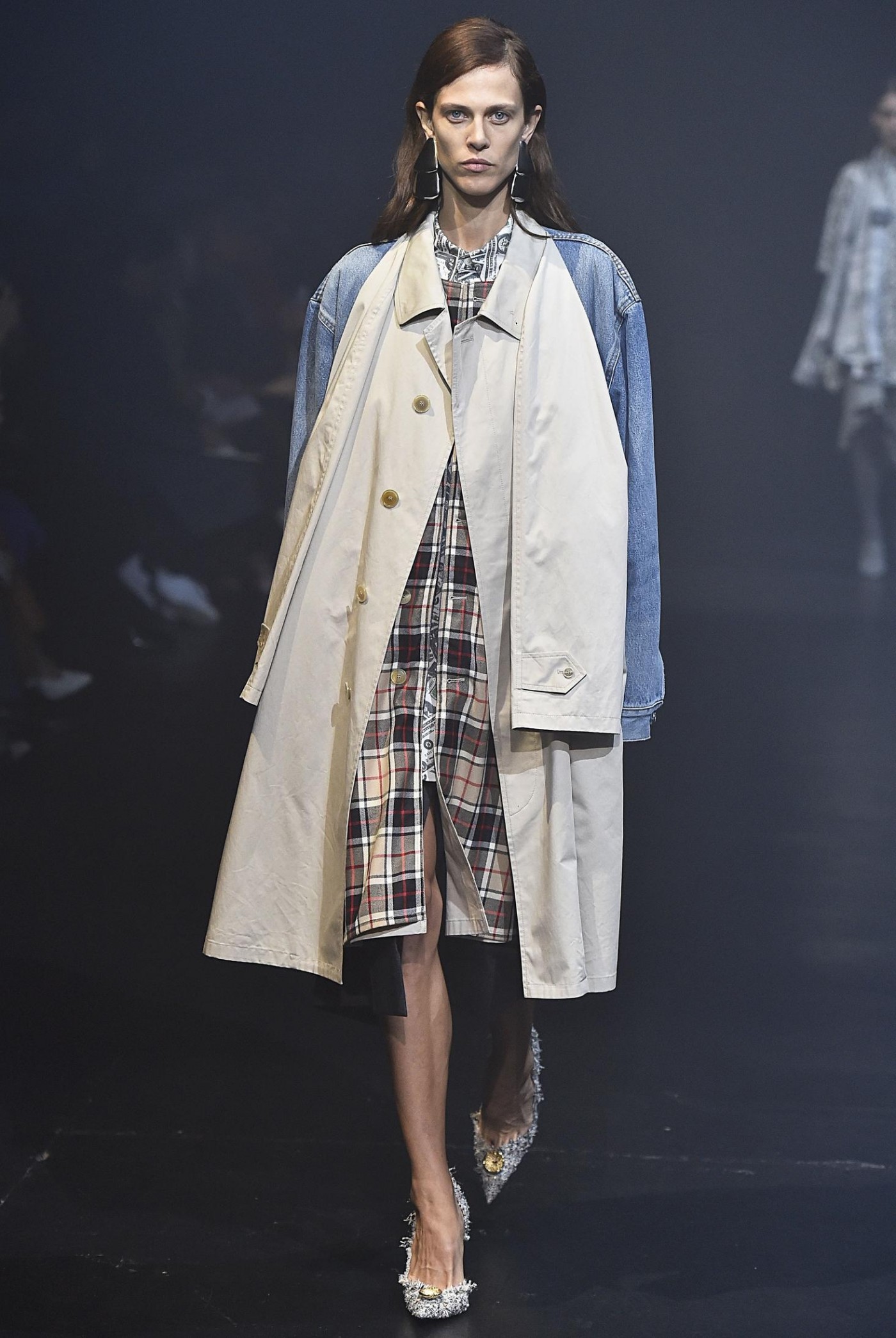 6. The Unlikely Footwear Stars
Bad taste footwear is back! Most newsworthy is the double wedge heeled Crocs at Balenciaga, complete with customized charms. Cowboy boots also made a somewhat unexpected return at Givenchy and Maison Margiela, paired with bared legs.
However, it's Loewe who takes the award for most out-there footwear for Spring 2018. The brand sent out sneakers with an elongated, curled toe akin to a Turkish slipper. They're slightly eerie but undoubtably comfortable. And probably will sell.
So what's your take on this trend? Curled toes may be a step too far. But these styles indicated the current moment for statement footwear. Experiment with striking colors, prints and fabrics and revisit some shapes from the turn of the millennium.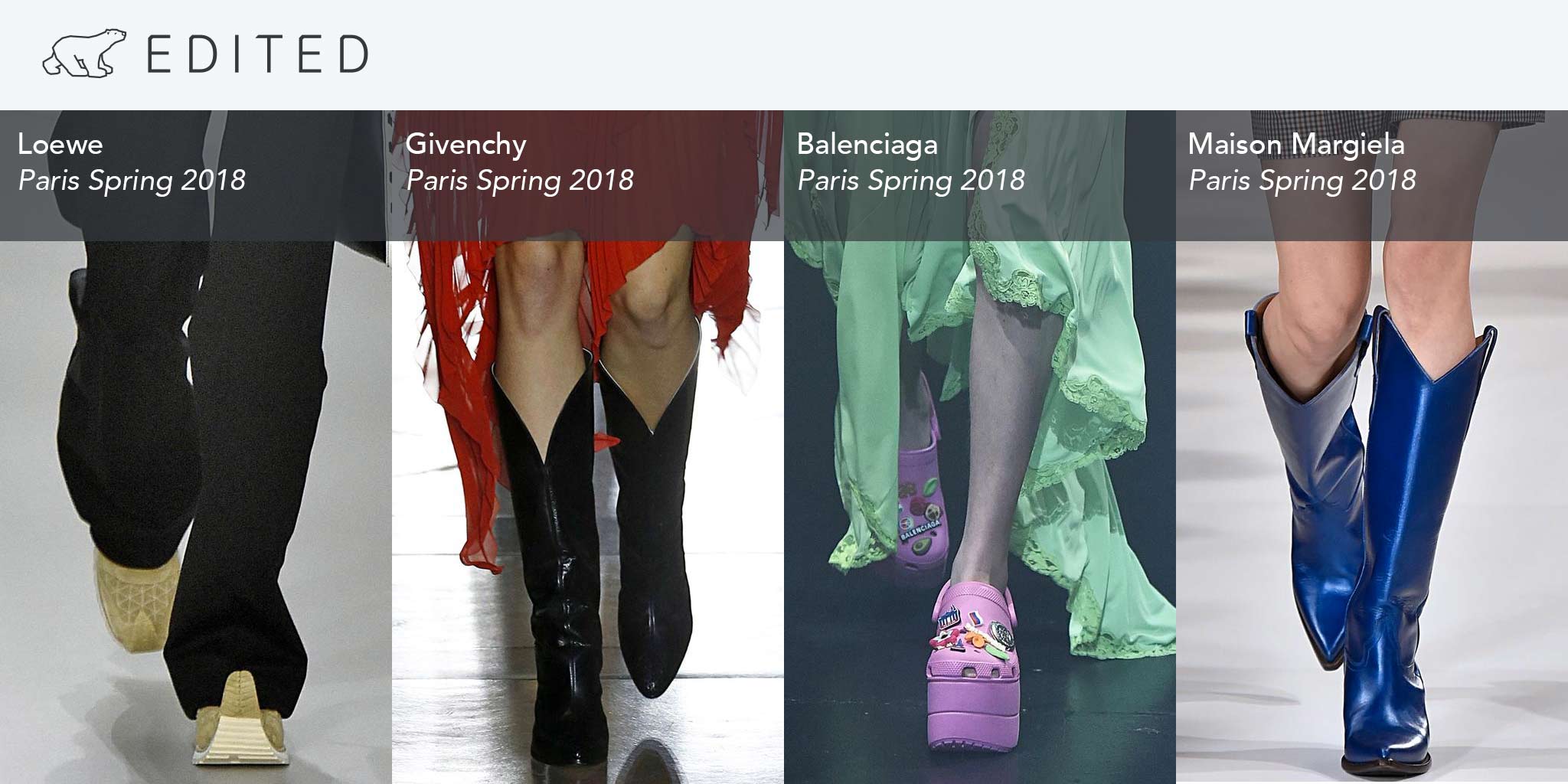 EDITED users, log in to view the full Paris analysis right here.
Curled-toe sneakers, deconstructed trench coats and a wintery print? Blame it on the Paris trends.