This week we teamed up with Ragtrader, Australia's leading fashion business magazine, for a special feature on Australian bloggers. We calculated the top bloggers, most talked about Australian fashion brands, and compared consumer sentiment towards national retailer, Sportsgirl, with international newcomers Zara and Topshop.
Top 5 Australian Bloggers: We analysed a number of important metrics, including frequency of posting, page ranking, how engaged their audience was and how influential they are via follows, referrals, links and mentions.





Incidentally, all of the top 5 hail from Melbourne! Following up in positions 6-10 were Dropstitch, The Sydney Girl, Zanita, Brigadeiro and Love More.
Top 5 Australian Brands: We tracked buzz throughout social media, including Twitter, Facebook and blogs, to determine the most talked about Australian fashion labels.





What people like: We compared the consumer sentiment towards the Australian retailer that topped our brand chart, Sportsgirl, to that of two international chains that are making moves to the region. Zara opened its first Australian store in Sydney this April and Topshop are set to open in Melbourne in December. The amount of positive feedback for these brands from overseas will keep local retailers on their toes!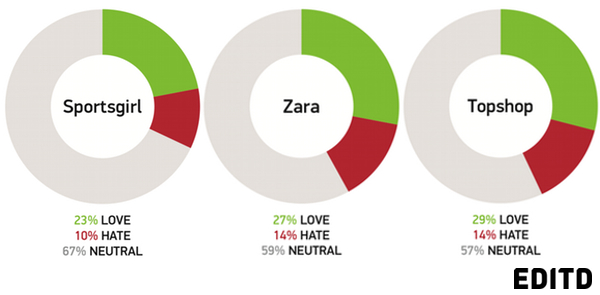 If you're in Australia, grab a copy of Ragtrader for even more insight!