If you're a menswear retailer, there are seven trends you need for Fall 2016. So let's meet them. And don't worry, they're not as unfamiliar as you might think…
In fact, there's a fair chance you already stock many of these pieces. That's cool, because you'll need them in your offering later in the year. But they will need some slight updates if they're going to top the best-of-the-year lists down the line. Here, we'll show you how to work newness into those familiar shapes to keep your menswear shoppers engaged.
Why include updates to established favorites in a new season trend list? Because they'll sell. Sure, there's fresher, crazier stuff coming through on the men's runways (we'll mention some of those at the end of this piece), but it's the seven items below that are sure to put you ahead of the competition at the register. Fix up, look sharp.
1. Bomber Jackets
These were a hit for Fall 2015, with bestsellers in shiny fabrics or color-blocked coming from Hilfiger, Forever 21 Men and ASOS. Bombers have officially displaced the denim jacket as the item most men can work into their wardrobes. The number of bombers arriving online at US and UK retailers for Fall 2015 grew by 48% from Fall 2014, and 15% of bombers currently available online have seen their price increase. Now sitting at an average price of a little more than $150.00, the premium market continues placing its faith in the style, accounting for 30% of product.
So what to update for Fall 2016? Military themes ran rife through the menswear shows, offering palette inspiration in khaki, forest green, navy and pewter. Look to those, or merge the lot with a camouflage print. Riffing on the military theme, Fall 2016 was a homage to inventive pockets. Update an existing shape with utility pockets and throw in some patches for good measure. There was also an increase in silk bombers and embroidery which will suit a more flamboyant shopper.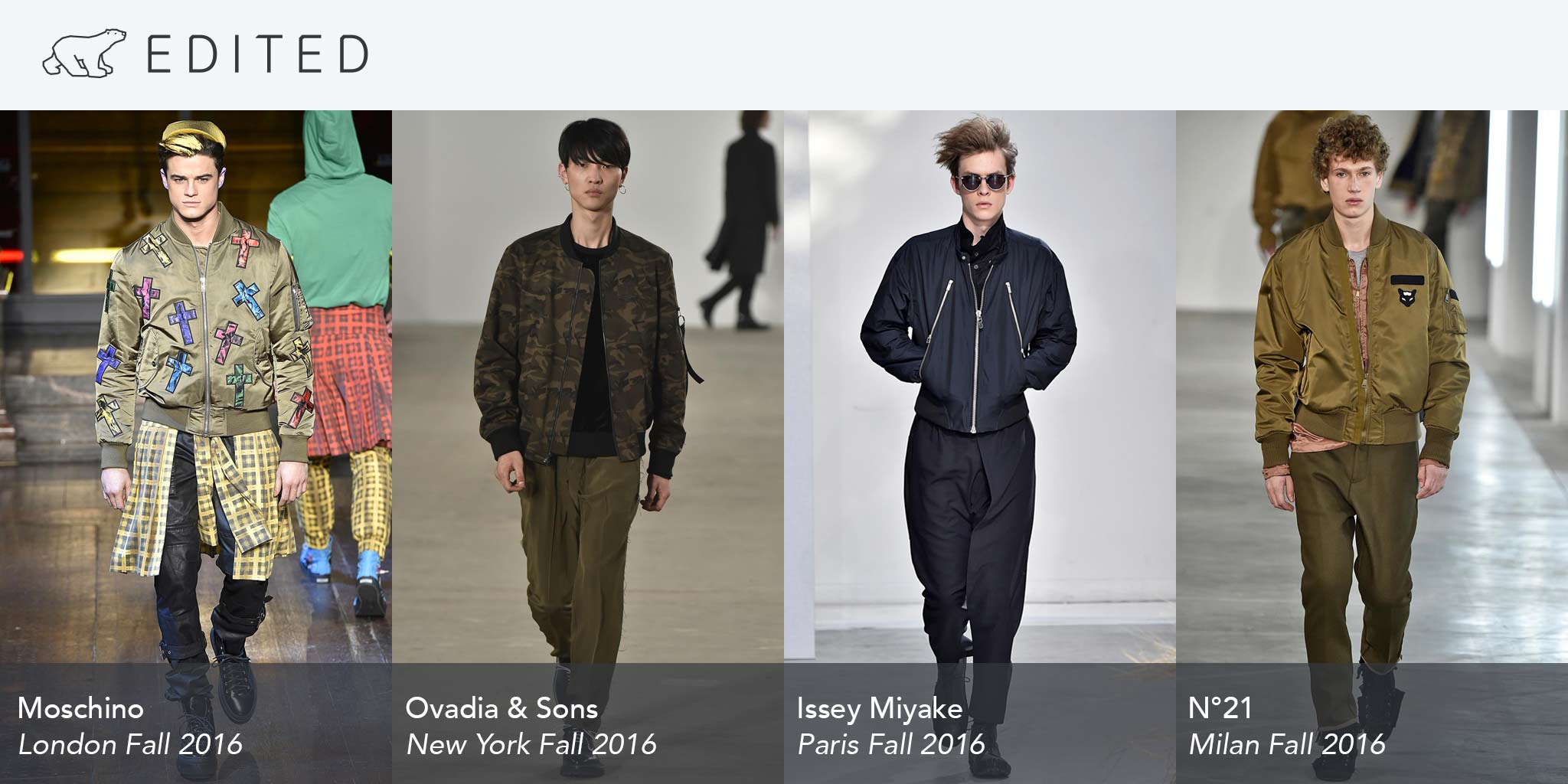 2. Sweatpants
Retailers can breathe a sigh of relief. The jogging pant is still en vogue for Fall 2016 – the shape sold spectacularly well in Fall 2015 for retailers at every market level. Boohoo Man, Hollister, Burberry and Helmut Lang all had bestsellers last season, with contrast panelling and grey cashmere pieces working so well they should be in your core offering by now.
For Fall 2016 those grey styles will continue to sell. Introduce newness by playing with proportion. Go super-slim cut to offer men a comfortable weekday option, or experiment with extra-wide cuts like at Astrid Anderson, or overlong so that the wearer has to ruck up. Neil Barrett's version introduced a pressed crease to the leg, as well as a fly fastening. Again, play with pocketry, run a geometric print down the sides like at Vivienne Westwood or offer alongside jersey and knitwear in a tonal palette for a clean update on athleisure á la Rochambeau and DBYD.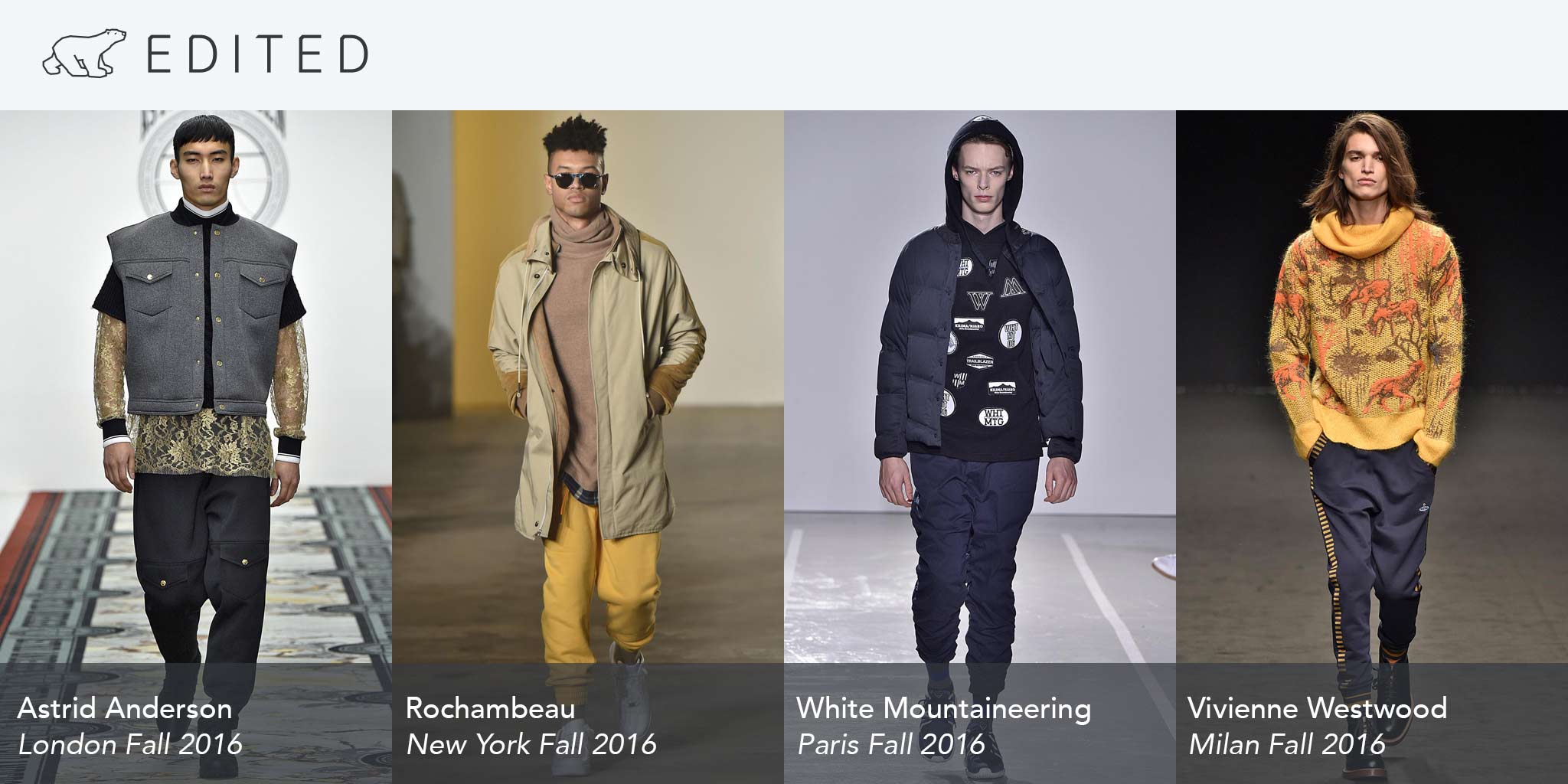 3. Oversized Knit
So this one feels a little newer, but be brave. Super-sized knitwear covered the catwalks of Raf Simons, Agi & Sam, Sibling and Issey Miyake. The majority featured roll necks, some exaggerated and others draped. There were also regular sweater shapes given new scale – boxy in cut and long in both body and sleeve. These knitwear items could be left plain to carry the new season's color messages, or bear strong graphic prints and patchwork.
Have fun with this item, it's a more budget-friendly way to tackle the overblown silhouette trend (the wide pants and maxed-out duvet coats from this story aren't as well placed for widespread adoption).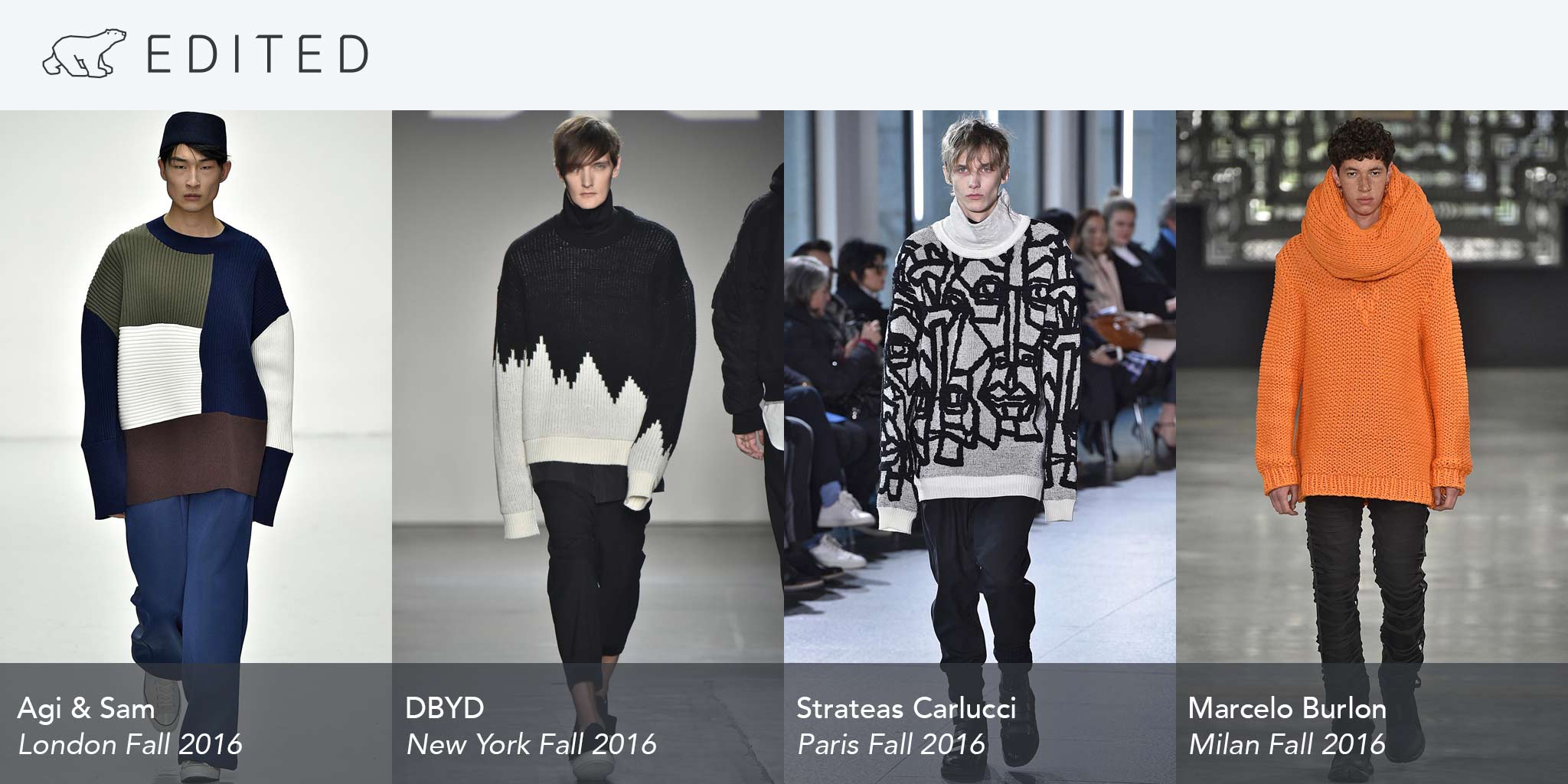 4. Longline Shirts
Maxi-length tees, which entered the market through skate brands, have sold well. Now cue the longline shirt. Topman, Fendi and Maharishi all put faith in this garment which was sometimes worn as the base layer, and other times as a sort of 'shacket' over roll neck tops. There's a small variety of this style currently online: ASOS introduced a red plaid Cheap Monday version for $95.00 just last week and a plain white style by Weekday from Fall 2015 had been reduced during January, but saw its price returned to full during men's fashion month!
Our advice? Use fabrics that already sell well: so plaids, windowpane checks, chambray and plain seasonal tones. Style the item with a bomber jacket and smartly cut jogging bottoms to offer men a contemporary casual look suited to many modern day workplaces. (Hi, EDITED menfolk, you listening?).
5. Knitted Cardigans
Grey cardigans sold well in Fall 2015 for Stone Island, Label J at Jacamo and Forever 21 Men. They're back for 2016 in a broader range of palettes and shapes. Raf Simons' baseball-inspired shape should be watched closely for the trend-led youth market. Shawl collared, longer line shapes will work well at premium price points in a muted palette. This piece will also bridge the weeks when unseasonably warm weather plagues the outerwear department.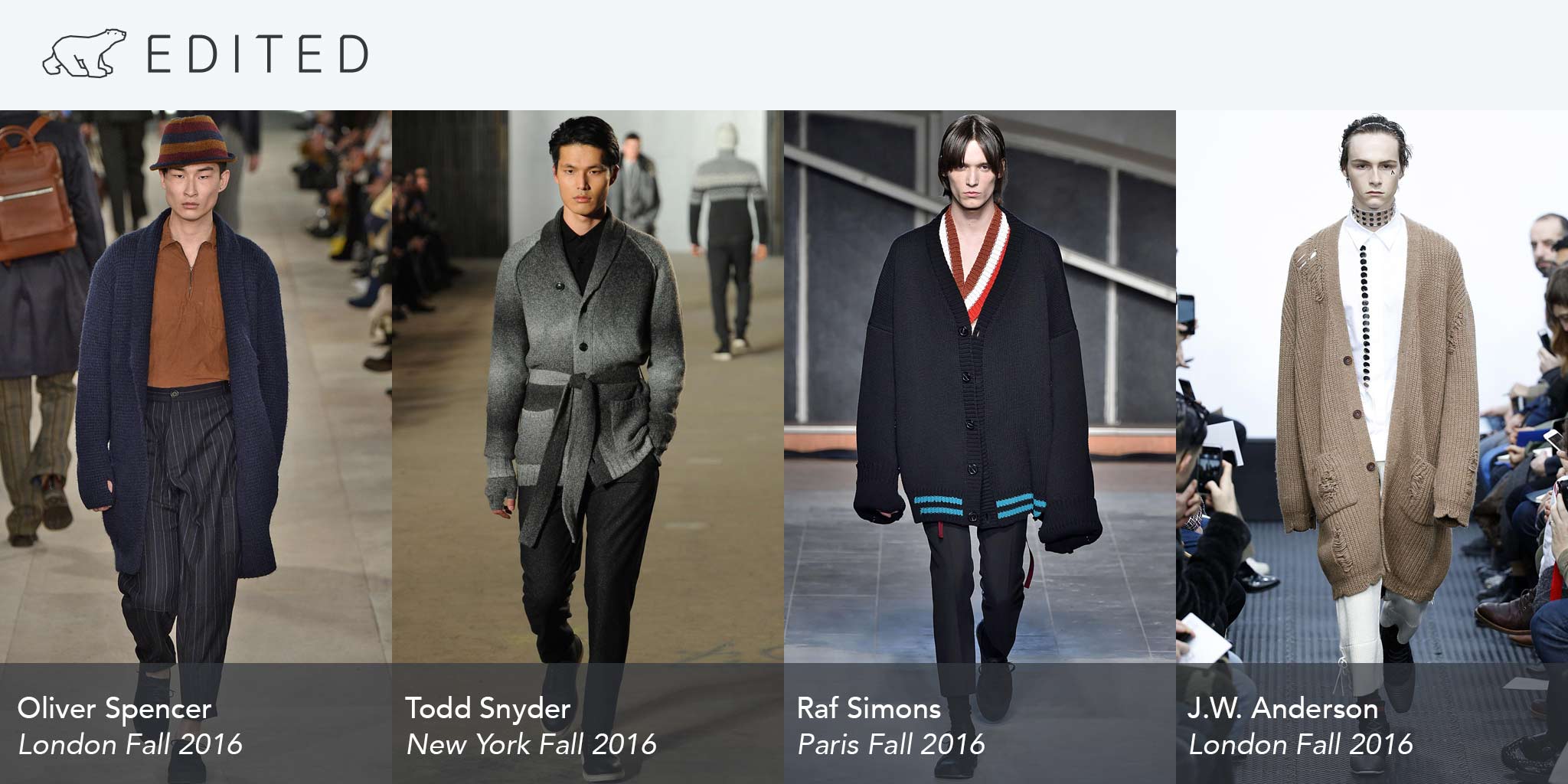 6. Hoodies
Statement sweaters move over (or at least, share shelf space): the hoody has had a fashion makeover. No longer condemned to the hungover, the sporty or the under-16, in Fall 2016 the hoody returns in earthy palettes, bearing large motifs or color-blocked. A supremely luxe version at Dries Van Noten featured large appliqué embroidered patches (that's your premium price point sorted) while DBYD's basics looked like the kind of item most retailers already carry. Update core pieces in longer lengths and carry in lightweight jersey for layering.
EDITED users might want to check out the recent performance of longline hoodies at ASOS, Very and Boohoo.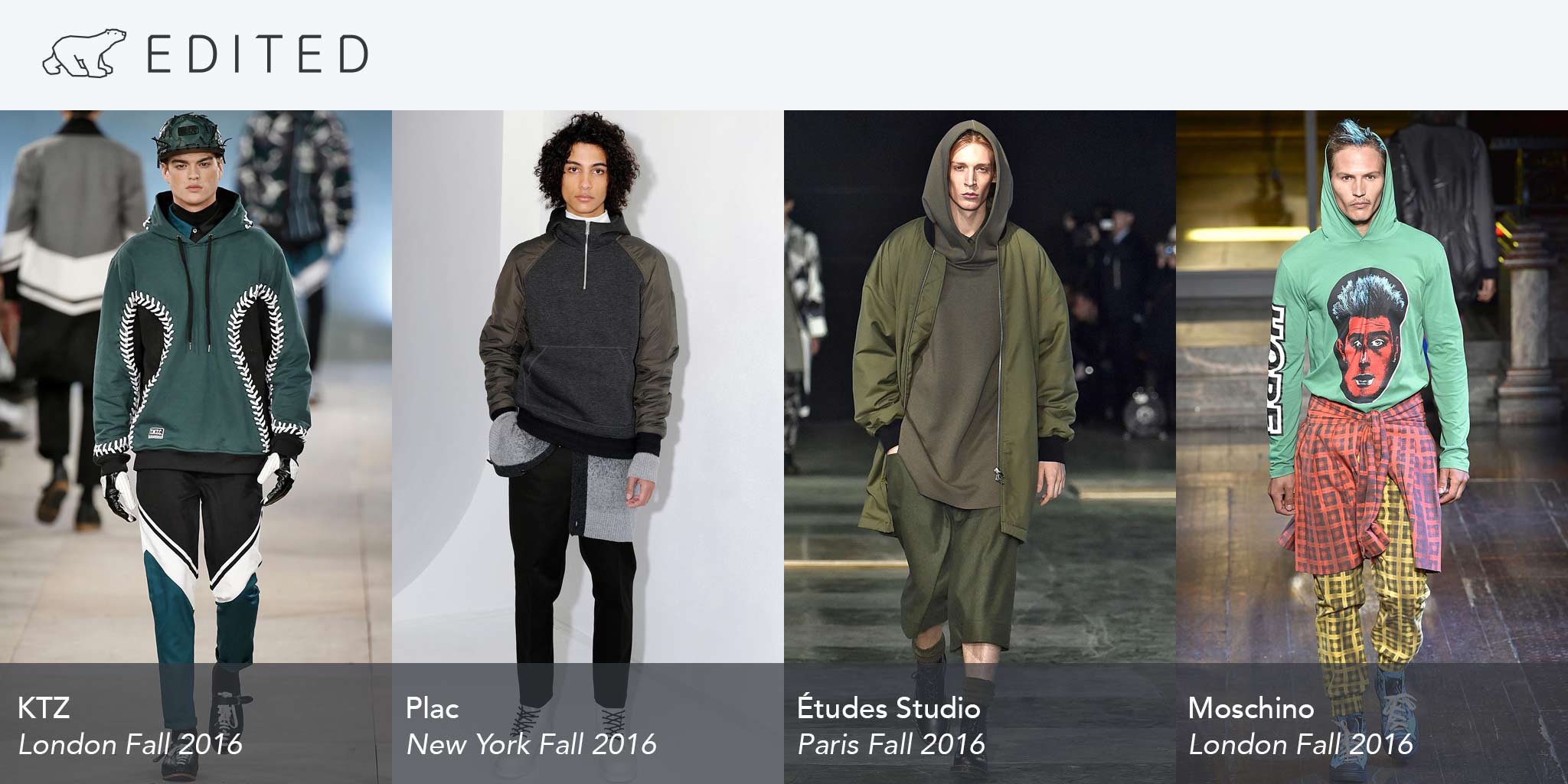 7. Greatcoats
They're called greatcoats for a reason. Boy, do they command some attention. Now let's be clear: this shape is never going to shift as many units as the bomber or the sweatpants. But you need it in your Fall 2016 arsenal to appeal to the discerning male shopper in deep winter. Stick to a strictly uniform palette and pare decoration back to a minimum or you'll be facing big reductions. Military buttons or piped cuff at most. Dropped shoulders and a double-breasted fastening are a must. See Calvin Klein's exemplary piece. Why the greatcoat? There's a slouchier, more languid look coming through in menswear, which the mass market won't be ready for yet. Warm shoppers up to louche proportions and you'll both have more room to manoeuvre in 2017.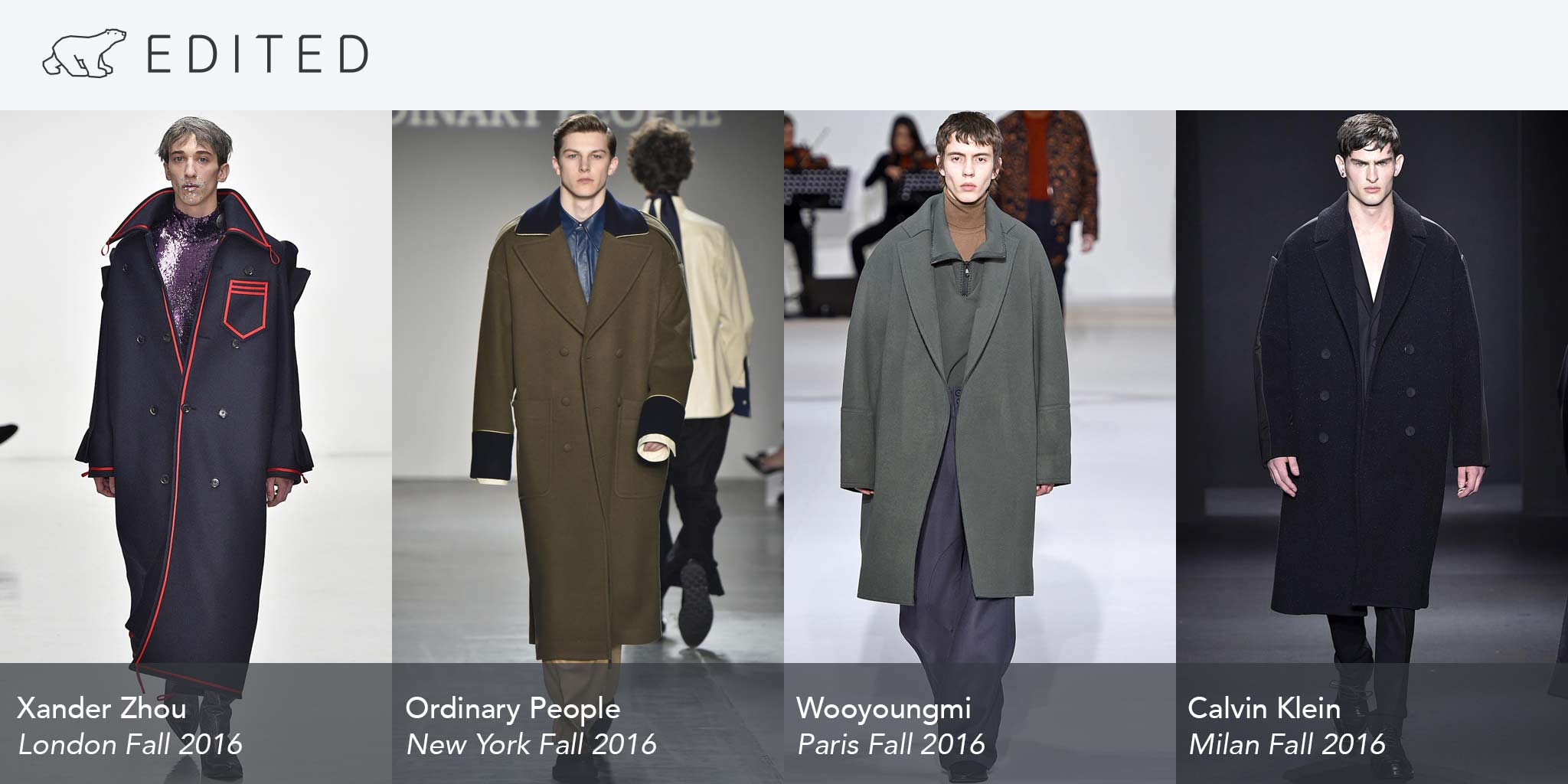 We promised you some hints of the more radical trends coming off the men's runways. There's a whole bunch of new crazy you can add in: extra wide tailored pants, 70s prints, patchworks, velvets and jacquards, very long padded coats, pyjama shirts, fun fur, sleeveless outerwear and exaggerated quilting worked into vests, pants and sweaters. EDITED users, log in today to read the menswear trend reports in more depth.