Last month the German discount grocer Lidl announced the impending arrival of its first-ever activewear line, a move so evenly tempered with practical sense and commercial opportunism that to many, it came as no surprise.
After all, activewear is hugely popular and Lidl is among the greats in taking hugely popular things and making them available at industry-beating prices.
But there's a subtext here that goes deeper than just 'German discount retailer chases activewear payday'. It plays into a much larger trend throughout the UK, one that's managed to generate huge sales while staying largely under the radar.
At supermarket chains across the UK, own-brand apparel sales are booming. Driven by a total commitment to functional-yet-relevant assortments that have elevated the product but—crucially—not the price, the likes of Asda's George, Sainsbury's TU and Tesco's F&F are headed for billions in annual apparel sales. Here are the five pillars on which that success has been built.
1. They're unbeatable on price
Style may be getting a louder voice in supermarket apparel, but price is still the almighty gavel. At supermarkets product needs to be useful and look good, but they also need to be an easily justified purchase, not a bank-breaking decision. Something customers can see, want and afford at the same time.
F&F and TU both know that. They focus their efforts on the £8-10 ($11.50-14.50) price bracket, where 15.4% of F&F's offering and 20% of TU's sits. George undercuts both, putting most of its focus on the £4-6 ($5.80-8.70) bracket, where 23% of its offering lies.
The wow-factor really lands when you compare it to the UK mass market where 2% of products are priced £4-6 and 4% between £8 and £10. In fact, the general UK mass market has only 9.6% of its offering beneath £10 ($14.50) while it's 55% at Tu, 58% at F&F and 72% at George. Nowhere are there so many products available for so little.
Supermarket fashion: nowhere are there so many products available for so little.
2. They're hyper-relevant to consumers
Supermarket retailers know better than most what their customers want, and when they want it. In addition to the sheer volume of daily shoppers generating a heap of incredibly valuable behavioural data, supermarkets also have data-rich loyalty programmes that stretch back as far as 20 years at Sainsbury's and 21 years at Tesco. And they cover more than half of the adult population. Consider this: there are 61.4 million adults in the UK, and 36 million of them have either a Nectar or a Tesco loyalty card. Or both. Gold mine.
And all the data flows back downhill and forms the foundation of crucial promotional and discounting decisions.
At time of writing, F&F are promoting a holiday shop and Father's Day on their homepage, Sainsbury's were pushing football kits ahead of the Euros and George has their Umbro product and a school shop as half term has drawn to a close. With Coachella's undeniable commercial sway and Glastonbury on its heels, both Sainsbury's and Tesco also have festival edits.
At first it may seem striking how attuned supermarket retailers are to our daily lives, but when considering all the customer insight at their disposal, the questions becomes, 'how could they not be?'
3. They're champions of constant newness
By nature, supermarket retailers keep things fresh. In the last six months, Tesco have introduced close to 9,000 new apparel products and Asda more than 8,000. That's more than specialty retailers like Mango, Urban Outfitters and Matalan. In fact, it's probably more than the total amount of bananas they put in stores too.
Sainsburys come in with fewer items, but it's still more than 5,000 new products in the last six months. More than Gap and far more than Uniqlo, both of whom are also going after the family pound.
Tesco have introduced close to 9,000 apparel products in the last 6 months.
4. They've got smart, all-encompassing assortments
These retailers have all bases covered, wetsuits included. All three of the supermarket giants have 'character shops' that stock licensed clothing, sleepwear and costumes featuring Marvel characters, cartoon animals and Frozen everything. Anyone with a child, or just anyone who has met one or walked past one in the last three years knows there's this thing called Frozen and it's everything.
Tesco stocks brands including Pumpkin Patch, Speedo and Trespass and Asda now does with their recent Umbro deal. Sainsbury's has its perfectly-placed collaboration with Gok. A £28 ($40.50) pair of jeans from that collection sells every second.
All three retailers also give lingerie its own section on their websites. A wise choice considering it's a market valued at $110 billion.
Sainsbury's run their women's sizes up to 24, while Tesco and Asda have dedicated plus size offerings in womenswear, running to size 26 and 32 respectively, and 'Big & Tall' offerings in menswear. Menswear in general does get a little overlooked – accounting for between 15-19% of the supermarket retailers' apparel offering.
For the most part, the three retailers are of a singular mind when it comes to category emphasis. Tops make up 31% of the TU collection, 30% of the George collection and 27% of F&F. Price point decrees that outerwear falls lower in the retailers' priorities (between 2.8% and 4.1%) than it does elsewhere in UK retail, but the emphasis on underwear and nightwear wins this back. In fact, they've been the top two performing categories at George in the last three months.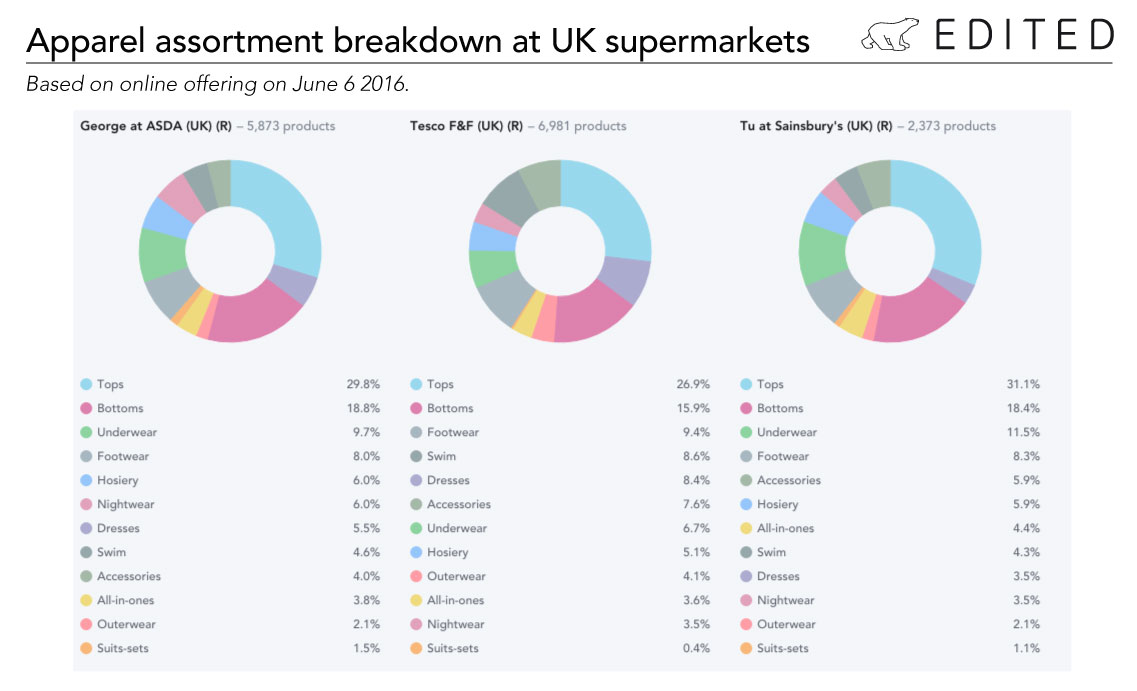 5. They've got timely products
Thanks to the large orders they place, all three retailers have a great selection of prints across womenswear and childrenswear. Trend-led, colourful and attention grabbing garments that will steer your trolley away from the baked beans.
At Asda, assorted packs offer great value to the shopper. A pack of five frill-trimmed girl's tees will cost you £10. Five boys school shirts just £7.50 ($10.85). Denim is one of the most hotly contested categories. For a pair of women's jeans, Asda average £14.86 ($21.50), Sainsbury's £16.94 ($24.51) and Tesco £19.41 ($28.09).It's even closer in men's and the difference comes down to pence for kids' jeans, averaging around £7.50 ($10.85) a pair.
Tesco have the most trend-led offering, with culottes, shirt dresses and dungarees for women, boat shoes, Harringtons and bomber jackets for men. Their £15 ($21.70) floral print, cold-shoulder dress could be Spring 2016 Erdem, at a push. Well, a shove. But that also means they have to discount more – 30% of their current offering is reduced by an average of 46%. Asda have just 10% and Sainsbury's 6.5% of their offering currently reduced. Asda are excellent at replenishing, bringing 14% of sold out product back into stock.
It's clear from the data that the three biggest supermarket retailers are not only fast, price-driven and trend-savvy, but they're successful too. Morrison's recent launch of childrenswear range Nutmeg has got some pretty fierce competition. Anyone entering this space had better develop the five critical supermarket superpowers quick. Hey, Lidl we're talking to you.
Here's a selection of supermarket best-sellers this year:
To see more about how to spot fast moving products or understand competitor strategies, click here.