It's a word that has been circulating the media, press and all over the web – sustainability.
Brands are highlighting why sustainability is crucial to their business strategy. TV documentaries show the effects of unsustainability. It's easy to see, consumers are becoming increasingly informed and educated on why we should clean up our fast fashion lifestyles.
Sustainable apparel is up 139% in two years, and vegan products are up 116%. Meanwhile, 'eco' and 'bamboo' have fallen.
Blogger, Bryan Yambao, known as @byranboy recently flagged that "There's nothing sustainable about creating something new en masse. Just stop. Please. You wanna know what's sustainable? Wearing your old damn clothes, that's what. Bye." We've already explored the fashion industry's progress in sustainability here. With this said, it leads to a more extensive discussion on why more of us are wearing other peoples old clothes. Yep, you heard it right. Secondary market behaviour is something consumers are moving towards in multiple forms – from reselling, recycling, gifting, swapping and reusing. The second-hand industry is becoming one of the largest growing consumer segments. The idea of a revolving wardrobe is becoming more widely adopted. Especially with Gen Z, more of us are becoming closet entrepreneurs. GreenMatch (an online service set to link consumers with green energy products) recently published a study showing that "72 percent of Gen Z would spend more money on a service if it was sustainably produced" and have a "strong preference to switching to brands who take sustainable initiatives."
"Second-hand fashion is set to become a bigger market than luxury by 2022."
So, what does this mean?
EDITED's data shows us from the last three years that there's a big increase in apparel products described as having sustainability attributes.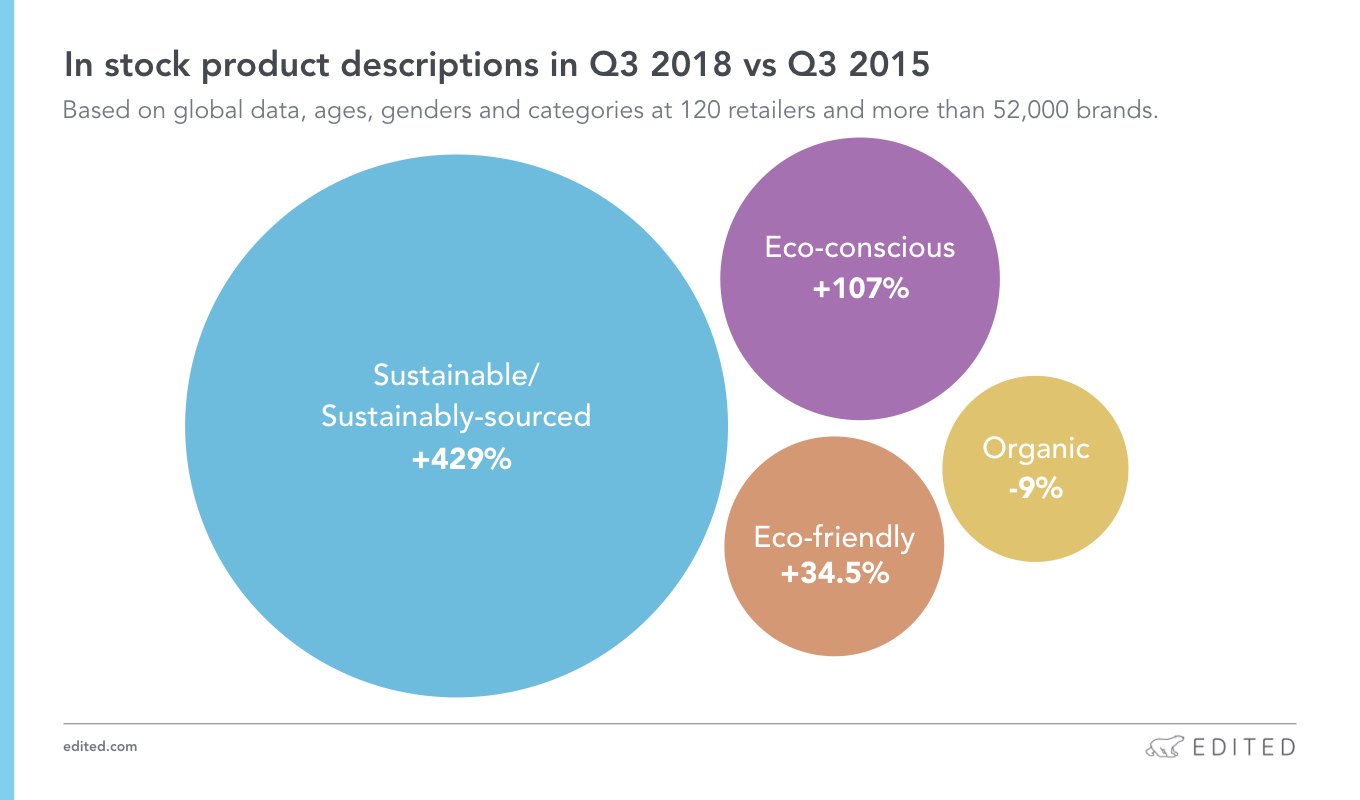 The pack leaders
Resale and P2P marketplaces such as Depop, Vestiaire Collective and The RealReal encourage consumers to shop, sell and swap pre-owned items. Recently, Vestiaire Collective teamed up with Selfridges to create a pop-up store. Letting consumers buy and sell pre-owned luxury items discourages waste and promotes sustainability. All while making a quick buck.
The RealReal X Stella McCartney is another high-profile collaboration to reduce disposable consumer patterns. "The Future of Fashion is Circular" campaign encourages consumers to purchase quality, sustainable clothing that retains value and then resell it to consignment marketplaces to expand its lifespan, avoiding landfill or an incinerator.
So, what next for sustainability?
The world of resale is creating an extended lifecycle for all clothes. So if consumers aren't buying as frequently, what does this mean for traditional retail? The good news is, Gen Z is open to spending more money on things that are sustainably produced. Choosing ethical materials and practices alongside clear labelling advertising the fact is an easy win. Another factor for retail is governmental regulation on environmental impact. This week alone the UK's Environmental Audit Committee called on leading fast fashion players for evidence of the steps they are taking to reduce their carbon, resource use and water footprint along with monitoring ethics. Soon, the fine print on the inside label won't be enough. Want to know more? Take a look at our unpacking sustainability 2018 webinar here.
Want to know more about how EDITED can help your business?
Request a live demo with one of our product specialists. GET A DEMO →