Most consumers can identify symptoms of global warming in their own lives. So what's holding brands and retailers back when it comes to sustainable fashion?
In our first article, we talked about the need for industry change. Unfortunately, going about it is incredibly tricky. After all, this is an industry set up on persuading people they need new things.
Here are just some of the things universally holding retailers up:
Why achieving sustainability is hard
The supply chain in fashion can be vast and complex. Achieving transparency and visibility across it can be a logistical nightmare. Cheaper manufacture in Asia has deskilled alternative sites closer to retail destination.

Consumers like color – especially right now when saturated colors are big. But achieving color-fastness strength uses toxic dyes. There are natural dyes like pomegranate, indigo, rhubarb and turmeric, but they're not suited to mass market.
The minimum order quantities on sustainable fabrics are much higher because demand is low. Retailers have to combat this by using across ranges and lines, keeping a narrow fabric library.
There's simply less selection out there in terms of fabrics and trims with which to be creative with.
There's great fear of experimenting with new things that end up being not-sustainable and damaging to brand image.
How to stay competitively priced. Retailers need their eyes on the market more than ever before.
With online commerce booming, freight and packaging are unavoidable. The industry needs better options to counter this growth.
Thankfully, there are a handful of brave brands and retailers who haven't let these problems hold them back, and there's so much the rest of the industry can learn from them.
The sustainability leaders
While a small brand can reach a targeted audience who cares deeply about sustainability, scaling that is a huge undertaking. These global brands are proof that it can be done – we applaud you!
Top Brands
Eileen Fisher not only committed to use 100% organic fabrics in its 2020 Vision, but it is a pioneering force in circular fashion. The brand designs its apparel to last and when it does wear out, takes back clothing from customers for its Renew line, repairing and remaking old clothes into something new.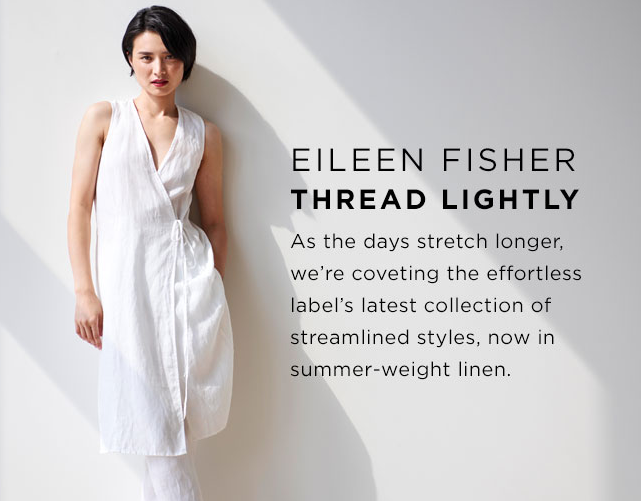 Reformation has the girl-about-town (and her mini-me daughter) covered, with it's straight-up tag line "Being naked is the #1 most sustainable option. We're #2". Party dresses and denim galore, Reformation has recently paired with sustainable activewear brand, Girlfriend Collective as well as launched a partnership with resale site Depop, closing the loop on their product.
Everlane's commitment to transparency of supply chain is unparalleled, and while there's room for improvement, this ethos is embedded in the business, so progress will hopefully be second nature. Even the steady rate at which Everlane introduces new products is rooted in sustainability – really considering what the consumer needs in their lives rather than what will get them a fast sell through.
The specialist
Patagonia has cornered the active market who love the outdoors. Sure, nature-lovers might not be the hardest segment to convert to sustainability. But the brand's ethos that clothes should be built to last (even down to their ground-breaking 'Don't buy this jacket' campaign of 2010) is truly refreshing. And these guys truly mean it – politics sit at the heart of its marketing message.
Best in the sustainability biz? Eileen Fisher, Patagonia, Everlane, Reformation, Nike and Stella McCartney get our votes.
The luxury champ
Stella McCartney wears the crown for sustainable luxury, showing you can build a solid leather goods business…without using leather. The brand doesn't ram its process down customer's throats, instead spinning the high fashion narrative with a side of sustainable. A popular kidswear line and the recent addition of recycled-poly yoga wear are smart moves.
Also worthy of a mention is Nike – it has set a mission to double its business while halving environmental impact. Its innovations with Flyknit actually aids this, with 60% less wastage than traditional flat pattern production as the fabric is literally knitted. And Flyleather uses 90% less water and has a 90% lower carbon footprint whilst being five times more durable and 40% lighter than regular leather.
Top EDITED tip: If you have EDITED access, search the Visual Merchandising database for key sustainability terms to see which retailers are talking more about organic cotton, or who has added a sustainable section to their homepage.
Not every brand is able to speak to an outdoorsy consumer and certainly not every consumer is ready to pay an elevated price point for better quality. And apart from some hardcore Marie Kondo-ers, consumers aren't yet ready to have a streamlined existence. You don't want to find yourself preaching to an unengaged consumer about values they're not fully committed to.
Stella McCartney and Reformation are great examples of how putting fashion first doesn't have to come at the cost of the planet. Gentle education with an aesthetic that speaks to consumers' current lives is the best way to move towards the future.