'Tis the season of giving, and boy have we got one hell of a present for brands and retailers.
We've just released incredibly powerful new software that changes the way we're able to use historic data. Before, retailers were able to browse the past by the products that arrived, sold out or were discounted in a certain period. Now they can see absolutely everything that was in stock during any given period.
It sounds simple, and on the front end it now is – beautifully so! But it's a different way of storing and displaying the data we've gathered and that's something our team of engineers has been working towards for a long time. So, hats off to them, yet again.
But, enough about the nuts and bolts of the thing – the real joy in it for us is the insights we're suddenly able to access at the click of a button. Ahead of next week's crazy discounting rampage I took a moment to test some things out. Things that you should look over, too.
1. The kids are gaining ground
The waves of mini-me looks shared across Instagram hint at renewed interest in childrenswear trends, but it's great to get a data read to show facts behind the trend.
Comparing the US and UK markets, across 56 major retailers and four years, shows that childrenswear claimed 4% of the overall apparel and footwear market.
In the last four years, childrenswear has stolen 4% market share from men's and womenswear.
Kidswear took market share from both women's and menswear and made its biggest jump in 2015. Keep your eyes on those little nippers!
2. Not all categories have grown at the same pace
Online is getting bigger and bigger: there's been a 13.7% increase in the size of the market this year (with six weeks still to go) compared to 2014. But not everything is growing equally.
Below we can see the quarterly growth across The Big Three – the leading retail categories of tops, accessories and footwear.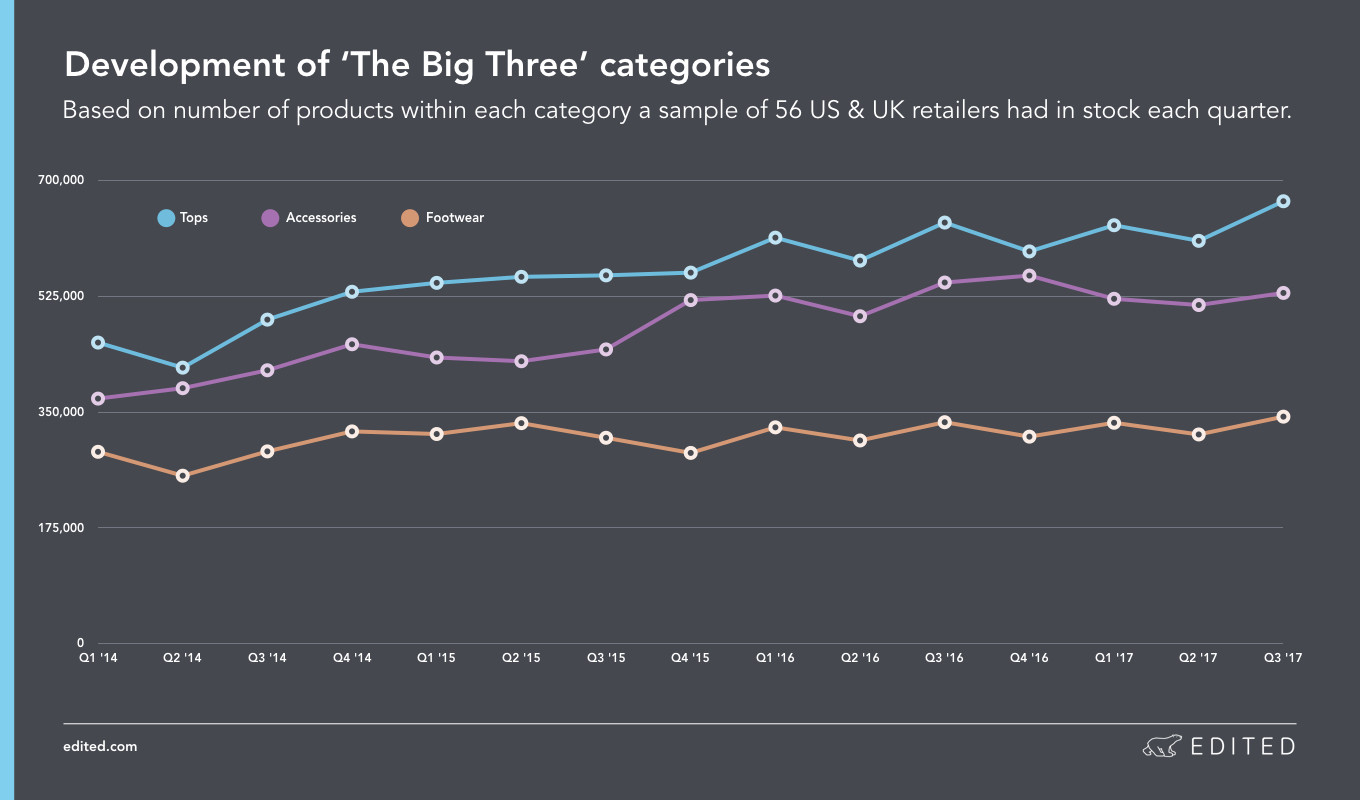 Growth in tops outpaces the two other categories, increasing by 47% in Q3 this year, compared to Q1 2014.

Accessories have grown by 43% and footwear by 18%. Retailers need this kind of information. You can't blindly push cross-category growth – look before you jump!
3. US department stores hold back on footwear
Drill deeper on category growth and shrinkage and you'll see that US department stores are doing an about-turn on some categories.
We took a look at three of the biggest–Macy's, Neiman Marcus and Nordstrom–to see how SKU levels had changed over the years. The big takeaway here was how much these department retailers have been unanimous in backing away from certain categories since 2014.
For one, footwear. Looking at its weighting within the assortment as a percentage, we can see that Macy's took 7.4% away from footwear, Neiman Marcus trimmed its footwear share back 6% and Nordstrom 3.2%.
Neiman Marcus and Nordstrom also stripped back on accessories. At Neiman Marcus, accessories went from being 30.3% of the assortment to 25.6%. At Nordstrom the category was peeled back from being 24.3% and now stands at 21.3%.
Meanwhile, Macy's have ramped up this category significantly – up from 18.2% to 32.3% of the assortment. This tactic is probably helping the retailer secure entry price purchases in tough times, but won't help longterm.
4. Denim is in the process of being revitalized
It's safe to say skinny jeans are losing market share. But as is the case with any trend that's had a 10-year commercial stronghold, it's not fading that quickly.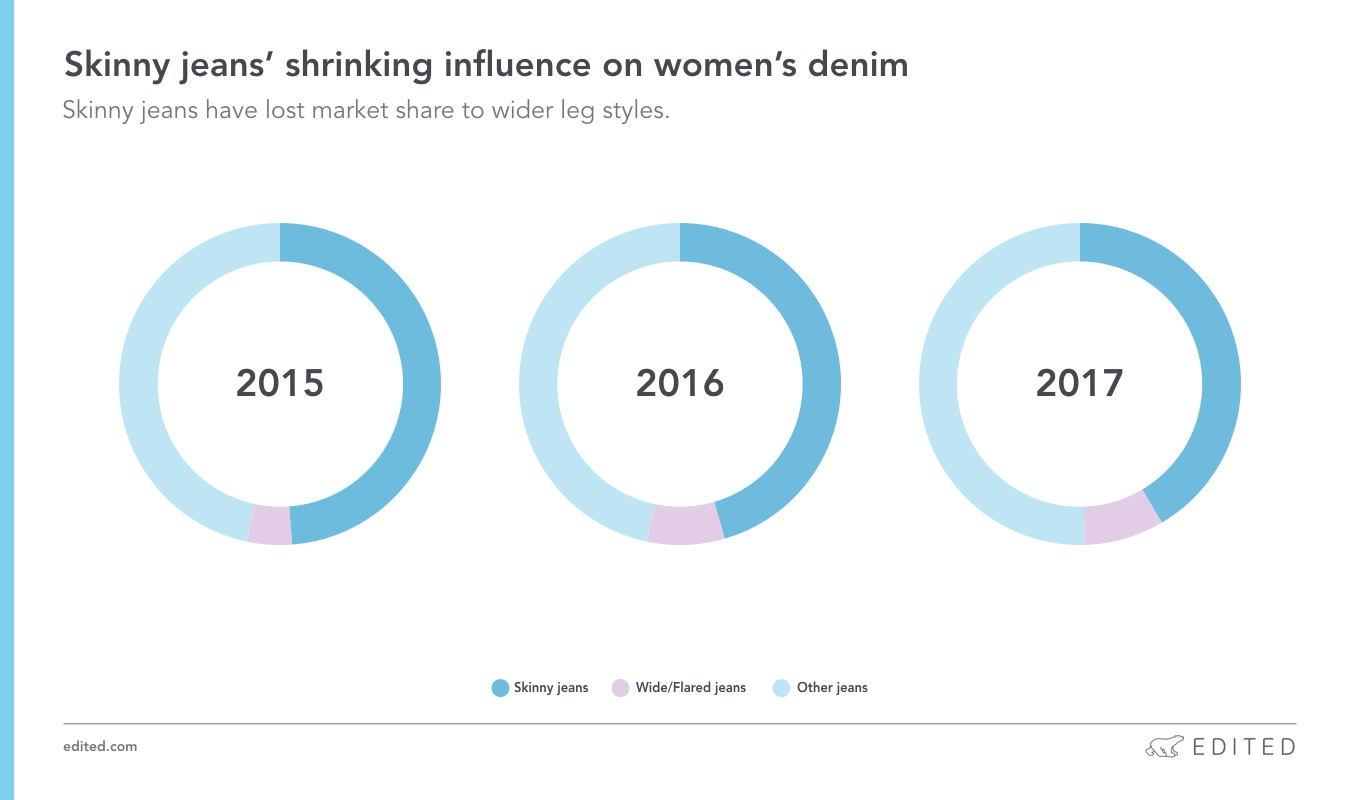 We can see that not only are wider leg styles gaining ground, but that other styles of jeans are also stealing from skinny's market grip. What do they include? Things like cropped, super-ripped, patchwork and even ruffled (Citizens of Humanity).
5. Fast fashion is getting darker
Next up I took a look at how color has changed over the years, viewing all womenswear in stock in Q3 2014 against Q3 2017 at fast fashion retailers Boohoo, Forever 21, H&M and Zara.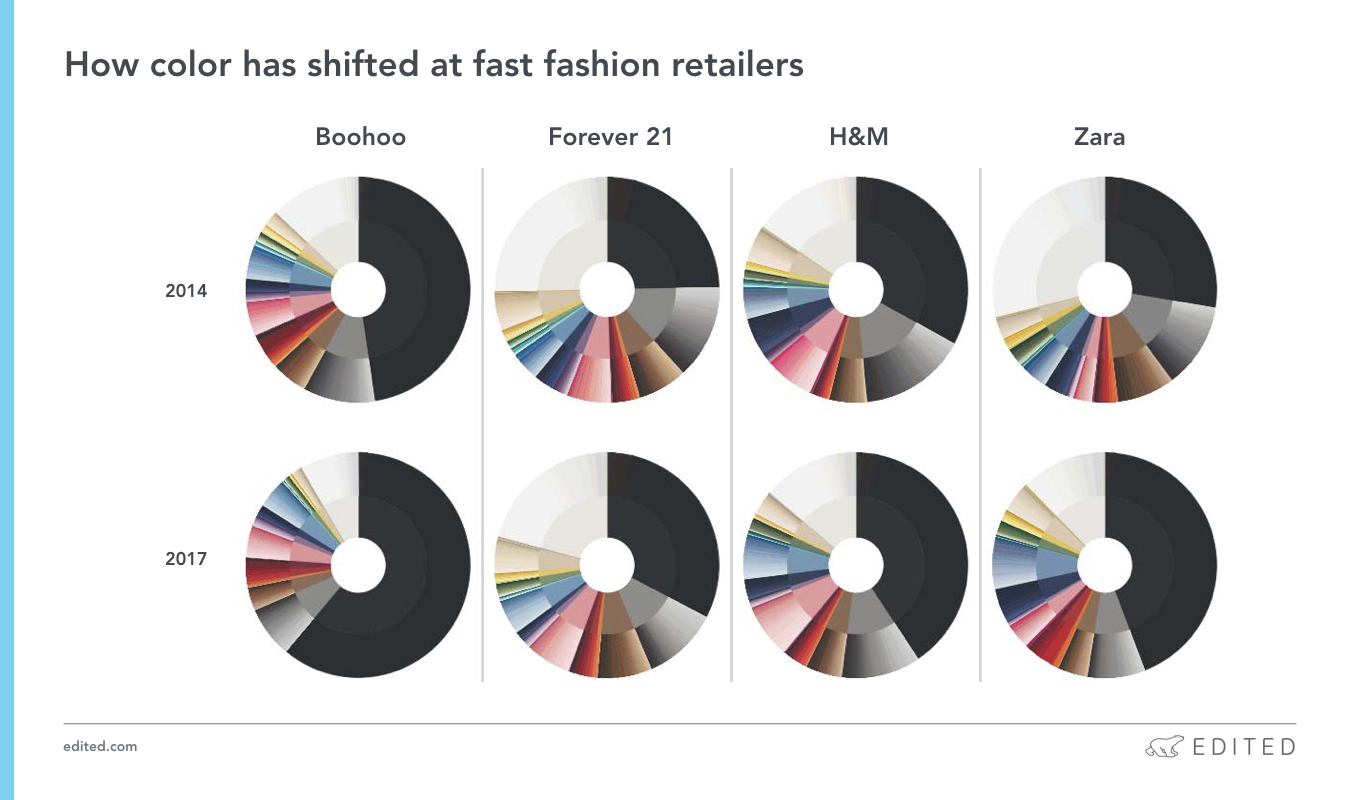 It's fascinating to see how the black portion of the segment has grown dramatically since 2014. Overall the four retailers had grown assortment 92% in three years. But the portion of black apparel had grown exponentially – by 269% at Boohoo, 145% at Zara, 114% at H&M and 89% at Forever 21.
Why has that happened? Well sure, there's more gothic trends around for Fall 2017 and this is a market that would be particularly impacted by that.
But the underlying shift is that as fast fashion retailers have matured, they've built out all categories (and improved manufacture) and communicated to their shoppers they're there for more than just 'night on the town' apparel.
Adding in a wider array of day-to-day stuff means customers now shop with fast fashion retailers for basics, workwear, weekend clothing and occasionwear, which calls for more evergreen palettes.
6. Pricing is on the up
This last point will probably not come as a surprise to anyone in the business of manufacture: products are getting more expensive. However, luxury pricing is growing faster than the competitive mass market.
In luxury, a basket average across seven categories is up 15.4% this year compared to 2014. On the mass market, the same has only grown 4.5% in price.
These findings are just the tip of the iceberg as far as the new functionality goes. Want to have a go at your own investigative work? Talk to us today.