Every new season, designers send armies of models down the runways optimistically dressed in garments they hope will be intriguing and relevant to press and consumers. For all commercial labels from Alberta Ferretti to Stella McCartney, the ultimate goal is sales – tapping into, or pre-empting the next trend is critical in the survival of a fashion business. Today, we look back at our Fall 2014 analysis, where we identified the runway trends which data showed would be hits this season. Let's see if those trends have been actualized.

1. Statement Outerwear
Featuring in three of the Fall's 10 key trends, in oversized forms, multi-coloured furs and extreme texture, outerwear is a major component this season. Retailers have shifted the emphasis of their assortments accordingly. Net-a-Porter have grown the number of outerwear products they've dropped in the six weeks since start of September by a staggering 117% compared to 2013. They've invested in the colorful furs from Topshop Unique, Marni and Gucci.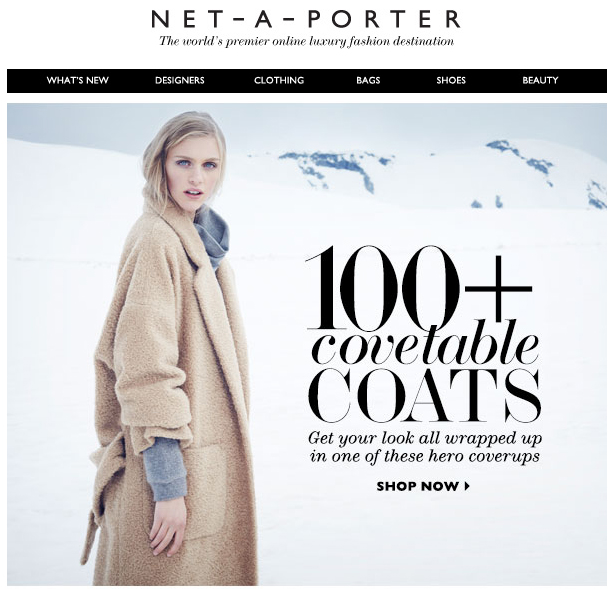 The number of new pieces of oversized outerwear, which was also a trend for Fall 2013, grew by 40% during September 2014 compared to last year, whilst October looks set to match 2013's figures. Retailers invested in the trend earlier this year, with the confidence from last year's sales to support them. The high average price point of $623 is explained by 47% of oversized outerwear garments being within the luxury market. The mass market trails behind with just 24% of products. Luxury retailers are promoting the trend heavily in their marketing and communications too – with these investment pieces consumers plan ahead, so moving stock in the first two months of Fall will prevent costly mark downs.
Texture and multi-colored fur are both selling fast in the outerwear category, and across the mass market and luxury. Topshop Unique's $1,606 shearling coat first arrived at Net-a-Porter on the 25th September and has already been restocked. In the mass market, Marks & Spencer's $127 lilac faux fur coat from their Twiggy collaboration had sold out in the majority of sizes within ten days of its 3rd September arrival, and has subsequently been restocked. Fur and fake fur, in use across all apparel, is one of the Fall trends with the biggest growth. If October's new arrivals continue at the rate we've seen up to 16th October, the trend looks set to have beaten last year by 83%. The average price of fur or faux fur apparel on the market is currently $128, with the mass market representing 53% of products.
2. Strides ahead
Wide legged trousers are the Fall trend with the biggest growth – if October's activity continues at the current rate, new products will have grown by 115% compared to October 2013. Powering this trend is the success of culottes during summer – rates of newness were high during March, April, May and July, then dipped for September.
Retailer shouldn't be deterred though – high rates of newness so far in October, and continued presence on the Spring 2015 runways in September show that this is a major commercial movement – a drop between seasons was critical to move consumers into the new season's version of culottes and wide-legged pants. The luxury market accounts for 31% of wide-legged pants and culottes, and garments are selling incredibly well here. Culottes by 1205, Michael Kors and Topshop Unique all sold fast during September, and wide denim styles sold well for Tu Es Mon Tresor, Ostwald Helgason and Marc by Marc Jacobs. Trend-led mass market retailers will see success here as their fashion-forward consumers are informed by luxury. It will be a slower burn for non-trend mass market – but persevere because this trend is not dropping off the radar. In the meantime, looser legged printed trousers and jogging bottoms are working well and warming consumers up to untap future success.
3. Turtlenecks
Roll necks and turtlenecks are on course for an 89% growth in new products this October compared to one year ago. With an average price of $96.06, the luxury market represents 32% of products currently online. This trend started picking up between July and September as a good layering item that represent newness for the season ahead. Selling well in luxury is turtlenecked sweater dresses – having arrived into stores for the new season, styles from Alexander McQueen, Acne, Dion Lee and Opening Ceremony all sold fast during September.
4. Leopard print
Leopard print is one of Fall's most-stocked trends, yet it has a slower growth rate – set to be up just 4.5% in October from one year ago. This is trend safe-territory, retailers won't have needed to buy close to season for this print as there's now enough encouraging data to order with confidence.
5. Embellishment
Spectacular embellishment on dresses, tops and outerwear was all over the Fall 2014 runways – shown by Chloé, Erdem and Carven amongst many others. While there was 40% growth in new products this September compared to 2013, we're expecting this trend to peak during November and December as we head towards the opulent party season. With an average price point of $127.56, and a healthy product distribution of 45% mass market and 27% luxury market, this trend should start to appear in retailers marketing, communications and promotions in the next four weeks.
6. Retro themes
The 60s and 70s were prevalent on the Fall 2014 runways, backed most boldly by Gucci. From the retro references, the most successful garment so far this season are shift and mini dresses, which have been a big hit within luxury. Gucci's mini dresses have sold well and are joined by successful products from Carven and Valentino. With trends set more decisively to the 1970s for Spring 2015, it's great to see the 60s shapes doing now – retailers can use 70s referencing to refresh and invigorate collections in February 2015.
Not all runway looks survive – truly knowing which trends will make it to market requires careful analysis of consumer behaviour and retail activity. Retailers using EDITD access data like this all year round, arriving at their trend decisions ahead of the pack and producing the right products, at the right price and at the right time.
Get in touch if you'd like to learn more.