Aside from say, space travel, the apparel business has to be the most mind-bending counter-seasonal industry out there.
We within it have to routinely think in blocks of three, six, nine and twelve months consecutively.
When was the last time you got to work on summer product during the actual summer? Nope, you're reworking a fringe sweater while the a/c blasts. We get it.
But our data has highlighted something you're probably starting to notice already – if not in sales figures yet, maybe in the depth of your current tan. Summer seems to be becoming more significant.
While we're not here to debate whether global warming is a thing (it is), there are very clear shifts in the way consumers buy stuff which needs careful analysis.
When is summer anyway?
Traditionally, summer is less significant in retail. Consumers wear less, and the things they do wear tend to be of lower value. Not just that, consumers escape hot cities, somehow not tempted by the sticky changing rooms of the mass market.
Retailers generally try to whizz through summer, drawing attention to the larger ticket items like wedding apparel or the emotive levers of the escapism in a new vacation wardrobe.
However, we spotted a thing.
Our software showed that in the May-July period, US retailers used the word 'heat wave' on sites and newsletters 303% more than the same period in 2017. The term 'hot sun' also saw an increase – of 167%.
Interesting? A bit. Now, consider this: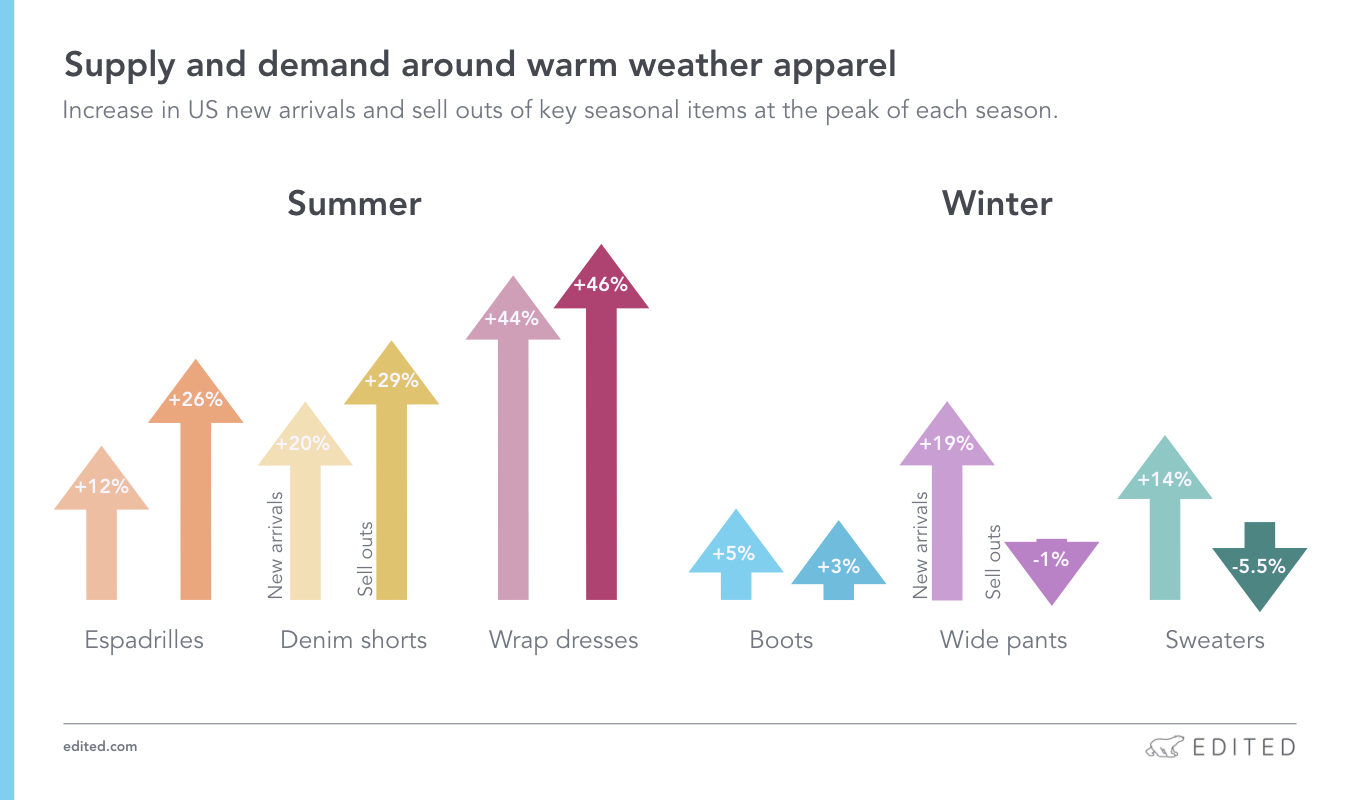 We compared retailer increases in cold weather apparel in the Q4 winter season – October, November, December – with increases in warm weather apparel in the Q2 summer season – April, May, June.
It revealed a larger increase in new arrivals in the summery items, like denim shorts, up 20% and linen apparel, up 13% this year compared to last. Meanwhile, cold weather items, like insulated apparel don't receive such favorable retailer investment – increasing by a less noticeable 9%.
But wait, there's more…
Next, we dug a layer deeper to understand how consumers reacted to those retailer commitments. And that's where things got really fascinating.
Consistently, consumer interest in warm weather apparel (shown as product sell outs) had grown by a higher percentage than the retailer investment.
So, despite retailers lifting the number of espadrilles they stocked by 13%, consumers responded even more passionately, increasing sell outs by 26%.
Meanwhile, sell outs on winter-wear grew by less than the increase in new arrivals, sometimes even shrinking despite retailers having upped numbers of styles available.
Consumers are feeling warmer to summer, snapping up newness more eagerly than in winter.
Across a number of key seasonal categories we tested, we found the same to be true. Consumers are feeling warmer to summer, snapping up newness eagerly. Don't take it personally, Fall.
What's that going to do to the industry?
Let's take stock of the situation. Global warming means hotter, more volatile summers, as well as dramatic winters. Consumers are leaping on the opportunity to invest in more seasonal warm-weather apparel.
That's doing things like this: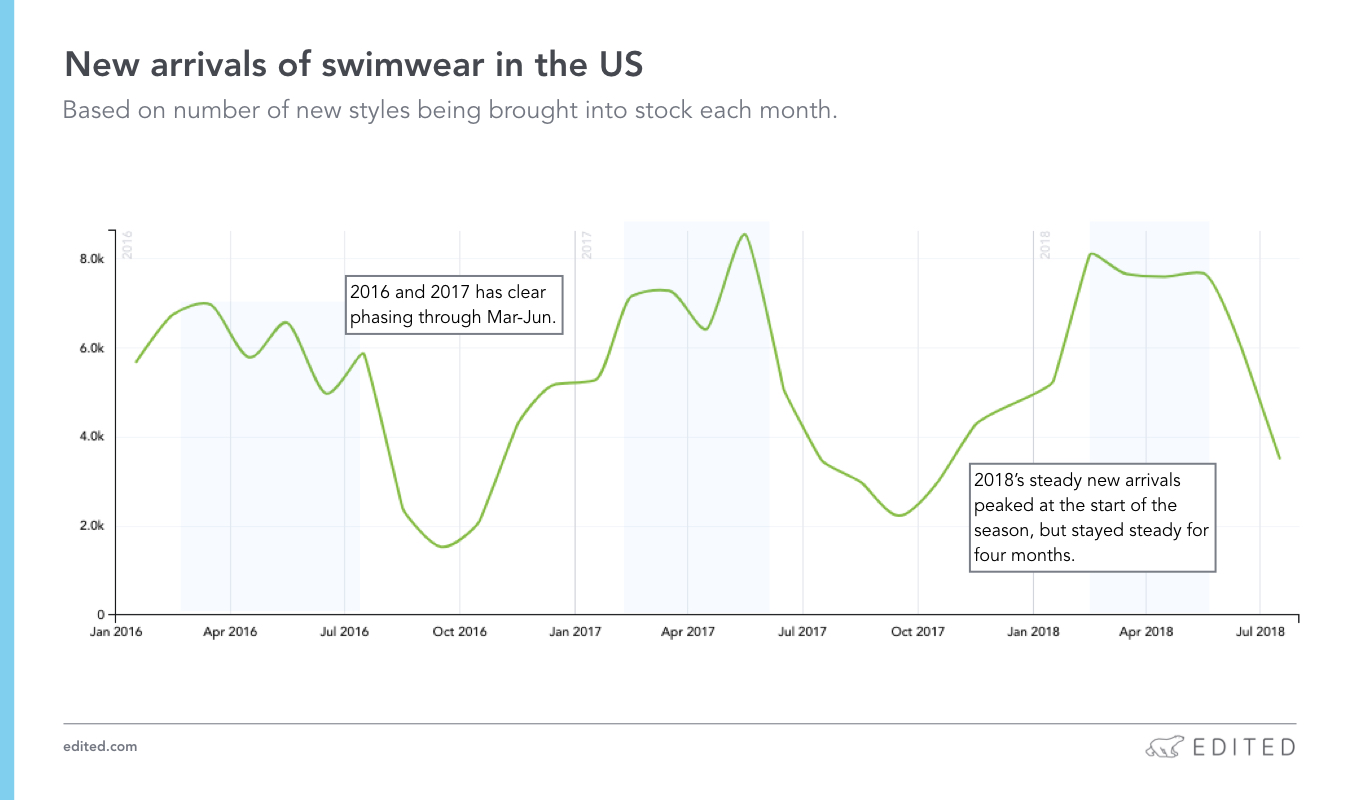 In the chart above you can see the seasonality of swimwear shifting earlier and running more consistently through Q2. In previous years we see an early first hit of summer product aimed at fashion's keen early adopters and those holidaymakers not bound to school vacations.
That's then backed up with one or two further phases, with distinct patterns in arrivals in May (for the masses) and July (for the late-shoppers). That model is changing.
What we expect to see across seasonal categories is longer, more defined areas with non-stop newness. Retailers are reacting to the volatility of weather earlier in the season – those unexpected cold snaps in Fall or super warm days in May.
This increases weather-related purchases earlier in the season, and at full price. Result? An increase in new arrivals earlier in the season, and a easing away from discounting, which we'll get to in a minute.
What about trending seasonal product?
At first glance, it can be tricky to read seasonality from historic data if an item has surged to hit trend status. But we'll show you how to here, with the pool slider, one of this summer's biggest hits.
Rather than looking at the height of the line which shows new arrivals, look at its cadence. We've highlighted important parts within the chart to show how seasonality has shifted up, regardless of the product becoming a trend.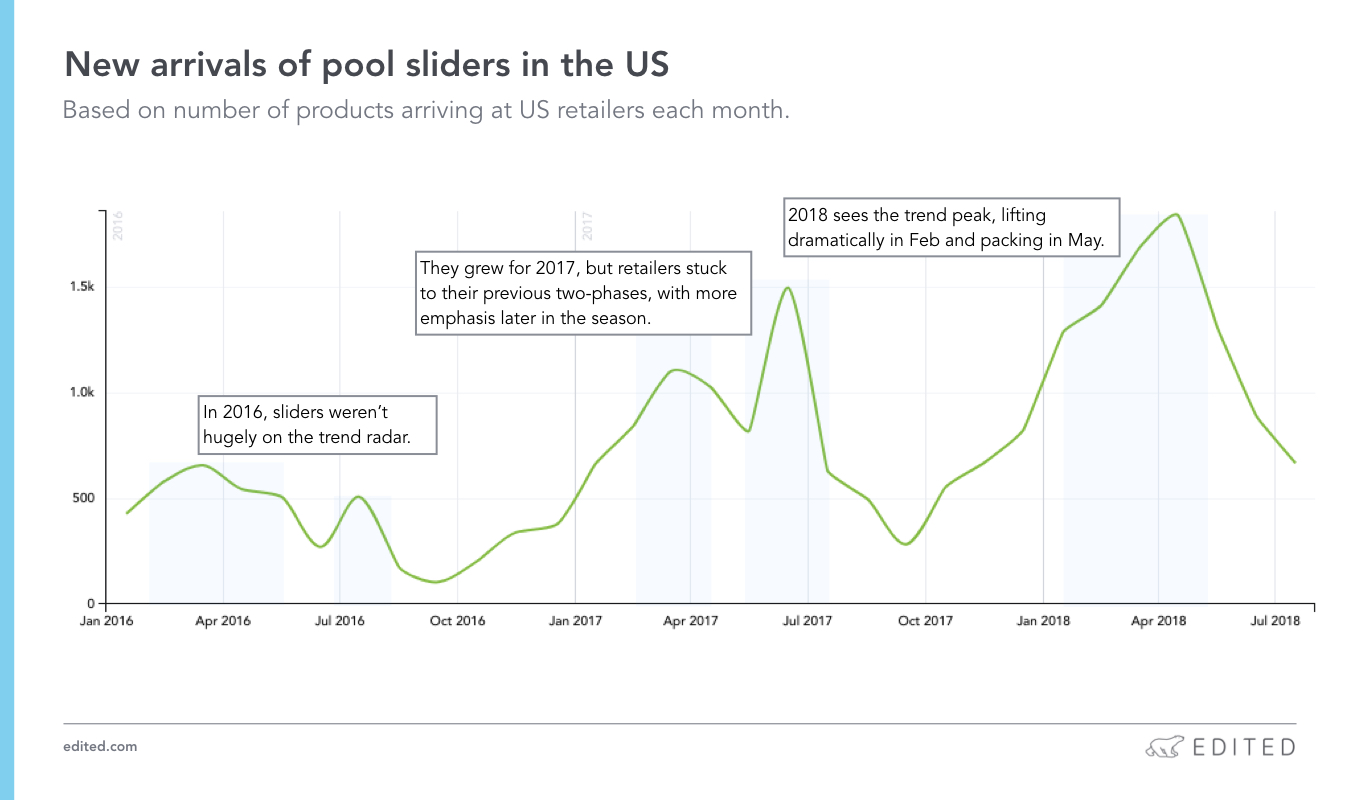 A retailer using this data could flag October as a key point to check on newness levels to understand how to buy into the trend for 2019.
And what's happened to winter?
Of course, winter isn't going to go away. If anything, we need smarter winter apparel than ever before. Consumers are just not going to be planning their spend until we see those first snowflakes fall.
And where formerly the emphasis for retailers would be on their higher-margin winter wears, we're now seeing price point flattening out year-round.
In this chart, we've tracked the number of first discounts each month, along with the average price of new arrivals.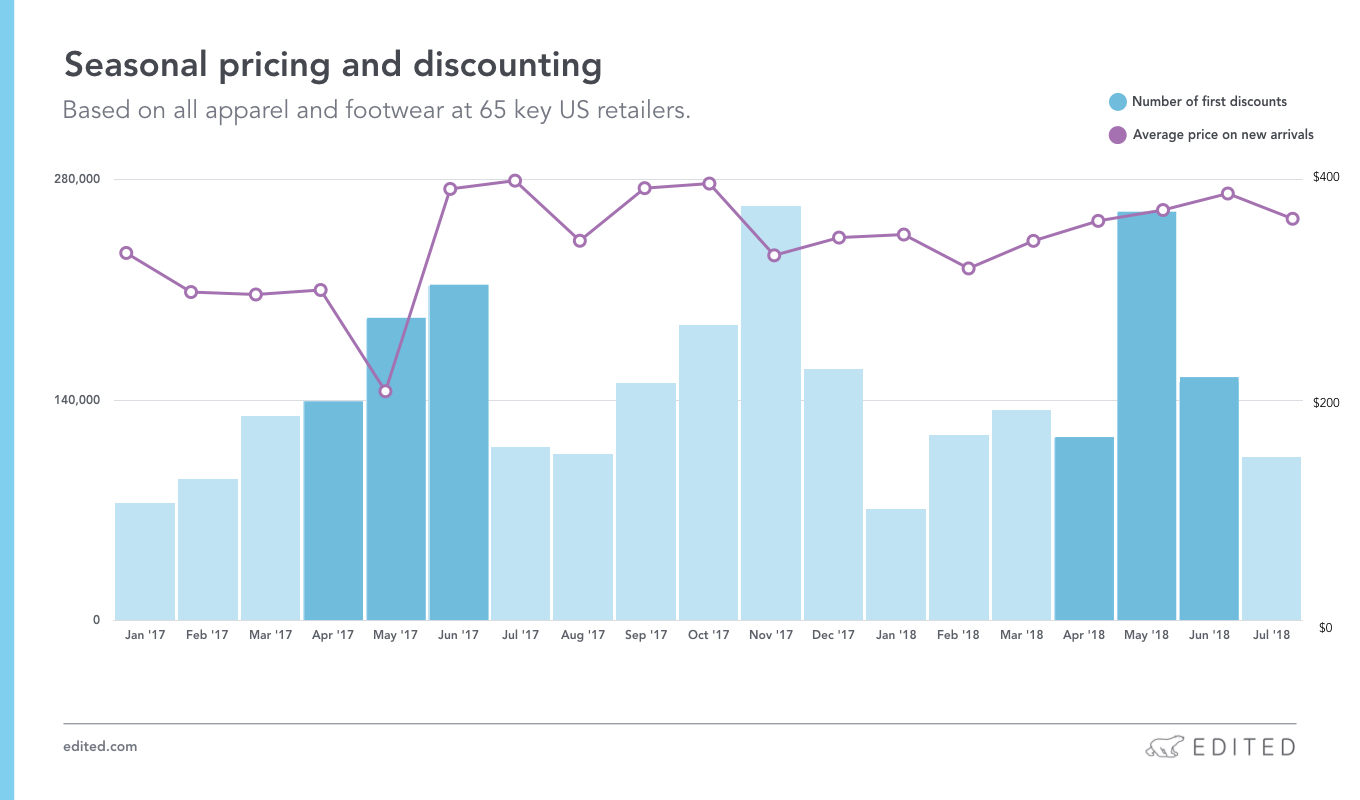 It's really encouraging to see that levelling out of average price point this year. That's happening at the same time as discounting periods are becoming more condensed. This May took the focus of the summer mid-season reductions which last year dragged April to June.
We're looking at a retail future that's more price stable for retailers, and that has targeted bolts of seasonally-specific newness for consumers. What's not to love about that?