With its role as fashion month opener, New York trends always give the earliest read of the new season ahead. This year, America is politically charged and that came through in the collections.
Here are seven New York trends you should recognize. Their re-appearance on the runway is good for retail – cementing trend status and ensure continued commerciality through the next twelve months.
And for shoppers, these seven are your chance to stay one step ahead of the pack. Shuffle these pieces into your wardrobes now.
New York Trends for Fall 2017
1. The Future is Vocal
Tapping into consumers' current need to feel affiliated in today's confusing world was the raft of slogan bearing garments on New York's runways. Tees and sweaters bearing strong statements emphasising the women's movement and togetherness despite political uncertainty were seen at Prabal Gurung, Alice + Olivia and Christian Siriano among many others.
Business of Fashion's tied together campaign has been impactful – white bandanas have been spotted on show goers, the public, on models and designers taking their runway bow. Slogans have seen a 48% increase in the last three months compared to the same period a year ago – consumers are fired up. There's no time like the present to talk about the topics which matter most to your shoppers.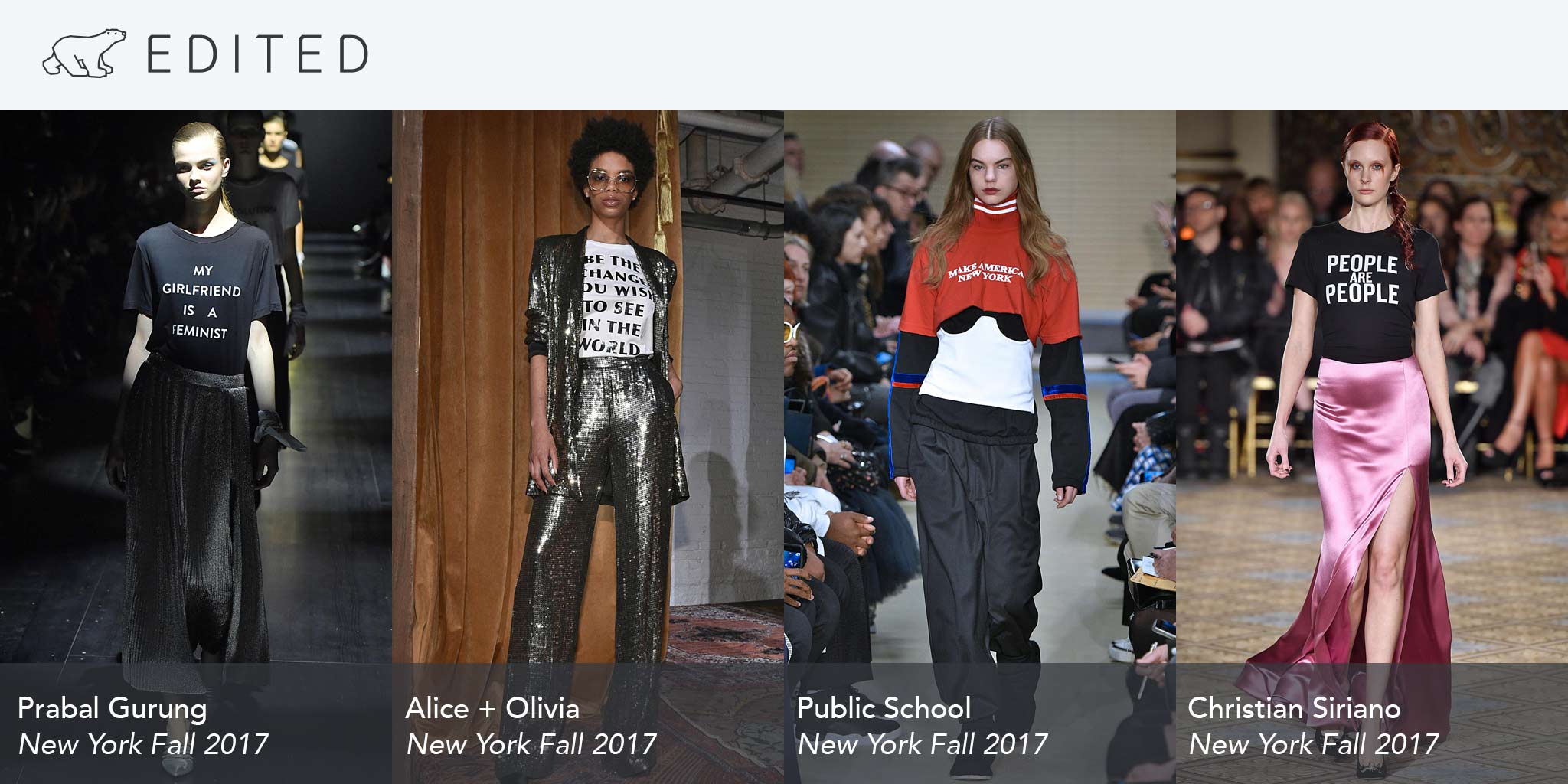 2. Velvet Magic
Velvet is popular. It was one of Fall 2016's bestselling trends and in January we predicted its continued success, naming it one of our of our Top Trends of 2017. So far this year, there's been a 157% increase in new arrivals from a year ago. With such investment, its presence on Fall 2017's runways is great news for consumers and retailers alike.
On New York's runways velvet was used in evening dresses and suits; it was given a daytime make-under in sporty track tops at Lacoste and was seen in footwear city-wide. Whether it's mid-shin boots, a demi-cut court, clogs or strappy heels, you'll need a velvet shoe in your Fall offering.
The new season will call for you to be more creative with color and cuts; a simple velvet slip dress won't cut it much longer. Opt for knots and twists or experiment on the bias for added luxury. Build statement sleeves in and you're onto a double trend winner.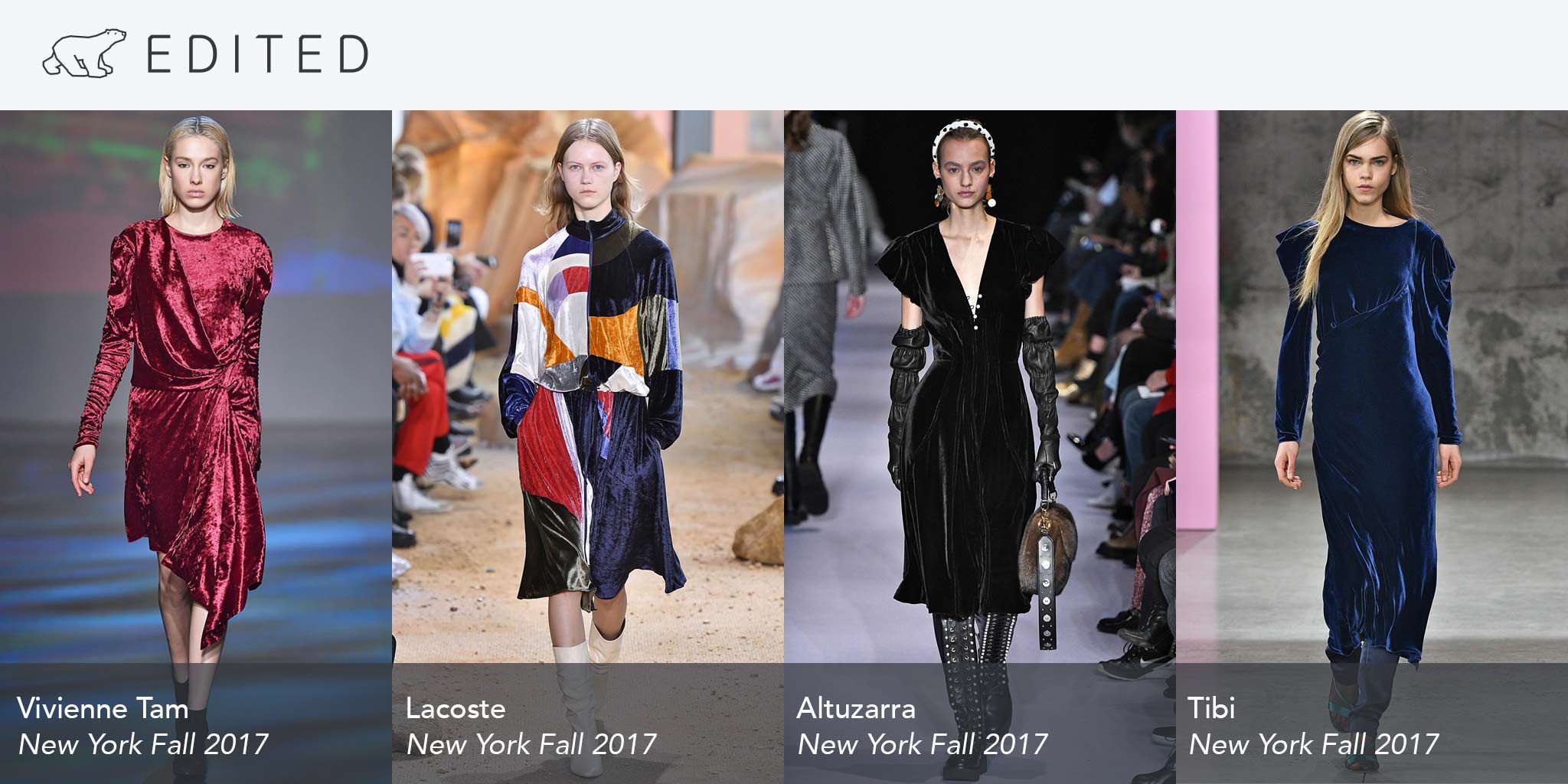 3. Aviator Jackets
Biker and bomber jackets have completely dominated light-weight outerwear for seasons now so it's refreshing that the shearling lined aviator jacket has been a star of winter's street style. Brands and retailers who managed to get in on the trend in time–including Burberry, Topshop and Warehouse–did well, successful styles sold out in an average of 41 days.
For Fall 2017 aviator jackets are returning with added pizazz. You can either go super-sized like R13 (overblown proportions are a key silhouette for Fall 2017) or cropped, like Coach. Shearling edged seams and striking contrast color will give your version a needed jolt of newness for next season.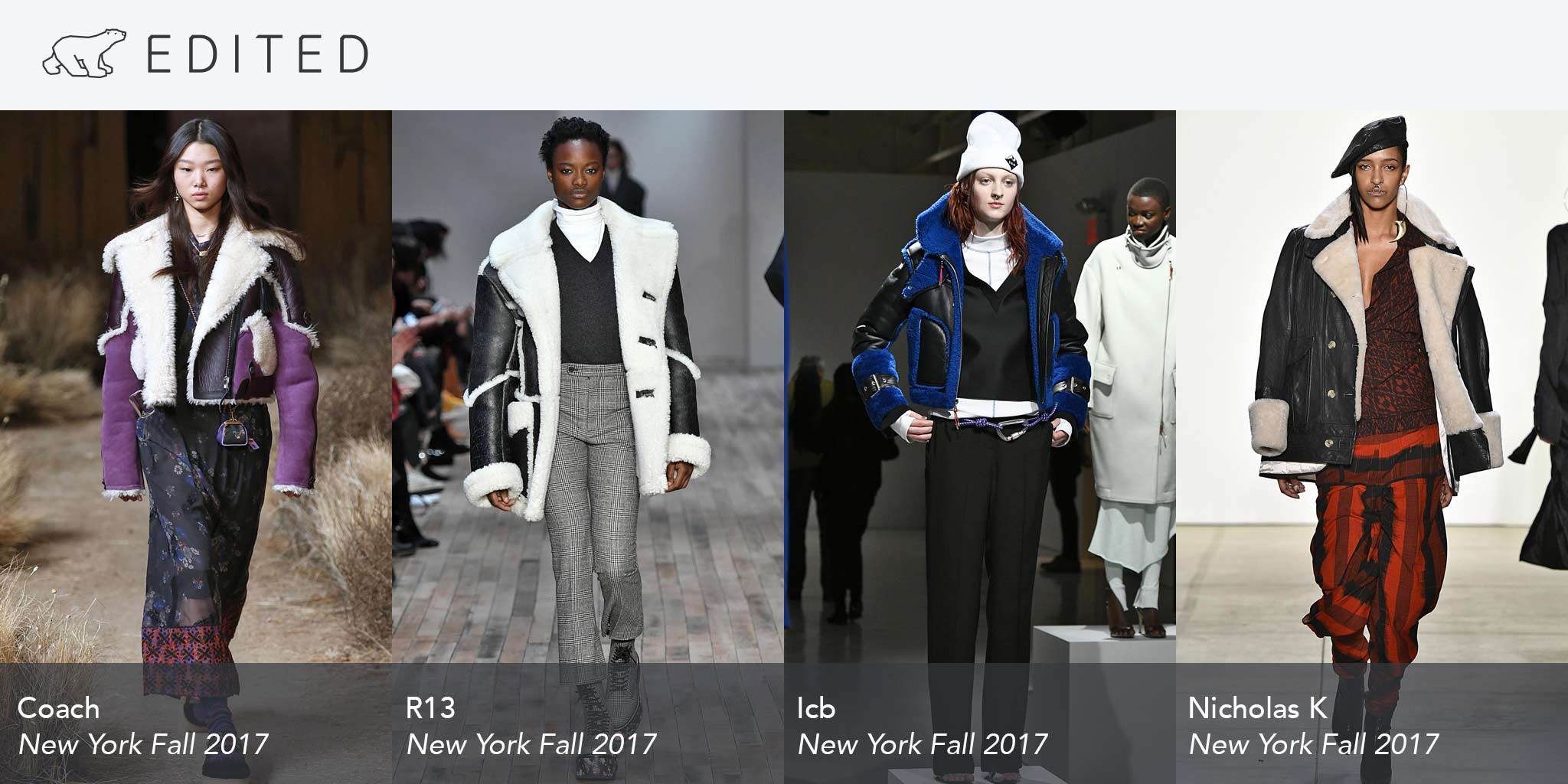 4. 1980s Appreciation
The 80s can do no wrong in fashion's eyes. To date there's been elaborate ruffles, batwings and nipped waists amongst excessive volume, and yes, all of that still stands–hello, Vivienne Tam–but it's the more relaxed riffing of the era that feels especially new for Fall 2017.
The sparkly, crinkly version of the 80s will continue to sell at retailers whose shoppers weren't there first time round. But making inroads with a broader range of consumers is the casual tailoring, bright pops of color, abstract prints and wool coats with just the right amount of glam. Phillip Lim ran the masterclass in this: expertly cut loose shapes, but not so dramatic that they'll alienate women of different figures.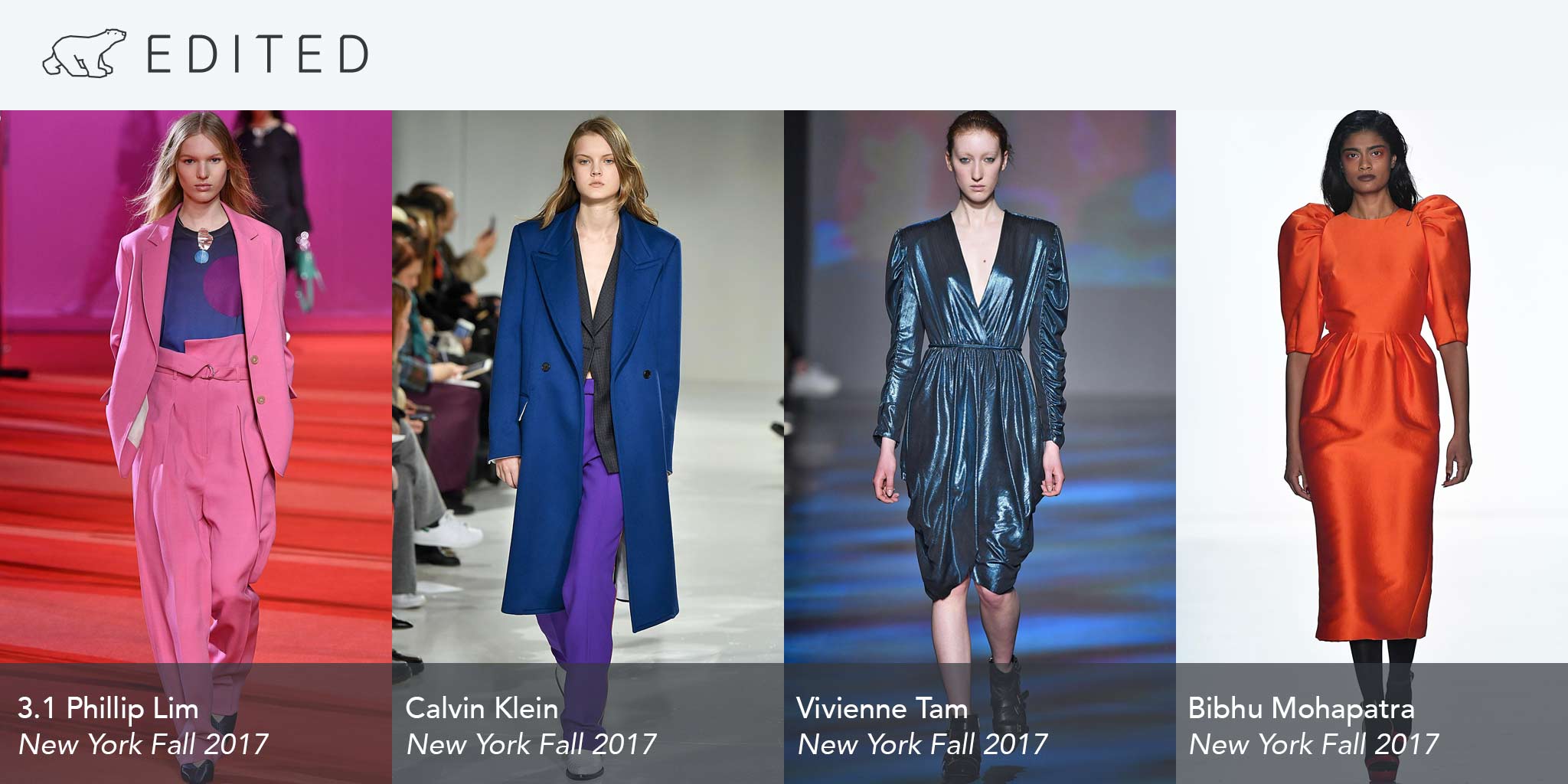 5. Strapped & Laced
If you've been in Zara lately then you know that laced-up and corset details are a thing for Spring 2017. Fall wants in on the action too. Straps, trailing ties, thick ribbons and intricate laces worked their way across necklines, around waists and down sleeves.
Your simple update: turn the retail hit choker into a longer tie worn with shirts and blouses. For a bigger statement, think about coats with cinched fastenings, dresses with corsetry inserts and knitwear with flyaway straps.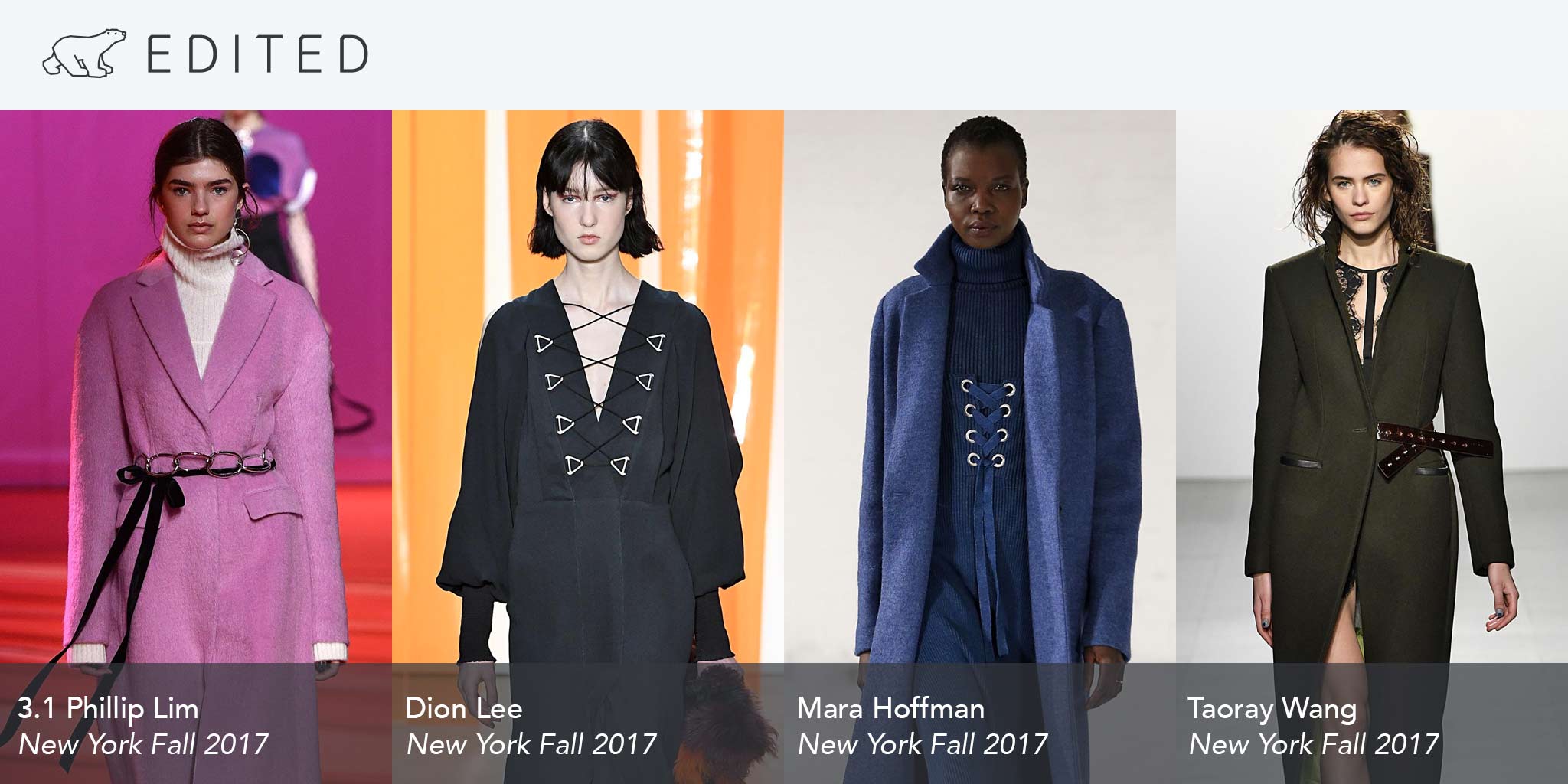 6. Fishnetted
The grimy heart of grunge beats on. This season, with the appearance of fishnet. The classic long-sleeved fishnet tank worn layered, is one way to update the slip dress that keeps on selling.
Classic fishnet tights are an easy styling trick to run into early Fall 2017. Later in the season you can introduce evening dresses spliced with raunchy fishnet panels. Go easy on body-con: stay the right side of suggestive with midi lengths and elegant cuts.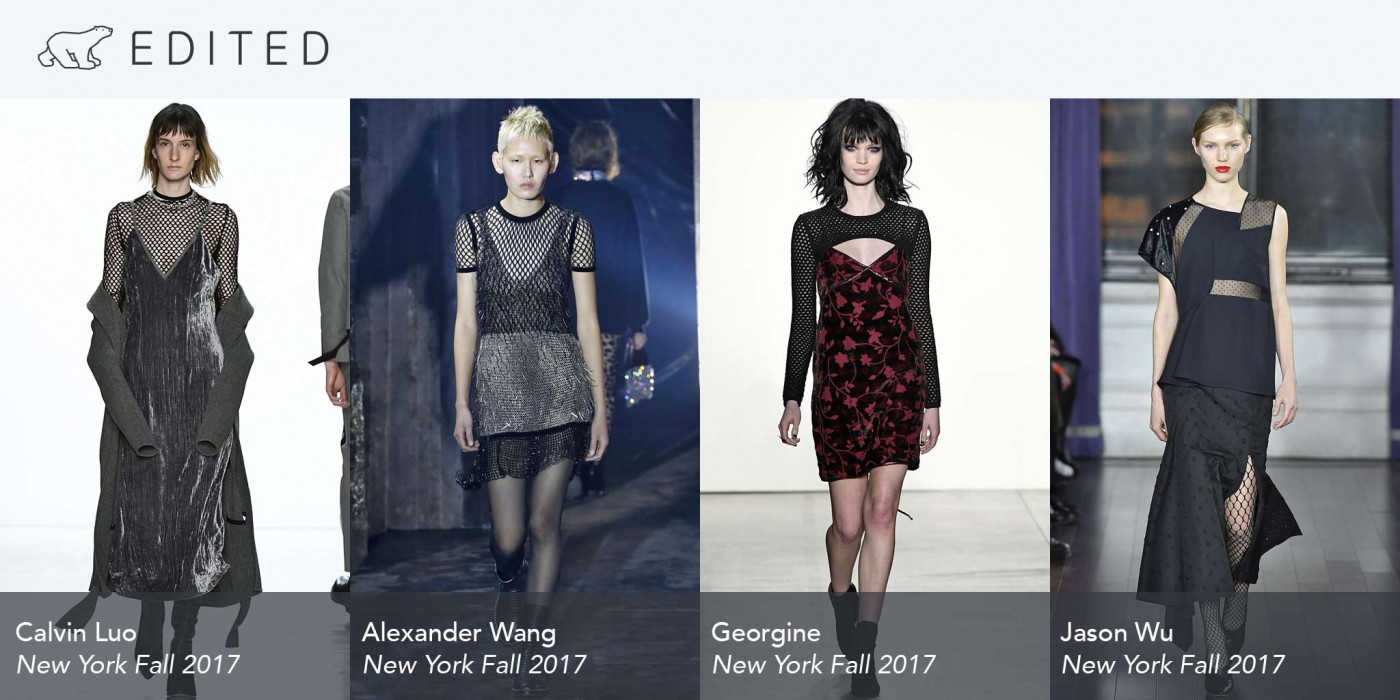 7. Big blazers
Silhouettes are getting looser and consumers are into it (just look to the denim category or check out the recent bestsellers in tops for evidence of that). Suiting now gets its turn in the spotlight, with oversized blazers being the leading piece. That picks up where Spring 2017 will leave off: longline blazers in light hues were seen on the current season's runways from Paul Smith, Vionnet, Bottega Veneta and Off-White.
We're expecting retail to heat up beginning in March with the warmer weather, but the trend is already buzzing out. For Fall, revert to traditional suiting fabrics like Prince of Wales checks and wide-set pinstripes and go for a boxier line, hanging straight from the shoulders.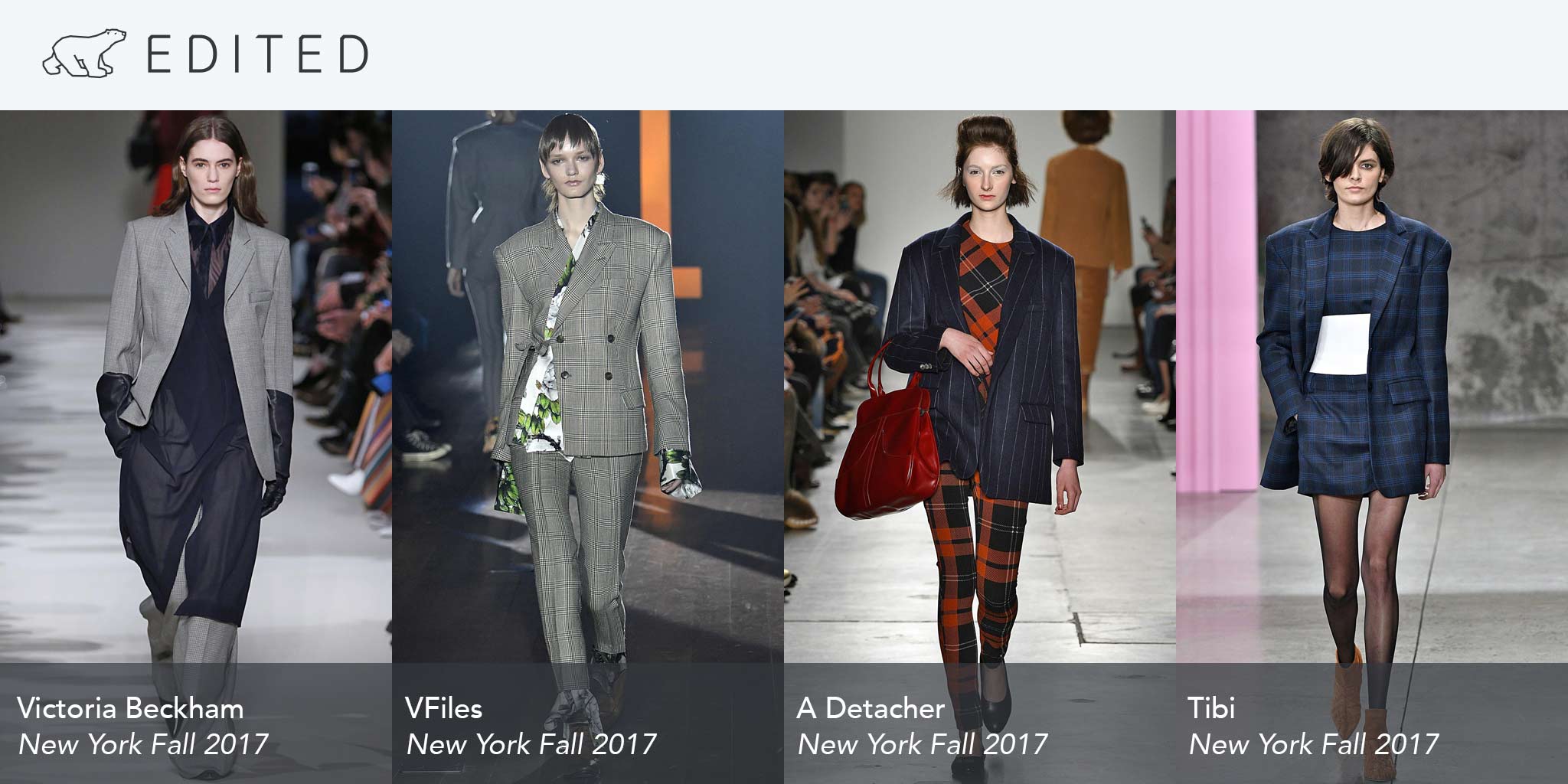 Seven New York trends for Fall 2017 that you can act on now.
EDITED users, log in now to find out the specifics of theme, color, fabric, shape, print and detail from New York Fashion Week. We'll be back later this week with the full round up from London!