You might have noticed that fashion has gone a bit cuckoo over a garment normally reserved for the wardrobes of newborns; the onesie. Full grown men are leaving the house in head to toe terry towelling, even celebrities are smugly posing in their rompers. So the question is, does this fad actually sell? A dig into the data reveals the truth!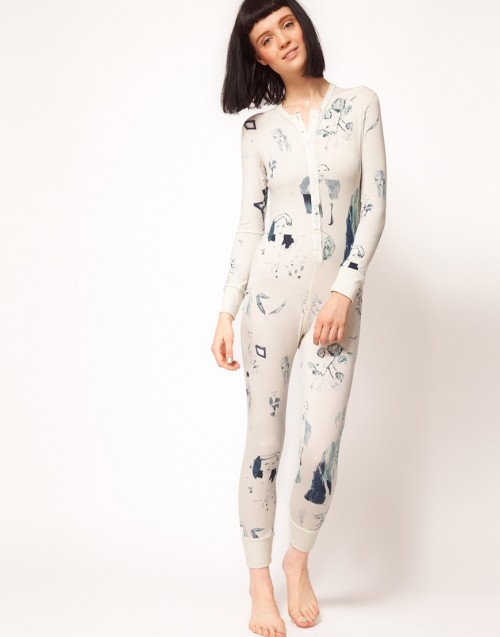 We first looked at EDITD's social tools, which analyse millions of tweets, updates and blog posts every single day, to suss out exactly what consumers think of the trend. The graph shows how people have been talking about onesies online across the past 12 months. The grey bars show us that the volume of people discussing this trend has never been higher, having understandably dipped dramatically over the Northern hemisphere summer. The pink line tracks the exact sentiment people show towards a trend, and we can see that feelings towards the trend have flatlined.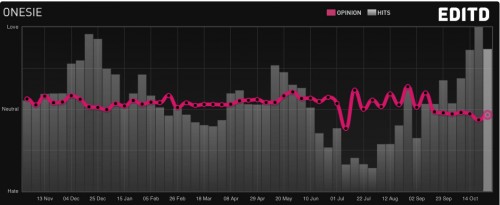 It was a similar picture for the love-hate creepers which sold so well over the summer. Onesies certainly get people talking, and whether it's positive or not, the online commentary is creating major hype. Add into that notable celebrity endorsement from champions of online hype, Rihanna, Justin Bieber and One Direction, and you might just have a super-fad. But is that translating into sales?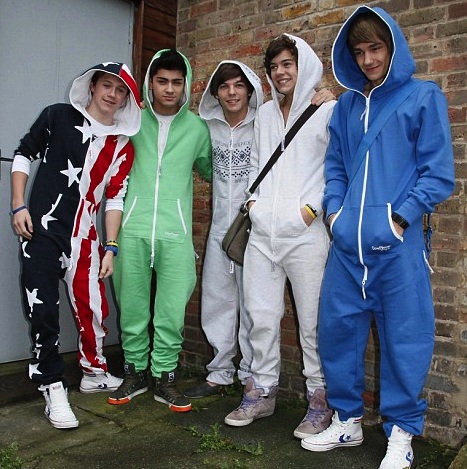 Browsing through our commercial database, we can see exactly how onesies have been performing globally. An interesting picture emerges – one of varied price points and quick sell through. Looking at the past four months, the cheapest onesie which sold out was £28 and most expensive £160. Boohoo's £30 men's Navy Snowflake Zip Onesie dropped into store on the 18th October and was sold out across all four of its sizes by the 22nd October. It's the same story elsewhere for men's onesies, at Topman the £40 Blue Aztec Hooded Onesie arrived instore at the end of July and was sold out by mid-August across all sizes. It's subsequently been restocked, and three of the five sizes already sold out for a second time. The £140 ASOS striped jumpsuit by OnePiece shows success at a higher pricepoint – having fully sold out twice for the retailer. Burton leapt upon the trend, shifting their visual merchandising in good time to entice spend. Their 19th October newsletter encouraged subscribers to try the style, linking through to a blog post on the matter.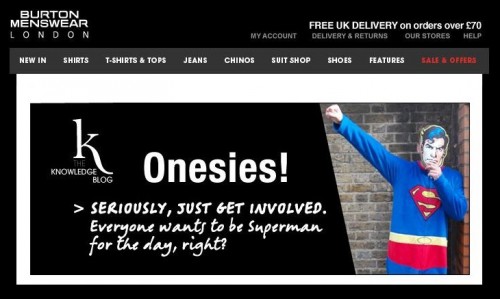 So the gents are enjoying their cosy-wear, but what about the ladies? At ASOS, OnePiece has sold swiftly for women too, in the shape of the £149 Lillehammer Onesie, which has seen three restocks, each with swift sell through. It's currently back in stock, but for how long? John Lewis have seen success with their Fair Isle onesie at £35, which first dropped on the 6th October and selling out by the 17th. That was good enough for John Lewis to repeat the order; it came back into stock a few days ago. But womenswear has options which menswear hasn't (and perhaps shouldn't) delve into: onesies as formalwear. Zara latched onto this idea swiftly, following Stella McCartney and Roland Mouret's AW12/13 lead. Their £59.99 Bow Backed Suit arrived online on the 21st September in teal and was sold out by the 26th. Zara followed this with a black version, dropping on the 25th October and is already sold out in one size.
Maybe it's an urge to escape the gloomy economy and nest? Or perhaps it's spawned from a celebrity backlash against intrusive media and reportage of outfits/body shape? Maybe grown-ups sometimes just like being big kids. Whatever it is, this trend offers brands and retailers bags of potential – it's a garment which lends itself to online purchase, with relatively few sizing issues.
So which route to take, and is there still time? Of the 141 onesie products which came online since the start of September, only 3% have seen any discounting, whereas 8.5% have already been restocked. Compare that to the more sophisticated (and established) jumpsuit, of which there were 578 new products in the same time frame. 6% of those jumpsuits have seen discounting and only 2% have been restocked. Onesies' time is now! With the gimmick-happy market ramping up towards Christmas and temperatures dropping, there's still room to grow here. In fact, SS13 shows hinted at a longer life span for this trend, with styles from Anteprima for women and Topman for men. Well, it's momentary relief from all those crop tops we know we've got coming…