For consumers, e-commerce can mean convenience, choice and the simple pleasure of shopping without having to talk to anyone. But for brands, who can't afford to ignore it, it takes on a slightly different meaning: the total erosion of brand loyalty.
We all know that to shop means to shop around. And when we shop online, we shop around a whole lot more. Sure, we have favorite brands and retailers, but temptation of the new or the cheaper is a URL bar away
What's more is that you can't demonize 'shoppers' for the behavior; we are all these shoppers. We haven't stopped spending: we're just spreading our money around, buying when we find things we think are priced correctly.
Understandably, that ability to drop in, browse and leave has made carrying brands an even more complicated business for retailers. Locked into brand compliance deals that set hard pricing and discounting rules, retailers, and more specifically department stores, can feel like they have their hands tied.
As a result, private labels, product lines created by the retailer which enable more control over assortments and margins, have grown.
It's a strategy that UK department store Debenhams has been trailblazing for more than a decade with its designer-fronted private labels. It's also one that, at times, has accounted as much as for 14% of House of Fraser's total revenue.
And their success with private label, as well as the success of countless others, hasn't gone unnoticed….
Enter Amazon
Like it's known to do, Amazon's arrival in fashion is looking to change the business as we know it. Amazon has already unveiled eight private label lines, recently adding Buttoned Down to its offering – a $39 dress shirt brand exclusive to Prime members. The retailer, who is rumored to have activewear on its radar, will use private label to support its branded assortment while courting new brands.
With Amazon on the scent, there's no time like the present to get clued up on the pros of private labels and what works for other retailers.
Key benefits of private label business
Private label margins are bigger compared to bought stock.
The product sets the retailer apart, creating exclusivity and stimulating shopper loyalty.
The retailer has greater control in its product pipeline.
Private label can be used to plug price or product gaps in the assortment.
Fill out assortment when branded options are lacking.
It monetizes the insights a retailer has on its shoppers: product preferences, sizing, returns, etc…
EDITED, the retail data software we build, lets us zoom in on private labels to understand what gaps they're filling in the assortment and see how successful they are. Let's take a look at a few cases.
First up, traditional department stores
To start, lets take a quick look at some womenswear private labels: Bloomingdale's AQUA, Macy's INC and Nordstrom's BP. to gauge their performance and see the effect they're having in the market. First insight: they all like the capitals.
Macy's INC offering is the largest of the four department stores, even out-sizing its Calvin Klein and Michael Kors assortments. For function, Macy's primarily uses the INC line to boost its tops offering. At INC, tops are the biggest category and account for 8.5% of Macy's tops assortment overall.
In fact, the private label contributes to a more rounded price architecture in the tops category. At present 43% of non-INC product is clustered between the $20-40 price range, and 19% of it is sitting in the $40-60 range. INC helps support the assortment by placing a 31% of its emphasis on the $40-60 price point, strengthening the retailer's price architecture.
The extra margin there gives the retailer more room to play when it comes to discounting. For example, 24% of INC products currently discounted had 30-40% knocked off their price the first time they were reduced. Only 14% of branded (non-INC) womenswear items are discounted by that much in the first round of mark downs.
Private label margins allow retailers more room to play when it comes to discounting.
The net benefit is that Macy's is able to play with its margins on the INC line, swinging them between deep discounts to standard price slashes, in order to entice consumers without ruffling brand feathers.
Extending product offering to new shoppers
Bloomingdales' own AQUA is its third most-stocked womenswear brand, after Kate Spade and Ralph Lauren. In terms of emphasis: dresses. Dresses account for 43% of the AQUA line and around 8% of the entire dress offering at Bloomingdales.
The average price for an AQUA dress is $131.65, which undercuts the non-AQUA average by 43%. That's the kind of price differential that can introduce a new shopper to Bloomingdales. A very valuable and very effective promotional tool indeed. In terms of replenishment, AQUA's assortment beats all other brands at Bloomingdales.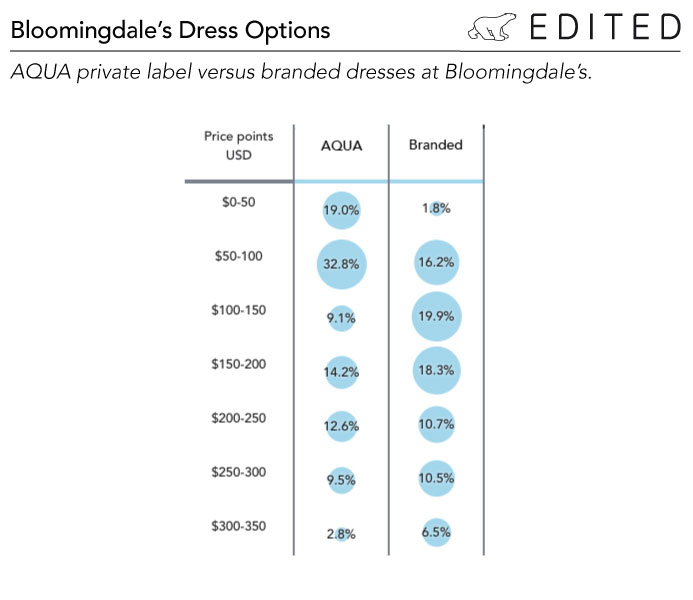 For a department store, Nordstrom's 22% focus on the accessories category feels lower than it could be (it's 30% at Bloomingdales and 42% at Macy's), so it uses its private label BP. primarily as a way to reinforce that assortment. Nearly half of the BP. line is within the accessories category.

As we saw with the other department stores, Nordstrom also uses BP. as a promotional vehicle. Currently 35% of BP. is discounted, with 40-50% being the most common first discount. Only 12% of the rest of Nordstrom's women's offering is reduced and first discounts tend to be smaller – at 20-30%.

Not all department private labels however are promotionally geared. John Lewis's Modern Rarity, for example, has lower levels of discounting than other lines.

The offering, which focuses on directional, stylish product introduces a premium price point, as opposed to undercutting brand pricing. For instance, 38% of Modern Rarity focuses on the $100-150 price range, whereas there's only a 14% focus on this range from other brands.
Pure play retail
ASOS is an interesting case, with a wide range of private label brands including: ASOS, ASOS Curve, ASOS Maternity, ASOS Petite, ASOS Tall, ASOS Reclaimed and ASOS White.
One noteworthy dimension of these private labels is the diversified sizes their product offers, opening them up to consumers who often go overlooked. Analyzing January new arrivals, the company has more than doubled its private label offering since 2013, whereas its only grown its branded offering 22% in the same time.
Between 2015 and 2017 ASOS ramped up the private label emphasis on dresses. (A common theme – brands, are you not doing enough dresses?) January 2017 dress arrivals grew 65% from 2016.
Contrary to other retailers, ASOS doesn't discount its private labels deeper than the rest. First discounts at brands tend to strike between 30-40% off. Whereas the private label offering usually falls somewhere in the 20-30% range.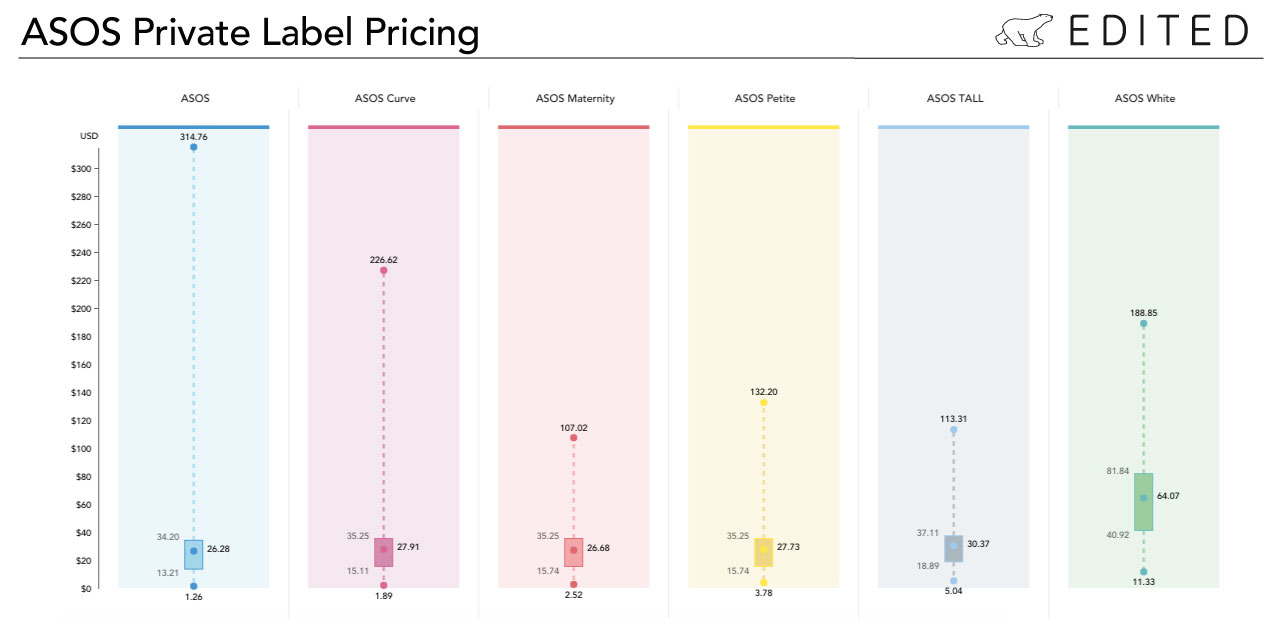 Don't forget your brands…
Private label is a fantastic tool for reaching segments of your consumers that the majority of brands don't cater to, however, the brand mix has to be in place and performing well before you can expect private label lines to work out.
It's easy to overestimate how interested in your own product shoppers will be – particularly in this age of diminished loyalty. Offering a compelling brand mix is still the best way to help customers discover your line.