If you build it, they will come. If you lower your prices, they will come more often.
But if you increase prices – not so much.
If that's not a golden rule in the hyper-competitive world of fashion, let's say it's one the industry has decided is worth its weight in gold. In the age of fast fashion, and its ever-expanding value market, consumers have come to expect more options, faster manufacturing and lower prices. And like businesses do, mainstream fashion has largely obliged.
But as the floorboards of that market segment start to groan under the weight of over-crowding (in the US, 22% of womenswear products are priced under $30) and sophisticated manufacturing is no longer unique to Zara, retailers are looking for new ways to differentiate. Really, how much longer can this industry sustain falling prices?
Here's a thought, perhaps we're looking south when the answer is really up north. What would happen if we built price architecture upwards, creating aspirational brand ladders to climb instead of staircases down to the bargain basement. It's a strategy that some big brands are already trying out. We're not talking about premium brands entering the premium market either. We're talking about non-premium retailers making efforts to build out the top end of their architectures into less combative realms, regardless of their existing place in the market. Let's see how they're getting on.
Moving On Up
Given the current retail climate, pricing up may at first sound like an exercise in trying to dig yourself out of a hole. Albeit one with a noble purpose: spotting opportunity in the longtail.
At the moment, product that bridges the price gap between the trend-led mainstream and traditional premium feels relatively underrepresented. There's still plenty of room to push into.
Among that first wave of premium-ifiers is John Lewis. In the last year it introduced two new brands that raise the ceiling of its price offering. The first is Modern Rarity, which launched last September and focuses on seasonally agnostic, stylish pieces with unusual cuts. It carries an average price point 40% higher than the rest of the womenswear assortment.
Looking at the price architecture of Modern Rarity and John Lewis' other new premium own-brand, And/Or, alongside other successful womenswear lines at the retailer you can see why John Lewis has invested in upgraded quality to expand its offering. To date, both the new lines have lower discounting rates than any of the other stocked brands.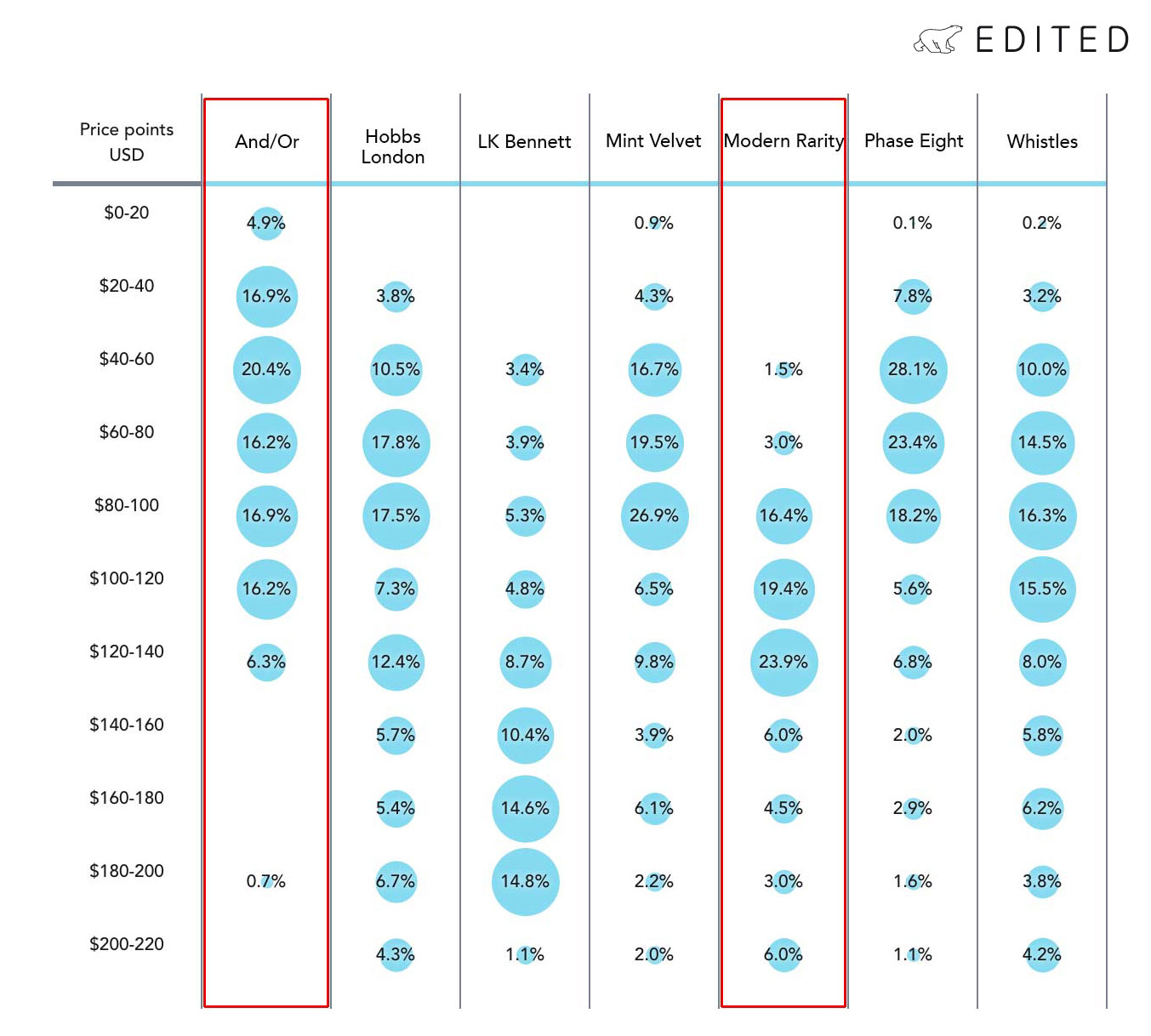 Meet Arket
John Lewis isn't the only one diversifying its portfolio of brands. H&M – a leader of super-affordable fast fashion – is seeking future growth at higher price points with this year's launch of Arket.
The new line sounds distinctly different from H&M's current offering. In the retailer's own words, "The brand's DNA is timeless, crisp, quality and warmth." It will be priced differently too. At $42, entry pricing on men's shirts will be 120% higher than H&M's current product and taps out at 23% higher than the current exit.
Looking at the six existing H&M brands, you can clearly see what H&M may consider the land of opportunity.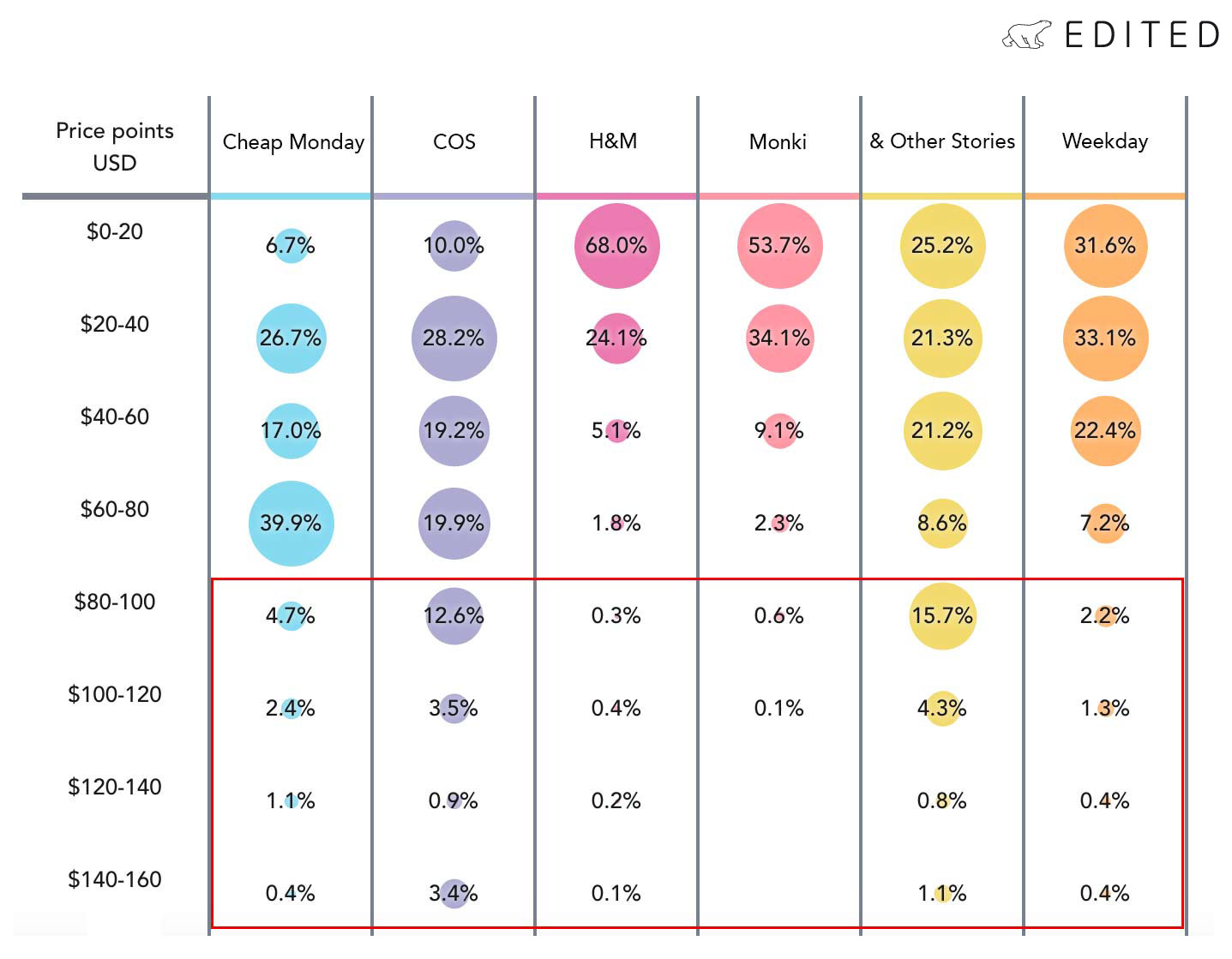 Topshop's Three Tiers
And of course, there's Topshop which has been seamlessly stretching into premium pricing for years now with its Boutique and Unique lines.
Boutique, with an average price point of $123.88 is more than double the average price of Topshop's main line. Unique goes further, doubling Boutique's average to from its $270.34 average price tag.
What's especially interesting with Topshop is that though the three lines are marketed entirely differently, trends run evenly through each. Take a look at the denim assortment and price point aside, it's not immediately obvious which product sits in which brand. It comes down to subtle fabric and finishing details a more discerning shopper would detect.
And that's perhaps why so many retailers are currently getting into bridal – it's an opportunity to extend out the upper ranges of the dress architecture. But more of that next week…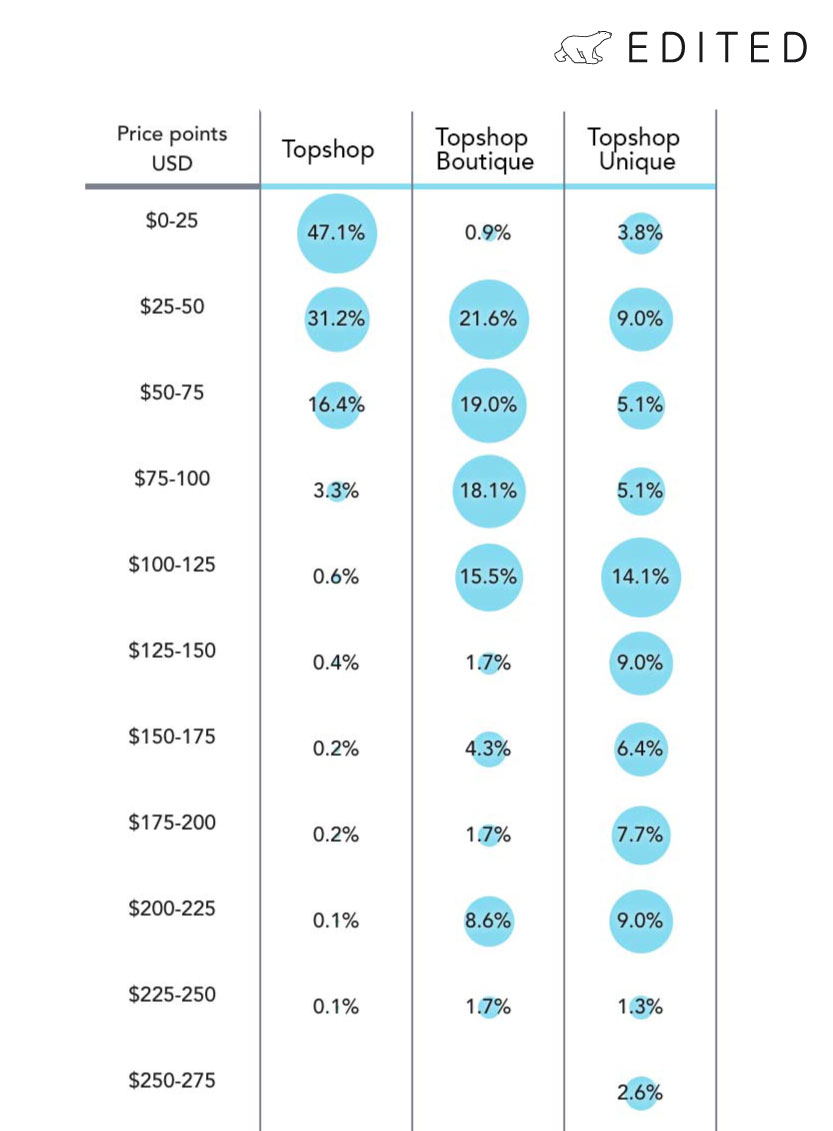 Premium is the next place that retail stands a chance of getting really interesting. The rise of a consumer group who doesn't mind paying more for more. And doesn't mind if that means it's a little less fast, because it will last a lot longer.
Even expert 'faster fashion' retailers like Missguided and ASOS are getting in on it; the former with their Peace & Love line which lifts average price by 265% and the latter with ASOS White, building the average ASOS price point by 136%.
Rather than chasing prices downwards, should retailers be looking to capture premium spend?
Inspiration in the Aisles
This is a concept grocery stores have understood for many years – offering their shoppers a diverse range of own-brand products that run the gamut of good, better, best.
Apparel retailers riffing on that makes a lot of sense, especially in the UK. But there's a problem when it comes to the US. That's not how grocery stores work, it's not how consumers are used to shopping. To justify a higher price point, or to denote premium quality, American consumers turn to brands, not to the retailer. It's predominantly a brand-driven market.
Amazon are in the early stages of tackling that with its portfolio of own brands. But in the most part US retailers use collaborations to build out price architecture. Most famous is of course Target's ongoing series of collaborations, the latest of which is the successful Victoria Beckham line. While these big projects, with their splashy marketing and grand launches drive new consumers into Target, and eek out extra spend from the existing shopper, there's a limit to the relationship.
US retail is having a tough time, with mall closures, discounting wars and an influx of international fast fashion retailers changing the landscape. Might there be an opportunity in price architecture, going against the grain, that US retail could benefit from? While everyone races to the bottom, how about sailing to the top?