An ancient art is revived, and revitalized. The SS11 shows sparked a major resurgence for lace and according to The Wall Street Journal, after a number of tough years for the artisans of the industry, their fortunes have changed and they can't keep up with demand. There is nothing old fashioned about lace this season though, with traditional white and cream out the door, making way for new generation designs in a rainbow of hues. Lace featured notably in collections from Issa, Erdem and Graey. Christopher Kane's neon saturated styles also sparked something of a movement (more on that next week).
Since first appearing in stores at the beginning of the year, Erdem's ballet inspired Margot Lace Dance Dress (pictured above) has remained at its original price, with no markdowns. Net-a-Porter's sizes US 8-12 (UK 10-14) sold out within a matter of days of each drop and at Neiman Marcus only size US 4 (UK 6) remains in stock.
no images were found
We could play spot-the-difference as we make our way up the high street – most retailers have their own version of the trend. Topshop's red lace Flippy Dress landed in-store with a 48GBP price tag, selling out by the end of the week. After a second drop it only took 3 days to be snapped up, and it still remains out of stock. A very similar strawberry red, mid-thigh length babydoll dress by Dorothy Perkins hit the shop floor at 37.80GBP before the price was increased to 42GBP. Sizes UK 6 & 8 were sold out within a week and subsequent stock drops in size 10 sold out instantly.
A pink dress with peach floral lace overlay proved more difficult to shift. The dress was cut from 45GBP down to 35GBP in early March where it remained on promotion for 3 weeks. After restocking the dress slid into sale stock where it currently sits. Despite this slash to 22GBP it has still been slow to sell – perhaps a warning to keep it simple.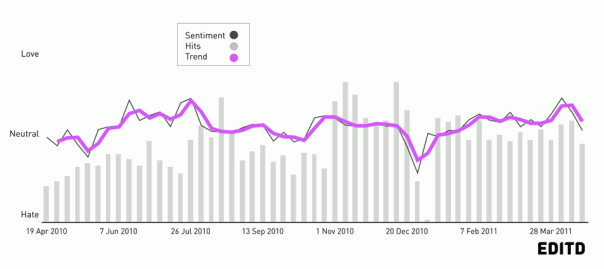 Analysis using our Trend Science platform shows lace has had consistent attention over the past 12 months, with a notable climb in sentiment and attention from winter to spring. Interestingly, opinions were neutral before the runway shows last season, then peaked firmly upward, with a slight dip through the bitter winter.