We've got a hunch Wednesday's EDITIONS in New York City was one of our best yet. Calling upon the generous wisdom of two industry experts left the audience invigorated and inspired – us included!
In conversation with our own Deborah Li was Kara Mendelsohn, founder of Cooper and Ella, and Tracy Kebatta, Director of Planning at Opening Ceremony who touched on everything that matters in retail right now. From the importance of being business-minded, to the discounting threat, to what goes into creating product the customer needs as well as the continual balance between what's creative and engaging and what makes the numbers work. Nothing was left uncovered.
It was a night full of refreshing and frank observations, here are some of our favorites.
Kara Mendelsohn, Founder of Cooper & Ella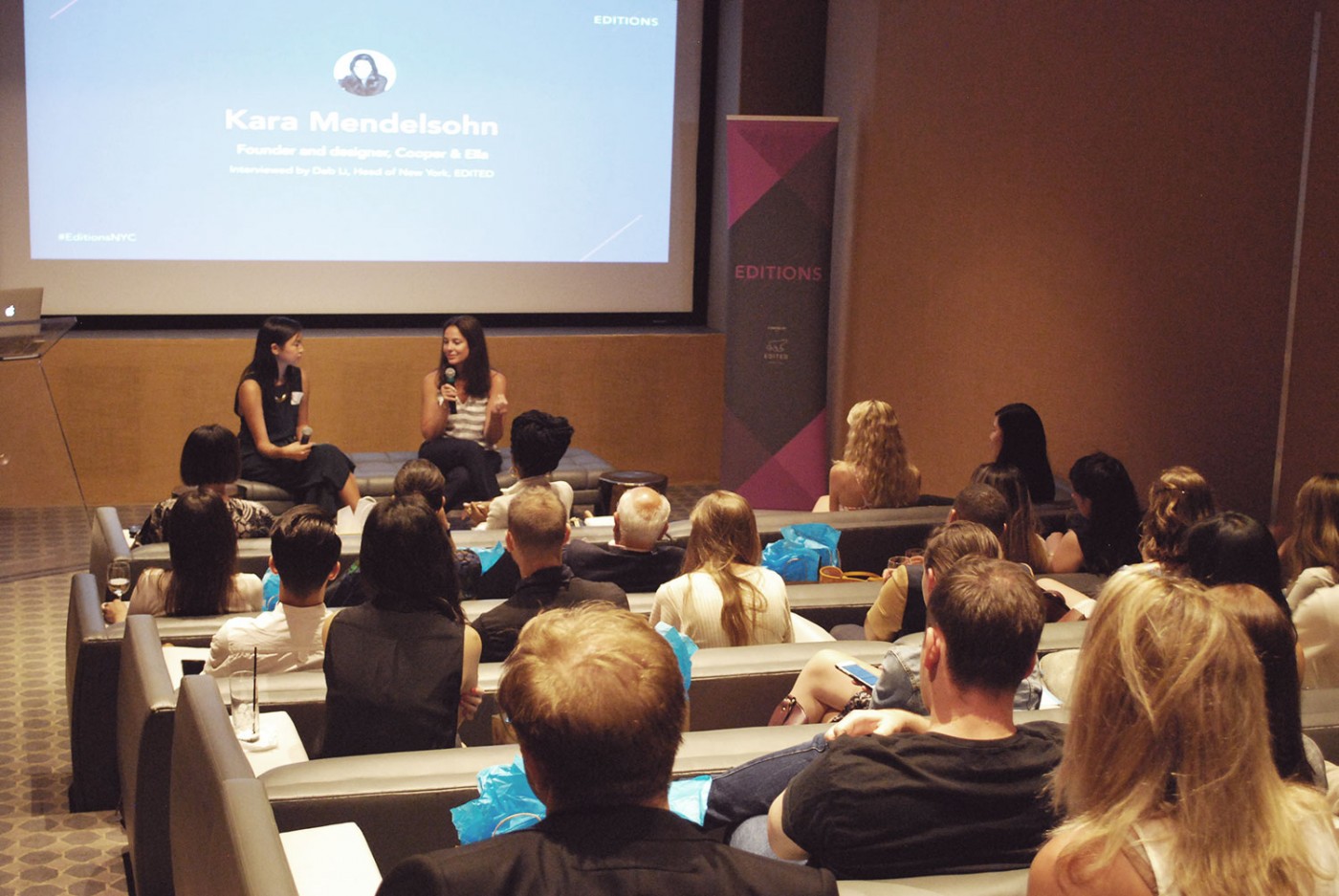 On starting her own business after leaving Michael Kors:
"I started from a place where I understood where I could price my products the right way. I started with a super low overhead; I did everything with a shoestring budget. I didn't do a show or a presentation because there are a thousand shows and presentations. I didn't need to spend money on that. I knew I needed a good lookbook and the right price."
On why it's important to visit stores:
"You have to be in the stores. I think a lot of people end up working in a bubble of their office and being so overwhelmed with the sheer volume of work they have to get through every day that they're not spending any time in the stores and understanding who their competitors are or who their customer is. If you're not getting to the stores, you're operating blindly."
On why she's intentionally kept her staff small:
"We kept it very lean in order to keep our company profitable. I wanted it to be profitable from the beginning. We don't spend money on marketing or things like that. Everything is scrappy more or less. The positive of that is that we're very nimble. For a small contemporary brand, we have the ability to create exclusives however we want. We can develop things in weeks. We can react to the market and recut things very quickly. We can see opportunities and get ahead of them before big companies do."
On what's next for retailers:
I think everybody right now is scratching their heads thinking, 'where are we going from here?', because business is just not good. I'm lucky that my business is good because my prices are good, but there's always somebody right behind you with better prices and just as good product. So we're constantly thinking and talking about that next step.
On using Amazon:
"Amazon is a monster. But how does anyone find my product on there? Amazon is a huge opportunity if you can figure it out."
On planning your buys:
"Inventory will kill you. The death of anyone's business is inventory. It's an albatross. It's your worst nightmare."
"The death of anyone's business is inventory. It's an albatross." Wisdom shared at #EDITIONSNYC
Tracy Kebatta, Director of Planning at Opening Ceremony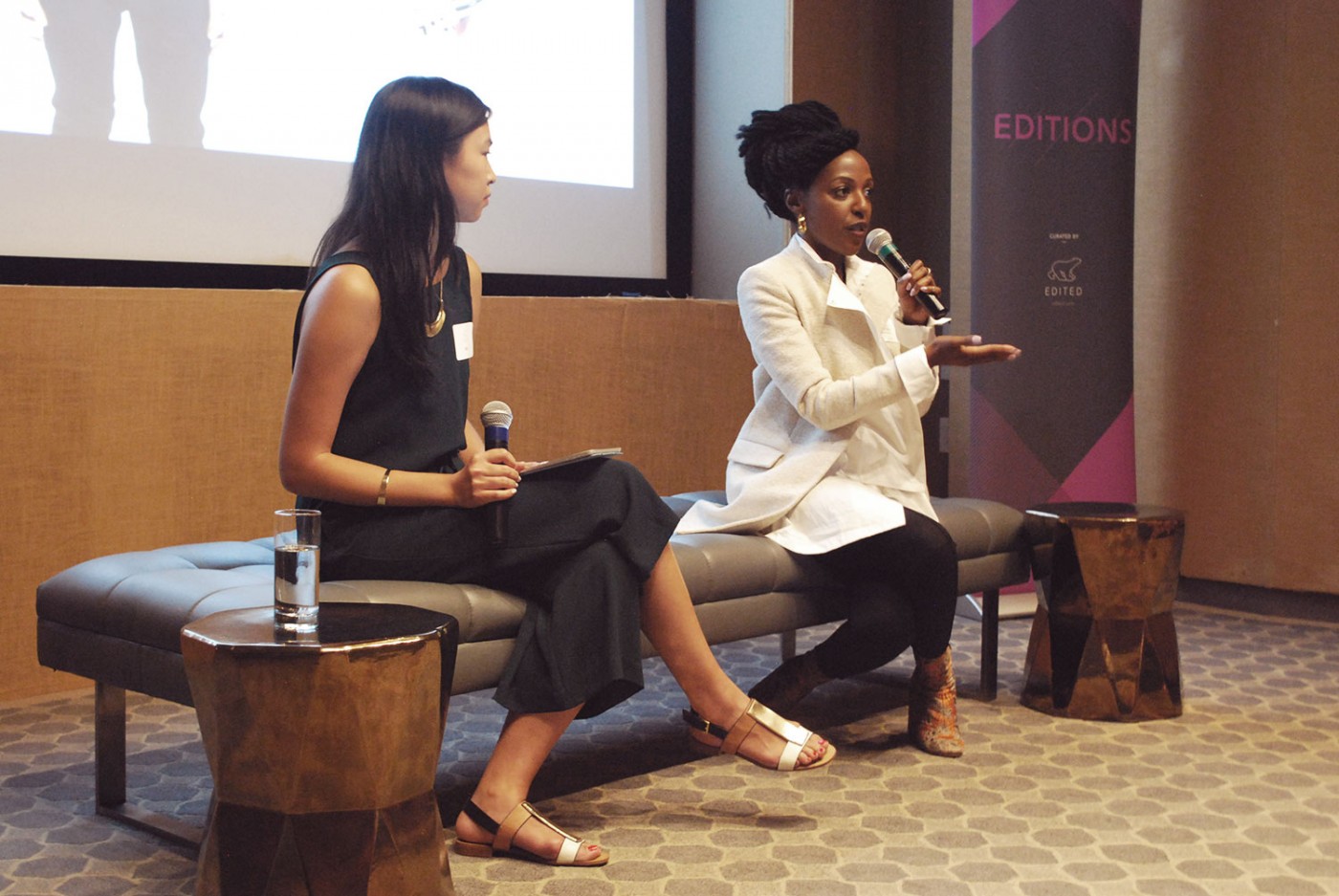 "The really fun thing about facts and figures is they don't speak back. "
---
On moving from buying to planning:
"Buying in department stores is a very interesting environment, where everybody and their mother has an opinion. But the numbers on an Excel spreadsheet are the facts, and I enjoy numbers."
On bringing metrics and KPIs to Opening Ceremony:
"[Opening Ceremony] was never about numbers. But since it's 2016, we need to see what the bottom line is. And to get to that bottom line, we need metrics. … At Opening Ceremony, the environment was very creative and they were just challenged to be creative. And then you had people like me that were inserted into the organization asking, 'are your creative decisions making money?'. It was a difficult transition. But I think through the past two years I've been there they're realizing that competitively, we are all in business to make money."
"90% of the decision making should go with a numeric, fact-based point of view" says Tracy Kebatta.
On staying competitive:
"The retail environment is struggling. We're doing our best to remain an interesting portal and that comes with our collaborations. Coming down the pipeline, which is now public knowledge, is that our owners are now collaborating with Kenzo for H&M. That's going to create a further emergence of Opening Ceremony, that it's still an interesting place to be. For Fall, I'm not going to say which collaborations we have coming, but they're really interesting. … That's how we're trying to stay relevant, stay interesting and stay ahead of the pulse."
On surviving fast fashion:
"Fast fashion is eating everybody alive but I think there still needs to be those cornerstones of true fashion. And if you maintain margin, you maintain interest and you maintain decent sales – you can ride this wave out."
On discounting:
"Discounting is a nightmare but it's a necessary nightmare. Discounts are eroding any brands' integrity. We might have to have a cartel meeting with Macy's, Saks, Bloomingdales and all of us stand together and decide to stop doing it to bring back that credibility to American fashion. It's getting really messy."
As always, thanks to everyone who came, listened and asked questions! And a special thanks again to all of our excellent speakers.
Want to speak at an upcoming EDITIONS in London or New York? We'd love to hear from you! Email us at [email protected].