New York Fashion Week proved that fashion doesn't operate in a vacuum. In the wake of one major hurricane, during another and amid the uproar of Trump's decision on DACA, the escapism of fashion seems trivial right now.
For this industry to stay healthy, brands need to make clothing that feels relevant to consumers. Fresh, modern, comfortable and functional. Many of New York's designers did just that.
These five trends are already safe to put on a buyer's checklist for Spring 2018. And we have the data to show why.
Five New York Fashion Week Spring 2018 Trends
1. A World Askew
The 80s story which defined Spring 2017, and carries on into Fall 2017, is still lurking for next year. We no longer need the textbook riffs on the decade. Instead, for next season, the best takes on the trend are through color (vivid) and form (ruffled).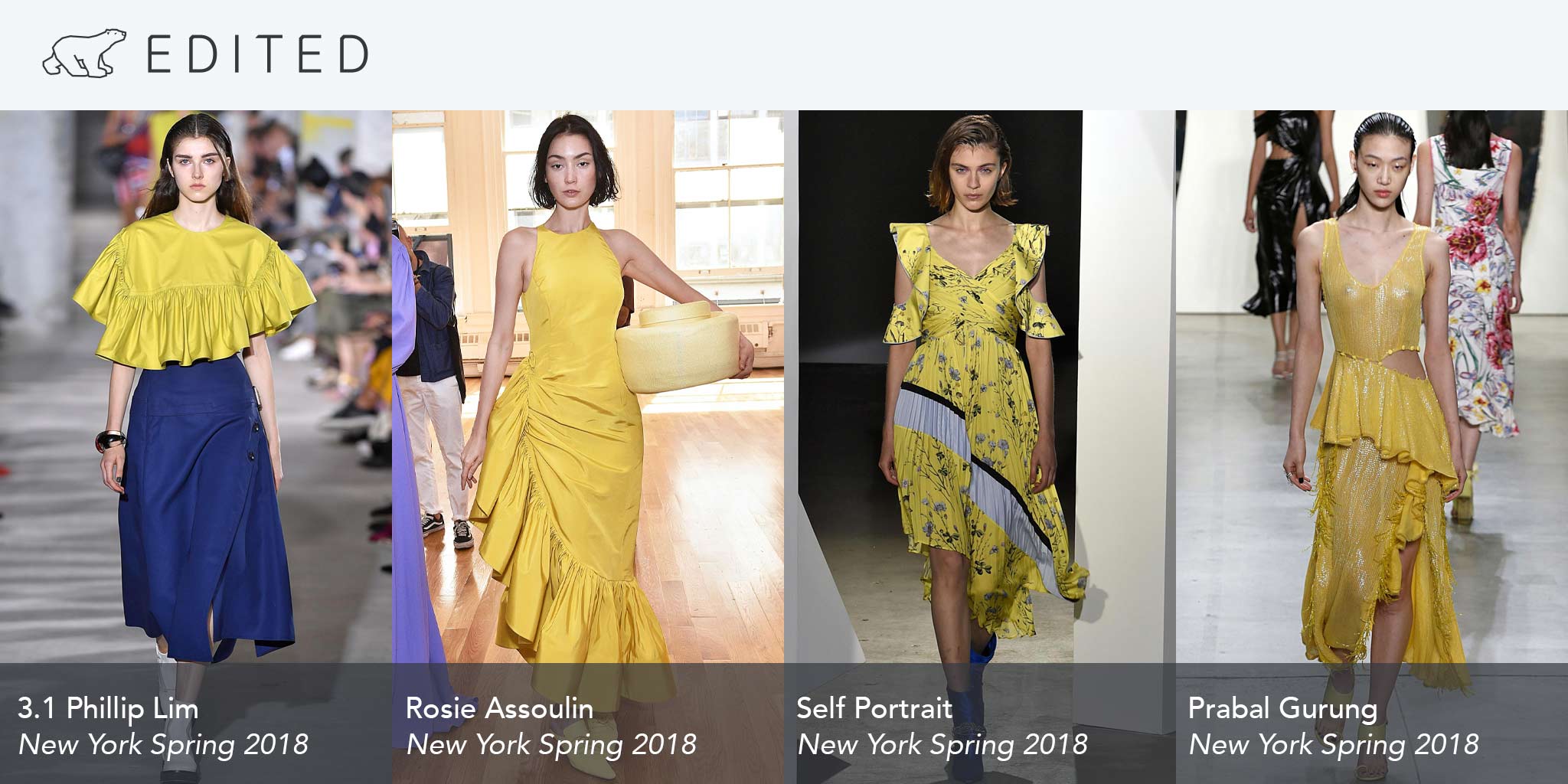 The data behind the trend: For Spring 2017, new arrivals of ruffled dresses at trend-led retailers were up by 209% compared to the year before. They've performed well, with high replenishment and 39% still retailing at full price. Yellow was the fifth best-performing color after neutrals.
Despite the summery look of a ruffle-trimmed dress, new arrivals this Fall are climbing too – up 179% so far – a sure sign that they'll still be on consumer radars come Spring 2018.
Bright shots of chartreuse and lemon, asymmetric cuts and ruffles are the short-cut to absolute nowness.
2. A Rethink on Pink
Bid goodbye to millennial pink. Red has booted Instagram's favorite color once and for all!
Ok, so that's a little dramatic. Pink won't fall out of favour over night, or even within six months. But it's no longer the hottest news, because shades of traffic-stopping red are.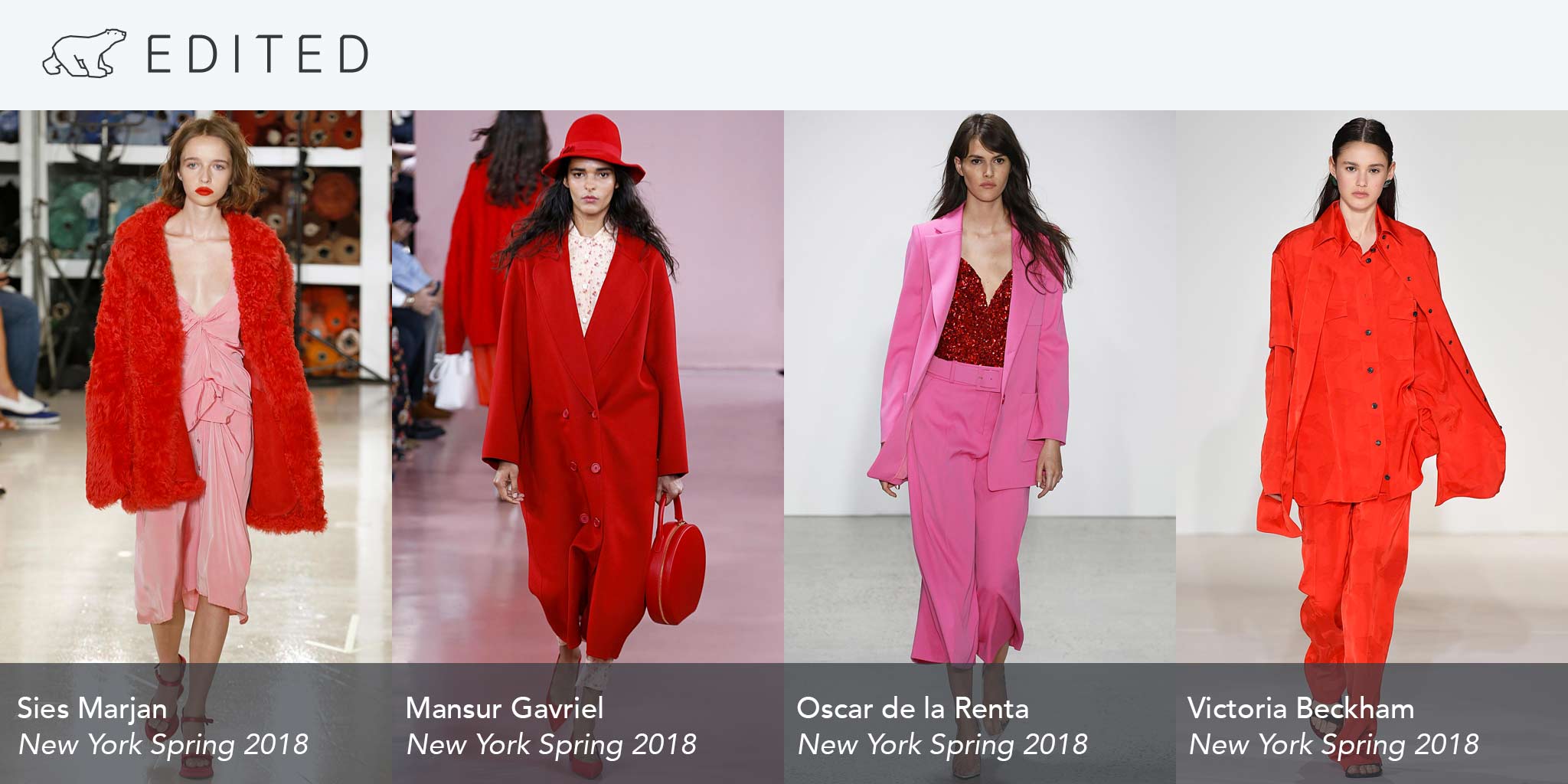 The data behind the trend: Red is already on the climb at trend-led retailers in the US and the UK, with new arrivals for Fall 2017 climbing 111% from a year ago. Pink arrivals are still ahead, but by Spring 2018, consumers will be looking for the next.
And sealing the tastemaker approval on cherry red is beauty brand Glossier. With a business model which truly gets today's consumers, and having picked up $34.4 million in venture capital, the company drove the popularity of millennial pink with their worshipped branding and packaging.
This week saw the launch of a new line, Body Hero, and with it the introduction of a bright pop of red, which has crept into the brand's Instagram feed and buzzed-about stores. The shade is Supreme-esque, which we all know has transitioned from underground cool kids to fashion's want-list. If Glossier do it, consumers will want it. Get queuing that pink and cherry red merch now.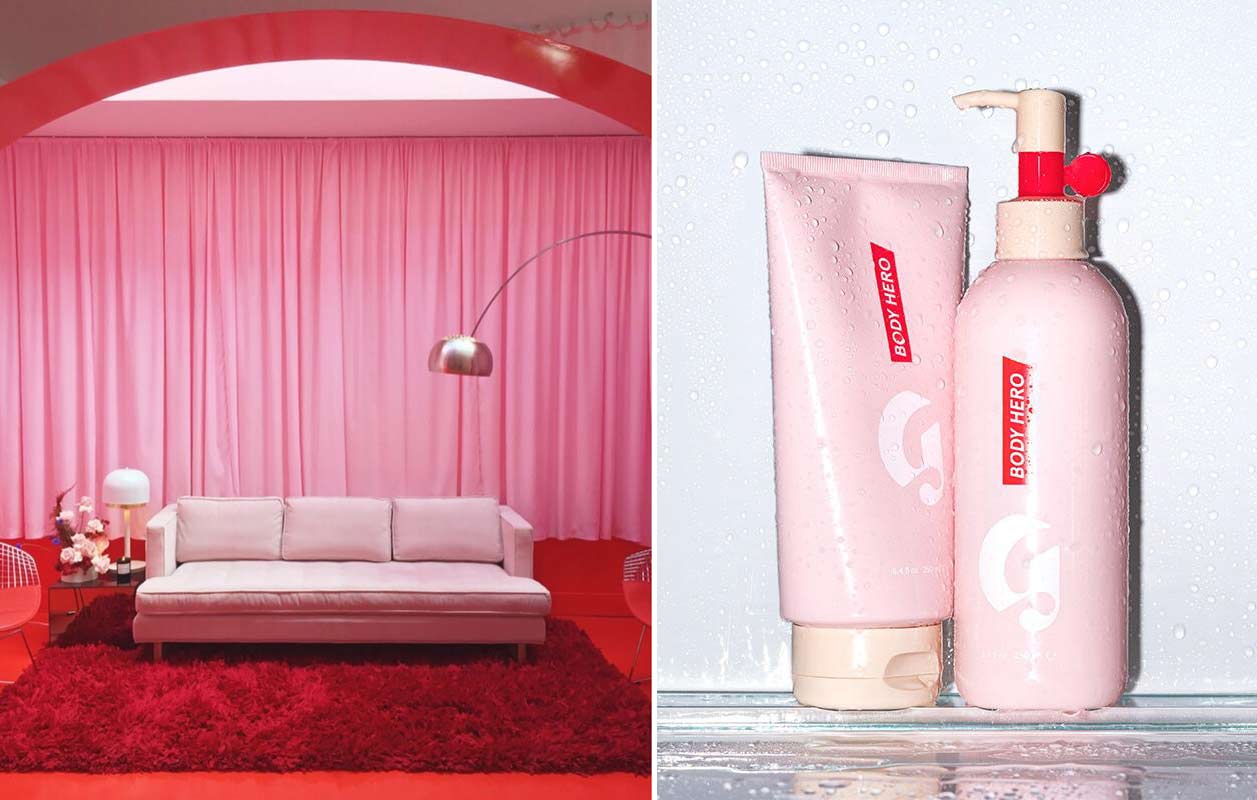 3. Cropped Jackets
Trucker, aviator, parka…no matter, just lop it off about the hips. Designers are digging around for a bomber replacement and for Spring 2018 they agree on cropped jackets. So should you.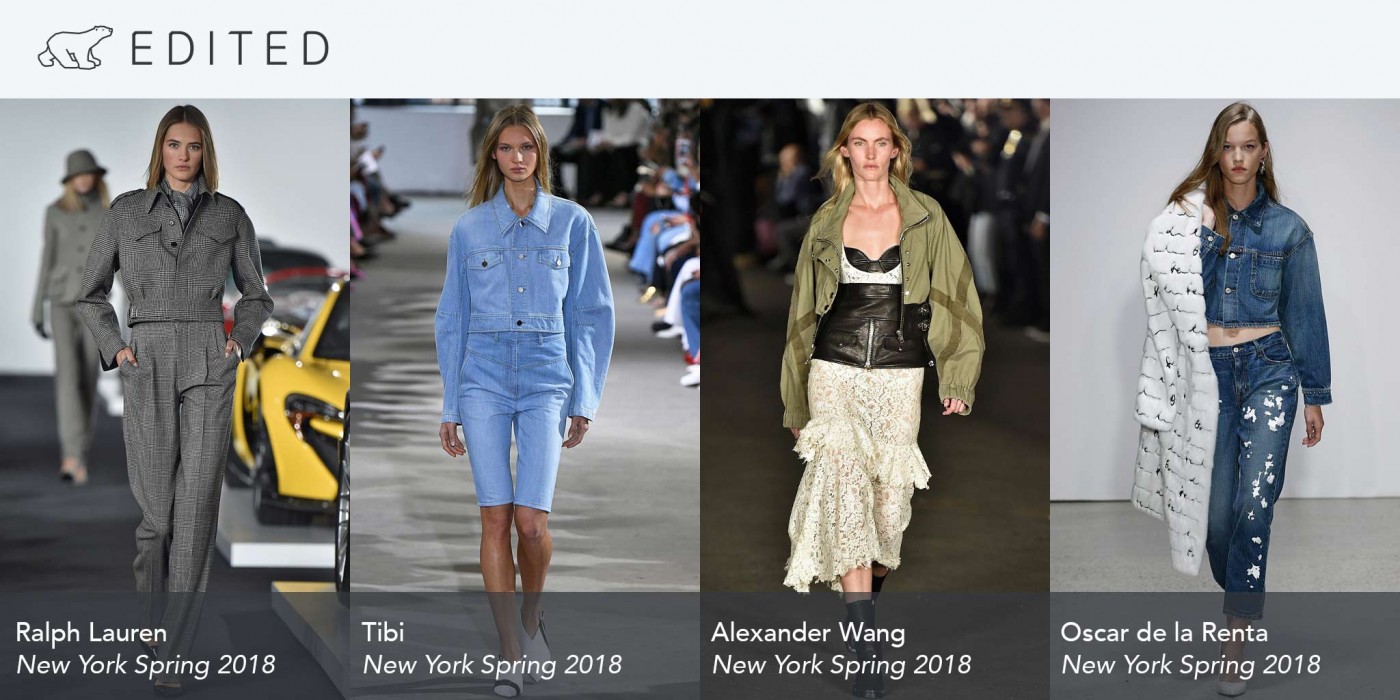 The data behind the trend: New arrivals of cropped jackets so far this Fall are up 87% on last year. Given their silhouette, these won't take many consumers all the way through winter so we expect the major shift in the trend to hit for Spring 2018. February and March are the best months for new arrivals – this is when trend-led retailers introduced the highest volume of this year's denim jacket trend.
4. Sleeve-tied Waists
This looks is sporty, casual and functional. It scores fashion points because sleeve-tied waists are a shortcut to nonchalance (the same strain of indifference as those jackets designed off-shoulder).
More than just side tabs belted across the waist, many of these ties actually had cuffs. Alexander Wang's sleeves topped a pair of jeans, while Kith took the basic sweater and gave it a twist.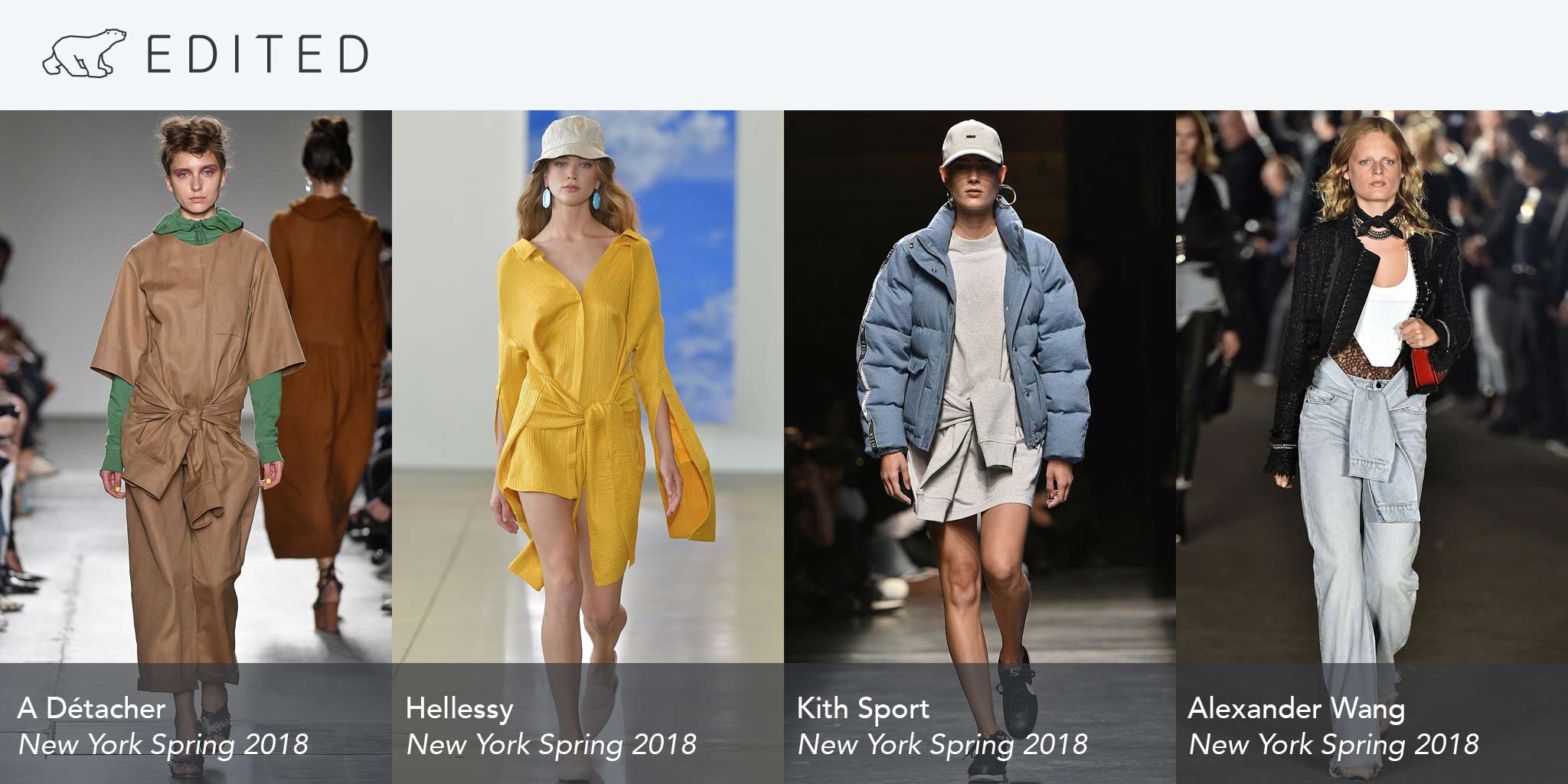 The data behind the trend: Tie waists were popular for Spring 2017, with 40% selling out full price (17% was industry average for the season). 42% of tie waists for Spring appeared on dresses, and with the hoodie and sweater still being hot property, it looks like Kith's take will be on the money next season.
5. Unlikely Lilac
Strong use of color is something that really came through at NYFW. This one is a slightly bonkers shade, and we'll be upfront: it doesn't always sell the best. But enough designers are referencing sugary-sweet lilacs that you'll need a way to approach this for Spring 2018.
Our advice? Read this article on how to handle colors that are a merchandising trend (rather than a product trend) that will shift volume.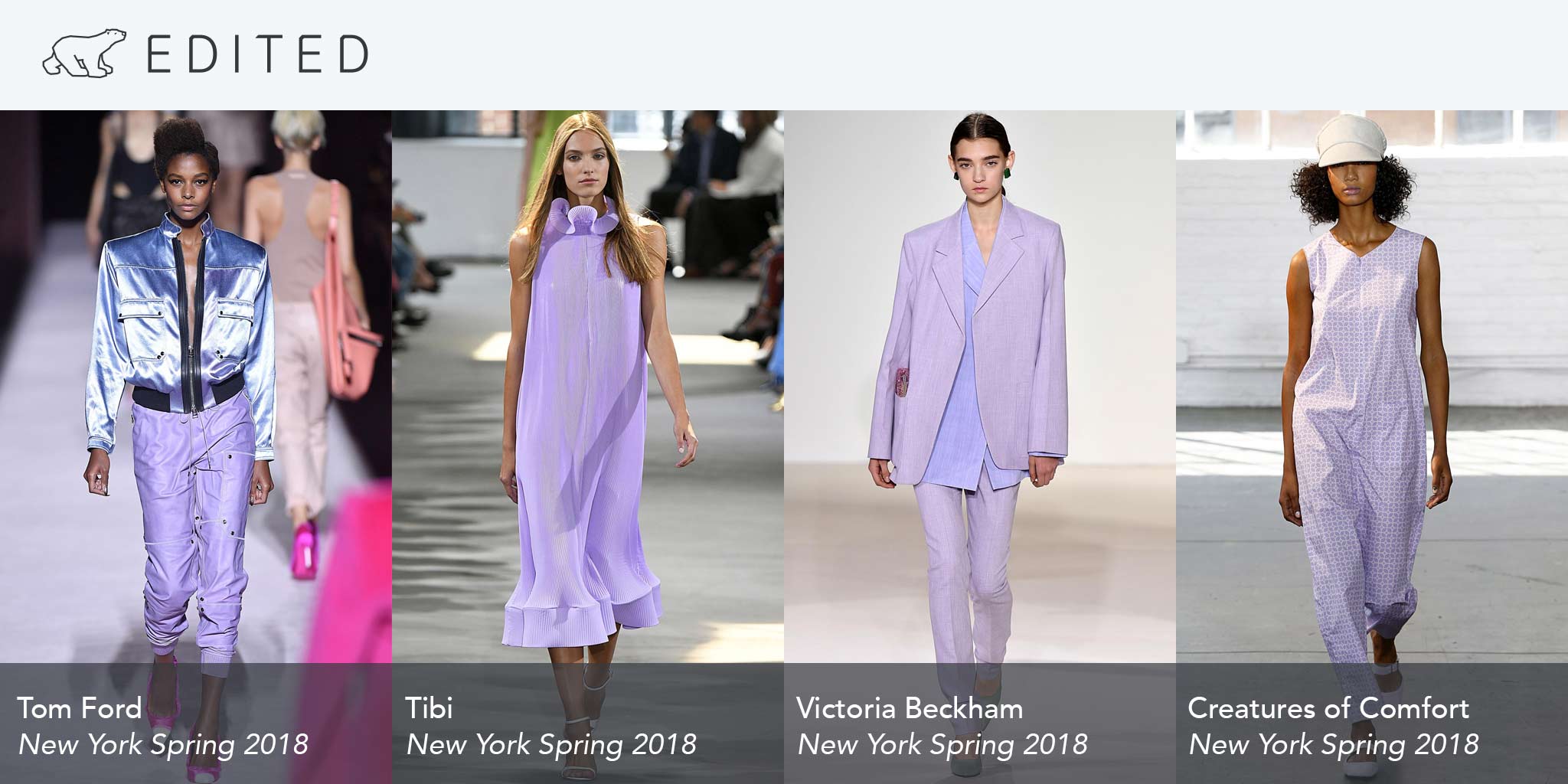 Keep your eyes peeled through the month for data-driven fashion week trends. And talk to us if you want to find out more. EDITED users, log in now to take a look at all the show analysis.
Five NYFW trends for every buyer's Spring 2018 checklist.