We're tearing through Fall 2017 fashion weeks at full speed. This week we said goodbye to Milan, where bursts of decadent eccentricity dazzled at Prada, Antonio Maras and of course, Gucci. It was week of buttery soft leather worked into covetable outerwear and shimmering gold dresses chiming with Oscar night decadence.
However, since not all of us have a need for – or a wallet allowing – such items. Let's shift our focus to the trends that really work in retail, those walking that elusive line between functional and desirable. Around fashion weeks, street style provides a reflection of that balance that's just as directional the runways themselves. Consumers get to see real-er people doing "normal" things in clothes that can be every bit as aspirational.
Here we've looked at the current trends in street style and found realistic ways that runway will move them on.
1. A Color Statement
Now: Pink, pink, everything pink.

Next: Red, red, everything red. Take your pick from the rich tones on velvets and plush furs, traffic-stopper reds on sheers and dresses and a tomato toned red at Jil Sander. Street style pros will be wearing the shade head to toe for Fall 2017.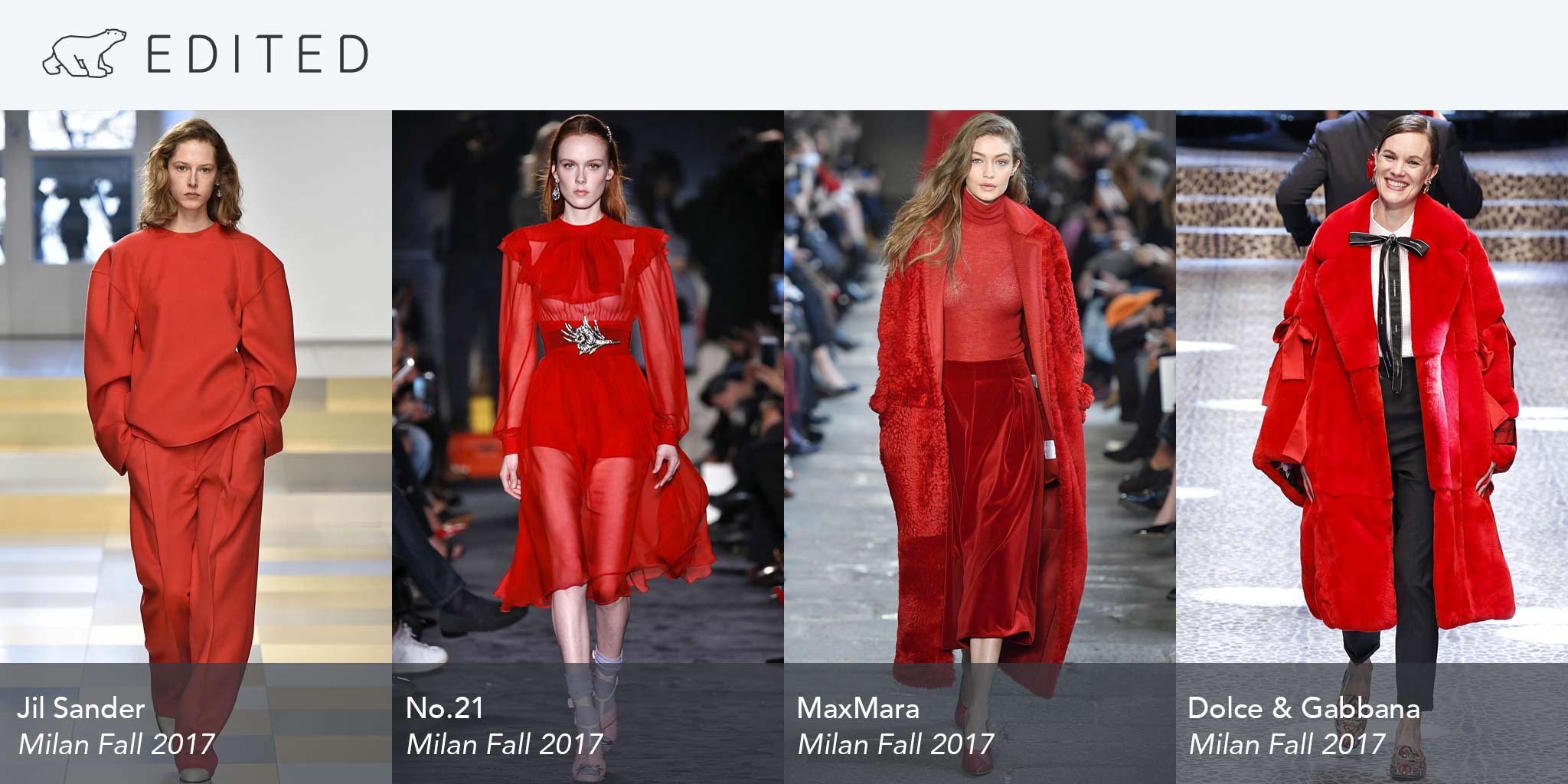 2. The Power Sweater
Now: February's took place under an unseasonably warm sun, shifting the sartorial focus outerwear to sweaters. Right now these are veering towards street-y and statement-y oversized hoodies (yes, still in pink). But there were fine knits too, with oversized sleeves or dramatic necklines, whose textures contrasted well with metallic fabrics and pleats.

Next: Talk about traceable evolution, check out Milan's sweater trend. The verdict has come down: it's a super-long ribbed knit with roll neck, it's slit to one side and it will carry you through whatever the weather throws at us next winter.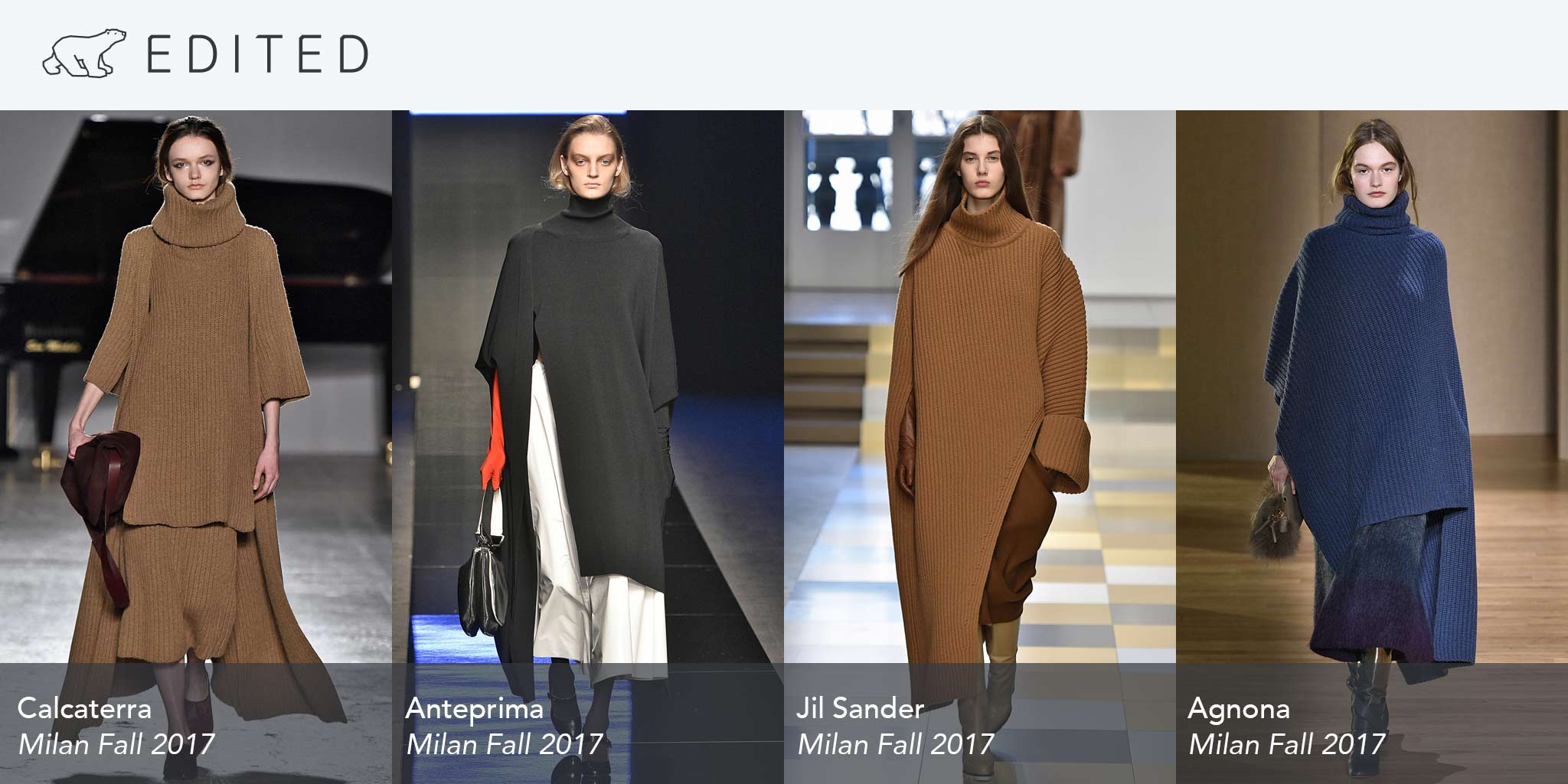 3. The Hero Jacket
Now: The stars of Milan's streets were decked out in a Powerpuff Girls palette of fun fur. It was the perfect statement to pair with simple jeans and white tee.

Next: Already stirring in street style, the oversized aviator is back in force for Fall 2017. Multi-colored versions will be the go-to piece for the camera-loving trend leaders on a dressed down day.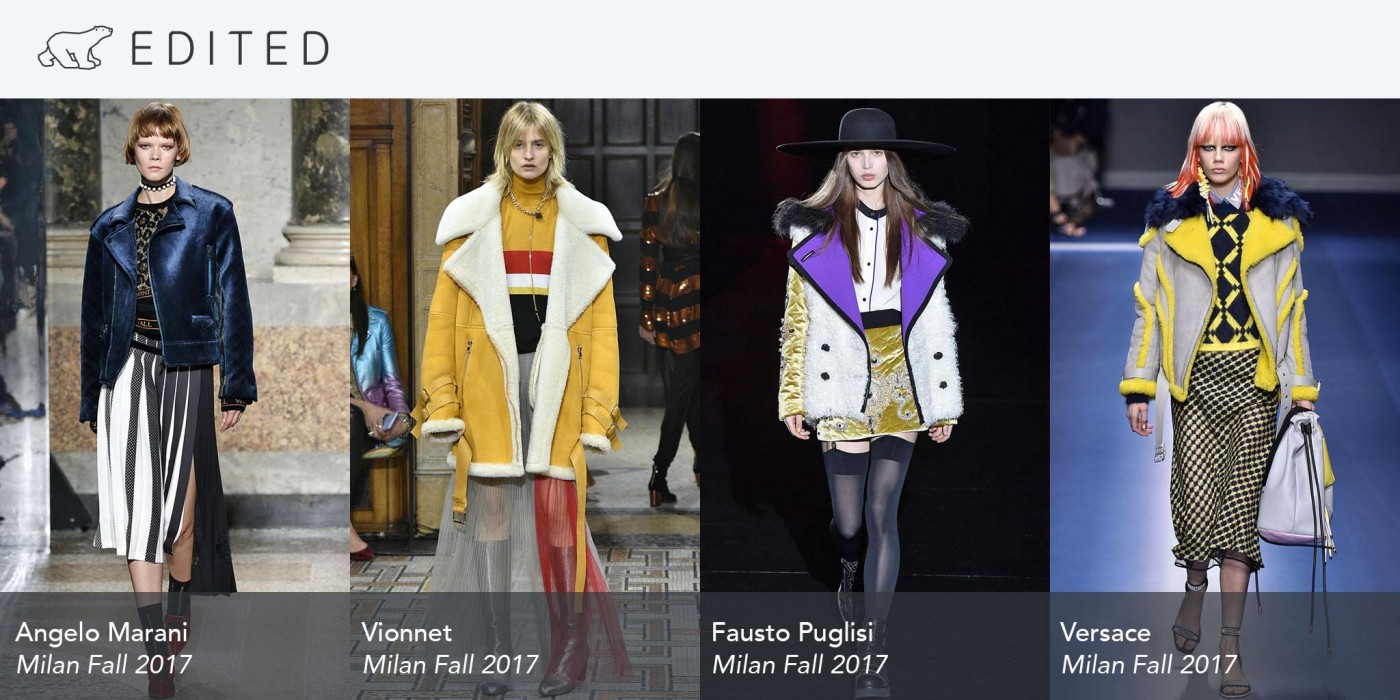 4. Super Suits
Now: There's an androgynous vibe going on in the suiting revival, a category which has largely been overlooked in recent seasons.

Next: Fall 2017 catches the suit trend attempting to fly under the radar, shakes it and unleashes it into the world with gusto. These are statement suits not bound to their masculine roots. Colour, prints, texture and shine – these hint at a whole new way of doing business.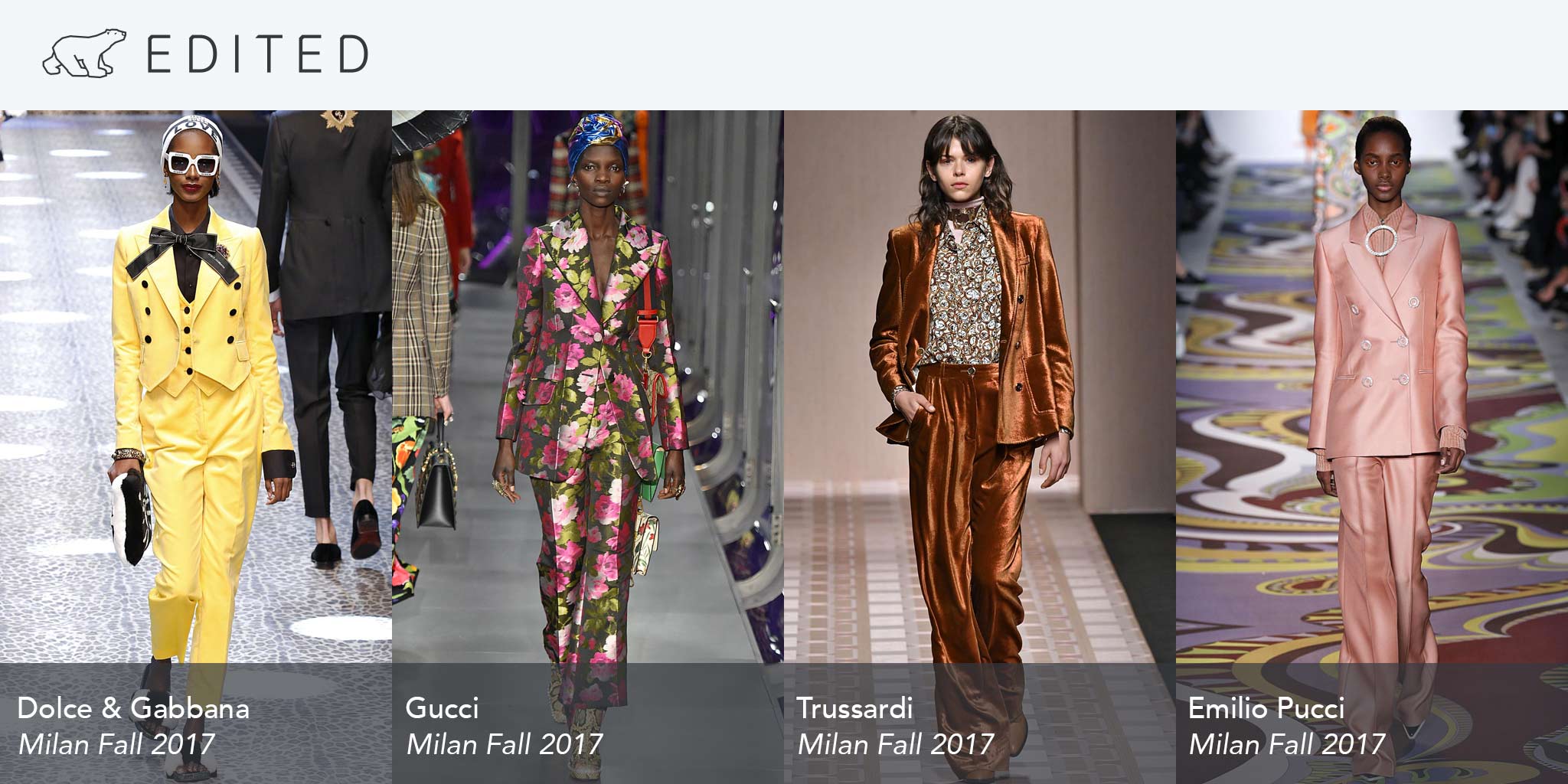 5. The Stand-out Shoe
Now: Super shine toes peeped out beneath denim and wide-cut pants. Block heels, perspex or kitten, it didn't matter – patent rendering was the key.

Next: Fingers crossed for a dry Fall, because the velvet shoe trend is only just getting started. Over-knee boots and mules in velvet are your money makers, doubling down on current hot retail trends.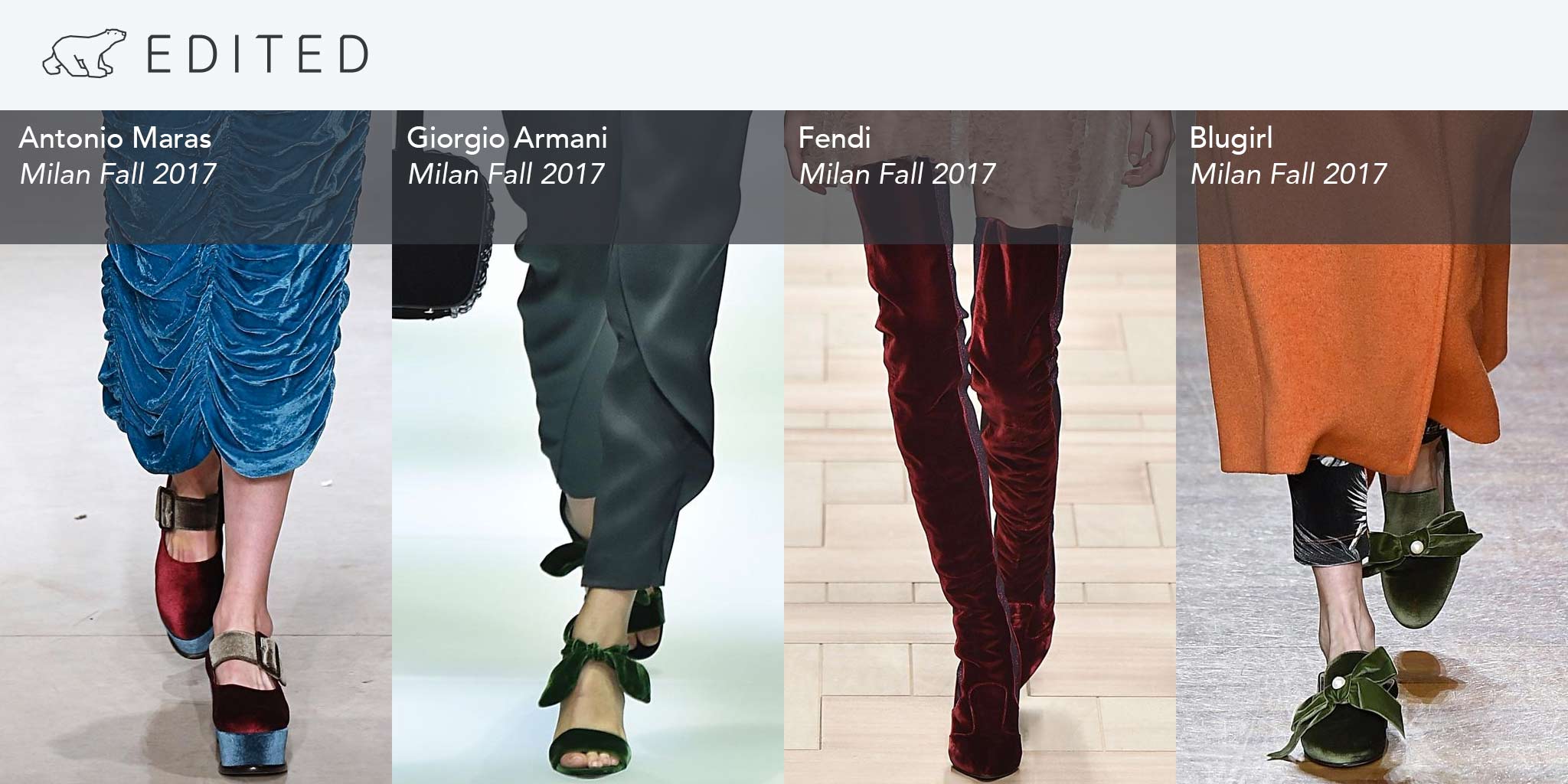 EDITED users, check out your full Milan analysis. Reports honing in on shape, color, print, theme, footwear, fabric and details are waiting for you!
Where runway meets street in Milan is where you'll find the hottest retail trends.