Here, perched between weekends one and two, what more can we say about Coachella other than Béyonce, Béyonce, Béyonce?
Star-struck as we all are by Her Greatness, we must turn our attention to the numbers behind the event and why it is such big business for millennial retailers.
And music is back, you guys. You might not have noticed it went away, but those within the industry certainly felt their bottom line shrink thanks to the digital overhaul of the last ten years.
Last year the UK music industry reported its highest revenue increase (10.7%) since the Britpop glory days of 1995. It reported a 9.5% increase in music consumption and a 24% growth in sales of vinyl.
The Millennial Dollar
That growth is worth us in retail knowing, because its how our consumers are spending their dollar. And to look at it from a specifically millennial spend – they're interested in the experience side of music over ownership.
That's what has ramped up festival attendance; more than 32 million people in the US attend at least one festival a year. Coachella, which grossed a record $114.6 million in 2017, gets 126,000 (mostly) millennials through its gate each day of the six day event.
It's not just the festival organizers winning here – an additional $704 million is spent by Coachella attendees at the event and surrounding businesses. This year's attendees will be able to dine at Indio Central Market, featuring 15 of the country's buzziest restaurants.
And you don't even have to be there to get in on the fun – there are 124 million views of Coachella videos on YouTube. And the most popular category of those vids? Coachella fashion.
Mark up your marketing calendars now, because the chart below shows the majority of eyeballs are on Coachella trends right before and early in the event.

What about retailers?
We hear you – that's all cool, but how does it affect us? Festivals have changed since the days when you wouldn't dream of taking your camera for fear of the mud or from when your phone battery is dead by end of day one. These days attendees come prepped for content-sharing.
Selfie culture has shifted festival attire from the functional raincoat-and-wellie-boot combo to high stakes fashion. For retailers needing to reach more consumers with ground-level marketing, that means big biz around game day. Cue influencers.
Wearing clothes and influencing people
Retailers are increasingly sponsoring millennial influencers' festival trips – paying for their accommodation, tickets and dressing them for the complete experience marketing package.
Revolve is doing exactly that. It attributes $650-700 million of its 2017 $1 billion in sales to ground-level marketing. At Coachella 2017 the retailer dressed 416 influencers earning an incredible 4.4 billion social impressions. That's five times more than official event sponsor, H&M.
Quite simply, as Revolve co-founder Michael Mente puts it, festivals have "become the new fashion week for millennials".
Getting in on the action
Retail is catching onto the vast opportunity. In email newsletters this year, mentions of Coachella are up 63% on last year, as measured by EDITED's Visual Merchandizing software. And on homepages, festival mentions have increased by 43% too.
Following that millennial spend: retailer mentions of Coachella in newsletters are up 63% on last year.
A wider range of retailers are joining the opportunity. When festivals were for the 'alt' or indie crowds, sportswear didn't really factor in. Now the festival market has opened up and sportswear is cool. This year, Nike, Adidas and Puma all paid homage to festival season for the first time, featuring product edits, packing essentials and limited edition styles.
2018's Top 10 Festival Trends:
Here is the hit list: the bestselling trends so far in the festival season. It runs until August, so you've still got time to push these wares to the front!
1. Waist bags
2. Sequins
3. Unitards
4. Cycle shorts
5. Co-ord sets
6. Rainbow prints
7. Crochet
8. Metallic/iridescent finishes
9. Daring swim
10. Western-style boots
If you've got EDITED access, see for yourself by building a dashboard featuring key millennial retailers like Pretty Little Thing, Zara, Forever 21, Topshop, Boohoo and ASOS. Then look at the products that have sold out in the last month. It's a colorful exercise!
And that's an important thing to note – the best of these products are about experience and escapism. They really push the boundaries of nightclub subculture: they're bold, daring and LGBTQ-friendly just like their Gen Z and millennial wearers.
Men in tights
Behold the 'megging' – the festival legwear de rigueur for fellas according to ASOS Design. In fact, the brand is really catering to the more adventurous menswear festival goer with sequin co-ord sets, statement fringing and lots metallic.
ASOS spotted the opportunity and completely cornered the market. In contrast, BoohooMan makes no mention of festival on its homepage this year.
Boohoo has grown its women's festival assortment – in 2017 it accounted for 2.2% of the entire assortment, while this year it's up to 3.5%. But the biggest increases have been at Topshop, grown from 1.3% last year to 5.2% now, Forever 21 who doubled its offering to 2.3% and H&M who grew from just 0.8% to 3.2% of the assortment in their festival edit.
How does your festival pick compare? With Gen Z demand for experience outstripping millennials', this opportunity is only set to grow. The data is clear on how festival is giving key items a longer season!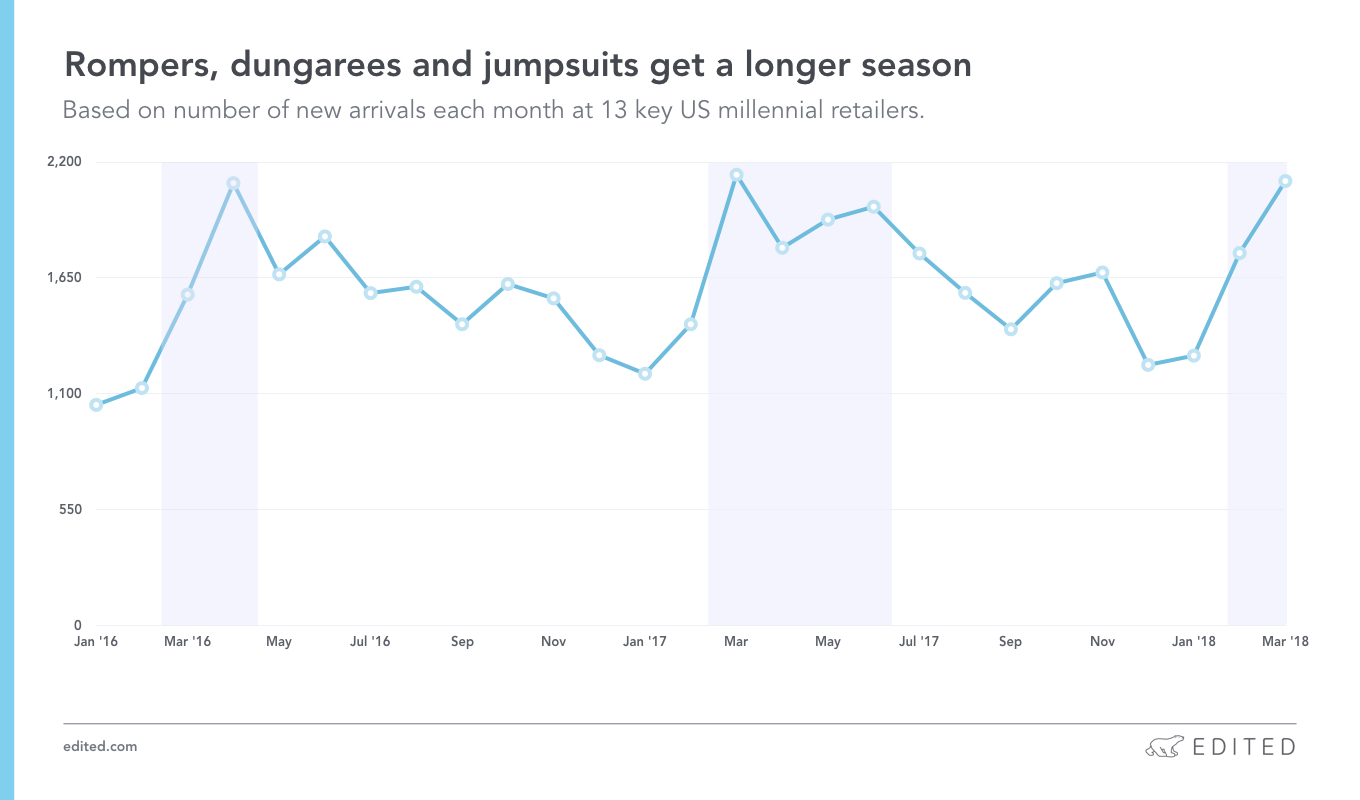 Want in? Talk to us today about festival trends, market shifts or retail data.