Plus size has been touted as a lucrative opportunity for a few years, but new data suggests the industry is all talk and not enough action.
Before we get to that, we should start by saying there are many positive things happening in plus size. In the US, 2016 plus size apparel sales grew 17% from three years before, to $20.4 billion. There are mass market retailers adding plus sizing to their offering, most recently Canada's Joe Fresh.
Then there are the new retailers reassessing the shopping experience for plus size women. One is Dia & Co. who collects data from its customers to create stylist-selected personalized boxes for shoppers to try at home, choosing to keep or return.
There's the revolutionary Universal Standard who has recently launched its Universal Fit Liberty programme. It offers the free replacement of clothing if the consumer's size fluctuates within the first year of ownership. That kind of strategy is undoubtably an industry game-changer for plus.
And this is an industry that's received a massive boost from social media driving positive messaging about body, gender and sexuality. For one, plus size celebrities have a greater platform to voice their frustrations with the industry. And importantly, fashion-obsessed plus communities have a place to be heard.
With fashion week kicking off in New York next week, can we expect to see greater equality in the shapes of the models on Spring 2018 runways?
Aside from plus retailer Torrid's show: no. Unfortunately the industry makes a lot of noise about the one or two plus size models who get booked for a handful of shows. The real focus of the industry is starkly revealed in data.
Luxury has a plus sized problem
Here it is: just 0.1% of all premium and luxury apparel identifies as plus size. Almost certainly there are garments which extend into plus sizes without any mention in the product description, how on earth is a plus size shopper supposed to find them if they're left ignored by 99.9% of the market?
Just 0.1% of the premium and luxury market is plus sized.
That 0.1% is even more implausible when you find out that, according to Plunkett Research, 67% of women in the US wear a size 14 or above.
Luxury growth has been slowing and brands are struggling to find ways to connect with consumers in a more globalized world, and yet the market still shuns the majority of women.
If consumers attitudes towards gender, sexuality, race and size are becoming more inclusive, the luxury market absolutely has to reflect it.
For too long the industry has been entirely blinkered to the that fact that a consumer can be plus size and passionate about high-quality clothing and have the money to shop it.
In the UK, 18% of 'regular' sized apparel is priced $20-40, and 20% in the US. However, for plus size apparel, 37% of UK and 39% of US women's apparel is focused on this exceptionally low price point. Plus size is crying out for an improved price architecture.
Plus sized women are already your customers
One theory is that luxury considers plus size to be off-brand. Plus doesn't conform to the industry standards of sample size perfection. Yet luxury is bankrolled by items that are already invested in by the plus size customers apparel overlooks: accessories, leather goods, beauty and fragrance. Why not make clothes for these women too?
In fact, so many luxury trends are translatable for the plus size market. Statement sleeves, ornate embellishment, bright color and bold prints are all selling well for plus and are also trends rife on the luxury market.
Brands need to understand that plus doesn't need a different message. It can come from the same brand, follow the same story and take the same seasonal direction.
Brands should spend time and money on getting fit right, but in this age of big data, that needn't be a deterrent. If Stella McCartney can build a luxury accessories brand without using leather, plus sizing is a puzzle the industry can also solve. (Incidentally, Stella McCartney does carry a few US 12-14 styles).
There are retailers that have made attempts to access the plus size market, but the execution is still frustrating. Prabal Gurung has a popular line at plus size retailer Lane Bryant and yet the brand's runway offering stops at US size 10.
At least millennial retailers are a bright spot, right? Ah, well…
Millennial retailers not growing plus fast enough
The plus size opportunity for millennial retailers is vast. 34% of 13-17 year old girls bought plus size clothing in 2016, according to NPD, more than double the percentage in 2012.
There are retailers who excel with plus size. ASOS's Curve line suffers from less discounting than any of the retailers other own-labels and Q1 of this year saw a 119% increase in new arrivals from two years ago.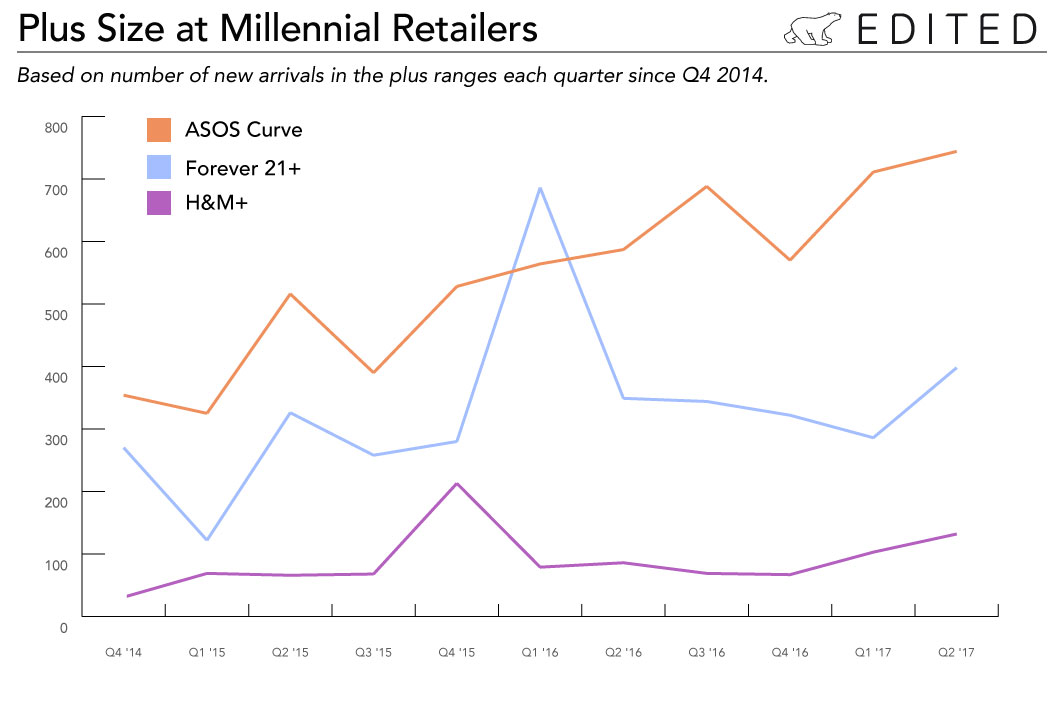 But growth at H&M and Forever 21 slow, as the chart above shows. In the most part, it doesn't match that 100% increase in 13-17 girls buying plus. It looks like ASOS is capturing the majority of millennial business.
Currently trending in plus size are midi dresses and skirts, off-shoulder dresses and tops, gingham and kimono shapes. See, those trends don't sound so different do they? And yet, where is Topshop or Zara on plus?
Retailers, particularly premium and luxury, we urge you: wake up to plus. With a little care, there's potential to reach someone new who has been itching to become your customer.
Recent successful luxury items that could easily have worked for the plus size consumer: