Despite Nicki Minaj's attempts to convince the world that cyber punk's not dead, Paris' trends went their own way for Fall 2017. But don't think that means they won't turn heads…
Here are the Paris trends for Fall 2017.
1. 80s Re-Revisited
The 80s are sticking around, cementing the big-hair decade as 2017's most inspiring. For Fall 2017 Paris designers played with ruffles, put shoulder pads on tops and blazers, used meter upon meter of high shine patents and metallics and tossed in some slouched knee high boots for good measure. This is an all-or-nothing trend.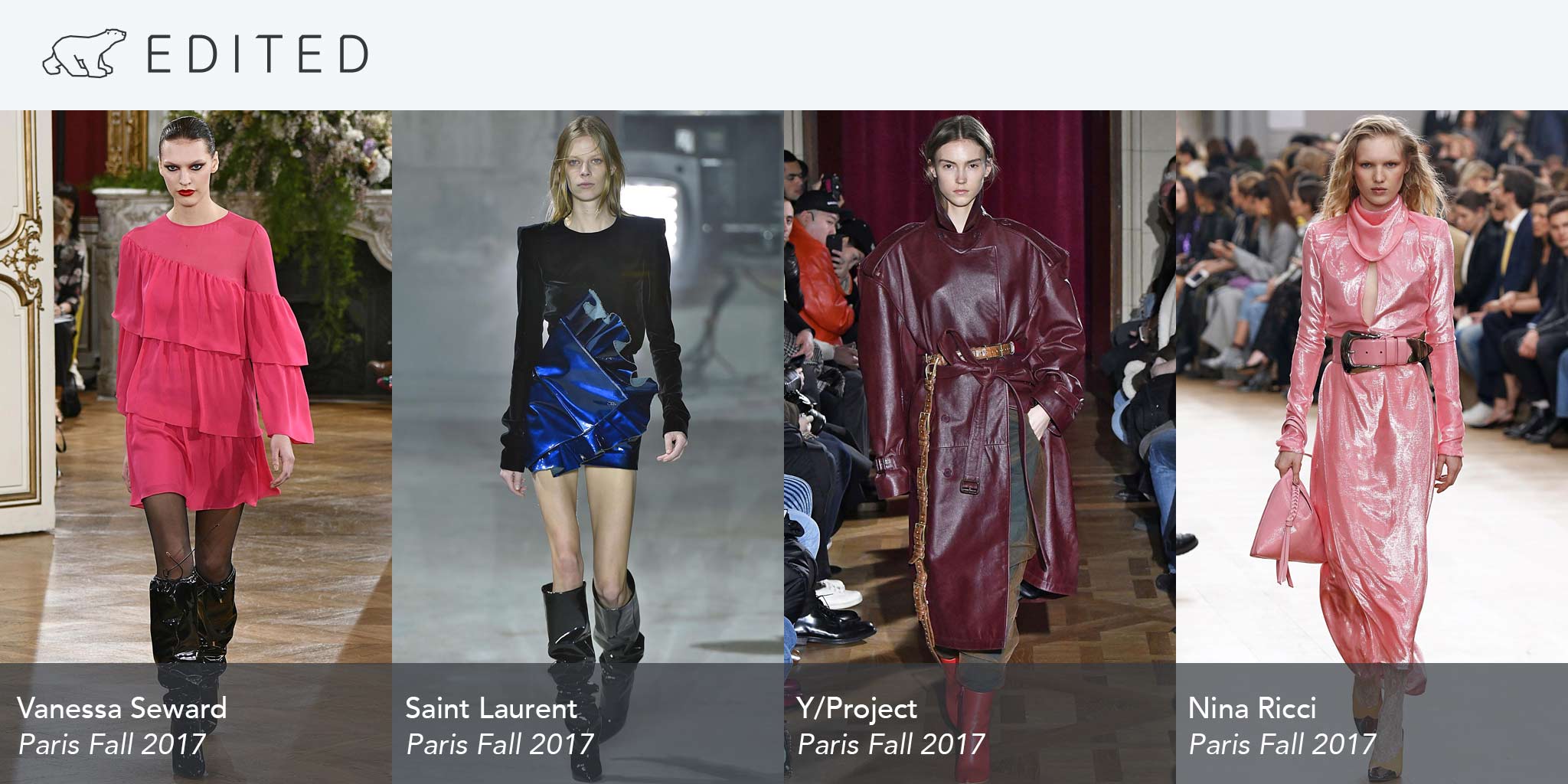 What the data says: So far this year 111 retailer newsletters have mentioned the 80s including ASOS, Urban Outfitters, Net-a-Porter, Topshop and Kurt Gieger.
For Spring 2017, retail has two interpretations. One being 80s streetwear – sporty, oversized and casual in jersey, lycra and denim. The other focusing on volume in skirts bearing ruffles, dresses with peplum waists and statement sleeves, patent vinyl pants and blouson jackets. It's a trend for the bold, and this latter take is one itching to be developed for next season.
Keep the high-waisted denim, the vinyl skirts and the bodysuits. Add in more metallics, out-sized coats and longer sleeved dresses.
2. Tan Palette
While 80s shapes may have dominated, it was refreshing to see a new color story build out. Balmain, Stella McCartney and Acne, among many others, offered tans, rust and burnt sienna that that felt like a nod a more more towards the 70s.
This tan tale is a gentle, and more commercially viable, move-on from the pops of polarizing orange spotted on the street style gurus outside the shows.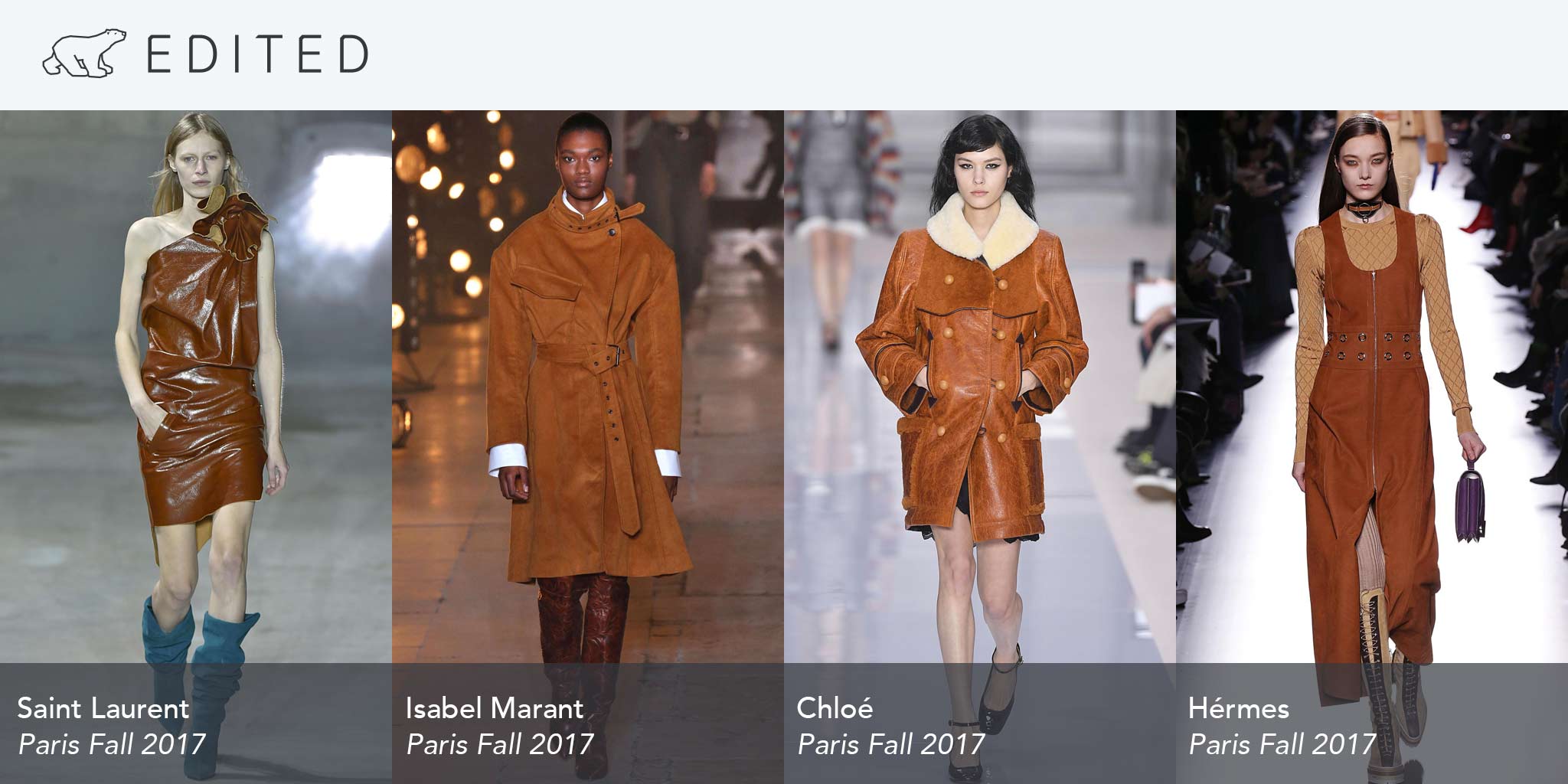 What the data says: For Fall 2016 brown shades actually decreased their presence in retail by 8% compared to 2015, with pinks and navies taking over more racks. The pinks are still important for Fall 2017 (especially the hot, Barbie shades) but the tan palettes felt interesting and won support from some the week's most reliable trend-setters.
3. Red Shoes
Step in line for Fall with a red boot. High shine or velvet lace up, it matters not: just make sure they clash with whatever else you're wearing!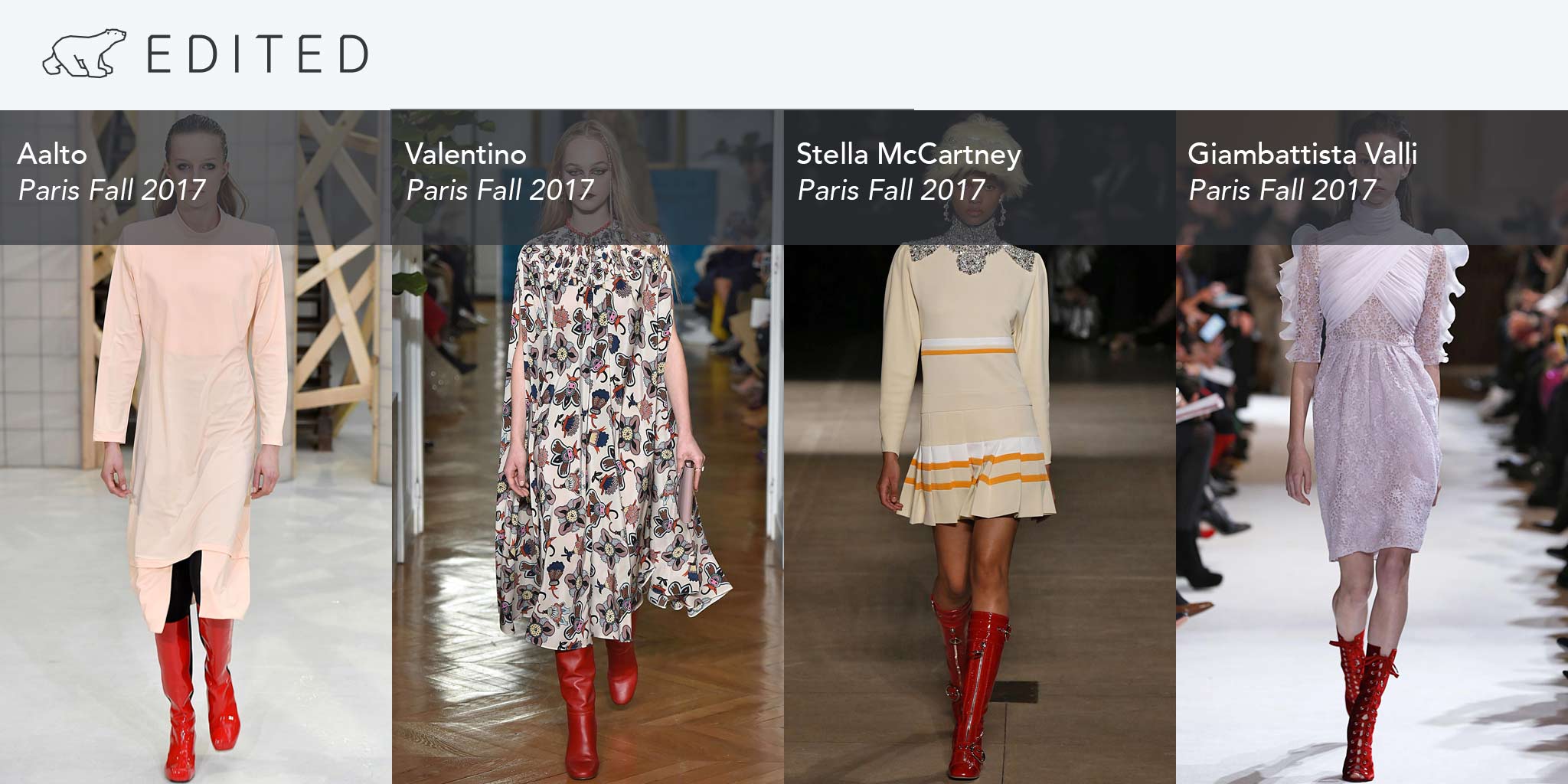 What the data says: Red footwear was only a minor inclusion for Fall 2017, yet ASOS's red patent leather ankle boot sold out in less than a month and Matches restocked Vetements' red sock boot three times. Missguided also had success with a block-heeled strappy style.
4. Trench Coats
Paris Fashion Week's dreary weather meant fashion editors got to parade their finest rain wear. Ever the oracle, fashion mirrored on the runway, putting the trench coat center stage as Fall's go-to lightweight outerwear.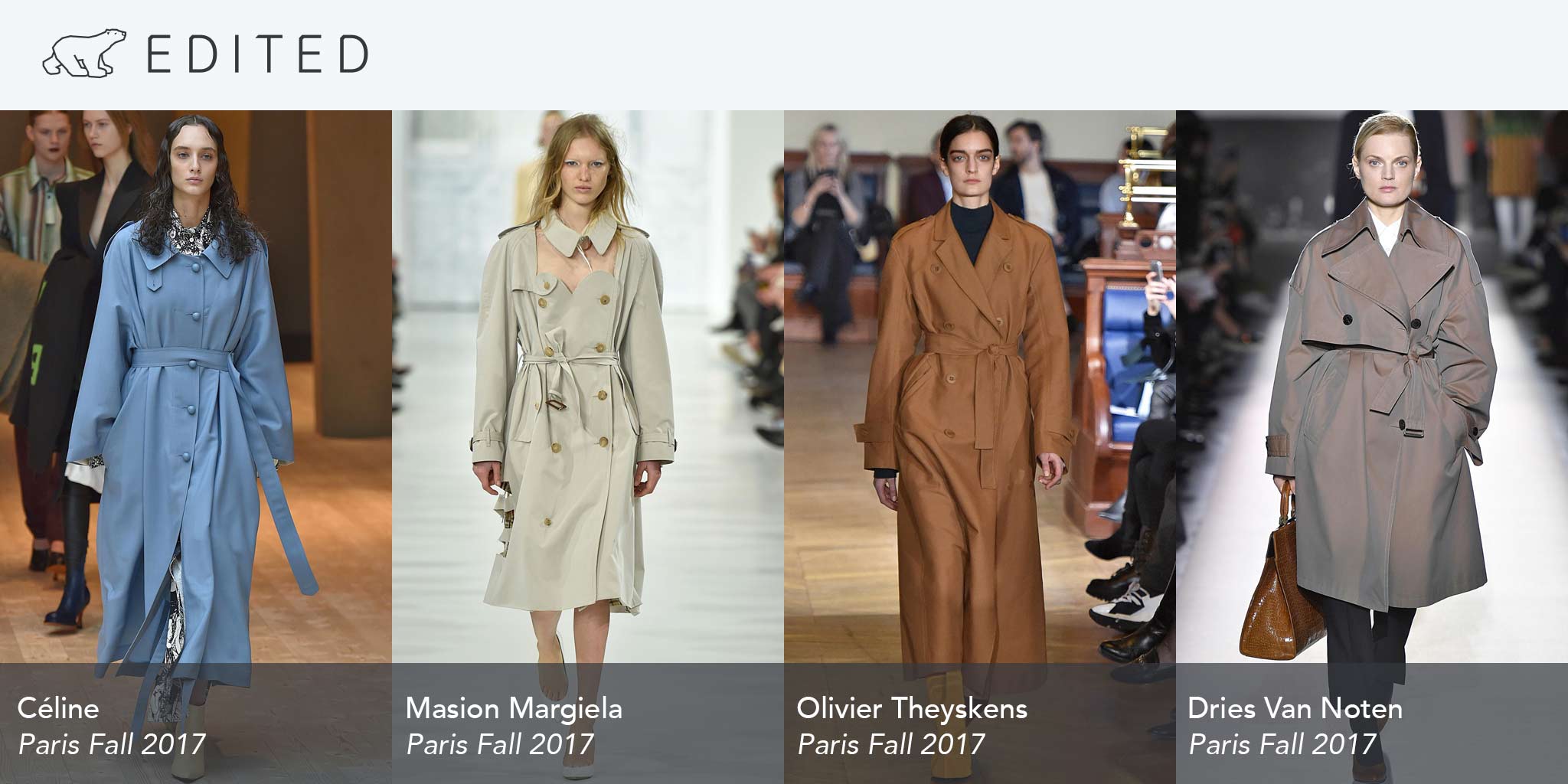 What the data says: Just 16% of new trench coats in the last three months have been discounted, which is less than bombers, bikers and parkas. However, the style – which currently has an average price of $381.98 – only represents 3% of all women's outerwear. Get in on that opportunity!
Just 16% of new trenches are discounted. Good news! Paris included them as a Fall 2017 trend.
5. Bigger is Better
Paris designers were as fixated on proportions as we've seen from their New York, London and Milan counterparts. Balenciaga super-sized its ruffled summer dresses, with matching oversized bags.
Even H&M got in on the oversized dress game – evidence that retail will be like a hound to the scent of this trend. Dresses aside, outerwear, pants, suiting, sweaters and accessories all got the oversized treatment.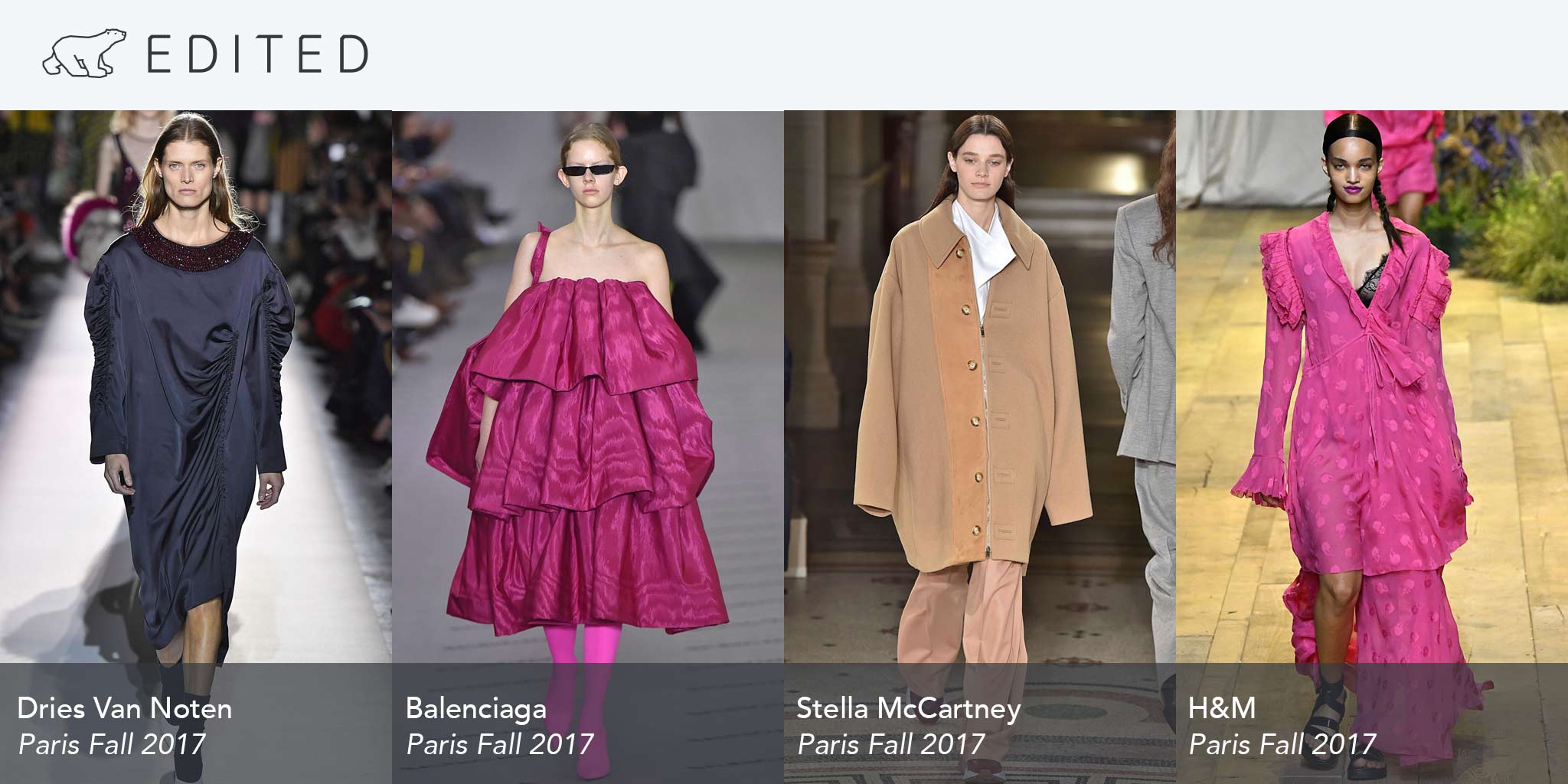 What the data says: There's been a 36% increase so far this year on wider styles of pants alone. As consumers embrace bold outerwear trends (like the oversized puffer jackets that worked so well for Fall 2016), wider fit denim and a generally relaxed silhouette, retail will want to be in on the action. Move over body-con, you've served your time. Breathe out.
6. Sunday Sweaters
Rejoice! For Fall 2017 you can get away with wearing your at-home knit out there in the world. Okay, so you might want to update it – because bobbles should never see the light of day. Don't worry though; these styles will be hitting retail soon! Block prints, crazy palettes and slouchy fit. All that's missing is a grilled cheese.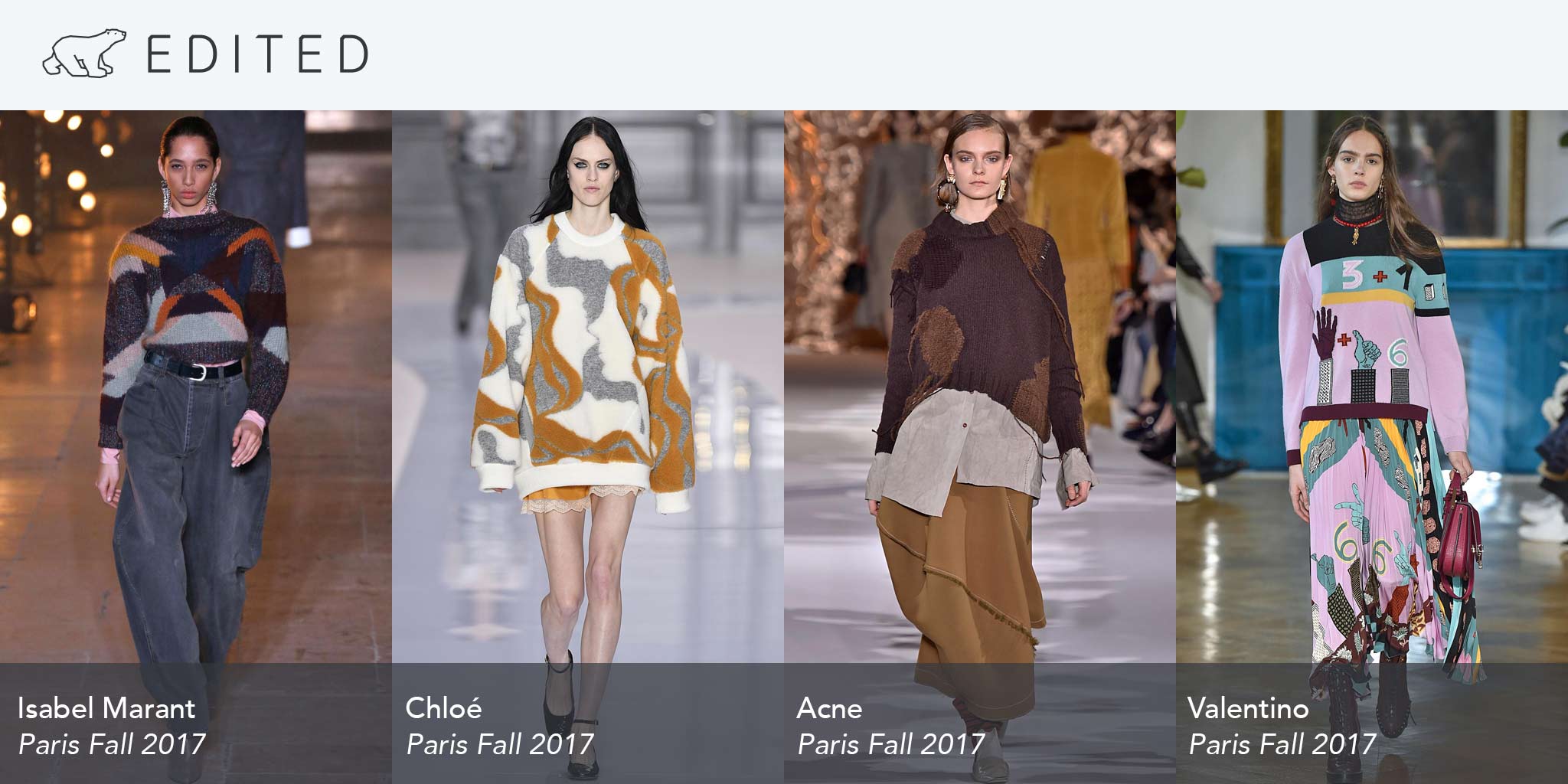 What the data says: Retail needs a new statement sweater. We've maxed out on the hoodie and doesn't it seem so long ago since Kenzo's tiger? Fall 2016 prioritized cold-shoulder, bardot and choker-necked knits, which sold the best. Prints fell by the wayside. Paris designers are correcting that this Fall!
That's all for now! Look out next week for our definitive guide to Fall 2017. In the meantime come get acquainted with the trends from New York, London and Milan.