A third of men's and women's apparel, and nearly 60% of kidswear, is patterned. It's a big business that needs its own kind of analysis.
That's why we've made an update to our software that incorporates some seriously snazzy pattern tools.
Let's get straight to the good stuff – the insights you can get in a few swift clicks!
What's in stock?
Well, this.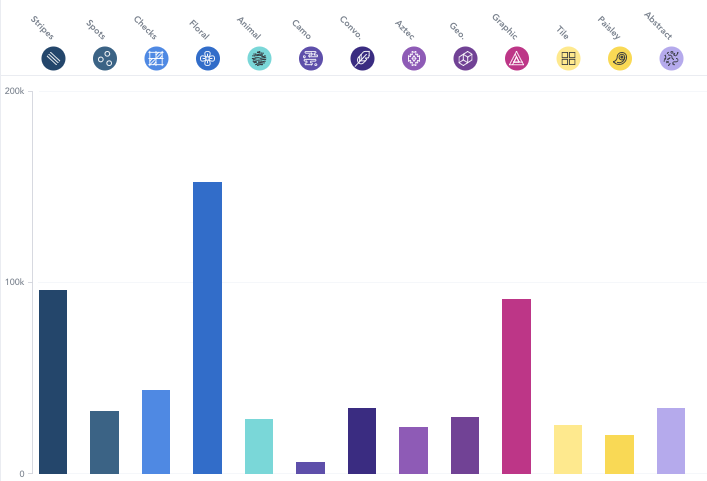 We can immediately see that in womenswear, florals are the leader of the pattern pack. It's interesting to note how few camouflage items there are online given how widely they've been referenced in editorial.

The mix hasn't changed much from this time last year, with the 16% emphasis on stripes staying put and the current 15% of graphic prints having grown by one percent. The emphasis on animal print has shrunk by one per cent and checks have grown by the same amount.

The biggest growth in any print category is florals, with last year's 21% weighting on floral up to 25% this year. Winter florals are currently leading retailer content.
Does patterned apparel sell faster online than the plain stuff?
There's a theory that bright, punchy stuff sells better online because it stands out more. But if that were the case, the same would apply in store too and we'd all be dressed in layer upon layer of prints.
In reality, consumers' relationship with products is a great deal more complex, and the speed at which stuff sells out is reliant on how much of it there was to buy in the first place.
Print has limitations on this front: whether due to the long lead times around manufacture, or being tied to selecting from what's already available on the market if you're outsourcing.
Print does sell fast, but…
Across the board, in key mass and luxury categories, plain garments take longer to sell out. But they also stay full price for longer than printed garments.
For example, in luxury, printed dresses sell out on average 8 days faster than non-printed dresses but tend to be discounted one day earlier. That shows that merchandisers give printed products a shorter lifecycle.
There's one exception right now. Printed outerwear on the mass market. It's selling out faster than plain outerwear and is discounted after the same number of days on the market on average (57 days).
Analyzing patterns: mass market printed outerwear is selling faster than plain outerwear.
How quickly do pattern trends change?
It's interesting to uncover how little print trends shift. Right now it feels like there's a real push for slogan and graphic tees.
But when you look at market data, you see the emphasis on graphic prints has only shifted 1% in women's luxury since 2013, and remained the same – representing 5% of the printed market – in women's mass.
Another key print is the Fall 2017 trend for wide or oversized checks that emerged on the runway back in February:
When we look at how runway print trends are reflected in retail the following season, we can see the impact isn't dramatic.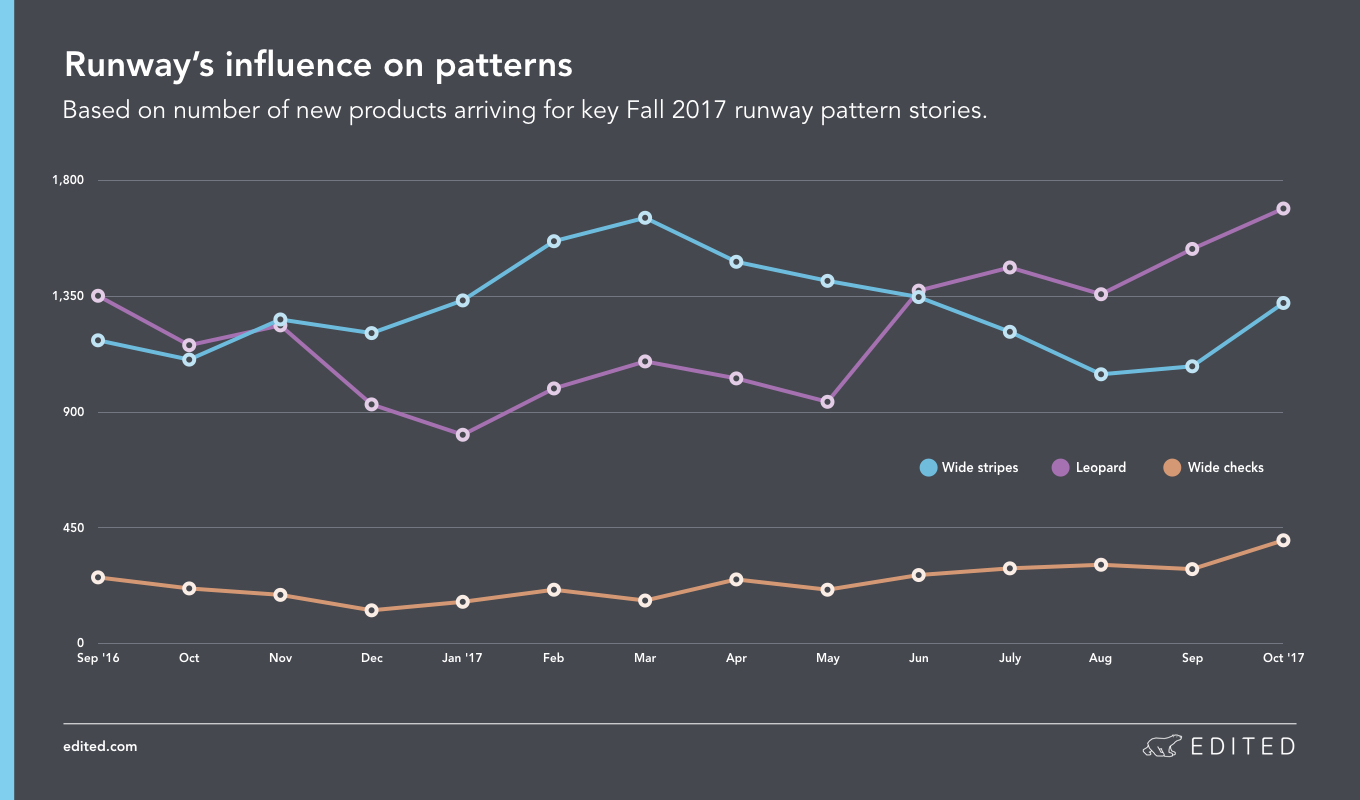 Data can help that, giving accurate insights for that risky long range planning–understanding how prints have performed in the past to gauge timing and quantities, tracking the uptake on developing print trends–as well as helping buyers work close to season by identify what's connecting with consumers in their market.
The way pattern trends are merchandised
Content keeps retail feeling full of new print trends. It's interesting to look at the types of prints that retailers are buying into, versus the ones they're talking about in their email newsletters. While florals arrived into stores in highest numbers for fall, it's check prints that retailers are talking about most.
Having a bit of freedom with storytelling and styling is great. This only becomes a problem when content shapes demand that outstrips supply. Carefully watching this balance is key.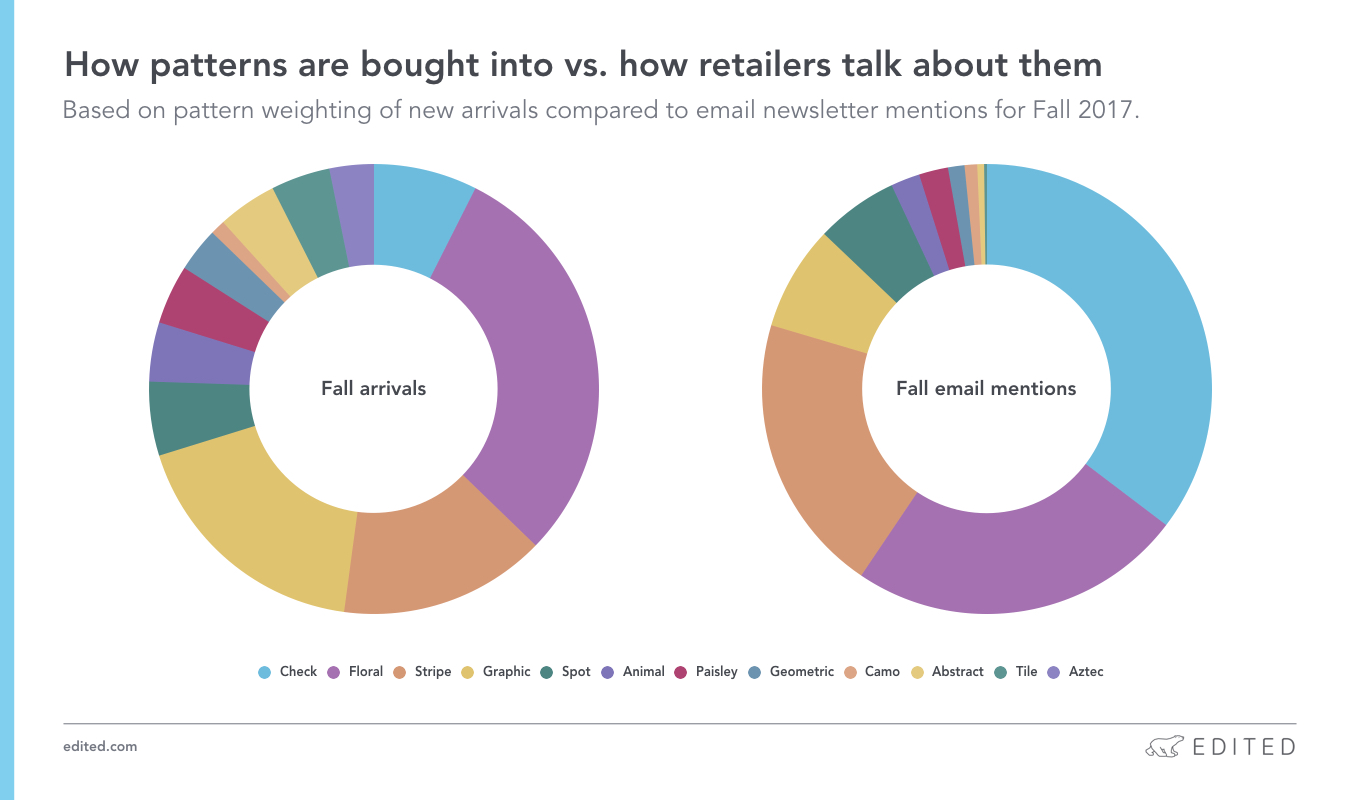 The best-selling print brands
Brands have a great print strategy, which ensures longevity beyond a seasonal story. Some brands in particular are known for their emphasis on prints.
Gucci is leading right now – it has the highest number of full price sell outs for its printed wares, which make up 50% of its assortment. Missoni, in second has 72% of its assortment printed and MSGM has 53%. These are well above the luxury industry average of 33%.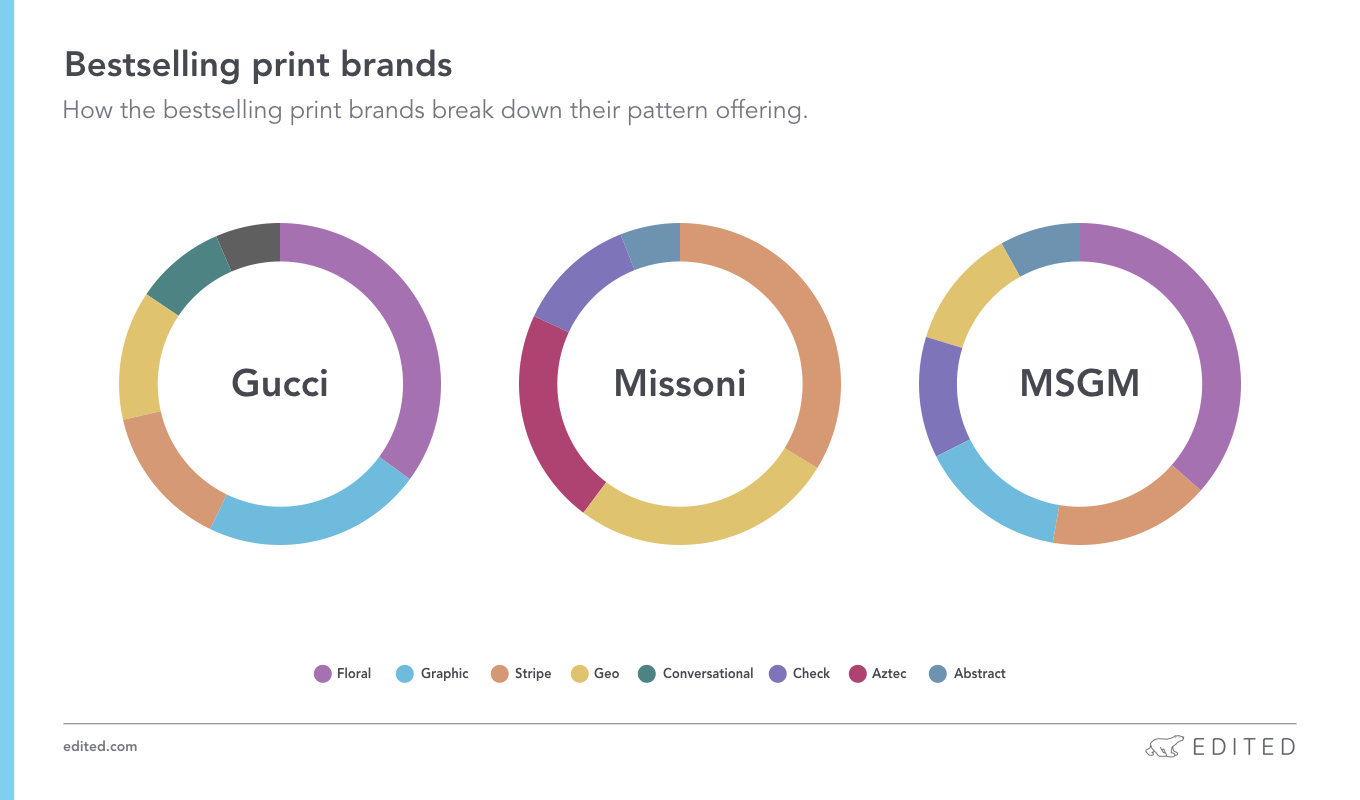 What's interesting here is that each brand has a very different approach to its print mix, in the same season. These brands aren't connecting with shoppers because they bought into the biggest print trends of the season – it's because they have a print DNA unique to their brand.
Write your own pattern DNA
These brands also have three primary print focuses, where the majority of their patterned assortment lies. What's your print DNA and top three pattern categories?
To define that, you'll need to assess what's happening in print in your market, category and price point. Is this season working brilliantly on outerwear, while bottoms tank? Is stripe the only print your competitor stocks at its entry price point?
Next, find out from historic data how your customers respond to print. That will help you plan an over-arching strategy and also outline opportunities for trend, giving you a greater flexibility to buy prints close-to-season.
Patterned apparel is a different ballgame, but you can de-risk it with data. Especially when using software made just for that job!