We thought Anna Wintour next to Cardi B at NYFW was front row gold. But this week, London hit the ball universes beyond the park, with the queen of fashion plonked alongside The Queen of the UK at Richard Quinn.
And although her front row highness was a magical moment, it wasn't the only one of the week. Mulberry is back on the schedule and Christopher Bailey's final Burberry show was a bittersweet kaleidoscope that dug back into the archive of Bailey's 17 years at the helm.
And there were protests. Anti-fur campaigners made their voices heard louder than ever before at LFW, with one protestor storming the runway at Mary Katrantzou (who uses faux fur) and many demonstrations outside shows through the week including Christopher Kane and Burberry. This campaign is gathering momentum, retailers should pay close attention to consumer demand for ethical process and increased sustainability.
The Big London Winter Trends
1. Bohemian Rhapsody
The Brits do eccentricity like nowhere else. This season designers let all of their batty aunts out of the attics, and we're pleased they did because Fall 2018 looks a little more sumptuous and a lot more wonky for it.
A layered-up winter bohemia came through at Erdem in richly-colored embellished velvets, Swiss dot tights, belted overcoats, homely sweaters and a smattering of grey marabu. At Ports 1961 the rhapsody unfolded with long cardigans, stained-glass colored paisley dresses and patchworked knits.
Chaotic mixes of print are key to this look, which leans on a 1970s palette of browns, oranges and mustard clashing with purples and pinks. Print clashing has been popular for a few seasons, propelled by the way it not only stands out online in retail, but in consumers' social snaps too.
This quarter is on track to be huge for clashing prints and patchwork. With the runway now endorsing the trend for Fall, retailers will be safe to carry the trend through to 2019.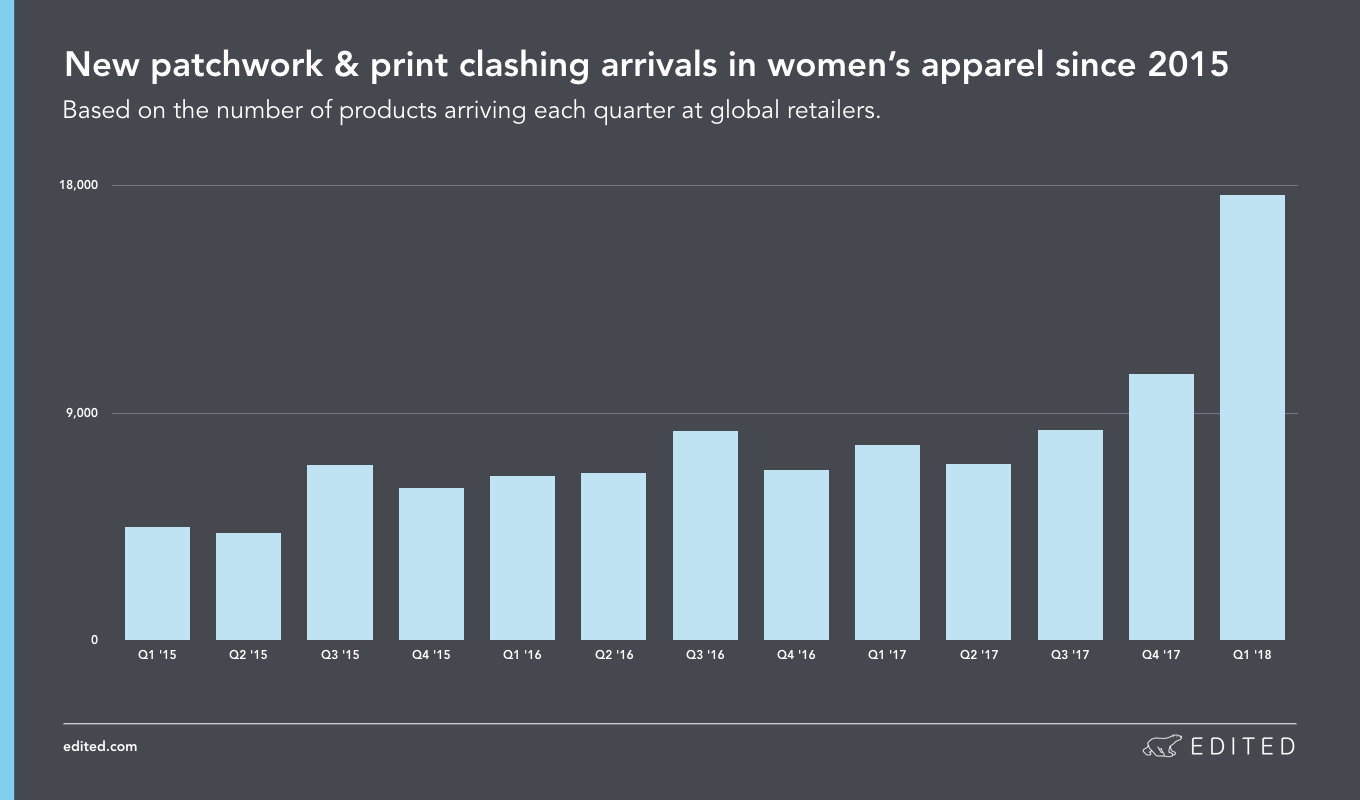 2. Rainbow Brights
The industry is moving away from seasonally-dictated color palettes. Why? Because consumer spend is dwindling and unless the industry serves up strong trends, their money will go elsewhere. So in future, the pot of retail gold is quite literally at the end of the rainbow.
London showed some brilliantly vibrant hues that look new and 'now'. There was a greater emphasis on greens, with a sharp grass green standing out in the city's key color wheel. Purples also had plenty of time in the spotlight, with a greater emphasis than in New York, particularly on lavender shades.
In a bid to lure consumers for Fall 2018, designers are moving further away from seasonally-dictated color palettes.
Below you can see exactly how color was distributed with the wheel on the left showing the major trends and the wheel on the right highlighting the trend stories of the season. Our color recognition software builds these, from every single runway image it receives!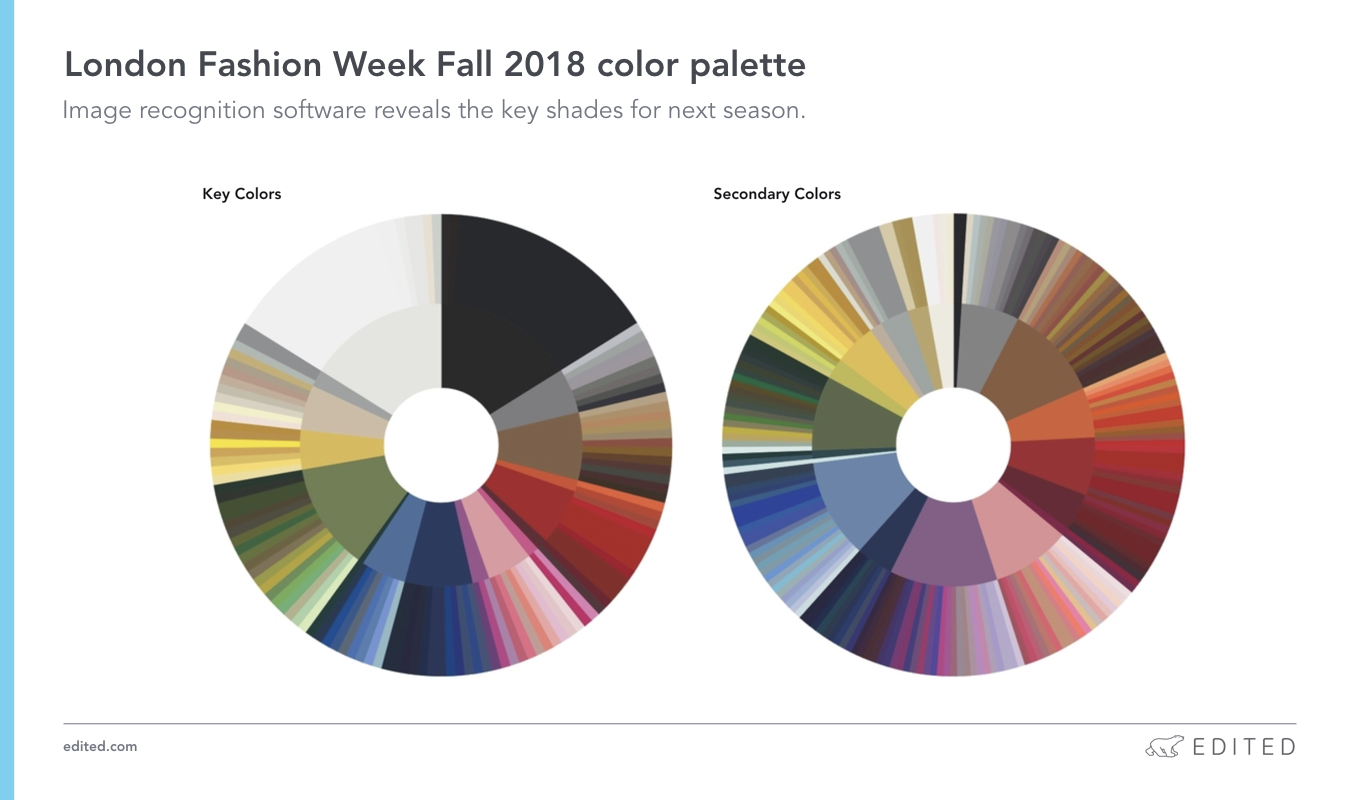 London's palette is seriously vibrant for Fall, with an emphasis on greens, yellow and lavender.
3. 1980s Holds Strong
The 80s won't let up its grip on the collective conscience right now – it dominated in London's runway themes. Broad shoulders, puffed up sleeves, metallic fabrics and full-volumed pants are garments we've come to associate with re-runs on the decade and London's designers were in agreement.
There was a nice shift in color palette, moving away from those brash Barbie jewel tones, and into a softer more wearer-friendly range of greens, soft pinks and purples. And that ubiquitous white boot was still out in force.
The brands with the biggest 80s offering currently in stock run the gamut from high end to low. They cover the super-casual Adidas, Nike and Puma, followed by polished luxury at Gucci, Maison Margiela, Tibi and Saint Laurent. Perhaps this is the key to the resilience of the 80s trend – it appeals to a broad spectrum of consumers.
We've tracked the increase in retailers communicating the trend, looking at mentions of it in email newsletters since Q1 2016. As a key Spring 2018 trend, this quarter is on track to be the biggest to date.
When you are thinking about introducing your 80s offering, bear in mind that Q4 always dips in retailer comms. It's Q3 when retail goes hard on talking about 80s apparel. Looking at how historic data performs, the big spike this Q1 should be followed by an even larger climb in Q3 2018. Plan that content now!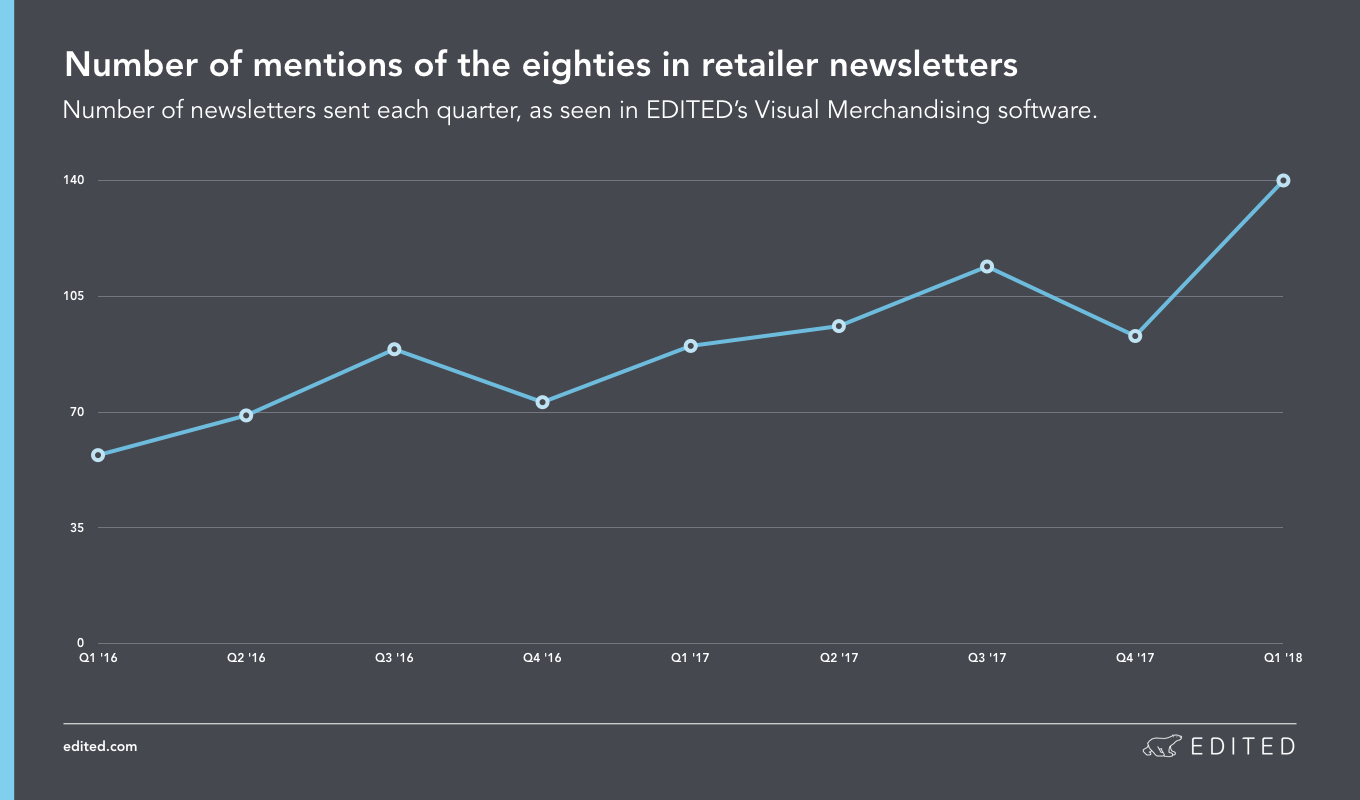 At this pace, by the end of the current quarter there will have been more 80s mentions than any point in the last two years.
4. Shine bright
The Queen wasn't the only treasure at London Fashion Week – designers took their sparkle seriously this season. Dresses so shimmering they appear liquid were featured on the runways of Temperley, Erdem and Emilia Wickstead.
The look is of precious metals and that extreme luxury comes with a price point. Currently in the luxury market, the average price of a dress is $2,800. But there is space for other market levels to get into this trend, especially given the 32% focus on tops (dresses follow at 31% of currently stocked apparel) and size of the sequinned offering at retailers like Pretty Little Thing, Quiz and ASOS.
Before you dive in, check pricing in your region. In the UK, the lowest average prices are on footwear, whereas in the US tops come in lowest.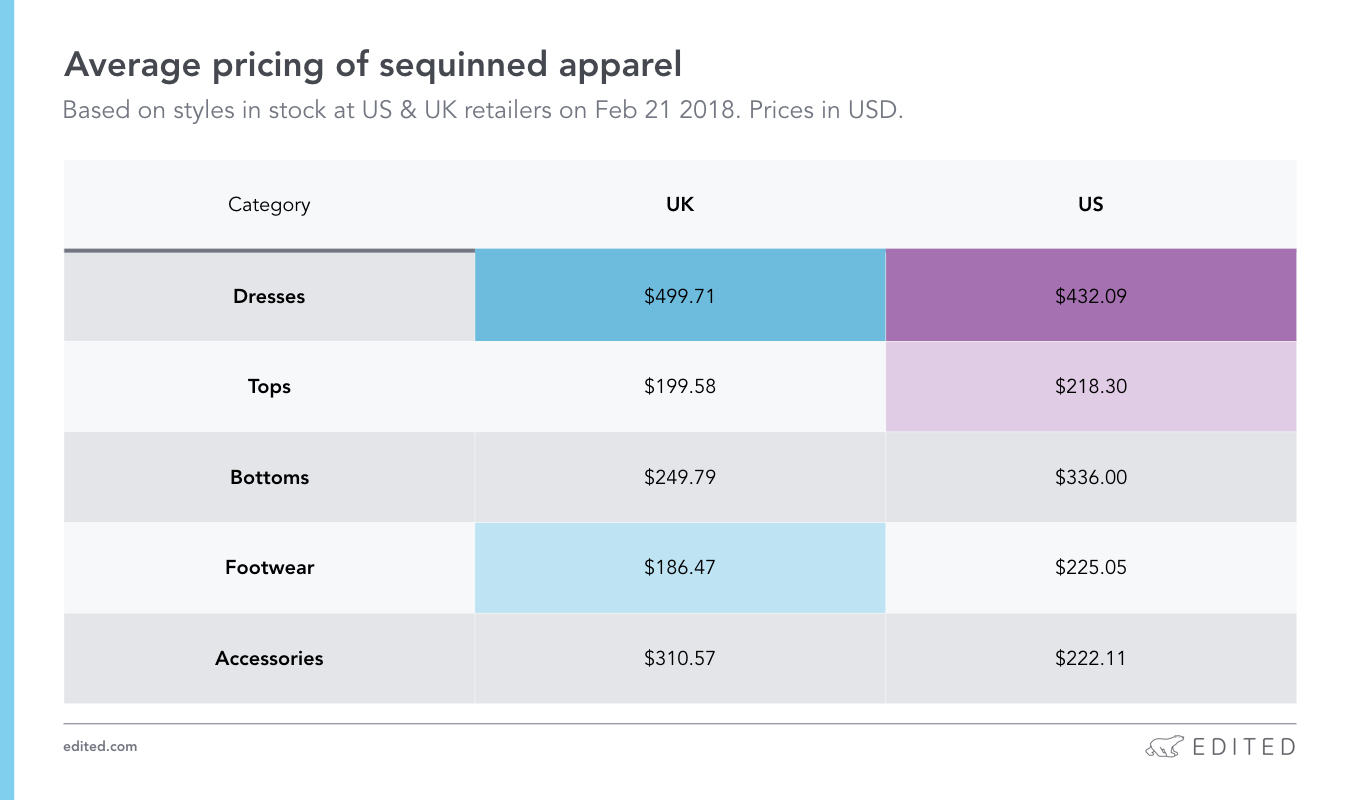 5. Bolder Stripes
Bold stripes call up such visions of deckchairs, ice-creams and school sports days — so much so that they're rarely seen in a winter season. However, just like the unseasonal palette they were oft rendered in, here they are for Fall 2018.
Burberry set the pace, with their rainbow striped outerwear available for purchase now. But it's the winter midi and maxi dresses where this trend really took hold. Naturally Ashish went for sequinned stripes and Richard Malone knitted his.
Elsewhere, and perhaps with the most commercial promise, stripes played out on satin or silk evening wear. The look is light-hearted and graphic.
Stripes are always around to some degree – their presence in retail is beaten only by florals and graphics. But bold stripes are a little more challenging, given the way they can emphasise a form.
The best way to flatter the form is to run stripes horizontally if using a stretch fabric, like at Fyodor Golan, or vertical on wovens, as at Emilia Wickstead.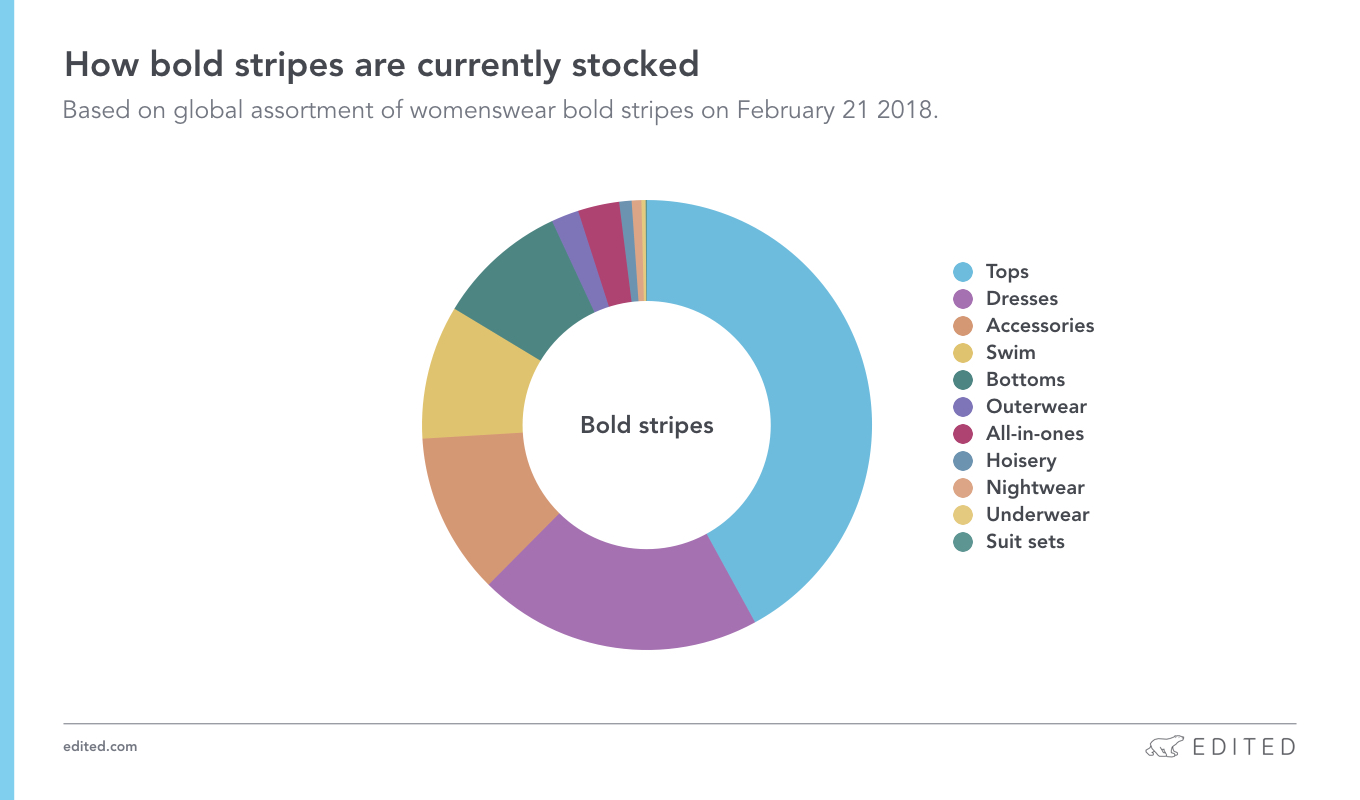 As we head on to Milan, take a moment to catch up on New York's Fall trends right here.