This week, Internet Retailing hosted their annual conference – the UK's largest and longest running for online and multichannel retail. The event also saw the announcement of their Top500 report – an in-depth, commercial and comparative view, picking out the elite, leading and model UK multichannel retailers and ecommerce players. We were thrilled to be asked to put our software to action to help decipher good apparel retail strategy from poor form. Here, we share a few of our own key findings.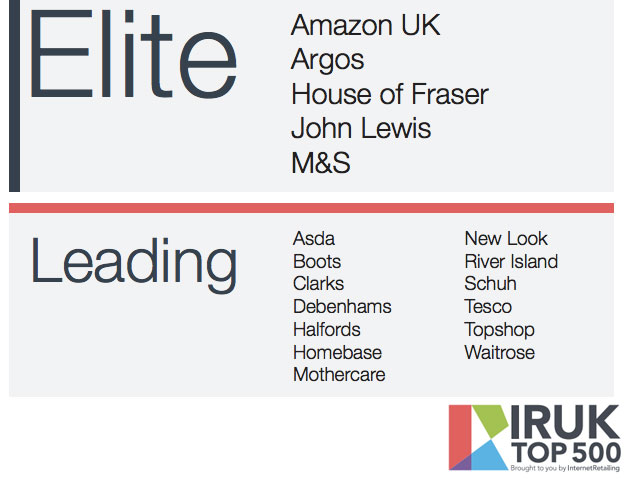 The EDITD methodology
We've used our Market Intelligence to assess metrics such as sell through and replenishment rates, as well as discounting levels, size of a retailer's offering and level of newness in their assortment. All data was drawn from products live online during week commencing 8th September 2014.
John Lewis comes top
Using our methodology, John Lewis came out in top position as the 'most successful' retailer. They scored highly for the size of their online offering, and the healthy 20% of which arrived in the last month. Less newness than that could suggest a stagnant offering, and more is risky this early in the new season, therefore, we like to see an even spread of newness throughout the year. John Lewis also have a good discounting strategy; enough reduced product to lure price savvy shoppers, but without the high level price slashes of poor buying decisions – 5.8% of product is currently discounted by 20% or more, but only 1.5% is discounted by 50% or more.

'Click & Commute' for more convenience
John Lewis are also fantastic at engaging their consumers – through emotive advertising campaigns brilliantly activated across social media. The retailer gives consumer experience top line priority and is innovative in this space. Click and collect accounts for 33% of the retailer's online sales, so they've recently opened a convenience store in London's St Pancras Station, enabling consumers to 'click and commute'. Execution like this supports the fantastic product offering and price architecture and sees John Lewis deservedly take the top position amongst UK apparel retailers.
Retailers and brands use data about replenishment, discounting and newness to gain full market visibilities and define their competitive advantages in a challenging marketplace. Learn more about how you can use EDITD to make sure you have the right products, at the right price, at the right time.
Get your EDITD demo here.