The January sales are on, where consumers can find the hottest bargains of the year, score the best deals and set themselves up for the year ahead…right?
Given the retail landscape, where discounts are near-endless, just how important are the January sales? What is being reduced in the post-holiday pre-Spring patch, and what is selling out full price? Buckle in, because we're about to reveal all.
Understanding January Sales 2018
Here's something you should know about 'January Sales': they don't really exist.
Maybe that should have come with a spoiler alert, but the charts we're going to share will show why January's sales aren't really the time of the year when retailers go hardest on reductions.
See this: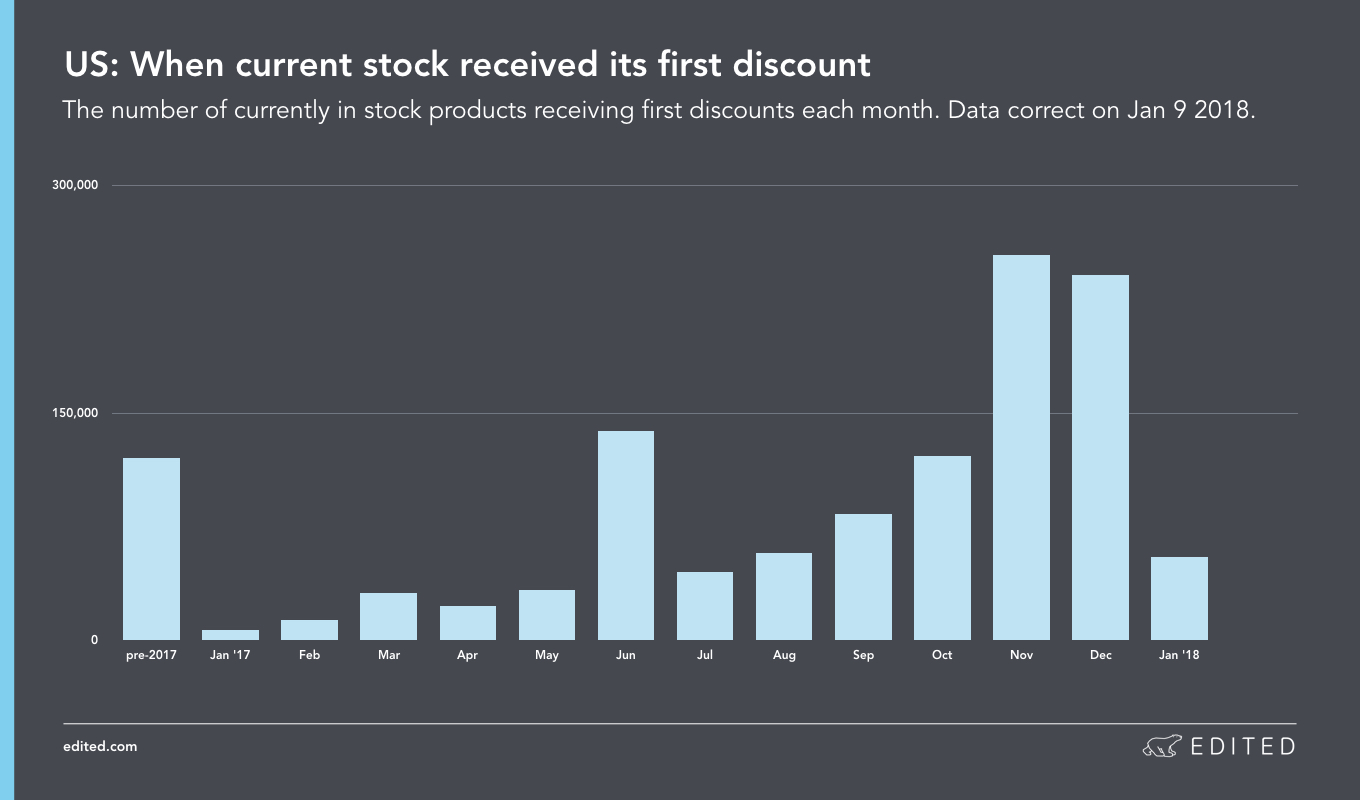 What this chart shows us is that the majority of products that are reduced right now, weren't discounted specifically for the January sales.

Instead, the majority of products currently in the January sales received their first reductions in November or December. That's not especially surprising given how promotional the holidays are with the Black Friday build-up.

What is surprising however, is the number of products currently in the sales that were first reduced in June, as well as many that were first reduced prior to 2017.
Why January sales are retail's optical illusion.
In fact, the data shows that despite there being 42% of the market in the US currently discounted (and 52% in the UK) just 4% of those reductions were new since December 25.
Unwanted product?
If so many (9%) of these items were first deemed to be at the 'wrong' price seven months ago (June), the consumer wouldn't be wrong for feeling like January sales smack a little of dead stock.
It's a similar story in the UK, with many products currently in the sale receiving their first discounts more than 12 months ago.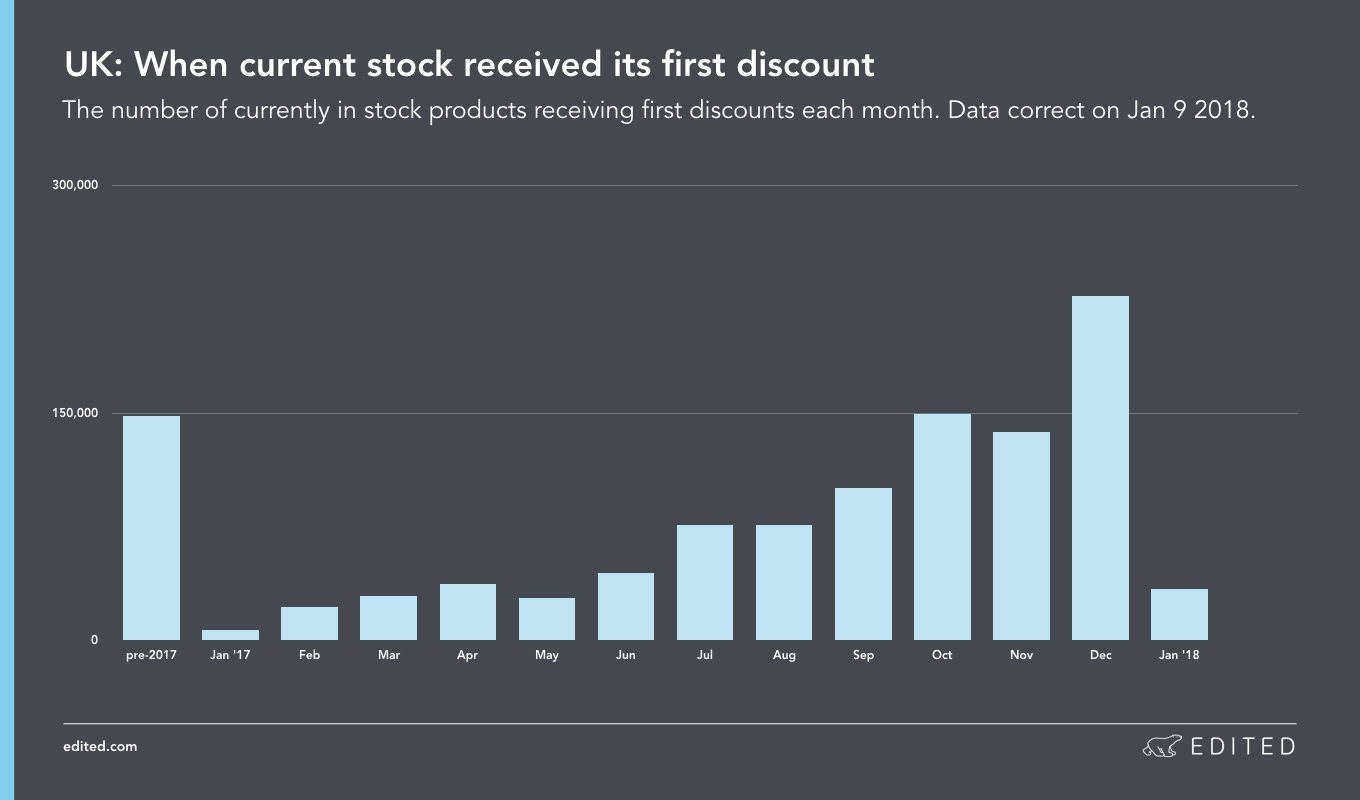 The problem is, June's hyper-seasonal wares just aren't that appealing to consumers in January. That means the January sales, which sit at the top of the year, are stagnant. As we can see below, from the newsletters retailers send out mentioning the word 'sale', mid-season sales in June/July and November/December –with their products still in-keeping with the weather– are more significant to the retail calendar.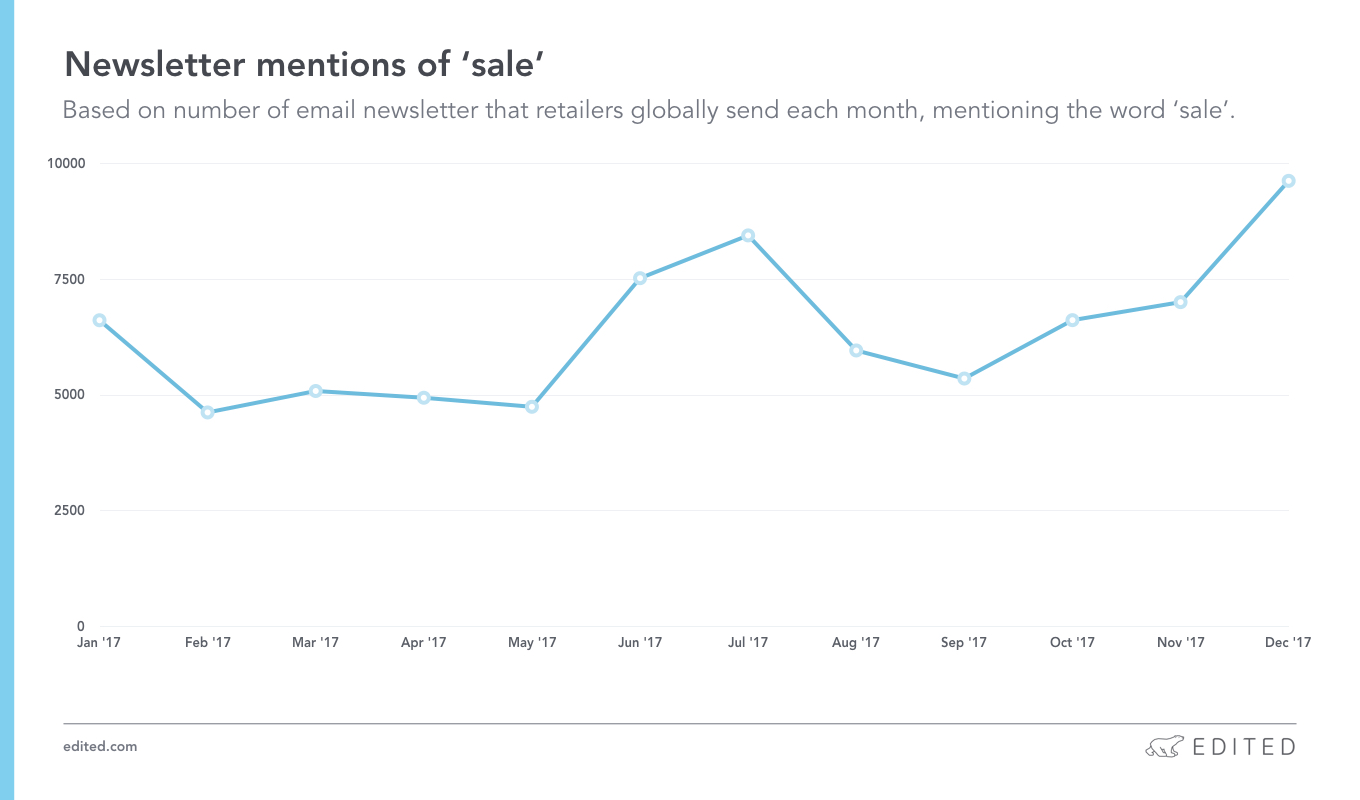 What consumers really want
There are better ways for retailers to kick off the new year. Certainly, a discounting drive helps clear warehouse space and helps extra pennies roll in before the close of Q4. But it shouldn't necessarily lead marketing content. Especially when the general mindset of a fresh year is, 'New year, new you'.
It's the time of the year when many consumers are setting mindful resolutions and turning over a new leaf. That isn't realised by starting the year with stuff that consumers feel is 'old' or irrelevant to the here and now.
Many of today's consumers are hooked on newness. They want to discover with, learn from and be delighted by their retailers.
And for those consumers that are more discount driven, January is a crowded time of year to make your reductions stand out.
Instead, make incremental adjustments when you detect a product isn't working, plan smart timely promotions that relate in a very direct way to your specific customers' lives and when there is a sale season, think carefully about curating an engaging and inspiring edit for it. And of course, the real Holy Grail is finding the right price first time, something our software helps retailers to do.
January's Trends
With that in mind, what is new and fresh for January? There are some savvy retailers who're teasing their Spring look books and campaigns now. That includes Topshop, inviting consumers to shop the Spring preview, and Madewell revealing its Spring look book to newsletter subscribers.
Here's what our software is revealing as trending right now:
Activewear! Tapping into customer fitness resolutions, there has been a 105% increase in new arrivals so far this January compared to the same period last year.
Striped pants for women – whether fully rendered in stripe fabric, or side-striped.
Further mass market riffs on that Gucci tee, a big hit of 2017.
Velvet blazers – black or navy styles are selling well at Topshop, ASOS, Zara and Monsoon.
Faux fur gilets in fun colors and textures, in both mass and premium markets. A great way to keep warm in chilly offices!
Silk or satin wrap blouses, in jewel tones or stripes, from Vero Moda, Topshop and New Look.
Straight-leg jeans from Re/Done, Balenciaga, The Row and Yeezy Season 5.
Wide-leg crop pants in velvet, metallic plisse or corduroy.
Rugby shirts return for men, with popular styles from Stussy and Tommy Hilfiger.