Milan, out! We're at that point in fashion month where the shows begin to blur and the thrill of seeing front row pics in your Instagram feed has worn off. Not to worry, because we're here to round it up.
Now, as an analyst, it would be lazy for me to say 'go check Gucci out if you want to know what'll be hot in Fall 2018'.
So I've included four other important trends beneath the bit where I say exactly that.
Here are the top five Milan trends for Fall 2018:
1. Gucci, just Gucci
All hail the showman that is Alessandro Michele and the spectacle that is the Gucci show. There were dragons, snakes and severed heads, for crying out loud!
What Gucci has learned to do over the last few years is attract the right kind of attention, riffing on timely themes and references that strike like 'in jokes'. See 'Guccy'.
For Fall 2018 they fused cross-cultural references: heritage English tweeds, Russian gymnasts, silk turbans, lace burkas, woollen balaclava's and Dynasty-era glam dresses.
It's a lot. And people love it.
At the ten biggest luxury retailers, including Barneys, Matches and Saks Fifth Avenue, Gucci is the most-stocked brand. It beats second place Burberry by having 1.5 times the number of styles stocked right now.
And Gucci accessories and footwear lines are the bestselling across the ten retailers.
Gucci: most stocked brand at the 10 biggest luxury retailers. For Fall 2018, shouldn't we just be looking to Gucci as the trend?
In the last three months the bestselling Gucci styles have been loafers, leather belt bags, belts, beanies and baseball caps.
From the Fall 2018 collection, those bejewelled sneakers will be hot property, as will the angular sunglasses and lion head necklaces. And if this collection is anything to go by, Gucci might also be about to bring back the bangle!
2. Going green
Picking bright, luscious, grassy green for a fall season is such a wilful rejection of seasonal norms that it's bound to become an instant hit. Sportmax, Marni, Gucci and Prada all embraced the hue in outerwear, knitwear, dresses, lace and even feathers.
An even brighter tone of green was picked up as a key color for the season, as the wheels beneath show. Green features on both the main seasonal storyline as well as the trend highlights. If Kermit can rock it, so can you.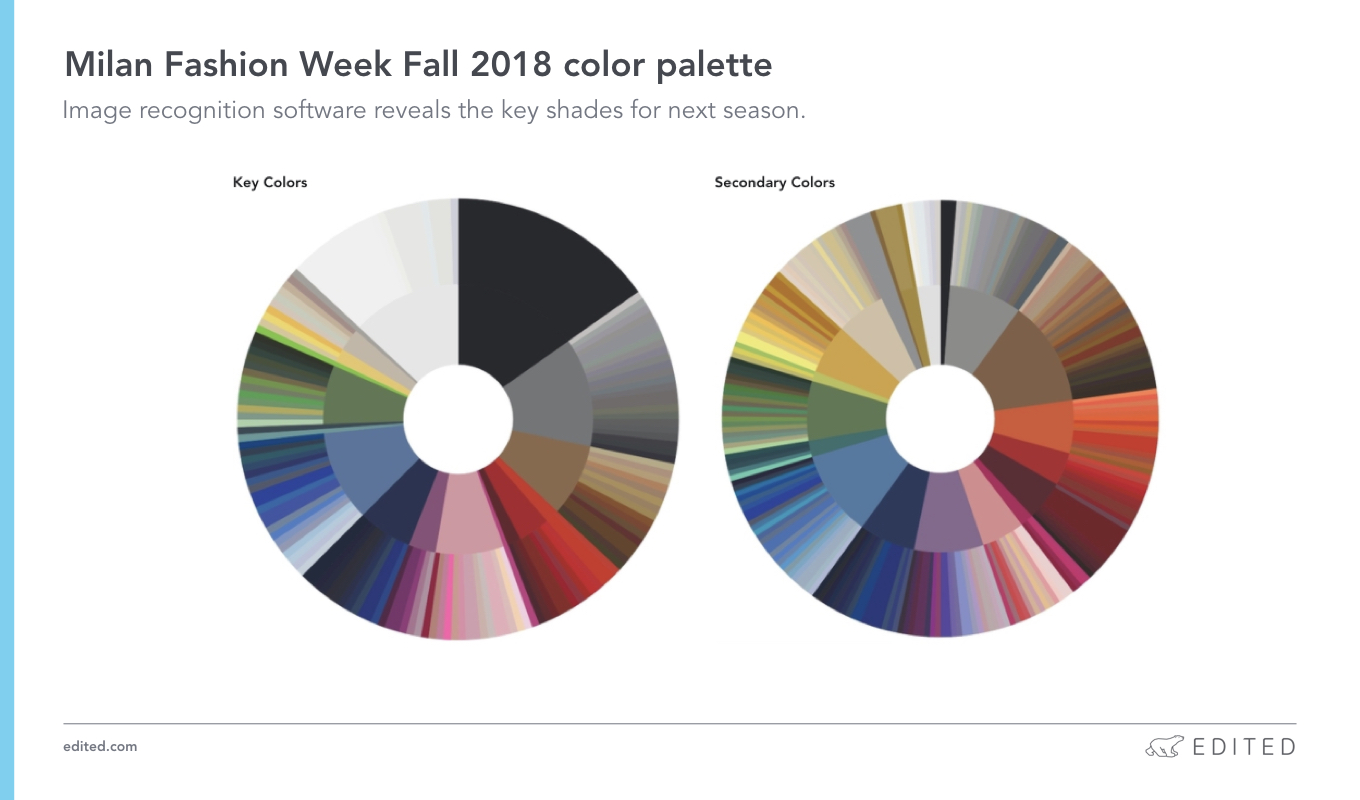 3. Giddy up!
Designers often reference cowboy and western themes – so inspiring are the gung-ho women of the West. But on Milan's runways these references turned full theme. It found influential support from the likes of Fendi, Versace and Dolce & Gabbana.
We're talking plaid, piped collars, neckerchiefs, fringing and studs done in an earthy palette punched with red. The more influential pieces took an 80s angle on the Western theme, with camped-up extra long fringing or studded-belts pinching waists.
Fringe has been present in retail for a few years, since Coachella-esque festival style became the default weekend wear of the summer season. Check those prices though before you dive in again for Fall 2018. Knit and boots have low average price points – it's jackets, bags and dresses you want to go for to hit the high notes.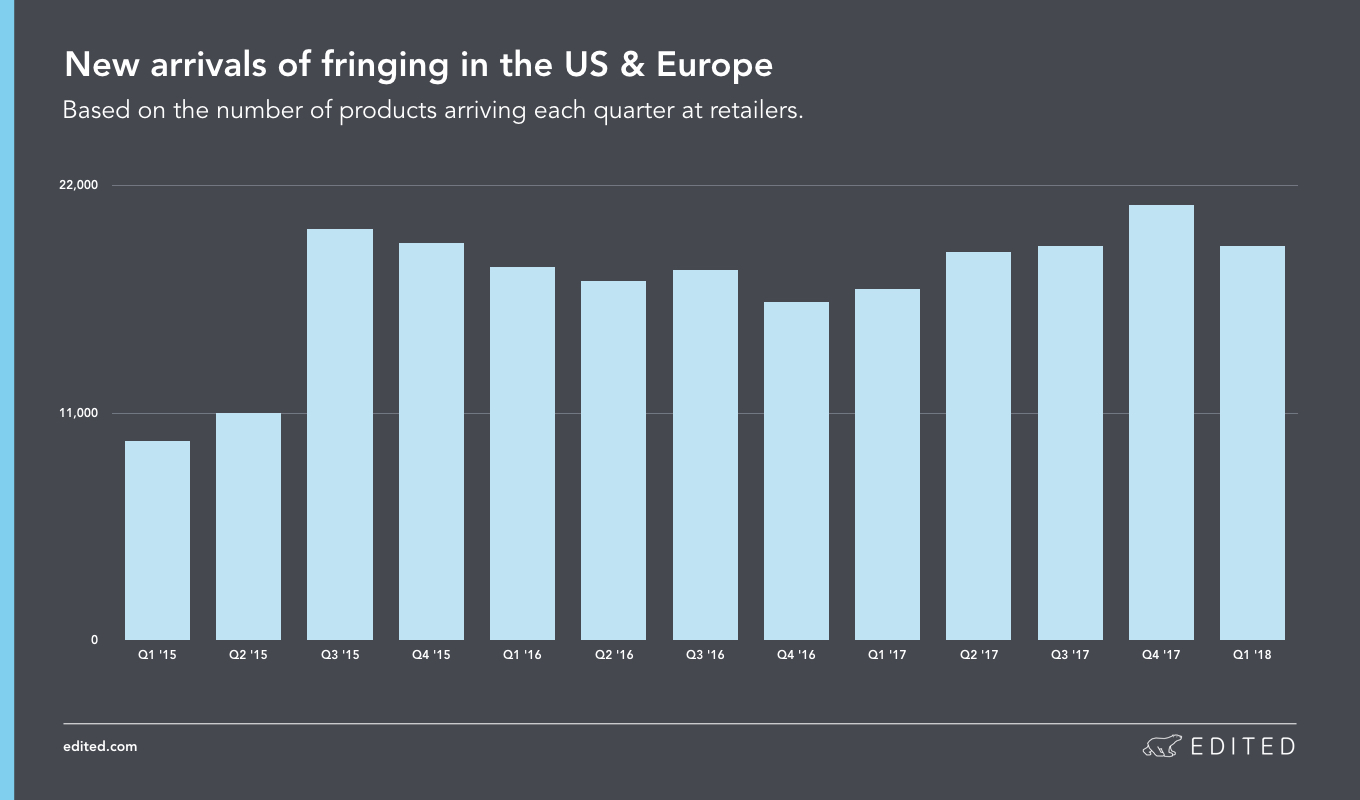 4. Old romantic
Ruffles just won't disappear. Milan's designers always like to play with overt femininity, and this season was no different, with many designers churning out frothy concoctions of chiffon and lace in delicate palettes.
Little is done to rough up the classic romanticism–bar a third eye on the model at Gucci–which is mostly styled with tousled hair and pretty accessories.
This is runway escapism of the highest degree, evidenced in the use of chiffons and silks in ruffled, floor-length peasant dresses. Not suited for wintery climes, these frocks hark of a luxurious and safe world – their wearers arriving at the party in a bubble of warmth.
To make this work in retail, sling in a pair of Doc Martens or chunky-soled sneaker and a puffer jacket and you've got something quite subversive.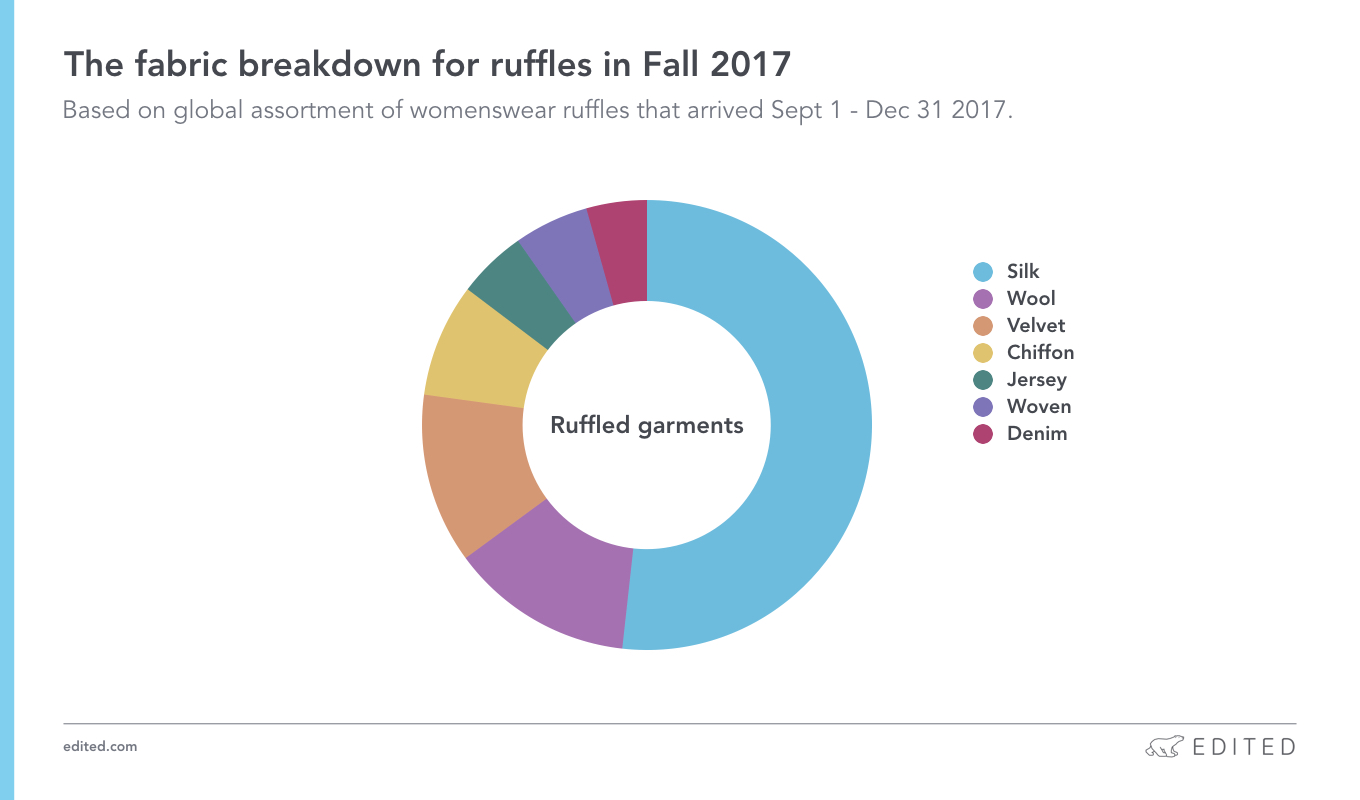 5. Art class florals
Beautiful and bold were the blooms in Milan that showed up on the runways of Marni, Prada, Jil Sander and yes, Gucci.
Retail is getting used to year-round florals, working their way into winter on dark backgrounds. Yet there are noticeable differences from Fall 2017's dark-grounded florals. Firstly, Fall 2018's mostly run on the larger scale, with abstract proportions. They're blurred and artsy, compared to Fall 2017's wallpaper perfection.
Secondly, though a dark ground is winter-suited, the palette used for the flowers doesn't stick to the atypical mustards, reds, and browns of regular winters. Instead, for fall this year render the flowers in the unlikely brights of the season. Pop art palettes singing out against the black.
Some of the bestselling floral styles from Fall 2017:
Next week we'll be rounding up on all that was Paris Fashion Week. In the meantime, if you haven't caught up on London or New York, you'd better get to it!