Recently it was revealed that US premium retailer J. Crew had a difficult Q1, posting net losses of $30.1 million and a drop in comparable store sales of 2%. Ahead of a potential public offering later in the year, these figures are more than troubling.
The retailer is attributing thinning margins to decreased store traffic and increased promotional activity, but high levels of in-season inventory mean that promotions will need to push on through summer in order to raise cash levels.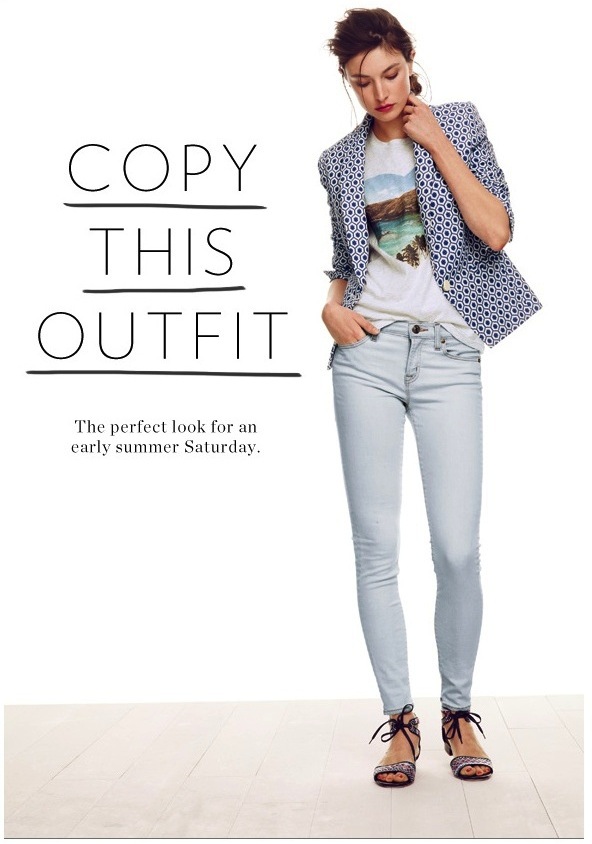 So what's happening? Is the initial price positioning wrong, or is it the product at fault?
J.Crew retail data analyzed by EDITD shows that the problem lies in huge disparity of their offering between their core product and Collection range. High frequency of sales promotions taught consumers to wait and buy in sale. Furthermore, J.Crew's formerly unique techniques have been adopted by mainstream brands who offer well-cut and very affordable basics, so similar in style to J.Crew's.
Our analysis points out J.Crew's problem areas in great detail and offers conclusions on how to save the retailer's failing profits.
The problem is within womenswear
Women's apparel currently has a discount rate of 52.5%, whilst menswear sits at 43.3% and kids a healthier 36.9% – the current US average is 43.9%, marking out womenswear as a potential problem area. Meanwhile, women's apparel at competitors is lower: Macy's rate of discounting currently sits at 49.3%, Ann Taylor at 40.5% and Nordstrom at 25.3%. Price slashes at J.Crew are also large – 10.9% of womenswear is currently discounted by 40% or more.
High levels of sell outs (22.3% of current womenswear having sold out once, or more) and high levels of replenishment (33.6% of current products have been brought back into stock) signal that all is not lost though – customers are interested in product, and the retailer is able to act upon successful styles by returning them to stock.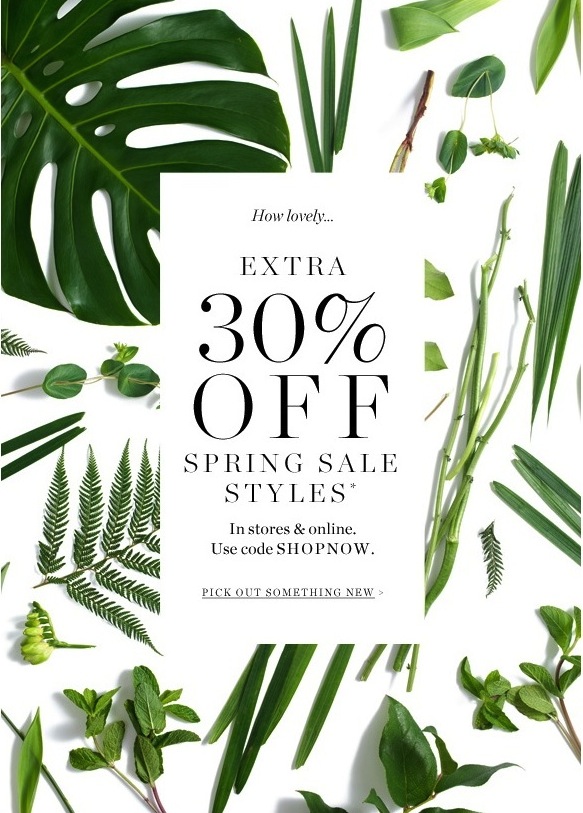 1. Pricing positioning is not askew
There is nothing inherently wrong with J.Crew's price architecture – aside from a few categories, price structuring is balanced in a way expected from healthy retailing. With poor retailing we'd normally expect to see an uneven spread of products through a price architecture chart. Well-considered retail would see products evenly balanced around a core band of pricing, and a smooth drop off to exit price point. J.Crew's pricing, on the whole, falls into the latter category.
The categories where pricing is not well and evenly spread are dresses and outerwear – both being understocked at the $200-250 mark. Swimwear is very concentrated under the $100 mark, but that is to be expected from this niche segment. Data around pricing shows no real error for J.Crew here – their tactics are in line with the market segment on the whole. Instead, this must mean there is something up with product, promotions or communication.
2. Discounting
Plotting the number of products discounted each month, across a year, suggests that J.Crew created problems for themselves by discounting early in the Fall 2013 season – with the highest number of discounts in the year being during September and October.
It seems that these woes are more firmly set – looking back in Visual Merchandising archives of December 2012, we can see that 20 of that month's 27 email newsletters were promoting sales or discounting events. That didn't change for 2013 – there were 26 newsletters sent out, 19 of which promoted discounting. In March 2013, there were 28 email newsletters, 16 of which promoted discounting. This was eased slightly for March 2014, when there 29 emails, of which 13 were promoting discounting. J.Crew have been highly promotional for some time, and though they are starting to claw back on promoting this in their marketing, they can't ease off in entirety for fear of alienating consumers.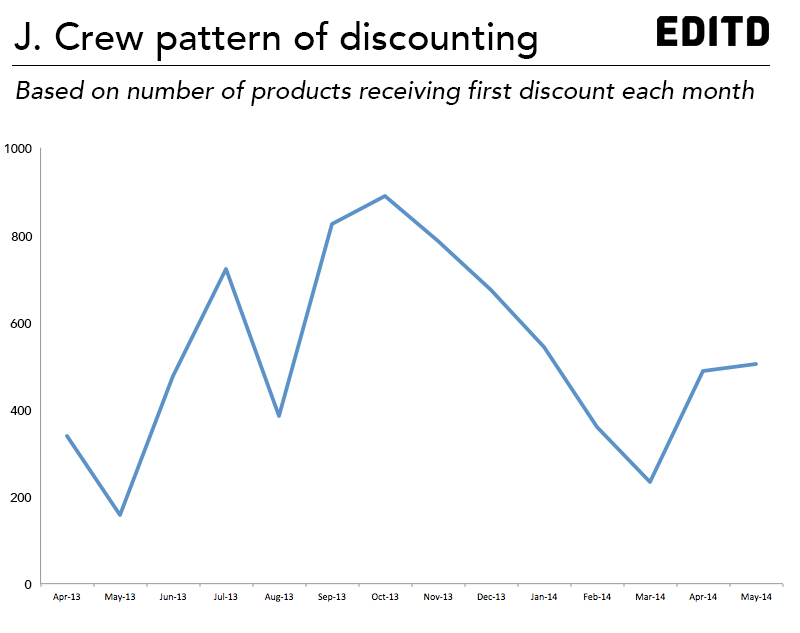 3. Communications: the wrong priorities
While J.Crew are attempting a 50-50 split between full price stock and sales promotions in their email communications, it appears that they are focusing on the wrong full-priced stock. Looking at the full priced items that have sold fastest for J.Crew in the last three months, we can see an exciting mix of design-led pieces. Recent successes include a photo floral mirror pencil skirt at $228, a $325 bonded geo dot sweater and a metallic circle skirt at $258. Certainly, they will have carried lower quantities of these items, but repeated demand on such products is a good indicator of where their full-price (and critical) custom lies. However, these items are not well featured in the recent full-priced email newsletters – where simpler sports luxe themed items get precedence, like May 30th's sheer sleeved sweater and May 9th's white jeans features. Their design led pieces need higher precedence as they are J.Crew's point of difference in a market already crowded with affordable sweaters and jeans.
4. Real Problem: Disparity of Product Offering
And this leads us on to the real problem with J.Crew, whose price architecture is well-planned, whose assortment scale represents the best-selling categories well and who are aware their discounting rates are unsustainable: the breadth of their assortment is simply too great. J.Crew have essentially been greedy in attempting to appeal to too many. There is a huge disparity in their offering between their core basic staples, their design-led seasonal offering and their J.Crew Collection range. A case in point is their footwear, which carries basic ballet flats, priced at $119.99 (and with similar styles available cheaply at Target, H&M and Forever 21) and design-led styles capable of gracing any high-end department store, including the Sophia Webster collaboration with elaborate $695 creations (that were under-communicated in their newsletters).

The problem is that a portion of the entire offering does sell, right the way through the price points, so it has been an obvious lure for J.Crew to keep on building into the full breadth. But the cost of this is a breakdown in consumer understanding of what the brand is and where its products sit. With the sales promotions streaming, consumers have instead associated the brand with good quality items which are great buys in sale.
At the same time, there has been a mainstream adoption of the techniques used by J.Crew (content mimicking and editorial style of their online presence) as well as interpretations of their product. Zara, Uniqlo and H&M are all able to churn out well-cut and very affordable basics, so similar in style to J.Crew's.
The verdict: How to save J.Crew?
In order to claw back profit, J.Crew must concentrate their efforts – pooling the creativity of the Collection to form more of their core range, marketing their collaborations more clearly and cutting back on the basics and sports luxe which can be found elsewhere. They've got good tools for this: they have an innovative marketing team, the brand is known for its quality fabrics and good cuts, and they can exist at a price point where more luxurious styling can be played with. It's time to bring those tools into full action.
Interested to learn about the biggest commercial menswear trends for Spring 2015? Go to our Resource Centre and download a free copy of exclusive Menswear Trend Report Spring 2015.
Download Here