Why should you get behind the design detail currently blowing up the fashion industry? Retail analyst, Avery gives you 5 reasons, including inspiration from retailers, runway shows, streetwear and more.
Not limited to dresses, this sleeve detail is also extremely popular within the tops category. In fact, when comparing puff sleeve arrivals across tops and dresses, the former has seen far more backing, making up 68% of all products.
For fall, popular fabrics include organza and sheer fabrics, among fast-fashion retailers Zara, River Island and Forever 21, have included the trend into their assortments. And as for color, black is the most common colorway paired with this trend, making up half of the products.
1. Total arrivals are up 114%
When comparing apparel with puff sleeves that was new in from January to date in 2018 and 2019, we've seen an increase in investment of 114%! This trend didn't start to gain traction until the beginning of 2019, coming off of a slight dip in arrivals from September to December 2018. Since January, however, we have seen a steady increase in both the US and UK in new products. With a peak during summer and picking back up heading into the fall season.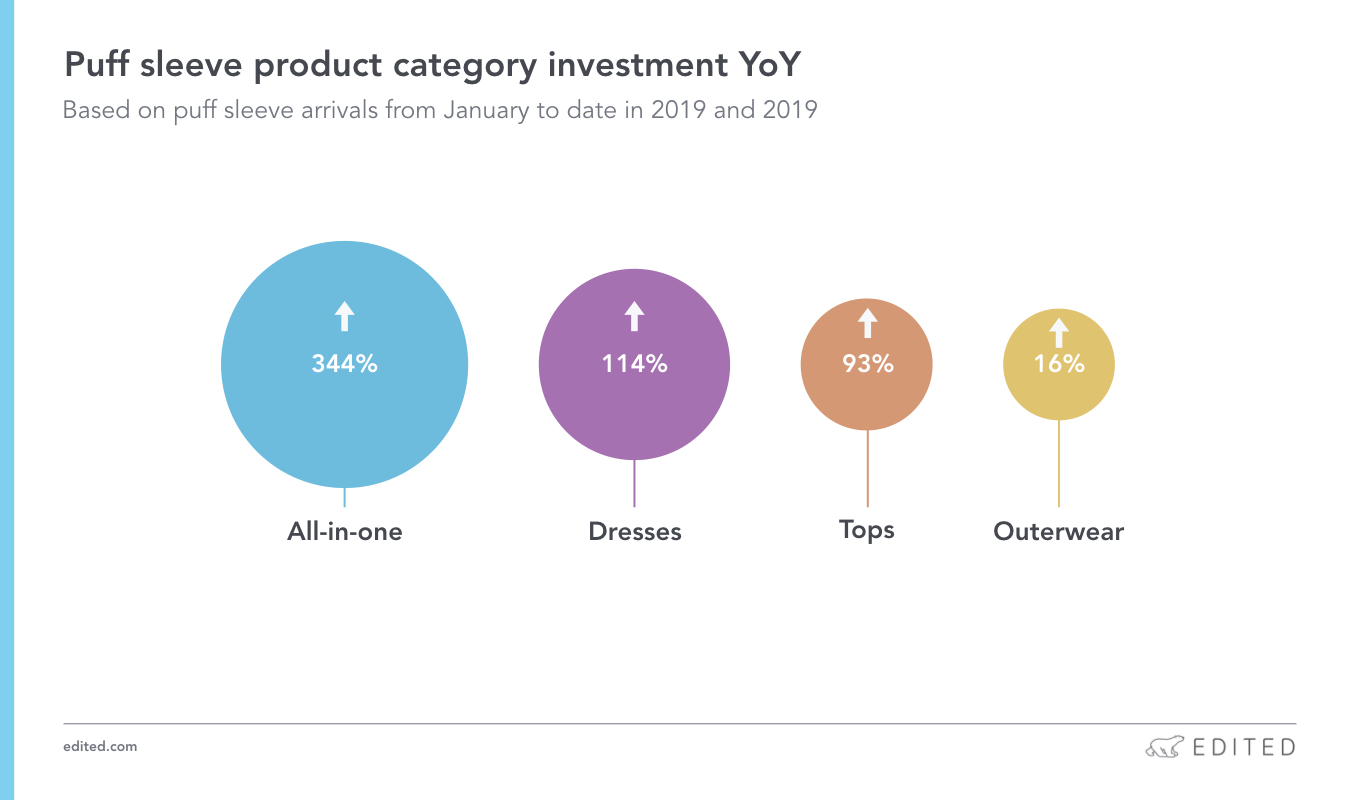 2. 'Cool Girl' brand Reformation backs the trend
Reformation has supported this sleeve silhouette since the beginning of the summer and shows no sign of stopping. This retailer has successfully coordinated messaging across emails, category landing pages and its Instagram of 1.4m followers to push the trend.
To keep things fresh into next season look to popular patterns like polka dots and snakeskin. Also, don't forget about expanding puff sleeves from dresses and tops into outerwear or sweaters to ensure the detail's longevity into next year.
Want to find out other product trends that might have slipped your radar? Talk to us today.
3. This silhouette has longevity, thanks to sheer fabrics
Sheer fabrics like mesh and organza are increasing in popularity as a fabric for fall, and provide an update for puff sleeves. Well executed at Zara, they had more than double the arrivals of products with sheer components this August vs. last. Furthermore, to give your assortment an update, trends like velvet polka dots are proving a success.
4. The coveted September issue highlighted the trend
Despite the decline in publications, September issues are still topical. Celine Dion and Gigi Hadid graced the cover of Harper's Bazaar and Love Magazine this month, wearing outfits with puff and exaggerated sleeves.
5. It's gone global – on the runway and in street style
Not only is this style popular in retail, increasingly designers are highlighting the shape on the runway. Seen throughout the fall 2019 collections and continuing into spring/summer 2020, structured sleeves are taking center stage. For inspiration, look to Simone Rocha's Fall 2019 collection and Longchamp's recent Spring 2020 runway show.
And it's not runway season without a flood of Instagramable street style looks. Expanding into Copenhagen, the street style that coincided with Copenhagen fashion week featured structured sleeves on blouses, dresses and co-ord sets.
Our retail data platform can help your team be more informed when planning for upcoming seasons and stay one step ahead of the competition. Get started here.
To receive our weekly Insider Briefing newsletter, sign up here.