As two of the world's biggest retailers, all eyes are usually on Zara and H&M (or okay, some). So this week we thought we'd take a look at how these two international hit makers stacked up against each other in the festive arena of holiday strategy.
As always, both have smart, considered approaches, but at the same time, they have almost nothing in common. Really, nothing. So, just in time for the holiday the Americans in the office insist we shouldn't call by its name, here's a look at what both retailers are doing this holiday season!
2015's campaigns
Looking at Zara and H&M's festive campaigns side-by-side almost paints the former as The Grinch and the latter as the person in the office who sent their cards on November 20 (Hi, Kristina). H&M's holiday enthusiasm kicked off with its first mention of the C-word (Christmas!) on October 29, in the "H&M Home: A stylish Christmas at home" newsletter. Incidentally, H&M kicked off festivities on the same date and in the same style in 2014.
The retailer's festive campaign appeared on November 6 with the launch of its "Makers of Happy & Merry" campaign. Katy Perry joined the party as the face of the campaign twenty days later on November 26. Alongside video content Katy Perry features prominently on the homepage modeling kitsch holiday merchandise styled with giant baubles, nutcrackers, gingerbread men and candy canes. Such fun!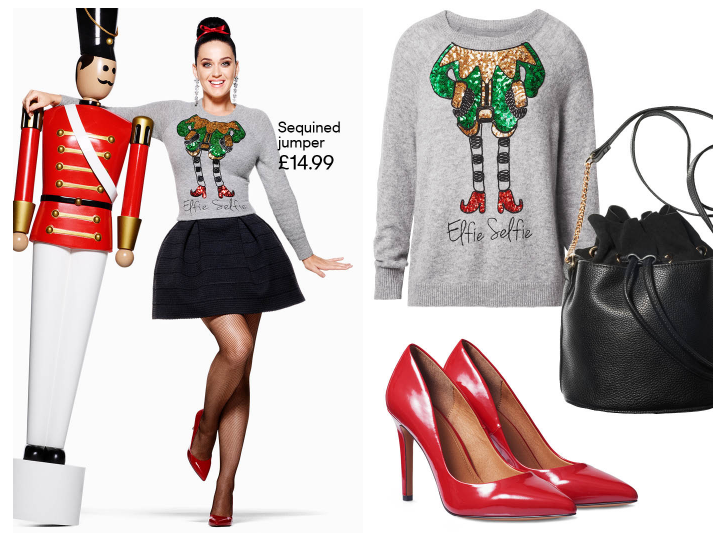 Meanwhile, Zara has stayed pretty quiet on the matter. (Or 'international' you could say.) On November 12 its newsletter featured a runway-styled evening wear editorial, hinting at the occasion ahead. Then on November 18 a childrenswear focused newsletter titled "Ready to Party" showcased kids party wear. But besides that, the glitter, the tinsel and the general Elfie Selfie-ism of the holidays was pretty much absent in November.
Same goes for this month. Where gifts and gifting pushes are soup du jour for most major retailers, Zara is serving up a campaign focused on outerwear. There's no reference to the holidays on its homepage, no gift edit or social campaign – just a December 11 newsletter featuring gift cards. Does it create the impression Zara's had the Grinch on repeat since July? To some, maybe. But the scaled-back approach is also refreshing in a dense retail wood of tastefully decorated trees and less tastefully decorated sweaters. Especially in a global arena where Christmas just isn't something everyone likes — or celebrates.
Below shows how womenswear holiday campaigns compare at H&M and Zara. Two very different festive outlooks!
So what can we expect from the two retailers heading into the final week of the holidays? Last year, H&M revved up its holiday offers in mid-December with a newsletter promoting 50% off sweaters on December 14 and 50% off last minute gifts on December 16. This year's December 13 newsletter featured holiday sweaters, but at full price, while on December 8 selected outerwear and knitwear were promoted at 50% off.
In 2014 an H&M email announced 'last chance for pre-Christmas delivery' on December 20 and then it kicked off a sale on December 22, when 8,535 items were reduced. But it wasn't all price slashes that accompanied H&M through December, there were full-priced stories too. New party looks were promoted on December 11 last year and a new season preview (completely non-festive) was sent to email subscribers on December 23, alongside 406 new items arriving into store that week. Perhaps tired of the red and green sheen, the H&M led into the New Year with 40% off sportswear promoted on the homepage.
In 2014, Zara promoted its e-card and gift cards in a newsletter, as well as on its homepage. On December 17 its newsletter fronted the Brothers & Sisters campaign, one picture depicting a snowy scene and another with children decorating a tree. On Christmas Day the retailer sent a newsletter simply stating "Sale starts tonight at 00:00 online". Well, you can't accuse them of being disingenuous that's for sure!
How they stocked into the holidays
Very differently, that's how. While Zara's levels of newness peaked in August, H&M had its highest level of new products arriving in September. Closer to season, in the last six weeks (November 1 – December 15) Zara increased newness by 5% compared to the six weeks prior, whereas H&M have grown right into the holiday season, lifting products by 22%. Incidentally, Zara's tactic is more closely in line with the US market, where newness topped in August. Both retailers agreed that November was the month for the biggest discounts (culprit: Black Friday), however H&M made sure to discount no fewer than 900 items even in its quieter months. Zara meanwhile lays incredibly low on discounting outside peak dates – for example, they only reduced 21 items in October.
H&M have increased product offering right into the holiday season, lifting products by 22%.
Category emphasis differs at the two retailers as well. While 37% of Zara's offering is currently tops, H&M's tops only account for 30% of its offering. In the last six weeks, H&M has heightened emphasis on dresses and accessories, while Zara has brought less of all its major categories into store, except for dresses which see a slight lift.
H&M currently has a larger assortment online, with over 9,000 products, compared to just under 8,000 at Zara. H&M have a greater emphasis on womenswear, which makes up 58% of its current online offering, compared to 46% of Zara's. Menswear at H&M suffers for that, making up only 17% of its offering, compared to 25% at Zara. Childrenswear is relatively balanced at the two retailers: 26% at Zara and 23% at H&M.
The Fun Stuff
When it comes to the "silly" or, ahem, "festive" holiday stuff (which most of us know and love/loathe from office parties and family gatherings), it appears both retailers are understocked compared to their competitors. These are items that exist essentially as being 'for Christmas', so think Santa, penguins, elves, reindeers, festive puddings and so on. Zara only had 8 of these items, whereas H&M had 16. Compare that to ASOS with its commanding 715, Boohoo with 321 or Forever 21 with 72 and you can see our spotlighted duo are understocked, despite being among the world's largest apparel retailers.
What's selling
Looking at items that arrived online in the last six weeks, and sold out at full price during that time, H&M has sold well on its seasonal items. Those include santa and reindeer hairbands for girls, a 'Christmas dress' and holiday sweaters. It has also done well with texture, with fast, full-price sell outs on premium items such as suede and velvet pants at $399.00 and $129.00. Silk womenswear items (blouses, onesies and pants) have sold well, as have metallic-detailed footwear.
Current bestsellers focus less on frivolity & more on fashion, emulating Zara's year-round strategy.
What's striking about Zara's top sellers in the last six weeks is the palette: very neutral tones of grey, charcoal, black and beige. Bestsellers focus less on frivolity and more on fashion – which really boils down to Zara's year-round strategy. Oversized sweaters and dresses have sold well, as have loose fit pants, longline coats and tuxedos for men. Hints of seasonality come through in the fast selling of shiny party dresses for little girls and sumptuous velvet evening accessories, including turbans! Don one of those for fireside carolling and no one will accuse you of lacking holiday spirit.
H&M's seasonal bestsellers:
Zara's seasonal bestsellers: