I bet you've had to double-take on a pair of shoes lately. Was it on your morning commute, in the shoe department at a store or while scrolling through Instagram?
And not in a 'what stunning heels!' kind of way. We're talking about a 'wow, that's what shoes look like these days?' head scratch moment.
If you really haven't, have this one on us: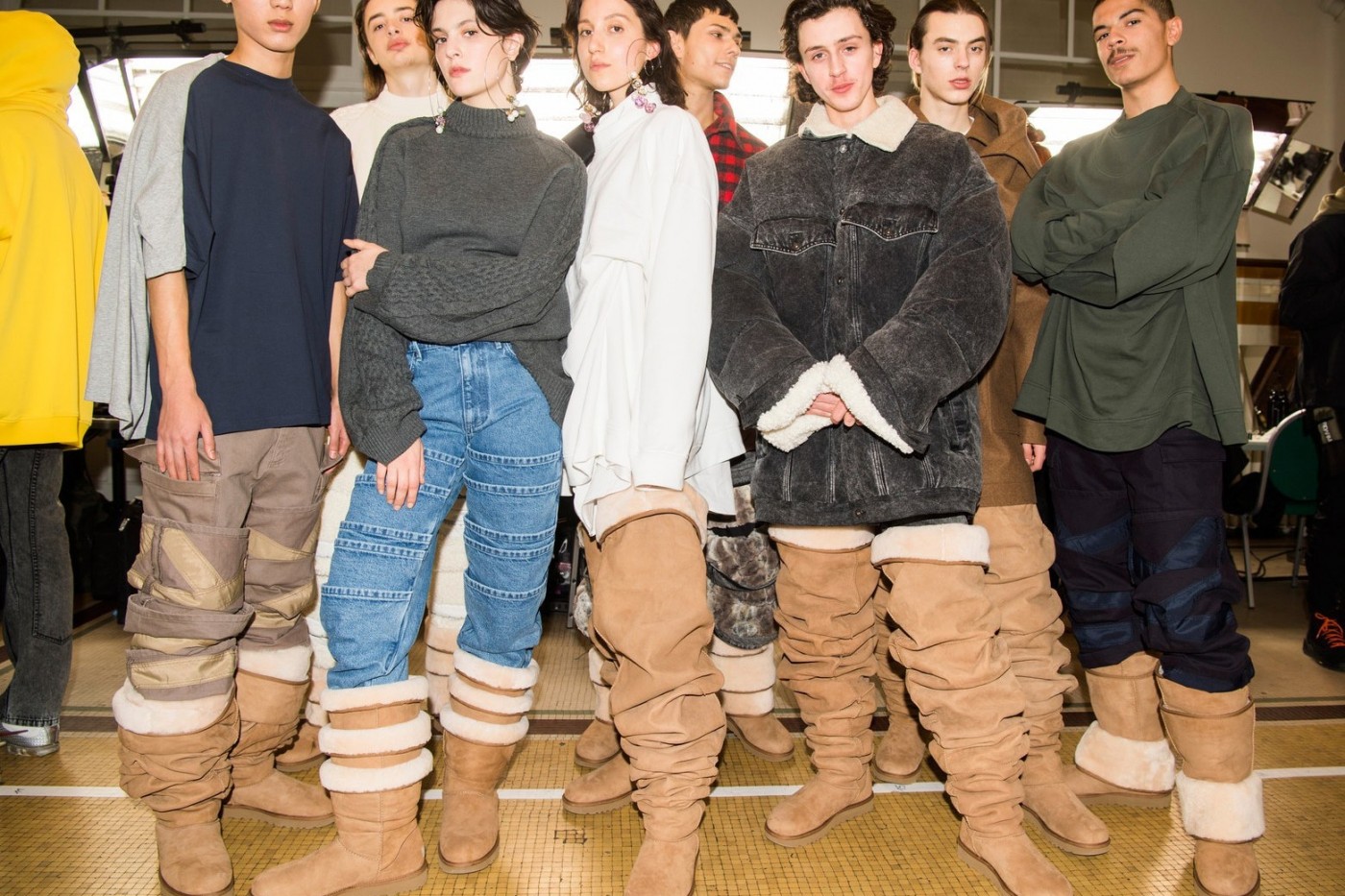 Clearly we have a lot to talk about.
'Ugly' fashion isn't new, but it is here to stay. Time to make your peace and embrace it.
Why ugly works
Thanks to 'endless scroll' culture, today's consumers are obsessed with newness and discovery. When a product strikes us as 'ugly', it means that visually it's fresh and we're not yet sure how to interpret it. This is the hook that will get eyeballs on product.
We've seen this especially in the sneaker category, which has now enjoyed years of trend attention. Consumer lifestyles mean that we want to keep wearing sneakers. But that calls for constant innovation to create trends which give the category a storyline, and get consumers shopping.
Then there are the odd or unusual products that never move beyond that first visual sting. The hairy fur lining of the Gucci slider and no doubt the thigh-high Ugg boots above.
Why ugly fashion works: these products are subversive, poke fun at the ideals of fashion and taste, exploring jarring components.
Those products are subversive, poke fun at the ideals of fashion and taste, combining textures and colors that are visually jarring or challenge the norm.
An increase in this kind of product right now is, on the one hand, escapism from an increasingly confusing world, and on the other is perfectly in line with the way millennial and Gen Z consumers are redefining and challenging archaic definitions around gender, race and sexuality.
That means we can expect to see more of this kind of product and increased demand for it. So what are the upcoming trends?
What's next in footwear trends – Fall 2018 and beyond
There's a fine line between covetable ugly and laughable ugly. The way to spot which ugly trends will survive is all about timing.
You want to see enough influential luxury brands come out with related styles within the same space of time – usually a few months ahead of the 'official' start of the new season. Now is an excellent time for detecting new footwear trends.
And how do you know when that trend connects? Anyone who works in footwear knows to disregard fast sell outs on the outlier sizes, which are never stocked as deeply. Instead, watch for that middle band of sizes selling through – something our software lets you filter in on.
Dad in Space Sneakers
First up, is the oversized sneaker. It sits somewhere between 90s dad and Star Trek. The sole is cumbersome and sports brands will talk about the 'energy return' technology behind these chunkier shapes, while luxury brands will riff off the cartoonish forms they create.
Fastenings lean towards velcro and elastic, materials are clashed, panelling is haphazard and colorblocking is key. This shape stems from Balenciaga's Triples and was given further kudos by Yeezy's Desert Rat 500, which are bound to sell out year-long.
River Island has been one of the fastest mass market retailers to latch onto the trend, with their thick-soled, multi-color version shown in the gallery below.
The New Maximalism
Another footwear trend to start moving on takes a hybrid approach to shoe styles. In a Frankenstein-ish mash up, we're seeing the luxury market fuse together unlikely components. Alexander Wang's sock boot upper meets an espadrille sole to create something entirely new and uneasy on the eye.
Gucci has reworked its successful hirsute slider with a clog shape (watch out for these even without fur), Ash have a knitted sock boot with floral embroidery and many designers are layering up fabrics and textures in unlikely combinations.
This is a more-is-more trend, where footwear takes on a naive, almost prehistoric look because the silhouettes are so irregular to us.
Even if you aren't in footwear, watch this trend, because it will likely carry over into small leather goods as well as jewellery and homewares. How can you clash materials and detailing to create an element of surprise with a product, whether that's with a strikingly textured lining, or unusual combinations in double-facing?
When trends climb
So just how rapidly are new footwear trends formed? One way to track that is to look at when the best selling trends from Fall 2017 in your market first started to appear. Do that by following the numbers of new arrivals.
As an example, we looked at red ankle boots and velvet shoes, both footwear bestsellers in Q4 2017. Velvet shoes had also been big for Fall 2016, so the market responded with higher levels of product in 2017. Red ankle boots were new as a trend, as you can see from the lower numbers.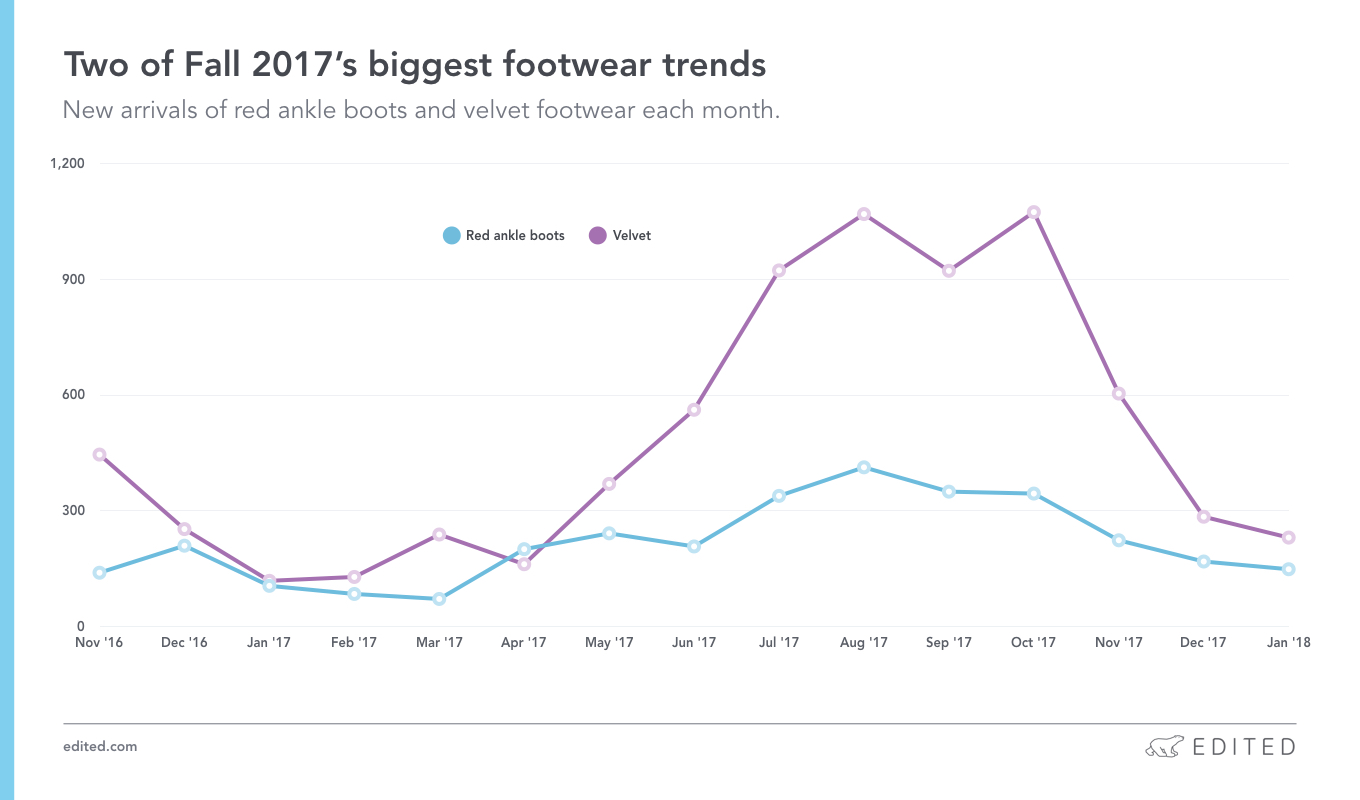 What's interesting here is the timing of arrivals. Velvet began to climb from May, and red ankle boots from as early as April. It took around six months for those trends to reach popularity, which is slower than fashion apparel. That's great news for footwear retailers wanting to keep abreast of market changes!
Fast fashion is getting cheaper & luxury… lux-er?
While on footwear, we should note something else we observed in our research. Over the last three years, there has been a shift in pricing.
On the mass market, with retailers like ASOS, H&M and Zara, the shunt has been downwards, with an increased emphasis on styles below $40.
Meanwhile, in luxury the shunt has done the opposite, moving away from the $200 or less ranges and instead bolstering out the number of styles priced between $600 and $1,200 at retailers like Barneys, Farfetch and Net-a-Porter.
These changes are further evidence that footwear needs its trends, whether it's to justify an elevated price point in either the crowded mass retail or within a changing luxury market.
We'd love to talk to you about how you can use footwear data to ensure you've got the right assortment at the right prices.