Week one, done! Thankfully there were no weather hitches for this New York Fashion Week – the only storm being on social media around that Calvin Klein popcorn-buried runway.
The highlights? Cardi B managing to crack a smile from Anna Wintour front row at Alexander Wang. The inclusive runway at Christian Siriano's ten year anniversary show. And Diesel secretly opening a Canal Street counterfeit store for two days, selling 'Deisel' products that were the real deal.
And of course, there were trends too. Here they are:
New York's biggest Fall 2018 trends
1. Color! Come and get it!
NYFW was a riot of color, barely toning down from the bright and bold Spring. That makes for an unusually bright winter, which consumers have started getting used to with the reds of Fall 2017.
Our color recognition software 'viewed' every runway image from NYFW, to pull together the two colorwheels beneath. On the left, you'll see the major palette, whose seasonal shifts are minor. There's a notable increase of yellow in the major palette for next season.
On the right is where things get really exciting, focusing on the secondary colors which will form the trend stories for the season. Pay attention to the acid yellow, chartreuse, raspberry, violet and grassy green which caught attention on the runway.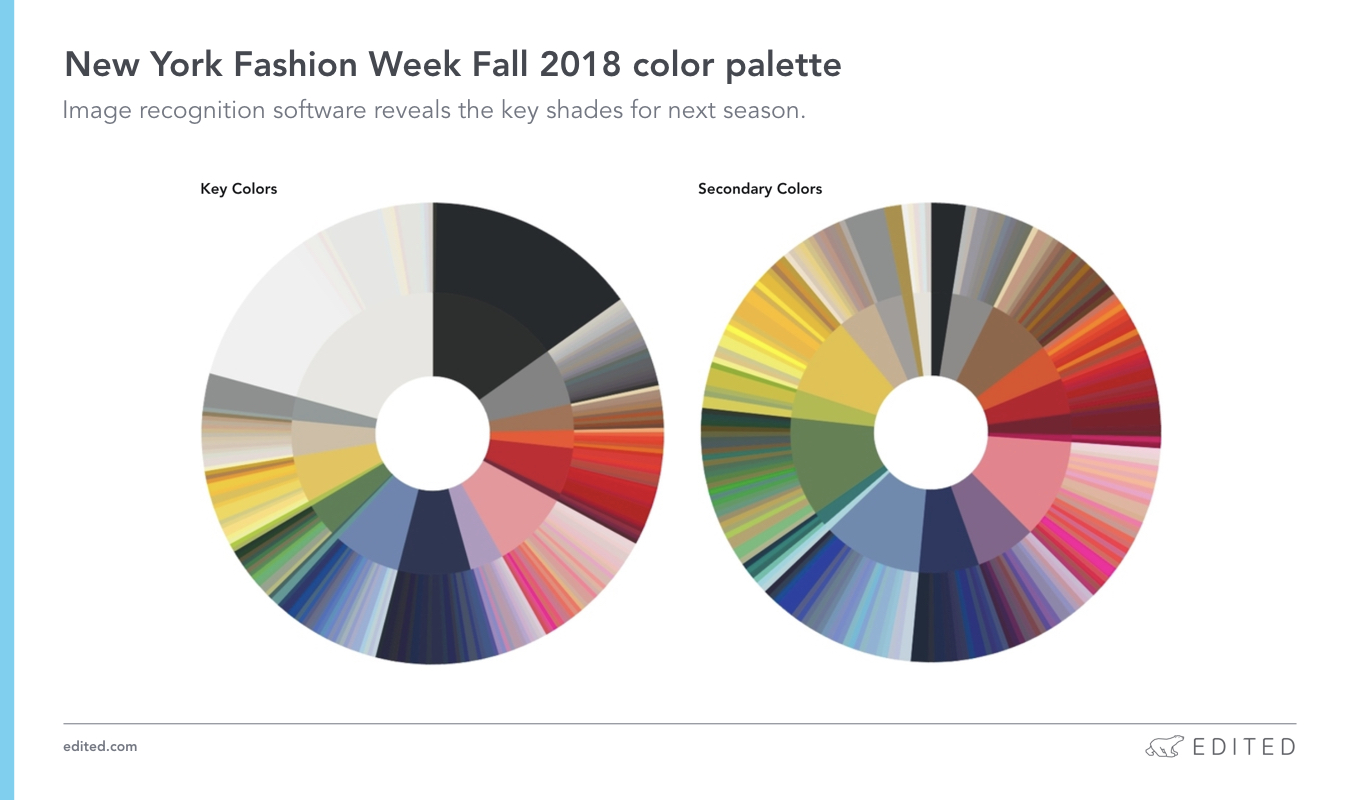 EDITED software reveals the biggest trends in color for next season. Off-key color combos like royal blue and marigold or fuchsia and plum were common pairings. But the key takeaway with color is to use it boldly. Many designers used the one striking tone in head-to-toe looks.
No need to readjust your screen – it really is this vivid!
2. Garment shape: Modest Dresses
Part of fashion's wider adoption of modest apparel is to do with increased inclusivity – as an industry we're more aware of customer diversity than ever before (thanks to the combined powers of social media and customer data).
There are more options for more people and New York's designers picked up on it, with an array of demure looks that came in longer lengths, loose-fitting forms or covered up necklines. Tibi and Tory Burch layered flowing garment on flowing garment for a super feminine effect.
Elsewhere prim tones were riffed with pussy bow ties and buttoned-up necks.
However, in the eyes of retail pricing, not all modesty is created equal. Below are the current average prices for understated dresses retailing in the UK and the US. Long sleeves take top spot in the UK, while drop waists come out on top for the US. Do your research before you invest in a style!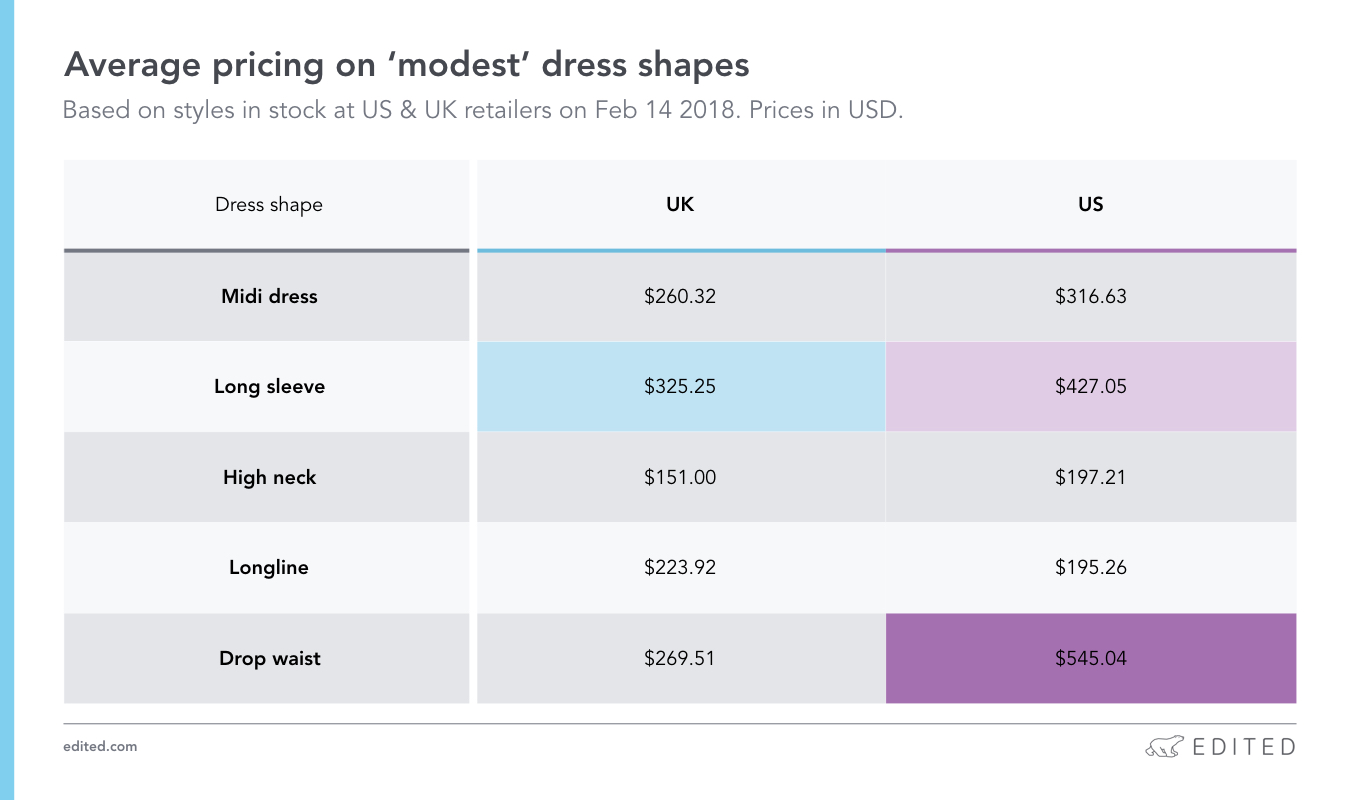 3. Fabric: Velvet…again!
Designers are so enamoured with its luxurious texture, that velvet is flying high for a third fall in a row. In New York it appeared predominantly in eveningwear, whether that's in the deep shades of the witching hour at Alexander Wang and Oscar de la Renta, the vibrant jolts from Bottega Veneta and Prabal Gurung or the shimmering metallics at Dennis Basso and Brock Collection.
Before you launch velvet for Fall 2018, take a look at historic data to understand optimum timing. The chart below shows that historically October is the month when newness leaps. Although December would seem like a key month to introduce new styles – ahead of the festive season – you'll be late to the party.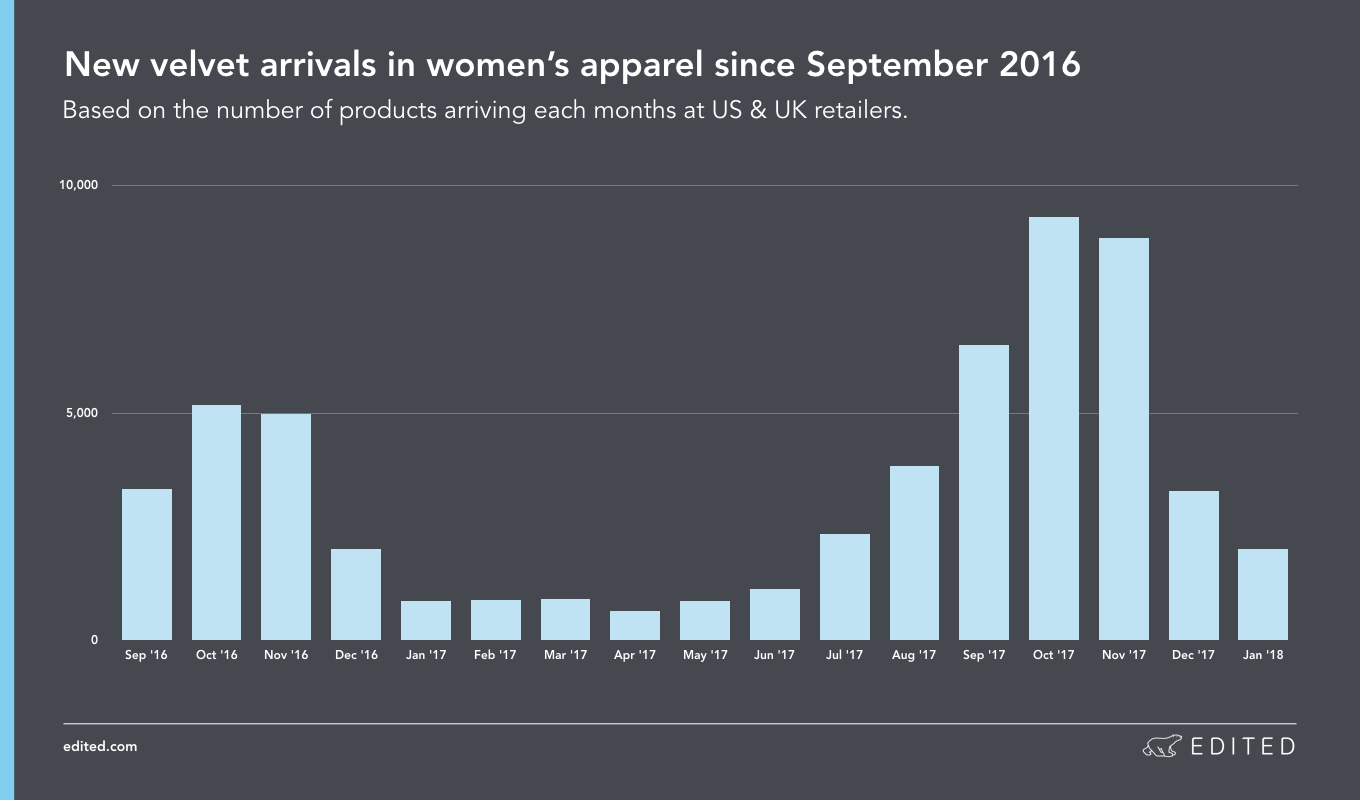 It's also worth noting that more than a quarter of Fall 2017's bestsellers were in the accessories category – but that category only accounted for 13% of new arrivals. It performed better than retailers anticipated…hint, hint!
4. Print: Wild Thing
Animal, a print so polarizing that designers can't help themselves from stirring it up every few years. Fall 2018 got bigger support for animal from New York's designers than we've seen in a few years.
Most commonly used was leopard print, seen in classic palettes at Calvin Klein and Victoria Beckham and in bright renditions over at R13 and Tom Ford. Tiger also showed up, at Zadig & Voltaire and Bottega Veneta.
Animal print feels like it's never that far away, so how notable a trend is this? Looking at the print breakdown of Fall 2017 shows that this is quite a shift.
Animal prints only represented 3% of all printed items that were new in. Meanwhile, florals, stripes and checks dominated. That's evidence you can create a strong story around the newness of this trend for next season.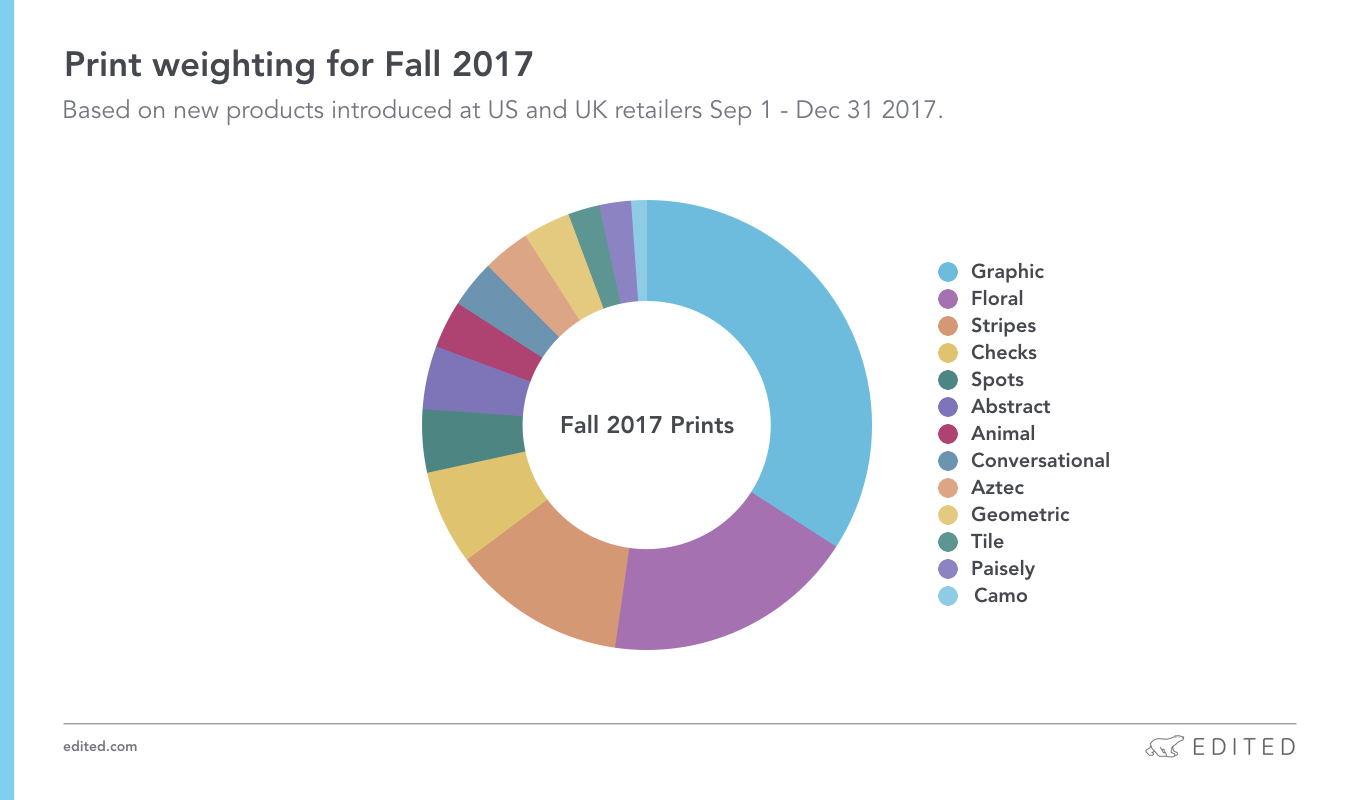 5. Theme: Westworld goes global
It wasn't all practicalities at NYFW – the city's designers threw us something frivolous too. It came in the form of showgirl gone rogue, with mussed-up ruffles, revealing slashed necklines, bust-areas and shoulders and off-kilter layers.
There's something in this theme which takes Americana and reclaims it as something new, more intricate, polished and a little bit naughty.
So what makes this look modern? A lack of embellishment, pared-down accessories, make-up and hair. You can forget the garter. Yee-haw!
Data supports the five biggest Fall 2018 trends from NYFW, including riotous color and showgirl glamour.