The menswear shows for Fall 2015 have drawn to a close, and we have been working through the looks to identify 5 most promising product trends for the next season. To help brands and retailers understand the key themes, product trends and colors, we've combined menswear runway analysis with commercial data on what's selling and what's not.
1. Outerwear
Statement outerwear was a major theme at the menswear shows, from the luxurious, shaggy furs at Lanvin, MSGM and Dunhill, to the puffed up and sleek quilted shapes at Paul Smith, Christopher Shannon and Alexander McQueen. Really, anything goes here, including matt black leather suggesting a gothic theme, techy rainwear, the popular parka and longline greatcoats. Capes even snuck in at Sacai, Christopher Lemaire and Valentino. Curly sheepskins and outlandish colors were popular, and retailers should pay close attention to the details: pockets, zips, drawstrings, toggles and patched leather all give beauty to the functional.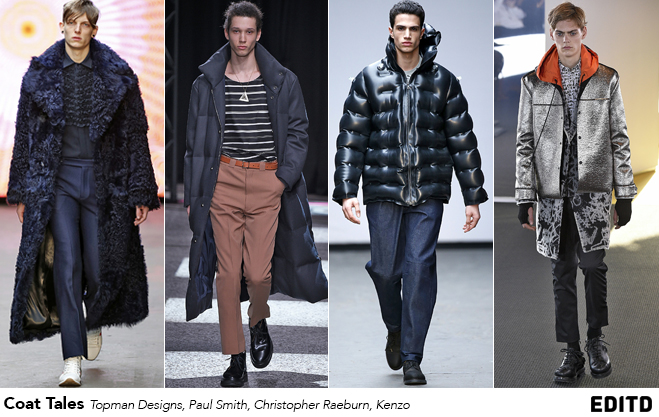 Why it works now:
Parkas sold fantastically well for retailers including ASOS, Banana Republic, H&M and Topman during Fall 2014 – consumers love the ease of the shape and the casual look. The number of parkas on the market for Fall 2014 rose by 245% compared to Fall 2013. For Fall 2015, retailers can entice spend by moving away from the traditional palette of black and khaki, experimenting instead with stronger hues and print. Designers can differentiate with luxurious fur trims.
Quilted and puffer coats have also been a big hit with consumers – Uniqlo have lifted the credentials of warm layering at affordable prices with their incredibly successful ultra light down pieces, and other retailers are catching on. There was a 118% increase in quilted and puffer outerwear pieces for Fall 2014. For Fall 2015, retailers should play with volume, color and print – Barbour's camouflage pieces will be popular.
2. 1970s
The 1970s referencing, which has been backed wholeheartedly by the womenswear industry, is now a big hit for menswear. For Fall 2015, take your pick from Woodstock bohemia or rock 'n' roll glamour. Key aspects of the trend are an era-accurate palette of browns, maroons, mustards, oranges and emeralds as well as checked and paisley prints. Velvet, which came through as a key fabric for the new season designers worked into narrow-fit suits. Gucci, John Varvatos, Etro, Saint Laurent and Topman Designs are your go-to guys for this trend.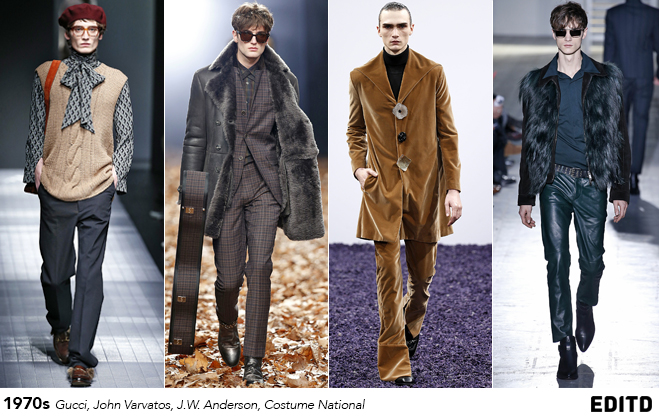 Why it works now:
Increasingly, the men's and women's apparel industries are moving in sync. With the 70s trend steeped for commercial success in womenswear for SS15, designers are sure to continue backing it for Fall. Menswear has reacted accordingly, working in the seasonal variations of velvet, shaggy furs and roll neck knits. Brands and retailers also know that texture and print sell well online – the 1970s trend feeds into that perfectly. Gender play within the industry will create even greater blurring between men's and women's trends in seasons to come.
3. Military
Retailers rejoice! The bomber jacket will live on into Fall 2015, be it with an aviation twist, or in camo print. The military trend seen on the runways of Calvin Klein, 3.1 Philip Lim and Coach references the 40s, as well as 90s streetwear and propels roll neck tops, army issue plain sweaters, parkas and acres and acres of green into the new season.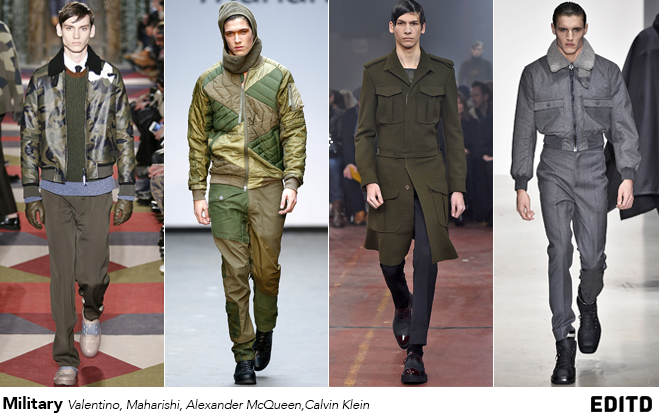 Why it works now:
In the current uncertain political climate, the response has been fight (military) or flight (70s bohemia). Contrast panelling, patch pockets and plain-colored cable knit sweaters have been selling fantastically well for the last four menswear seasons – finally they now have a greater trend story to tie into, meaning retailers can better merchandise these popular items.
4. Teddy Boy
The market is moving away from the now saturated skinny jeans towards wider legwear. This came through in the 50s referencing Teddy Boy trend with relaxed tailoring suggesting a insouciance and sartorial elegance. Self-assured models wore double-breasted suits with higher waist pants than we've seen in menswear recently. Prince of Wales checks, trouser turn-ups and a palette of navy, cobalt, gray and stone were all notable aspects of this trend backed by Dior, Prada, Paul Smith and Dries Van Noten.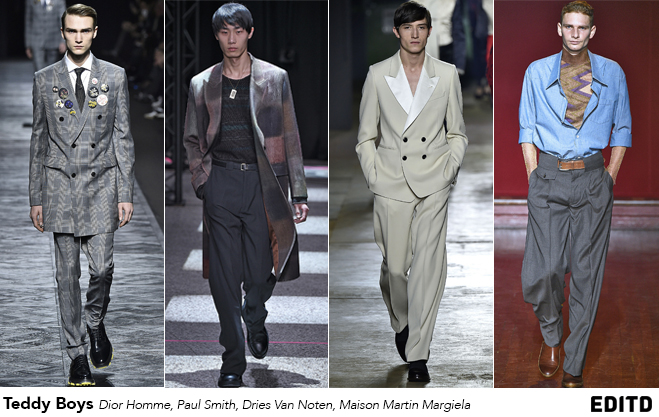 Why it works now:
Teddy Boy is the vessel on which to carry the wider legwear forms forward – brands and retailers will get behind this to invigorate the bottoms category, which has become stagnant. While the 1970s and military trend speak to casual dress codes, Teddy Boy is Fall 2015's opportunity to tick evening and workwear occasions with a trend update without being overly ornate, which doesn't feel relevant right now.
5. Denim
Denim is everywhere. This year sees an overhaul of the workwear fabric in both menswear and womenswear. On the Fall 2015 menswear runway the key aspects were all-over-looks, (a sort of double-denim, but in one shade), a rejection of skinny jeans for looser forms, turned-up legs and denim paired with shearling. While all washes were evidenced on the runway, the stand out shade was the deep blue. Use denim in unexpected ways to delight consumers – in outerwear or in usually formal garments.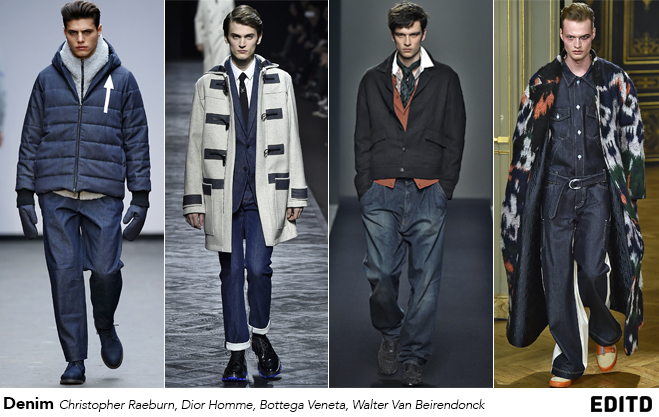 Why it works now:
Workplaces and lifestyles have become more casual, and more athletic. The sports luxe trend may have reached its capacity – consumers already have got their fill of jogging bottoms and sweaters. While those garments won't disappear from the trend radar, brands and retailers will seek newness through an invigorated denim category. You can read more about this in our next report, Denim Retail in 2015.