With NYFW: Men's just around the corner, there's no better time to discuss menswear's current renaissance. And no better place to do it than EDITIONS, our events program that brings industry insiders together for a night of candid discussion.
This month Craig Crawford (Burberry's Former VP of IT Strategy and Founder of CrawfordIT), Cassandra Campa (Equinox Senior Men's and Accessories Buyer), Jonathan Feinberg (Givenchy Men's Merchant) joined our panel at NeueHouse in NYC, moderated by Richie Siegel (Founder of Loose Threads).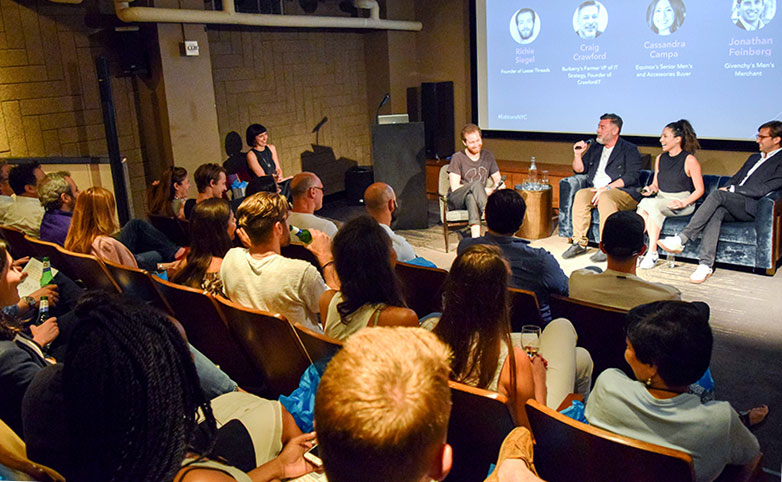 We also dug into the numbers behind the latest menswear opportunities, sharing data that pinpoints plus-size as a majorly overlooked demographic.
If you didn't get a chance to attend last week's event, here are a few of the evening's highlights.
What have been the biggest changes in the menswear market in the last five years?
Cassandra (Equinox): At Equinox I'm seeing men's performance-wear trending and it's growing much faster than fashion. Overall our men's sales have increased by the double digits for the last two years in a row, which is really exciting.
The second thing is that guys are getting really brave with their sense of fashion within performance-wear. And it's not just in LA or South Beach, it's everywhere, like Chicago, London, Texas and Canada. They come in and they ask for color or five inch shorts, nine inch shorts, liner or no liner. You name it, they're asking for it! And they're not afraid to be vocal now about what they like and what they don't like.
Jonathan (Givenchy): I'd definitely agree that the menswear market is significantly opening up and men are becoming braver. If you want to experiment with color, silhouette, texture or fabric, we're awash in product, options and price points for the men's customer to choose from.
However, there are two caveats to be aware of. One, it's difficult to make money on ready-to-wear. A lot of the creative direction is directed more towards creating social media buzz and memes than it is towards providing a commercial lens for the customer. We're not making any money on ready-to-wear. It's incredibly expensive to put on these collections, margins are low and full price sell-through is impossible with how floor space is divided up.
The second caveat is while menswear is opening up, it's opening up on the casual side. So the way that men are actually dressing is reflected by a more casual work environment. Think tech-startups. The male customer is looking into sneakers, backpacks, t-shirts and sweatshirts.
There's a lot of change happening. Do you see this being driven more by supply or demand, or can you not actually separate the two?
Jonathan: At the moment I think there's a disconnect between the supply and demand side. Touching on what I mentioned before, brands are more directed towards branding, image and social media, without taking into consideration the commercial lens. Things like product development, fabrication, lead times etc.
On the demand side, it's almost as if we don't have to consume true fashion anymore. We can just go online and enjoy it, then we show up at Uniqlo or Zara the next day and actually buy what we're going to wear. So there's a disconnect at the moment.
Craig (CrawfordIT): I completely agree with that. There will always be brands that project imagery and trends and create items we don't know we want until we see them. But, they're not necessarily mass.
What's quite exciting about this software [EDITED] and other software, is we can now data mine. We also can see what's happening in stores. We can answer the questions 'why'd he pick that up, why's he not trying it on, why's he putting it back?'
The retail industry is broken because we're predicting what people want based on what they returned or what they bought. So we look at the past to predict the future. That's what retail has always done. However, when we start to bring in sustainability and produce closer to home, make less products and make just-in-time, we're going to have higher margins.
What has been the most expensive lesson you've learned catering to the menswear market?
Cassandra: For me at Equinox, and even at Soul Cycle, it was trying to be something for everyone and not honing in on what the core customer wants.
Within menswear there's a beauty in keeping it simple. Men like fit and quality. Once they find something that fits them really well, they will buy a few different colors and switch it out every season. I have found success in developing really good fits and fabrics and making sure they're spot on, then trading them out season to season.
"In menswear there's a beauty in keeping it simple. Men like fit & quality", say @Equinox on menswear
The key is to hone in on those particular customers and make sure I'm giving them what they really need and want. Right now the Equinox customer wants to show off their body, so tank tops are a top selling category for us.
Craig: We work to fail fast. We put some money in, if it turns out it's not going to work then pull out. That's really important and big brands struggle with that a lot.
Fun fact, when I was at Burberry visiting eBay, eBay made more money on the bomber jacket than Burberry did because we didn't make enough. So it went down the runway and everyone snatched it up, it was the look. Then eBay sold it, but marked up. It was crazy, they made more money than we did. So we lost out because of lead times and not being able to go after what we call in America the 'chase business'.
The biggest mistake you can also make is not looking at data. There's so much of it now, location data, behavioral and contextual data. Most IT departments aren't poised to look at that, they're only able to look at what sold, what the numbers are here and there.
You will not win if you don't start looking at this new data and data analytics. And it's not just having access to that kind of data, but analyzing it, challenging how you look at it. If you don't do that you're going to fall behind.
The biggest mistake you can also make is not looking at data, says Craig Crawford at #EDITIONSNYC.
And that wraps up our latest EDITIONS NYC panel discussion! Thank you so much again to our speakers and guests for making it such an exciting evening. We look forward to seeing you again soon.
If you're interested in speaking at a future EDITIONS or have someone in mind to speak at our next event in NYC or London, just let us know! We'll make it happen. You can shoot us over an email at [email protected].
Want to make sure you get invited to the next EDITIONS NYC? Make sure you sign up to our newsletter here.